While searching for tent brands, you've probably come across Core Equipment.
Online, the brand has high ratings and excellent reviews.
But is there any truth to it?
Today, we're going to figure that out. In this article, we'll go over everything you need to know about the brand, as well as the best Core tents you can get nowadays.
Let's dive straight in!
Best Core Tents: Our Top Choices
Core 6 Person Instant Cabin Tent
Type: Cabin, Instant | Size:  6 Person | Seasons: 3-Season | Weight: 23 lbs | Inside Height: 72″ | Floor: 11 x 9 ft (99 sq ft) | Setup Time: 2 mins
Like some of the other tents we've mentioned so far, this CORE tent is a cabin tent. That means it has vertical walls which allow easier movement and greater comfort inside the tent. However, it's also an instant tent – which means its setup is quick and easy – hence the name instant.
What sets this tent apart is its ventilation – thanks to multiple windows and floor vents, you should have good airflow throughout your camping trip.
Pros:
2 minute set up and take down in fair weather conditions
The expandable carrying case makes it easy to pack the tent after taking it down
Great ventilation thanks to windows on both sides and the front door
The back wall comes with a big storage area where you can hang your gear
Inexpensive cabin tent for beginner buyers
Cons:
The floor is pretty thin so you should probably buy a tarp
The door zipper can get caught in the flaps running along the door
Best for: people who want a roomy cabin tent with great ventilation at a reasonable price.
Core 6 Person Straight Wall Cabin Tent with Screen Room

Type: Cabin, Screen Room | Size:  6 Person | Seasons: 3-Season | Weight: 24 lbs | Inside Height: 76″ | Floor: 10 x 9 ft (90 sq ft) | Setup Time: 15 mins
Are you planning on camping in an area that can get quite buggy? Then you'll want to consider this 6 person straight wall cabin tent, with 50 sq ft of screen room.
What's better than the ability to sit outside, but keep the bugs away.
While not an instant tent, this tent is still quite easy to setup in only 15 minutes or less if you have help and get some practice.
The downside is that the screen room doesn't have great coverage and will get wet. It also doesn't have a floor.
Pros:
Additional square footage with a 50 sq ft screen room
Great wall tent with 3 windows and views for days
Easy to put up in just 15 minutes or less
Great ventilation thanks to windows on both sides and the front door
Cons:
Screen Room doesn't have rainfly or floor
Best for: Those camping in buggy areas.
Core 9 Person Extended Dome
Type: Dome | Size: 9 Person | Seasons: 3-Season | Weight: 18.21 lbs | Inside Height: 72 in | Floor: 16 x 9 ft (144 sq ft) | Setup Time: 20 mins
The CORE 9 Person Extended Dome tent weighs only 18.21 lbs, but with a 16′ x 9′ layout still manages to eek out 144 sq ft of space.
You can easily fit two queen air mattresses in this tent, with plenty of space to spare for gear.
A 72 inch peak height means that you'll be able to stand up in the middle portion of this dome tent.
Where the Core really shines is in its ability to fend off weather on a budget. The dome design along with the CORE H20 Block Technology keeps rain and wind out of the tent.
Lastly, the Advanced Ventilation System provides a ventilation pocket behind the tent, provides excellent ventilation compared to other tents of this style.
Pros:
Lightweight for a tent of this size at 18.21 lbs
Weatherproof design and CORE H20 Block Technology keeps rain and wind out
144 sq ft, means plenty of room for 2 queen air mattresses and gear
Mesh fabric ceiling allows for great views in fair weather
Great value for the price
Cons:
Stakes are flimsy, will want to buy heavy duty stakes instead
Only one door
Best for: Families looking for an excellent budget tent that can withstand the elements.
Core 9-Person Instant Cabin Tent
Type: Instant, Cabin | Size: 9 person | Seasons: 3-season | Weight: 27.62 lbs | Inside Height: 78 in | Floor: 14 x 9 ft (126 sq ft) | Setup Time: 2 mins
Our pick for the best large cabin and instant tent is the CORE Equipment 9-person instant cabin tent. It's got a lot of features and a ton of space, all at an affordable price.
When it comes to size, this tent is a great option for groups of six or seven people. It's sized for 9, but we all know that means 9 children, not adults.
The 9-person model can fit two queen size air beds and has a room divider for added privacy between the two.
Even though this tent is extra-large, setup is not extra-hard. As an instant tent, the poles come pre-attached, meaning setup takes 60 seconds (or less).
To keep you cool at night, this tent has an adjustable ground vent along the edge of the floor. The fact that they're fully adjustable means you can close them up in the winter months to stay warm.
Core also provides different configurations to suit everyone's needs. This tent is available in green and wine (burgundy) colors, and there's a 9 and 12-person model.
Although I recommend the 9-person tent, the 12-person is a great choice if you have an extra-large group that wants a tent with extra room and extra doors.
Another thing I love about this tent is the front door. Unlike other tents, this one uses a large T-style door which opens up on both sides. This allows you to inflate a queen-size air mattress outside the tent, then conveniently move it inside.
Other features I like include the factory-sealed seams and velcro ports for electrical cord access.
Pros:
6'6" center height allows anyone to walk around inside
Large T-style front door means moving gear into the tent is no issue
Bottom air vents keep the whole group cool at night
Instant setup takes 60 seconds, giving you more time for rest & relaxation
Strong wind protection thanks to steel uprights
Reasonably priced – not too expensive, but doesn't skimp out on quality
Cons:
If using the room divider, the backroom doesn't have a door, which can make night-time bathroom breaks a challenge
Best for: large groups that want an easy-to-use tent with tons of space.
Core 10-Person Cabin Tent
Type: Cabin, 2-room | Size: 10 Person | Seasons: 3-season | Weight: 31.61 lbs | Inside Height: 86 in | Floor: 14 x 10 ft (140 sq ft) | Setup Time: 20 mins
If being able to move around freely in your tent is important to you, you'll want to know about the CORE 10 person instant cabin tent.
This tent gives you an incredible 7'2'' of ceiling height. This means that even professional basketball players can walk around comfortably inside this tent. That's not all, though…this tent also boasts a whopping 140 square feet of floor space.
For those who value privacy, Core provides a room divider. Combine that with the two doors on both sides, and getting around in the tent is a piece of cake.
Sealed seams and water-resistant fabrics will ensure that not a single drop of water ends up in your tent, even during heavy rains.
Pros:
At 140 sq ft. it is incredibly spacious
7'2'' center height and straight sidewalls make it easy to walk around in the tent
Comes with a room divider for extra privacy
Adjustable ground vents and mesh ceiling provide great ventilation
Strong wind resistance – up to 30 mph
This is an instant cabin tent, which means you can set it up in less than 2 minutes
Cons:
The floor is not that durable, so it's wise to put a tarp beneath your tent
Best for: people who want a huge instant tent that can be up in less than 2 minutes.
Core 11 Person Family Cabin Tent with Screen Room
Tent Type: Cabin, Screen Room, 2-room | Size: 11 Person | Weight: 36.24 lbs | Inside Height: 86 in | Floor: 17 x 12 ft (204 sq ft) | Setup Time: 20 mins
Similar to the 6 person screen room cabin tent, this 11 person tent is a bohemeth.
Not only does it have 204 sq ft of living space, but has 72 sq ft of screen room space as well. And unlike the 6 person version, this screen room comes with a floor and a top rainfly.
This is a huge tent that can comfortably fit 3 queen camping air mattresses – no problem.
The only potential downside is that it is going to take a bit longer to put up – 20 minutes on average.
Pros:
Giant screen room with 72 sq ft of outdoor space
Huge interior with 204 sq ft of interior tent living space
Great ventilation with plenty of windows
Screen room completely seals up, preventing leaks and allowing for a secondary sleeping space
Cons:
Only one entrance – could use a second
Best for: Big families looking for a screened in porch
Core 12-Person Instant Cabin Tent
Tent Type: Instant, 3-room | Size: 12 Person | Weight: 47.8 lbs | Inside Height: 80 in | Floor: 18 x 10 ft (180 sq ft) | Setup Time: 2 mins
CORE makes superb tents, and their 12-person Instant Cabin is no exception!
This tent sets up in under five minutes, making it an excellent choice for a quick camping trip – or a beginner one.
It measures 18' x 10' on the inside and comes with all of the poles pre-attached so there's no need to fumble with mechanics to get it set up. Oh, and it's also prime for taller people, which is great if you've ever had to spend a camping trip in a tent where you keep hitting your head.
If you're looking for a quick-camping tent that fits as many as twelve people (or gives smaller groups a ton of space) but isn't a nightmare to set up, then go for CORE.
Pros:
Comes with room dividers so you can split it up into at least three separate rooms for privacy
It stands up well in winter conditions, thanks to superior design and anchoring
This tent promises a quick and instant setup and definitely delivers
High center height (80 inches) and fits three queen-size airbeds
Electrical ports and ground ventilation make this a tent that suits everyone
Cons:
Be careful with the poles. Pre-installed poles mean that you don't want to drop it on your toes.
Best for: families that want a quick-pitch tent at an affordable price that fit a ton of people.
Best Core Tents – Compared
Why Choose Core Tents?
Why should one choose a Core tent over so many other brands on the market? I know a few reasons.
Core Tent Features
A Core tent might not be your first option for climbing a K2 summit. These tents aren't known for their low weight or the ability to withstand the harshest weather conditions.
But what they are known and loved for is being reliable and practical, while remaining affordable.
While the brand makes tents in pretty much all sizes, its range primarily consists of 5 to 12-person tents.
If you're in need of a spacious tent, Core has some of the best options on the market nowadays.
Core Engineering
Core doesn't play safe with tents. The brand is always working on improving and implementing new technologies to make camping an even easier and more enjoyable experience.
Instant Hub Technology
Core Equipment is probably the first brand that comes to mind when thinking about instant tents.
No matter how big of a camping group you have, this brand makes an instant tent the size you need.
By instant, of course, I mean a tent that sets up within a minute. Basically, all the poles are connected with springs and hinges into a single hub.
This means you don't have to do the boring parts, like assembling the poles and sliding them through designated sleeves.
The brand is constantly working on further improving the instant hub technology, for an even simpler setup.
The newest pole system includes a pinch-free button that makes the whole thing a piece of cake.
H20 Block Technology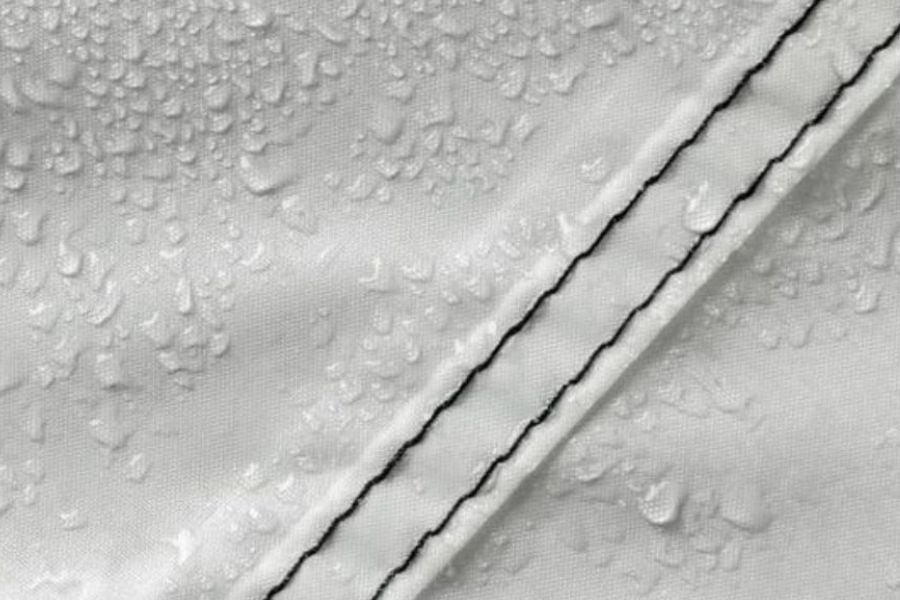 While Core tents aren't designed for extremely cold weather, they can certainly put up well with wind and rain.
All tents are treated with the PU coating, which basically makes rain drops slide off the tent body rather than piercing their way inside.\
They tested the fabrics with a 600mm hydrostatic rating, and they didn't budge.
To prevent water from getting in through the stitches, Core Equipment uses the technique of inverted stitching instead.
This creates more protective layers than a standard overlap seam would.
Additionally, the seams are further secured with a thick tape that's heat sealed onto the fabric.
With all these extra steps, neither wind nor water can find their way inside the tent.
Core® Lighted Tent Series
Core Equipment has a whole line of cabin tents with built-in interior lights, ranging in sizes from 6 to 12-person.
The Lighted Tent series is a brilliant idea. These tents feature the main battery box attached to the ceiling, which emits light throughout the entire tent through a specially designed diffusion panel.
To turn the lights on and off, you can use the switch attached to the tent's walls.
There are three lighting modes to choose from: high, medium and nightlight.
And while the first option is bright enough for you to read, the last one is designated to emit low, dispersed light that you can keep on while sleeping.
Core Tent Zippers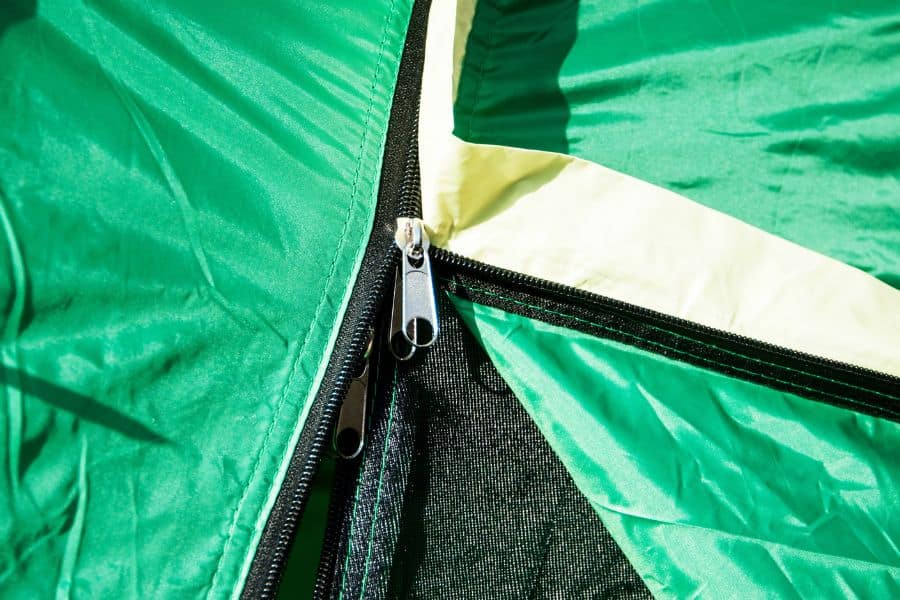 This wouldn't be a trustworthy article if I didn't mention some concerns people have with Core Equipment tents.
Namely, their zippers. I've seen a fair share of campers complaining about Core Equipment zippers being of bad quality.
They often get stuck on the outer fabric, which can potentially rip your tent if you're not careful.
To keep the price of their tents relatively affordable, Core Equipment has to cut costs on some features, and it seems like zippers are what they decided to save up on.
About Core as a Brand
So we covered some important things about the technology Core implements in its range of tents. But what about the brand in general?
In this section, we'll cover what Core is known for, as well as how it compares to its competitors.
What are Core Tents Known for?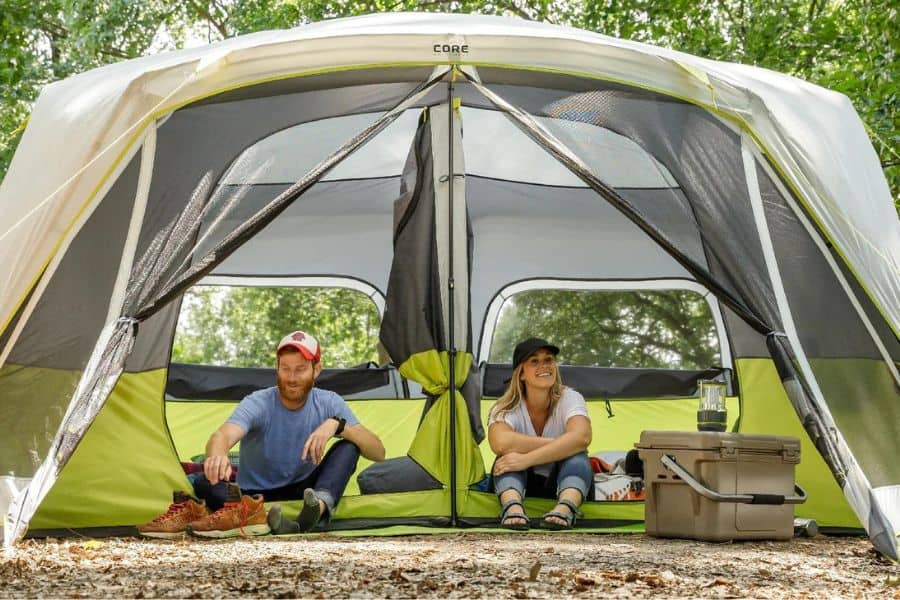 Core Equipment specializes in affordable tents with some high-end features here and there.
But with so many brands on the market that do the same thing, this is not the main thing that makes Core Equipment stand out from the crowd.
In fact, Core is mostly known for its line of instant tents. While a lot of outdoor brands have their own version of such a tent, Core Equipment has a whole line.
So no matter how big your camping group is, there's an instant tent in a suitable size for you.
Core instant tents are recognizable by the cabin shape and green/blue and grey color combination.
You can easily detect one around the campground from afar.
Also, while it might not be the first thing that comes to mind when it comes to Core tents, their waterproofness is also something the brand is well-known for.
Core vs. Other Budget Tent Brands
Core tents are often compared to tents by other brands in the same price range. Let's see how they compare against each other.
Core vs. Coleman
Both of these brands make tents with cutting-edge technology that don't break the bank. Between the two, Coleman tents are slightly more affordable.
But Core Equipment tents, on the other hand, are a bit more durable and weatherproof.
However, Coleman has a wider range of models than Core. From a backpacking 1-person tent to an instant 12-person cabin, Coleman has something for everyone.
With Core Equipment, you're pretty much limited to large cabin or dome-style tents.
Core vs. Ozark Trails
Just like Core, Ozark Trails specializes in instant tents for large camping groups.
This brand is slightly more affordable than Core Equipment, but that also means it has fewer features than its pricier counterpart.
Generally, Ozark Trails tents are known to be slightly lighter than Core Equipment, so they might be a better option if you're backpacking.
But they're not as waterproof as Core tents, meaning they're not suitable for rainy weather.
What to Consider When Buying a Core Tent?
Set on getting a Core Equipment tent? Here are the things to keep in mind when choosing the model.
The Size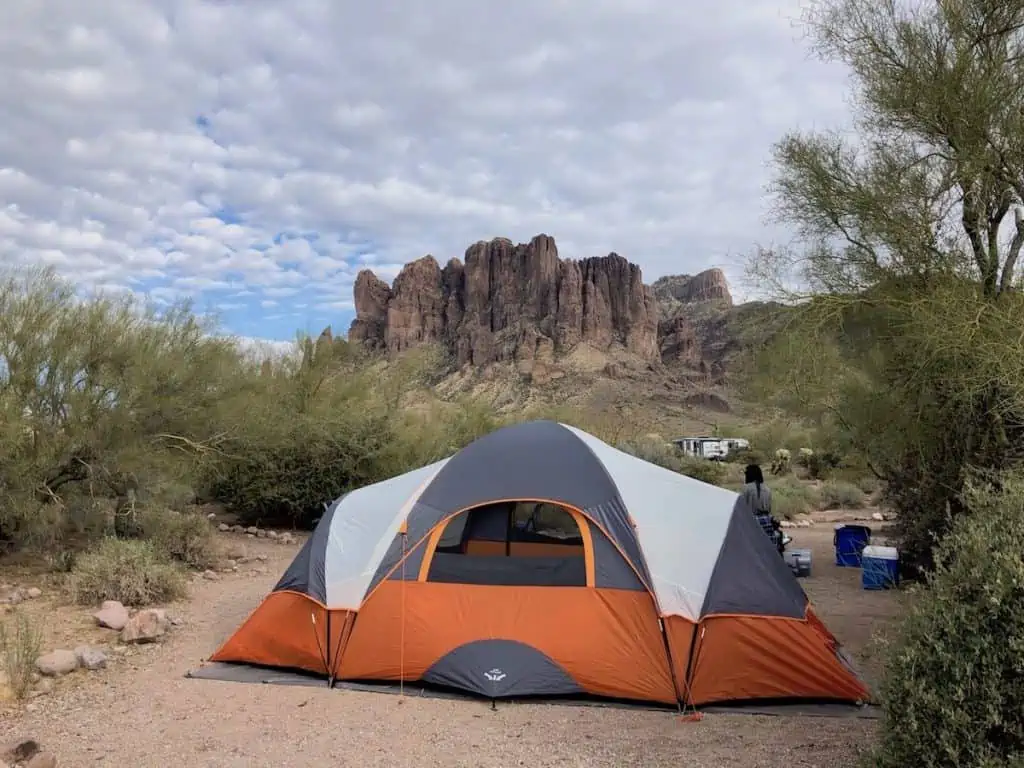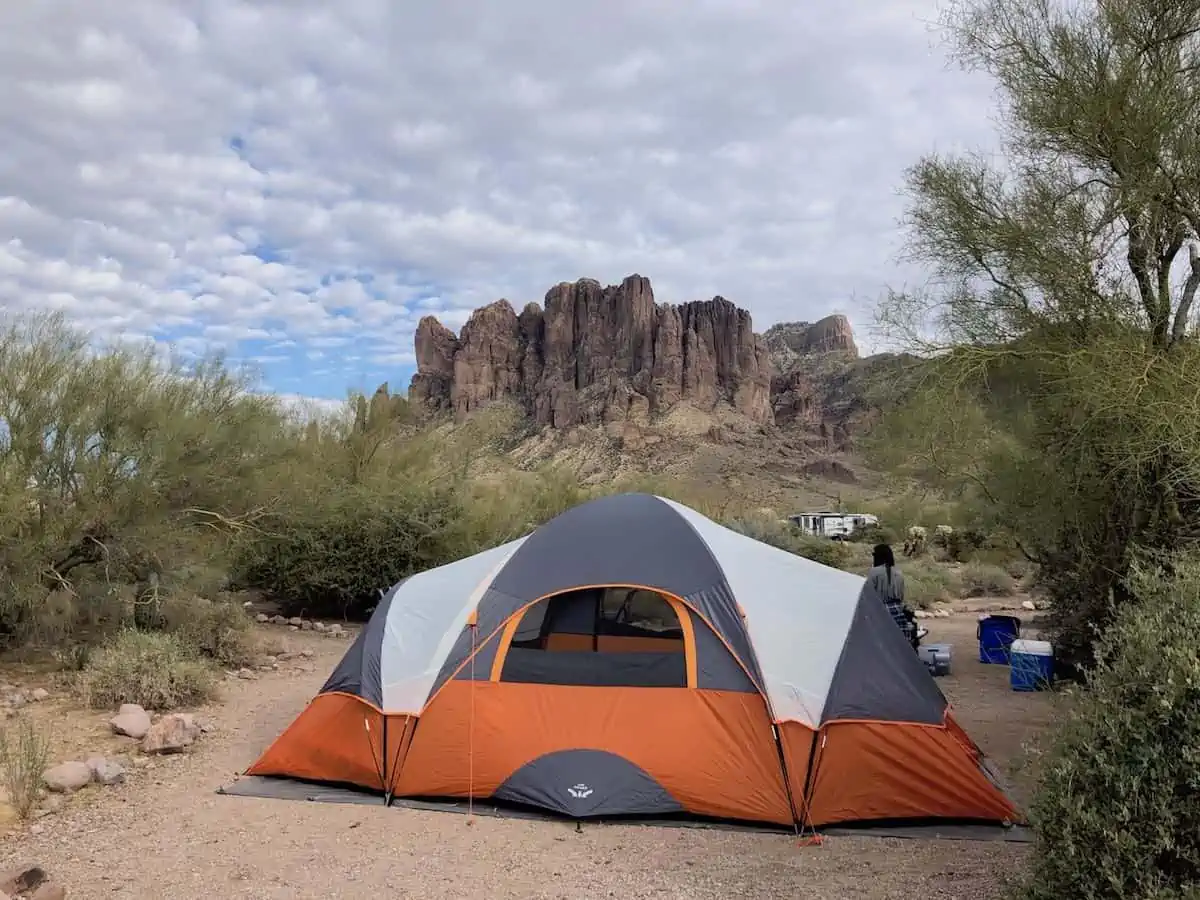 Logically, this is the first thing you need to consider when buying a tent. Core Equipment makes tents in sizes ranging from 3 to 12 people.
How many people do you usually plan on camping with?
Of course, you shouldn't blindly stick to the size chart.
The brand makes tents in both cabin and dome shapes, and between the two, cabin tents have more headroom, which makes them seem more spacious.
When choosing the size, take your gear into consideration as well. Some models feature vestibules that allow you to store your equipment underneath.
But if you go with a model that doesn't, you might need to keep your stuff inside. In that case, you might need a tent that's a size bigger.
The Price
All Core tents are rather affordable, especially given all the innovative technology they use.
But of course, there's a difference in price between the models depending on the style, size and features.
Ultimately, the price depends on how extravagant you want your camping trip to be.
Do you need a tent with a pre-installed lighting system, for instance? The Lighted Tent series is the brand's most expensive line of products.
Want to save some money? Classic dome tents have the lowest price tags – but fewer bells and whistles as well.
Wind Protection and Waterproofing
Not all tents are designed for every weather. Core Equipment tents, for instance, aren't suitable for winter camping.
But every single model from this brand features their H20 Block technology, so neither wind nor rain can pierce through it.
This is thanks to PU coating, inverted stitching technique and taped seams.
Ease of Use
Pretty much every Core tent is designed with ease of use in mind.
Dome-style tents have the traditional X-pole design that's easy to set up, even for a single person.
With the invention of Instant Hub technology, Core tents can't get any simpler to pitch.
Basically, you can set up a 12-person tent by yourself, in about a minute or so! With all the poles already connected into a single hub, there's no need not room for guesswork and manual reading.
Tent Footprint
Tent footprints are usually sold separately, and Core Equipment is no different.
Unfortunately, the brand doesn't offer a designated footprint for every single model.
They do cover most of their cabin-style tents, but only 9 and 11-person dome tents have a suitable footprint.
To Sum Things Up
So there you have it – everything you need to know about Core tents.
As a brand, Core Equipment is known for making high-quality tents with a rather affordable price tag.
And among the gear range, the brand's most popular products are instant cabin tents.
Compared to other brands on the market in the same price range, Core instant tents arguably have the best features.
As to which model is the best, that really depends on your needs. But whichever Core tent you go with, rest assured you'll make a good pick.