I've done a lot of hiking and used many different apps. I've been fortunate enough to find the best hiking apps that I think every hiker should know about.
Hiking apps will help keep you on the trail. These applications will increase your safety as you trek through your favorite natural area. When something goes wrong, not having navigation can be horrendous!
But a good hiking app will ensure that you can pass that situation and return to enjoying nature.
Before I started using hiking apps, I didn't use anything. I can't tell you how often I got lost hiking and almost didn't make it out before dark.
Now I'm a seasoned outdoorsman but getting lost to the point where it's dark makes me pretty nervous. No one needs to be lost in the wilderness
Let's check out some of the best hiking apps available so you don't have to experience getting lost while trying to have a positive hiking experience.
The best hiking apps for you to check out:
5 Best Hiking Apps of 2023
Like I said before, I've tried a lot of different hiking apps.
Some work great, and some don't work so great. If I can help you avoid the ones that don't work that well, I want to be able to do just that.
AllTrails Hiking App
Cost: Free Version; Pro Version $2.99 / month
Apple Store Rating: 4.9 (803K reviews)
Google Play Rating: 4.8 (221K reviews)
Features: Free Version (Discover Trails, Navigate Trails, Trail Reviews), Pro Version (Offline Maps, Wrong Turn Alerts, Ad Free, 3D Maps)
I probably use AllTrails the most when visiting trails outside my local hiking area. If I'm not used to the area I want to hike in, I usually don't know where the trails are.
I can get on AllTrails and immediately find the closest trails in my area. That resource comes in handy when you're hiking away from where you live.
If I am looking for a trail in an area, I know that AllTrails is going to list most of the trails in any given area that people often visit for hiking activities.
That is how I find trails in the state I visit for annual vacations.
This app has a generous free edition that allows you to access all the trails you want, find the closest ones to you, and even leave trail reviews.
The premium edition will enable you to download maps for offline use. I recommend upgrading to the premium edition for that feature.
A lot of the time, where hiking trails are located, there is no cell phone service. You'll need access to an offline map to be able to navigate the trail.
There are some cons to using AllTrails to be aware of. AllTrails is known for its feature that allows a member to upload their hiking maps.
This results in a lot of user-made trails that are not officially supported. Some of the trails may not get maintained yearly, and the app may not mention that.
That is when it is imperative to read the reviews to get an idea of how good of a trail you will be hiking on.
Pros:
A generous free edition
Easily find the closest trails to you
Read and leave trail reviews
Premium version worth paying for that provides offline map access
Cons:
Members will sometimes upload unofficial user-made trails
Best for: hikers of all expertise and skill levels
Avenza Maps Hiking App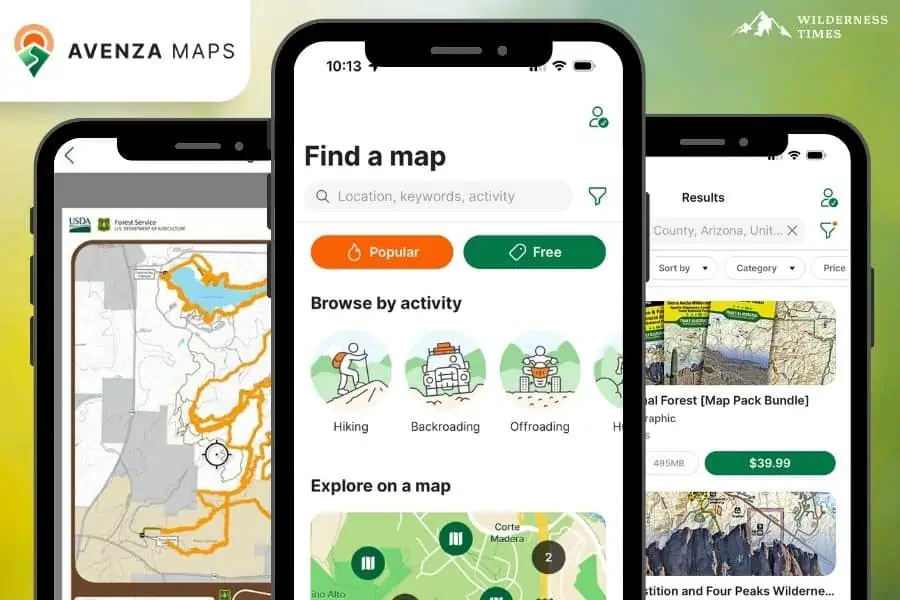 Cost: Free Version; Plus Version ($29.99 a year); Pro Version ($144.99 a year)
Apple Store Rating: 4.8 (104K reviews)
Google Play Rating: 4.7 (78K reviews)
Features: Free Version (Offline Maps, Locate with GPS, Navigation, Record GPS, 3 Maps at a Time, 5 Geofences), Plus Version (Unlimited Maps, 50 Geofences), Pro Version (Unlimited Maps, Geofences, Layers, etc.)
Avenza Maps is a trusted form of land navigation through smartphone apps. It is so trusted that most federal and state public land management agencies use and promote it.
My local Shawnee National Forest has created several maps for it. I've partnered with the US Forest Service and our state DNR to create a map for it.
It is one of the most trusted applications that I have experienced using.
I even have a huge bundle of maps that will keep you on the River to River Trail here in southern Illinois for all 160 miles of it and those maps were created by the US Forest Service.
The app itself is free. Most maps are free, but map creators do have the option of selling maps. Avenza does get a percentage of all sales.
Most premium maps that I have used are under $10. You can use all the maps offline using your GPS. That is a free feature, too.
If you only use free maps, you can use them all without a cell phone signal and at no cost. Using Avenza is easy, too. Looking at your map directory will identify what map you're currently on.
My only complaint with Avenza is the lack of local maps. As I said, there are thousands of maps on Avenza, but a lot of them are for really popular areas.
I would love to see maps at locations all over public lands, even if there aren't any designated trails in the area.
Even with trail designation, not all of my local trails have a map for them.
You have to rely on public land management agencies or map creators to get maps created and put on the app.
Pros:
Main app is free
Most public land management agencies upload to this app
You can share maps for free
You can sell maps (Avenza takes a percentage)
Offline map features are free
Cons:
Not as many maps as other apps out there
Not all maps are free
Best for: Offline map use if your map is available
OnXHunt Property Boundary App
Cost: Premium Version ($29.99 a year); Elite Version ($99.99 a year)
Apple Store Rating: 4.9 (121K reviews)
Google Play Rating: 4.7 (42K reviews)
Features: Premium Version (Maps for 1 State), Elite Version (Maps for 50 States + Canada)
OnXHunt is a popular application used by the hunting and game-harvesting community.
However, it is a perfect tool for a hiker looking for more of a rugged adventure.
I use OnXHunt more than any other app. I commonly bushwhack in trailless and remote areas, especially during leaf-off months.
Because my local forest has much private property mixed in it, I don't want to accidentally trespass.
OnXHunt shows me all public land boundaries and even private property owner information.
The last thing you want to do is violate someone's right to private property and accidentally trespass.
The app is not free. It costs money for each state map you wish to use. The price is high but for what it offers, if you need those features, it's worth it.
You download the maps you need, and then you can use them offline through GPS when you don't have cell phone reception.
It also has lovely map views of the topography and contour lines in your hiking area. That allows you to hike a better path that is less strenuous if you know how to read maps.
Pros:
Regularly updated property boundaries
Shows public and private property boundaries
Shows names and addresses of property owners
Can use maps offline (downloading is required)
Access to entire state map
Cons:
App is not free
You pay for each state you want to use
Does not list all trails in an area
Best for: If you want to see public/private property boundaries while hiking
Gaia GPS Hiking App
Cost: Free Version; Premium Version $3.33 a month
Apple Store Rating: 4.8 (29K reviews)
Google Play Rating: 4.3 (15K reviews)
Features: Free Version (Basic Maps, Record Activities, Create Routes), Premium Version (Offline Maps, Weather & Terrain Features, 300+ maps)
The Gaia Maps hiking app is an excellent choice if you need a free full-featured application for land navigation.
I use Gaia to record all of my GPS spots that I want to keep track of. For example, I have a map layer on Gaia showing all the open cisterns and wells I find in the Shawnee National Forest.
That map can be helpful for public safety officials during search and rescue efforts. I also recorded places I wanted to return to during the winter to explore more off when all the ticks are gone.
Gaia is a free application. There are tons of layers that you can add to it, too. Like all of the wells I find, I can add a 1930s map layer showing where old homesite structures were in the area.
I can practically see what the forest looked like before it was reforested. However, like with most hiking apps, you have to pay to use the application offline.
These app makers are pretty innovative when it comes to knowing what features to charge for.
My only issue with Gaia is that the application isn't very user-friendly. There is much bloat in the features and settings on the app.
It looks like something out of the 1990s that hasn't been updated for modern times. I feel that what the app is now may be confusing for beginners.
The app also has too much going on with it. Too many features make it a little bigger than it needs to be.
Sometimes, it can be a little confusing for even me to use as experienced as I am with using the app.
Other than those few issues, the app is pretty nice and handy when you need it.
Pros:
Main app is free
There are a lot of layers and features
Cons:
App is heavy in features and sometimes difficult to use
App user experience is not modern
Best for: Recording hikes and special points of interest
Strava Fitness & Hiking App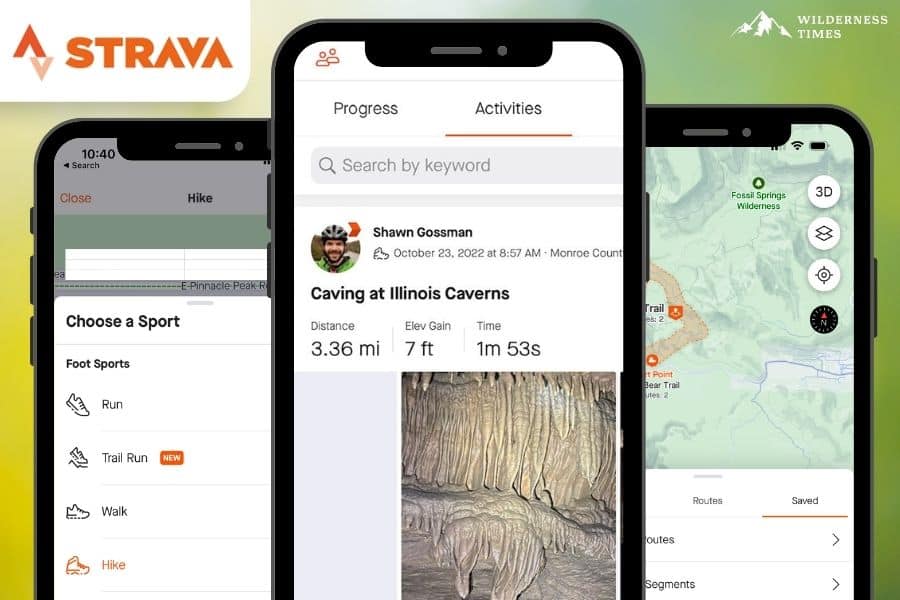 Cost: Free Version; Subscription Version ($5.00 a month)
Apple Store Rating: 4.8 (225K reviews)
Google Play Rating: 4.4 (812K reviews)
Features: Free Version (Activity Recording, Device Support, Social Network, Beacon), Subscription (Route Planning, Segment Competition, Training Dashboard, Advanced Metrics, and more!)
Strava is one of the best hiking apps out there, in my opinion, because it can record my hike in the background while I use another app for land navigation.
I have Strava integrated into my watch to record each hike I go on. Strava has a setting for recording just about any activity, whether hiking, trail running, biking, kayaking, or even swimming.
The application is very easy to use and will work off GPS when you don't have the best cell phone reception.
Strava is free, but the features are minimal. The free edition used to have a lot of great features with it.
However, as the app matured and the company grew, a more robust paid edition was required for the app to sustain itself.
To get the better features you'd want to have; you'll need to pay for the premium version of the app.
The premium version makes the app like a fitness-related social networking platform for you to enjoy.
I've been a premium member for years, and I feel like it's worth it.
I do have complaints about Strava, however. The free edition doesn't have many benefits.
I feel like it prevents many people from using it because of the lack of free features. I think that Strava could be more generous and allow a few extra benefits to make the app more worthy of using.
I also feel like the app challenges are flawed. Sometimes, you'll accept and immediately complete a challenge because of past activity.
But other than that, it is excellent for what I need it for – recording a hike and then allowing me to download the GPS file of the hike onto my device.
Pros:
There is a free version
You can record your hike and access GPS file
Social networking features
Cons:
Most of the good features require paid upgrade
No GPS feature like other apps
Best for: Great for recording hikes for GPS and fitness reasons
How To Choose The Best Hiking App?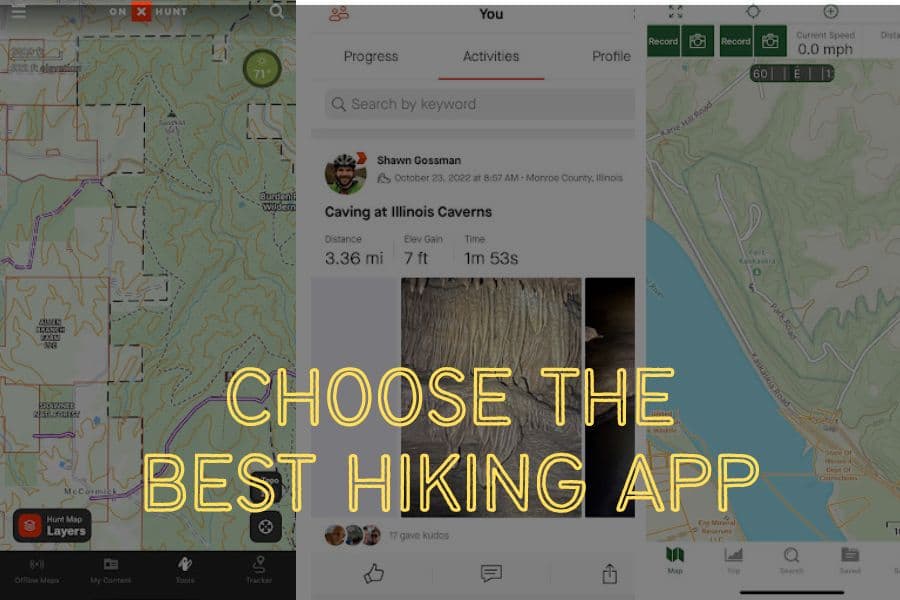 When choosing the best hiking apps, there are a few things you want to make sure of:
Free vs. Paid
Price
Reviews
Features
Free vs. Paid Editions
You want to see the feature difference between the free and paid editions.
OnXHunt is the only app in which you need a subscription to fully utilize it after the trial period, but most of the others offer a free and premium version.
Check the Price
You should also take note of the price.
If one app charges more for the same features as a cheaper app, that is something to consider.
Avenza Maps is unique in that you pay for the topography maps only, but can also find free public-use maps as well.
Depending on the features you'll need, you may or may not need to pay for the premium version.
Read the Reviews
Make sure to read the reviews of the app you're looking at is going to be your best option.
We all know that sometimes thoughts on an app are spoofed, or can be wildly inaccurate based on the users false expectations of the app.
So, I always suggest you look for reviews on hiking blogs you find online. Those are the people who are using these hiking apps the most.
They want to ensure their reputation is protected, so they typically won't lie to you.
Decide which features you'll need
When choosing an app, ensure you understand what features are offered in the edition you want to use.
For example, to download your GPS track on Strava, you have to be a premium member of the app.
To download a map for offline use on AllTrails, you have to have to PRO edition.
Read the benefits and features of each plan very carefully before you choose, and also be sure to check out our app comparison table above.
What to Use Hiking Apps for
The best hiking apps listed above can be used for a variety of different things and activities relating to your outdoor use.
I use most of them for finding trails near me to hike or tracts of public land to access.
Most apps have land navigation features such as topo and contour lines to help you choose the best route based on your fitness level.
Many of the premium versions of the apps can help you with safety needs by being able to use them offline so that you don't come home in the dark.
Many apps have a good learning experience attached to them so that you can easily use them again in the future.
And most of these apps allow you to track your hike and later download the GPS file in case you wish to use it elsewhere.
How to Use Offline Map Apps For Hiking
Most apps offer features where you can download maps for offline use.
This is the type of feature that you should look for the most. That's because most woods and forests don't have cell phone reception.
If you try to use online maps in an area like that, it just won't load. So, you have to have offline map access.
The offline map feature typically costs money. But it is a price worth paying to avoid getting lost or off the correct trail.
Most apps allow you to navigate the map and download them. There should be some links or buttons referencing map downloading or offline maps.
After you download the maps to your phone, you can use them when you have no signal.
Most of these offline maps work on GPS, so you'll need to make sure your phone has that setting enabled; otherwise offline maps may not work correctly.
FAQs
Let's look at some of the most common frequently asked questions concerning the best hiking apps to use for outdoor recreation.
What is the Best Free Hiking App?
The most used free hiking app is AllTrails. The features for the free edition are very generous.
If you're hiking in areas that have been developed enough to have cell phone reception, then the free version of AllTrails is probably the only app you'll need.
Because of its popularity, there are tons of hiking trails on the app, and more are added daily.
What is the best paid hiking app?
Again, I'm going to choose AllTrails for this question. AllTrails PRO allows you to download maps for offline use.
That is the main feature you want in a paid hiking app—a lot of areas where hiking trails have no cell phone reception.
Unless you can use maps offline, an app for hiking will be useless.
What is the best GPS app for hiking?
Avenza Maps is one of the best hiking apps I've ever used for its GPS accuracy.
Because the app and its maps are so user-friendly, it isn't challenging to stay on the trail based on how the map tracks your movement through GPS.
You can even open up your directory of downloaded maps and see what map you are currently on rather than searching for the map you think you are on.
Most maps on Avenza are also created by public land managers, which ensures better accuracy of created maps.
Does Google Maps work for hiking?
Google Maps is not a very good solution for use while hiking. Google Maps is an excellent tool to use at home when planning a hike.
I'll often use it to find roads near an area I want to hike and then look at satellite view to find things that will help me spot the area when I'm on the road, like big barns and ponds.
But there are no actual offline uses of Google Maps, and it lacks good hiking trail features. I would never recommend using it offline.
Can you use your phone's GPS for Hiking?
Your phone usually has GPS built in. That GPS feature will interact with downloaded and offline maps to help you navigate.
You want the GPS feature on your phone to be enabled and turned on for app use. But don't rely on the default map apps that come with your phone.
For example, I have an iPhone, and it comes with Apple Maps. The Apple Maps feature does not work when I have no cell phone reception.
It also doesn't have accurate hiking maps on it. That's because that app wasn't created for hiking. Use an app created for land navigation to get the best results.
What app do hikers use?
I've noticed that a lot of hikers tend to use a lot of different apps for different reasons. I have every app listed above downloaded onto my phone.
I use them for different things. I use AllTrails to find hikes close to me when visiting other areas away from home.
I use Avenza for maps closer to home and many mountain biking adventures. I use Gaia to record locations I want to save for the future.
I use OnXHunt when I want to hike off the beaten path and explore more rugged and remote areas of the forest.
And I use Strava to record my hikes so that other people can see where I go and keep track of my monthly and yearly mileage.
Is the AllTrails app worth it?
I feel that AllTrails is an app worth getting. Most of the trails are actual trails, and the maps are accurate.
But sometimes, the trails are not so accurate or well-maintained. But AllTrails has a lovely feature that allows you to read trail use reviews from other people.
They often include photos and any information about how bad the trail might be. It is worth reading the reviews before you go so that you know what you might be getting yourself into.
That said, some trails on AllTrails are completely user-created and may not be designated.
That could be a problem for some people. The app's popularity helps ensure that most hiking trails in any given area are listed on the app, and that makes the app one of the best hiking apps available.
My Verdict
Now that you know what the best hiking apps are to choose from, you should start using each one to find the best for you and your needs.
But if you are in a rush to get out on the trails, be sure to check out my recommended overall best pick first – the AllTrails Hiking App.
It's by far and away the best free hiking app out there, helping you to not only discover new trails, but read reviews from those who have recently hiked them, and much more.