Pressed for time? Our top pick for the best kids' sleeping bag is the REI Co-op Down Time 25 Down Sleeping Bag.
Camping with kids is a brilliant way to teach them about the great outdoors. They might get so tired of exploring nature that they'll sleep like there's no tomorrow
But to have such a lovely slumber, your kid needs a proper sleeping bag. And if you don't know what to look for, don't worry. You've come to the right place.
In this article, I'll show you what are the most important features of a sleeping bag for kids. Then, I'll share my thoughts on some of the best models on the market nowadays.
So, ready to find the perfect sleeping bag for your child? Let's dive in!
Best Sleeping Bags For Kids: Our Top 6 Choices
REI Co-op Down Time 25 Down Sleeping Bag
When it comes to warmth and comfort, nothing can beat a down sleeping bag. So if you want your kid to sleep like a baby, you won't go wrong by choosing this model.
This sleeping bag features a 600-fill-power duck down insulation. Thanks to the variated-width stitching, the fill is equally spread across the baffles. This allows the bag to trap heat evenly and keep your kiddo warm at night.
With a temperature rating of 25 degrees Fahrenheit, this bag is suitable for camping in cold weather. It features an insulated draft collar as well as a full-length draft tube, which helps the warmth stay inside.
The hood features drawcords that allow your kid to adjust it around the face. This prevents any heat loss even in really cold situations. During warmer times of the year, the hood can be used to hold a backpacking pillow in place during sleep.
Down loses insulating ability when wet. But both the filling and the outer shell of this bag are water-repellent. So even if your kid spills a drink at night, that amount of moisture won't cause him to spend the entire night shivering in the cold.
Pros:
Relaxed fit from shoulders to hips allow your kid to move hands during slumber while still staying warm
The footbox is filled with synthetic insulation, so it stays warm even if it gets wet
Features a zipper cover and internal anti-snag strip, which help your kid get in and out of the bag
Hang loops allow you to hang up the bag for quick drying and storage
Cons:
A bit expensive for a kids' sleeping bag
Best for: kids that camp in both warm and cold weather.
Wenzel Moose Youth 40-Degree Sleeping Bag
When camping in summer, you don't have to worry too much about your kid staying tucked in at all times. That's when this bag comes into use.
With a temperature rating of 40 degrees Fahrenheit, this is a perfect summer sleeping bag. The synthetic insulation can keep kids warm when the temperature drops at night. Thanks to a two-way zipper, it's easy to get more airflow on a hot night or convert the bag into a blanket instead.
This rectangular sleeping bag is pretty spacious. It's designed to fit kids up to 5 feet in size, and has plenty of space for them to move their legs around. This makes it a great choice for those that sleep in a variety of odd positions.
Nothing less important is the design of this sleeping bag. It comes in two color choices – blue and pink. Both feature a fun moose pattern that kids will absolutely love.
Finally, the warranty is also worth mentioning. The brand assures the product is free from manufacturing defects. And in case you notice one, you can replace the sleeping bag free of charge for up to 10 years from the purchase date. Now that's value!
Pros:
The bag can be fully unzipped to transform into a blanket
Synthetic insulation keeps the warmth in and keeps your child comfy at night
A two-way zipper allows versatile ventilating options when it gets too warm
A 10-year long warranty allows you to replace the bag in case you notice any manufacturing defect
Cons:
Doesn't pack as small as some other sleeping bags on the list
Best for: slumber parties and stargazing during hot summer nights.
Big Agnes 15-Degree Sleeping Bags for Kids
Like most parents, you probably wake up in the middle of the night to check if your kid is well tucked in. Well, just by looking at this sleeping bag, you can rest assured your child will stay warm the entire night.
This sleeping bag features a no-draft collar, no-draft wedge and a no-draft zipper. That's a lot of NOs, and together they keep the bag draped around your kiddo's body and prevent air from getting out.
With a temperature rating of 15 degrees Fahrenheit, this is a perfect bag for cold weather camping. The sculpted contour of this bag reminds me of the cocoon, and that's pretty much how it works as well:
The contoured hood follows the shape of the head and keeps your kid snug. It features a low profile cord lock, which allows the child to un-cinch the hood with one hand – all without your help!
An integrated full pad sleeve is quite a handy feature. It keeps the sleeping bag and pad attached. So no matter how much your kid might move at night, the sleeve assures staying at a warm and cozy surface at all times.
Pros:
Comes with several features that keep your kid warm at cozy at low temperatures
An integrated pad sleeve keeps the sleeping bag and pad attached at all times
Very lightweight, so even your kid can carry it without effort
It's suitable for kids under 4.5 feet tall
Cons:
It may be too warm for spring and fall camping
Best for: kids that are calm sleepers.
Morrison Outdoors Big Mo 40 Kids' Sleeping Bag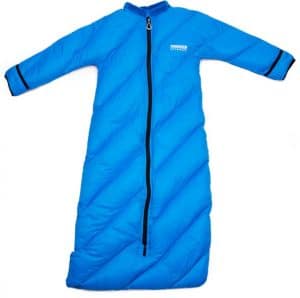 Don't let the shape of this sleeping bag confuse you. The sleeve design is actually brilliant, because it allows toddlers to toss and turn, without creating openings for air and warmth to get out.
This sleeping bag is suitable for toddlers aged 2 to 4. It's thick, cozy and has a 40-degree temperature rating. It's insulated with synthetic, so a little bit of vomit or spillage won't affect the insulating ability.
It's also machine washable, so you don't have to do the annoying spot cleaning every time a dirty stain appears.
The shape of this sleeping bag allows you to keep it on your toddler as a jacket. The sleeves can be open during the day and closed at night for more warmth. The footbox is fully enclosed, so that little feet always stay warm and dry.
Thanks to the two-way zipper, you can create air vents when it gets too hot. And don't worry, the sleeping bag features a soft fleece zipper flap that keeps the cold metal away from your kid's body.\
Related: Tips for Camping With Toddlers
Pros:
Thanks to its shape, it keeps your toddler warm at all times
A two-way zipper allows you to create ventilation when needed
The shape allows a few years of use before your kid overgrows it
It's safe for machine washing, so you don't have to wash it by hand
Cons:
Somewhat pricey for a synthetic sleeping bag
Best for: toddlers that aren't calm sleepers.
Coleman Plum Fun 45 Youth Sleeping Bag
Kids can outgrow a sleeping bag in less than a year, so spending tons of money on such a product might be in vain. And there are some pretty affordable yet high-quality models on the market that you can get instead, like this one by Coleman.
This sleeping bag is suitable for kids under 5,5 feet. It's designed for summer weather, but it can keep your child warm at temperatures as low as 45 degrees Fahrenheit. The sleeping bag is insulated with synthetic and has a cozy plush cuff around the edge for more warmth.
Thanks to the ZipFlow technology, the fabric is pushed away from the zipper's teeth. This allows your kid to enter and close the sleeping bag without the possibility of snagging the material.
I love the fact that this bag has roll control. What this means is it makes packing easy, by locking the edges of the bag together to keep it straight as it's rolled up. This allows kids to roll their sleeping bags by themselves.
Finally, I need to mention interior pockets. Your child can put a flashlight, a toy or any other small item inside and have it close at hand at all times.
Pros:
The bag is very lightweight and packs small, so it can fit a kid's backpack easily
ZipPlow system moves the fabric away to prevent snagging when using a zipper
Roll control keeps bag ends together and allows an easy packing
Interior pockets allow your kid to keep important things close by
Cons:
Not suitable for colder weather
Best for: kids that love carrying their own equipment.
Check Price at Dick's Sporting Goods
REI Co-op Kindercone 25 Sleeping Bag

Since kids grow at lightspeed, you've got two options – you can buy them a sleeping bag every time they outgrow them, or get ones that can grow with them.
While a sleeping bag can't grow per se, it can be adjusted to fit the size of your kid. Look at this Kindercone bag by REI Co-op. It featured an attached stuff sack that cinches down to adjust the length of the bag to fit your child's size.
This mummy-shaped sleeping bag comes in three colors: red, blue and green. Each of them has a fun pattern on the inside, so there's surely one that your kid will absolutely adore.
Less free space means more warmth. And thanks to synthetic fibers, this bag will keep your kid warm at temperatures up to 25 degrees Fahrenheit. And when you add a water-repellent finish to the table, what you get is a pretty good shell against weather conditions.
This sleeping bag features a roomy hoodie that can easily be adjusted with cords. It can stay snug around the kid's face, or can be stretched to fit a pillow. This allows your kid to sleep rather comfortably at night.
Pros:
An attached stuff sack allows you to adjust the length to your kid's height
Synthetic insulation keeps the warmth in even if the sleeping bag gets a bit damp
With a 25 temperature rating, this bag is suitable for 3-season camping
A two-way zipper allows the kid to create ventilation openings when it gets too hot
Cons:
A bit heavier than other models
Best for: middle-school children that grow like weeds.
How To Choose The Best Sleeping Bag For Kids
Camping with kids can be an unforgettable experience, as long as you make sure your child is warm and safe. So here's what you need to pay attention to when buying your kid a sleeping bag.
Age, Size, & Adjustability
Sleeping bags for kids come in a few sizes. Most commonly, kids' sleeping bags are made to fit up to 5 feet of height, meaning they're suitable for kids up to 13 years of age. Since a sleeping bag should be as snug as possible, this might be too big for younger children.
There are also baby and toddler sleeping bag sizes. The first one is usually designed to fit babies that are under 2 years old. A toddler sleeping bag, on the other hand, is suitable for kids aged between 2 and 4 years.
Kids grow fast. So if you buy them a sleeping bag that fits them like a glove, there's a good possibility they'll outgrow it in a blink of an eye.
On the other hand, you don't want to get them a sleeping bag that's too big either. Too much free space will make them cold. Nowadays, you can also find adjustable sleeping bags on the market, which practically grow with your kid.
Indoor vs. Outdoor
Keep in mind that not all kids' sleeping bags you find on the market are supposed to be used outdoors. Tons of models are made for slumber parties, and as such, they're not insulated very well.
If you're looking for a bag that your kids can use when visiting family, feel free to choose what looks most comfortable. But if you plan on going camping, insulation and protection from weather elements are the most important features to look for.
Washing & Cleaning Sleeping Bags
Most sleeping bags can be washed in a front-loading machine. But since they're fussy, you should do that only when they're really dirty, and opt for spot cleaning whenever possible.
In any case, down sleeping bags are more delicate than synthetic ones, and require a special soap for that kind of material. You'll also need to add a few tennis balls to the dryer to help restore the loft.
Storage
Kids should wear more than 5-20% of their weight on their backs, depending on the age. That's why a sleeping bag should be as lightweight as possible. At the same time, it should pack small to fit into a kid's backpack. Here's how to properly fold a sleeping bag.
Additional Features
Here are some other features you should consider when shopping for a sleeping bag for your kiddo:
Insulation
When it comes to insulation, there are two options to choose from: down and synthetic.
A sleeping bag with down insulation is warm and cozy. It's also lightweight and compact, making it great for kids to carry.
But down stays that way only when dry. In case it gets damp, it will become cold and heavy.
This is something to consider if your kid likes to sip on drinks at night.
What's more, down sleeping bags can be very pricey. And since children grow like weeds, it won't be long before you'll have to replace it with a larger model.
Synthetic bags, on the other hand, are way affordable. Plus, they don't lose their insulating ability if they become wet or moist. If you don't want to pay too much for a sleeping bag your child will only use for a year, this is definitely a more economical option.
Bag Shape
The two most popular sleeping bag shapes are rectangular and mummy. Mummy-shaped sleeping bags are narrow at the bottom, so your feet are snuggled and warm. And that's great – but only for someone that sleeps in a straight position. If your kid tosses and turns at night, a mummy sleeping bag will be too uncomfortable.
A rectangular sleeping bag has its pros and cons as well. It doesn't constrict the movement, so it allows a person to sleep in the same positions they do at home. But when it comes to warmth, it can't beat a mummy bag.
Hoods
A hood can be scrunched around the head for more warmth, which is invaluable in low temperatures. During warmer months, you can put a pillow inside the hood to keep it in place during slumber.
Pockets
Inside pockets are super practical. Your kid can keep a flashlight or a phone inside to find it easier at night.
Zippers
A kid's sleeping bag should have a zipper liner. That's a piece of fabric along the zipper that prevents snagging. This feature makes it easier for kids to get in and out of the sleeping bag.
To Sum Things Up
So there you have it – a list of the best sleeping bags for kids that you can find on the market nowadays.
The REI Co-op Down Time 25 has everything you want in a sleeping bag.
It's warm, well insulated and stays snug around your child at night. However, it's a bit expensive. If that's out of your budget, you can't go wrong by choosing any other model from this list.
More Hiking and Camping for Kids: