Here's my Osprey Farpoint 40 review.
Have you ever wished you could find one backpack for all occasions?
A backpack that's spacious, yet compact?
One that you can take on hiking trips, use as hand luggage when travelling by plane and also just carry around town on a daily basis?
You might be asking yourself how a single backpack could possibly be suitable for such a wide range of purposes. Well, you're about to find out.
From its specs and features to the quality of the materials and workmanship, the Osprey Farpoint 40 goes above and beyond in every aspect.
There's a lot of hype surrounding this backpack. After spending over a dozen hours carrying out research and detailed comparisons to similar products, I can safely say that it isn't just hype. This pack truly is an all-round leading performer that's sure to meet all your lightweight backpacking needs.
At First Glance / Key Features
The Osprey Farpoint 40 is where outdoor gear meets urban streetwear. It has a sleek aesthetic while still retaining all the features and properties of a hiking backpack. This makes it perfect for both hiking expeditions in the great outdoors, as well as casual daywear around the city.
Anyone who's had any experience with Osprey products knows they're a top brand that always delivers when it comes to quality. The Farpoint 40 is no different.
To begin with, here are the technical details:
Capacity: 40 L
Size: 21" H x 14" W x 9" D
Weight: 3 lbs
Material: 210D nylon mini hex diamond ripstop
Those are some great specs for a light travel backpack. If you're after a smaller pack, Osprey also has some amazing daypacks, so you should definitely give those a go.
Want to know more about the Farpoint 40? These are all the things Osprey did an outstanding job with, and a few things they could've done a bit better.
Pros:
Comfortable – ample padding, sternum strap and hip belt help distribute weight in a way that makes it as comfortable as possible to carry.
Compact – small enough to meet most airline hand luggage requirements.
Versatile – convenient handles on the sides allow you to carry this backpack as a duffel bag when you want to.
Practical – lots of pockets and different compartments to help you stay organized. Also, it's clamshell design enables easy access to the contents inside.
Durable – made of high-quality materials with tough zippers, making this a backpack you can truly rely on.
Secure – lockable zipper compatible with small padlocks.
Water resistant – provides great protection in light rain. It can also easily be made fully waterproof with the addition of a waterproof cover.
Warranty – covered by Osprey's All Mighty Guarantee, which provides free repair or replacement within the backpack's reasonable lifetime.
Cons:
Laptop compartment – positioned towards the front of the backpack, making it less comfortable to carry. It can also make packing awkward.
Water bottle holders – positioning and size makes them impractical and not suitable for your average water bottle.

Features
The Osprey Farpoint 40 is packed with amazing features. It's equipped with a hip belt and sternum straps, a detachable shoulder strap and compression straps both inside and out. It also boasts internal dual mesh pockets and a padded laptop sleeve.
Here's everything you need to know about each of these elements.
Hip belt and sternum strap
The Farpoint 40 features a hip belt and sternum strap, which you can fasten around your body to make carrying a heavy load much more comfortable. With far less strain on your back, you'll have a much easier time carrying your pack long distances.
What's really brilliant about these straps is that they can be stowed away when you don't need them. There's a flap folded up at the bottom that you can pull out and zip over all your straps, hiding them away.
This is especially useful when you're travelling and using the backpack as carry-on luggage. With the straps all out of the way, carrying the pack through customs and onto the plane is smooth sailing.
The sternum strap also has an emergency whistle attached. Hopefully you won't ever need it but you never know when it might come in handy. The wilderness can be an unforgiving place and any seasoned camper will agree that you can never be too safe.
Shoulder strap
When your straps are put away, there are a couple of alternative ways you can carry your pack.
The first way is like a duffel bag, by the padded handles on the side and top of the backpack.
Additionally, Osprey provides a detachable strap that you can whip out and hook up to the side of the bag. This way, you can carry it across your shoulder like a satchel.
This of course wouldn't be practical for long distances, especially if you've got a heavy load. Still, it can come in handy in certain situations, such as when you're shuffling through airport security.
Mesh pocket
Inside the main compartment you'll find large dual mesh pockets. These are convenient for storing loose items. For instance, if you've got any cables or other small personal items, you can secure them in these pockets. This way, you've got easy access and you don't have to dig through all your stuff every time you want to find something.
There's also a small scratch-free pocket up front. This gives you a safe place to stash your sunglasses and electronics without having to worry about them getting damaged. It's great for anything you want to have quick access to without having to undo any straps.
Compression straps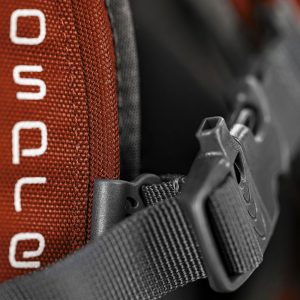 The compression straps on the Osprey Farpoint 40 do a really great job at keeping your pack compact, no matter what you've got loaded inside.
But, that's not all they're good for. These straps serve to push your load closer to the frame, improving weight transfer and balance. In other words, they make your load feel lighter on your back, making carrying your backpack more comfortable.
There are straps both inside the backpack and on the exterior.
The two internal compression straps go across the contents of your pack, getting all your stuff squished down as much as possible.
Dual front compression straps on the front of the backpack further tighten the load from the outside.
Laptop sleeve
While this backpack does feature a laptop sleeve, its positioning isn't ideal.
The laptop sleeve in a backpack is usually positioned so that the laptop is pressed flat against your back. In the case of the Osprey Farpoint 40, you've got the laptop sleeve further towards the front of the backpack, in front of the main compartment.
This is because the back of the backpack is slightly curved, so it doesn't allow for a laptop sleeve to be placed where it usually would be.
This can be a bit inconvenient because you have to take this into account when packing to avoid damaging your laptop.
You might not have any issues with this, but it really depends on what you pack in the main compartment and how you pack it.
What you definitely will have an issue with is the effect this has on weight distribution. Having a laptop, which is often quite heavy, further away from your back will make it seem heavier than it would if it was straight up against your back.
Packing cube
This backpack doesn't come with any packing cubes included, and you could definitely get away with skipping them altogether.
If you're anything like me though, you need all the help you can get to stay organized. I'll be the first to admit, I'm not a tidy packer. I start out fine, but a few days into any trip and any order that existed to begin with is long gone.
I've found that using packing cubes really helps me keep my stuff sorted. Grouping your things in different sections reduces the chaos that occurs when you're trying to dig something out.
They also provide an added layer of protection for the contents of your pack and prevent any liquids from spilling out.
They can help compress your load as well, so you can fit more in.
On top of that, should the need arise they can double as a laundry bag, toiletry bag or even as a pillow in a snap.
Durability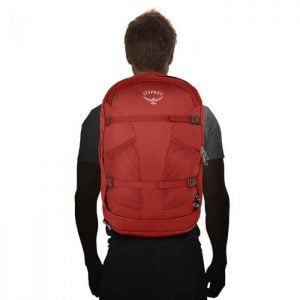 Let me tell you, this Osprey backpack is tough. It's made of 210D nylon mini hex diamond ripstop material, so it's incredibly resistant to tearing.
Going hiking in rough terrain full of sharp rocks and tree branches? Worried about your pack getting damaged if you check it in as cargo? Looking for a travel backpack that can withstand your journey whatever happens along the way? Look no further. The Osprey Farpoint 40 really is built to last.
Of course, it's not impossible to damage it. However, if you do happen to get any little holes the ripstop material will prevent them from ripping further. This means they won't get any bigger over time, so any insignificant damage will remain insignificant.
As far as backpacks go, this one is about as tough as they come.
Warranty
You'll be covered by Osprey's famous All Mighty Guarantee. What does it cover? Well, pretty much everything.
They'll repair or replace any backpack free of charge should there be a defect, within the pack's reasonable lifetime.
"So," you ask, "what is the reasonable lifetime of a backpack?" This bit is a bit unclear. Unfortunately, an exact time period isn't specified. Osprey's answer is that it depends on how long you've been using it and how often. They assess each case individually.
This sounds a bit sus, but my research indicates that in the vast majority of cases, you will get a repair or replacement when any damage occurs. I came across testimonies of many customers who successfully claimed warranty after years of frequent use. This leads me to believe that the warranty really is mighty.
Water Resistance
The Osprey Farpoint 40 isn't 100% waterproof, but it still does a fantastic job at keeping your things dry in a light shower. The 210D nylon mini hex diamond ripstop fabric is impressively water resistant. If you don't encounter any thunderstorms or heavy rains, you shouldn't have any problems.
But, as any camper knows, nature is unpredictable. So, it's always a good idea to be prepared for all kinds of weather.
If you anticipate heavy rains, you'll definitely want to look into getting a waterproof cover. You can pick one up for next to nothing and they're extremely lightweight and compact, so there's really no reason not to.
The Final Verdict
So, what can we take away from this Osprey Farpoint 40 review?
All in all, the Farpoint 40 is a shining example of the premium quality Osprey is famous for.
It's great for hiking trips and city use alike, plus you can take it on a plane as your carry-on luggage. It really is unbelievably versatile and functional.
It's lightweight and compact, so it's perfect if you're a backpacker who's going to be carrying it long distances. Plus, it's built tough, so you can depend on it to deliver season after season.
When it comes to durability, comfort and reliability the Farpoint 40 is hard to beat. Put it to the test and see for yourself. It's sure to exceed your expectations in every possible way.