Here's my REI Flash 22 review.
Are you looking for a daypack that's light enough to take trail running, mountain bike riding or rock climbing?
Or, are you a hiker looking for a small, lightweight hiking daypack for all your trekking essentials? 
Maybe you're just looking for a small backpack to carry your personal items in when you're zipping around town on a daily basis?
If you answered yes to any of these questions, you've come to the right place. When it comes to ultralight daypacks, the REI Flash 22 is among the best there is. 
I took an in-depth look at the Flash 22 daypack. After over 15 hours of research, I've gotten to know this backpack really well. To help you get to know it a little bit better, I've put together all the most important information in one place. 
So, let's get started.
At First Glance / Key Features
REI is a name trusted by campers, hikers and athletes far and wide. And for good reason, too. While we've seen the quality of many outdoor brands deteriorate over time, that hasn't been the case with REI. Instead, they've continued to provide us with outstanding gear consistently since 1938.
The Flash 22 is a shining example of the quality and functionality REI is so well known for.
It's an ultralight daypack specifically designed for hiking and outdoor activities. Of course, that isn't to say there's anything stopping you from using it as an everyday bag in the city.
As you're about to find out, it's versatile enough to suit a wide range of purposes. However, compared to some other daypacks such as those from The North Face, the REI Flash 22 is definitely more geared towards outdoors activities. 
Here's a rundown of everything you need to know about this pack.
First off, let's have a look at the specs:
Capacity: 22 L

Weight: 13 oz 

Dimensions: 18" x 10" x 8"

Material: Nylon
These attributes give you a good idea of how much you'll be able to fit into it and just how lightweight it is. As you can see, it's small but not tiny and it really is featherlight, making it an exceptional daypack for carrying long distances. If you're looking for a larger backpack, REI also has some great travel backpacks, such as the REI Ruckpack 40. 
Here are some of the other things I loved about it, and a couple of things I didn't think were as good as they could be.
Pros:
Ultralight construction makes it perfect for day hiking and trail running.

Padded stretch mesh shoulder straps and back provide paramount comfort. 

Detachable waist belt and sternum strap can be stowed away when not needed. 

Great water resistance and durability, as it's made of high-quality ripstop nylon fabric.

Fantastic internal organization with plenty of compartments and pockets. 

Water bottle pockets on each side that are a great size, making them super secure.

Features a hydration reservoir sleeve with a sip tube port. 

Loops and bungee cord that you can attach extra gear to, such as trekking poles. 

You can take the back panel out and use it as a sitting pad, so you'll always have somewhere comfortable to sit when you need a quick rest. 
Cons:
No suspension system, causing you to sweat more than you would wearing a backpack that does have one. 

Can be uncomfortable if you've got a larger frame, as you might find the straps too tight and restrictive.

Not waterproof, so it isn't suitable for use in heavy rain or snow. 
Intrigued? Want to know more about the REI Flash 22? Keep reading for a more detailed look at the many features packed into this stunning little daypack.
Comfort & Support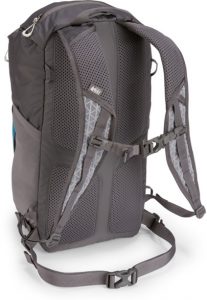 Shoulder Straps
Each shoulder strap on the REI Flash 22 is padded and lined with stretch mesh, so they're breathable and comfortable against your skin. 
There are tunnels on both shoulder straps, so you can feed your water tube through these on either side if you're using a hydration reservoir. 
The shoulder straps are a little bit thin, which is to be expected with an ultralight backpack. This can make carrying it for extended periods of time a little bit uncomfortable after a while if you've got a lot of stuff inside. Generally though, considering how light it is, this isn't really too much of a problem. 
Sternum Strap & Hip Belt
The REI Flash 22 has got a sternum strap and a hip belt. This helps press your backpack closer against your torso, making it seem lighter and more comfortable to carry. 
You can slide the sternum strap up and down to adjust it to your body. This is great, because you can have it exactly where you need it based on your height and frame. Of course, the tightness of both the sternum strap and hip belt can also be adjusted as needed. 
The sternum strap has also got a built in whistle, which is always a good idea to have on hand in case you find yourself in any trouble.
Another neat detail is that both the sternum strap and hip belt are removable. This means you don't have to worry about them flopping around and getting in your way when you're not using them. 
I should mention that these straps are thin and don't have any padding. This means it can become a bit uncomfortable if you're wearing the backpack for extended periods of time.
Internal Organization
The main compartment of the REI Flash 22 daypack is surprisingly spacious. Inside the main compartment, there's a hydration reservoir sleeve and a sip tube port at the top of the pack. There are also a couple of small pockets for loose items and a key fob holder so you don't lose your keys.
What makes this backpack so great for trail running and other outdoor activities? It's compatible with a hydration reservoir. This means you can drink water on the go without having to take your backpack off your back, or without even having to stop. A hydration reservoir is a great way to make sure you stay hydrated, especially when hiking in hot weather. 
There's a sleeve inside the main compartment where you can put your reservoir. You thread the sip tube through the port at the top of the pack, and through either of the shoulder straps where you can easily reach it whenever you need a sip.
External Features
On the outside, there's a small bungee cord towards the top of the pack, and a loop towards the bottom. This is perfect for hooking extra hiking gear onto your backpack that might not fit inside, like trekking poles. 
There are 4 loops on the bag in total, so you've got plenty of places to tie on any extra gear you might have, like carabiners, bungee ties, a helmet or a jacket.
You can also use these loops to add extra compression straps, if you want your pack to be even tighter. This is probably a good idea if you're a trail runner. 
Another thing you can do with these loops is use them to attach this daypack to another larger backpack. This comes in great handy for trips where you want to have both options on hand without having to carry them separately.
There are also two external pockets for items you want easy access to. Although this might be less than some other daypacks of this size, these pockets are a great size and you can actually fit quite a lot in them, which is great. 
The REI Flash 22 features dual stretch mesh water bottle pockets on each side. 
Now, you might have read some bad reviews about these and people have had issues in the past with water bottles falling out easily. The good news is, REI have sorted this issue out and the newest version of the backpack has much deeper pockets than its predecessors. 
The new and improved water bottle holders are nice and tall, and the elastic around the top is tighter than it was before. So, you shouldn't have any issues with water bottles of any size. 
If you're only carrying one water bottle, you can also use the other mesh pocket as a handy place to put things you want to have on hand. 
The front clip that closes the main compartment also acts as a compression strap. All you have to do is pull down on it tightly once you've packed your bag to push the contents together, making the backpack as tight and compact as possible. 
Our Verdict
All in all, the REI Flash 22 is an excellent little daypack. It's small yet spacious and it's packed with a bunch of handy features. It's light enough for any outdoor activity and has enough pockets to keep you organized and efficient. 
Whatever your daypack needs may be, you really can't go wrong with the Flash 22.