This is a review of the REI Ruckpack 40 travel backpack.
What's every adventurer's most invaluable piece of gear? Their backpack.
Having the right backpack allows you to be ready for every situation. You can be camping in the mountains one day, and sleeping on the beach the next, as long as you're properly equipped.
However, finding such a backpack is no easy task. With so many brands and models on the market, the search can be quite frustrating. 
I've found that the REI Ruckpack 40 is a great bag for all kinds of activities, from hiking to traveling by plane.
After thorough research, I can safely say that it has all the important features you'd expect in a travel backpack – quality materials, lots of storage options and functionality. 
In this article, I'll go over every tiny detail, from the pockets to the straps and loops. If you're trying to figure out if the REI Ruckpack 40 is the perfect choice for you and your backpacking needs, you've come to the right place. 
REI Ruckpack 40 – An In-depth Analysis 
As a brand, REI has a long history of making high-quality outdoor equipment that's also budget-friendly. This great travel backpack if theirs is no different.
With this stunning piece of hiking equipment, you can step off an airplane and head straight to the top of a mountain.
The first thing I noticed about the REI Ruckpack is its minimalist design. It comes in a solid color, with a tiny logo displayed in the top corner.
Fans of a simple style, like me, will love the aesthetics of this bag. After all, there aren't many things that put me off buying a product like a giant logo splashed all over it.
The REI Ruckpack reminds me of two other well-known backpacks: the Osprey Farpoint 40 pack and the REI Trail 40. The former is specially designed for urban traveling, while the latter is more of a hiking bag.
When it comes to the REI Ruckpack, it's a perfect mix of these two bags – like their love child. It's a bit more durable than the REI Trail, and more versatile than the Osprey Farpoint.
If what you're after is a smaller backpack, it's worth mentioning that REI also has some fantastic daypacks you can look at, like the Flash 22.
Here are the Ruckpack 40's technical specs:
Capacity: 40L
Dimensions: 24x13x10 inches
Weight: 4 lbs. 3 oz.
Material: 210-denier ripstop nylon
If you've never bought a travel pack before, these specifications can seem abstract. Let's elaborate on what these numbers mean.
Materials & Sizing
This backpack is made of 210-denier ripstop nylon fabric. That means it's a bit thinner than most urban traveling backpacks, but it's still a decent material.
Don't expect this bag to be something you'll pass onto your children one day. But, if you take proper care of it, it will last you a long time. 
It weighs 4.3 pounds, which is a bit heavier than most backpacks of the same capacity. However, the straps and hip belt help with distributing the weight, so you won't feel like you're carrying a 4.3-pound travel backpack on your back. 
The dimensions of this backpack are 24x13x10 inches. That's just slightly above the standard carry on dimensions, which are 22x14x9 inches. However, if you don't overpack, you'll still be able to fit the backpack into the measuring box at the airport.  
The REI Ruckpack 40 comes in men's and women's versions. These are basically the same, differing only in the way they fit. The women's version features straps that are a bit thicker and the hip belt is placed higher than on the men's version.
Basically, anyone with a petite statue will probably find the women's version to be more suitable than the men's. 
The REI Ruckpack sits pretty high up on your back. That ensures your back stays straight even when you're carrying a heavy load.
What's more, your shoulders won't bend backwards and the straps won't cut into your armpits. The positioning might take some time to get used to, but your back will thank you later. 
Harness System
The harness system of the REI Ruckpack 40 consists of 3 parts: the straps, the hip belt and the back padding. They work together to make this travel backpack incredibly comfortable to carry.
Here's what you need to know about each of these components. 
Shoulder Straps & Sternum Strap
This is one of the features where the men's and women's models differentiate, slightly. I had to emphasize that because the only way you'll notice the difference is if you put one model next to the other. As I mentioned earlier, the straps on the women's backpack are slightly thicker. 
Each shoulder strap on both backpacks is slightly curved into an S shape. They're lightly padded and they feature a sternum strap with a plastic buckle.
One neat detail that you'll love is that this buckle doubles as a whistle! What a great way of reaching out to your friends, wherever you're located. 
Hip Belt
Like every proper travel backpack, this one comes with a hip belt.
The women's version has the hip belt placed a little bit higher than on the men's version, so it sits around your waist comfortably.
If you're not comfortable wearing high-waisted pants, this hip belt might feel a bit awkward. However, it's wide, well-padded and great for carrying a heavy load.
One thing I wasn't thrilled about when it comes to the hip belt is that it isn't removable, like on some other backpacks. So, when you don't need that extra support, it's left just flapping around your waist. 
Back Padding
The upper 2 thirds of the back panel feature mesh-covered sections made of foam, which provide decent airflow. 
The bottom third, located around your lower back, is padded with dense foam squares. These aren't as breathable, but they provide great support and do wonders for your back on long hikes. They're quite hard, so they take some time to get used to, but hey, the same goes for your favorite shoes, right? 
Here's the coolest part of this travel pack's exterior. The whole back panel can be covered with a fabric flap, which you can find inside a pocket at the bottom of the bag. Unfold the flap, zip it on and you get a nice travel bag that's airline ready.
Of course, there's a low profile handle on both sides that allows you to carry it like a duffel bag when the straps are covered. 
This fabric cover is what makes this bag perfect for traveling by airplane. Without it, the straps would be flapping around and taking up too much space for the bag to fit into the carry on measuring box. 
Exterior Pockets
One thing this travel backpack doesn't lack is good, functional pockets.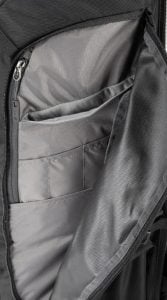 The right side panel features a bunch of organizational compartments.
The larger ones are great for storing a book, a flashlight or a flask, while the smaller dividers are suitable for pencils, toothbrushes etc.
Behind these compartments, there's a zip pocket you can use for storing your ID, passport, money and other valuables you carry with you. 
The left side panel has a stretchy, mesh pocket where you can fit bulkier things like sandals or a water bottle.
Through this pocket, you can also reach the stuff in the main compartment. While that's functional, it's not so great from a security standpoint. 
The brain of the backpack has a zipper compartment where you can store things you need close at hand, like snacks or your phone. The top part has a bit of padding, which protects your gear if your backpack gets tossed around. 
I personally really appreciate a well-designed water bottle pocket on a travel backpack. The water bottle pockets on the REI Ruckpack 40 exceeded my expectations.
They're wide and adjustable. Tie-down straps allow you to fasten them, so whatever you've got inside won't move an inch. They can fit a large water bottle, but also food cans, sandals etc. 
The compression strap above the water bottle pockets can also keep longer objects in place, such as a fishing pole. 
At the bottom of the bag, there's a zippered pocket that holds a rain cover. While this travel pack is water-repellent, it isn't 100% waterproof, so this addition is a must if it starts to pour down. 
Other Exterior Details
On the front side, if you pull the tabs on the bottom corners, you'll find hiking stick loops. On the upper part, the bag features adjustable drawcords which assure your hiking sticks stay in place at all times.
Behind the front panel, you'll find daisy chains on each side. These are great for attaching small things like hand sanitizer or just about anything you can hang on a carabiner.
Bonus points go to REI for making these hidden when not in use, for aesthetic reasons. 
There are also two stretchy, low-profile loops located on the straps of the bag, which are perfect for attaching your sunglasses and such.
A Glimpse Into the Interior
Before we get into the interior, I've got to mention the zippers. The REI Ruckpack 40 features YKK zippers, which are probably the sturdiest zippers you'll find.
There's also a lockable zipper on the main compartment, for extra security in urban surroundings and when traveling. 
When you open up the main compartment of the backpack, you'll notice that the zippers go almost all the way down to the bottom. This is a classic front-load backpack. You can fully unfold it to store your stuff efficiently, with the heaviest pieces of gear at the bottom, and the lightest at the top. 
What I love about the opening is that you can unzip it and grab that one thing that's all the way down at the bottom without having to take everything out first.
Here's a small drawback – while it is a front load bag, you could still, technically, use it as a top load by unzipping it halfway down.
However, REI didn't design the backpack frame in such a way that it can stay upright, so you have to hold it up manually if you want to pack it from the top.
At the top, which is basically the inner side of the bag's brain, there's a small mesh zipper compartment. It's big enough for a passport or a pocket tissue packet, or any other small items you want close at hand.
There's also a plastic key loop attached to it, if you're one of those people who always misplace their keys. 
Below, on what would be the front side of the bag, there's a long flat mesh pocket that's great for separating stuff like your underwear. Don't expect to fit your shoes in there though – this pocket is only suitable for smaller, less bulky items. 
You've probably noticed that there's a pocket at the top back side of the main compartment, which has an inverted zipper. That's not actually a functional pocket, but a plastic bag frame holder.
I'm not sure why they made it accessible with a zipper, but it might be so that you can use it to hide your valuables, like money or important documents.
Finally, the inner backside features a laptop sleeve for either a 15-inch laptop or a hydration reservoir.
If you carry your laptop with you, I'd suggest using an additional laptop case rather than just sliding it straight in. The compartment itself isn't padded very well, and you don't want anything happening to your electronic buddy. 
If you're using the pocket to store a hydration bladder, you can thread the sip tube through a hole on either side of the bag.
Our Verdict
So, what has this REI Ruckpack 40 review shown us? The design of this travel backpack makes it a great choice for all kinds of activities, from hiking to urban traveling. 
It's highly functional, well-made, budget-friendly, and let's not forget – good looking. The front-load design allows you to easily access all your gear at all times, no matter where it's stored.
The back padding gives you the perfect balance of ventilation and support. Even when you've got a heavy load, you'll be able to carry it effortlessly. 
Is this backpack flawless? No. The laptop compartment could definitely use more padding. Also, while the hip belt is well-designed and great at providing extra support, I wish it was removable so you could put it away when you don't need it.
This is really nitpicking though, as these are only slight flaws, not major defects. 
Overall, this is a nice travel pack that offers everything an urban hiker needs at a budget-friendly price.