If you're in a rush and just want to know what the best small two-person tent is, we recommend the REI Co-op Half Dome SL 2+ Tent  as our #1 pick.
Planning a romantic camping getaway? Or perhaps you are looking to solo it, but want a two person tent for some extra space? Or maybe you are looking for the perfect tent to go backpacking with. Well you've come to the right place!
A tent is the most important piece of camping equipment needed in any camping trip, especially when backpacking.
The great part about two-person tents is that they are small, lightweight, and don't take up a lot of room in your car or if you are heading out on a backpacking trip.
Best Small 2 Person Camping Tents: Our Top Picks
Now, here are our picks for the best small 2 person tents:
REI Co-op Half Dome SL 2+ Tent with Footprint

As REI says "Dropping over a pound from its famed predecessor," the REI Co-op Half Dome SL 2+ is the perfect tent for backpacking.
A minimum trail weight of 3 lbs 15oz and a full packaged weight of 4 1bs 11.5oz, you won't find a higher quality backpacking tent for the money.
At 33.75 square feet, there is enough extra room to comfortably sleep two people, and some gear. Something that not many 2-person tents can realistically accomplish.
Pros:
Best weight to value ratio – a lightweight, but spacious tent, makes this great for backpackers
Easy set up and takedown
Keeps you completely dry even in rainy conditions.
Comes with a footprint included in the price
In a two person tent, headroom is hard to spare, but with a peak height of 42" and the dome design, there is plenty!
Taller campers rejoice, as anyone 6'5" or even over will have plenty of room to unwind.
Cons:
Missing the mesh pocket at the top of the tent compared to the older model
No grommets on the footprint, so can't do a fast fly setup
Best for: people looking for the best overall 2-person tent on the market today.
NEMO Dragonfly 2 Tent
This is hands down the best backpacking tent that we have looked at. With a full packaged weight of only 3 lbs 1 oz, you cannot get any better than this. Stripped down, the minimum trail weight is 2 lbs 9 oz.
The Nemo Dragonfly is an ultralight, freestanding tent, with two trapezoidal vestibules that allows enough room for two backpackers and their gear.
Even for taller campers, the NEGO Dragonfly has enough room to go around.
Pros:
The perfect tent for backpackers, with a 3 1bs and 1 oz packaged weight!
Great backcountry tent that will withstand even the worst rain and wind that you can throw at it
Easy Setup – with only one pole, setup is quick and easy
Heavy on features between Gear Pockets for person items and a special Divvy Sack that allows you to split the load with a backpacking partner
Black mesh sidewalls help improve airflow for condensation and a bonus for stargazing at night
Cons:
The Dragonfly 2 footprint is sold separately
On the pricier side – not a low budget option for backpackers
Best for: backpackers, solo campers, and backcountry expeditions
Coleman Sundome Tent
This is one of the most popular two-person tents on the market, and when you consider its price tag it's no surprise why.
This is a sturdy and solid basic dome tent for car campers, solo travelers, and beginners alike.
Thanks to Coleman's patented Weathertec technology, it has features such as:
protected seams,
a wind-strong frame,
a waterproof tent floor.
That means you'll be safe and warm even during the worst showers.
All in all, this Coleman tent is probably the best cheap 2 person tent available today.
Pros:
Affordable – best value for money
Can be set up in as little as 10 minutes
Waterproof – you'll stay dry even in heavy rain
Large windows and a ground vent make it very breathable
Weighs less than 10 pounds making it great for backpackers
Cons:
The tent doesn't come with a footprint
Not suitable for colder weather
Best for: campers on a budget who still want a great small 2 person tent.
The North Face Stormbreak 2 Tent
With a minimum trail weight of 5 lbs and 5oz, this tent is lightweight, but packs a full weather-proof punch.
It has 2 large doors on either side, offering easy access and great views from within the tent.
This tent is extremely weatherproof, providing stability in windy conditions and keeping you dry in heavy rain. The North Face Stormbreak is built to withstand mother nature's finest – a stormbreaker indeed!
Perfect for 2 people, this tent is small and lightweight, exactly what you are looking for.
Pros:
A good ratio of size and weight makes it great for backpacking
High quality materials means strong performance in bad weather
Easy setup – goes up in a couple of minutes
Small and lightweight at 5 lbs 5oz
30.6 square feet of space, giving you enough room for 2 people and a dog
Great for taller people – at 87 inches long this tent is long enough for taller people (6' to 6' 8")
High-low ventilation allows efficient airflow
Two doors means getting in and out is easy
Cons:
The footprint is sold separately
Pricey – this is not a low-budget option for most campers
Best for: people looking for a durable and small weather-proof 2 person tent
REI Co-op Passage 2 Tent with Footprint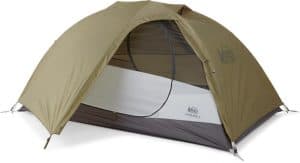 Coming in at 31 square feet and weighing only 4 lbs and 2 oz, the REI Co-op Passage 2 Tent is a great 2 person tent.
The X-pole configuration makes it easy to set up and teardown, while adjustable ceiling vents help to reduce condensation and provide solid ventilation.
This tent features plenty of interior space along with two well sized vestibules for gear storage, and additional space.
It also comes with a footprint, unlike some other tents.
Pros:
Easy setup and teardown
Good ventilation, and includes two vestibules for added space
Small and lightweight at 4 lbs and 2 oz
Long enough at 88" to accommodate taller campers (6' and above)
Footprint included – thank you REI
Two doors means getting in and out is easy
Cons:
There aren't too many pockets in the tent
Needs extra stakes in strong winds
Best for: backpacking trips and campers looking for a solid and sturdy 2 person tent.
Mountain Hardwear Trango 2 Tent
If you are looking for a premium, high quality, yet expensive 4-season mountaineering tent, look no further.
If you are looking for a budget 4-person tent, look elsewhere.
At 8 lbs, 9.7oz this is one of the heavier tents we reviewed, but that makes sense as the materials need to be premium and able to withstand the elements.
Canopy fabric is 40-denier ripstop nylon, while the floor and rainfly are made with 70-denier nylon taffeta, rated 10,000mm waterproof, so even if you get caught in a thunderstorm, you'll barely feel it.
For a two-person tent, it is actually quite a bit larger at 40 square ft. You'll have plenty of room to keep your gear warm and dry.
Setup and takedown is more complicated than a standard 3-season tent, but that is to be expected given that it is both heavier and bulkier than the other tents that we've looked at.
Pros:
4-season tent you can use even in freezing temperatures
Extremely durable tent – rated 10,000 mm waterproof
Withstands the elements, including high winds, rain, and snow
Perfect for high-altitude camping
More square footage at 40 square feet, than other 2 person tents
Cons:
Difficult setup – not the easiest to setup and teardown
Heavy for backpacking at 8 lbs, 9.7 oz
Extremely pricey – the most expensive tent on this list by far
Best for: campers willing to pay a premium price for a quality 4-season tent.
BISINNA 2 Person Camping Tent
The best budget two-person camping and backpacking tent that we could find.
The click on rainfly makes this one of the easier setup and takedowns for tents that we have reviewed.
The price-to-quality ratio is high. With over 1,200 five star reviews on Amazon, it is clear that this is a top budget backpacking and 2-person camping tent.
Pros:
Easy setup and takedown – the tent assembles in minutes and the rainfly simply clicks on
Waterproof – you'll stay dry even in heavy rain
Budget friendly – will not cost you an arm and a leg
Weighing only 4.5 lbs, this is a solid backpacking tent
Features a large vestibule
Cons:
The footprint sold separately
Probably not the best long-term durability
Best for: campers on a budget who want a great two person tent for backpacking and camping
Key Considerations When Purchasing a Small Two-Person Tent
As with everything in making purchases for camping, purchasing a 2-person tent is no different.
For example smaller 2-person tents tend to:
Be cheaper, due to less materials needed, overall
Have less room for extra gear storage inside of your tent
Weigh less, and take up less room in your car than larger 4-person or 6-person tents
Are harder to stand up fully in, as average height tend to be in the 30-50" range.
Best for backpacking or solo travelers who don't need a lot of room
While a 2-person tent can be considered for a romantic getaway, not all tent sizes are created equal, so make sure that there will be enough room for you, your significant other, and your gear!
Factors to Consider When Buying a Two-Person Tent
If you are buying a 2-person tent for the first time, you will want to make sure that you have the basic features covered:
Size
Weight
Weather Resistance
Additional Features
How big is a two-person Tent?
Two-person tents are ideal for one-person and gear, one-person and a dog, or for backpacking trips where being packed in side by side is expected for the added benefit of hauling a less heavy tent to the campsite.
When a manufacturer says that a tent will fit two people, it typically means that it will fit two people side-by-side with no other room
What size tent should I get for two people?
If you are backpacking, a two-person tent should be considered for two people. However, if you are car camping, then you'll likely want a bigger tent. A 4-person tent or even a 6-person tent may be more what you are looking for, especially if you want room to stand up in your tent, store gear, and have a generally more comfortable experience.
I can tell you from my personal experience, that a two-person tent is just big enough for myself and my gear. For someone who is going car camping and can afford the extra weight and size of larger tents, I would lean towards a larger tent every time.
The difference between packed weight and minimal trail weight.
If you are a backpacker, this is very important. Manufacturers will disclose the difference between the packed weight (the weight of all parts of the tent, including accessories) versus the minimum trail weight (the weight of only the essential components).
Minimum trail weight generally does not include tent stakes, guy lines, and stuff sacks. It will only include the tent body, rainfly and the poles. However, keep in mind that you will likely want tent stakes and perhaps other accessories that are not counted in the minimum trail weight.
Packed weight on the other hand will include anything/everything that the tent comes with.
So a smart rule of thumb is to count the packed weight for backpacking trips to give yourself a bit of margin for error.
Weather Resistance
When backpacking or using a tent for 4-season camping, this is where weather resistance really comes into play. Most of the tents we review are typically 3-season tents, but we have also hand picked some 4-season tents which are specifically made with the best waterproofing materials around.
If you are looking for a tent with tougher material and thicker insulation, you'll want a 4-season tent.
Additional Features
Lastly, most two-person tents have varying features from an additional door, vestibules, rainfly, dome or other things to consider. Some tents come with all of the bells and whistles, while others are more basic in their design.
Our Verdict
After a lot of research and careful consideration, we found that the REI Co-op Half Dome SL 2+ Tent is the best small 2 person tent on the market today.
Not only is it a usable and lightweight backpacking tent, but it is perfect for solo campers and couples who don't need a lot of extra space.
Combine the ease of setup with the durability of the materials and you can see why it's our top pick.