If you're in a hurry, just go straight for the Smartwool Men's Merino 150 Boxer Brief.
Here's a secret all experienced hikers know: your underwear is the very foundation of your clothing.
It MUST be comfortable and durable or you'll end up with chaffed skin and hating the very moment you were born.
That's why choosing the best hiking underwear for men is such an important decision.
After 15 hours of thorough research, I've narrowed down our choices to these six:
Best Hiking Underwear For Men: Our Top Choices
Smartwool Men's Merino 150 Boxer Brief

Material(s): 87% merino wool/13% nylon | Weight (lbs): 0.22 lbs | Style: Boxer Brief | Fly Opening: Yes | Moisture Wicking: Yes
If you don't mind paying a bit more for reliable, quality, and versatile underwear, look no further.
Merino wool, combined with a nylon core and a wide elastic waistband provides a comfortable and odor/smell resistant experience. This is probably the best material combination for hiking underwear.
The Merino part, soft and gentle on your skin, is naturally antibacterial. This will keep your private parts fresh, clean, and odor-free at all times.
The synthetic part has a moisture-wicking feature. It will help you stay dry and avoid the feeling of dampness in your groins.
Keeping everything in place for ultimate comfort, flatlock seam construction is designed to rule out chafing.
The only downside I've found to this item is its price. Sure, they are pricier than the other options. However, they won't let you down on any occasion.
Pros:
Comfort – if you are feeling your underwear too much on your skin – it's probably a bad pair. Always aim for flatlock seams and gentle materials. They will provide you comfort and eliminate chafing during your activities.
Versatility – not only can you use them on longer hikes, but you can also use them during your day-to-day life
Durability – Just like with versatility, you want a quality and durable pair of underwear since you will pay for it more than expected.
Cons:
Price is the only downside to this pair. However, with all the great traits they kinda make up for the price.
Best for: People who want a versatile and durable pair of underwear and don't mind paying extra for high-quality design and comfort.
Icebreaker Anatomica Long Boxers – Men's

Material(s): 83% merino wool/12% nylon/5% LYCRA spandex | Weight (lbs): 0.348 lbs | Style: Boxer Brief | Fly Opening: No | Moisture Wicking: Yes
With a longer length made specifically for trail running and hiking, the Icebreaker Anatomica offer the support and comfort needed for a long day on the trails.
Using their ZQ merino wool, the Icebreaker has been given an equivalency of the Responsible Wool Standard (RWS).
Of course no boxer would be right without a contoured pouch for comfort. And let's face it, sometimes the fly opening can be a pain, especially on the trail. What does it matter anyway?
Pros:
Long thigh-length will allow you to be active as much as you want without any chafing on your groin.
83% Merino Wool – naturally antibacterial, odor, and stain-resistant, it will keep you fresh and clean for long periods of time.
Comes in a variety of fun colors
Cons:
Best for: Trail runners and those who are extremely active on the trails.
ExOfficio Men's Give-N-Go 2.o Sport Mesh 6″ Boxer Brief

Material(s): 90% nylon/10% elastane | Weight (lbs): 0.15 lbs | Style: Boxer Brief | Fly Opening: Yes | Moisture Wicking: Yes
Now, about some cheaper options.
ExOfficio's Give-N-Go 2.0 Sport Mesh Boxer Briefs are made of superlight ergonomic sport mesh materials. Flexible and comfortable they are probably the most affordable choice out there.
Very breathable and quick to dry, they are a great choice for longer adventures and warm conditions.
This means you get one pair of underwear you can wear on different occasions as well as for extended periods of time.
They are also antibacterial, which means that your private parts won't become a walking home for bacteria.
Pros:
Ergonomic, sport mesh materials make this underwear the most comfortable pair among the cheaper options.
These same materials put ExOfficio's Give-N-Go boxers in the superlight category.
If you are not into spending a small fortune on a pair of boxers, this model great. Best price for the value of all the items I've mentioned so far
Cons:
Made out of synthetic materials which means they are prone to pilling.
Best for: Anyone who needs light comfy underwear and doesn't want to spend crazy amounts of money on it.
SAXX Quest Quick Dry Mesh Boxer Brief
Material(s): 77% Nylon, 14% Elastane, 9% Polyester | Weight (lbs): 0.22 lbs | Style: Boxer Brief | Fly Opening: Yes | Moisture Wicking: Yes
When my wife got me my first pair of SAXX, I instantly knew I had to get another pair.
All SAXX come with their BallPark Pouch for maximum comfort and support. These quick dry mesh boxer briefs are made from a high quality blend of 77% Nylon, 14% Elastane, 9% Polyester.
These boxers have a super soft feel, which still providing excellent moisture wicking and odor control. .
Best of all they have non-chafing seams making them perfect for hiking, camping and other outdoor activities.
Pros:
Super soft quick dry mesh blend fabric
BallPark Pouch provides superior support
Moisture wicking and odor control
Anti-roll waistband and a nice four way stretch
Cons:
Best for: anyone looking for more support than standard boxer briefs
Arc'teryx Phase SL Boxer Men's

Material(s): Phasic SL – 100% polyester | Weight (lbs): 0.12 lbs | Style: Boxer Brief | Fly Opening: No | Moisture Wicking: Yes
Don't you just hate when the inner stitches of your underwear leave marks on your body?
Well, Arc'teryx Phase SL Boxer has this problem solved.
It's called "flatlock construction". It really makes that necessary contact between underwear and your private parts more comfortable.
Besides, these boxers have a non-chafing label. This means no more scratching, and no more ruined underwear while trying to remove the label.
On the other hand, they don't have a fly so this is something you need to be aware of when choosing your briefs.
Pros:
Comfortable – with anatomical shaping these boxers will move with your body. The flatlock seams and the non-chafing label will be gentle on your skin.
Light – made of polyester, they will provide silk weight performance during all of your activities.
Dries fast, moisture-wicking – you can freshen them up even when you are low on time and out in the wild.
Versatile – comfortable and light enough for all types of activities.
Cons:
Price – considering the synthetic (versus natural Merino Wool) polyester materials these boxers are kinda pricey.
Odors – as lightweight as polyester might be, it is prone to developing odors quickly
Best for: Active campers who enjoy wearing comfortable and light underwear during easier hikes.
Minus33 Merino Wool 702 Acadian Men's Lightweight Boxer Brief

Material(s): Merino wool | Weight (lbs): 0.22 lbs | Style: Boxer Brief | Fly Opening: Yes | Moisture Wicking: Yes
If you are looking for something more versatile and also cheaper, Minus33 Merino Wool 702 Arcadian is an excellent choice.
Made out of natural materials, these boxers are thermally self-regulating and antibacterial. This means they will keep you fresh and odor-free even on longer hikes.
Also, self-regulating the temperature, they will help you stay warm in cold weather and cool during hot days.
Fast-drying and moisture-wicking features make them a great fit for when you are out in nature wanting to refresh your underwear quickly.
Having discreet yet strong flatlock seams, these boxers keep your skin from chafing and your private body parts comfortable and cozy.
The downside is that Merino Wool is prone to tearing, so even though they are machine washable, you might want to avoid doing this. At the very least I would recommend washing them in a laundry bag.
Pros:
100% Merino Wool is a natural material, so you don't have to worry about chaffing
Self-regulating – this genuine material self regulates the temperature. This is why these boxers will work for you in both cold and hot climates.
It is naturally antibacterial and fast-drying, so you won't have to worry about odors and dampness in your groin.
Strong flatlock seams and a functional fly make these boxers very gentle on your skin.
Cons:
Prone to tearing. As some people have suggested, sometimes these boxers tear quickly. You might want to avoid machine washing and tumble drying them.
Sizes run small, so make sure you pick the right one. Maybe aim a number or a half higher than you go usually when you decide on the size.
Best for: Physically active people who need multifunctional underwear made of natural materials.
How To Choose The Best Hiking Underwear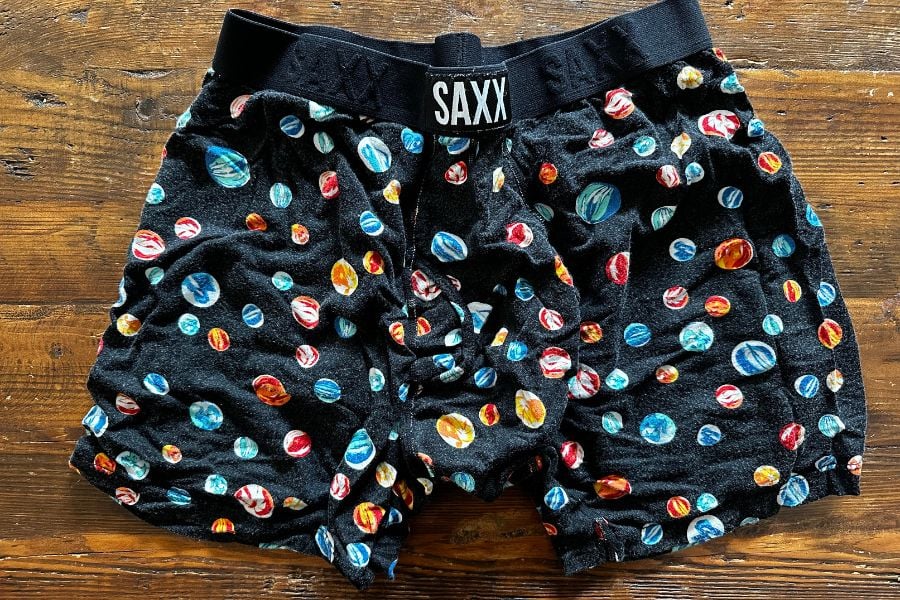 Hiking underwear is a really important (though kinda underrated) part of hiking equipment.
It is the layer closest to our skin, and it can give us some real troubles if we don't choose wisely.
There are several things you need to watch out for, such as:
Cut (and the design)
Materials
Odor resistance and moisture-wicking
Washability
Cut And Design
When choosing your hiking underwear probably the first thing you need to decide on is the type of it. Most men's hiking underwear are boxers or boxer briefs.
Boxers are similar to shorts, giving you more freedom and space, while boxer briefs are tighter especially around the thighs.
Which one you are gonna choose is completely up to your personal preferences and the specific model of underwear.
However, keep this in mind: you don't want your underwear to be too loose, in order to avoid chafing and rubbing. BUT, for the same reason, you don't want them too tight.
As for the design, there are also features that will help you avoid the chafing and rubbing problem. Look for underwear with flatlock seams.
Like I mentioned before, this means that the two edges of underwear material are sawn directly together in a way to eliminate any possibility of discomfort and skin irritation.
Furthermore, you might also want to look for underwear with a gentler label, also in order to minimize the rubbing and chafing accidents.
A functional fly is another feature that can come in handy when you are out in the wild with a bunch of layers and stuff you carry.
Materials
Most of the hiking underwear has two material options.
Merino wool
Synthetic materials like polyester, nylon, and elastane
Both of these options have their perks. They are both moisture-wicking and quick-drying materials which are great for your longer and multi-day hikes.
Synthetics are cheaper and more durable, whereas Merino Wool is softer, more enjoyable on your skin, and naturally odor-resistant.
On the other hand, Merino Wool is a bit pricier and less durable than synthetic materials.
Polyester and nylon, even though cheaper and more resilient, don't feel as nice on your skin as Merino, especially when damp.
Your choices will depend on your personal preferences and funds, so keep in mind that there is also a third option, which is the combination of the two like with Smartwool Men's Merino 150.
Odor-resistance And Moisture-wicking
Odor-resistance and moisture-wicking properties are probably among the most important features your hiking underwear should have. They help you stay fresh, cool, and odor-free on any occasion.
However, this isn't a regular feature with all the hiking underwear.
For instance, Merino wool itself is naturally odor-resistant and antibacterial, so any brand and model you choose made of merino wool will have you covered.
On the other hand, synthetics are a bit different. Some models might be prone to developing odors more quickly.
So if you are buying underwear for multi-day hikes where you might need to wear them without washing for some time, merino wool is the smarter choice.
Washability
Whether you use them in your day-to-day urban activities or carry them with you on your hikes and camping trips, this is an important feature.
If you are into versatile usage, you want underwear both hand and machine washable. Also, you might want to look for that quick dry feature, for when you are away on your hikes.
FAQs
What underwear should men wear hiking?
We believe that the best mens hiking underwear is the boxer brief.
Not only do they give you more coverage, but a snuggler fit at the same time.
A high quality pair will be moisture wicking and odor resistant making them perfect for any and all outdoor activities.
Can I wear my usual underwear for hiking?
Your normal underwear is likely made from 100% cotton. That isn't going to cut it out on the trail.
It can lead to chafing and discomfort.
We recommend a moisture wicking and odor resistant underwear.
Is nylon underwear good for hiking?
Yes it is. Most nylon underwear comes in a blend with elastane or another synthetic fabric making it flexible, moisture wicking, and comfortable.
How do I wash my hiking underwear?
It is best to read the label before washing, but most hiking underwear can be washed on cold cycle in the washing machine.
If you are worried at all about them shrinking, we recommend laying them out to dry.
Our Verdict
So what did I learn after reviewing so many men's hiking underwear?
It's simple. The #1 choice (easily) is Smartwool Men's Merino 150 Boxer Brief.
The combination of the two best hiking underwear materials makes them the most durable, versatile, and comfortable option.
Yes, they do cost a bit more. However, with this pair, you can forget all about bad odors and the feeling of dampness in your groin.
Gear up and go on your hike peacefully, knowing you gave your skin the best there is.