In a rush? After a lot of research, we found that Core 10 Person 2-Room Cabin Tent is the best 10 person tent available today.
If you're an avid family camper, you know the importance of having a quality, roomy tent that can house your entire family, your pets, and your stuff.
That's where these ten person tents shine. Whether you have a small family or a large one, they'll be able to accommodate you with plenty of room to spare.
Best 10 Person Tent: Our Top 10 Choices
CORE 10-Person Cabin Tent
If being able to move around freely in your tent is important to you, you'll want to know about the CORE 10 person instant cabin tent.
This tent gives you an incredible 7'2'' of ceiling height. This means that even professional basketball players can walk around comfortably inside this tent. That's not all, though. This tent also boasts a whopping 140 square feet of floor space.
For those who value privacy, Core provides a room divider. Combine that with the two doors on both sides, and getting around in the tent is a piece of cake.
Sealed seams and water-resistant fabrics will ensure that not a single drop of water ends up in your tent, even during heavy rains.
Pros:
At 140 sq ft. it is incredibly spacious
7'2'' center height and straight sidewalls make it easy to walk around in the tent
Comes with a room divider for extra privacy
Adjustable ground vents and mesh ceiling provide great ventilation
Strong wind resistance – up to 30 mph
This is an instant cabin tent, which means you can set it up in less than 2 minutes
Cons:
The floor is not that durable, so it's wise to put a tarp beneath your tent
Best for: people who want a huge instant tent that can be up in less than 2 minutes.
The White Duck Avalon Bell Tent
This tent is made of Dynaduck fabric, which is a double-fill army duck canvas, treated with a water repellent, mold, mildew and UV resistant finish.
The canvas is heavy, but since this isn't a backpacking tent, that's okay.
Even though the canvas is thick, it is very breathable. It keeps you cool during the day, but still lets a decent amount of sunlight in. And, it traps heat in at night, keeping you warm.
And since it comes with a silicone-coated stove jack, you can stay extra warm inside even when it's chilly outside.
This bell-shaped tent has roof vents that allow the air to circulate even when the door and windows are closed.
To top it all off, there's a rain flap above the door that can double as a canopy when the weather is nice.
Pros:
It features galvanized steel poles that keep the tent steady during harsh wind
Heat-resistant silicone-coated stove jack allows you to cook inside
Roof vents along with mesh door and windows allow lots of airflow
The canvas is thick but it provides lots of natural light during the day
Rain flap above the door can also serve as a canopy
Cons:
The central pole that holds the tent might be annoying to avoid
Since it's made of canvas, this tent is very heavy
Best for: family camping and use on campgrounds.
Check Price on White Duck Outdoors
Coleman WeatherMaster 10-Person Tent
The Coleman brand is famous for making affordable, quality tents – and this Coleman tent is no exception.
Coming in at 153 sq. ft. with 6'7'' of headspace, this tent is roomy enough for 3 queen-sized air beds.
Its unique feature is the hinged door, which means no more messing with zippers. Entering and exiting the tent is a breeze.
As the name suggests, it performs exceptionally well when it comes to weather protection, thanks to coated polyester fabric, as well as the rain fly and bathtub floor.
Pros:
The rain fly and bathtub floor ensure that you will stay dry even during a torrential downpour
Angled windows provide great airflow even when it's raining
A unique hinged front door and zippered back door make it easy to get in and out of the tent
Easy setup and takedown (less than 30 minutes)
Coated polyester tent fabric provides great weather protection
An affordable option for non-frequent campers
Cons:
Tent stakes are flimsy and of lower quality – you might want to buy stronger ones separately
Best for: casual camping families who are looking for an all round great 10 person tent.
The White Duck Alpha Wall Tent
This tent from White Duck is so spacious, you can almost host a wedding inside. There's enough space for ten people not only to sleep, but hang out gathered around the stove during rainy weather.
Since it's a canvas tent, you need to season it to make it waterproof, but once you do it, it will keep you dry. Since the canvas already has a water-repellent finish, one seasoning session should be enough.
This tent has a pre-installed silicone-coated stove jack. You might be sceptical about cooking inside the tent, but don't worry. The jack is heat-resistant and the canvas has a fire retardant finish, so you won't have to worry about it accidentally catching fire.
The tent comes with a free-floating PVC groundsheet. That's great since it means you don't have to worry about the wet and dirty ground underneath. And, you can easily take it out and clean it.
Pros:
Army duck cotton canvas is water-repellent, mold and mildew resistant and provides UV protection
It comes with a free-floating groundsheet, so you don't have to worry about the dirty ground underneath
Heat-resistant and silicone-coated stove jack allows you to cook inside during bad weather
Shock-absorbing bungee cords help with keeping the tent still even during heavy wind
It features YKK zippers which are practically indestructible
Cons:
 This tent is really heavy – like all canvas tents
Best for: campers willing to invest in a tent that will last for decades.
Check Price on White Duck Outdoors
Mountain Hardwear Stronghold Tent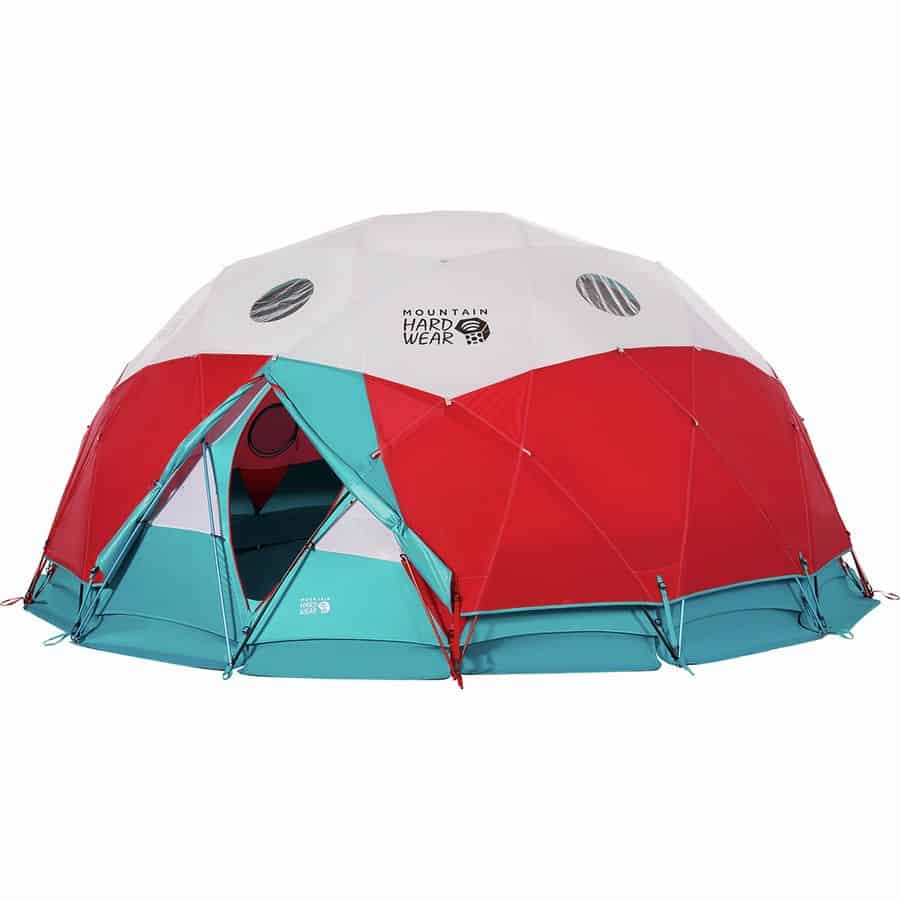 This tent looks like it came straight out of the Star Wars trilogy. It's designed for harsh winter conditions and looks like a suitable option for camping on the planet Hoth from the V episode.
The tent has 171 square inches of floor space. While ten people can fit, considering the dome shape of the tent, they'll be cramped. On the other hand, six to seven people will have more than enough room to hang out during a storm.
What this tent excels at is the weather protection. If you're looking for a tent that will keep you safe and warm on a winter camping trip, this tent will do the job well. It's double-walled and has strong DAC Pressfit aluminum poles that can withstand the strongest of winds and heavy snow.
Pros:
Ideal for winter, this tent can withstand even Arctic weather
Snowflaps and skirt help with anchoring and can double as seats
It has five windows, so there's plenty of daylight inside
Four perimeter and one roof vent allow lots of airflow in case you're cooking inside
The manufacturer offers a lifetime warranty on this tent
Cons:
 Footprint is sold separately
Best for: camping in heavy snow.
Coleman Instant Setup Cabin Tent
Dark Room technology is what makes this tent great for summer camping. According to the manufacturer, this tent blocks up to 90% of light that enters the tent. This means that, unless you set an alarm, you might wake up way later than usual.
Since it blocks daylight, Dark Room technology also keeps the tent cool inside. That way, you won't wake up drenched in sweat after sunrise.
This tent is spacious and can fit four queen air mattresses or ten sleeping bags. With a 6'7'' center height, most people can comfortably stand up inside.
The tent comes with a room divider, which can give you some privacy when changing clothes, for example.
The great thing about this tent is that pitching takes no more than a minute. All the poles are pre attached, so the only thing left for you to do is to pop it open.
Pros:
Thanks to the Dark Room technology, you can sleep way past sunrise without natural light waking you up
Pre attached poles allow for a quick setup in under 1 minute
It comes with a room divider that gives you some privacy inside the tent
Removing the rain fly allows you to enjoy the night sky during dry weather
Coleman offers a 1-year limited warranty
Cons:
 The tent might leak during a heavy rainstorm
Best for: campers who like to sleep in late on family camping trips.
OT QOMOTOP Instant Tent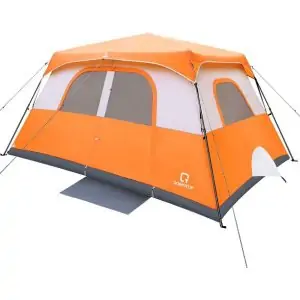 This tent from Qomotop is a great spring tent. It has a mesh window on each side, as well as a mesh roof and a ground vent along the bottom edges, so there's plenty of airflow.
Even though this tent is big, the instant design allows you to set it up in under one minute – without any help from your camping friends.
In case of bad weather, you can put the rain fly on. Otherwise, you can enjoy stargazing from the comfort of your sleeping bag.
Both the rain fly and tent seams feature PU taping, which prevents leakage through the needle holes. It also features a PE tube floor with welded corners, so there's no way that water can get inside.
This tent has some nice extra features. The top storage bag can hold a tablet so you can watch a movie while laying on your air mattress.
There's also an electrical port cord that can be fully closed when not in use.
Finally, the tent has a room divider for extra privacy.
Pros:
Since it has a mesh roof, ground vents and several windows, there's plenty of airflow
Taped seams and welded corners prevent water from leaking
Color coding on the rain fly allows you to quickly set the rain fly in case of unexpected rain
Top storage bag and side pockets can hold all the things you need close at hand
It has a doormat where you can place your muddy shoes
Cons:
 Thin fabric makes this tent unsuitable for winter
Best for: campers looking for a fast pitching family camping tent.
UNP Camping Tent
10-person tents don't have to cost a pretty penny. Take this UNP tent for example. For an affordable price, you get a decent tent that can fit all of your camping friends.
This is a pretty light tent. It weighs only 23 pounds, but once pitched, it's spacious enough to fit three queen air mattresses.
Its center height is 78 inches, so most people can comfortably stand inside this tent.
The tent has a mesh roof, three mesh side windows and a double mesh door. As a result, plenty of air can come in, while all the bugs and mosquitoes stay out.
If you hang the divider curtain from the ceiling, you can turn your tent into a two-room camping suite. What's more, you can use the divider as a projector screen and watch movies in nature.
Pros:
It weighs only 23 pounds, which is very light for a 10-person tent
A privacy curtain allows you to divide your tent in two rooms
The vestibular awning on the rain fly prevents rain from dripping inside the window
Gear loft allows you to air your clothes, while mesh pockets help you stay organized
Thanks to eight guy lines, the tent holds up well in strong winds
Cons:
 Might leak around the zippers in heavy rain
Best for: campers looking for a lightweight but spacious tent.
Mountain Trails Grand Pass 10 Person Tent
As a rule, large tents are not easy to set up. However, this Mountain Trails Grand Pass tent is proof that you can have a large tent that you can pitch in less than 10 minutes.
It's made of water-resistant nylon that will keep the rain out of your tent and keep you safe and dry, no matter how bad the weather gets.
If you have lots of camping gear, you're in luck. This tent comes equipped with 4 corner pockets and a gear loft above, so you'll be able to have your keys, flashlights, and cell phones within easy reach of your bed.
Pros:
Reasonable cost for a tent of this quality and size
Water-resistant fabrics will keep you dry no matter what the weather is like outside
Two D-style doors allow for easy entry and exit
Quick setup – two people can set it up in less than 10 minutes
Has 4 corner pockets and a gear loft – so plenty of places to put your stuff
Cons:
Best for: families looking for an affordable, no-frills 10 person tent that is easy to pitch and takedown.
NTK Arizona GT 9 to 10-Person Tent
Let's face it: nobody wants to go to sleep and wake up in a puddle of water. That's why choosing a large tent that is waterproof is of utmost importance.
That's where the NTK Arizona GT shines. This tent is made to withstand the harsh conditions of the Amazon rainforest, so you won't have any problems handling whatever storm you end up in.
On top of that, it has two rooms and two doors, providing both easy movement and extra privacy for your family members.
However, with higher quality comes a higher price tag. If you're a casual camper who only goes camping a few times a year in fair weather, you might want to give this tent a pass. But, if you're looking for a well-made tent that will last you for years to come, you should definitely consider investing in the NTK Arizona GT.
Pros:
Color-coded poles make setup a piece of cake
100% waterproof – designed to withstand rainstorms in the Amazon rainforest
Bathtub floor will make sure you don't wake up in a puddle
Mosquito mesh keeps the bugs out while allowing for air to circulate
Roomy – the ceiling has a height of 6'2'' so there's plenty of space to walk around
Cons:
A bit pricier than some of the other tents mentioned here
Best for: families looking for a high-quality tent that will last them for a long time.
Things To Look Out For When Buying A 10 Person Tent
First time buying a big tent?
Not to worry.
Choosing the best one is simple if you know what to watch out for.
Here's what characteristics make these the best 10 person tents.
Size
The first thing you need to pay attention to is the size of your tent.
Obviously, a 10 person tent should be able to fit 10 people. However, when tent manufacturers say a tent fits 10 people, they mean it can fit 10 people lying next to each other, shoulder to shoulder.
Needless to say, that is hardly ideal.
These tents realistically fit between 6 and 8 people. This leaves enough room to move around and to store your gear.
Another thing to pay attention to is the height of your tent. The higher the ceiling of your tent, the easier it is to move around inside. Usually, these tents come with a minimum center height of 6 feet, so unless you're in the NBA you shouldn't have any problems.
Shape
10-person tents come in different shapes. The most common ones are dome, cabin and tunnel shapes.
Dome tent
A dome tent has a round shape. They're tallest at the center, from where they slope down.
This shape makes them stable even in heavy winds and it helps with water draining. That way, rain doesn't weigh the roof down.
However, the round shape also means there's less space inside a tent.
Cabin tent
These are classic tents with either a rectangular or square shape.
They use up the interior space optimally, as vertical or near-vertical walls mean that the height of the tent is around the same throughout.
However, vertical walls easily catch in wind, so they're not as stable as dome tents are.
Tunnel tent
This type of tent is less popular than cabin or dome tents. They take a bit more to set up and usually require guy lines to keep them in place.
They use semi-circle pipes which create a tunnel shape.
These tents provide plenty of space and have a decent height.
Material
Most tents are made of either canvas, polyester or nylon.
Canvas tents are way heavier, but will last you a long time. In other words, if you take good care of it, your grandchildren will get to use it.
Canvas tents need to be seasoned, but once you do that, they'll keep you dry even in a rainstorm.
Nylon tents are way lighter than canvas ones, and are suitable for backpacking.
Most nylon tents are waterproof and have UV resistance. They're also more affordable than canvas tents.
The main downside to nylon tents is that they're not as breathable as canvas tents are.
Polyester tents have similar abilities to nylon. They're waterproof and durable. They weigh a bit more than nylon, but they make up by being more tear-resistant.
Accessories
One of the benefits of a bigger tent is that they come equipped with a lot of accessories that smaller tents lack.
These include:
Storage pockets – More people means more stuff. Consider buying a tent that has multiple storage pockets spread out across the tent so everyone can have somewhere to store their phones and gadgets. Gear lofts are also a great feature for storing loose items.
Doors – When you have 8 or more people sleeping in one tent, the last thing you want is to have just one door. That would make getting in and out of the tent tricky. Look out for tents with 2 doors that provide not just easier access, but also better ventilation.
Room dividers – These are great for added privacy. Look for tents that can create multiple rooms just by using a simple room divider.
Durability
A simple rule of thumb to follow is this: the heavier the tent is, the more durable it is.
Look for tents with heavier, thicker fabrics that can withstand the elements better. Considering that 10 person tents are heavy in general, you might want to opt for a canvas tent. Canvas tents are great when it comes to durability, and they're also great insulators and highly breathable, too.
That being said, canvas isn't going to be within everyone's price range. Thankfully, there are some pretty durable polyester and nylon tents out there as well.
When it comes to tent poles, don't be afraid to buy stronger, sturdier ones elsewhere. Some tents are really great and durable, however, they come with weak plastic poles. For a small price, you can buy better ones from another manufacturer and avoid your tent poles breaking in the middle of nowhere.
Weather Protection
Since you'll have a lot of people in your tent, you need to make sure it can withstand the harsh elements of nature.
Your tent needs to be able to protect you from heavy rain and strong winds, as well as the scorching sun.
A pretty tall order, right?
Well, the best tents can do all of that and then some.
Your main defense will be your rain fly.
There are two kinds: full coverage and roof-only rain flies.
You want to make sure that the rain fly covers the entire tent – that way it fully protects you from the rain. You lose a little light compared to a roof-only rain fly, but in return, you can sleep soundly knowing you're much better protected.
If you want to be extra-safe from water, consider tents with bathtub flooring. They have floors made out of waterproof fabrics that extend a couple of inches from the ground. Thus, they keep the water on the ground from spilling inside your tent when it's raining.
As I mentioned in the previous section, having strong poles is a must if you want to be safe from strong winds. Flimsy poles tend to break easily and then your entire tent is at risk of collapsing. Invest in aluminum, steel or fiberglass poles and your tent will stand strong against high winds.
Ease Of Setup
Setting up a 10-person tent is a lot harder than setting up a tiny tent intended for a single person.
But there are models that are easily pitched. Instant tents, for example, can be set in only a minute.
If a quick setup is important for you, then investing in an instant tent might be worth it.
Price
Large tents cost a pretty penny. This makes sense, considering there's a lot of material involved.
When it comes to 10-person tents, you usually get what you pay for. Some features are nice to have, but some are just cosmetics and you could save some money by cutting down on those unnecessary details.
FAQ
Since 10-person tents cost quite a lot, it's okay if you're having second thoughts about getting one.
Here are some answers to frequently asked questions that might help you decide.
Is a 10-person tent easy to set up?
Most tents on this list fall under two categories – instant and cabin.
Instant tents have pre attached frames and poles, and you only need to unfold and pop them out. This won't take you more than a few minutes of your time.
Cabin tents, on the other hand, don't have pre attached parts, and you have to do everything from scratch. In some cases, you might even need another person to help you pitch the tent. Some tents have color-coded poles, which helps you figure out which pole goes where.
How do I fold down a 10-person tent?
Larger tents are obviously more difficult to fold down than smaller ones.
To fold your tent down, simply repeat the set up steps, but in reverse.
How well does a 10-person tent hold up to the wind and rain?
10-person tents are tall in general. And the larger the tent is, the more support it needs to withstand weather elements.
That being said, with high-quality poles and guy lines, most of these tents can still hold up well in heavy wind and rain.
Does a 10-person tent come with a room divider?
You'd think that large tents come with a room divider, but this feature is more of an exception than a rule.
Some tents, like the Coleman or UNP, do come with room dividers.
Our Verdict
After a ton of research and examination, I found that the White Duck Avalon bell tent is the best 10 person tent for sale today. The bathtub floor ensures you'll remain dry even during the worst thunderstorms, while the hinged door makes entering and exiting the tent easy as pie.
Add to that the fact that it's really affordable for a 10-person tent, and you can see why we chose it as our #1 10 person tent.