Sitting at a campfire, telling stories, and passing delicious food around – sounds amazing, right?
But if you don't have an idea of what to make, don't worry!
In this article, I'll share with you some of the best camping side dishes you can make.
Let's dive in!
Cold Side Dishes
You don't always need to use heat for making camping side dishes.
There are plenty of amazing cold alternatives you can try.
Salad-Based Dishes
Salad-based dishes are some of my favorites. They're easy to make and super refreshing, yet perfect for any time of the year.
Coleslaw
Mixing shredded cabbage with premade dressing is as easy as it gets when it comes to making salads.
Store-bought dressing is perfectly fine for coleslaw, but making your own is so easy and so much healthier and tastier.
Greek Pasta Salad
Greek pasta salad is just like wine – tastes better with age.
This means that you can make it at home prior to your trip, so it's ready to eat when you arrive at the campsite.
What I like about pasta salads is that you can choose any type of pasta you want.
For this Greek pasta salad, I recommend short-cut and furrowed pasta. That way, it soaks in the dressing better.
Black Bean & Corn Salad
The best thing about this salad is that it uses shelf-stable ingredients.
This means you don't have to reserve space for them in your portable freezer.
When it comes to spices, you can use absolutely anything you want for black bean and corn salad.
The more colorful, the better, so feel free to add in any fresh herbs!
Cumin, salt, and pepper are standard, but garlic powder is an absolute must for me.
Cucumber Salad
This salad is also one of those dishes you can make in advance.
The best way to store cucumber salad is in a jar.
Simply cut the veggies and layer them in the jar, pour your dressing over them, and store the salad in the fridge until you're ready to go.
Potato Salad
Did you know that potato salad can be made up to five days in advance?
As long as it's stored in the fridge, you can make it ahead of time.
Of course, you can use any type of potato you want.
But fingerling and Yukon Gold potatoes have the perfect texture for potato salads in my opinion.
Southwest Salad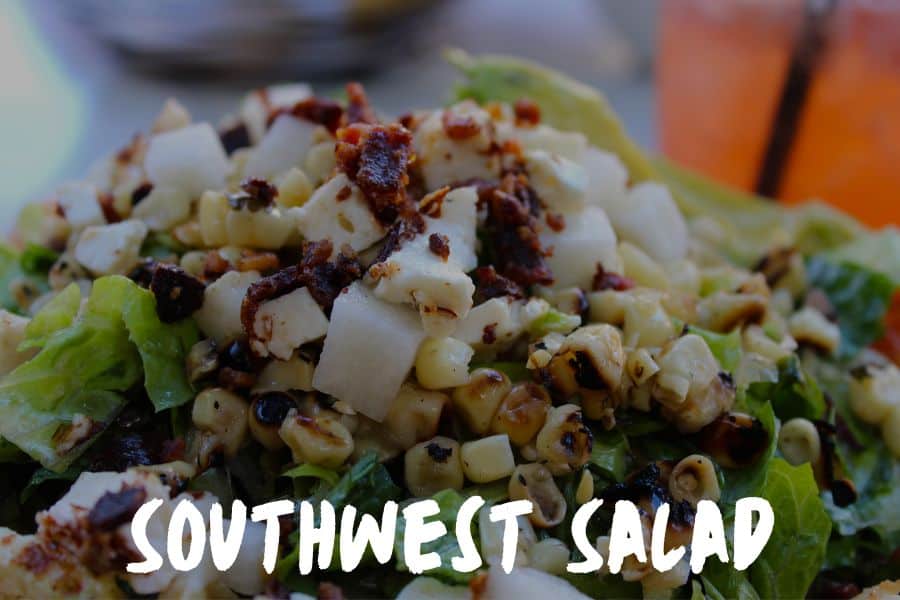 Unlike most salads in this section, southwest salads can only be made a day or two in advance.
Any longer than that, and the veggies will become mushy.
However, the good thing is that it's quick and easy to make directly at the campsite.
I do recommend making the dressing at home, though.
Because then you have way more options for which spices to add.
Fruit Salad
Fruit salads are the perfect camping side dish for a hot summer day!
Let's be real, nothing can cool you down like fresh fruit.
Be it breakfast, lunch, or dinner, this salad is a great side dish to any meal.
Plus, it's so versatile! There are no rules, just add any fruit you want!
Cold Asian Noodle Salad
What I like the most about noodle salads is their versatility.
You can combine noodles with pretty much any veggies, meat, and dressing, especially this recipe.
Soy sauce is a classic one, but Sriracha, peanut butter, and rice vinegar are also great.
In fact, you can mix all four together for a delicious dressing!
If you have some leftover meat from last night, you can add that, too.
Just cut it into smaller pieces and mix in with the noodles.
Fruits & Vegetables
You don't need to go all fancy with side dishes. A hearty main course can be well-complemented with simple fruits or veggies.
Sliced Fresh Fruit
Fresh fruit is always great as a side dish, even for very savory meals.
Take a look at Southeast Asian cuisines. Tropical fruits, such as mango and papaya, are essential to many dishes.
In Middle Eastern and North African cuisines, figs and dates are also a classic addition to savory meals.
Sliced Veggies
Like sliced fruit, fresh veggies are always a great go-to side dish for any occasion.
Vegetables not only travel well, but they also keep without refrigeration.
Sometimes, a good sandwich and some freshly sliced veggies is just the perfect meal – especially when camping.
Caprese Skewers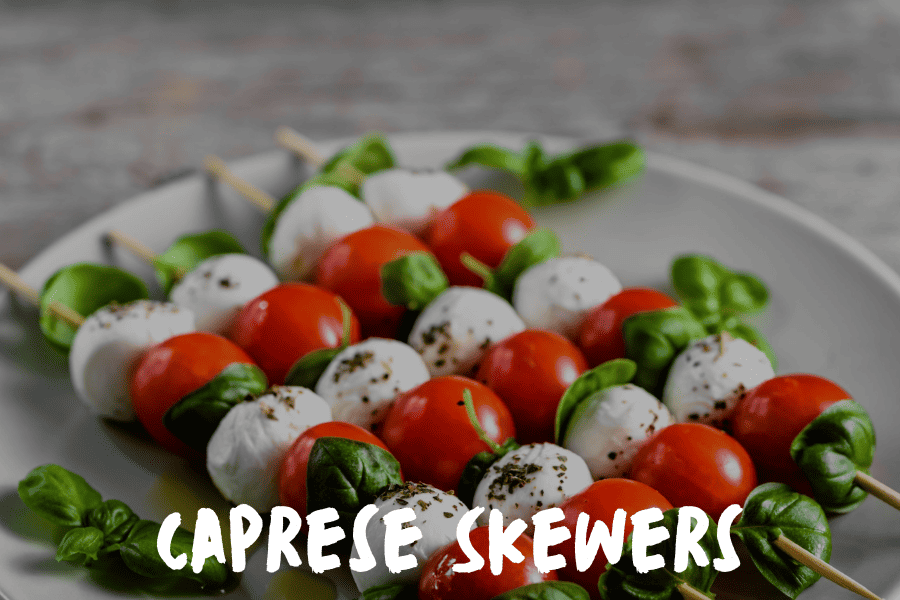 A fun way to spice up your dinner table is to serve veggies on a skewer.
Caprese skewers consist of cherry tomatoes, mozzarella balls, and basil leaves – a pretty simple recipe.
To make them more juicy, I suggest drizzling olive oil and balsamic vinaigrette over them.
Dips & Spreads
Need a quick snack before dinner? You can make these dips and spreads at home so they're good to go once you arrive at the campsite.
Or, if you're lazy, you can always get store-bought versions.
Hummus & Veggie Sticks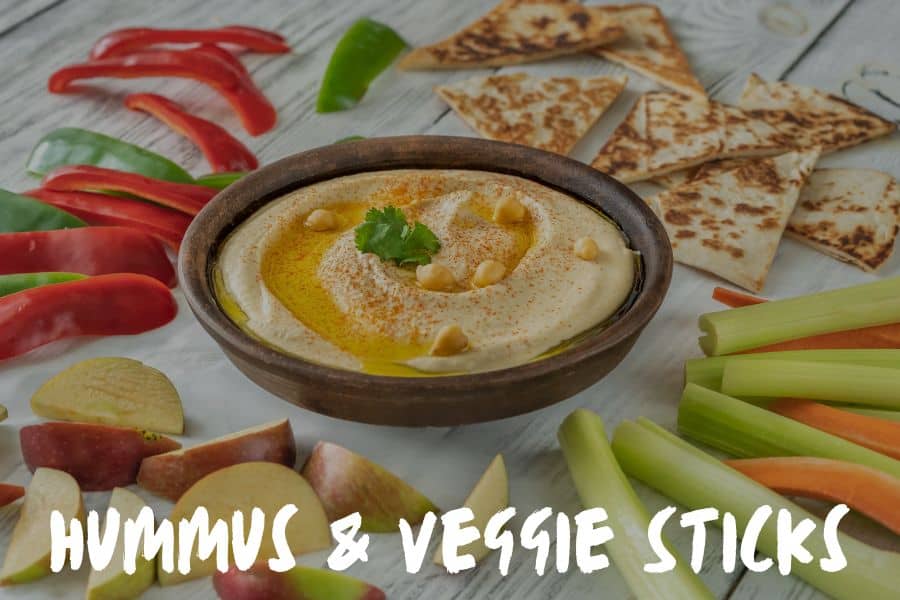 Hummus with veggie sticks is a match made in heaven.
It is easy to transport and makes for a great snack or camping side dish.
To make hummus at home, you simply need to mix chickpeas, tahini, olive oil, and lemon juice in a food processor.
When stored in the fridge, homemade hummus can last up to four days.
Chips & Salsa / Guacamole
Salsa or guacamole? Personally, I don't know which one I like more.
But keep in mind that salsa is a bit more practical for camping.
Guacamole only lasts a few days, while salsa can last for weeks when chilled.
Hot Side Dishes
Craving hot side dishes? Here are some camping classics:
Grilled Vegetables
Grilling veggies is a quick and easy way to make a delicious side dish.
The great thing about it is that you can choose any vegetable you like.
Just pop them on the grill, and you've got a tasty, hot camping side dish.
These are great for when you are already grilling and need a quick and easy side.
Grilled Corn-On-The-Cob
This side dish is a classic for grilling. They go well with so many dishes and are just yummy overall.
To make the corn juicy and tender, grill it with the husk on.
Sure, it can get a bit messy, but the final result is well worth it.
If you want to achieve a smoky and charred flavor, then you can grill the kernels straight on the grill.
In any case, smearing a bit of butter and sprinkling it with salt and pepper makes for a tasty treat.
Foil-Wrapped Potatoes
Foil-wrapped potatoes take up to an hour to make, so make sure to start working on them first.
In terms of the type of potato, you can choose whichever you like the most. The same goes for toppings!
I recommend some salt, pepper, bacon bits, cheese, chives, and sour cream (if you can bring it)!
Foil-Wrapped Veggies
Foil is great for preparing camping dishes because it's so versatile.
When it comes to veggies, you can use practically anything you want.
Just cut your chosen vegetables into smaller pieces, drizzle them with oil and seasonings, wrap them up, and toss them on the grill.
Unlike potatoes, most other veggies only take around 5 to 8 minutes to cook.
Make sure to flip them halfway through to cook them evenly.
Smoked Green Beans
Have a portable smoker?
Then you should try making smoked green beans.
It's so easy to make and requires just a few ingredients: green beans, bacon, onion, and garlic.
Glazed Campfire Carrots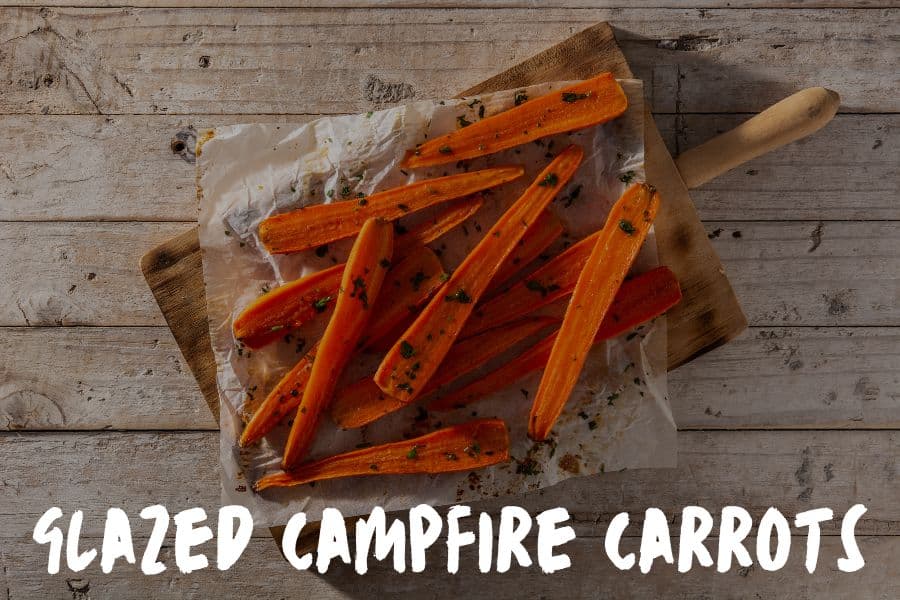 I was quite surprised how you can make a delicious side dish with just carrots, oil, and salt.
Just chop the carrots into thinner slices, coat them with oil and salt, and toss them on the grill.
Once they're charred and tender, they're ready for serving.
Grilled Potato Wedges
Now, this dish takes a bit of prep time. It's potatoes we're talking about, so you need to make sure they're not raw in the middle.
The best way to ensure they are well-done is to par-boil them for several minutes before seasoning and tossing them onto the grill.
For this recipe, Russet potatoes are my personal choice. They get the perfect crispy texture, and they're available year-round.
Cooked Grains & Pasta
If you're looking for a starchy side to help you carbo-load for a long day of hiking, try out some of these grain-based camping side dishes!
Instant/Box Rice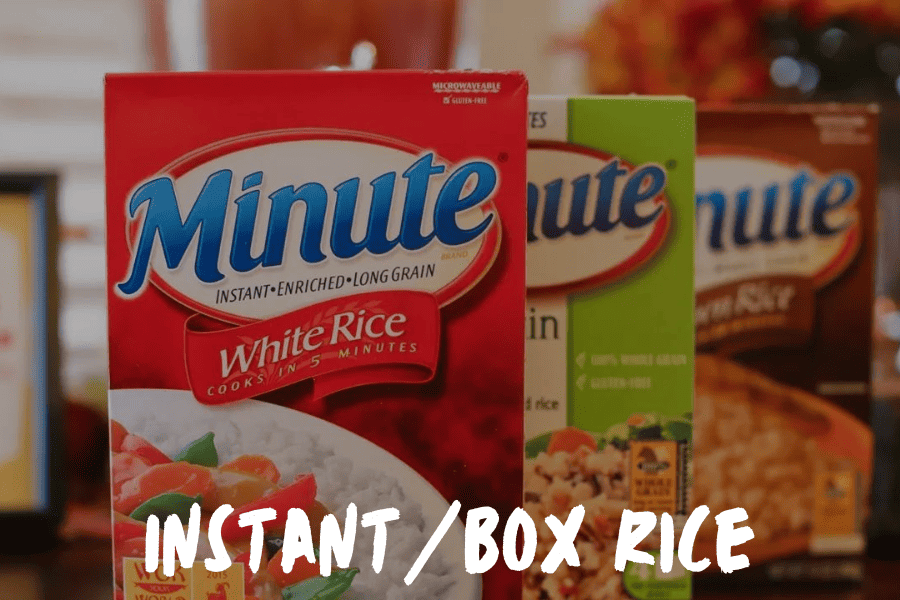 Making regular rice takes quite some time, which you don't always have when camping.
That's where instant rice comes to play.
It doesn't get any easier. Mix the rice and boiling water in a pot, then let it rest for a few minutes.
I know the box may say "one minute" but that's a marketing trick.
Still, the time it takes to prepare instant rice is less than five minutes, which is impressive.
Couscous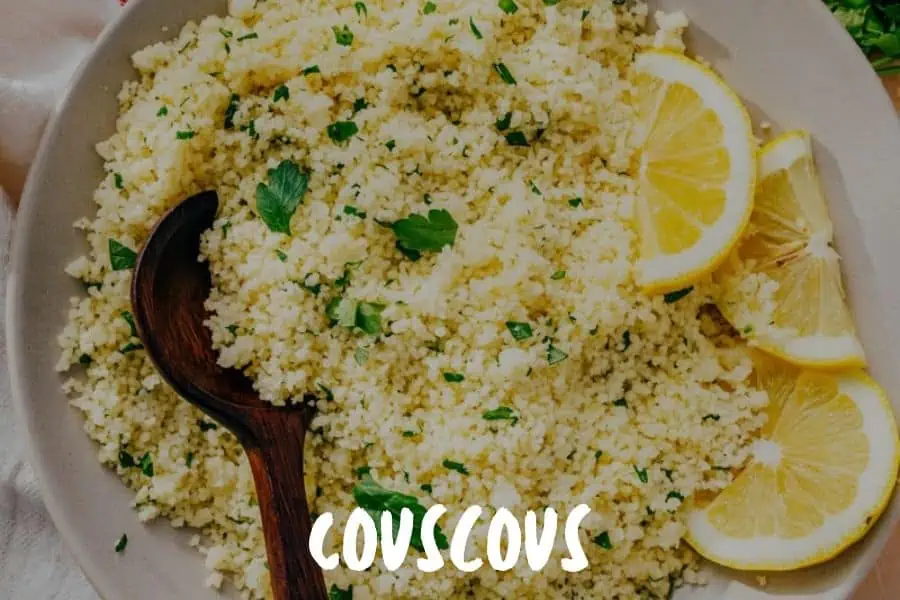 Making couscous is just as easy as instant rice. Simply soak it in hot water and let it rest.
Typically, it takes around 10 minutes, but it depends on the brand.
Don't leave it soaking for too long, as it will go clumpy. If that happens, use the fork to make it fluffier.
Don't use a spoon because it will only make it mushy.
Mashed Potatoes
Making mashed potatoes from scratch is very time-consuming. But luckily, instant mashed potatoes are here to save the day.
You just need a bit of butter and milk, and you'll get delicious mashed potatoes like those you make at home.
Of course, you can always add seasonings, such as garlic powder, chopped chives, grilled bacon chips, and cream cheese to make it even better.
One-Pot Mac & Cheese
The beauty of mac and cheese lies in the fact that you can make it in a single pot.
That's great if you have a single-burner stove!
Just add your preferred noodles and cheeses, some butter and milk, then let them cook on low heat.
Oh, and be generous with that cheddar!
You need to restore energy from day-long outdoor activities, and cheese is just the right remedy.
Baked & Roasted Dishes
Baked and roasted dishes are, hands down, the best comfort meals. Here are some delicious and easy-to-make campfire recipes:
Campfire Baked Beans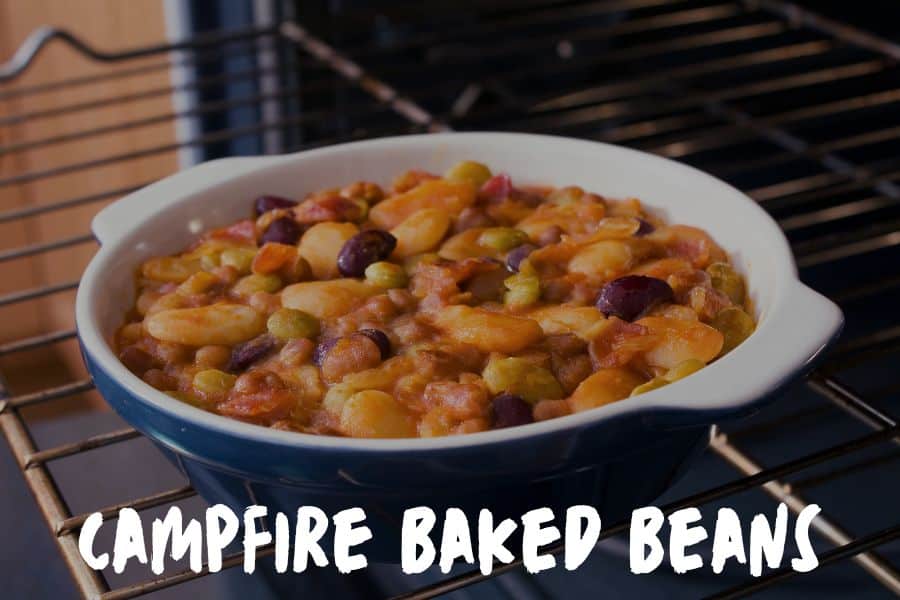 Baked beans are one of those dishes that go great with absolutely anything you might have on the menu.
Steak? Grilled veggies? Mac and cheese? Baked beans are right for them all.
(Especially if you add a bit of bacon as a topping.)
Campfire Baked Potatoes
Yes, you can make baked potatoes at the campfire.
It does take a bit of time (30 to 60 minutes), but it's worth the wait.
For this recipe, you'll need butter to coat the potatoes and aluminum foil to wrap them. That's all!
Dutch Oven Biscuits
Biscuits are such a versatile addition to every meal.
You can use them as bread, make sandwiches, or eat them by themselves.
They're also relatively quick to make in a baking dish like a Dutch oven.
Usually, it takes no more than 25 minutes once you put your oven over the fire.
Dutch Oven Potatoes Au Gratin
This is yet another great recipe for your Dutch oven.
A basic recipe requires potatoes au gratin (duh), heavy whipping cream, and Parmesan cheese. (The one we have included here is for homemade au gratin!)
I say heavy whipping cream because it has a high fat content, which prevents it from curdling at low heat.
Of course, you can use a product with less fat. If it starts curdling, adding a bit of flour or cornstarch will stop that.
Roasted Broccoli
Easy and delicious. What's more to love about this dish?
I recommend seasoning with oil, garlic, and Parmesan cheese as classic options.
Then, you just roast your broccoli over your fire until they are golden.
Dutch Oven Cornbread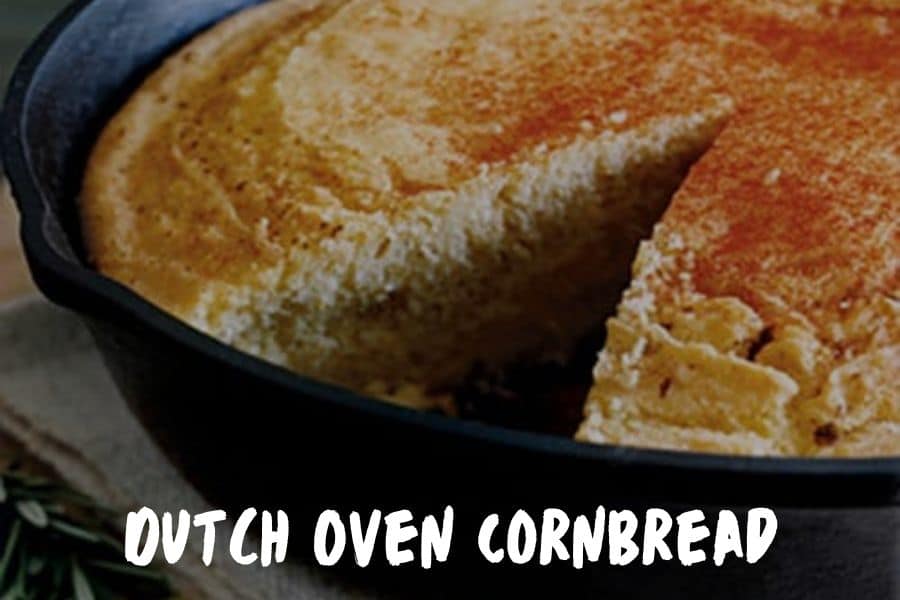 A Dutch oven is perfect for making cornbread with that lovely golden crust.
To make your job easier, I suggest mixing your dry ingredients at home.
Once your campfire is ready, combine them with milk, eggs, and a drip of honey.
You'll have perfect cornbread in half an hour!
Snacks For Side Dishes
If you're going on a hike, then the easiest way to boost your energy levels is to have some snacks.
These are some of the best options for eating on the go.
Energy Bars & Trail Mix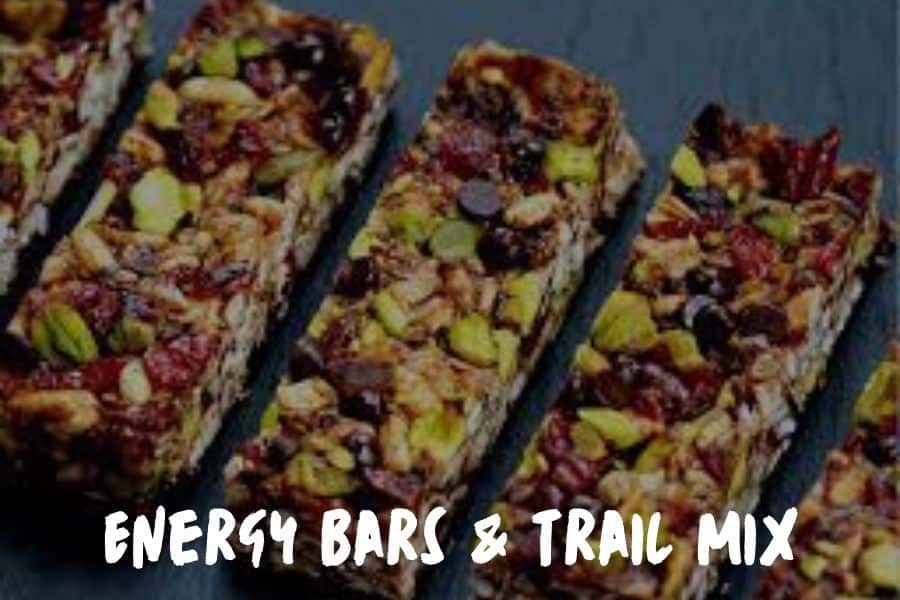 Chewy, crispy, and delicious, energy bars are my personal favorite for hiking.
Store-bought ones are great, but you can also make these bars at home.
Combine seeds and peanut butter in a pan, then refrigerate for several hours.
Trail mix is also a fantastic option for a higher-calorie, energy-replenishing snack.
Again, you can buy packets at the store, or you can easily make your own at home with your choice of nuts, seeds, and sweets.
Cheese & Crackers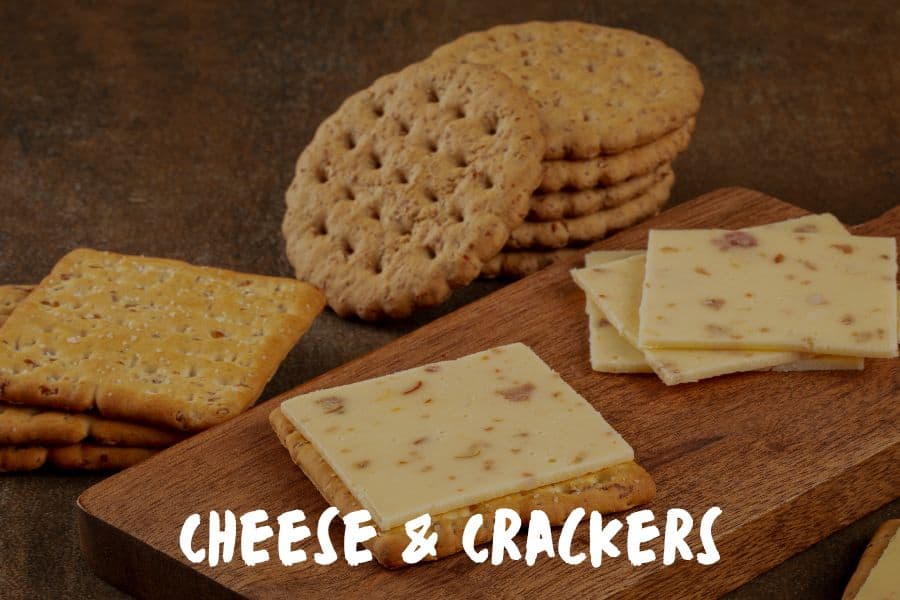 This snack reminds me of middle school, which is maybe why it's still one of my favorite ones.
It's just two ingredients – cheese and crackers, in case you missed that part – but it's delicious!
Mixed Nuts & Dried Fruits
These mixes might not seem like much, but boy are they great for giving you energy.
Nuts have a high caloric value, so you don't need many of them to get energy.
You can also throw in some dried fruits, which are sweet and great at giving you fast energy from their sugar.
Chips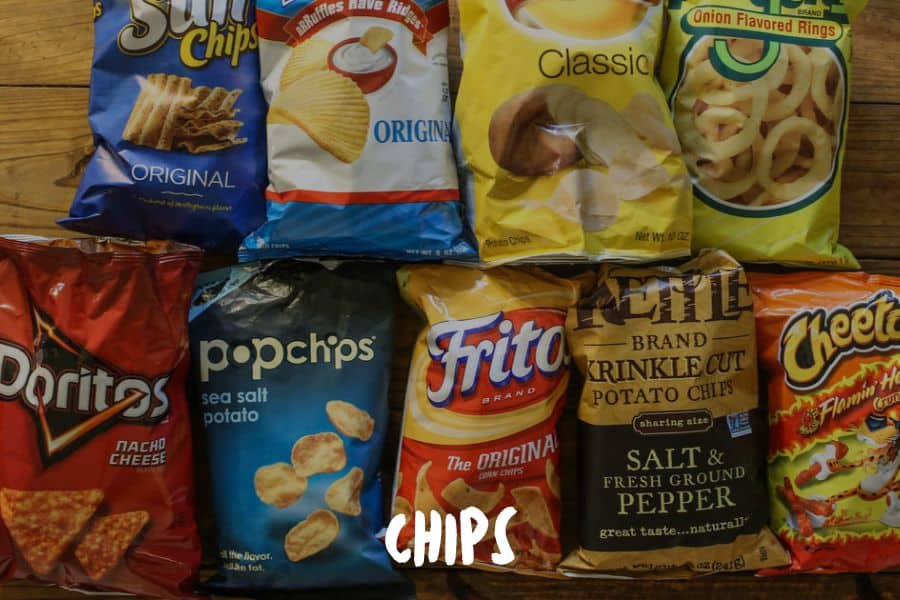 Ah, the crowd's favorite. Nothing like a bag of favorite chips to get you going.
These are nice and salty, and high-grain chips provide you with essential carbohydrates for getting some quick energy.
These also make great camping side dishes for things like hamburgers or sandwiches, too.
Applesauce Cups
These cups are great because they're shelf-stable.
You can load your backpack with applesauce cups or packets, so they're close whenever you start feeling hungry.
They are great for both kids and adults for a quick snack or a side to any quick lunch or dinner.
Jell-O
If you're camping with kids, this one is a must.
But even if your group is adult-only, I'm sure most of them would be thrilled to be offered one of these.
A good Jell-O cup is a quick, light, sweet treat that is easily travelable for camping.
Things To Consider For Camping Side Dishes
When choosing what to cook while camping, there are a few things to keep in mind.
Nutrition & Energy Requirements
Camping usually means partaking in different outdoor activities, many of which can be tiring.
That's why you need to make sure the food you're eating meets your nutritional requirements.
Overall, that means your meals should have a good balance of protein, carbs, and fats to optimize the energy your body can use while being active.
Read: How Many Calories Does Hiking Burn? (7 Factors That Come Into Play)
Food Safety & Storage
While certain ingredients are shelf-stable, many other ingredients require refrigeration.
However, you can only carry so much in your portable fridge.
When planning camping meals, keep your fridge capacity in mind.
Only use it for meat, dairy, and other foods that go bad at room temperature.
Most veggies, fruits, and grains will be fine in your backpack, as well as many condiments.
Read: How To Keep Food Cold While Camping (Cooler Tips + Safety Advice)
Environmental Considerations & Leave No Trace Principles
According to Leave No Trace principles, you should store your food in such a way that it doesn't attract wildlife.
If your car is parked nearby, keeping food inside it is a good way to prevent the smell of food from extending past your campsite.
If you're camping in bear country, then you absolutely need a bear-proof container.
You don't want a hungry bear to visit your campsite at night.
It's also important that you pack all food scraps away with your garbage and dispose of them in a designated container.
Food scraps could also attract wildlife in search of food, but human food can be dangerous for them.
It's best practice to leave no chance for animals to get into your trash.
Read: How Far Can a Bear Smell? (And How To Avoid Them)
FAQs
What Are Some Vegan Or Vegetarian Side Dish Options For Camping?
Grilled veggies are an excellent vegan option for a side dish.
You can choose whichever veggies you want, and you can experiment with your meal just by adding different seasonings.
How Can Camping Side Dishes Cater To Specific Dietary Restrictions, Like Gluten-Free Or Nut-Free Diets?
I'd start off by only using gluten-free or nut-free ingredients.
If you're making separate meals for those with food restrictions, you need to use separate pots.
Cooking gluten or nut-free food in a pot previously used for cooking these ingredients will contaminate the food.
Are There Any Traditional Or Culturally-Specific Side Dishes That Are Suitable For Camping?
Pretty much every cuisine has a meal suitable for camping.
Nachos and burritos are a few examples of Mexican dishes you can make on a campfire.
Southeast Asian dishes like Pad Thai or other noodle-based dishes are also great options for camping.
How Can I Prepare Side Dishes Ahead Of Time To Minimize Cooking On The Campsite?
Many ingredients can be prepared at home and kept in the fridge until you're ready to use them.
Pre-measuring and mixing dry ingredients will certainly save you time.
Some dishes, like salads, can be fully assembled before the trip.
If you look at our recommendations in the article above, you'll find several camping side dishes that would be great for early assembly.
What Are Some Suitable Side Dishes For Cold-Weather / Winter Camping?
During winter, cooking on a campfire kills two birds with one stone: you make food while keeping yourself warm.
That's why any hot meal made on a campfire is excellent for winter camping.
You can also pre-assemble soups before your trip, which reheat well over campfires.
Nothing will give you a warm, cozy meal during cold weather quite like soup.
To Sum Things Up
Camping food doesn't have to be boring.
There are plenty of great dishes that are quick and easy to make, yet delicious and packed with energy.
And side dishes are nothing to skimp on. Sometimes, they're the best part of the meal!
Which of these recommendations are you most excited to try? Let us know some of your favorite camping side dishes!
More Camping Food Ideas: