In a hurry? We believe that the ALPS Mountaineering Tasmanian is the best winter tent on the market today.
As a father of two great kids living in Arizona, we're in one of the best spots to experience the best that nature has to offer – and camping is something we do together as a family every year.
Winter is our favorite time, but of course, you need the right gear to fit the season if you want your camping experience to be a happy one.
Here are the best four-season tents for cold weather camping and what I think about each of them:
Be sure to check out how we test and review tents here.
Best Winter Tent: Our Top Choices
The ALPS Mountaineering Tasmanian 3-Person Tent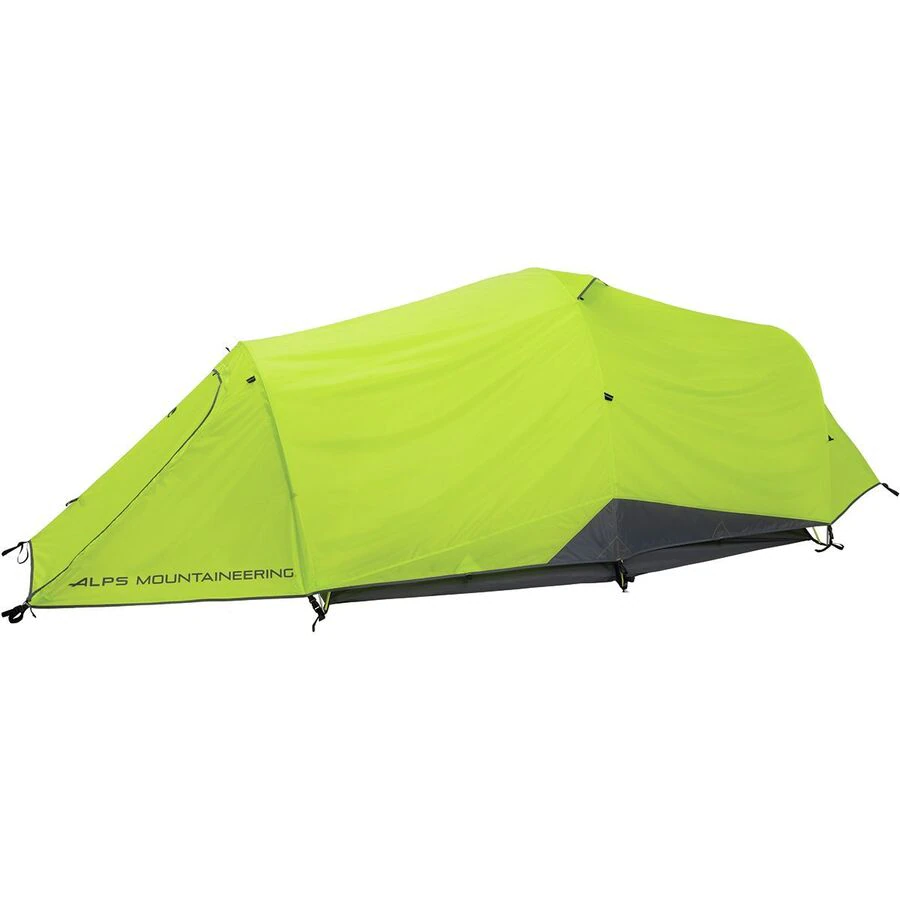 Tent Size: 3 person | Tent Type: Tunnel, Dome | Weight: 9.8 lbs | Max Inside Height: 54 in | Floor: 70×92 inches (43.5 sq ft) | Setup Time: 12-15 mins
The ALPS Mountaineering 3-Person Tent is from a trusted brand with a range of other camping products including camping stoves and chairs, so I figured their tent would be worth taking a look at. I wasn't disappointed, and this is what we'll be taking along for our next winter trip.
The one problem with winter tents is that they're mostly smaller. That's why depending on the group, we sometimes bring two tents.
A 3-person tent is a squeeze for three full-size people, so remember that when looking at tents.
Pros:
Both durable and lightweight.
ALPS found the right balance to make a tent that can stand up to almost any weather while not being too big.
Great inside storage space – this tent has inside mesh pockets that are perfect for added storage.
Quick setup – can be pitched in less than 15 minutes.
Anchors well in different terrains or angled land thanks to its longer-than-usual pegs
Bright orange color means you stick out like a sore thumb (in a good way!) when you're hidden in snow-covered areas.
Cons:
It measures 5'4" when you're standing – great for shorter people, but not so great if you're pushing six-foot like me.
Best for: Winter campers who don't need much space, but want supreme winter protection.
MOKO Waterproof Family Camping Tent

Tent Size: 3 person | Tent Type: Dome | Weight: 10.8 lbs | Max Inside Height: 42 in | Floor: (40.6 sq ft) | Setup Time: 30 mins
The MOKO Waterproof Family Camping Tent is made for 3 people and offers 6" by 7' floor space.
It also has the extra feature of a top covering that fits over the tent, protecting you from the elements a little more than most tents.
We've used it before when we headed to Arizona – and our only real complaint was that the zippers got stuck.
Pros:
Offers comparatively more space. Great if you're like me and have two kids who kick like windmills in their sleep.
It's fire- and water-resistant. The MOKO tent had no issues getting rained on – and yes, we can confirm that it's fire-resistant thanks to a marshmallow-melting accident.
Gives you a strong roof on top to help hide you from excessive wind or snow.
Very affordable for the winter protection provided.
High quality 2500mm HH rainfly provides superior water resistance.
Cons:
Might need a stove or heater, since it does tend to get cold inside.
Zippers are not the best and may get stuck.
Best for: campers that want to save a bit of money or aren't in sub-zero climates.
The GEERTOP Backpacking 2-Person Tent

Tent Size: 2 person | Tent Type: Dome | Weight: 6.1 lbs | Max Inside Height: 39.4 in | Floor: (83+39) x 47 in () | Setup Time: 5 mins
We own a few GEERTOP products, and I thought their 2-person tent would be an excellent choice – especially for the occasional camping trip where it's just the two of us.
The dome-shape is great for mild snow, and the double-layer makes it great for standing up against winter.
Pros:
The dome design is great for circulation and avoiding snow.
Rain doesn't collect on the top of this dome, either.
It's extremely light. At just a little over 6 pounds, it's lightweight enough for the kids to carry on the trail. Or, great for a quick camping trip where you don't want to take too much gear along.
Anchors all the way around the dome to provide great stability at night.
Durable – and it really is! If the tents on this list were ranked only by how well the material holds up, this would have been the top choice on the list.
Cons:
Unless you like feeling every blade of grass under the surface of the tent, buy the extra floor mat. Unfortunately, it doesn't come with one.
Best for: solo backpackers or couples who want to snuggle up under top-of-the-line snow protection.
The Crua Duo Cocoon 2-Person Tent

Tent Size: 2 person | Tent Type: Tunnel | Weight: 4.8 lbs | Max Inside Height: 49.2 in | Floor: 21 x 6 x 6 inches (48 sq ft) | Setup Time: 10 mins
Sometimes winter camping gets really, really cold. For the colder winter camping trips, and there are many, you'll want to choose a warmer option. That's the Crua Duo Cocoon – and it's the tent my wife and I take along for camping trips without the kids just because it's warm and toasty.
What makes it even better is the fact that the Duo is both lighter – at 5 pounds – and bigger, with just under 30 feet.
Pros:
The cocoon-style design allows you to use this as a solo tent or as a warming layer inside another tent.
It's one of the warmest tents out there. For colder areas (or, well, more romantic toasty camping trips) this is one of the best picks.
Solid, aluminum frame that's easy to set up. Pitched in the time it takes to get a kettle of water boiling on the fire.
Durable enough to last years, but comes at a premium price tag.
29.9 sq. ft. of floor space is great for two people, maybe three. That's a lot of floor space compared to other tents and cocoons.
Cons:
It's one of the only tents out there that requires an air pump to set up. Make sure you bring one!
Cocoon design can be kind of loud on the inside since it's not pulled tight like a tent.
Best for: cold-weather campers who want to stay warm in the chilliest of nights.
Black Diamond Eldorado Tent

Tent Size: 2 person | Tent Type: Dome | Weight: 4.41 lbs | Max Inside Height: 43 In | Floor: 87 x 51 inches (30.8 sq ft) | Setup Time: 5 mins
The Black Diamond Eldorado tent is made with mountaineering in mind, and it's the tent that I take along when I go out to the Rocky Mountains, usually for a once-in-a-while solitary camping trip.
It's light (just over 5 pounds) and offers more than enough ventilation, space, and protection.
Pros:
The bright yellow color is great for visibility in a harsh snowstorm
Air-flow is just as important as everything else, and this tent's packed with several configurable vents throughout the tent.
Plenty of height for a winter tent – great for tall people like me.
Extremely easy to set up, especially when you consider how well this holds up in the weather.
Black Diamond knows not all campers want an added vestibule, so the base model doesn't come with one. But, they do have an add-on vestibule you can purchase.
Cons:
Higher price tag than the other tents, but well worth it!
Best for: seasoned campers who want to invest in a tent that'll keep them warm for years to come.
Black Diamond Mega Snow 4P Tent
Tent Size: 4 person | Tent Type: Teepee | Weight: 1.27 lbs | Max Inside Height: 66 in | Floor: 106 x 106 x 106 x 65 inches (78 sq ft) | Setup Time: 5 mins
This is a great all-purpose winter shelter.
The combination of fabric and design allow this 4-person tent to withstand harsh conditions, so that you remain comfy and warm inside.
And thanks to its unique venting system, the vapor will escape the tent even if the doors remain closed.
Pros:
With a single carbon fiber center pole and mid-panel guy-out points, setting up this tent is quick and easy
Even though this 4-person tent is spacious, it packs light and is small so even a kid can carry it
Instead of the included carbon fiber pole, you can use your trekking or skiing poles and save up even more on storage
Nylon perimeter snow skirt, together with a steep roof help ensure the snow doesn't collect on it
With 78 square feet of interior space, you've got plenty of room to cook, store your gear and sleep
Cons:
The venting system could be better
Best for: cold-weather aficionados that love cooking in the wilderness
Buy Direct from Black Diamond Equipment
The North Face Mountain 25 Tent
Tent Size: 2 person | Tent Type: Dome | Weight: 9 lbs | Max Inside Height: 41 in | Floor: 86 x 54 in (32.3 sq ft) | Setup Time: 10 mins
This model by the North Face is the perfect tent for mountaineering.
It's so well-made and sturdy, you can rely on it to keep you safe and warm during cold nights in the mountains. But features that stand out the most are the large front vestibule and the footprint that comes included.
Pros:
High-low venting, along with multiple venting options throughout the tent allows you to forget all about condensation
Glow-in-the-dark zipper pulls allow you to easily find your way in and out of the tent during the night
Comes with a footprint, which helps in extending the lifespan of the tent and keeping it dry on the inside
Features tons of internal hanger loops and 8 interior pockets, so there's plenty of space to organize all of your essentials
While it's an expensive investment, this tent can definitely last you a lifetime with proper maintenance.
Cons:
Somewhat heavy for its size
Best for: solo campers that value warmth over space.
Marmot Lair 8-Person 4-Season Tent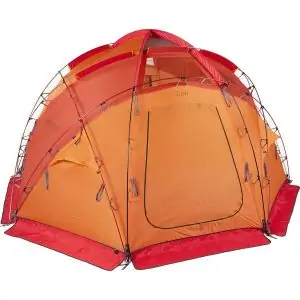 Tent Size: 8 person | Tent Type: Dome | Weight: 26 lbs | Max Inside Height: 96 in | Floor: 96 x 156 x 156in (165 sq ft) | Setup Time: 30 mins
This dome tent looks like a structure straight out of a Star Wars movie.
But the shape of this tent is specially designed to deflect winds and allow rain and snow to slide off the walls.
Whether you're going to the North Pole or just climbing the Rockies, this tent will keep you and your camping buddies dry and warm.
Pros
The peak height of 94 inches allows even the tallest people to stand up when inside the tent
With an area of 165 square feet, there's plenty of space for your camping companions to sleep, while the additional 40 square feet of vestibule gives you more than enough storage space
The tent comes with 10 poles, which allows it to stay strong against high winds and snow storms
The floor is removable, so you can easily dig out the show underneath the tent
For the amount of fabric and poles this tent features, it's pretty lightweight
Cons
It's rather expensive
Although it's described as a 4-season tent, it's only suitable for really cold weather
Best for: large camping groups and families.
MSR Remote 3 Tent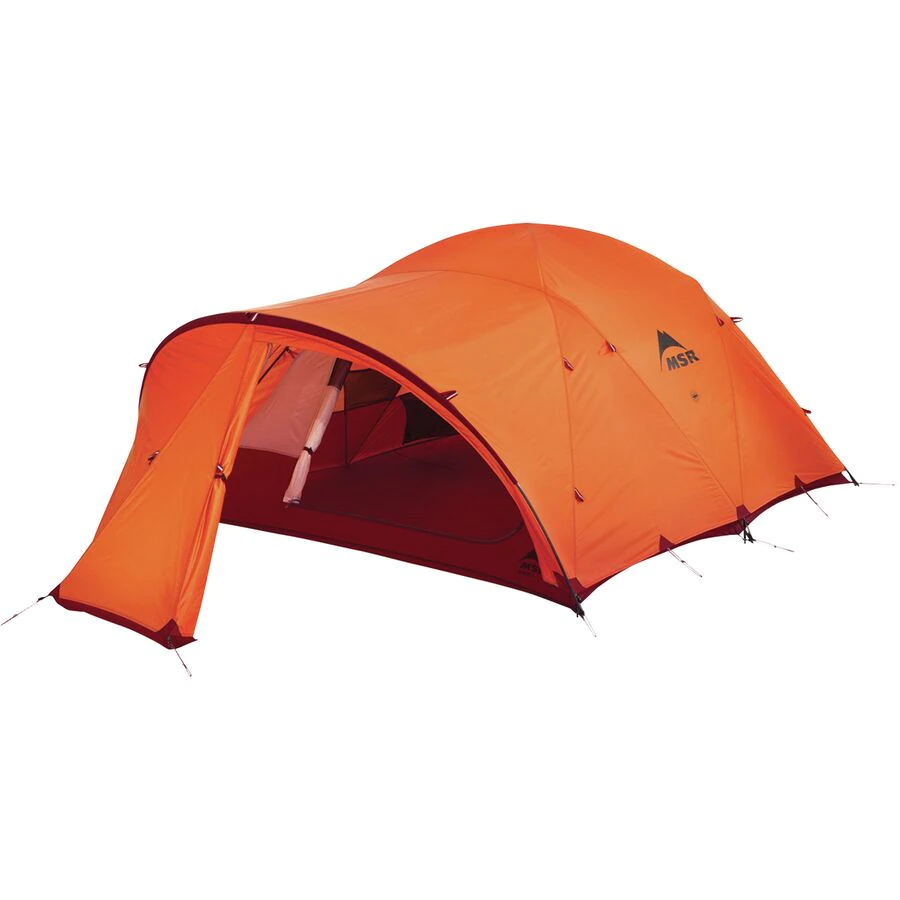 Tent Size: 3 person | Tent Type: Tunnel | Weight: 8 lbs | Max Inside Height: 44 in | Floor: 88 x 75in (46sq ft) | Setup Time: 20 mins
Winter camping usually means bulky gear, but with this tent by MSR, storage won't be an issue.
While you're sleeping soundly and comfortably inside the tent, all of your gear will stay dry and safe under the roomy vestibule at the front.
This double-wall tent is perfect for long camping trips in the winter.
Pros:
Even though it weighs only 8 pounds, this tent is sturdy enough to withstand really harsh winter environment
Since it features a spacious vestibule, you can store your gear outside and have more space inside for a good night's sleep
Color-coded pole clips allow you to set up the tent with ease
The tent features snow flaps, which seal out spindrifts
The Easton Syclone poles this tent comes with are made of composite materials, so they flex instead of snapping in high winds
Cons:
Lacks storing options inside
Best for: campers traveling with tons of equipment.
Mountain Hardwear Stronghold Tent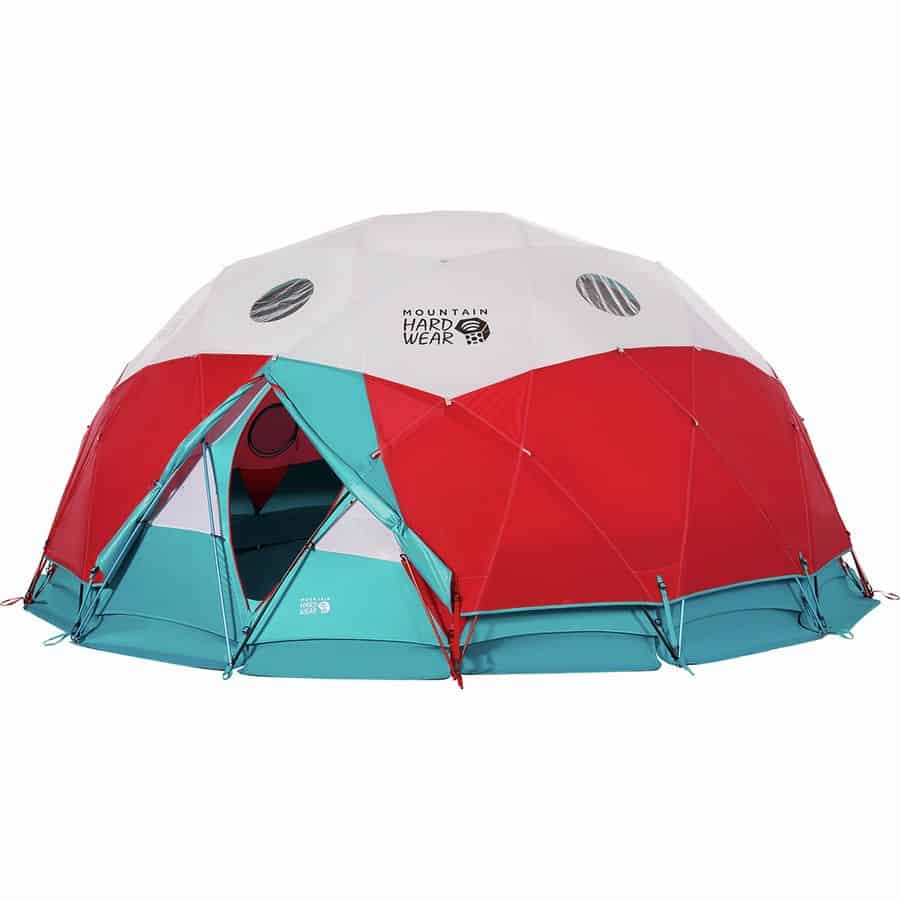 Tent Size: 10 person | Tent Type: Dome | Weight: 46lbs | Max Inside Height: 77 in | Floor: 177 in diameter (171 sq ft) | Setup Time: 30 mins
This tent looks like it came straight out of the Star Wars trilogy. It's designed for harsh winter conditions and looks like a suitable option for camping on the planet Hoth from the V episode.
The tent has 171 square inches of floor space. While ten people can fit, considering the dome shape of the tent, they'll be cramped. On the other hand, six to seven people will have more than enough room to hang out during a storm.
What this tent excels at is the weather protection. If you're looking for a tent that will keep you safe and warm on a winter camping trip, this tent will do the job well. It's double-walled and has strong DAC Pressfit aluminum poles that can withstand the strongest of winds and heavy snow.
Pros:
Ideal for winter, this tent can withstand even Arctic weather
Snowflaps and skirt help with anchoring and can double as seats
It has five windows, so there's plenty of daylight inside
Four perimeter and one roof vent allow lots of airflow in case you're cooking inside
The manufacturer offers a lifetime warranty on this tent
Cons:
Footprint is sold separately
Best for: big groups who will be camping in heavy snow.
White Duck Avalon Bell Tent
Tent Size: 10 person | Type: Canvas, Bell | Seasons: 4-season | Weight: 166 lbs | Inside Height: 134 in | Floor: 20 ft diameter (314 sq ft) | Setup Time: 30 mins
This canvas tent is made for long-term camping, including harsh winters.
The Dynaduck canvas fabric, which is a double-fill army duck canvas, is treated with a water repellent, mold, mildew and UV resistant finish. Basically its tougher than nails to keep snow and rain out.
Even though the canvas is thick, it is very breathable. It keeps you cool during hot summer days, but still lets a decent amount of sunlight in. And, it traps heat in at night, keeping you warm during winter months.
And since it comes with a silicone-coated stove jack, you can stay extra warm inside even when it's chilly outside by utilizing a tent stove.
This bell-shaped tent has roof vents that allow the air to circulate even when the door and windows are closed.
To top it all off, there's a rain flap above the door that can double as a canopy when the weather is nice.
Pros:
It features galvanized steel poles that keep the tent steady during harsh wind
Heat-resistant silicone-coated stove jack allows you to cook inside
Roof vents along with mesh door and windows allow lots of airflow
The canvas is thick but it provides lots of natural light during the day
Rain flap above the door can also serve as a canopy
Cons:
The central pole that holds the tent might be annoying to avoid
Since it's made of canvas, this tent is very heavy
Best for: family camping and use on campgrounds.
Check Price on White Duck Outdoors
What To Look For In A 4-Season Tent
When you're camping in winter, a proper tent is your number one priority. Let's talk about more of what you should look for when purchasing one:
3-Season vs 4-Season Tents
Four-season tents are your best bet for camping in winter.
These tents are designed to withstand high winds, snowstorms, and other weather conditions that are expected in winter.
They usually have double walls and a good ventilation system to prevent condensation.
In fact, the term "4-season" is a bit misleading.
Even with the greatest ventilation features, a tent that keeps you warm during winter will be way too hot to use during hot summer days:
Tent Type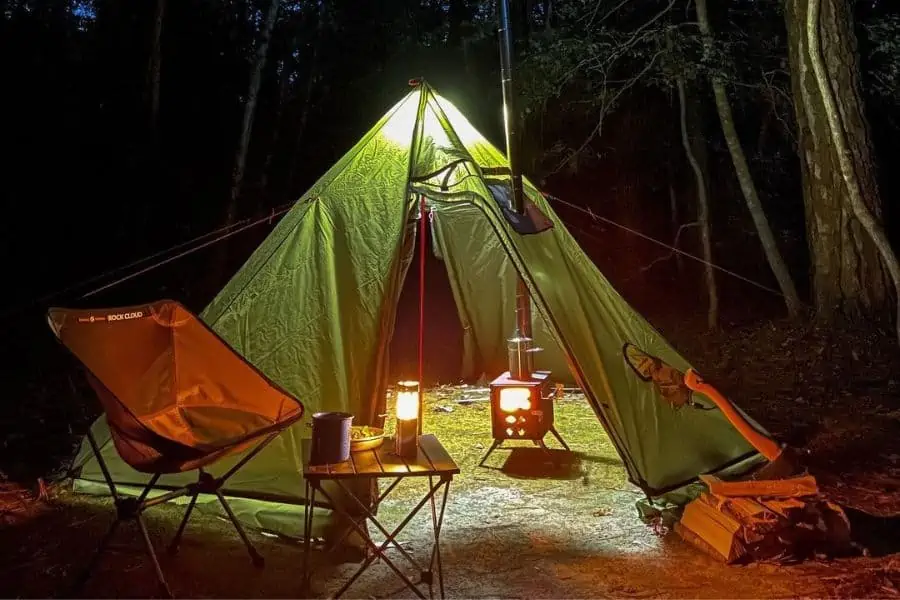 There are a variety of different types of winter tents.
Treeline
Mountaineering
Basecamp
Hot Tents
Treeline
4 season treeline tents are for casual winter camping.
They provide protection from the cold and can withstand light snow and moderate winds.
Compared to 3 season tents, they have a denser canopy and usually feature a bathtub floor to protect from flooding in heavy rains.
Unless you're going high up into the mountains, a treeline winter tent will be enough to keep you warm and safe on your average cold-weather camping trip.
Mountaineering
If you're hiking at high altitudes, a mountaineering tent is what you need.
They're ultralight so you can easily carry them on your back, and they're built to withstand the harshest weather conditions.
They're a lot smaller than other types of tents and have a lot less headroom. While this might not be as comfortable, their aerodynamic shape and structure resist the strongest winds.
Mountaineering tents are usually single wall tents (more on that below), as the aim of the game is to keep them feather-light.
Basecamp
If you're camping at high altitudes, but sleeping in one place rather than at a different site each night, you'll probably want to get a basecamp tent.
They're tougher and more weather-resistant than a treeline tent. But, they're a lot more spacious and comfortable than a mountaineering tent.
Of course, they're also significantly heavier than a mountaineering tent. But, if you're camping in the same place for multiple days and you don't have to carry it on your back during the day anyway, who cares?
These tents are usually double-walled, which provides them with better ventilation.
Hot Tents
Lastly, we have hot tents. These are tents that are pre-fitted with stove jack, and fire-safe to house a tent stove.
There are various different style hot tents, but most of them are made for car camping or to be used as a base camp for longer camping trips and winter hunting trips.
You aren't typically going to be backpacking or mountaineering in one of these tents as they are often heavier and use fire-proof materials and coatings.
Tent Size
You don't have to be a rocket scientist to know that the larger the room, the harder it is to warm it up.
That's why you should always choose the smallest tent possible when winter camping.
That doesn't mean five campers should try to fit in a 2-person tent.
But this is not the time to show off the ample tent you've bought for summer festivals.
Materials and Insulation
A tent can do a pretty decent job of retaining heat in the winter, but that depends on several factors.
The main one is the tent material. Whether it's the canvas or synthetic, the same rule applies: the thicker the weave, the better it is at insulating.
And since we're talking about insulation, you should know that's the main advantage of a double-wall tent.
Whether it's summer or winter, a double-wall tent creates an air layer between the walls, and everyone knows that air is the best insulator!
Weight & Packed Size
If you plan to use the tent for backpacking or mountaineering, weight is a critical factor.
Opt for a lightweight 4-season tent that still offers the necessary protection, but can also be compactly packed.
However, if weight and space aren't a factor, then you will want to opt for a heavier canvas tent, which will retain heat and likely have a silicone-coated stove jack to allow you to set up a tent stove to heat the tent from within.
Wind & Snow Resistance
For a tent to be strong enough to withstand the harsh elements of winter camping including heavy winds and snow, it needs strong poles.
The poles themselves should be firm but still flexible so that they can roll with the punches rather than snap.
Aluminum poles are the most common choice for 4-season tents as they're durable and weather-resistant.
You should also look at the pole diameter. Thin poles may snap in strong winds while thicker variants will stand their ground.
Ease of Use
No matter what, the last thing you want is to be freezing your but off while setting up and taking down your tent.
That is also why smaller tents are better in this sense because they typically have less poles and less complicated set ups.
You'll also want to consider if you can set up your tent with gloves on, or if you'll need to take them off for some steps as well.
Another consideration here is if you should purchase a freestanding or non-freestanding tent.
Freestanding tents are easier to set up but may not handle extreme conditions as well as non-freestanding tents that can be anchored more securely.
Ventilation
Proper ventilation is crucial to prevent condensation buildup inside the tent, especially in winter.
Look for tents with adjustable vents and mesh panels, because the last thing you want is to be soaked in water inside your tent, or worse – have the water freeze into tiny icicles that can do damage to you or the tent material itself.
Price
Finally price. Winter tents for the various features and protections they offer are more expensive than 3-season tents.
But price doesn't have to be a big hurdle. There are great budget friendly 4-season tents out there.
Even so, when it comes to staying warm, winter tents are well worth the price they offer.
The more expensive tents will have higher quality materials that will not only be able to stand up to the elements better, but last longer too.
Canvas tents for instance, can last decades!
Additional Features
Finally, you'll want to look for additional features.
We already talked about the stove jack that you may find on some canvas tents to allow you to hot tent.
But you will also want to keep a lookout for tents that have all the features you need from vestibules for gear storage, to gear pockets, and adjustable venting.
Additional Gear To Bring Winter Camping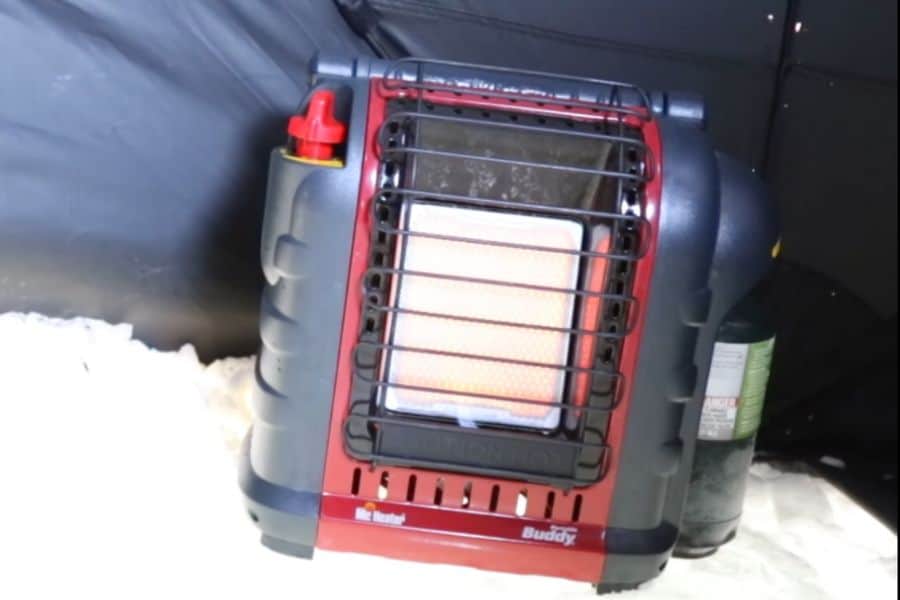 Aside from the winter tent, there are a few other things you might make use of when camping in the winter.
Heater
For camping in the wilderness, a gas heater is your best bet. Using it inside is safe as long as the model you go for abides by the CSA 4.98 or ANSI Z21.103 certification, because that means it turns off in case the oxygen level inside the tent becomes too low.
Proper Clothing/Layers
Dressing in layers is even more important when winter camping. The inner layer is moisture-wicking, the middle keeps you warm, while the outer layer works as wind and moisture barrier.
Blankets
Sometimes, a warm sleeping bag is simply not enough. To bring coziness to the next level, a blanket is your best friend. By this, I don't mean fluffy blankets you use at home, but those that are specially designed for camping. They usually have a waterproof, synthetic outer layer and are filled with warm materials like down or wool.
Footwear
Proper winter boots need to be waterproof, breathable and grippy. If it's no more than a few inches of snow, you can go in your all-terrain hiking boots. But if it's more than that, consider getting proper winter boots.
Aside from boots, you should also have crampons, microspikes, or even snowshoes, depending on the amount of snow. These traction accessories will allow you to walk over deep snow and icy terrain when hiking in snow.
FAQs
Are winter tents worth it?
Yes. If you plan on camping in harsh winter conditions, then a winter tent is certainly worth the investment.
It will not only make your experience more comfortable, but will help keep you safer AND warmer.
What type of tent is best for cold weather?
A 4-season tent is best. They are designed to withstand extreme conditions, and are made with heavier and more durable materials.
Typically they come with a low profile, to reduce wind resistance, and double-wall construction that provides an extra layer of insulation.
Lastly, you'll probably want something with a vestibule/porch area that will provide sheltered storage for your gear.
Do you need a special tent for winter camping?
Yes. We recommend using a 4-season tent in areas when winter camping in areas with high winds, extreme temperatures, and/or heavy snowfall.
Tents designed for four seasons have stronger poles, heavier fabrics so that they can stand up to the extreme elements better than a 3-season tent can.
What tents are used on Everest?
Given the extremely harsh conditions at Everest base camp with winds over 100 miles-per-hour and temps as low as -65 degrees F, premium bomb-proof expedition tents are used.
These include Black Diamond BombShell, The North Face Mountain VE 25, Mountain Hardwear Trango Tent, Marmot Thor 2P, and the Hilleberg Jannu.
Can a 3-Season Tent Be Used In Winter?
A 3-season tent usually has good weather protection, but it's not designed to keep you warm. It's designated to be used in spring, summer, and fall.
Now, you could use it during early winter when the weather is not too cold and it will perform just fine.
Once the temperature goes low, you'll have to use additional ways of insulation to stay warm inside a 3-season tent.
How warm are winter tents?
Typically, winter tents are 10-15 degrees warmer inside because they are better designed to trap heat.
The interior of insulated or expedition tents can be over 25°F warmer.
How do you stay warm in a winter tent?
The combination of a quilt and a zero-degree sleeping bag can be a game-changer for keeping you warmer in the tent by providing an extra layer of warmth.
How can I insulate my tent on a budget?
You can use foam pads to make a makeshift floor.
The thin mats are cheap and provide proper insulation from the cold ground when placed inside your tent
How do I make my tent warmer?
Fill Nalgene bottles with hot water after heating it in a pan or pot over a fire.
Place the bottles throughout the tent. During the night, heat is slowly released, raising the inside temperature. Added:
What heater can I use in a winter tent?
Mr. Heater Buddy is one of the highest-rated heaters currently on the market.
It packs a punch with 9,000 BTUs of heat and also includes extremely important safety features such as turning itself off if oxygen levels are too low as well as tip-over prevention
Our Verdict
If you're looking for a great tent option that's suited to winter and summer in any terrain, the ALPS Mountaineering tent is durable, easy to set up, anchors properly, and gives you the two things most important in a winter camping tent: comfort and heat.
We highly recommend it!