In a rush? We found that the Coleman 12-Person Skydome Tent XL is the best 12 person tent on the market today.
Camping isn't always meant to be a solitary experience.
Sometimes you want to take the entire family along for the trip – and sometimes the kids want to bring their friends, too! For this, you're going to need a bigger tent, and choosing a 12-person tent that's both easy to set up and has enough room on the inside can be pretty hard.
My family and I are avid campers, and we do our thing at least a few times per year. We've learned what makes a good tent through trial & error.
Here's a look at the best 12-person tents available today, how we rate and reveiw 12-Person Tents – and more about why each of these is great for your next camping trip.
Best 12 Person Tent: Our Top  Choices
See our entire 12 Person Tent Comparison Table and Scoring Methodology.
Coleman 12-Person Skydome Tent XL
Tent Type: Dome, 2-room | Weight: 33.6 lbs | Inside Height: 84 in | Floor: 20 x 9 ft (180 sq ft) | Setup Time: 5 mins
Coleman makes quality tents for budget conscious campers, and this is one of the highest rated Coleman tents around.
It is a quick pitch tent that you can get up in only 5 minutes with the pre-attached poles. Coleman's patented WeatherTec™ technology helps prevent water and wind from ruining your camping trip.
At 180 square feet (12′ x 9′) it's not the biggest tent in the 12-person category, but the extended dome style will prove to benefit if you face inclement weather.
However, Coleman did do a nice job of making the peak height at 7′ tall meaning that there is still plenty of headroom.
Pros:
Comes with room dividers so you can split it into two separate rooms
Quick Pitch tent that will go up in 5 minutes or less
Coleman's patented WeatherTec™ will keep you dry
High center height (84 inches) and fits three queen-size airbeds
Cons:
Be careful with the poles. Pre-installed poles mean that you don't want to drop it on your toes.
Best for: overall best family quick-pitch tent at an affordable price.
CORE 12-Person Instant Cabin Tent
Tent Type: Instant, 3-room | Weight: 47.8 lbs | Inside Height: 80 in | Floor: 18 x 10 ft (180 sq ft) | Setup Time: 2 mins
CORE makes superb tents, and their 12-person Instant Cabin is no exception!
This tent sets up in under five minutes, making it an excellent choice for a quick camping trip – or a beginner one.
It measures 18' x 10' on the inside and comes with all of the poles pre-attached so there's no need to fumble with mechanics to get it set up. Oh, and it's also prime for taller people, which is great if you've ever had to spend a camping trip in a tent where you keep hitting your head.
If you're looking for a quick-camping tent that fits as many as twelve people (or gives smaller groups a ton of space) but isn't a nightmare to set up, then go for CORE.
Pros:
Comes with room dividers so you can split it up into at least three separate rooms for privacy
It stands up well in winter conditions, thanks to superior design and anchoring
This tent promises a quick and instant setup and definitely delivers
High center height (80 inches) and fits three queen-size airbeds
Electrical ports and ground ventilation make this a tent that suits everyone
Cons:
Be careful with the poles. Pre-installed poles mean that you don't want to drop it on your toes.
Best for: families that want a quick-pitch tent at an affordable price that fit a ton of people.
White Duck 14′ x 16′ Alpha Wall Tent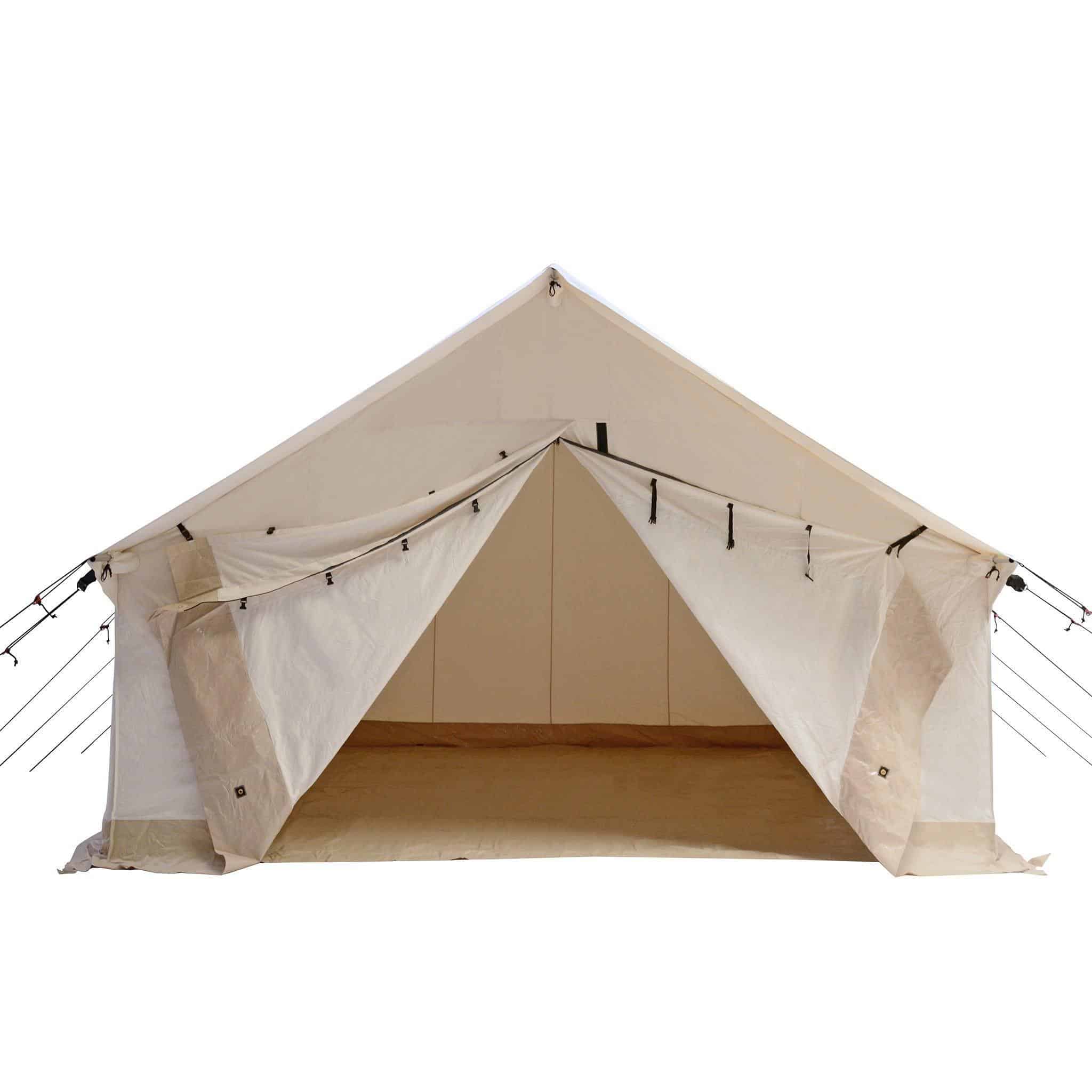 Tent Type: Canvas, Wall Tent | Seasons: 4-season | Weight: 262 lbs | Inside Height: 114 in | Floor: 14 x 16 ft (224 sq ft) | Setup Time: 30 mins
Now let me be clear: this is not a tent. This is a canvas mansion.
With 224 square feet of floor space and an incredible 9'5" center height, this spacious tent will make anybody feel comfortable.
In fact, a lot of people are using it as a second winter home in their backyard – it's that comfortable.
On the downside, it is pretty expensive – so if you're not 100% sure that you're going to be heavily using this tent, you'll probably want to give it a pass.
Pros:
HUGE – with 8'8" center height and 224 sqft. you can comfortably fit 6 people in there (and have room to spare)
For such a large tent, the setup is relatively simple
100% waterproof (provided you season it beforehand)
Comes with poles, stakes, and everything else you need
Cons:
Expensive – budget-conscious campers can look away
At 262 lbs, it's definitely one of the heaviest tents around
Best for: campers looking for the best canvas wall tent available today.
Check White Duck Outdoors Price
NTK Super Arizona GT Sport-Family Camping Tent
Tent Type: Tunnel, 2-room | Weight: 39.77 lbs | Inside Height: 83 in | Floor: 20.6 x 10.2 ft (210 sq ft) | Setup Time: 20 mins
The NTK Super Arizona GT 12-person tent is made for the outdoors – and of course, you can take three people camping in a twelve-person tent. The only difference is that you have a little more room on the inside.
This tent weighs just under 40 lbs, which isn't heavy considering the sheer size of the tent when you're done setting it up. It's center height measures 6'11", which is more than enough if you're on the tall side, pushing six feet.
It even contains a mosquito net if you're taking your camping trip into the woods and want to stay bug-free.
Pros:
It's a tent that you can set up in under twenty minutes without any back-breaking effort, and the poles are marked so you know where they're meant to go
The NTK-series are completely waterproof tents, protecting you from rain for the entire camping trip
It's one of the larger 12-person tents on the inside, with more than enough room to fit several single beds, chairs and whatever else you could need
Galvanized steel frame connections cement this tent as one that'll last for years
Two D-style doors make it so nighttime bathroom breaks won't wake the family
Cons:
Some users had issues with the door and window zippers when regularly opened and closed.
It's a good idea to purchase a separate (and more durable) floor tarp if the tent is going to see a lot of foot traffic for the trip.
Best for: families that want a tent with tons of legroom and top of the line rain protection.
Coleman Skylodge 12 Person Tent
 Tent Type: Cabin, Screen Room | Weight: 44.2 lbs | Inside Height: 88.8 in | Floor: 19 x 10 ft (190 sq ft) | Setup Time: 20 mins
Another great Coleman tent makes the list. The Skylodge 12 Person tent comes with a sizeable 5 x 10 ft screen room, combined with an additional 190 sq ft of living space.
Coleman's patented WeatherTec system utilizes a tub-like floor, welded corners and works to keep you dry.
The 7′ 4″ interior height makes this tent extremely roomy and comfortable from head to toe.
Pros:
50 sq ft of extra living space in the screen room
A relatively quick setup in only ten to twenty minutes to setup
Coleman's patented WeatherTec™ will keep you dry
High center height (88.8 inches) and fits up to four queen-size airbeds
19′ x 10′ interior is extremely spacious at 190 sq feet
Cons:
Not quite as waterproof as other tents on this list
Best for: families that want a tent with a screen room for extra gear storage
CAMPROS 12-Person Tent
Tent Type: Dome, 3-room | Weight: 24.3 lbs | Inside Height: 72 in | Floor: 20 x 9 ft (180 sq ft) | Setup Time: 20 mins
Now we come to the CAMPROS dome tent. It is seriously lightweight for a 12 person tent at only 24.3 lbs.
But don't let the weight fool you, with a 20′ x 9′ structure, CAMPROS offers you 180 square feet of living space, including two room dividers to make this a 3-room tent.
It is most definitely the least expensive option on this list, giving it a great gang for its buck.
Pros:
Budget friendly – the least expensive tent on this list
Room dividers to split this tent into a 3-room tent
Lightweight at only 24.3 lbs
Made with 185T polyester and a PU1000mm water-resistant coating to keep water out
Cons:
The pole sleeves are a bit tight
A limited amount of pockets for this size of tent
Best for: Budget conscious families.
Ozark Trail 12-Person, 3-Room Instant Cabin

Type: Cabin, Instant, 3-room | Seasons: 3-season | Weight: 55.2 lbs | Inside Height: in | Floor: 8 x 8 ft + 8 x 8 ft + 8 x 8 ft (192 sq ft) | Setup Time: 5 mins
This tent is great if you aren't a veteran camper and only want to have the occasional camping trip. With pre-attached poles in place, all you have to do is assemble – and it can be done a lot quicker than most tents out there. Plus, you can add an air conditioner to the tent, too!
The Ozark Trail 3-Room Instant Cabin Tent measures 16' x 16' and weighs in at just under 40lbs when it's not set up. This one promises an instant setup, and it can be put up a lot quicker than a lot of other tents out there on the market.
Just be careful when setting up, because the poles have to "click" into place. If they aren't installed properly, you'll notice when the tent collapses in on itself – which is, I'll admit, more of a user error than a design problem.
Overall, this was great and contains room dividers if you'd like to split it into three rooms or less.
Pros:
Measures 16' x 16' on the inside and comes with a porch – massive footprint!
Seven windows, three rooms, and two doors make this less of a tent and more of a castle
The oversized ground vent allows you to hook up an air-conditioner directly to your tent
Pre-attached poles make setup and teardown easy (necessary for a large tent)
Ozark Trail tents are generally very affordable, and this is no exception
Large windows and multiple rooms allow ample ventilation and personal space, which means you'll keep cool all night
Cons:
Design is not strong against the wind (lots of surface area), so make sure you anchor it to the ground correctly
Best for: families or groups that want to use three rooms for better privacy or alone time.
Tahoe Gear Prescott 12-Person 3-Season Tent

Tent Type: Tunnel, 2-room | Weight: 30.9 lbs | Inside Height: 80 in | Floor: 20 x 10 ft (200 sq ft) | Setup Time: 20 mins
The Tahoe Gear Prescott 12-Person tent measures 20' x 10' and fits into a small-enough bag that you can throw it over your shoulder.
It has several handy room divided if you're going camping and the kids (or the adults) want some privacy, and it has the option of added storage space on the inside.
Pros:
It's easy to set up and you can get the job done in about twenty minutes, ten if you've set up a tent before and know what you're doing already
It's warmer on the inside than it looks, and happens to be one of the bigger tents out there
Extremely affordable, especially when you consider how much size and weather protection you get
The open design and large windows mean you'll be able to take in all of nature through a panoramic view
Cons:
Only available in one not so great color. The only option is electric blue, which is great if the environment around you matches, but can be an eyesore anywhere else.
The fiberglass poles included could've been much stronger. It might be worthwhile to invest in newer poles.
Best for: People looking for an affordable and lightweight family tent.
Tahoe Gear Gateway Deluxe Cabin Family Tent
Tent Type: Tunnel, 2-room | Weight: 39.6 lbs | Inside Height: 84 in | Floor: 20 x 15 ft (215 sq ft) | Setup Time: 20 mins
Tahoe makes pretty good budget tents. The Tahoe Gear Gateway Deluxe, is the slightly more luxurious camping version of the regular Tahoe 3-Season option.
At 215 square feet, it's large enough for four beds, and the inside door gives you more privacy than a traditional room divider.
This is a great option for families looking to spend more quality time together.
Pros: 
It's particularly roomy on the inside and has more than enough room for four beds and space left over.
This tent can handle some winds and downpours.
This one anchors to the ground particularly well, with poles, straps and more included to make sure that it's sturdy regardless of the environment you're setting it up in.
Rainfly is equipped with a reflective solar shield to help you stay cool during the hot summer months
Generous seven feet of center height means you can do jumping jacks inside, or maybe fit a bunk bed!
Cons: 
It only comes in blue, which can be a drawback if you're trying to blend in during your camping trip
Zippers aren't as durable as you would expect if you have a bunch of people going in and out of the tent throughout the trip
Best for: Overall the best 12 person tent.
Best 12-Person Tents – Everything We Recommend
Choosing The Best 12 Person Tent: A Thorough Guide
We've had a few camping disasters in our beginning days: poles that snap, tents that collapse, and even that one time our tent caught fire when a marshmallow flew off a stick and landed right on the roof of the tent.
If you're new to camping (or into "glamping"), here's how to choose the tent that's right for your needs.
How To Choose The Best Tent
The best tents (at least 12-person ones) have more than enough room – and they're light to carry. It's a fine line to walk between tent size and tent weight. Make sure you buy one that's big enough for the gang, but not so large you need a forklift to unpack it.
Other factors that you should look for when buying your first tent includes doors and windows (some have more than two and as much as six), the quality of the poles, and how sturdy it is when finally set up.
Lastly, note the quality of the floor tarp, which tends to wear first due to constant foot traffic. For frequent campers, it might be worthwhile to bring a tarp to place on the floor to prevent ripping your tent.
What Are The Advantages Of A 12-Person Tent?
Why choose a 12-person tent rather than a regular one? Many reasons – and taking twelve people along on a camping trip isn't the only good reason.
A huge tent is also great if you're someone who loves the added space, or if you're planning on setting up a little kitchen, living room or eatery in your tent for the duration of your camping trip.
Good Tents Or Bad Tents: Which Are Which?
How can you tell the difference between a good tent and a bad one if you've never set one up before?
Good tents are ones that offer:
Easy Setup
Plenty of Space
Weather Protection
Durability
Everything else can be considered secondary. If it matches these criteria points, it's likely that you're looking at a good tent model.
Learning To Set Up Your Tent
If you've never set up a 12-person tent before, it can be a little different to setting up a smaller tent, but this is only because you have more poles to work with.
Thankfully, YouTube has some excellent guides for how to set up your tent, including the one below that serves as a great step-by-step method for beginners.
I recommend setting up your tent at least once before you hit the road so that you can get used to the process. Go through the steps in your garage or backyard to make sure you know what you're doing. Not only will you sharpen your skills, but it can also be a fun time for the kids to go "camping."
Set-Up Specifics
Because of the size, there are a few things to keep in mind when setting up your 12-person tent.
First, it's best to anchor your tent as deeply into the ground as possible. If you haven't done this before, you also want to make sure that the surface is as level as you can get it. It's a great idea to sweep the area to get any loose rocks, sticks or sometimes thorns out of the way of the foundation of your tent.
Next, always keep safety in mind first when setting up a tent. Consider factors such as how far away your tent is from your camping fire (note: far enough!), and the surrounding plants. Nobody has ever won a happy camper award by setting up their tent next to poison ivy. Trust me on this…
How We Tested, Reviewed, and Rated 12 Person Tents
We love to test and review gear. You'll find us testing gear that we already own and love, are purchasing for retail prices (just like you), or items that are sent to us by the manufacturer.
No matter how we procure a product, our goal is to thoroughly test and review each item and rate it against its peers.
Our goal is to remain as unbiased as possible.
We take tedious notes, and compare even the tiniest of details. Everything goes into a spreadsheet for analysis from the dimensions of the product to cost comparisons, user ratings, etc
After hours of testing, reviewing and analyzing all of these 12 person tents, we graded each tent on the following metrics:
Space and Comfort
Quality and Durability
Value
Weather Resistance
Ease of Use
Intangibles (unique features and key selling points)
User Reviews
Depending upon what you are looking for in a tent, you'll want to pay more or less attention to each specific item.
Overall Score
All of the above metrics are factored into our algorithm to create an Overall Score. The Overall Score is going to be the best for tents that are top notch in every category accordingly.
Therefore only a tent that provides great all-around value, weather resistance, high quality materials, along with intangibles AND great user reviews will score better than a tent that is specifically made for 4-seasons, but is also extremely expensive.
Or perhaps you are looking for a great tent at a great value? In this case, your tent may not be rated the highest, because it may not be using the best of the best materials, but it will surely have the highest value to price ratio.
So while the Overall Score is important, it is not everything.
Space And Comfort
When you are camping with a large group of people, this is a huge determining factor as to whether the tent is going to live up to your expectations.
You don't want to get this one wrong…but if you are a backpacker, you will not care as much for space and comfort, as you would for quality/durability and most of all weight.
We rate space and comfort for each tent within their tent category and size. So for a 12-person tent, it is rated in comparison with other 12-person tents. But this does not mean that a 12 person tent will comfortably fit 12 people. It simply won't. You'll be more likely comfortably fitting 6-7 people, 8 tops.
Now, let's take a look at some of the top 12 person tents by height:
As you can see the White Duck Alpha Wall Tent looms over the other 12 person tents by quite a large margin.
However, all of the other tents are still going to offer plenty of headroom, with the average coming in at around 80 inches or 7′ 8″ tall. You will not have a problem moving around in a 12-person tent.
But that doesn't mean you might not have to crouch here or there. Especially if you go for a Dome Tent. Dome tents by nature are more wind and rain resistant, but will also have sloped ceilings.
Now let's take a look at the overall square footage inside each tent:
12 Person Tents clearly offer a lot of square footage. Most of these tents will come with one or two dividers to turn your tent into either a 2-room or 3-room tent.
With 12 Person Tents, you also begin to see some unique L-shaped layouts in the Tahoe Gear Gateway Deluxe Cabin Family Tent and the Ozark Trail 12-Person.
But you can also see that the White Duck 14′ x 16′ Alpha Wall Tent offers the most square footage at 224 sq ft. So while the cost may be lofty, if you are looking for a heavy-duty family tent that can last for decades, then you should consider the Alpha Wall Tent or a similar canvas tent.
No matter what tent you choose, 12-person tents will be very roomy and large. You won't have much issues fitting everyone and everything you need into these tents.
Quality And Durability
This metric is pretty straightforward. We rate the tents based on their actual materials and the quality of the construction.
We also get feedback from tent owners who put it their tents the test over a long period of time.
Many tents utilize a combination of the same polyester or nylon materials, but their construction can be just as important. This all gets factored into the quality and durability score.
Also factored in the Quality and Durability score is the warranty.
While most tents have some sort of Limited warranty, many have Lifetime Limited Warranty's, but REI for instance, only has a 90 day return policy and warrants only that the product is free from defects at the time of sale
Value
All tents are not created equally, and not all tents are priced equally either. Coleman for instance produces a great budget tent, while White Duck produces a superior canvas tent that can withstand the elements. These tents will not be priced anywhere close to each other:
You can go for the budget option in the CAMPROS 12-Person Tent or if you can push your budget up, spring for a reasonably priced and great value in the Coleman 12-Person Skydome Tent XL or the CORE 12-Person Instant Cabin Tent.
On the flipside, the White Duck Alpha Tent is the most expensive 12 Person Tent in our rankings, but its superior performance still delivers great value because the tent will last you decades.
Weather Resistance
Weather resistance is a simple metric.
Does the tent let in water, or does it not? Does the tent withstand high winds, or collapse onto itself? Does the tent have good ventilation during the summer months or does it get too hot and stuffy? This is what matters to us when we rate a tent for weather resistance:
The NTK Super Arizona GT Sport-Family Camping Tent is built to be waterproof and will prove to be a great defender against the dreaded wind and rain combination.
But don't go sleeping on the Coleman 12-Person Skydome Tent XL or the White Duck Alpha Tent.
When it comes to weather resistance, the bigger the tent, the more potential problems. So just keep that in mind. No tent will be perfect, and if you are looking for a large family friendly weather proof tent, you may want to consider sizing down to a 6 person or 8 person tent.
Ease Of Use
How fast can an average user pitch this tent? How easy it is to take down and/or utilize additional features?
Also, how much does the tent weigh? A tent weighing 55 lbs is going to score slightly lower than lightweight 12-person tent that weights 24 lbs total that can be pitched in the same amount of time.
So here is all of the data that goes into this rating:
Clearly the CORE 12-Person Instant Cabin Tent is by far and away going to be the fastest setup being an Instant Tent. But the Coleman 12-Person Skydome Tent XL and the Ozark Trail 12-Person aren't going to take you much longer.
No matter how fast the tent pitches, you'll still have plenty of tie downs to do, oh don't you worry.
As with any tent, practice makes perfect, and two people helping to pitch a tent is going to make it go twice as fast, if not more!
Intangibles
These are the unique features or selling points of each individual tent that give it a leg up on the competition.
Does the tent have two doors? Perhaps the tent has a large vestibule for storing equipment? Is the tent is a two-room tent with a special space for the kiddos or a dog? Maybe the footprint is included in the price?
This ALL gets factored into the intangibles score.
User Ratings
Last, but not least are user reviews!
We can get a lot of great feedback from user reviews, but they aren't perfect. The average tent owner won't ever leave a review, so reviews are typically left by users who either have a really favorable or unfavorable experience.
Of course even that is still good information, because if 90% of tent owners leave a positive 5-star review, then that is really saying something. So we blend reviews together from various sources and come up with an average user rating score. Here is how they shake out for 12-person tents:
No surprise, but the White Duck Alpha Wall Tent comes in with the top User Rating. However, campers in general love their 12 person tents.
The Coleman 12-Person Skydome gets rave reviews as well and the NTK Super Arizona GT Tent and CORE 12-Person Instant Cabin Tent aren't too far behind.
Even so, we don't simply trust the overall user rating on Amazon. We go through and read the reviews. We read the good, we read the bad, and then we factor in the quantity of reviews and calculate all of into our final User Rating score.
Our Verdict
All the tents on the list have been tried and tested. But the Coleman 12-Person Skydome Tent XL scored an 8.0 making it the overall best tent of the bunch.
If you're looking for a tent that's bigger on the inside than it looks when standing a few feet away – and one that isn't a nightmare to set up – opt for the Skydome.
It's great for any season, waterproof, really easy to set up, and can stand up to really harsh weather, too.
Whether you're a novice or not, the Skydome won't disappoint!