As the sun sets on a great camping day, gathering around the campfire becomes the unwritten rule. And there's no better way to keep everyone engaged than to sing together.
But what to sing?
From new radio hits to old-but-gold anthems, this article has got you covered. I've made a list of the best songs to jam to around the campfire. And there's something for the youngest ones as well!
Let's jump straight in!
Best Campfire Songs
Here are some songs that probably everybody on this planet knows.
As soon as you strum the first chord, you can bet everyone will tune in and sing together.
1. "House of the Rising Sun" – The Animals
"There is a house way down in New Orleans, they call the Rising Sun"
2. "Sweet Home Alabama" – Lynyrd Skynyrd
"Sweet home Alabama, where the skies are so blue"
3. "Somewhere Over The Rainbow" – Israel Kamakawiwo'ole
"… Somewhere over the rainbow way up high, and the dreams that you dream of once in a lullaby, oh"
4. "Stand By Me" – Ben E. King
"No I won't, be afraid, just as long, as you stand, stand by me"
5. "California Dreamin'" – The Mamas and the Papas
"All the leaves are brown, and the sky is gray…"
6. "Take Me Home, Country Roads" – John Denver
"Country roads, take me home to the place I belong, West Virginia, mountain mama…"
Traditional Campfire Songs
These songs may weren't created with camping in mind, but they're the first ones that come to mind when you start singing around the campfire.
7. "Daydream Believer" – The Monkees
"Cheer up, sleepy Jean, oh, what can it mean that to a daydream believer and a homecoming queen"
8. "You Are My Sunshine" – Charles Mitchell and Jimmie Davis
"You are my sunshine, my only sunshine, you make me happy when skies are gray"
9. "Molly Malone" – The Dubliners 
"In Dublin's fair city, where the girls are so pretty, I first set my eyes on sweet Molly Malone"
10. "Bicycle Built for Two" – Nat King Cole
"Daisy, Daisy, give me your answer do, I'm half crazy all for the love of you"
"Oh, Lord, kumbaya"
12. "Amazing Grace" – John Newton
"The earth shall soon dissolve like snow, the sun forbear to shine"
13. "Hallelujah" – Leonard Cohen
"It goes like this, the fourth, the fifth, the minor falls, the major lifts the baffled king composing Hallelujah"
14. "Down By The Riverside" – George Lewis
"Oh, hallelujah to the lamb down by the river, the Lord is on the giving hand down by the riverside"
Popular Campfire Songs
Both old and new, these songs are popular hits that surely everyone knows the lyrics to. They are perfect for campfire, whether you play them on a stereo, guitar or even acapella.
"But I won't hesitate no more, no more, it cannot wait, I'm yours"
16. "Yellow Submarine" – The Beatles
"So we sailed on to the sun 'til we found a sea of green, and we lived beneath the waves in our yellow submarine"
17. "Sweet Caroline" – Neil Diamond
"Sweet Caroline, good times never seemed so good, I've been inclined to believe they never would"
18. "Brown Eyed Girl" – Van Morrison
"Hey, where did we go? Days when the rains came down in the hollow"
19. "Heart of Gold" – Neil Young
"It's these expressions I never give, that keep me searching for a heart of gold"
20. "Wish You Were Here" – Pink Floyd
"We're just two lost souls swimming in a fish bowl, year after year"
"Because maybe you're gonna be the one that saves me, and after all, you're my wonderwall"
22. "Hotel California" – The Eagles
"Welcome to the Hotel California, such a lovely place…"
23. "Down on The Corner" – Creedance Clearwater Revival 
"Down on the corner, out in the street, Willy and the Poor Boys are playin' bring a nickel, tap your feet"
"Look at the stars, look how they shine for you"
25. "With or Without You" – U2
"Through the storm, we reach the shore, you give it all but I want more and I'm waiting for you"
"Hey Joe, where you goin' with that gun of your hand?"
Campfire Songs for Kids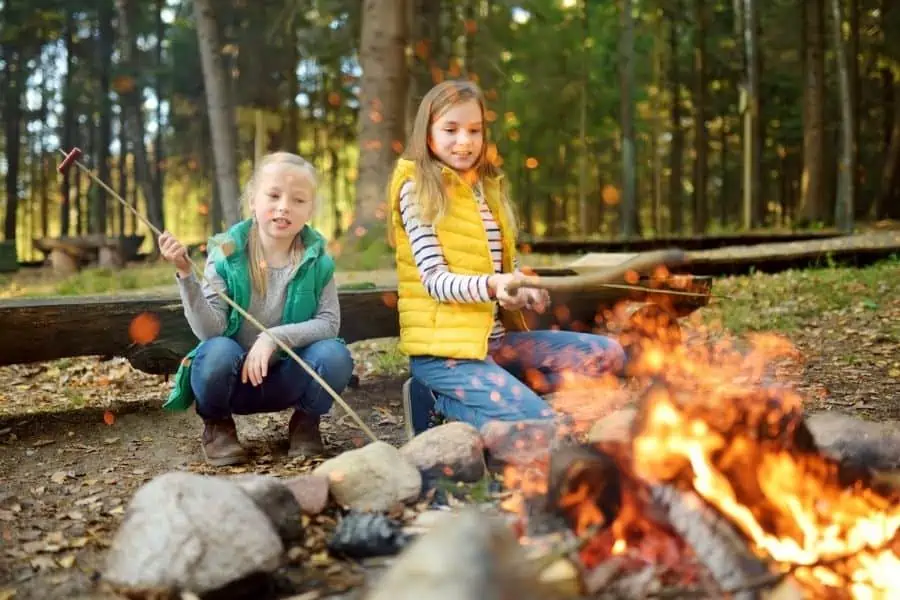 Let's get kids engaged as well!
While they probably already know the words to most of these songs, they can easily pick up the lyrics of the ones they don't.
27. "Five Little Speckled Frogs"
"Five little speckled frogs sat on a speckled log, eating some most delicious grubs, one jumped into the pool, where it was nice and cool, now there are four green speckled frogs"
28. "The Campfire Song Song" by Spongebob Squarepants
"Let's gather 'round the campfire, and sing our campfire song, our C-A-M-P-F-I-R-E S-O-N-G song"
29. "Baby Shark"
"Baby shark, doo, doo, doo, doo, doo, doo"
30. "Camp Granada"
"Hello Muddah, hello Faddah, here I am at Camp Grenada, camp is very entertaining and they say we'll have some fun if it stops raining"
"The wheels on the bus go round and round, all day long"
32. "We're Going on a Bear Hunt"
"We're going on a bear hunt, we're going on a bear hunt, I've got my binoculars, I've got my binoculars, I'm not scared, I'm not scared"
"The ants go marching one by one, hurrah, hurrah"
34. "She'll Be Coming Round The Mountain"
"She'll be coming 'round the mountain when she comes (yee-haw)"
"Oh, give me a home, where the buffalo roam, where the dear and the antelope play"
36. "Kookaburra"
"Kookaburra sits in the old gum tree, merry, merry king of the bush is he, Laugh, Kookaburra! Laugh, Kookaburra! Gay your life must be"
"A-camping we will go, hi-ho and off we go"
38. "The Green Grass Grew All-Around"
"Oh in the woods there was a tree, the prettiest tree you ever did see"
"Hey, Joe! Are you busy?" I said, "No." "Then push this button with your right hand."
Oldies but Goodies Campfire Songs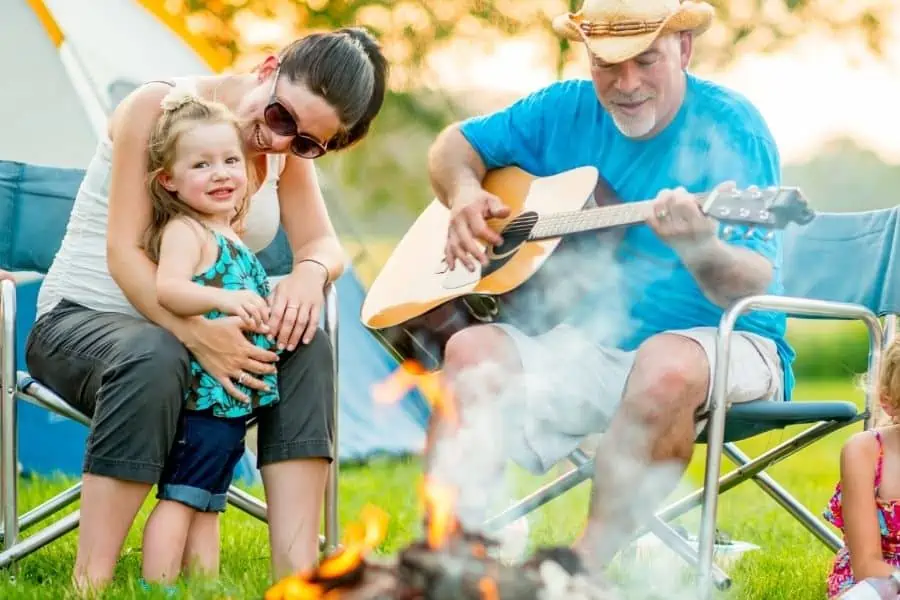 Even though these songs are more than 50 years old, they're just as relevant today as they were when they came out. They're also guaranteed to make you feel nostalgic and reminisce about the old days.
40. "Daydream Believer" – The Monkees
"Oh, what can it mean that to a daydream believer and a homecoming queen"
41. "Leaving on a Jet Plane" – Frank Sinatra
"I'm leavin' on a jet plane, I don't know when I'll be back again, oh, babe, I hate to go."
42. "All I Have To Do Is Dream" – The Everly Brothers
"When I feel blue in the night, and I need you to hold me tight, whenever I want you, all I have to do is dream"
43. "Can't Help Falling in Love" – Elvis Presley
"Like a river flows surely to the sea, darling, so it goes, some things are meant to be"
44. "Catch The Wind" – Donovan
"To feel you all around me and to take your hand, along the sand. ah, but I may as well try and catch the wind"
Campfire Songs for Adults
Teenagers might not know these songs, but we adults surely do. These classics have been around for a few decades now, but we still turn up the volume each time they're played on the radio.
45. "Margaritaville" – Jimmy Buffet
"Wastin' away again in Margaritaville, searchin' for my long lost shaker of salt"
46. "Me And Bobby McGee" – Janis Joplin
"From the Kentucky coal mine to the California sun, there Bobby shared the secrets of my soul"
47. "Blowin' In The Wind" – Bob Dylan
"The answer, my friend, is blowin' in the wind"
48. "Proud Mary" – Creedence Clearwater Revival
"Big wheel keep on turnin', proud Mary keep on burnin', rollin', rollin', rollin' on the river."
49. "American Pie" – Don McLean
"A long, long time ago, I can still remember how that music used to make me smile"
"Sing us a song, you're the piano man, sing us a song tonight"
51. "Free Fallin'" – Tom Petty
"And I'm free, free fallin'"
52. "Just Like Heaven" – The Cure
"Show me how you do it, and I promise you I promise that I'll run away with you"
53. "Ain't No Sunshine" – Bill Withers
"Ain't no sunshine when she's gone
It's not warm when she's away"
54. "The Sound of Silence" – Simon and Garfunkel
"Hello darkness, my old friend, I've come to talk with you again"
"Hey Jude, don't make it bad. Take a sad song and make it better."
56. "Ring of Fire" – Johnny Cash
"And it burns, burns, burns, the ring of fire"
57. "Lean on Me" – Bill Withers
"For it won't be long till I'm gonna need somebody to lean on"
58. "Wild Horses" – The Rolling Stones
"Wild horses couldn't drag me away"
Acoustic Guitar Campfire Songs
These songs have a classic chord progression, so they can easily be played on an acoustic guitar. It's simply unavoidable to sing along as soon as you hear a few notes.
"Layla, darling, won't you ease my worried mind?"
60. "A Horse With No Name" – America
"I've been through the desert on a horse with no name, it felt good to be out of the rain"
61. "The Passenger" – Iggy Pop
"And everything looks good tonight, singing la la la la la la…"
62. "Mrs. Robinson" – Simon & Garfunkel
"And here's to you, Mrs. Robinson, Jesus loves you more than you will know"
"Imagine there's no heaven, it's easy if you try"
"Let it be, let it be, whisper words of wisdom, let it be"
65. "Africa" – Toto
"I bless the rains down in Africa, gonna take some time to do the things we never had"
66. "Sweet Child O' Mine" – Guns N' Roses
"She's got a smile that it seems to me, reminds me of childhood memories"
67. "Torn" – Natalie Imbruglia
"I thought I saw a man brought to life, he was warm, he came around like he was dignified"
68. "Redemption Song" – Bob Marley
"Won't you help to sing these songs of freedom? 'Cause all I ever have redemption songs"
69. "Have You Ever Seen the Rain?" – Credence Clearwater Revival
"I wanna know, have you ever seen the rain? Coming down on a sunny day"
70. "Three Little Birds" – Bob Marley
"Don't worry about a thing 'cause every little thing gonna be all right"
"I said maybe, you're gonna be the one who saves me? And after all, you're my wonderwall"
72. "If I Had a Million Dollars" – Barenaked Ladies
"If I had a million dollars (If I had a million dollars) well I'd buy you a house"
73. "Bad Moon Rising" – Creedence Clearwater Revival
"Don't go around tonight, well it's bound to take your life, there's a bad moon on the rise"
74. "Killing Me Softly with His Song" – Roberta Flack
"Strumming my pain with his fingers, singing my life with his words, killing me softly with his song"
Campfire Song Playlists
Too lazy to make your own playlist? Here are some of the pre-made sets that you can enjoy around the campfire.
Spotify Campfire Song Playlists
Apple Music Campfire Song Playlists
Pandora Campfire Song Channels
Amazon Music Playlists
To Sum Things Up
This list should keep the crowd entertained for a few nights around the campfire.
These songs are so good, that you won't even mind having them on repeat.
And remember – any song can be a campfire song if you want it to be.
Need more to do? Check out our ultimate list of great camping activities and don't miss our article on hiking songs as well!
Also be sure to check out our list of best wilderness movies that you can watch in advance of your camping trip.