Two-room tents are an amazing invention.
Camping with kids? They can have a nap in the other room while you're hanging out in the living area.
Camping with friends? A separate room is great for changing clothes in private.
Couples camping? You can keep your tent nice and tidy by storing your gear in the other room.
As you can see, the possibilities are endless with 2 room tents!
Let's dive straight in, here are the best 2-room tents on the market today:
Best 4 to 6 Person 2 Room Tents:
Best 8-Person 2 Room Tents:
Best 10-Person 2 Room Tents:
Best 12-person 2 Room Tents:
Best 2 Room Tents: Our Top Picks
Decathlon Quechua Fresh & Black Inflatable Family Camping Tent 4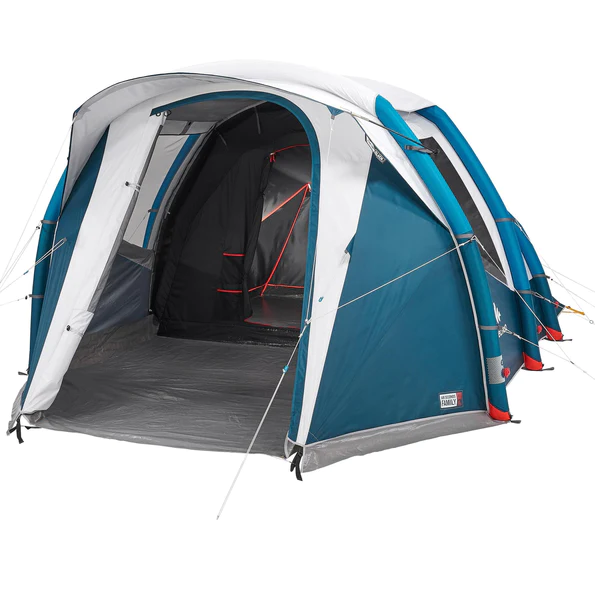 Type: Pop Up, 2-Room | Size: 4 person | Seasons: 4 | Weight (lbs): 32 | Max Inside Height (in): 74.8 | Floor: 110.2 x 82.7 inches (70 sq ft)| Setup Time: 10 mins
Looking for a tent that's as versatile as it is comfortable?
Look no further than the Decathlon Quechua Fresh & Black – the best inflatable tent on the market!
With its unique Fresn & Black technology, this tent reduces heat by 17% and blocks out 99% of daylight, making it the perfect place to catch some shut-eye after a long day of adventuring.
But what really sets this tent apart is its two-room design.
That's right, you get not only a spacious living area but also a separate bedroom with a door – a rare find in the world of camping tents of this size.
Pros:
The inflatable design makes it quick and easy to set up the tent in 10 minutes or less
Fresh & Black technology reduces heat inside the tent by up to 17% and blocks out 99% of daylight, making it easier to sleep in.
2-room design with its large interior (70 sq ft) has both a bedroom (with door) and a living room
Mesh windows provide good ventilation, and waterproof material keeps you dry in bad weather
Cons:
The pump is not included
Although Fresh & Black blocks daylight, it makes the tent feel much darker inside
Best for: a unique and rare 2-room 4-person tent.
REI Co-op Wonderland 6 Tent
Type: Tunnel, 2-Room | Size: 6 person | Seasons: 3-season | Weight: 22 lbs 15 oz | Inside Height: 75″ | Floor: 120 in x 100 in (83.3 sq ft) | Setup Time: 10 mins
Looking for a spacious and easy-to-setup 6-person tent?
The REI Wonderland 6 is a perfect choice! With a peak height of 75 inches and vertical walls, movement inside the tent is a breeze.
The room divider creates separate living and sleeping areas for added privacy.
Although not ideal for windy areas, the inverted v-shaped windows provide great ventilation and a viewing area for campers.
Check out our full REI Wonderland 6 review here!
Pros:
Comes with a divider that can create two rooms for extra privacy
2 doors allow for easy movement in and out of the tent
6'2'' peak height and vertical walls mean you get a lot of extra space
For such a big tent it's relatively easy to set up, even for one person
Aluminum poles are both durable and flexible enough to stay erect even during windy conditions
Cons:
Pricey – it's not for budget-conscious campers
Vestibule/Mud Room has to be purchased as an add-on
Best for: people looking for a great 6 person camping tent with 2 rooms.
Browning Camping Big Horn Tent
Type: Cabin, 2-Room | Size: 8 person | Seasons: 3-Season | Weight: 34.6 lbs | Inside Height: 87 in | Floor: 10 x 15 ft (150 sq ft) | Setup Time: 15 mins
With 150 square feet of floor space and over 7 feet of headroom, the Browning Big Horn feels like a palace.
Its room divider creates separate living and sleeping areas for added privacy.
Although a bit heavy (nearly 35 lbs) and pricey, the Browning Big Horn Tent is perfect for car camping and offers unparalleled comfort and convenience.
Pros:
HUGE – 150 square feet of space and a peak height of over 7 feet make it a bonafide castle
Two doors mean you can enter and exit the tent without tripping over your tent buddies
With a mesh roof, 4 windows, and two doors, this tent gets plenty of air circulation
Superior materials like the polyester fly and polyester oxford floor mean you will stay dry even during heavy rain
Six storage pockets inside make it convenient to store small items
You'll get more privacy thanks to a room divider
Cons:
A bit pricier than some other tents on this list
Best for: families who want as much space as possible in their 8-peron tent.
Check Price on Sportsman's Guide
Ozark Trail 8-Person Instant Cabin Tent with LED Lighted Poles and Bluetooth Speaker
Type: Cabin, Instant, 2-room | Size: 8 person | Seasons: 3-season | Weight: 35 lbs | Inside Height: 72 in | Floor: 13 x 9 ft (117 sq ft) | Setup Time: 2 mins
The Ozark Trail instant tent is a budget-friendly option that doesn't skimp on features.
It includes LED lighted poles and a Bluetooth speaker, as well as two rooms for added privacy and space.
The tent can accommodate a small family with two queen-sized air mattresses and gear storage.
For those seeking a smaller option, it also comes in 6-person and 4-person versions.
Pros:
Built-in LED lighted pre-attached poles make it one less lantern you need to lug to the campsite
A room divider to create 2-rooms and makes for more privacy
72 inches of inside height means that even the tallest campers will still have some headroom
117 sq ft of room is enough for two queen air mattresses AND your gear
Cons:
As with any cabin tent, not going to withstand to extreme elements
Best for: Small Families or couples looking for a little extra space
CORE 10-Person Cabin Tent
Type: Cabin, 2-room | Size: 10 person| Seasons: 3-season | Weight: 31.61 lbs | Inside Height: 86 in | Floor: 14 x 10 ft (140 sq ft) | Setup Time: 20 mins
The CORE 10-Person Instant Cabin Tent offers a spacious and comfortable camping experience.
With a generous ceiling height of 7′ 2″ and 140 square feet of floor space, it provides ample room for movement and gear storage.
The tent also comes equipped with a room divider and two doors for added privacy and convenience.
Additionally, the tent's sealed seams and water-resistant fabrics make it a reliable shelter in rainy weather.
Pros:
At 140 sq ft, it is incredibly spacious
7'2'' center height and straight sidewalls make it easy to walk around in the tent
Comes with a room divider for extra privacy
Adjustable ground vents and mesh ceiling provide great ventilation
Strong wind resistance – up to 30 mph
This is an instant cabin tent, which means you can set it up in less than 2 minutes
Cons:
The floor is not that durable, so it's wise to put a tarp beneath your tent
Best for: people who want a huge instant tent that can be up in less than 2 minutes.
Coleman Instant Setup Cabin Tent
Type: Instant, Cabin, 2-Room | Size: 10 person | Seasons: 3-season | Weight: 42 lbs | Inside Height: 79 in | Floor: 14 x 10 ft (140 sq ft) | Setup Time: 2 mins
Now, we get a really cool blackout tent from Coleman with their Instant Setup Cabin Tent.
This tent's Dark Room technology blocks up to 90% of light and keeps the interior cool, making it perfect for summer camping.
With a center height of 6′ 7″ and the ability to fit four queen air mattresses or ten sleeping bags, this spacious tent also features a room divider for added privacy.
The tent can be set up instantly, taking just one minute, and comes in a variety of sizes.
Pros:
Thanks to the Dark Room technology, you can sleep way past sunrise without natural light waking you up
Pre-attached poles allow for a quick setup in under 1 minute
It comes with a room divider that gives you some privacy inside the tent
Removing the rain fly allows you to enjoy the night sky during dry weather
Coleman offers a 1-year limited warranty
Cons:
The tent might leak during a heavy rainstorm
Best for: campers who like to sleep in late on family camping trips.
Coleman 12-Person Skydome Tent XL
Tent Type: Dome, 2-room | Size: 12 person | Weight: 33.6 lbs | Inside Height: 84 in | Floor: 20 x 9 ft (180 sq ft) | Setup Time: 5 mins
The Coleman 12-person Skydome Tent is a great option for budget-conscious campers who want a quick pitch.
With pre-attached poles, this tent can be set up in just five minutes.
Plus, Coleman's patented WeatherTec™ technology ensures you stay dry and protected from the wind.
While it's not the largest tent in the category, the extended dome style is useful in inclement weather.
And at 7 feet tall, there's plenty of headroom for everyone. Plus of course, this is one of the few dome tents with a room divider.
Pros:
Comes with room dividers so you can split it into two separate rooms
Quick Pitch tent that will go up in 5 minutes or less
Coleman's patented WeatherTec™ will keep you dry
High center height (84 inches) and fits three queen-size airbeds
Cons:
Be careful with the poles. Pre-installed poles mean that you don't want to drop it on your toes.
Best for: overall best family quick-pitch tent at an affordable price.
Eureka Copper Canyon LX 12-Person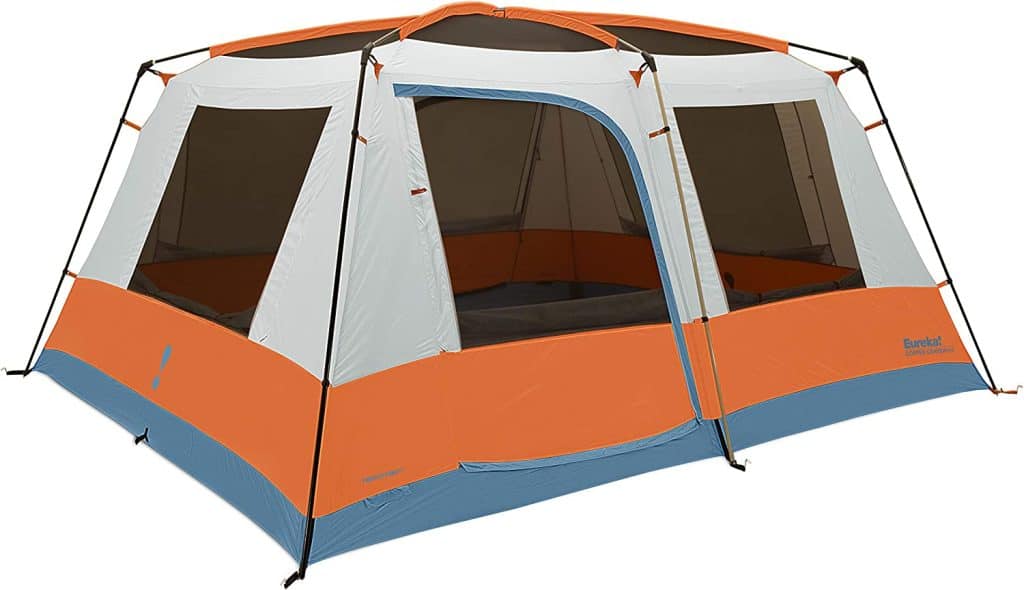 Type: Cabin, 2-Room | Size: 12 person | Seasons: 3-season | Weight (lbs): 36 lbs 13 oz | Floor: 14 x 12 (168 sq ft) | Max Inside Height (in): 84 in | Setup Time: 10 mins
Eureka's freestanding cabin tent provides a spacious 168 sq ft and a peak height of 84 inches, making it almost as roomy as the other 12-person tents on this list.
The tent comes with a divider curtain for those who prefer two smaller rooms, while nearly vertical walls provide an open feel inside.
Constructed from tough 75-denier 190T polyester taffeta, this tent is durable enough to withstand storms.
The Copper Canyon LX also offers excellent ventilation thanks to its large mesh windows, which is essential when sharing a tent with many people.
Pros:
Very roomy, with 168 sq ft of floor space and an 84″ high ceiling
Divider curtain lets you create 2 smaller rooms
Near vertical walls mean you can walk around inside without hunching over
Great ventilation thanks to large mesh windows
Made of durable polyester taffeta, providing excellent water resistance
Cons:
Doesn't feature a vestibule
Best for: campers looking for a spacious family tent that will hold up well in the rain.
Check Price at DICK's Sports Goods
How to Choose a 2 Room Tent?
So, how does one make a pick with so many models available? Well, there are some key elements you should pay attention to.
Type of Room Divider
Some models have fixed room dividers, while others can be removed.
Fixed room dividers really feel like a house (or a cabin, for that matter). The dividers are basically walls that keep the rooms separated. In terms of privacy, these are great. But they're not so great for setup, as they typically make pitching a bit harder.
Removable dividers give you a bit of versatility, which can come in handy at times. But they're pretty much flaps or curtains that make a visual separation of the space inside the tent.
Number Of Doors
How many doors do you actually need?
Some 2 room tents feature doors in either room. That's great when you're camping with friends, as you can get in and out without disturbing them (and vice versa).
However, it might not be the best option if you're camping with kids, especially younger ones.
You don't want them to be able to get out at night without you noticing them, as you're still out in the wilderness, and there are some potential dangers out there.
Shape & Height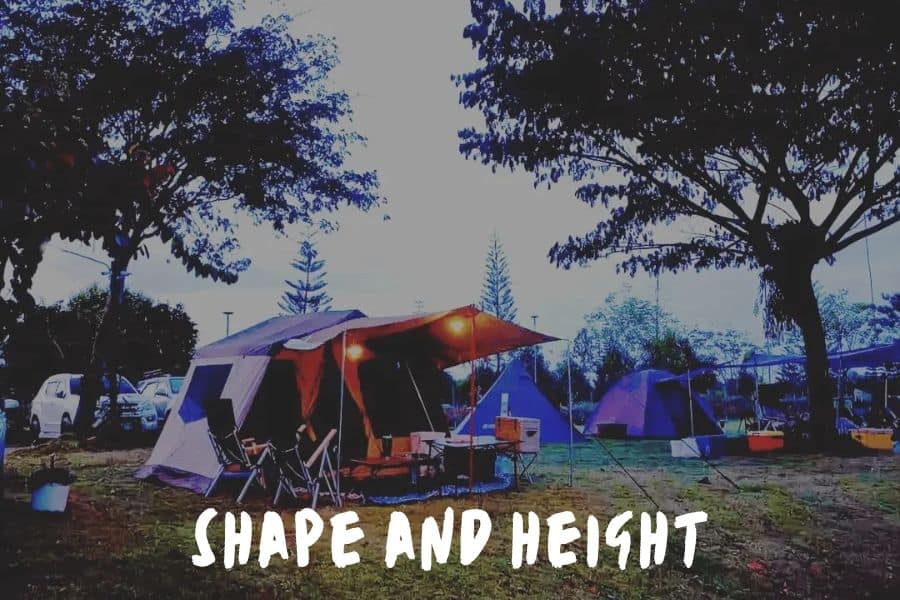 2 room tents come in different shapes.
The most popular one is a cabin tent. Cabin tents have straight walls and high ceilings.
Their typically rectangular shape makes it easy to divide into two rooms of equal sizes. This makes them a great option when camping with kids or a few friends.
Dome tents with two rooms are slightly less common, but still used. The biggest one on this list is the Coleman 12-Person Skydome Tent XL.
In some cases, they have a divider that makes one smaller room for sleeping, and the other for creating a living area. This type of tent, like the Decathlon Quechua Fresh & Black Inflatable, is more suitable for a solo camper or a couple.
Weather Resistance
If you plan on camping in less-than-ideal weather, then this is an absolutely important factor to consider.
Rainfly
Some tents have a rainfly that reaches the bottom of the tent, while others only cover the top.
Which one is better? Well, if there's a good chance of rain, then you want a rainfly that reaches the bottom of the tent. The rainfly is waterproof, while the bottom part of the tent isn't.
But keep in mind that the rainfly adds weight to your tent.
So if you're camping in dry, hot weather, then you might want a tent with a rainfly only covering the top of the tent.
Waterproof
The waterproof rating is measured in millimeters. Numbers go anywhere between 800 and 100,000 millimeters. But what you should aim for is a rating of at least 1,500 for camping in light rain. If it's raining a lot where you plan on camping, then you should use a rating of 5,000 millimeters instead.
Sealed seams are also important, as that's the area where most water seeps through.
Wind Protection
Finally, you want your tent to be stable in wind as well.
When it comes to poles, aluminum is the best option as it bends rather than breaks.
You also want a tent with plenty of guyline points which can help in keeping it pitched in the wind.
Additional Features

What else could a 2 room tent have? Plenty of cool features, actually. Here are some you should take into consideration:
Vestibules/Porch Area
Vestibules and porches are quite versatile.
You can use them as a living, cooking, or storage area.
Depending on the model, they might offer either just the roof or also wall coverage on several sides.
Windows
If you plan on spending time inside the tent aside from sleeping, then having a source of natural light is always a good thing.
Tent windows are typically covered with mesh to prevent insects from getting in. Some may also feature flaps that can keep them shut and prevent light from coming in while you're sleeping.
And most importantly, windows provide an opening for air to come inside the tent. But, they're not the only source of air, which brings me to the next point.
Ventilation
Aside from windows, tents typically feature vent openings either at the top or the bottom.
What makes them different from windows is the fact that you can open them even when it's raining, since they're designed in such a way to let air but not rain in.
FAQs
What are the advantages of 2 room tent?
A 2 room tent allows you to organize your tent in different ways.
Whether you want two separate sleeping areas, a sleeping, a living area, or a separate room for changing.
Can you fit two queen-sized air beds in a 2-room tent?
That depends on the size of the tent. Typically, you need a six-person tent to fit two queen-sized mattresses.
But whether they can fit into a 2-room tent of the same size depends on the size of each room.
How hard is it to put up a 2 room tent?
This depends on the type of tent. Pop up tents and instant tents are easy to set up regardless of the number of rooms. The hardest ones to set up are tunnel tents.
Can you still hear people in the other room of a tent?
Room dividers create more of a visual barrier than anything else. Since the divider is, like the tent itself, made of fabric, it won't cancel much noise.
To Sum Things Up
As you can see, 2 room tents are a very versatile option most campers can make work.
If you're camping with family, you can keep the kids and parents separated during the night.
If you're camping with a partner, a separate room can be used for either hanging out or storing gear.
Finally, a room divider can also work as a projector screen. That way, you can watch movies inside your tent before sleep!
More Unique Tents: