In a rush? Our top pick for the best inflatable tent is the Decathlon Quechua Fresh & Black Inflatable Family Camping Tent.
Admit it, no one likes setting up tents. Between the poles, stakes, tarps, and flies, putting together a tent is the most stressful part of an otherwise relaxing camping trip.
Inflatable tents attempt to solve that by cutting down the amount of work it takes to pitch a tent.
Instead of using annoying poles to prop up your tent, inflatable tents use inflatable beams to put a roof over your head.
This makes setup a breeze, and why many campers are opting for these unique tents. Here are the best inflatable tents on the market today:
Best Inflatable Tent: Our Top Choices
Decathlon Quechua Fresh & Black Inflatable Family Camping Tent 4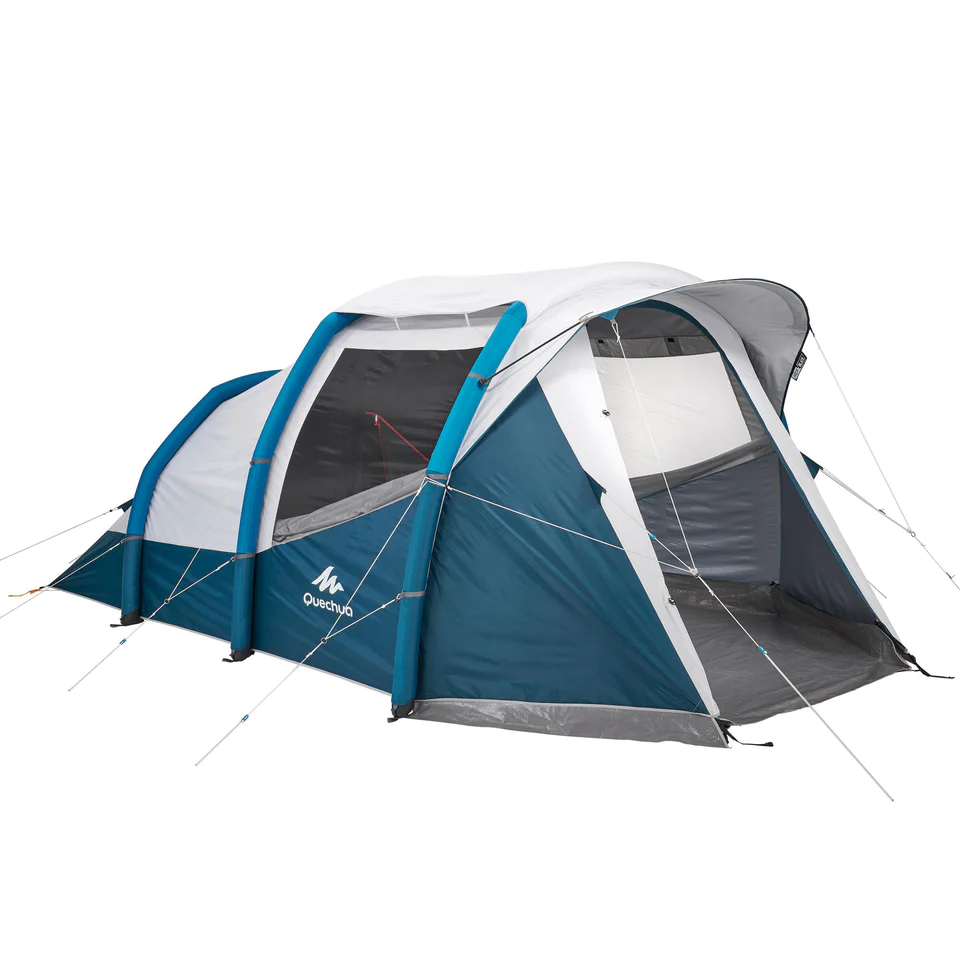 Tent Size: 4 person | Seasons: 4 | Weight (lbs): 32 | Max Inside Height (in) 74.8 | Floor: 110.2 x 82.7 inches (70 sq ft)| Setup Time: 10 mins
The Decathlon Quechua Fresh & Black ranks as the best inflatable tent for several reasons.
First off, Decathlon's Fresn & Black technology reduces heat by 17% and blocks out 99% of daylight making it easier to sleep in.
Made with high-quality 600 Denier Polyester, and backed with a lifetime warranty, the quality and durability of this tent are near guaranteed.
But the most unique feature of this tent is the bedroom with a door – yes, you read that right, this tent has a bedroom AND a living room.
This makes it perfect for year-round camping in all conditions.
Pros:
Inflatable design makes it quick and easy to set up the tent in 10 minutes or less
Fresh & Black technology reduces heat inside the tent by up to 17% and blocks out 99% of daylight, making it easier to sleep in.
Large interior space has both a bedroom (with door) and a living room
Mesh windows provide good ventilation, and waterproof material keeps you dry in bad weather
Cons:
Pump is not included
Although Fresh & Black blocks daylight, it makes the tent feel much darker inside
Best for: those looking for the best overall inflatable tent on the market today.
Zempire Pronto 5 V2 Tent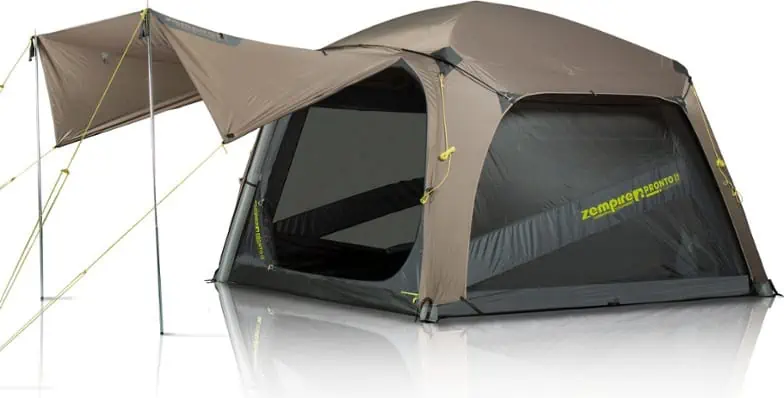 Tent Size: 5 person | Weight (lbs): 32 | Max Inside Height (in): 74.8 | Floor: 109 x 109 inches (84 sq ft) | Setup Time: ~5 minutes
Setting up a large tent can be a daunting task, especially when you're camping with kids and time is precious.
But with the Zempire inflatable tent, you can set it up in just a minute or two.
This inflatable tent might come with a higher price tag, but it's worth every penny.
But what really sets this tent apart is its impressive features. It boasts huge doors on one side and windows on all other sides, allowing for maximum airflow. And with roof vents that prevent condensation, you'll stay comfortable all night long.
Each window comes with a cover that you can open and close from the inside. Whether it's sun rays or rain that's getting in, the covers will keep you safe from weather elements.
Another feature I'm really impressed with is the power cord. You don't see these very often on 5-person tents, but they allow you to easily run an electric port inside for all your electronics.
Pros:
A protected storage area at the rear of the tent keeps the clutter off the ground
When poled out, the gulf wing awning provides ample area for chairs and table
Fully enclosed internal window covers let you open and close the windows from inside
Zippered access port on the front side allows you to run a power cord
Cons:
Very heavy to carry
Rather expensive compared to other picks on this list
Best for: an easy setup and camping with kids.
Moose Outdoors 4-Person Inflatable Tent
Tent Size: 4 person | Seasons: 3 | Weight (lbs): 15 | Floor: 82 x 105 inches (60.72 sq ft) | Inside Height: 50 in | Setup Time: 3 mins
Moose Outdoors is a newcomer to the tent world, but their flagship 4-person tent is rising in popularity.
We rank this as the best all-around tent for its quality materials, strong weather resistance, and fast inflation time. When you combine these with a light price tag and a 3-minute setup time, you can see why we chose this tent as our best all-around pick.
Despite that ranking, this tent is not for you if you need a lot of space. This tent is rated for 4 people, but that might be too small if you like your personal space. On top of that, it's only 4 ft tall, so there isn't much room to walk around.
Also, the Moose Outdoors Inflatable Tent weighs 15 lbs, so it's not the best option for backpacking.
Pros:
Strong weather protection – windproof up to 33 mph and 3000 mm of water resistance
QuikFrame Inflation System means setup only takes 3 minutes
Includes tent, air pump, carrying bag, instruction sheet, tent stakes, and extra patches
Vestibule large enough for 2, so you can take off your boots in comfort
Well-priced for anyone that wants a superior camping experience
Cons:
No skylight/rainfly to see the stars
Not very tall
Best for: Couples looking for a tent that's easy to set up and easy on the wallet.
Crua Core 4 Season 6-Person Tent
Tent Size: 6 person | Seasons: 4 | Weight (lbs): 33 | Floor: 11.3 x 11.3 ft (127.69 sq ft) | Max Inside Height (in): 90 in | Setup Time: 10 mins
Right off the bat, you can see that the Crua Core tent has a unique design with its 4.7-foot attached porch.
Made in the USA, and featuring waterproof construction (HH5000mm), this can only be described as the mac daddy of inflatable tents.
Not to mention, the ability to connect with additional tents and vestibules, the Crua Core Tent provides a unique and customizable camping experience.
As with any premium tent, there is a cost associated with it, but it is well worth it for this veritable fortress.
Pros:
Huge 4.7-foot attached porch
Waterproof construction to protect you from the harshest elements
Modular system with the ability to connect additional tents and vestibules
Made in the USA
Cons:
Woah baby, this is pricey
Best for: Those looking for a unique tent that is modular and connects with other tents.
Heimplanet Fistral
Tent Size: 2 person | Seasons: 3 | Weight (lbs): 5.5 | Floor: 94 x 53 inches (45 sq ft) | Max Inside Height (in): 44 in | Setup Time: 3 mins
Next up is the Heimplanet Fistral. Looking at the name, you'll notice this tent is…different.
That's because Heimplanet isn't any regular outdoor company. They're a high-end traveling brand that's been featured in New York's Museum of Modern Art design store.
Heimplanet's founders started the company while taking a surfing trip in Portugal. Every night, they'd have to set up their tents. After a while, they got tired of pitching poles, and Heimplanet was born.
The goal of this brand is to create unique outdoor products that work as well as they look. The Fistral is their flagship product, and it is quite the tent.
Pros:
Super-strong frame thanks to their unique intercrossing beams
Sets up within 3 minutes since all beams are connected
Very lightweight (5.5 lbs) so you can comfortably carry this around
Decent inside area for a 2 person tent – 31 sq ft.
Unique look and color scheme will make you a hit at the campground
Cons:
Fashion-forward pricing
Does not include a pump, but does come with a repair kit
Best for: experienced solo campers who want a lightweight inflatable tent for backpacking.
Heimplanet The Cave, Classic 2-3 Person
Tent Size: 3 person | Seasons: 3 | Weight (lbs): 10.6 | Floor: 5 m2 (54 sq ft) | Max Inside Height (in): 50 in | Setup Time: 5-10 mins
If you thought the first Heimplanet was cool looking, this one is even more badass.
We love the design, but more importantly, the tent's geodesic design and its intercrossing beams give it great performance against wind and rain.
The One-pump system makes it easy to inflate quickly and without hassle.
Best of all, the 54 square feet is quite spacious for a 3-person tent, making this a great deal.
Pros:
Geodesic structure provides excellent stability and wind resistance, making it suitable for use in challenging weather conditions
One-pump system  makes it easy to inflate in under 10 minutes
High-quality materials and construction make the tent durable and long-lasting
Still pretty lightweight at 10.6 lbs, so you can comfortably carry this around
Huge interior for a 3-person tent!
Unique look and color scheme will make you a hit at the campground
Cons:
Fashion-forward pricing
Does not include a pump, but does come with a repair kit
Best for: couples who want a beautifully designed tent to show off at the campgrounds.
Vango 6-Person Odyssey 600 Tent
Tent Size: 6 person | Seasons: 2 | Weight (lbs): 38.6 | Floor: 82 x 142 inches (80.9 sq ft) | Max Inside Height (in): 79.92 in | Setup Time: 10 mins
If you think a 4-person tent is too small for your adventures, then this six-person tent is made for you. The Vango 6-Person Odyssey 600 Tent is our pick for midsize inflatable tents.
Did you know? Scottish company Vango was the first to make the inflatable tent mainstream. Vango launched their AirBeam frame line in 2011, and inflatable tents have been growing ever since.
This six-person tent is proof that Vango knows what they're doing with inflatable tents. It's rated for six people, but with all the different rooms, you'll be amazed at how much space this thing has.
Vango also went the extra mile when choosing materials. Their flysheet is made of an exclusive polyester blend called ProTex, which gives this tent a water resistance rating of 4,000 mm (very strong!). There's also a linked-in groundsheet to make sure your butt stays dry.
Don't think that water resistance is all this tent is good for. Vango also wanted to make sure it was comfortable to stay in this tent. That's why it comes with a large vestibule (for your gear) and windows on both sides (for ventilation).
Also, Vango doubled down on the material over the sleeping area, so that you won't be woken up by the sun at the crack of dawn.
Pros:
Two rooms mean tons of space for you and your loved ones
Pitched in less than 10 minutes, a fast time considering this tent's size
Includes a large dual-action pump, so you can inflate and deflate it quickly
Extremely weatherproof, thanks to linked-in groundsheet and 4,000 mm water resistance
Smart tent design allows plenty of space without losing ventilation
Cons:
Heavy (36.2 lbs) – not for backpackers
Best for: Car-camping couples or small families who want to save time on setting up their tent.
Vango Odyssey 800 Tent
Tent Size: 8 person | Seasons: 2 | Weight (lbs): 48 | Floor: 82 x110 inches (62.64 (x2) sq ft) | Max Inside Height (in): 72 in | Setup Time: 15 mins
As mentioned before, Vango is the pioneer of the inflatable tent. That's why we've also included the Odyssey 800 model.
We do think inflatable tents are best for large groups that are car camping, so we thought it'd be worthwhile to mention both the Odyssey 600 and 800.
You can expect to get many of the benefits of the Vango listed above, but this one fits eight people more comfortably. It comes with two entrance ways, and although there's no outside vestibule, there is a massive living room in the middle for storing gear. It's also fit for 8 people, so space should not be a problem.
Pros:
Comfortably fits 8 people with plenty of room to spare (22 ft. long)
Sets up in 15 minutes – a fraction of what other 8-person tents would take
Open living room means both sleeping areas can socialize
Large diamond-clear PVC windows allow you to soak up nature while relaxing inside
Plenty of places to hang lanterns and store your gear in the side pockets
Cons:
The main door doesn't have a screen, so it has to be open or closed.
Large even when deflated
Best for: Large families or camping groups that want enough space to comfortably fit 8 people and their gear inside.
Why Would You Want An Inflatable Tent?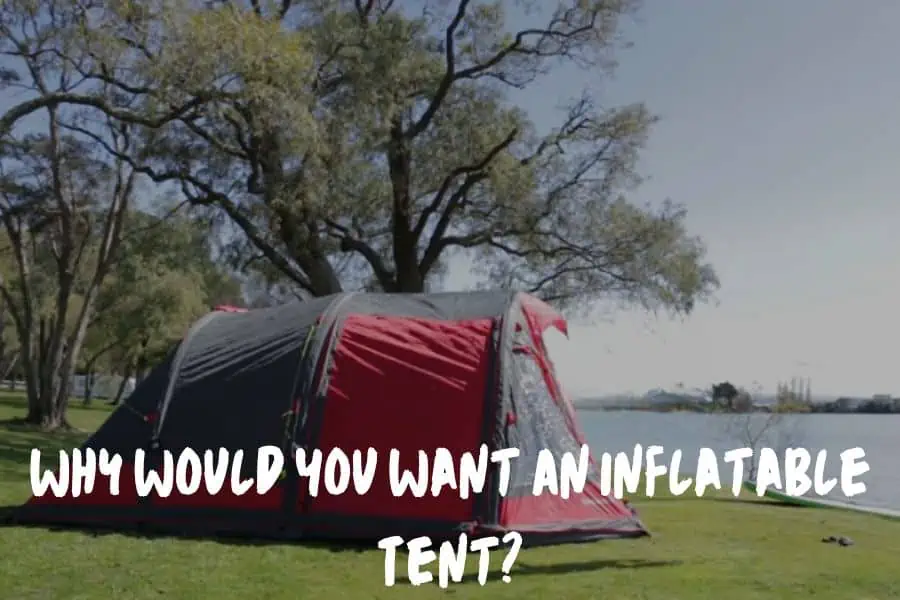 When you first see an inflatable tent, you might think, "what the heck is this nonsense?" Considering how many normal tents you've seen, you're probably used to seeing tents supported by little metal poles.
Oddly enough, that right there is exactly why you'd buy an inflatable tent – there are no poles! While some camping snobs raise their nose and call inflatable tents a "gimmick," there's no doubt that there are benefits to inflatable tents.
Camping Made EZ-PZ, Lemon Squeezy
The #1 reason why you'd want an inflatable tent is if you want to simplify your setup situation. Generally, inflatable tents are easier to set up and take less time than traditional tents.
All you have to do is layout the tent, nail down your stakes, and pump that bad boy up. Ta-da! Much simpler than installing poles, and much faster.
This means that inflatable tents are great for families, especially ones with kids. No one wants to have to keep an eye on their kids while you take a bunch of time to pitch your tent. Instead, opt for an inflatable tent and save yourself the headache of dealing with impatient kids.
Inflatable Beams Beat The Breeze
Another motivation for buying an inflatable tent is if you want one that's strong against heavy weather.
During severe weather, traditional tents are open for a lot of damage. Strong winds can snap your poles, leaving your tent lop-sided. Broken poles can also poke holes in your tent, which unless you want your tent to have a built-in shower, is not a fun idea.
On the other hand, inflatable tents are supported by beams of air. They stand up really well against winds since the air inside the beams is practically weightless. There's no risk of the beams breaking, except for small tears in the fabric.
Thankfully, repairing an inflatable beam takes minutes. Most inflatable tents come with a repair kit, so all you have to do is slap on the adhesive and you're good to go. That's MUCH easier than dealing with a broken metal pole.
What's The Catch?
At this point, you might be thinking that inflatable tents are the best thing since sliced bread. However, they don't come with their downsides, and I'd be doing you a disservice if I didn't mention them.
Quite The Workout
Inflatable tents are definitely easier to set up because of their inflatable beams. Unfortunately, those inflatable beams take up a lot of space. This means an inflatable tent will usually be heavier than its traditional counterpart.
Inflatable tents also require you to bring an air pump along, adding pounds to your gear. There are some lightweight options (including manual hand-pumps), but these aren't as fast as bulkier options.
That's why we definitely recommend inflatable tents for car camping. When you're car camping, weight is not an issue, since everything's going back in the trunk anyway. You can bring a high-powered air pump and have your tent set up in minutes, without having to worry about carrying the dang thing.
Backpackers and distance hikers should definitely consider traditional tents to save on weight. We have an entire article on lightweight tents here.
Inflated Tent = Inflated Cost
There are definitely benefits to having an inflatable tent, but you might find that the price of an inflatable tent is higher than a standard tent. That's because of all the extra material that's required to fabricate the inflatable tent – it's not cheap.
At the end of the day, the cost can be worth it, since a few dollars for a tent is well worth saving time (and stress) during setup. It depends on what you want.
How Do You Choose The Best Inflatable Tent?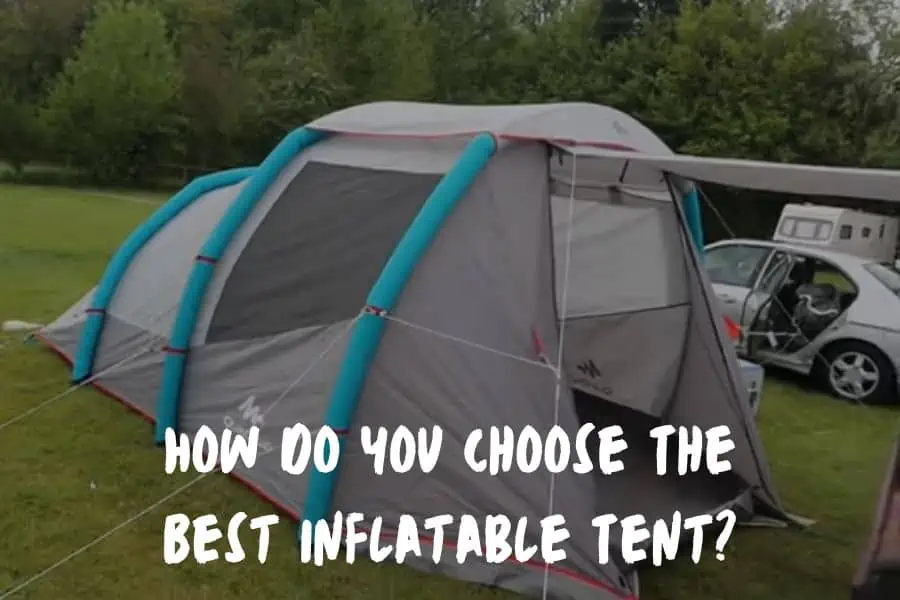 Now that you know why you'd want an inflatable tent, let's talk about how to choose the one that's right for you.
Size (Weight and Space)
First things first is the size (both how much it weighs and how much space it takes up). Ask yourself what your goals are for camping. Figure out how much space you'll need and how much weight you can tolerate carrying.
For example, a family of 6 going car camping for the weekend is a bit different than a single man who's backpacking for three months!
This is the first and most important thing to decide. Then, once you have your size in mind, check how much you can fit in the tent. Not all 2-person tents, and you might find that you'll want to go up or down a size depending on the manufacturer.
Lastly, make sure you can manage to carry the tent wherever you're going. You don't want to end up hating your tent because it's so heavy.
Weather Resistance
No matter where you are, you want to buy a tent that'll stand the rain. Except maybe Arizona…but even then, it's worthwhile choosing a tent with a strong HH.
(HH a.k.a. Hydrostatic Head is a measurement of how much water pressure a tent can withstand. More is better!)
Without going into the nitty-gritty, HH is measured in millimeters (mm). A solid tent is rated to at least 3000mm, or above. You can splurge on a tent with more HH, but remember that HH is only one factor in determining how waterproof a tent is.
Price
Of course, the price is always a consideration when looking at tents. You want to make sure you're getting a high-quality tent while also not overpaying for useless junk. That's why we do in-depth research to make sure you're getting the best tent.
But, if you're planning on using this tent to scale Kilimanjaro, it's probably best to splurge on a high-end tent. No one wants to have their camping experience ruined by the elements all because you wanted to save a few pennies.
Lastly, don't forget the price of an air pump as well. Some inflatable tents come with a pump, some don't.
If you're a backpacker, you might want to buy a lightweight hand pump, but if you're a car camper, you might want to buy a powerful electric air pump. No matter what you choose, consider the price of the air pump when you're looking at inflatable tents.
Included Pump
One thing you might have noticed is that some models come with a pump, while others don't.
In many cases, buying a tent that comes with a pump is a more economical deal than buying the two separately.
Of course, if you already own a pump, that might be unnecessary.
Inflation and deflation
Not all inflatable tents are quick and easy to inflate and deflate.
In fact, in practically all cases, deflating takes more time and effort. After all, you also need to fold and roll the tubes and canvas down, while making sure no air remains inside.
When choosing a model, pay attention to whether there's any information about inflating and deflating.
Many products include estimated time in their descriptions, which is pretty close to reality (we also put that up in the product specs above).
Durability
No matter what piece of camping gear you're buying, durability should be a factor to consider.
But it's especially important when buying inflatable tents. One rip in the tubing, and you are DONE FOR.
Inflatable tents are generally heavier than regular ones, so they need to be heavy-duty to be able to withstand that weight.
And not just that, of course. Durable materials are a must. Given that air is all that keeps them erected, you don't want an accidental pump with a fishing rod to get it pierced.
FAQs
How does an inflatable tent works?
Inflatable tents look a lot like regular ones. But instead of poles, air tents have inflatable beams which you pump up with air to support the tent construction.
What is the benefit of an inflatable tent?
The main benefit of an inflatable tent is setup.
Air pumping instead of setting up poles means you can pitch and take the tent down much more quickly than a regular one.
Do air tents deflate?
An undamaged inflated tent won't deflate on its own. The beams have valves that allow you to deflate them separately.
Are air tents safe?
Absolutely. An inflatable tent is just as sturdy and durable as a regular tent with poles.
While it's true that air beams can be punctured, that doesn't happen that easily. The durability is also usually reflected in the overall price (inflatable tents are pretty pricey).
Are air tents waterproof?
That depends on the material they're made of. The air beam part of the tent is typically made of some kind of plastic, so that part might need more waterproofing in order to withstand rain without leaking.
Are inflatable tents good in the wind?
Yes, inflatable tents can withstand high winds when pegged securely to the ground.
The shape and size of the tent, as well as its position, affects how well the tent behaves in the wind, while the actual pole system doesn't make a huge difference.
How do I put my air tent back in its bag?
The first thing you should do is open the valves on your tent and let it deflate all the way.
When packing it, it's best to roll it sideways toward where the valves are located.
While rolling, you're pushing the air out, which allows you to pack it down more compactly.
Remember to fold the ends, so that the folded tent has the same width as the tent bag. Otherwise, it won't fit.
If you also have tent poles or a bag with pegs, place it on the folded tent on the side opposite of valves. This way, the weight of the pegs and poles will help get the air out.
Our Verdict
After reviewing and testing all of the inflatable tents on the market, the tent that came out on top is the Decathlon Quechua Fresh & Black Inflatable Family Camping Tent.
With its Fresh & Black technology that reduces heat and blocks 99% of sunlight, this is the perfect tent to get a good night's sleep in.
But beyond that, what other tent do you see in this size that has a bedroom and a living room? The answer is NONE.
With its high-quality fabric and design, it is well worth even the inflated price (pun intended).
More Unique Tents