If you're in a rush, the best 5 person tent today is the ALPS Mountaineering 5-Person Taurus Outfitter Tent.
So, you're looking for the best 5 person tent on the market this year, so far? Well, you've come to the right place.
I love camping in groups. It spreads the true spirit of camping – camaraderie.
Whether that's with family or friends, it's always fun, and I'm sure you agree.
So today I'm going to make it easy for you to get back out there by showing you my personal favorite 5 person tents out there:
Best 5 Person Tent: Our Top Choices
ALPS Mountaineering 5-Person Taurus Outfitter Tent
Tent Type: Dome | Weight (lbs): 12 | Max Inside Height (in): 72 | Floor: 96 x 120 inches (80 sq ft) | Setup Time: ~5 minutes
Sometimes, the weather can be quite unexpected. But that doesn't mean you can't be prepared for different scenarios.
Some tents, like the Taurus Outfitter, are designed to withstand most weather elements.
With strong, 7000 aluminum poles, this tent can easily stand up straight even in high winds.
Aluminum is highly flexible, allowing the poles to bend instead of breaking from the force of the wind. These poles, together with the polyester fly, will keep you safe and dry regardless of the weather.
Setting this tent up is also relatively quick and easy. That's mainly due to the pole clips that quickly snap over the tent poles.
So the only thing you need to do is lay the tent flat, attach the poles and snap the pole clips – a process that takes no more than five minutes.
You can never have too much storage room when camping. And while most of your stuff may be inside your tent, you might still want to keep your dirty boots outside. In that case, you'll be happy to know that this tent features small vestibules on each door, allowing you to store some gear.
Pros:
Sturdy aluminum poles allow the tent to remain taut even during high winds
Two vestibule areas provide you with additional storage space
Relatively lightweight, making it a suitable option for hiking and backpacking
Large zippers make entering and exiting quick and simple
Cons:
Not suitable for winter camping
Best for: campers looking for the best overall 5 person tent.
Check Price at ALPS Mountaineering
Browning Big Horn 5-Person Tent
Tent Type: Cabin | Weight (lbs): 21 | Max Inside Height (in): 84 | Floor: 96 x 120 inches (80 sq ft) | Setup Time: ~10 minutes
Most tents aren't designed with people standing up straight in mind. And if you're tall, then you might also struggle to do the same even inside a "cabin tent." But that might not be an issue with this tent by Browning.
At 84 inches, this tent offers quite a bit of headroom inside. And given it's a cabin-style tent, the whole area of the tent has roughly the same height.
With doors and windows on each side, this tent really gives off the "home" vibe.
Because each wall side offers some kind of ventilation, this tent is great for those hot summer nights.
The roof is all-mesh, so you can also enjoy the starry night by simply removing the fly. But in case it starts raining, the fly will keep the interior safe and dry.
What's great about this tent is that, while it does take a bit of time to set up, the process is pretty straightforward and simple, even for a single camper.
Not that you'd need a 5-person tent when you're solo camping, but you can delegate the rest of the campsite tasks to your other camping companions.
Pros:
Pretty simple and straightforward to set up, even without a manual
Features a mesh roof, so you can stargaze during warm summer nights
With a center height of 84 inches, most campers can stand up without bending
Lots of wall pockets for storing items you need close at hand
Cons:
A bit heavy
Not suitable for camping in high winds
Best for: tall people and those who prefer having more headspace.
NTK – INDY GT Tent

Tent Type: Dome | Weight (lbs): 12 | Max Inside Height (in): 56 | Floor: 96 x 84 inches (56 sq ft) | Setup Time: ~10 minutes
The INDY GT uses a design that NTK calls "European," which instantly intrigued me.
The space inside the tent is well suited for a group of 3 grown men, but it's tightly packed when you include your gear.
The pole frame is constructed of fiberglass (nano-flex). This makes them durable while retaining the flexibility you may find in other poles. This also means that the tent withstands strong winds when tied down with guylines too.
One of the most exciting features of this tent is the rainfly. It's made from 190T polyester. Rated for 2500mm HH, this rainfly provides fantastic coverage from wet conditions. It's also great against the sun, with UV protection coming from a high-grade thermoplastic coating.
This front vestibule is spacious and comfy. Due to there being a door on both the inside and outside, the airflow is excellent. The inside door includes a mosquito-proof netting that worked great at keeping bugs and insects out.
The floor of the tent is high quality, and silver coated, keeping water out of the tent and the heat inside.
Pros:
European design is unique, providing a front vestibule for extra storage and airflow.
Nano-flex fiberglass poles are flexible and sturdy.
This is a very roomy tent that can easily fit 3-4 people.
The 2500mm rainfly is exceptionally high quality and keeps water out for real.
The tent is perfect for the winter, being able to retain heat like a boss.
Cons:
There are no windows, and the vents are small.
The tent is not very tall, so taller people may struggle with this.
Best for: small families of three to four who camp in colder areas of the world.
Zempire Pronto 5 V2 Tent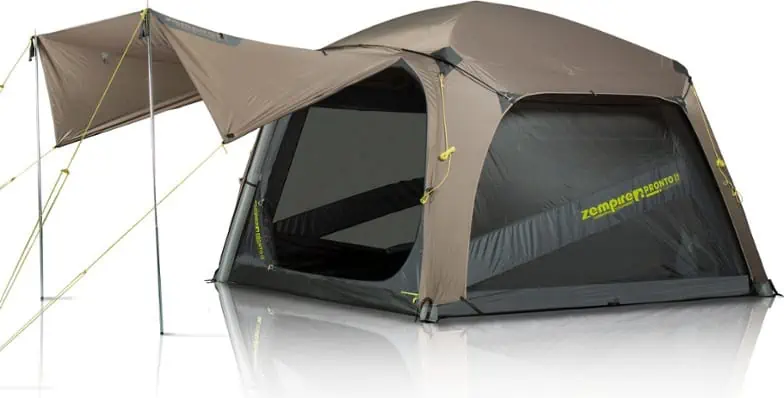 Tent Type: Inflatable | Weight (lbs): 32 | Max Inside Height (in): 74.8 | Floor: 109 x 109 inches (84 sq ft) | Setup Time: ~5 minutes
Setting up a large tent can be quite time-consuming. And if you're camping with kids, time can also be rather scarce.
But with an inflatable tent like this by Zempire, you can spend just a minute or two to set it up, then focus on other tasks.
This inflatable tents does cost an arm and a leg, but that's not to say it's not worth the money.
In fact, it might have been impossible to set this tent up by yourself if it were a classic, pole-style model. But an inflatable frame makes it easy for anyone to do it.
But that's not the only thing that makes this tent so great. It also has huge doors on one side and windows on all other sides. And as if that wasn't enough for airflow, there are also vents at the roof, which prevent condensation.
Each window comes with a cover that you can open and close from the inside. Whether it's sun rays or rain that's getting in, the covers will keep you safe from weather elements.
Another feature I'm really impressed with is the power cord. You don't see these very often on 5-person tents, but they allow you to easily run an electric port inside, for all your electronics.
Pros:
A protected storage area at the rear of the tent keeps the clutter off the ground
When poled out, the gulf wing awning provides ample area for chairs and table
Fully enclosed internal window covers let you open and close the windows from inside
Zippered access port on the front side allows you to run a power cord
Cons:
Very heavy to carry
Rather expensive compared to other picks on this list
Best for: an easy setup and camping with kids.
NTK – Cherokee GT Tent

Tent Type: Dome | Weight (lbs): 15.21 | Max Inside Height (in): 69 | Floor: 120 x 120 inches (100 sq ft) | Setup Time: ~5 minutes
The NTK Cherokee GT is a dome-shaped tent with an almost perfect rain fly. This rainfly covers most of the tent, allowing rain to fall off the sides simply. When testing this tent, we had quite a lot of rain and saw little to no leakage the next morning thanks to this design.
The flooring in this tent is pretty impressive as it's not the standard tarp you may find in most tents on the market. Instead, it uses a polyethylene anti-fungal material with a silver coating. This keeps the inside super-dry.
Although able to withstand strong rain, it's not the same with strong winds. In these gusts of wind, the tent may struggle to stand upright, even with its fiberglass poles.
The height of the tent is around 6 feet, which makes it great for taller people. Lengthways it's the same size, so it's spacious in all aspects. I think it's perfect for four or so fully grown adults.
As with most tents, this one comes with mesh walls. But, this felt and acted higher quality than most I've seen on the market recently. Often I find that with mesh, smaller insects make their way in. However, this tent worked surprisingly well and kept most, if not all bugs, outside.
Pros:
The water-resistance of the rainfly is top-tier.
Fantastically tall tent, perfect for more height-y individuals.
Silver-coated flooring with anti-fungal material keeps moisture out and makes for an easy clean.
High-quality mesh walls make for impressive airflow, keeping bugs out.
Super easy setup for a dome tent.
Cons:
Not great against strong winds. The tent may blow over if misused.
Best for: families of four, who can easily fit two beds in the tent.
Eureka! Tetragon NX 5-Person Tent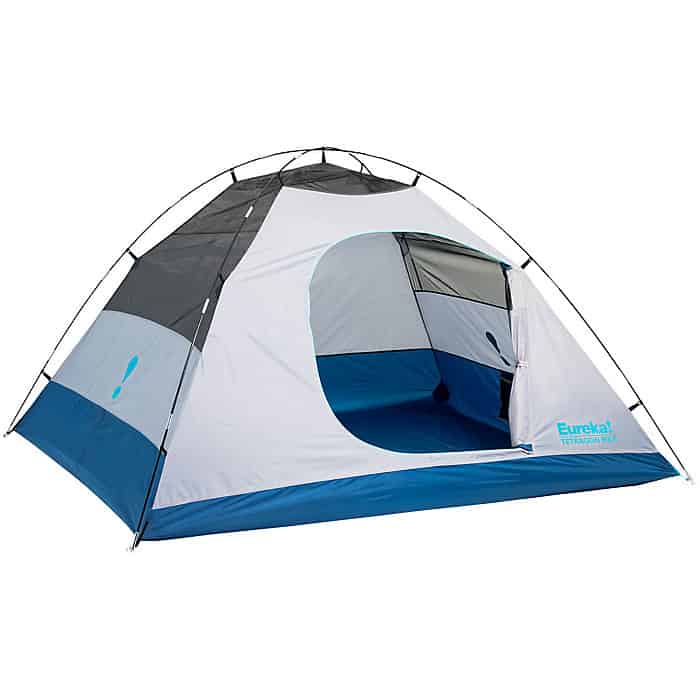 Tent Type: Dome | Weight (lbs): 11.9 | Max Inside Height (in): 72 | Floor: 108 x 108 inches (81 sq ft) | Setup Time: ~5 minutes
Given that tents have somewhat of a standardized sizing, you can't expect much difference between different models.
Still, this tent by Eureka! Gives off the "spacious" vibe, even though it's standard-sized.
The maximum center height of this model is 72 inches, which is not bad for a 5-person tent.
Given it's dome-shaped, you can't expect too much headroom throughout the interior, but mesh body parts definitely open up the space.
The tent features a single door, which is really the only feature I'm not thrilled about. Single door means you'll probably have to step over other sleeping bags or gear to get in and out of the tent.
What I do like is that you can remove the fly and enjoy the night sky during warm summer nights. Only the top part of the tent body is covered in mesh, giving you a bit of privacy while you're sleeping.
Gear loft is also a nice touch. It allows you to keep your essentials close at hand while preserving storage room on the tent floor.
Pros
Large door and mesh walls provide great airflow
Relatively lightweight, so it can be suitable for short backpacking trips
Features a gear loft, which keeps your camping essentials within reach
Covered with limited lifetime warranty, so you can rest assured you get your money's worth
Cons
Only features a single door, so you need to step over gear to enter and exit
Best for: car camping and trips during warm summer nights.
ALPS Mountaineering Meramac 5 Tent
Tent Type: Dome | Weight (lbs): 14.3 | Max Inside Height (in): 72 | Floor: 96 x 120 inches (80 sq ft) | Setup Time: ~5 minutes
Being so spacious, 5-person tents typically come with a high price tag. But that's not always the case, and this tent by ALPS Mountaineering is good proof of that.
This tent is rather simple to set up. With just two poles that intersect at the top, the setup is a piece of cake. Within just a few minutes, you can have it ready all by yourself.
While the tent comes with a rainfly, you don't need to use one during those warm and dry nights. The inner part of the tent is not fully covered in mesh, so you can have some privacy inside the tent even without a rainfly.
But even when it's raining, this tent provides excellent shelter. The rainfly is full length on the sides, while it creates a tiny awning over each door for additional protection against rain. Of course, the factory-sealed floor and rainfly seams further ensure you remain dry inside the tent.
You don't get many unique features with this tent, and that's okay. Given its price, you can expect many bells and whistles. But everything it includes is definitely made to last you a long time, with proper care.
Pros:
During warm and dry nights, you can remove the rainfly for better airflow
Features two doors, so you don't have to crawl over everyone to get out of the tent
The second door allows for cross ventilation in hot, muggy weather
Features a small awning over each door for additional rain protection
Cons:
Not a lot of unique features included
Best for: campers looking for a great budget tent.
Wenzel 5-Person Dome Tent

Tent Type: Dome | Weight (lbs): 8 | Max Inside Height (in): 58 | Floor: 120 x 96 inches (80 sq ft) | Setup Time: ~5 minutes
During my testing of Wenzel's dome-shaped tent, I was impressed with the results that I got.
The setup was simple. The X frame design (that the tent prides itself on) makes life easier for even the most experienced campers. This helped cut down set up time by a lot.
The tent's ventilation is, as you'd expect, very good given that the tent's windows are made from a mesh material. The windows surround the tent and are big enough to allow for proper airflow.
During the summer months, you rarely need a rainfly where I'm at. So, I was happy to discover that this tent's rainfly is actually detachable, allowing us to stargaze at night.
If you want water protection, this rainfly is made from durable 600mm material and is taped off at the seams for extra leak prevention. Which, given that it did rain once or twice during our trip, worked pretty well!
Unfortunately, the zipper on this tent is prone to getting caught, so you might have to fix it every once in a while.
Pros:
The X Frame design is sturdy and easy to erect.
Rainfly material is of high quality and able to stand the test against the elements.
Power outlet capability allows you to run an extension cable effectively.
Airflow is fantastic due to the mesh windows that keep the tent aired out.
Inside wall pockets allow enough room for mobile phones, books, etc.
Cons:
Zipper on the door often gets caught on itself or rain cover.
The mesh material allows some smaller bugs and critters to climb in.
Best for: small families who want to fit a queen-sized bed and some gear.
Toogh – Big Horn Waterproof Tent

Tent Type: Instant | Weight (lbs): 7.72 | Max Inside Height (in): 65 | Floor: Unknown (Unknown sq ft) | Setup Time: 1 minute
At first glance, the Toogh Big Horn tent looks too simple to be capable enough for camping. However, mom always said not to judge a book by its cover. This tent is a beast.
The frame is made from sturdy fiberglass poles, and the 3000mm HH rated rainfly is a great protective shield against water. It's made from 210D high-grade waterproof fabric and is treated with a silicone coating.
The tent comes with an easy to carry bag, making it perfect for hikers, climbers, or backpackers. Another perk of the tent is it's incredibly lightweight for a tent of this size. However, unpacking and setting up the tent is slightly harder due to the shape and flexibility of the poles.
The tent comes with mosquito-proof netting that covers the two walls either side of the entrance. It not only makes for fantastic airflow but also helps make the tent super weigh less.
The storage pockets inside have more than enough space for your books, tablets, or phones while also protecting your stuff from the rain.
Pros:
Extremely lightweight, perfect for backpackers.
Excellent airflow from the mosquito netting on the side walls.
Rainfly covers almost all of the tent and is removable.
The carry bag is great for traveling, benefiting those on the move.
Materials are of high quality and durable, making the tent an excellent value for the money.
Cons:
The setup of the tent is not straightforward due to its shape.
During the winter, the netting walls can make it very cold inside.
Best for: those who are on the move. Backpackers, climbers, hikers, and more will love this tent.
TOMOUNT – Easy & Quick 5-Person Tent

Tent Type: Cabin | Weight (lbs): 22 | Max Inside Height (in): 76 | Floor: 120 x 96 inches (80 sq ft) | Setup Time: 8 minutes
The cabin-shaped tent has been around for centuries. The Tomount 5 person tent brings a modern twist on this old design, making it adaptable and well suited for parties of 4-5 people on any camping trip.
The tent is made of polyester, making it lightweight and best for 2-season camping.
We found the ventilation in the tent pretty great. It includes one large mesh door and three well-placed mesh windows that help suck airflow inside.
The setup of the tent was effortless and one of the best I've seen from a cabin-style tent in a long time. I was able to set the tent up the first time in less than ten minutes. For a tent that isn't a pop-up, that's extremely quick, especially for a tent this sturdy.
Also, this tent comes with an electrical access port so you can charge your electronics inside the tent. TOMOUNT's storage is ok, with pockets large enough for storing gear efficiently.
The two-way zipper doorway on the tent didn't jam once, which is quite rare (unfortunately) for modern tents. The whole tent felt very high quality and easy to handle. From setup to pack-up, this tent is a breeze.
Pros:
The modernized cabin design packs all the great features needed in an all-weather tent.
The tread pole system is straightforward, even for newbies.
The wind and rain resistance is incredible, holding its own against moderately strong winds.
The tent is superb all year round, regardless of the weather.
Well placed mesh windows and door allows for high airflow.
Cons:
Perhaps slightly oversized, even when in the carry bag.
Best for: car campers who want a ton of elbow room (due to the size of this tent).
What Should You Consider Before Buying A 5 Person Tent?
Cost vs. Quality:
When it comes to picking the right 5 person tent for you, it's essential to not just rush for the highest price tent you can find. Often, you'll find that the priciest tent is not necessarily the best.
Be sure to look at reviews and helpful posts, like the ones on our site here, before you decide to purchase a tent.
Remember that larger tents will usually cost more than smaller tents, due to their size. Don't be put off by the price until you've seen the reviews and done your research.
How Easy Is The Tent To Pitch?:
The smoother the tent is to pitch, the more time you'll have to spend camping. So, it's crucial to look for a tent that is easy to pitch.
In recent years, pop-up tents have swarmed the camping market. Believe it or not, these tents are not the best option, since they are usually much less reliable than conventional tents.
Sure, pop-up tents might be great for beginners, but it's still worthwhile for everyone to learn how to pitch a tent. With modern tent design, none of these tents take longer than 20 minutes to pitch, and most can be completed under 10 minutes with a little practice.
Tent Size
Tent size is obviously important. This depends on both your needs and the size of the party you're taking with you.
If you're someone that travels with a lot of luggage or plans to explore with a large party, you're going to need a more spacious tent. But let's face it, if you're here, reading this post, chances are you're looking for a family or group tent for… wait for it… 5 people?
So, in this case, a more giant tent is your choice. But don't overdo it and buy a tent that's more than you need because too much space is not a good thing. In the winter you'll be cold, trust me, I know.
What Are You Using It For?
The function of your tent is vital for a good camping trip.
If you're car camping, you won't need to worry so much about buying a lightweight and easy to carry tent. It will be the opposite case if you are, for example, a backpacker, climber or outright adventurer.
You should choose a tent tailored to your needs.
If you're in a hot climate, don't worry so much about tents that keep heat in and worry more about airflow, UV protection and such.
Camping can be very weather dependent, so plan for the type of weather you're expecting.
Can the tent withstand heavy wind and rain?
Most tents are designed to withstand a certain amount of unexpected weather changes. But that doesn't mean that these tents are suitable for camping in windy and rainy weather.
In fact, if you plan on camping in a location where heavy winds and rain are happening on a daily basis, you might need to buy a tent specially designed for this kind of weather.
When it comes to rain, you need to make sure that the rainfly (if you're using a double-wall tent) or tent walls (in the case of a single-wall tent) are waterproof. If not, the rain will surely get inside the tent.
As for the wind, the shape of the tent definitely affects how it behaves in windy weather.
Most tents can withstand the wind that's blowing up to 20 miles per hour. Anything higher than that, and you'll need a tent specially designed for bad weather.
Cabin-style tents have almost straight walls, which can catch the wind like a sail. And even the strongest of stakes might not be enough to keep such a tent in place during high winds.
Dome-style tents are much better for camping in windy weather, as their sides are sloping down naturally. But the ones that definitely win in this category are geodesic tents, which are designed with bad weather in mind. The almost round shape is good enough to keep both rain and wind away.
Also See: Dome Tent VS Cabin Tent – What is the difference?
FAQs:
How big is a 5-person tent?
The actual dimensions may vary depending on the model, but most 5-person tents offer about 80 square inches of area.
In other words, they have enough room to tightly fit inside five sleeping bags, or comfortably fit 2-3 people.
Is a 5-person tent big enough for four people?
A 5-person tent is a good option for 2-3 people.
There's enough room for everyone's sleeping bag, as well as some additional space for your gear.
But if you have a lot of gear, or are looking to fit more people, a 6 or 8 person tent might be a better option.
How long is a 5-person tent?
It depends on the model, but typically, 5-person tents are anywhere between 84 and 120 inches long.
Can you fit a queen air mattress in a five man tent?
Yes, one queen air mattress can fit inside a 5-person tent.
However, it will take quite a bit of space, so I wouldn't expect to fit a second queen air mattress into a 5-person tent.
For that you would want to upgrade to an 8-person tent to ensure you have room for 4 people and gear.
Our Verdict
In this article, I've gone and shown you the best 5-person tents available on the market. I've also determined the best, most necessary features that you'll need when camping in a group of 5 or less.
The highest-rated 5 person tent is the ALPS Mountaineering 5-Person Taurus Outfitter Tent.
It's an exceptionally strong tent that can withstand the elements. Not only that, but it's rather affordable for a tent made with quality aluminum poles and two large vestibule areas for gear storage.
More Tents by Size