In a hurry? Our top pick for the best canvas tent is the White Duck 7'x9′ Prota Canvas Cabin Tent.
Canvas tents are an anomaly in the camping world.
Despite having a laundry list of advantages over standard polyester tents, canvas tents are nowhere near as popular.
Although they might cost more (in time and money), canvas tents have a lifespan that's years (if not decades) longer than polyester tents.
If you buy a canvas tent now, it's possible to last so long that you hand it to your grandkids!
Anyway, we'll talk about the pros and cons of canvas tents later. For now, here are our best canvas tents.
Best Canvas Tent: Our Top Recommendations
White Duck 7'x9′ Prota Canvas Cabin Tent, Deluxe

Yep, another canvas tent that looks the same as the others. There isn't much ingenuity in the aesthetics of these tents, but that doesn't mean they're not epic choices for camping.
The similarities are that the White Duck is 7' by 9', with a ceiling height of 6'3" and a 6' by 4' porch. It comes with YKK zippers and a 100% duck canvas material, all comparable to other tents in this category.
When it comes to differences, the most important is that the White Duck is a bit more affordable. This might be the tent for you if the price is scaring you away from buying a canvas tent.
Next is the roof construction, which uses a thick 12-oz silver-coated sunblock canvas to help reflect UV rays. If you live somewhere with excruciating heat like Arizona, this tent could be a good fit.
Unlike the other cabin-style tents in this article, the White Duck Canvas Tent has windows on every side. That'll give you a little more ventilation and viewing capacity than the other tents, but it isn't totally necessary.
Pros:
Similar design to the standard canvas style tents, with small differentiators
A quality canvas tent at a reasonable price that doesn't skimp on quality
Windows on all four sides mean gives you improved ventilation and panorama views
The heavy-weight ceiling is coated with silver to protect you from UV rays and keep you cool
YKK zippers, 100% duck canvas, and a high-density groundsheet tub make sure this tent lasts
Cons:
Instructions aren't clear, some users reported having trouble tearing down and packing up
Best for: Campers who want a canvas tent but want to save money, or those who want added sun protection built into their roof
Check White Duck Outdoors Price
Kodiak Flex-Bow Canvas Tent

The next tent we recommend is the Kodiak Flex-Bow Tent. At first glance, you'll notice the layout is similar to the SpringBar, but there are a few differences.
Like the Springbar, it's available in different sizes. We recommend the 6-person.
Also similar to the Springbar, this is made out of fine cotton duck canvas and measures 10' by 10', with a 6'6" ceiling and a 6' by 4' porch awning.
The difference between the two comes down to the nitty-gritty details.
The key differentiator is Kodiak's Hydra-Shield canvas treatment. This dry-finish, silicone spray means that unlike standard canvas tents, you won't ever have to re-treat your Kodiak tent.
However, Hydra-Shield isn't perfect. Because of the chemicals inside, you can't start a fire inside the tent for risk of catching fire. It also means that you have to wet your tent before using it for the first time.
Also, Kodiak chose to put doors on both sides. This tent isn't large enough that it's necessary to have doors on both sides, but some people want more windows or flexibility.
These aren't big issues for most but are things to consider.
The other variance in the Kodiak is the material choice. There are a few construction choices that differ from the SpringBar, including YKK zippers and a double-thick ceiling. We found both the SpringBar and the Kodiak to have similar quality and reliability, so these come down to personal preference.
Pros:
Hydra-Shield silicone treatment keeps you dry and reduces canvas maintenance
Classic cabin-style canvas tent design found in the SpringBar gives you tons of room
Durable YKK zippers that won't ever snag or tear
Gear loft and movable organizers allow you to keep your gear (or cell phone) handy
Doors on both sides open the tent up for more ventilation, visibility, and flexibility
Cons:
Kodiak's unique Hydra-Shield treatment means you can't have a fire inside
Hydra-Shield also requires a pre-camping water treatment. Set it up and spray the outside with water, then let it dry before you take this outside.
Best for: campers who want all of the perks of a canvas tent, without the necessary maintenance
White Duck 12'x14′ Alpha Wall Tent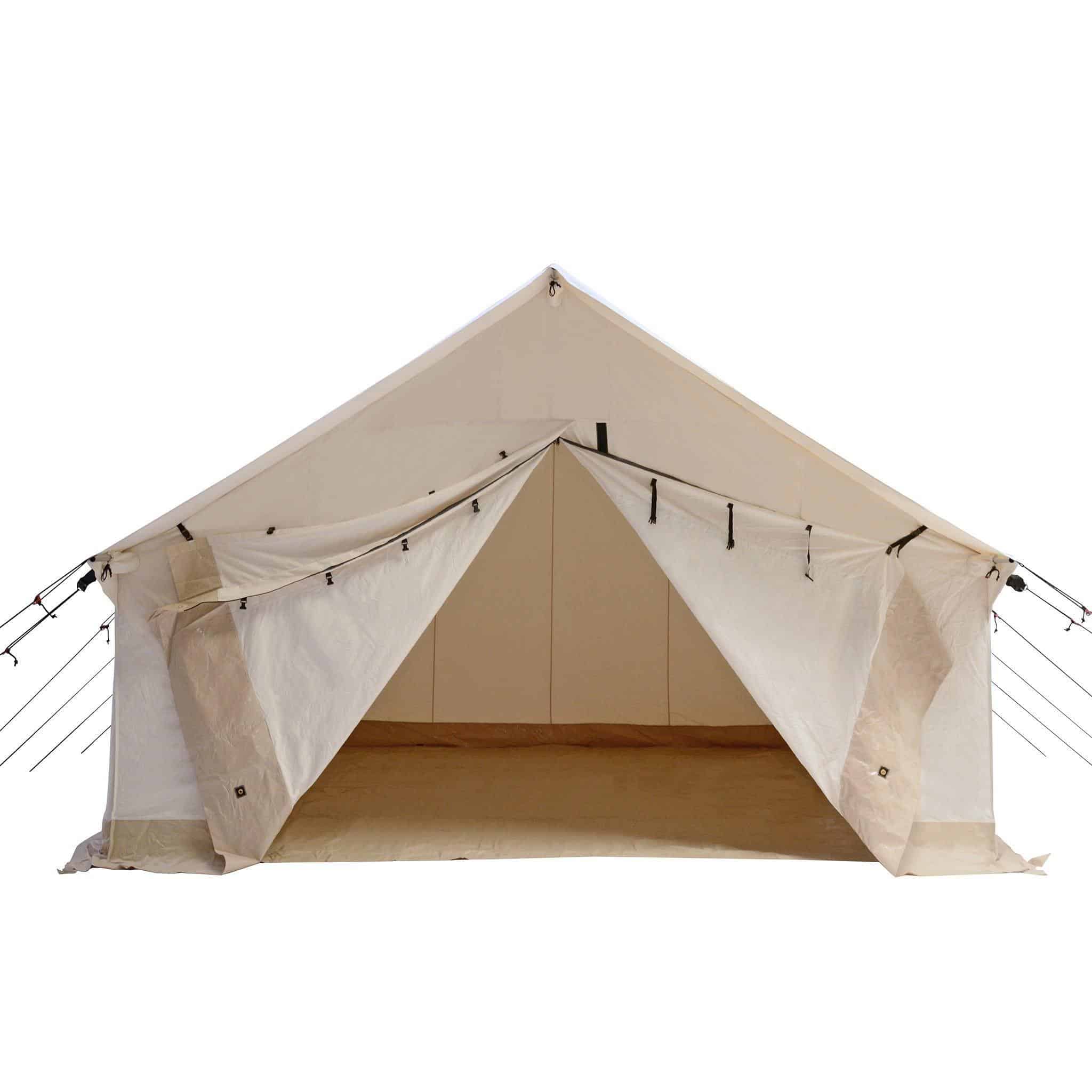 A lot of these 4 and 6-person tents are nice, but what if you are traveling in a larger group?
Or if you just need a lot of personal space? (Hey, no judging here!)
Well, then you are going to need an upgrade.
Now let me be clear:
This is not a tent.
This is a canvas mansion.
With 168 square feet of floor space and an incredible 8'8" center height, this spacious tent will make anybody feel comfortable. In fact, a lot of people are using it as a second winter home in their backyard – it's that comfortable.
On the downside, it is pretty expensive – so if you're not 100% sure that you're going to be heavily using this tent, you'll probably want to give it a pass.
Pros:
HUGE – with 8'8" center height and 168 sqft. you can comfortably fit 8-10 people in there (and have room to spare)
For such a large tent, the setup is relatively simple
100% waterproof (provided you season it beforehand)
Comes with poles, stakes, and everything else you need
Cons:
Expensive – budget-conscious campers can look away
At 200 lbs, it's definitely one of the heaviest tents around
Best for: campers looking for the best canvas wall tent available today.
Check White Duck Outdoors Price
Danchel Bell-Style Canvas Tent
Commonly used for more urban camping, or event hosting, bell-style tents look like teepees. As we'll more in detail, bell-style tents have certain advantages over cabin-style canvas tents.
One of the key benefits that bell-style tents have is that they're more friendly to fire (for keeping you warm, of course). This canvas camping tent comes with a round hole in the sidewall, which allows you to stick a stove vent through. If you don't have a wood-burning stove, you can use this vent for an air conditioning tube, powerline, or solar panel line.
Danchel offers different sizes – 4m (13.3 ft), 5m (16.6 ft), and 6m (20 ft). We find the 5m model to be the best fit for family camping. It comfortably sleeps six people.
We chose the Danchel Bell-style Canvas Tent because it's a great combination of quality, ease of use, and price point. Its 300 grams per square meter canvas is heavy enough to prevent rain, but thick enough to be breathable.
Despite countless benefits, bell-style tents aren't perfect. Setting these up can take more time and effort. With a bit of practice, it's not difficult, but setting up a bell-style tent is definitely harder than a quick-pitch polyester tent.
Pros:
Crescent windows allow for ventilation. Bottom flaps can be rolled up for even more ventilation (but less privacy)
Tons of space thanks to the bell-style design
Open ventilation from foldable lower flaps
Sidewall port allows a wood-burning stove to be installed, keeping you warm without smoking up your tent
The teepee-style design allows air to circulate inside while being quiet against outside winds
Cons:
Bell-style setup takes a bit of effort if you're used to standard polyester tents
Best for: People who want an awesome glamping tent for their family camping trips.
White Duck 13′ Regatta Bell Tent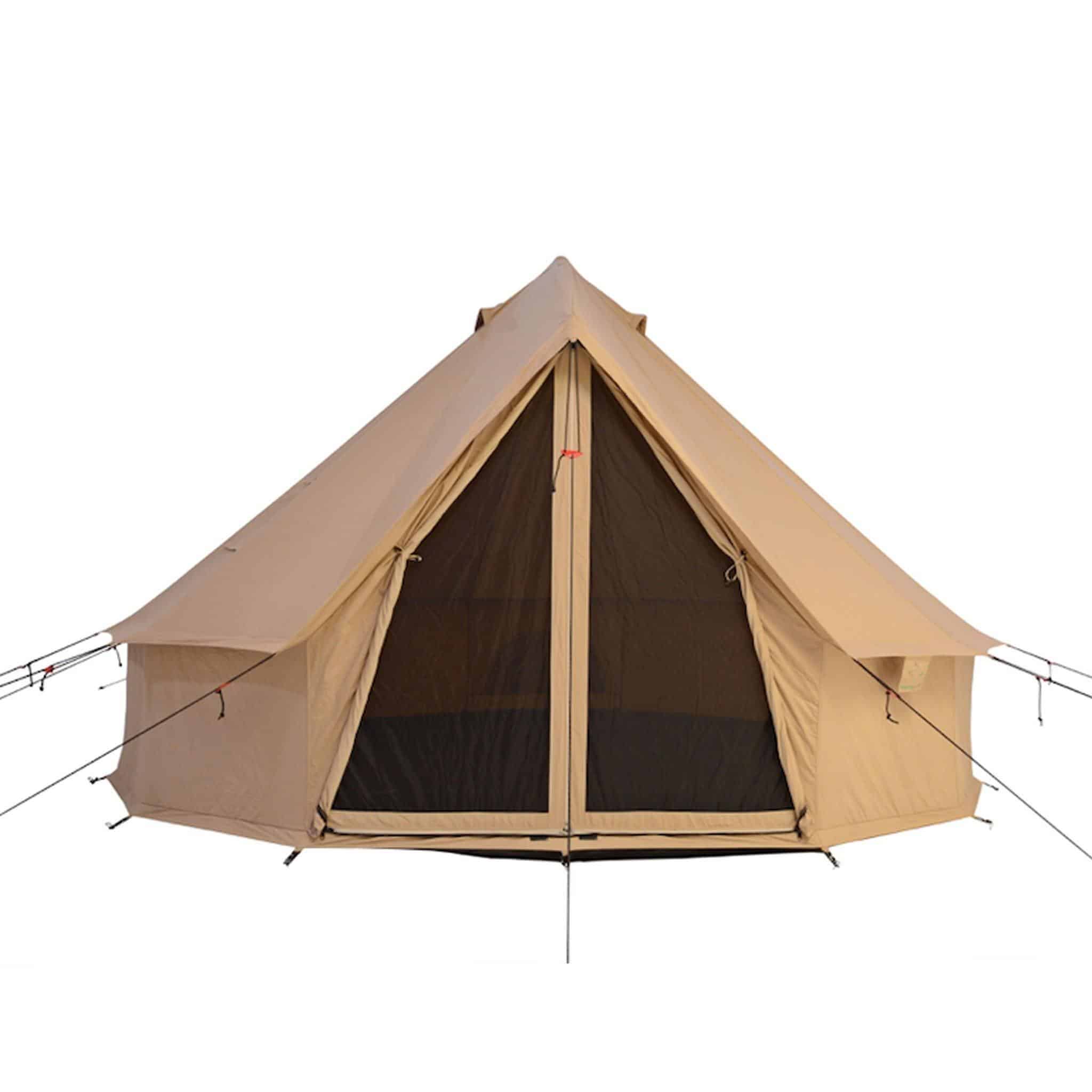 A lot of camping tents are just fine – they get the job done, but you are always looking forward to coming back to a real house and bed.
With Regatta, however, you almost forget you're out in the wilderness – it's that comfortable. In fact, a lot of its users are using it as a second home in their backyards when they're not camping.
While it's definitely not a backpacking tent, its 70 lbs. weight makes it very manageable for most car campers. Add to that the incredibly simple setup (less than 20 minutes for one person, 10 minutes for two) and you can see why this camping tent is so popular.
Pros:
Snow, rain, wind – this tent will stand up to them all without a hitch
Easy setup – even one person can do it without any problems within 20 minutes
At 70 lbs. weight, it's surprisingly lightweight for a canvas tent of this size
Three windows provide plenty of airflow for cooling and ventilation
Cons:
It's a bit tricky to pack it back in the bag
Best for: people who need a great canvas bell tent.
Check White Duck Outdoors Price
TETON Sports Mesa Canvas Tent
Teton Mesa Canvas tent comes in two sizes, a 6-person and 8-person version. This review is about the 6-person one since I found that it offered the best compromise between space and price.
Right out of the bat, you'll notice that this tent is big. Its 100 square feet of floor size make it a veritable giant when it comes to 4-person tents, while the peak height of 78 inches (or 6.5 feet) means almost anyone can move around the tent with ease.
Add to that the fact it can be easily pitched within 5 minutes and that it's 100% waterproof, and you have one of the best canvas tents out there.
Now, no product is without its flaws. Like all canvas tents, this tent is not for people on a budget. You're are going to have to pay a pretty penny to get Teton Mesa. On the plus side, you can safely expect to hand this tent over to your grandchildren, so in the long run, it will probably end up cheaper than most nylon tents.
Pros:
100 square feet of floor space means you and your family will have plenty of room
Easy setup – most people can get it up and ready in less than 5 minutes
Comes with two extra-large doors that make movement easy peasy
100% cotton means it will keep you dry even during the worst thunderstorms
78 inches of peak height means even tall people can comfortably use this tent
Cons:
No way around it – this is not a cheap product. You pay a premium price, but get premium quality
Tent stakes are of lower quality – you might want to pay a few bucks to get better ones
Best for: campers who are willing to invest a bit more for the great canvas tent with an easy setup.
Check Price on Sportsman's Warehouse
SpringBar Highline Canvas Tent

When it comes to canvas tents, SpringBar is one of the most widely recognized names. That's because they've been making these things since 1961!
Thanks to their 58 years of making tents, SpringBar has gained the experience it takes to make a top of the line tent. For that reason, the SpringBar Highline tent is our choice for best canvas tent.
Not only does SpringBar make tents with superior quality, but they also offer a lifetime warranty. With this tent, no tear, rip, or defect will stop you from enjoying a camping trip.
Its size is standard for 6-person canvas tents: 10' by 10', with 6'6" center height. It's rumored that other tents copied SpringBar's dimensions, but we'll leave that up to you to decide.
There is a six and eight-person model available, but we find the 6-person size to be just right. These tents are heavy as is, and unless you're camping with six more or people, the 6-person model will provide plenty of space.
When it comes to setup, the SpringBar is bar-none. The company provides clear instructions in the package. It has a straightforward design, which means there isn't much you can get wrong. Check out the video above to see how easy it is.
From a design standpoint, the only knock we can give this tent is that there aren't windows on every side. However, we find the two doors to provide plenty of room for you to take in the sights. It's also got a nice, big awning that you can use to watch nature under.
Pros:
High-thread count quality duck canvas prevents leaking while also being breathable
Canvas is water-repellent and mildew treated, reducing the risk of damage to the canvas
Clear directions mean you won't have a problem setting this up solo
Combination of wire stake-loops and embedded rope distributes the pressure around the tent body
Classic design with straight-up walls gives tons of space, comfortably sleeping 4 to 6 people
Cons:
As a premium tent, this comes with a premium price tag. Well worth the investment in our opinion.
Best for: Campers who want a tent that will truly last for decades (if not more!).
Choosing The Best Canvas Tent: Pros And Cons
Okay – now that we've shown you a selection of excellent canvas tents, it's time to talk a little bit more about why you would want a canvas tent in the first place.
As mentioned, canvas tents have some huge advantages over other tents. Let's run down the list so you know what you're buying.
Pro: More Air
The first and most important is breathability. Despite being thin, the normal polyester/nylon tents that most people use are not that breathable.
Canvas tents, on the other hand, are made out of cotton. If you've ever worn a polyester t-shirt, you know that they wick water…but aren't nearly as breathable as cotton. Now apply that to your tent.
Con: Weight
The elephant in the room is that these tents are heavy. The tents in this article all weigh between 70 and 90 lbs. There is no way you're backpacking with a canvas tent.
Canvas tents are made of thick cotton. That thick cotton is a necessary evil that makes these tents impervious to wind, rain, sleet, and snow.
Pro: Less Swamp
Since canvas tents are cotton, that means they also don't hold as much condensation as other tents. The wind just dries it out, giving you a sweat-free experience.
Even if you're camping in a humid Louisiana summer, these tents are comfortable year-round.
Con: Set-Up
The second issue is that setting up a canvas tent is not as easy as a nylon tent. Typical tents use lightweight poles and hydraulic arms to snap into place. Some instant tents can even be set up in less than 60 seconds!
That won't happen with a canvas tent. Even if you know what you're doing, setting up a canvas tent will take 10-15 minutes. That's why we highly recommend setting up your canvas tent in your backyard or garage before trying it out in the field.
Pro: Sun & Snow Protection
The other benefit of cotton is that it doesn't get impacted by UV rays in the sun. Nylon tents, on the other hand, will get worn down after repeated hours in the sun, making these much more durable for summer use.
This also means that you won't get burnt up by the sun if you're chilling in the tent during the day. The canvas will protect you with some nice, cool shade.
While canvas tents are great in the summer, they're also excellent in the winter. The canvas stores warmth better than polyester. It's also heavier, so canvas tents will generally stand up better against the snow. You won't be woken up by a pile of snow falling on your tent.
Con: Maintenance
When you're done using a polyester tent, you simply pack it up and throw it in the closet.
Storing a canvas tent takes a little bit more work.
First, you can't store a canvas tent if it's wet. Perspiration in the canvas could cause mold. Before packing up your canvas tent, make sure it's sat in the sun long enough to completely dry.
If it's still wet, you can hit put it over a stove or fire to dry it out or store it with a dehumidifier to prevent damage.
Pro: Better Zzzz's
Speaking of sleep, canvas tents are much quieter than other tents. Unlike plastic, canvas doesn't whip in the wind. It's a lightweight material that lets wind pass through, so there's less noise.
Pro: The Warmth of the Wood
The last thing is that canvas tests allow you to use a wood-burning stove. As you saw with the bell-shaped canvas test, these come with ports for you to add exhaust for your stove. That means you can stay warm at night without accumulating soot inside.
Con: Cost
Due to their heavyweight construction, canvas tents are more expensive than nylon tents. The material itself costs more, and the load-bearing beams must be much stronger.
We only recommend picking up a canvas tent if you plan to use it regularly or for extended periods of time. If you only camp a few nights a year, it might be worthwhile to stick with a typical plastic tent.
Pro: Durability and Longevity
We've heard from other canvas tent owners that they have had their tents for up to 35 years, but think they could go for another 20! Now that is impressive.
Cotton canvas is tough and rip resistant. It can also be repaired, pre-treated with water repellent and mildew treatment, and then re-treated some more.
Rips and tears from falling debris can be be easily sown/repaired.
You can't argue the durability of a canvas tent that is well taken care of. Absolutely no con at all here!
Pro: Environmentally Friendly
Canvas tent fabric is made from cotton. It is entirely biodegradable unlike other man-made tent materials.
Canvas tents are therefore environmentally sustainable in a way in which other tents cannot even compete. Hands down, another pro, with no con!
FAQ
Over the years, I've received a lot of questions about canvas tents.
Here are the most common ones.
What Type Of Canvas Tents Are Out There?
While there are many variations of canvas tents out there, the two most common ones are the wall tents and the bell tents.
Wall tents are big and hard to set up – but they serve as an excellent base for longer camping or hunting trips.
Bell tents are smaller and easier to set up, so they are ideal for camping in smaller groups.
In case you want to learn more, Life In Tents has an excellent section on key differences you can read here.
How To Take Care Of Canvas Tents?
As I said before – canvas tents can be passed down to your grandkids. But that's only if you take proper care of them.
Here are some simple canvas tent maintenance tips:
Always dry out your tent before packing it up
Wash down metal parts to prevent corrosion
If there's a need, waterproof your tent every few years using a quality waterproofing spray
Store it in a dry environment (avoid damp basements)
Clean your tent every 3-6 months (more if you go camping frequently)
Follow these tips and you can be sure your canvas tent will last you a long, long time.
Why Are Canvas Tents So Expensive?
If you ever looked at the price tag of these tents, you might have involuntarily winced. After all, they are a LOT more expensive than standard polyester or nylon tents.
There are multiple reasons as to why this is the case, but the main ones are:
The material is expensive to produce
The construction is a bit more complicated compared to standard tents
The bottom line?
If you're going to be camping a lot – invest in a canvas tent. On the other hand, if you're a casual camper who is only going outdoors once or twice per year, stick to cheaper polyester and nylon tents.
Recommended reading: Canvas Vs Nylon – Which Tent Material Comes Out On Top?
Do Canvas Tents Need To Be Waterproofed?
Short answer?
Yes.
Although canvas does have some water-resistant properties by itself, it is not fully waterproof.
Left on its own, water will eventually seep into the tent and that will eventually lead to mold build-up. Since we obviously don't want that, be sure to waterproof your tent every year with a good waterproofing spray.
Are Canvas Tents 4-season Tents?
Yes. Your Canvas tent will stand up to wind, rain, and snow.  A tight weave on a quality canvas tent, will prevent moisture from penetrating.
This makes them the perfect material for 4-season camping. The breathability of the canvas material allows for safe wood burning tent stoves within your tent, plus it is a better insulator than plastic/nylon made tents.
The breathability of canvas also makes it a superior material that will manage humidity better than other tents. No matter the season, you'll find that canvas tents are the superior tent, and they really do outperform in winter camping conditions.
Our Verdict
While there are many great canvas tents, it's clear that the White Duck Prota Canvas Tent is head and shoulders above the rest.
It's big, tall, 100% waterproof, and will last you for decades to come.
Sure, you might end up paying a bit more than you would for a nylon tent, but at least you know that this tent will remain in your family for generations to come.