As a fellow lover of the outdoors, you surely enjoy watching movies about it as well.
Especially during a busy week, when you just can't wait for the weekend to get outside.
Well, if you don't know what to watch next, I've got you covered!
Here's a list of the best wilderness movies that will keep you entertained at home.
Best Wilderness Movies (Action)
Let's be real – when it comes to wilderness movies, we want to see the action! So it's no wonder that a good portion of such movies is this genre.
Here are some of the best motion pictures that you absolutely need to prepare a bag of popcorn for.
The Grey
Directed By: Joe Carnahan
Starring: Liam Neeson, Frank Grillo, Dermot Mulroney, Dallas Roberts, Joe Anderson
IMDB Rating: 6.8
Rotten Tomatoes Rating: 79%
Trailer Link
After many weeks of working at the oil refinery in Alaska, sharpshooters led by John Ottway are flying back to Anchorage for a short vacation.
However, after major turbulence, the plane crashes and only a handful of men survive.
Far from civilization and deep into the wolves' territory, the group of survivors must find their way back to safety.
On their way, they must battle hungry wolves, cold weather and heavy injuries.
Everest
Directed By: Baltasar Kormákur
Starring: Jason Clarke, Josh Brolin, John Hawkes, Robin Wright, Michael Kelly
IMDB Rating: 7.1
Rotten Tomatoes Rating: 73%
Trailer Link
After spending two months working their way up the Mount Everest, the climbing crew encounters an unexpectedly violent storm on their descend.
With harsh weather and sub-zero temperatures, the descent quickly turns into a struggle to survive.
The Edge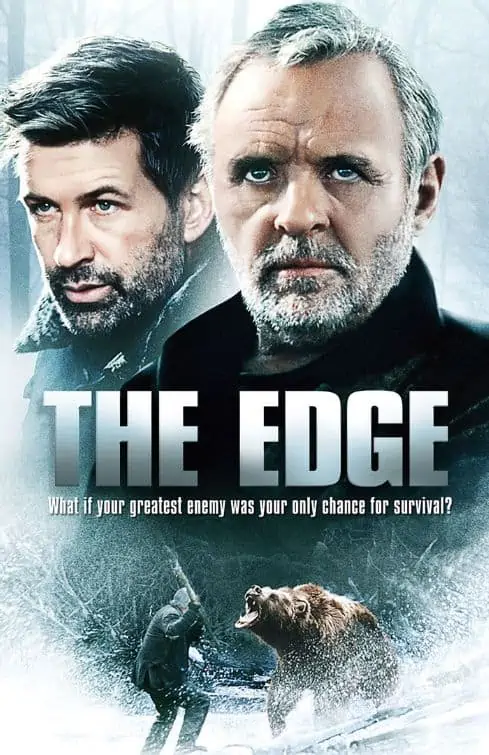 Directed By: Lee Tamahori
Starring: Anthony Hopkins, Alec Baldwin, Elle Macpherson, Harold Perrineau
IMDB Rating: 6.9
Rotten Tomatoes Rating: 63%
Trailer Link
After their plane crashes deep into the Alaskan wilderness, the three men – Charles, Rob and Steven – must find their way back to the civilization.
The harsh weather conditions make their task hard, but that's nothing compared to running away from a bloodthirsty Kodiak bear they encounter on their way.
As if that's not enough, there's animosity between Charles and Rob as the former believes Rob is having affair with his wife.
Jungle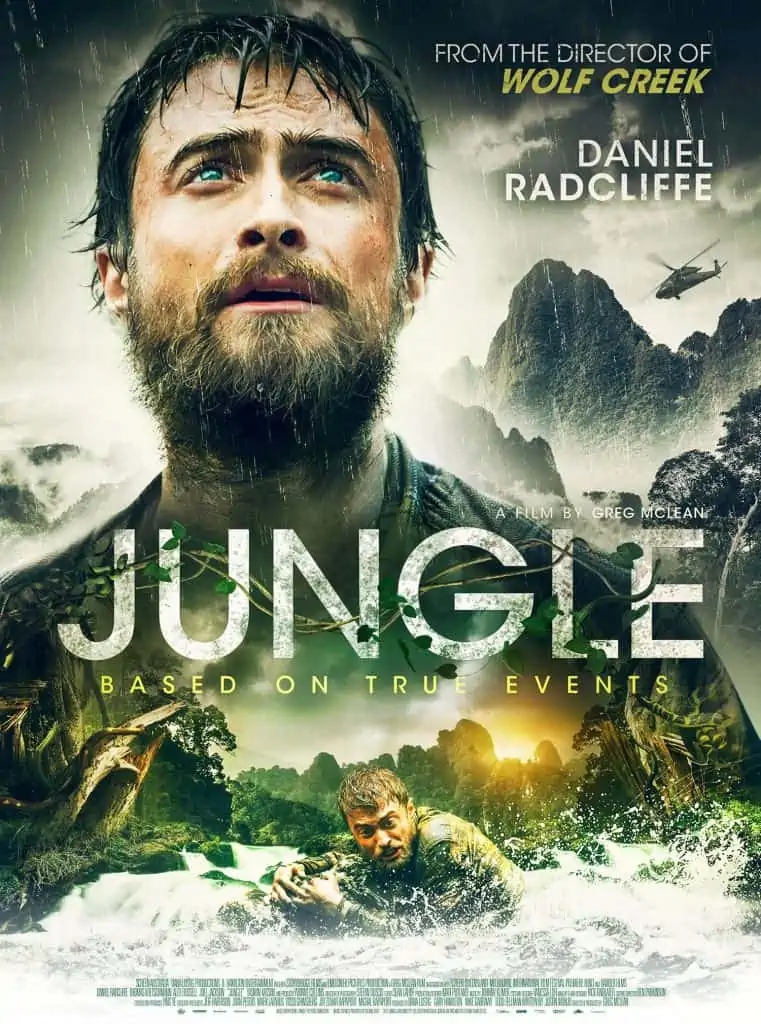 Directed By: Greg McLean
Starring: Daniel Radcliffe, Alex Russell, Thomas Kretschmann, Yasmin Kassim
IMDB Rating: 6.7
Rotten Tomatoes Rating: 61%
Trailer Link
Israeli adventurer named Yossi Ghinsberg and his two acquaintances Marcus Stamm and Kevin Gale are escorted by a mysterious guide into the Amazon forest.
What seems to be a fun hiking trip quickly turns into a fight for survival when they find out their guide is not exactly who he presents himself as.
Alpha
Directed By: Albert Hughes
Starring: Kodi Smit-McPhee, Jóhannes Haukur Jóhannesson
IMDB Rating: 6.6
Rotten Tomatoes Rating: 80%
Trailer Link
Set in Upper Paleolithic Europe 20,000 years ago, the movie follows Keda, a young hunter who's challenged by his tribe to kill a wild boar and thus proves he's ready to be one of them.
But after hearing his fatal cries in the darkness, the party leaves him as they believe he's done for.
But Keda survives and befriends a lone wolf who becomes his faithful companion on the journey.
Best Wilderness Movies (Drama)
Do you prefer intense plots with high stakes and tons of conflicts? Then drama movies are for you. And here's creme de la creme of this genre.
Deliverance
Directed By: John Boorman
Starring: Jon Voight, Burt Reynolds, Ned Beatty, Ronny Cox
IMDB Rating: 7.7
Rotten Tomatoes Rating: 89%
Trailer Link
Four Atlanta businessmen and good friends decide to go canoeing in Cahulawassee River for the weekend before it gets dammed.
But once they arrive in rural Georgia, the four friends realize they're not particularly welcome here.
Throughout their canoeing trip, the group will be ambushed on several occasions by the mountain men trying to kill them.
Between angry locals and dangerous river rapids, the four friends will fight for their survival throughout their seamlessly safe trip.
Into the Wild
Directed By: Sean Penn
Starring: Emile Hirsch, Marcia Gay Harden, William Hurt, Jena Malone, Catherine Keener, Brian Dierker
IMDB Rating: 8.1
Rotten Tomatoes Rating: 83%
Trailer Link
The main character, Christopher McCandless, graduates from Emory University as a top student and athlete.
But instead of pursuing a career, he decides to give his entire savings to charity, leave his privileged life behind and head out to Alaska and experience living in the wilderness.
His solo trip quickly turns into a majestic exploration journey.
Along the way, he meets people who are also escaping something from their pasts and looking for a new purpose.
Together, all those encounters shape him in a more meaningful way than any other experience in his whole life.
The Revenant
Directed By: Alejandro González Iñárritu
Starring: Leonardo DiCaprio, Tom Hardy, Domhnall Gleeson, Will Poulter
IMDB Rating: 8.0
Rotten Tomatoes Rating: 78%
Trailer Link
While guarding trappers through what is now Dakota, Hugh Glass and the crew was attacked by Arikara war party who's searching for the leader's kidnapped daughter and willing to kill anyone in their way.
After losing some of the men, John Fitzgerald, one of the trappers who's not fond of Glass, plants the seed of dissent between the crew.
After barely surviving the attack of the bear, Glass is left for dead by members, with Fitzerald, one other member and Glass' son making him company until his time comes.
Instead, Fitzgerald kills Glass's son and buries Glass alive.
However, the plot unfolds when Glass makes it out and, fueled by vengeance, pulls himself out of the mountains to track down Fitzgerald.
Cast Away
Directed By: Robert Zemeckis
Starring: Tom Hanks, Helen Hunt, Nick Searcy
IMDB Rating: 7.8
Rotten Tomatoes Rating: 89%
Trailer Link
Chuck Noland, a systems analyst executive at FedEx, travels to Malaysia to resolve a work problem.
However, a plane gets into a storm and crashed into the Pacific Ocean.
Nolan, who's the only survivor, escapes in an inflatable life raft and washes up on the coast of an inhabited island.
Here, he remains for years, with the only friend being a volleyball ball named Wilson.
The movie follows Noland's journey as he's faced with the emotional acceptance of inescapable isolation.
The Call of the Wild
Directed By: Chris Sanders
Starring: Harrison Ford, Omar Sy, Cara Gee
IMDB Rating: 6.7
Rotten Tomatoes Rating: 63%
Trailer Link
Based on Jack London's novel of the same name, the movie tells the story of Buck, a dog that was kidnapped from California and brought to Yukon, where he's sold as a sled dog.
There, Buck is forced to adapt to new life, while his primitive instincts bring him to become the sled leader.
All is Lost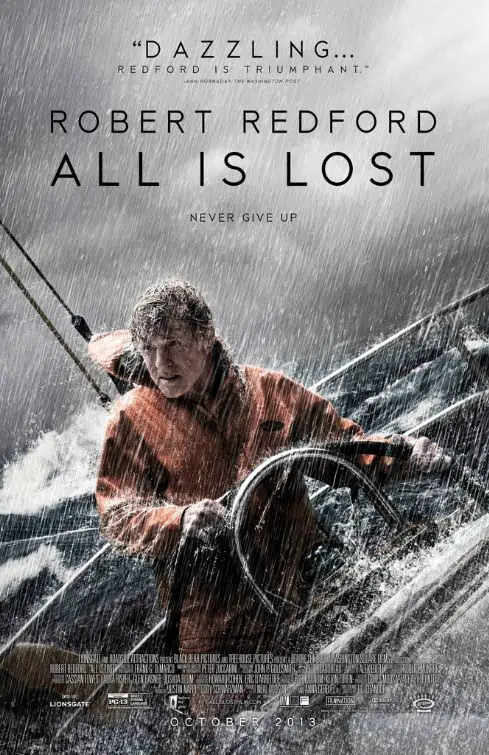 Directed By: J. C. Chandor
Starring: Robert Redford
IMDB Rating: 6.9
Rotten Tomatoes Rating: 94%
Trailer Link
After a free-floating container collides and rammed his sailboat, a veteran mariner finds himself in the middle of the Indian Ocean without radio or navigation and only in the mercy of the ocean currents.
In order to survive, the man has to improvise and find a way to remain hydrated and fed until someone finds him.
127 hours
Directed By: Danny Boyle
Starring: James Franco, Amber Tamblyn, Kate Mara
IMDB Rating: 7.6
Rotten Tomatoes Rating: 93%
Trailer Link
This movie tells a true story of a mountaineer Aron Ralston going on a hiking adventure in Utah.
Not telling anyone about his whereabouts seemed like no big of a deal at that time, but soon did he realize what a great mistake that was after getting trapped when a boulder falls on his arm and with no way to to get help.
Ralston records a video diary while trying to set himself free, as a way of maintaining morale and sanity when all hope seems to be lost.
Wild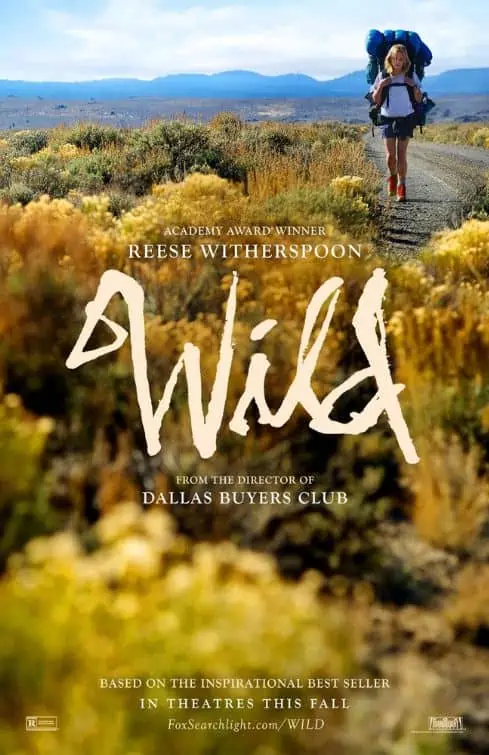 Directed By: Jean-Marc Vallée
Starring: Reese Witherspoon, Laura Dern, Thomas Sadoski
IMDB Rating: 7.1
Rotten Tomatoes Rating: 88%
Trailer Link
After losing her mother and going through a tough divorce, Cheryl Strayed decides to go on a solo 1,100-mile hike on the Pacific Crest Trail.
She has no outdoor experience, but she believes this trip is what she needs to put her life back again.
Throughout her trip, she proves that determination is all she needs to succeed.
Best Wilderness Movies (Documentary)
Many wilderness movies are inspired by true stories. But there are also some great non-fictional motion-pictures that depict real journeys of certain adventurers.
Touching the Void
Directed By: Kevin Macdonald
Starring: Brendan Mackey, Nicholas Aaron, Ollie Ryall
IMDB Rating: 8.0
Rotten Tomatoes Rating: 94%
Trailer Link
The story follows Joe Simpson and Simon Yates ascending the previously unclimbed West Face of Siula Grande in Peru.
The two mountaineers were successful in their endeavor, however, the descend turns out to be much harder due to the unexpected storm.
After landing awkwardly from a fall, Simpson suffers a heavily broken leg.
Unable to walk on his own, Yakes must help Simpson go down the mountain.
Following a few very dangerous experiences, Yakes must decide whether to leave his friend behind and save his life or lead both to almost certain death.
Free Solo
Directed By: Elizabeth Chai Vasarhelyi, Jimmy Chin
Starring: Alex Honnold, Sanni McCandless, Jimmy Chin, Tommy Caldwell
IMDB Rating: 8.1
Rotten Tomatoes Rating: 98%
Trailer Link
The documentary shows a professional rock climber on his quest to climb alone on El Capitan in Yosemite National Park.
Aside from the actual attempt, the movie also touches on his preparation, both physical and mental.
The ascend is already a challenge, but doing it in front of the cameras is a whole other story for this young climber.
Maidentrip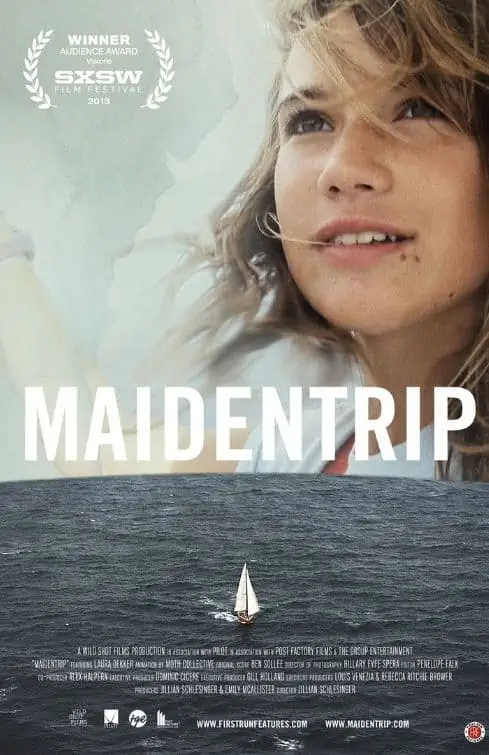 Directed By: Jillian Schlesinger
Starring: Dick Dekker, Kim Dekker, Laura Dekker
IMDB Rating: 7.5
Rotten Tomatoes Rating: 83%
Trailer Link
Laura Dekker, a 16-year old Dutch girl became the youngest person to sail solo around the world.
But this documentary isn't just recounting her incredible record-breaking trip, but also portraying how a girl becomes a woman throughout such an endeavor, as well as the legal and personal battles she endured at home.
Big River Man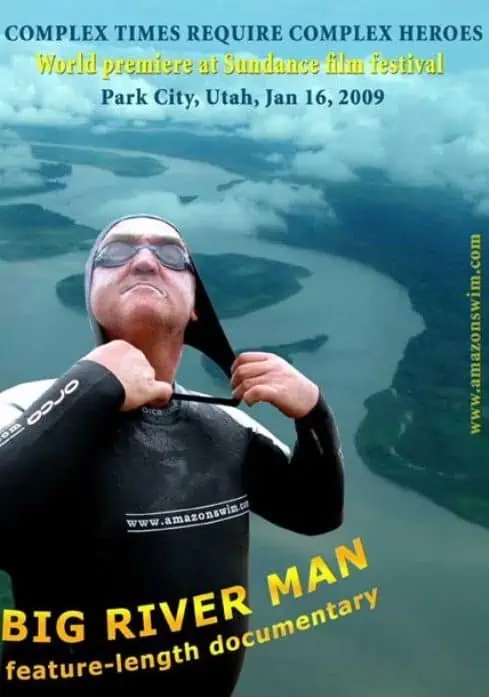 Directed By: John Maringouin
Starring: Martin Strel, Borut Strel, Matthew Mohlke
IMDB Rating: 7.3
Rotten Tomatoes Rating: 91%
Trailer Link
At 52, Slovenian swimmer Martin Strel became the first man to swim the entire 3,300-mile length of the Amazon River.
His endeavor made headlines, both for his record-breaking swim and the psychological troubles he faces along the way.
Best Wilderness Movies (Comedy)
Sometimes, we just want an easy-going movie that makes us laugh.
While some of these movies might not have high rankings on popular movie critic websites, that doesn't mean they aren't going to keep you entertained for hours.
The Great Outdoors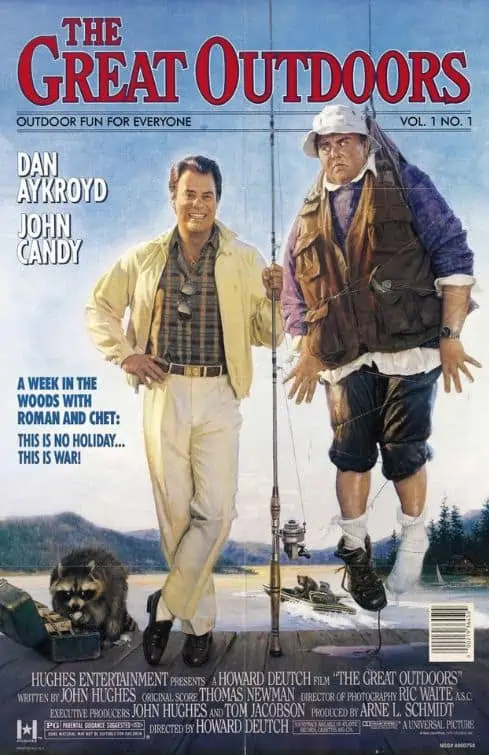 Directed By: Howard Deutch
Starring: Dan Aykroyd, John Candy, Stephanie Faracy
IMDB Rating: 6.5
Rotten Tomatoes Rating: 41%
Trailer Link
Chicago natives, Chet and Connie Ripley, decide to take their kids to the lake resort in Wisconsin for the summer.
However, a seemingly enjoyable outdoor trip soon turns into a nightmare when Chet's brother-in-law appears with his family.
As icing on the cake, a seemingly endless series of misfortunes doesn't give them a break throughout the whole movie.
Homeward Bound: The Incredible Journey
Directed By: Duwayne Dunham
Starring: Michael J. Fox, Don Ameche, Sally Field, Robert Hays, Kim Greist
IMDB Rating: 6.9
Rotten Tomatoes Rating: 87%
Trailer Link
After their owners temporarily relocate for their jobs, the three pets – Chance the Bulldog, Shadow the Golden Retriever and Sassy the Himalayan cat – are left on a ranch with just their neighbor looking out for them.
However, the trio decides to find their family, so they embark on a long trip through the mountainous wilderness of the Sierra Nevada.
On their quest, they encounter many dangerous situations, but soon they realize that everything is easier in a group.
A Walk in the Woods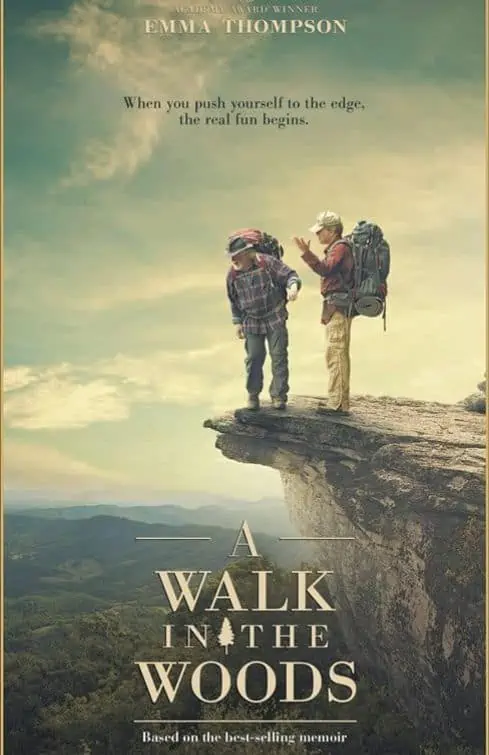 Directed By: Ken Kwapis
Starring: Robert Redford, Nick Nolte, Kristen Schaal, Nick Offerman
IMDB Rating: 6.3
Rotten Tomatoes Rating: 47%
Trailer Link
This biographical comedy follows a 60-year old Bill Bryson and his old friend embarking a hike through the Appalachian Trail.
Due to their age and physical conditions, the two men realize walking the entire thing is practically impossible.
That's when they decide to take a shortcut and go through the "for experienced hikers only" zone.
Best Wilderness Movies (Romance)
Finally, let's end the day on a juicy note. There aren't a lot of great romance outdoor movies out there, abut the few we'll list here are definitely worth your time.
Great for a romantic movie date!
Adrift
Directed By: Baltasar Kormákur
Starring: Shailene Woodley, Sam Claflin
IMDB Rating: 6.6
Rotten Tomatoes Rating: 69%
Trailer Link
Tami and Richard, a young couple of sailors, accepts the job of transporting a yacht 4000 miles from Tahiti all the way to San Diego.
For $10,000, that seemed like a great deal. However, little did they know that a hurricane will get in their way across the Pacific Ocean, and their dream trip will quickly turn into a nightmare.
Joe Versus the Volcano
Directed By: John Patrick Shanley
Starring: Tom Hanks, Meg Ryan, Lloyd Bridges, Robert Stack
IMDB Rating: 5.9
Rotten Tomatoes Rating: 66%
Trailer Link
After being diagnosed with an incurable disease and with only a few months to live, Joe Banks accepts the offer to travel to an island in the South Pacific and throw himself into a volcano in order to appease the volcano god.
After all, he's got nothing to lose. However, the things and people he encounters on his way show him that there's still something to hope for.
To Sum Things Up
There you have it – a list of the best wilderness movies made to this date.
There's something for everyone, so whatever your favorite genre is, there's a great movie for you to see.
More Outdoor Fun