There's no better way to explore the outdoors than going on a day hike.
You're doing physical exercise while enjoying beautiful views. No gym can beat that.
But if you're only starting out, hiking might seem intimidating. Don't worry, though. All you need is some basic knowledge and the right preparation.
In this article, I'll cover everything a beginner needs to know about day hiking, from skills and gear you need to have to tips for better trip planning.
Let's dive in!
Day Hiking Essential Skills
The best thing about hiking is that everyone can enjoy it, regardless of their age and physical condition. There are no strict rules or regulations that suck all the fun out.
With that being said, there are some skills every hiker needs to have.
Planning
This skill requires way more than just deciding on a date and location.
You need to do quite a bit of research on different things.
Some examples include:
The weather
Hazards on the trail
How suitable your physical condition is for a certain trail
First, you need to do a little assessment of your skill level. Trust me, you don't want to find out you've bitten off more than you can chew mid trail.
Then, find a trail that matches your abilities. Don't worry, there are trail routes for all levels of fitness and skill.
Also See: How Many Miles Can You Hike In a Day? (Expert Recommendations)
Navigation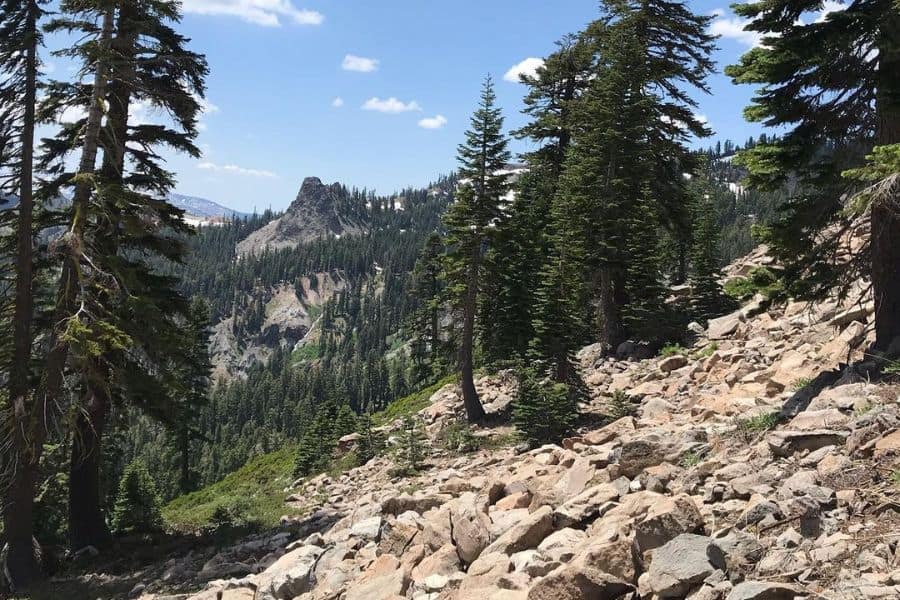 Sure, your phone could tell you exactly when to turn left.
But what if you run out of batteries or signal?
Every hiker should know how to find their way around with simpler tools like a topographic map or a compass. That way, you'll never have to worry about getting lost in the wilderness.
First Aid
In case of an injury, the nearest hospital could be miles away.
That's why you need to know at least some basic first aid, like stopping a bleed or closing a gap wound.
Even the smallest cut can slow you down if left untreated.
Leave No Trace
I'm sure you've heard of Leave No Trace principles before.
Basically, they give us a framework of how to leave a minimal impact on the outdoors while we're there. In other words, they show us how to behave so that no one knows we were there.
This means no leaving trash behind, destroying trees, starting fires etc. But also burying your waste, scattering strained dishwater away from bodies of water and not feeding wild animals.
What To Bring On A Day Hike
Struggling with packing for a day hike?
Here are the things you absolutely need on your hiking checklist.
Footwear
Your feet will be doing most of the work on your hike, so having proper footwear is essential.
Ideally, you want something that's a good balance of comfort, weight, and durability.
Since it's a day hike, you probably won't be carrying a lot on your back. Even so, you will still want ankle support, so you can need to make sure to have properly fitting hiking boots.
One thing to keep in mind when getting hiking shoes is that breathability and water resistance don't go hand in hand. Between these two characteristics, pick the one that's more appropriate for the weather you're going to hike in.
Clothing
Regardless of how many times you've checked the forecast, you should always be prepared for weather changes.
You should layer your clothes, but that doesn't matter unless you wear something that is both comfortable and breathable.
Looking for something to wick away moisture and keep you warm?
Say no more.
Merino wool is your best friend in this case.
In fact, I'd suggest getting underwear of this material, too. What good are your breathable pants if your sweaty underwear is sticking to your skin, right?
If there's a chance of a rainstorm, you'll need to have some rain gear. Let me tell you – a rain jacket and rain pants are a lifesaver.
But what if it's sunny?
It wasn't long ago that I discovered that there's such a thing as sun protective clothing. While all clothing disrupts UV radiation to some extent, these garments block up to 98%!
Even if it's not sunny outside, you're exposed to UV rays, and they can damage your skin. That's why I believe it's worth investing in clothing with a UPF (Ultraviolet Protection Factor).
Finally, if you're hiking in cooler weather, we can't forget about the jacket. Go for wool, down or synthetics, as these materials are lightweight yet good at insulating.
Equipment
When it comes to your equipment, the most important thing is storage, obviously.
In this case, that means making sure you have a good hiking backpack.
Forget about duffel, drawstring, messenger and other types of bags. You need something that will both distribute the weight of your hiking gear evenly and keep your hands free.
For a day hike, a 20-30 liter daypack is more than enough for all of your day hiking essentials and some extras, like a camera or binoculars. If it has lots of exterior pockets and clips, even better.
Since you're only going for a day hike, your backpack shouldn't be heavy. But, it should still have mesh paneling, padded shoulders and straps to aid in weight distribution and make it more comfortable to wear.
Having a backpack with a hip belt and sternum strap would be ideal.
Food And Water
For day hikes, you don't want to spend time preparing and eating, trust me.
A long pause to rest and eat will only cool your body down, making it harder to keep moving at the pace you started the hike at.
What you need is food that you can eat on the go.
Granola bars, nuts, dried food and even sandwiches are good options. As long as you're not losing precious time preparing a meal, you're good to go.
But, I'd advise packing an extra portion or two, as you never know how long you will end up being out for.
The same rule applies to water. Staying hydrated is essential when doing any kind of outdoor activity. Make sure to pack at least 30-60 ounces more than you expect to need.
But how much do you actually need?
A good rule of thumb is to drink 6-12 ounces of water every 15-20 minutes.
A hydration bladder is great for hiking. You don't have to stop and reach for the bottle every time you want to take a sip.
Emergency Gear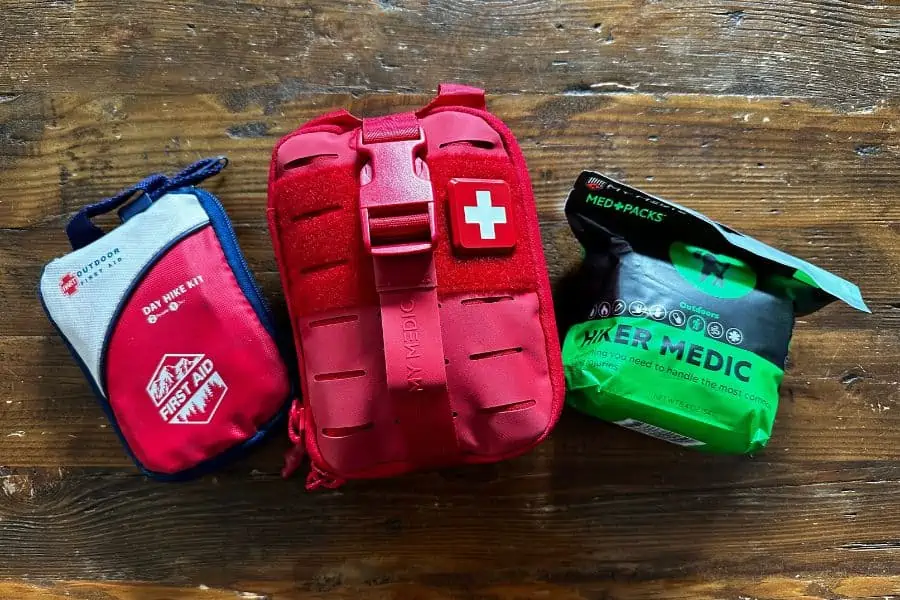 You never know what can happen when you're out in the wild. But, you can at least try to be prepared for things that could go wrong.
If a first aid kit is not an essential piece of your outdoor equipment inventory, make it.
You won't exactly be doing surgeries out in the open, so a basic pre-assembled kit will do just fine. Bandages, gauze, disinfecting ointment, adhesive tape and some over-the-counter pain medication and an antihistamine are more than enough.
Another thing that should make its way into your hiking equipment inventory is an emergency shelter. Unexpected weather changes are just one thing that can cause you to be stranded out in the open, and you'll need a dry, warm place to sleep.
Emergency blankets and bivy sacks are lightweight, affordable and can literally save your life in certain situations. That's more than enough reason to pack one.
Extras
There are a few other things that can be quite useful on a day hike.
The first one is, clearly, navigation.
Phones and GPS devices are nice and handy, but running out of battery or losing signal isn't. That's why it's always better to rely on topographic maps and a compass for direction.
Second on my list is – a headlamp.
Miscalculating the time it'll take you to finish the trail can easily leave you stuck in the wild after dark, with no clue what's ahead of you. I prefer headlamps over flashlights, simply because they keep both of my hands free.
Third is going to be trekking poles.
Not only do they help you to avoid unnecessary injury by providing increased stability and reducing the strain on your lower body and joints. But you can also hike faster and farther with them.
Finally, bring a knife.
Whether it's a pocket knife or a multitool, it's up to you and what your preference is. But there are innumerable situations where a knife will come in handy. And since it takes up almost no storage space, there's no reason to not bring one.
3 Tips For Planning A Successful Day Hike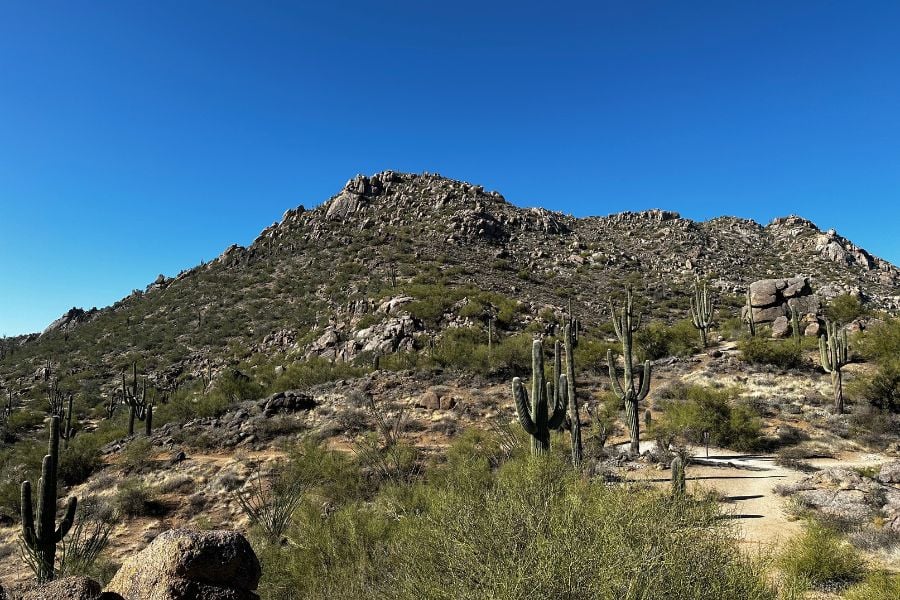 Some may think that planning takes all the fun out of hiking, but I beg to differ.
Getting lost, finding out you're under-equipped or under-skilled – which one of these sounds like a good thing to discover mid-hike?
Exactly.
Choose Your Route Carefully
In order to avoid such scenarios, you need to plan ahead.
This starts with choosing a route that's suitable for your fitness level.
Luckily, you can find a lot of helpful information on the web these days regarding a specific hiking trail.
So whether you are hiking in the Superstition Mountains in Arizona or exploring amazing life changing waterfall hikes in Hawaii, there will likely be very useful information online for just about any hike we can think of.
For really thorough information, detailed reviews, and trail maps, we like and use the AllTrails App.
Also see: Best Hiking Apps (FREE & Paid to Discover Trails, Track Hikes, and download Offline Maps)
Some things you should take into account include how to access the trailhead, where to find parking close to the trailhead, usual completion time etc.
If you're new to hiking, always start with an easy and short loop trail. A moderate hike in a state park or national park is more than enough to begin with, and once you get a feel for things you can take on more challenging routes through the backcountry.
After all, the main goal is to enjoy the activity, isn't it?
Checking the weather forecast beforehand goes without saying. But, you should also have the time of year you're planning on going in mind. Depending on the location, summers can be extremely hot. On the other hand, you can expect mud or snow during winter.
But while the weather changes, one thing is for sure. Days are much shorter during winter.
So when you're picking a trail, make sure you have plenty of time to finish it before it gets dark.
Become Familiar With It
You don't have to know the trail by heart, but it's always good to know what to expect.
Check for possible hazards along the way, like rock falls, landslides and debris flows.
Identifying these locations prior to your trip allows you to reroute if necessary.
Let Someone Know Where You're Going
Not just because your mom likes knowing exactly where you are at every point of the day.
The wilderness is unpredictable, and you can never be too careful. So leave a note with all the details regarding your hiking trip with someone, just in case of an emergency.
To Sum Things Up
The beauty of hiking is exploring the outdoors at whatever pace you want.
But keep in mind that hiking is in no way a spontaneous activity. To enjoy your day trip, a certain amount of planning is required.
You need to know where you're going, how to find your way, and what to take with you.
If you're heading to the wilderness, take this article as a guideline so that you can enjoy everything the trail you choose has to offer.