Do you research your hiking trail route?
You should!
This is especially important if you're just starting as a new hiker.
You don't want to get lost. Getting lost could mean having to stay on the trail after dark.
You might use up all your water and food. There are many negative results of getting lost in the wilderness.
When I first started hiking, I had to learn the hard way. I got lost a few times. One time it was almost midnight when I finally found my way out.
After that, I quickly learned the importance of researching the hiking trail.
But getting lost isn't the only impact of not thoroughly researching the trail. The trail may have unique conditions.
It could have a partial closure. There could be dangerous wildlife. There might be private property concerns.
There is a lot that goes into hiking a trail. It isn't just about pulling on your boots and taking a walk.
Those who want the best possible experience on a hiking trail are those who research the trail.
How to Find Hiking Trails
One of the most common problems I encounter with new hikers is that they just don't know where to go hiking.
Unless you're around large National Forest, parks, and wilderness areas, your trails are spread out all over the place.
That's why it's essential to research your hiking trail – so you can find the trails that meet your needs and not stress yourself out with not knowing where to go.
There are a lot of hiking trail resources available to you, too!
Guidebooks
You can find a guidebook for just about any area with hiking trails.
Guidebooks are usually well-written, with many details, accounts, and extra resources for a trail.
I've seen thoroughly written hiking trail guidebooks for nearly every state in the USA.
We even have one for Southern Illinois, and our National Forest and state parks are relatively small compared to the rest of the country.
Chances are, there is a hiking guidebook out there for you. I suggest going to your local bookstore or a store that sells local souvenirs.
These stores likely carry local books, and you help the local economy by shopping at these stores.
You can also usually find these guidebooks at any local outdoor retailer, REI store, or even on the internet.
Amazon seems to have every book out there. If you want something cheaper, I suggest getting used to Thrift Books.
I get most of my books there and have never had a problem.
Hiking Apps
There are a ton of hiking apps available for most smartphones. And a majority of these apps are free for the most part.
I primarily use hiking apps to find hiking trails. I do this because of the ease of use. I like my guidebooks but using an app quickly is convenient.
We use apps for everything these days, right?
So, there is usually a catch with hiking apps. Most have a generous free edition of the app until you need it the most.
Most application developers place the fee on the app for offline use or in areas where cell phone reception doesn't exist.
AllTrails, for example, is free until you download maps for offline use; you have to pay. I think it's worth the cost, myself.
It is super important to have a working map when hiking. Unless you know how to read a paper map and compass (which you should learn to do), an app can make or break your hike.
Another kind of hiking app I use daily that hikers do not commonly use is a premium app called OnXHunt.
It costs money to use it – there are no free editions. It was created for hunters to be able to find public land and private property boundaries.
I use it to find public land without roads and trails for exploring. I also use it to ensure that I don't trespass.
You can find a hiking app out there that will meet your needs. You just need to research the app like you would research your hiking trail.
Hiking Websites
Like apps, there are tons of hiking websites available on the internet.
There are blogs, brands, and even websites dedicated to just trails.
Most of these websites are free to use, but some may have premium features that will improve your hike.
It's always a good thing to support a hiking content creator. I'm a little biased because I am one myself, but I've also used countless hiking trail websites of other creators.
I tend to go for a hiking trail website before I go for an app.
Simply type into Google the area you wish to hike in along with the term "Hiking guides," You should find all sorts of websites with tons of information on them.
Myself, I manage a website dedicated to hiking trails in the Shawnee National Forest and southern Illinois state parks.
I have over 50 hiking trail guides. I provide them all for free. Many people who hike in my area come to my website first.
I'm honored to have the privilege to provide this vital information.
The great thing about hiking trail websites is that they're usually made by hikers who want to include all the relative information we never find on apps and guidebooks.
You know, the information that will help ensure we know everything there is to know about the trail.
Government Websites
You can usually research your hiking trail on government websites that manage public lands.
These sites include the US Forest Service, Bureau of Land Management, National Park Service, and State Park websites in your area.
For the most part, these official websites are going to list official information.
The information is commonly vague regarding the finer details of your hiking adventure, but you can usually expect the correct safety information.
It's not the government's job to tell you where all the incredible waterfalls are just off the trail. However, it is their job to tell you any dangerous areas along the trail and any rules attached.
It's always a good idea to include government websites in your research when trying to find the best trails to hike.
Social Media
Social media is a great hiking trail research tool, but it's also a bad one.
On the positive side, social media is lovely for getting information out to people who wish to hike a trail.
You can usually see many photos of exciting things you'll see, and now that video is getting more popular, you can virtually hike the trail before actually hiking it yourself.
Social media has changed the way we share things and communicate. In most cases, it's a good thing.
But social media can also be a bad thing for researching hiking trails!
Many people show scenes that are not entirely accurate.
You'll see a fantastic river or mountain where the hiker has it all to themselves, but you might not see if the hundreds of trail users are right behind.
You might not see the rugged and dangerous trail to get to that point.
Social media creators show you what they want to show you to get them the most views. Not all of them, but a lot of them do this.
Using social media to research your hiking trail is fine as long as you're not entirely relying on it as the most accurate information.
Other Sources for Finding Hiking Trails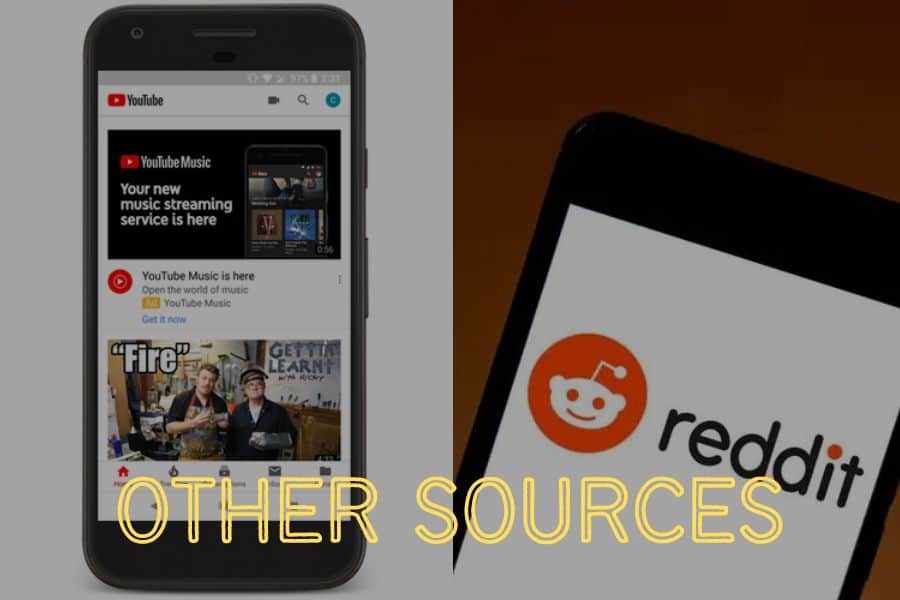 There are other ways to find out about hiking trails.
Good old fashion word of mouth goes a long way. If you know anyone in your area who hikes, ask them if they've ever hiked the trail you're interested in.
You can usually find out about trails you didn't even know existed by your fellow hikers.
You might even get a hiking buddy out of it because it is always wise and safer to hike with a friend.
Websites like YouTube, Reddit, and message forums are also great for finding hiking information. Take a YouTube video, for example.
Not only does the video give you good information, but the comments might also contain helpful information that the video did not provide.
You can also find out about hiking trails by buying maps. You should learn more about reading maps and topography to help you out along the way.
You should also get a good compass and learn how to use it with a map.
A lot of old-school hikers love using the traditional map and compass way.
Outdoor Retailers
Outdoor retailers are also great places to find information.
These store owners and workers want your business and want you to have the best time while enjoying the trails.
The more people who like hiking, the better their sales will be.
Plus, these stores are usually owned by folks who love hiking and want to see more people get into it.
A local outdoor retailer or something like an REI will have people who know hiking trails better than an outdoor chain store that typically hires anyone and everyone.
Always trust locals at the end of the day.
National Forest Visitor Centers
If your area has any National Forest visitor centers or ranger stations, consider checking them out for helpful information about hiking trails.
The staff at Forest Service are usually trained to assist you with your trail needs.
A lot of the staff is usually comprised of volunteers from supporting organizations and non-profits created to help maintain the local National Forest.
These volunteers are always the best to ask because they share more information than Forest Service personnel.
As I said, Forest Service will give you official information, not that hidden waterfall you can find off the beaten path.
These centers and stations are also usually equipped with brochures and paper maps that are typically free for you to get.
National Park Service
The National Park Service is another good source for finding hiking trails.
The Park Service and its rangers take great pride in ensuring that visitors get the best possible information and have the best time while at a National Park.
They're usually equipped with the knowledge you need to be able to research your hiking trail.
They even recently created a free app showing hiking trails at all the National Parks in the country.
You can even see the trail information when you don't have a signal. And that's entirely free for you, too!
Plan to stop by a Ranger Station or talk to a ranger if visiting a National Park because they'll likely have all the information you'll need plus information you might not have thought about.
State Parks
Most state parks have visitor centers and websites. You can usually find practical information about trails at these.
Just note that a state park usually carries information about trails within their specific park, not trails in the nearby National Forest.
You should always try to go to the source agency that manages the public land.
State Parks are usually best for new hikers because the trails are generally better maintained and marked. It is a park, after all.
Most trails within state parks have signage at the trailhead and brochures.
Guided Hikes
Guided hiking is one of the best ways for new hikers to enjoy a hiking trail.
There are different types of guided hiking activities, too!
You can usually find hiking groups in your area that will allow you to hike with them on the trail. Hiking with these groups is generally free, and they're led by people who know the trail well.
Hiking with a group presents a dynamic of elements we'll explore further down in this article. You should know that a group sticks together, so don't join it to hike away from them but expect them to wait for you.
Slow hikers should be at the start of the group so that they set the pace.
Another guided hiking activity to consider is a private guided hiking service.
I run one myself! People will pay me for my service, and I will take them on the desired hiking adventure.
I do all the planning and tell them what they need to bring, what they should expect, and where to meet for the hike.
But as a hiking guide, I urge you to research the service you want to purchase.
Guides should have the required permits and licenses if the state requires them.
Guides should also have liability insurance to cover medical expenses if, for some reason, there is an injury.
A cheap guide service might be worth researching to ensure it is legit.
Some guides host community hikes where they invite others for free to hike with them. I do this myself every Black Friday.
Trailhead Signs
Most trailheads (the start of the trail) have information signs. The signs are usually limited to official information, but they also often include a map of the trail area.
These signs are suitable for basic research about your trail.
Most have maps, history, basic information about the trail, rules, hazards, and emergency contact information.
I always recommend taking photos of different parts of the sign with your phone so that you can read the sign for reference later down the trail.
And if you have no signal, you can still see your really helpful photos.
Some trailheads will either not have any signs at all, or the signs could be outdated and contain the wrong information.
Facebook Groups
Facebook Groups are probably the best social media giant ever created feature.
You can find much information on Facebook groups about hiking trails.
Most hiking areas have groups dedicated to them on Facebook. Photos, videos, maps, GPS files, and trail discussions can be found.
I love to get on Facebook groups and ask questions about the trail.
You'll usually get an astounding number of responses from different people who have experienced the trail.
It is beneficial when trying to research your hiking trail.
Just remember what I said before, Facebook and other social media aren't always going to show you the big picture of what the trail will be like.
Use social media for sure but don't entirely rely on it.
Tips to Research Your Hiking Trail
Tips are a good thing when trying to research your hiking trail.
Luckily, I've researched enough to set you in the right direction.
Let's examine the best ways to research the trail!
Start With: How Much Time Do You Have?
This, to me, is one of the biggest tips for researching hiking trails.
How much time do you have to hike?
Where I live, we have long summer but shorter winter days in southern Illinois. That's due to daylight savings time.
So, in the summer, it'll stay light out until almost 9:00 PM, but it gets dark at around 6:45 PM in the winter.
So, you gotta ask yourself how much time you have to be hiking a trail!
If you're brand new to hiking and choose a long, rugged trail in an hour where it gets dark quicker, you might set yourself up for a negative outcome.
The trail is a lot harder to navigate during the night. It is a lot easier to get turned around and completely lost.
Make sure you have enough time to complete your hike.
As I mentioned above, consider the distance of the hiking trail.
I'll occasionally not get in a hike until the early evening hours. I typically choose a local nature preserve trail about one mile in length. This way, I get back to the trailhead before it gets too dark.
If I start at dawn, even during the winter, I could hike a 10 or 15-mile trail and get back in time before it gets too dark.
Distance also plays into your physical abilities to hike. I can walk fast on the trail if I want to get somewhere at a specific time.
If I had to, I could trail run as I tend to do that activity for exercise here and there. Not everyone can hike fast or run.
There are definitely techniques for stepping and moving on terrain as uneven as a hiking trail.
If you're new to hiking, a longer trail might be much work, especially if you need to speed things up before it gets too dark.
Choose Your Scenery and Views
Not every hiking trail will be as good as the last one.
People have different tastes in what they want to see on a trail.
I love it all! I enjoy hiking on a trail full of ancient sandstone bluffs and rock formations. But I also want a walk in the woods with no unique features along the way.
Not everyone feels the same way I do. If nothing is interesting to see, it could be boring for some.
You should ask yourself what you want to see when you research your hiking trail to ensure you go somewhere with the features you're looking for.
And with all the resources listed above, gaining that information is relatively simple.
Don't Forget Group Dynamics
As I mentioned above, hiking with a group is a good idea because people like you surround you, and the leader usually knows what they're doing.
But group hiking is different from an average solo hike.
There are different dynamics to it.
For starters, those who hike with a group are expected to stick with the group.
You can't assume you can wander away from the group and expect them to stop and wait for you.
If you feel you're falling behind in a group, you should move close to the front to an area where you can keep your pace up or help set the overall pace of the group.
Beginners shouldn't be in the back!
Consider the Time of Year and Trail Conditions
The time of the year and trail conditions are essential to note.
As mentioned above, daylight hours are essential for hiking trail research.
But there are other essential elements, too!
One is the seasonal conditions that come with the trail.
During heavy rainfall, for example, in my area, many horse/hiker shared trails are extremely muddy and difficult to manage on foot or even on a horse.
It might be too slick to hike a trail in the winter, especially if you have to get on high rocky edges.
Read: Hiking in Rain
You should know that the leading cause of fatalities while hiking is falling. People fall every year and die as a result of their falls.
Always put hiking safety first.
Different seasons are going to give other conditions.
The same goes for wildlife. Sometimes of the year might mean brown bears are feeding before hibernation.
Read: Bear Safety Tips
Or snakes are mating before they bromate. Different conditions result in various challenges.
Trail Difficulty Rating and Elevation Gain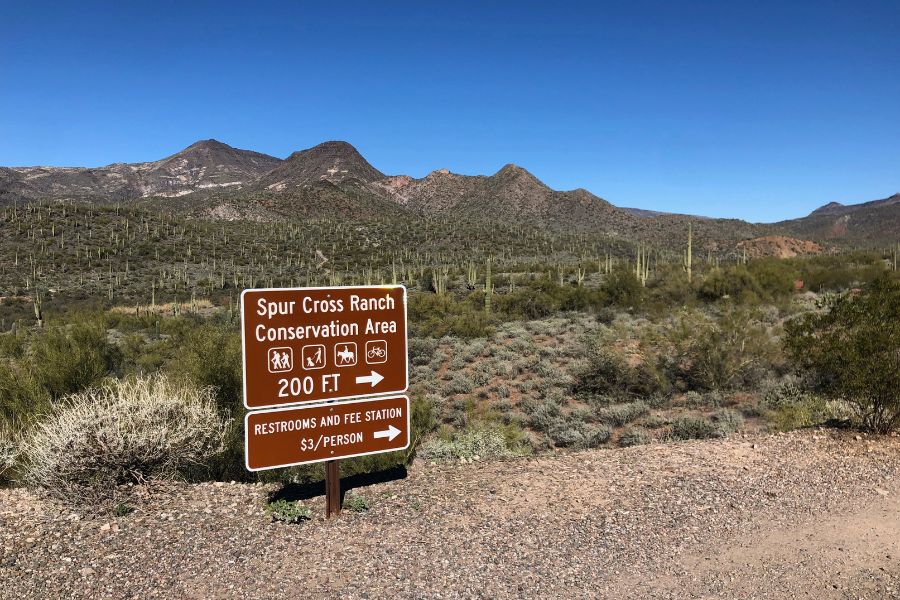 When you research your hiking trail, especially if you're new to hiking, try to focus on the trail's difficulty rating and elevation gain.
An easy rating is going to be an easy hike.
That is usually nature preserves, city parks, and many trails in state and national parks.
But a moderately difficult to rugged trail will be more challenging and may include switch-backing, uneven terrain, and even creek crossings with water.
You should always choose the trail conditions that you can physically cope with. If you hike a trail for the first time, stick to easier trails and gradually move up to the harder ones.
Elevation gain is another important factor that many people mistakenly overlook.
I learned elevation gain the hard way. In my part of Illinois, we have tiny mountains, which most may consider bigger hills.
There is one called Eagle Mountain. My girlfriend and I were hiking and lost the trail. It was getting late. This was before I understood maps and elevation the correct way.
I just never really took the time to research. So, I got on my app where I had marked where I parked my truck.
I told my girlfriend that if we just went straight in one direction, we'll get to my vehicle.
We did just that and, in the process, gained about 10,000 feet of elevation from rugged rolling hills and ridgelines.
It was the most challenging hike I've ever done.
It's what made me get a better understanding of elevation gain.
I know now that a trail with 750 feet or more of elevation gain is going to mean there are hilly conditions present.
I see a trail with 150 feet of elevation will be pretty easy.
Make sure you teach yourself about elevation gain. It will save you many breaths at the end of the day!
How Will You Get to the Trail and Back?
Not all drives to the trail will be the same. And not all trails end at the start of the hike.
Knowing information about arriving at a trailhead is essential.
Many of our trailheads in the Shawnee National Forest are along poorly maintained forest service roads.
The US Forest Service budgets continue to diminish, and many roads are not maintained like they used to be.
There are many trails I drive to that only my 4×4 truck can make, especially if the road is wet and muddy. An average car would get stuck quickly.
It is also essential to know what type of trail you're hiking.
Most of us like loop trails because you start and finish at the same place.
But there are many trails out there that are out-and-back trails.
That means you start at one point and then end at another, only to have to turn around and retrace your steps back to where you started.
Taking a longer out-and-back trail needs to be considered with the walk back.
Factors to Consider When Searching for a Hiking Trail
Hiking trails come in all lengths, types, and shared use.
Knowing all the factors needed in choosing the best trail for your hiking needs is essential.
Let's take a look at some of the most critical factors.
Distance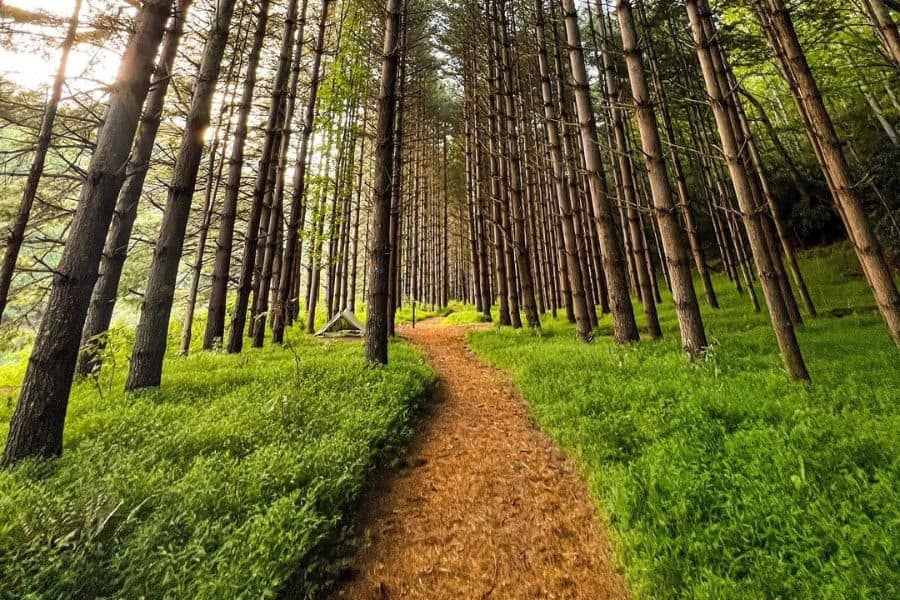 The distance of a hiking trail matters for your planning efforts.
You need to understand how long the trail is and how long it will take for you to hike it.
In hiking, as a general rule, it's better to choose a shorter trail than a longer trail for general day-use hiking.
The longer the trail is, the longer it will take to hike.
Terrain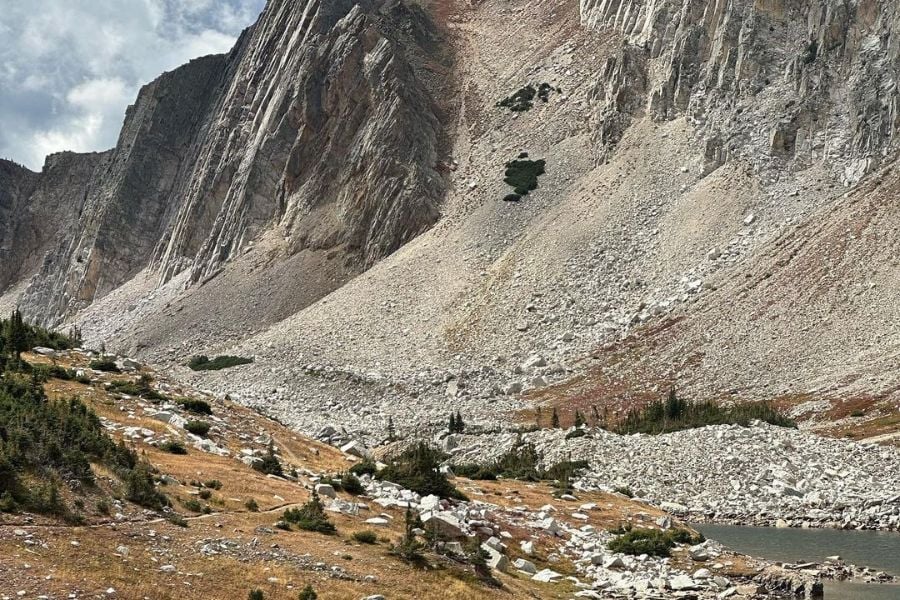 Different trails are going to have different terrains.
Most trails will have dirt terrain, but some park trails may be paved or made up of flagstone.
But more challenging trails may be rocky and filled with tree roots, creek crossings, and even mountain trails.
The rougher the terrain is, the more difficult the hike will be.
Elevation Gain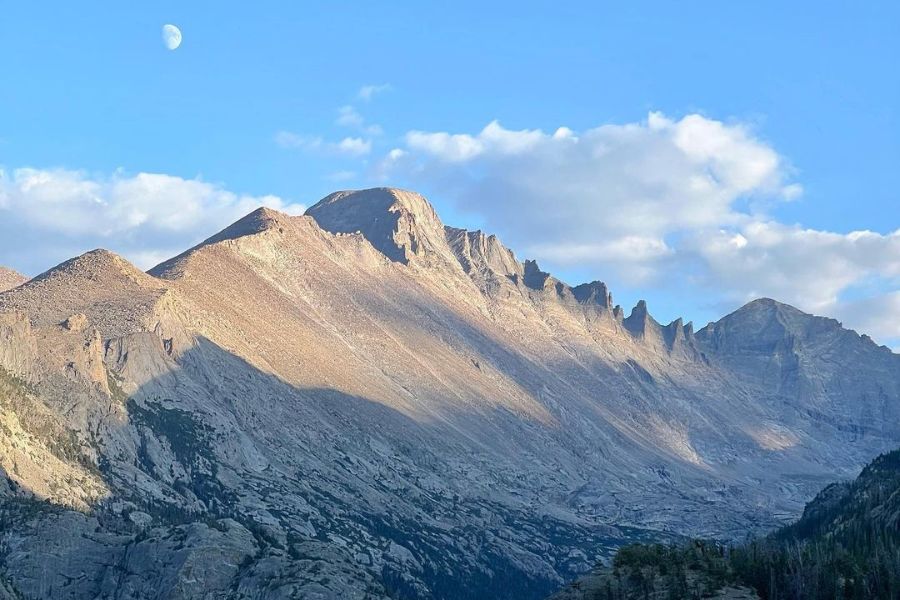 As previously mentioned, don't learn the hard way about elevation gain like I did.
It wasn't fun to do over 10,000 feet of elevation. I was sore for a long time.
If you're new or out of shape, go for lower elevation ratings. Keep it under 300 feet and then gradually move up.
Choosing the highest elevation from the start of your hiking career may be what makes you hate hiking. Hiking should never be hard to do and hated.
Time of Year
Understanding the trail conditions for the time of the year is essential.
You need to know what temperature and weather conditions will do to the trail and your safety on using the trail.
It's also important to know what wildlife will also be present on the trail, especially the type that could harm you if you interact with them.
The seasons also bring about different timing. It gets darker earlier in the day for most of us around wintertime.
Popularity
Popularity is a big thing!
You might be hiking a trail that over a hundred people use daily.
That means you'll encounter many people and may have to wait to see things or get that perfect picture.
But an isolated trail with no one on it isn't always best.
If something happens to you and you need help, a lonely trail may be bad. Regardless of the popularity, always tell someone exactly where you are going.
And with popular trails, remember that the managing agency may close them for more than capacity allows.
Always have a plan B and a plan C when hiking.
And lastly, know what users are using the trail.
Are you sharing it with mountain bikers? How about horseback riders? Who gets to use the trail, and how do you show etiquette to other user groups?
Ease of Navigation
Another critical factor is how easy the trail is to follow and navigate.
Popular trails will be used so much that losing the trail will be next to impossible.
Unpopular trails may have areas where the trail is grown up or poorly marked.
It is always good to understand what trail blazes are present and how to follow them.
Frequently Asked Questions
Let's look at some frequently asked questions about researching a trail.
Can Google Maps Track Trails?
You can use Google Maps for trail tracking, but the basic features.
For example, here in southern Illinois, Google Maps shows where trailheads are and even the trail route but only for the most popular trails like Garden of the Gods and Little Grand Canyon.
But it will not show other trails that are not as popular.
I mainly use Google Maps to see the satellite overview to note something I'll see to help me reach the trailhead.
I don't use it to track trails.
How Do I Map a Trail on Google Earth?
Google Earth might be a helpful way to help map trails for hiking.
You can use the new path and polygon features to help create your route. I would see myself doing that for winter hikes.
During the winter, I like to explore bluff lines. These typically have no trails, so the adventure is off the beaten path.
If I can draw out a map, it is easier to navigate.
If you have a GPS track file, you can also include that in Earth and Maps to help map a hiking trail.
Best of all, there is a big community online for using Maps and Earth for outdoor recreation.
Many people already have files and map programs that they share for free.
Is there an App to Track Your Hike?
There are many apps available for tracking your hike. There are also dedicated GPS units for this feature to note.
A dedicated GPS lets you load maps and trails into the unit to help keep you on the trail and track your hike.
You can also use apps. I use Strava for all my hiking, biking, and kayaking tracking needs. It feeds from my activity watch.
I record my activities to keep track of them and share them with my community.
To get the best features, I pay for the premium Strava.
There are also plenty of free ones like Avenza and Gaia, but they also offer premium features.
Most activity watches and smartphones also come with health and fitness tracking features.
Is Google Maps Good for Hiking?
Google Maps may have features you can use for hiking, but I would generally not use it for actual trail usage.
Google Maps doesn't show everything by default. It doesn't show property boundaries, for example.
It doesn't show every trail out there. Its topography features are fundamental. But most of all, it usually requires a good internet signal to load in real time.
I don't know about you, but most places I hike have no internet or cell phone reception. Google Maps doesn't work where the internet doesn't exist.
I don't recommend using Google Maps for hiking.
Summing It Up!
And that sums it up! You've learned almost everything you need to know about how to research your hiking trail.
You'll learn a little more about it through experience on the trail.
But if you use the information above, it will make it a lot easier.
More on Hiking