In case you're short on time, our top pick is the Browning Big Horn Cabin Tent.
There's nothing more annoying than going camping, waking up in the middle of the night, and bumping your head on the ceiling. You shake the whole tent, startling the entire group, and disrupting everyone's sleep.
Wouldn't it be nice if you could have a tent that was so tall, that even LeBron James could walk around in it?
In this article, I'll review the best cabin tents – compared to a dome tent, cabin tents give you unparalleled vertical space to walk around in.
These tents are great for camping with large groups. Here are the best cabin tents on the market today:
Best Cabin Tents:
Read more on how we test and review tents here.
Best Cabin Tents: Our Top Picks
Browning Big Horn Cabin Tent

Tent Sizes: 5 & 8 person | Seasons: 3-season | Weight: 34.6 lbs | Inside Height: 87 in | Floor: 10 x 15 ft (150 sq ft) | Setup Time: 15 mins
First up is the Browning Big Horn cabin tent. You might know Browning for their hunting rifles, but did you know they also make amazing tents?
Browning's Big Horn tent is a great option for those looking for a family cabin tent.
Available in one-room (5 person) and two-room (8 person) models, the Big Horn is a tent that's easy to set up but hard to beat up. It's got steel upright poles, giving it ultimate strength and stability in the wind.
I recommend the two-room model for its size and supreme space. It comes with a room divider, so you can get some quiet time away from the kids. Or, have a separate room for changing clothes.
On top of that, this tent is big. There's 10' by 15' of floor space, and it has an epic 7'3" center height. That beats any tent here!
Even though it's a large camping tent, you won't have to worry about traffic jams thanks to its two doors.
It's also got great breathability thanks to the four windows built-in.
Plus, it's super easy to carry. For a tent of this size, it's pretty light, weighing in at only 34 lbs.
Pros:
One of the lightest two-room tents you can buy
Spacious tent with supreme height so anyone can walk around inside
No shortage of room, storage pockets, doors or windows
Great weather protection thanks to factory-sealed seams, a durable rain fly, and quality materials
Full mesh ceiling and removable rain fly allow the whole family to stargaze at night
Cons:
The tent floor might be too thin for rough terrain – we recommended putting a tarp underneath
Not as affordable as some other tents of a similar size
Best for: large groups looking for an extra-large camping tent that will last for a long time.
White Duck 10' x 14′ Prota Deluxe Canvas Tent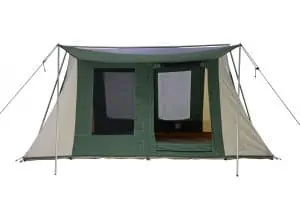 Tent Sizes: 4 & 8 person | Seasons: 4-Season | Weight: 94 lbs | Inside Height: 78 in | Floor: 10 x 14 (140 sq ft) | Setup Time: 20 mins
Made with 10.10 oz. Army Duck Cotton Canvas, the Prota 10′ x 14′ Cabin Tent weighs 94 lbs, but makes up for it in durability with YKK Zippers and a high-density groundsheet tub make sure this tent lasts.
Canvas tents have a lifespan of decades longer than polyester tents.
This Prota Deluxe gives you 140 square feet of interior space, with a huge exterior awning, and a peak inside height of 78 inches.
Next is the roof construction, which uses a thick 12-oz silver-coated sunblock canvas to help reflect UV rays. If you live somewhere with excruciating heat like Arizona, this tent could be a good fit.
This White Duck Canvas Tent also has windows on every side. That'll give you a little more ventilation and viewing capacity than the other tents, but it isn't totally necessary.
Read: White Duck Prota Deluxe Full Review
Pros:
Similar design to the standard canvas-style tents, with small differentiators
A quality canvas tent at a reasonable price that doesn't skimp on quality
Windows on all four sides mean gives you improved ventilation and panorama views
The heavy-weight ceiling is coated with silver to protect you from UV rays and keep you cool
YKK zippers, 100% duck canvas, and a high-density groundsheet tub make sure this tent lasts
Cons:
Much pricier than a standard 8-person tent
Best for: Families looking for a durable tent that will last for decades.
Check Price at White Duck Outdoors
CORE Equipment 9-Person Instant Cabin Tent
Tent Size: 9 person | Seasons: 3-season | Weight: 27.62 lbs | Inside Height: 78 in | Floor: 14 x 9 ft (126 sq ft) | Setup Time: 2 mins
Our pick for the best large cabin and instant tent is the Core Equipment 9-person instant cabin tent. It's got a lot of features and a ton of space, all at an affordable price.
When it comes to size, this tent is a great option for groups of six or seven people. It's sized for 9, but we all know that means 9 children, not adults.
The 9-person model can fit two queen size air beds and has a room divider for added privacy between the two.
Even though this tent is extra-large, setup is not extra-hard. As an instant tent, the poles come pre-attached, meaning setup takes 60 seconds (or less).
To keep you cool at night, this tent has an adjustable ground vent along the edge of the floor. The fact that they're fully adjustable means you can close them up in the winter months to stay warm.
Core also provides different configurations to suit everyone's needs. This tent is available in green and wine (burgundy) colors, and there's a 9 and 12-person model.
Although I recommend the 9-person tent, the 12-person is a great choice if you have an extra-large group that wants a tent with extra room and extra doors.
Another thing I love about this tent is the front door. Unlike other tents, this one uses a large T-style door which opens up on both sides. This allows you to inflate a queen-size air mattress outside the tent, then conveniently move it inside.
Other features I like include the factory-sealed seams and velcro ports for electrical cord access.
Pros:
6'6" center height allows anyone to walk around inside
Large T-style front door means moving gear into the tent is no issue
Bottom air vents keep the whole group cool at night
Instant setup takes 60 seconds, giving you more time for rest & relaxation
Strong wind protection thanks to steel uprights
Reasonably priced – not too expensive, but doesn't skimp out on quality
Cons:
If using the room divider, the backroom doesn't have a door, which can make night-time bathroom breaks a challenge
Best for: large groups that want an easy-to-use tent with tons of space.
REI Co-op Skyward Tent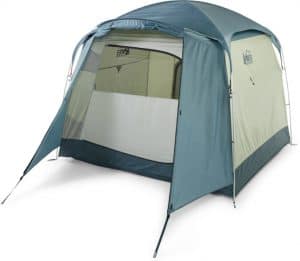 Tent Sizes: 4 & 6 person | Seasons: 3-season | Weight 13 lbs 11 oz| Inside Height: 78″ | Floor: 100 x 87 in (60 sq ft) | Setup Time: 8 mins
The brand new for 2022, the REI Co-op Skyward Tent doesn't disappoint!
The 4-person version is fairly roomy – with 60 square feet of floor space and vertical walls 78 inches high (even taller than the Grand Hut was at 75″), this tent is perfect for taller people.
This tent is ideal for people seeking a more luxurious cabin tent shelter. However, despite its size, it's still easy to set up and take down.
But it's not just a big tent – it's also very well designed. It has several vents that provide excellent airflow, mesh panels that provide a great view of the sky, and two doors – each with its own big vestibule.
A flaw with the Grand Hut, was that it only came with 8 tent stakes and not the standard 10 you would need to completely secure the tent. That issue is now completely resolved with the Skyward, though we still recommend that you invest in additional quality tent stakes. This is always a good idea anyway, since the ones that come with tents usually aren't as good.
Pros:
78″ Vertical walls allow for easy movement inside the tent, especially for taller people
Mesh panels protect you from bugs and provide a great view
Easy setup – it can be up and ready in less than 8 minutes
Nice windows on each side of the tent to allow for cross ventilation and nature viewing
Great airflow (even with the rain fly on)
Cons:
Not suited for cold weather camping
On the pricier side, compared to some quality 4-person tents
Best for: taller campers looking for a spacious and breathable 3-season tent.
OT QOMOTOP Instant Tent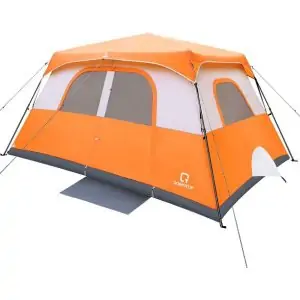 Tent Size: 10 person | Seasons: 3-season | Weight: 18.4 lbs | Inside Height: 76 in | Floor: 14 x 10 (140 sq ft) | Setup Time: 2 mins
This tent from Qomotop is a great spring tent. It has a mesh window on each side, as well as a mesh roof and a ground vent along the bottom edges, so there's plenty of airflow.
Even though this tent is big, the instant design allows you to set it up in under one minute – without any help from your camping friends.
In case of bad weather, you can put the rain fly on. Otherwise, you can enjoy stargazing from the comfort of your sleeping bag.
Both the rain fly and tent seams feature PU taping, which prevents leakage through the needle holes. It also features a PE tube floor with welded corners, so there's no way that water can get inside.
This tent has some nice extra features. The top storage bag can hold a tablet so you can watch a movie while laying on your air mattress.
There's also an electrical port cord that can be fully closed when not in use.
Finally, the tent has a room divider for extra privacy.
Pros:
Since it has a mesh roof, ground vents and several windows, there's plenty of airflow
Taped seams and welded corners prevent water from leaking
Color coding on the rain fly allows you to quickly set the rain fly in case of unexpected rain
Top storage bag and side pockets can hold all the things you need close at hand
It has a doormat where you can place your muddy shoes
Cons:
Thin fabric makes this tent unsuitable for winter
Best for: campers looking for a fast pitching family camping tent.
CORE 6 Person Instant Cabin Tent
Tent Size: 6 person | Seasons: 3-season | Weight: 23 lbs | Inside Height: 72 in | Floor: 11 x 9 ft (99 sq ft) | Setup Time: 2 mins
Like some of the other tents we've mentioned so far, this CORE tent is a cabin tent.
That means it has vertical walls which allow easier movement and greater comfort inside the tent. However, it's also an instant tent – which means its setup is quick and easy – hence the name instant.
What sets this tent apart is its ventilation – thanks to multiple windows and floor vents, you should have good airflow throughout your camping trip.
However, the difference between the other CORE tents on this list, is that this tent is made for smaller groups of 4 or less.
This 6-person tent says it can fit 2 queen-sized airbeds, but I found it's quite the squeeze to fit both of them inside. You certainly CAN do it, but it's going to be a bit tight.
Read our CORE 6 Person Instant Cabin Tent Review here.
Pros:
2 minute set up and take down in fair weather conditions
The expandable carrying case makes it easy to pack the tent after taking it down
Great ventilation thanks to windows on both sides and the front door
The back wall comes with a big storage area where you can hang your gear
Inexpensive cabin tent for beginner buyers
Cons:
The door zipper can get caught in the flaps running along the door
Best for: people who want a roomy cabin tent with great ventilation at a reasonable price.
SpringBar Highline 6-Person Canvas Tent
Tent Size: 6 person | Seasons: 4-season | Weight: 76 lbs | Inside Height: 78 in | Floor: 10 x 10 ft (100 sq ft) | Setup Time: 15 mins
If the Coleman or Core tents aren't for you, you might want to check out a canvas tent. Canvas tents are pricier than most nylon or polyester tents, but they'll definitely out-live and out-perform them.
When it comes to canvas tents, my favorite is the SpringBar Highline 6-person cabin tent. SpringBar has been making canvas tents since 1961, so they know a thing or two about how to make quality camping gear.
The big benefit of canvas tents is that the material is 100% more breathable and durable than nylon or polyester.
Canvas is much heavier than polyester, so you won't be backpacking with this tent. But for car camping, the SpringBar is bar-none.
Setting up your SpringBar tent might be a challenge if you're used to polyester tents with the usual poles and guy lines. Thankfully, SpringBar's instructions that come with the tent are crystal clear. After one pitch you'll have the setup mastered.
As a cabin tent, the SpringBar provides tons of upright space (6'6" at the center) and horizontal space (10' by 10'). It also comes with an awning that can be used to extend your tent with a little porch.
Pros:
Extreme breathability and superior shade make this tent great for summer
Thick material means this is the best tent for fighting snowfall
100% cotton duck canvas combined with SpringBar's lifetime warranty create a truly indestructible tent
Big doors and adjustable awning give this tent multiple setup options to suit your mood
Large screened windows that are great for ventilation and viewing nature
Cons:
Heavy – definitely not for backpacking
Larger upfront investment – but will pay off over time
Best for: car campers who want a durable, breathable tent that will last for decades.
Check Price Direct from Springbar
Coleman Weathermaster Tent
Tent Size: 6 person | Seasons: 3-season | Weight: 32 lbs | Inside Height: 80 in | Floor: 11 x 9 ft (99 sq ft) | Setup Time: 20 mins
While being tall has its perks, sleeping in a normal-sized tent isn't one of them. It feels like anybody that's slightly taller than average is being forgotten by tent manufacturers.
That's why when I heard the measurements of this Coleman tent, my jaw nearly hit the floor.
With a peak height of 80 inches (yes, 80 – or 6 ft. 8 inches) this tent has got to be the best Christmas gift anybody taller than 6 feet could receive. Add to that 99 sq. ft. of floor space (153 sq. ft. with the screen room) and you get a veritable camping palace.
Tired of messing with zippers? Then you're going to love its hinged door – you can just walk right in hassle-free.
Lastly, it's seriously affordable. Coleman always provides great bang for the buck, and this tent is no exception.
Pros:
Remarkably affordable for a six-person tent
A staggering 6-foot 8-inch height means even the tallest people can freely move around
A waterproof bathtub floor means you can skip buying a footprint
The screen room can act as either an additional sleeping room or extra storage space
It comes with fiberglass poles, which are durable and corrosion-resistant
Cons:
At 32 lbs, it's pretty heavy – even for a car camping tent
You might have to additionally waterproof this tent
Best for: tall people and families looking for a lot of room.
Coleman Tenaya Lake Cabin Tent With Closet
Tent Size: 8 person | Seasons: 3-season | Weight: 33.8 lbs | Inside Height: 80 in | Floor: 13 x 9 ft (117 sq ft) | Setup Time: 10 mins
Maybe the canvas tents are too pricey for your tastes. In that case, the Coleman Tenaya Lake tent is another great family tent. This is an 8-person tent and competes with the Core 9-person I mentioned earlier.
This tent is more affordable than the Core but offers a similar amount of space.
The only knock is I found the Core to have better weather protection than this Coleman cabin tent does.
Despite that, this is a seriously large tent that provides a great camping experience for families and groups alike. As an 8-person tent, it fits 2 queen-size airbeds, or one queen and two twins (for the families out there).
Not only is it large, but it's built with you in mind. This tent comes with 6'8" of center height, a hinged door (so you can enter and exit with ease), and a built-in closet.
Yes, a built-in closet.
This is one of the only tents I've ever seen that comes with a closet. If keeping your clothes and gear organized is a priority for you, definitely check out this tent.
On top of that, it comes with all the Coleman features I've come to love. You get WeatherTec inverted seams, FastPitch setup, and a weather-resistant zipper cuff. This last bit makes sure your zippers don't leak water.
Pros:
Color-coded tent poles & hubs for fast setup (should take less than 10 minutes)
Included roller bag makes transporting this large tent (41 lbs) a breeze
Built-in closet to store your clothes in keeps your tent tidy & free of clutter
Considering all the features, this is a stellar price for a quality Coleman tent
Electrical port and hinged doors make this tent convenient for the whole family
Cons:
The front door has 3 sets of zippers (D shape, mesh window, open door) which can be confusing
As a large family cabin tent, packing it up and stuffing it in the bag might be challenging
Best for: families that want an easy-to-use tent with lots of organization and space for every family camping trip.
Check Price at Dick's Sporting Goods
Eureka Copper Canyon LX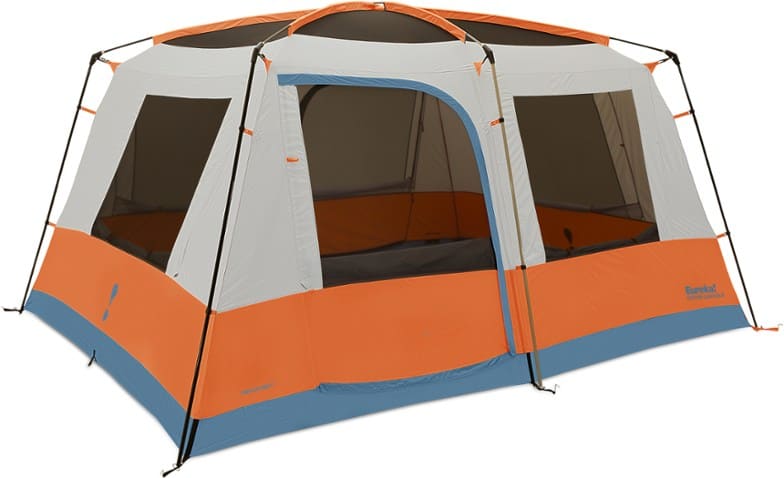 Tent Sizes: 4 to 12 person | Seasons: 3-season | Weight: 34 lbs 15 oz | Inside Height: 84 in | Floor: 156 x 120 in (130 sq ft) | Setup Time: 20 mins
This freestanding cabin tent from Eureka boasts a huge 130 sqft. space, with a peak height of 84 inches. Not quite as roomy as the Browning Big Horn, but pretty damn close.
If you'd rather have 2 smaller rooms, you can. This tent comes with a divider curtain that you can put up to divide the space however you like.
The walls are nearly vertical, which means the space inside is open, so you won't be feeling claustrophobic.
Aside from being spacious, this tent is also super tough. The entire tent is made of 75-denier 190T polyester taffeta, so you'll have nothing to worry about if a storm hits.
Large mesh windows provide great ventilation. Things can get stuffy with a lot of people sharing a tent. Not in the Copper Canyon LX, though.
Pros:
Very roomy, with 130 sqft. of floor space and an 84″ high ceiling
Divider curtain lets you create 2 smaller rooms
Near vertical walls mean you can walk around inside without hunching over
Great ventilation thanks to large mesh windows
Made of durable polyester taffeta, providing excellent water resistance
Cons:
Doesn't feature a vestibule
Best for: campers looking for a spacious family tent that will hold up well in the rain.
Wenzel 8 Person Klondike Tent
Tent Size: 8 person | Seasons: 2-season | Weight: 26 lbs | Inside Height: 78 in | Floor: 16 x 11 ft (98 sq ft) | Setup Time: 15 mins
If you are looking for a tent with a screen room, then this tent is for you!
The Wenzel Klondike Tent is roomy – the inner room is 98 sqft. and the screen room has more than 60 sqft of extra space. The inner room also has a 6'5'' high ceiling, so you can easily stand upright in the tent.
The screen room can be zipped up to act as a second room. If the weather is good, it can serve as a porch, and its mesh walls will allow you to enjoy the view without getting any bugs in your tent.
Pros:
Quick setup time of under 15 minutes with two people
Sealed seams and a bathtub floor will prevent rain from getting inside your tent
Roomy – rooms are 98 sqft. and 60 sqft. with 6'5'' of headroom
Mesh windows keep the bugs out and provide good ventilation
Pretty affordable given its size and features
Cons:
The screen room has a ceiling that is 6 to 8 inches lower than the interior room, which means you won't be as comfortable moving around
Best for: campers who want a tent with a screen room to relax in.
CORE 10-Person Cabin Tent

Tent Size: 10 person | Seasons: 3-season | Weight: 31.61 lbs | Inside Height: 86 in | Floor: 14 x 10 ft (140 sq ft) | Setup Time: 20 mins
If being able to move around freely in your tent is important to you, you'll want to know about the CORE 10 person instant cabin tent.
This tent gives you an incredible 7'2'' of ceiling height. This means that even professional basketball players can walk around comfortably inside this tent. That's not all, though. This tent also boasts a whopping 140 square feet of floor space.
For those who value privacy, Core provides a room divider. Combine that with the two doors on both sides, and getting around in the tent is a piece of cake.
Sealed seams and water-resistant fabrics will ensure that not a single drop of water ends up in your tent, even during heavy rains.
Pros:
At 140 sq ft. it is incredibly spacious
7'2'' center height and straight sidewalls make it easy to walk around in the tent
Comes with a room divider for extra privacy
Adjustable ground vents and mesh ceiling provide great ventilation
Strong wind resistance – up to 30 mph
This is an instant cabin tent, which means you can set it up in less than 2 minutes
Cons:
The floor is not that durable, so it's wise to put a tarp beneath your tent
Best for: people who want a huge instant tent that can be up in less than 2 minutes.
CORE 12-Person Instant Cabin Tent

Tent Size: 12 person | Seasons: 3-season | Weight: 47.8 lbs | Inside Height: 80 in | Floor: 18 x 10 ft (180 sq ft) | Setup Time: 2 mins
CORE makes superb tents, and their 12-person Instant Cabin is no exception!
This tent sets up in under five minutes, making it an excellent choice for a quick camping trip – or a beginner one.
It measures 18' x 10' on the inside and comes with all of the poles pre-attached so there's no need to fumble with mechanics to get it set up. Oh, and it's also prime for taller people, which is great if you've ever had to spend a camping trip in a tent where you keep hitting your head.
If you're looking for a quick-camping tent that fits as many as twelve people (or gives smaller groups a ton of space) but isn't a nightmare to set up, then go for CORE.
Pros:
Comes with room dividers so you can split it up into at least three separate rooms for privacy
It stands up well in winter conditions, thanks to superior design and anchoring
This tent promises a quick and instant setup and definitely delivers
High center height (80 inches) and fits three queen-size airbeds
Electrical ports and ground ventilation make this a tent that suits everyone
Cons:
Be careful with the poles. Pre-installed poles mean that you don't want to drop it on your toes.
Best for: families that want a quick-pitch tent at an affordable price that fit a ton of people.
ALPS Mountaineering Camp Creek 6 Person Tent

Tent Size: 6 Person | Seasons: 3-Season | Weight: 27 lbs | Inside Height: 84″ | Floor: 10 x 10 ft (100 sq ft) | Setup Time: 15 mins
ALPS is a brand that's famous for quality, affordable tents, and this one is no exception.
With 100 square feet of space, a height of 7 feet, and a weight of 23 pounds, this waterproof tent has a great ratio of size, price, and quality.
On the negative side, the floor is pretty thin, so we recommend buying a tarp to avoid ripping the floor.
Pros:
Windows are screened, allowing you to have privacy inside your tent
Waterproof – even during long, heavy rainstorms
The tent can easily be put together by a single person
100 sq. ft. of space gives you a lot of room to move around
Cons:
The floor is thin, so buying a tarp is advised
It only has one door, so you can only enter and exit the tent from one side
Best for: people who want a solid, large summer tent.
TETON Sports Mesa 10′ 6 Person Canvas Tent
Tent Sizes: 6 & 8 Person | Seasons: 4-season | Weight: 71 lbs | Inside Height: 78″ | Floor: 10 x 10 ft (100 sq ft) | Setup Time: 10 mins
The TETON Sports Mesa 10′ is the epitome of durable. With it's 100 square feet of floor size makes it a formidable competitor in your hunt for a 6-person tent. With the peak height of 78 inches (or 6.5 feet) means almost anyone can move around the tent with ease.
Add to that the fact it can be easily pitched within 5-10 minutes and that it's 100% waterproof, and you have one of the best canvas tents out there.
Now, no product is without its flaws. Like all canvas tents, this tent is not for people on a budget. You're are going to have to pay a pretty penny to get TETON Mesa. On the plus side, you can safely expect to hand this tent over to your grandchildren, so in the long run, it will probably end up cheaper than most nylon tents.
Pros:
100 square feet of floor space means you and your family will have plenty of room
Easy setup – most people can get it up and ready in less than 5 minutes
Comes with two extra-large doors that make movement easy peasy
100% cotton means it will keep you dry even during the worst thunderstorms
78 inches of peak height means even tall people can comfortably use this tent
Cons:
No way around it – this is not a cheap product. You pay a premium price, but get premium quality
Tent stakes are of lower quality – you might want to pay a few bucks to get better ones
Best for: campers who are willing to invest a bit more for the durability of a great canvas tent with an easy setup.
Check Price on Sportsman's Warehouse
Cabin Tents – Ranked
What To Look For In A Cabin Tent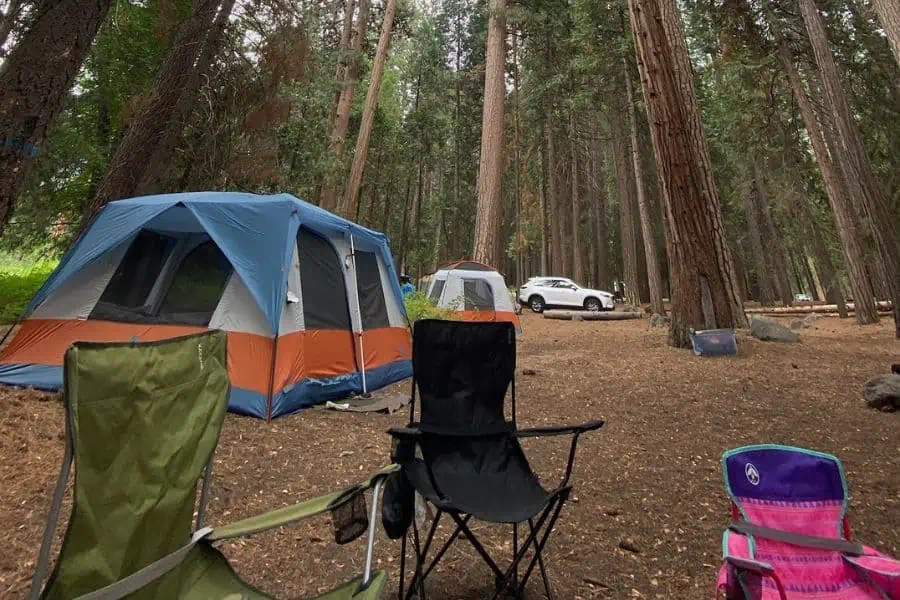 Now that you've seen my top picks, it's time for me to show you what to look for in a cabin style tent.
Picking a cabin tent is quite different than shopping for a backpacking tent. Since cabin tents are heavier than their dome tent counterparts, most people who want a cabin tent are car campers, not backpackers. That means you've got completely different priorities to the person searching for an ultralight backpacking tent.
So, here's what to keep your eye on:
Size & Comfort
Setup & Ease of Use
Quality & Durability
Weather Resistance
Price & Value
Additional Features
Size & Comfort
First and foremost, picking the right tent size is absolutely paramount. Which tent size you choose depends on how many people you plan to camp with, how much gear you're taking, and how much personal space you want.
Most tents are pretty liberal when it comes to sizing. For example, an "8-person" tent can realistically 4 to 6 adults depending on the tent.
The best way to check the real sizing is to see how many beds you can fit inside. If the tent says 8-person, but only fits two queen-size beds, will you really be able to fit 8 people on two queen-size beds? Probably not. Look at how many beds it fits to accurately size your tent.
You also want to consider the center ceiling height. Depending on how tall you and your gang are, you might want to splurge and get a tent with a taller center height. Either way, cabin tents are all pretty walkable, so that shouldn't be an issue for most people.
As you can see the Browning Big Horn Cabin Tent is by far and away the most spacious and comfortable of all of the cabin tents. But cabin tents in general crush the competition when it comes to their size and straight-wall construction.
That means that no matter what cabin tent you choose, you'll be sleeping in comfort and have plenty of space. Even the smallest of the options on this list come in at 72 inches in height!
Setup & Ease of Use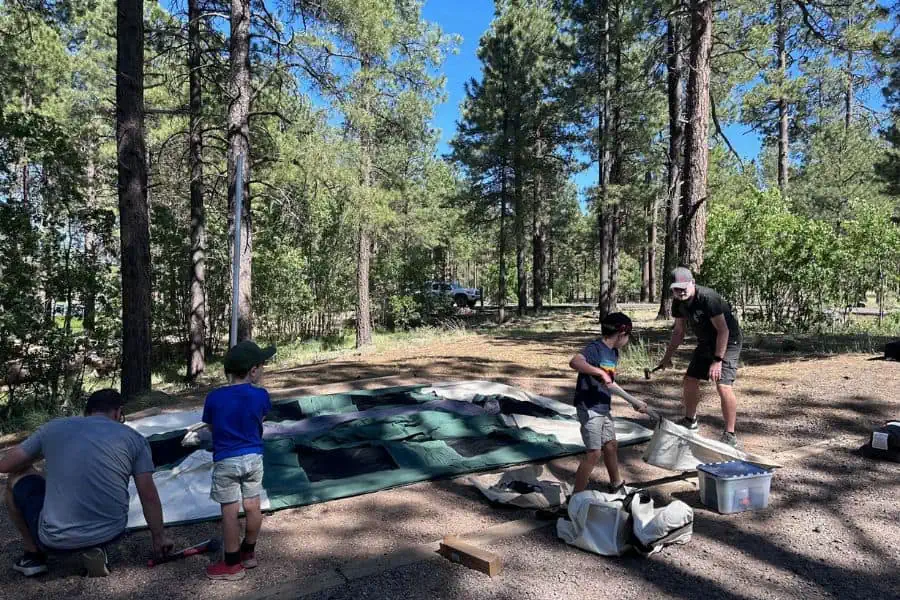 When it comes to tents, ease of setup is always important. When it comes to large cabin tents, setup is even more important.
These tents can be big – really big – and you don't want to lose precious outdoor time fiddling with poles and struggling with setup.
That's why we prefer tents that are either quick-pitch or instant-pitch. This means the tent manufacturer went out of their way to make setup easy. Either by pre-attaching the poles, or keeping the frame as one piece, quick-pitch designs are well worth upgrading to.
Lucky for you, many cabin tents are also instant tents and can therefore be set up quickly. Here are setup times, ease of use scores, and weight:
This is where Core Equipment shines. Not only do they create great cabin tents, but they are all instant tents and can be put up in under 2 minutes.
Canvas tents typically are heavier and harder to set up, but provide additional benefits we'll talk about below.
Quality & Durability
When it comes to cabin tents, quality construction is crucial.
Since these tents are so large, there's a lot of surface area that can be damaged by the elements. You don't want your camping trip ruined by a small tear that drips water onto someone all night.
Take a look at the quality of the fabric, and make sure that it's strong enough for the expected weather.
Many tents utilize a combination of the same polyester or nylon materials, but their construction can be just as important.
Also, consider the material of the poles. Steel and aluminum are stronger than fiberglass poles but will weigh more and cost more.
Above all, check out the reviews to make sure the tent holds up in real life. Even the best-designed tents have issues sometimes. Here is how we rate these tents on all of these factors:
While most tents have some sort of Limited warranty, many have Lifetime Limited Warranty's, but REI for instance, only has a 90-day return policy and warrants only that the product is free from defects at the time of sale.
The big winner in quality and durability scores are the canvas tents.
The SpringBar Highline 6-Person Canvas Tent is extremely durable coming in with a top score of 10. Meanwhile, the TETON Sports Mesa Canvas Tent and White Duck tents all score 9's. You can't go wrong with these tents.
Weather Resistance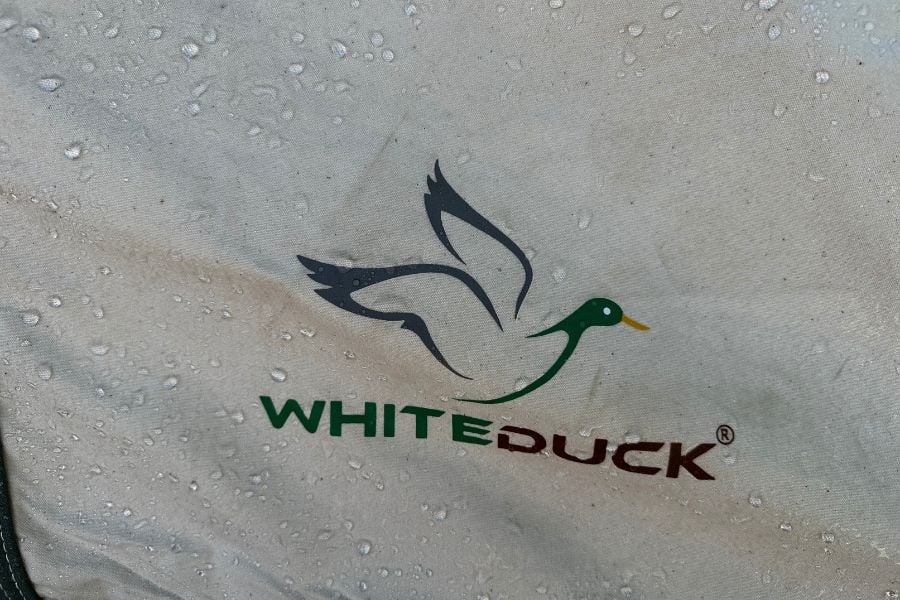 Arguably the most import aspect when purchasing a tent is its weather resistance.
Does the tent let in water, or does it not? Does the tent withstand high winds, or collapse onto itself? Does the tent have good ventilation during the summer months or does it get too hot and stuffy?
All of this will matter to you when you are out at the campsite.
So we've gone ahead and rated each cabin tent accordingly.
There should also be no surprises here…canvas tents stand up the best to weather.
But the Browning Big Horn Cabin Tent is no slouch either. Scoring an 8 out of 10, you can rest assured that you won't be getting wet when you have one of these tents.
Beware though that there are tents that will have leaking issues, especially cabin tents which are more susceptible to wind than their dome or tunnel counterparts.
Value
All tents are not created equally, and not all tents are priced equally either. Coleman for instance produces a great budget tent, while White Duck produces a more expensive and top-notch tent that can withstand the elements and stay up year-round:
As you can see cabin tents are going to range in price from $150 to $800 or more. This all depends on the size tent you are going for. But we love the value you get in the Core Equipment cabin tents and the ALPS Mountaineering Camp Creek 6 Person Tent.
Bells & Whistles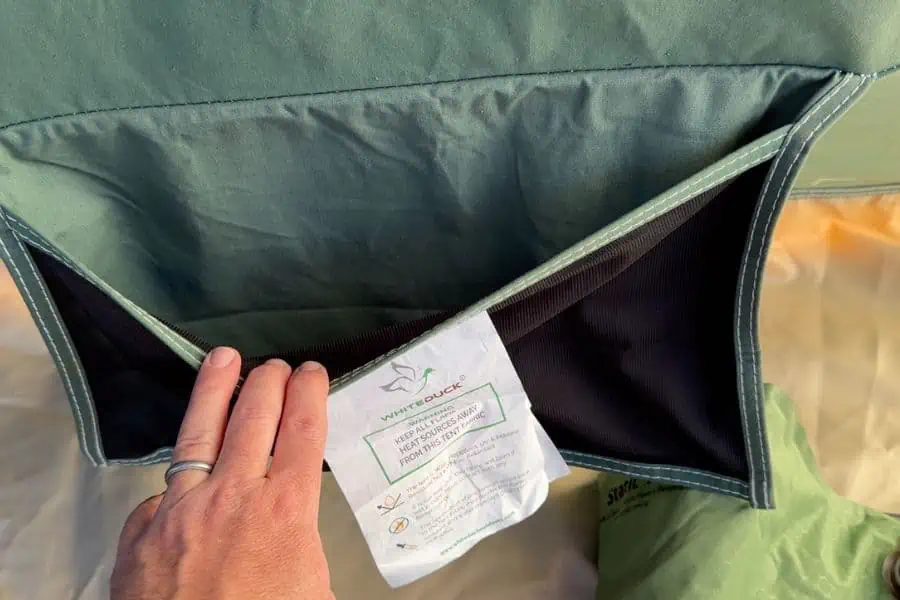 Finally, take a look at the bells & whistles that come with the tent. You might come across some little features that you need, in which case, go for it!
Here are some factors that tents vary on:
Number of doors & windows
Storage pockets in the sides, a gear loft & a lantern hook
Hinged doors for easy entrance/exit
A screen room or awning
Closet (as seen in the Coleman cabin tent!)
Rain fly – is it strong, or integrated?
Which features you want comes down to personal preference, which is why we've given you different options with a variety of these built-in.
FAQs
What is the best cabin tent?
Currently, Browning Big Horn Cabin Tent is one of the best cabin tents on the market. It's spacious, lightweight, simple to set up, and has a tall center height which allows campers to walk comfortably inside.
What is an instant cabin tent?
An instant cabin tent is designed for quick and easy setup.
This type of tent has all the poles connected into one frame, so the only thing you need to do is take it out of its bag and expand it into shape. The poles will do the rest of the work!
How does the vertical wall design of cabin tents impact their interior space, headroom, and overall comfort level?
Cabin tents have tall, flat ceilings, which generally create a large, comfortable interior space.
This feature makes cabin tents stand out when compared to dome and a-frame tents, whose ceiling structures slope downwards, creating less headroom closer to the tent edges.
Are cabin tents good for tall people?
Cabin tents are a great option for tall people because the high ceiling measurements will allow taller campers to move around more comfortably.
Are cabin tents suitable for backpacking?
Cabin tents are typically much heavier than other types of tents, which makes them unsuitable for backpacking.
Even the lightest model on our list weighs around 15 pounds, which is too heavy to carry around.
Our Verdict
To wrap things up, cabin tents are a great choice for anyone looking to go camping with a large group of people. Their straight walls give added horizontal space (for more beds) and way more headspace (for easier movement).
However, cabin tents aren't perfect. They're generally larger and heavier, so they're not suited to backpacking.
If you're looking to get started with a cabin tent, we recommend Browning Big Horn 2-Room Cabin Tent. It's large enough for a big group, but not so big that it feels like you're in a circus tent. It's got great weather protection but won't empty your wallet. It also comes in a smaller size, if you don't need the 2-room version.
Overall, it's an excellent tent that anyone can use to enjoy nature in style.
More Tents by Style