Looking for a camping adventure without breaking the bank? The best cheap tent is the Coleman Sundome Tent.
Don't let your budget hold you back!
Whether you're a first-time camper or a seasoned pro, you can enjoy a comfortable and safe night under the stars without spending a fortune.
In fact, there are several amazing tents for under $50!
However, be warned, none of these tents are going to be bigger than 4-person tents, so if you need more room, then you will want to check the best tents under $100.
Are you ready to discover the best cheap tents on the market for less than $50? Look no further:
Best Cheap Tents (Under $50)
Coleman Sundome Tent (2 or 3-Person Sizes)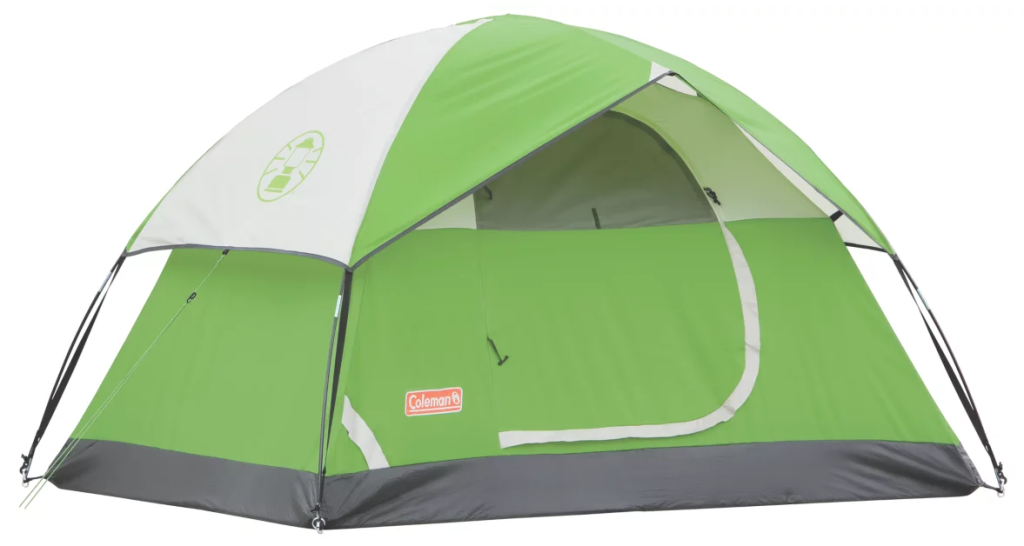 Tent Size: 2 & 3 | Seasons: 3 | Weight (lbs): 7 lbs 12 oz | Max Inside Height (in) 48 | Floor: 80 x 60 in | Setup Time: 10 mins
All things considered, the Coleman Sundome Tent is probably the best tent you can find in this price range.
You can't beat Coleman's years in the industry as a budget tent manufacturer. It's easy to set up, sturdy, and offers good weather protection.
In fact, this model is at par with many tents more expensive than it.
What's really impressive is that, while this is a very affordable tent, it also has some cool features you don't typically see in this price range.
This tent takes a couple of minutes to set up thanks to snag-free continuous pole sleeves and insta-clip pole attachments.
When erected and staked properly, this tent will stand still even in high winds.
The rainfly covers the top part of the tent and creates an awning above the front door.
So even if it starts raining during your trip, rest assured you'll remain dry.
The tent feels pretty ample for a 2-person model. You can fit a queen-size mattress inside and still have a bit of room left.
And not just that, the headspace is rather decent for a tent of this size.
Read our full review of the Coleman Sundome Tent here!
Pros:
Easy two-pole setup with shock-corded poles, snag-free sleeves, and clip attachments
Waterproof fly, inverted seams, and patented welded floors prevent rain from getting inside
Features an electric access port that allows you to power your gadgets inside the tent
The tent can withstand wind blowing over 35 mph
Cons:
Somewhat heavy for a tent of its size
Best for: couples camping in different weather conditions.
REI Co-op Groundbreaker 2 Tent
Tent Size: 2 | Seasons: 3 | Weight (lbs): 4 lbs. 13 oz | Max Inside Height (in) 40 | Floor: 88 x 52 inches | Setup Time: 10 mins
When it comes to a quality cheap tent, the REI Co-op Groundbreaker 2 is the clear winner.
REI knows well what to splurge on and where to cut costs, so you really get a durable and reliable product.
The tent has a classic dome construction with two intersecting poles, so it's quick and easy to pitch, even just by yourself.
The tent features a half-long rainfly that covers the top, mesh part. At the front, the fly features a small awning that protects the door from rain.
At the backside of the tent, there's a large window that provides airflow and allows you to enjoy the scenery from inside.
The mesh part of the window can be unzipped for practical reasons.
For a tent in this price range, this model is an excellent option for backpacking. With a weight of a little over 4 pounds, it won't weigh you down much.
Pros:
A small awning on the rainfly keeps the rain from getting through the door
Features internal mesh pockets and gear loops for organizing essentials
Mehs roof panels provide the necessary airflow and allow you to stargaze during dry summer days
With a weight of around 4 pounds, you can easily carry this tent long distance
Cons:
Best for: the best tent for budget backpacking.
MOON LENCE 2-Person Camping Tent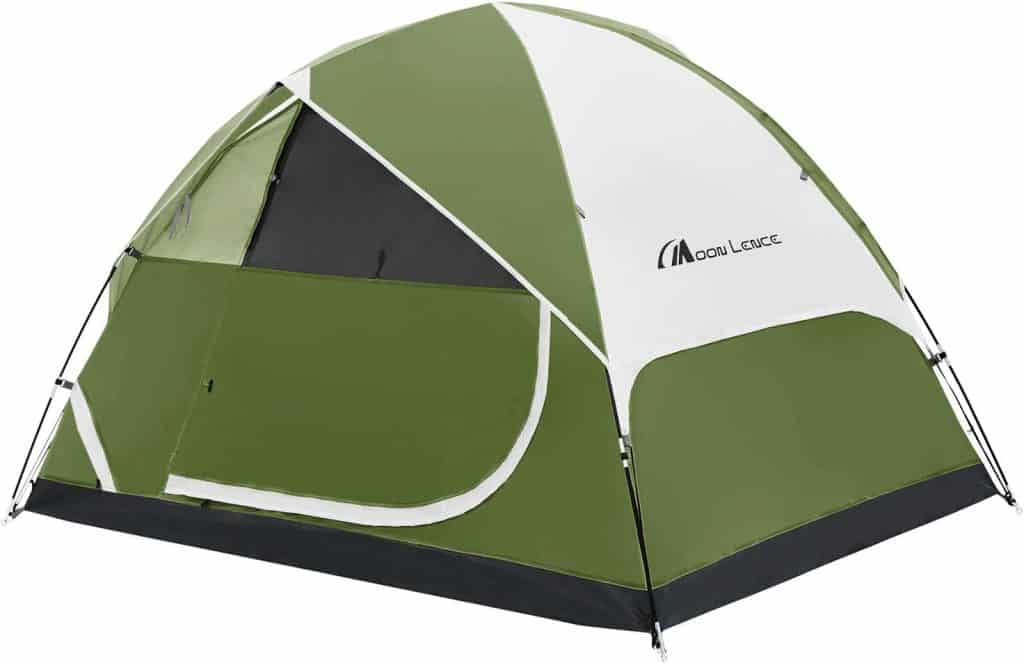 Tent Size: 2 | Seasons: 3 | Weight (lbs): 5.95 lbs | Max Inside Height (in) 48 | Floor: 83.8 x 59.8 inches | Setup Time: 10 mins
If you plan on camping in less-than-ideal weather conditions, you'll need a tent that can withstand the weather elements.
The MOON LENCE 2-Person Tent, is a classic dome shape that makes this tent suitable for rainy and windy weather, as its sloped walls allow it to fight off the elements.
When you further secure it in place with pegs and guylines, you can rest assured the tent won't budge.
The tent is made of 190T PU material, water and UV-resistant. This further ensures you're safe from the weather while inside the tent.
To ensure ventilation and prevent condensation, the tent features large windows and mesh half-walls.
For two people, this tent is rather small. Since it doesn't feature a vestibule, you need to store your stuff inside, with your interior space already pretty limited.
But this model is a great option for a solo camper, as it offers decent headroom.
Details like mesh wall pockets and a built-in hook allow you to keep all the necessities close at hand.
Pros:
Sloped walls and the choice of materials make the tent resistant to rain and wind
Mesh half-walls and large windows provide excellent airflow inside the tent
Pockets and hooks offer additional storage space for smaller things
A lifetime warranty ensures your product is free from manufacturing defects
Cons:
Doesn't have a vestibule for storing gear outside
Best for: solo campers.
Ozark Trail 3 Person Dome
Tent Size: 3 | Seasons: 3 | Weight (lbs): 5.64 lbs | Max Inside Height (in) 44 | Floor: 84 x 84 inches | Setup Time: 10 mins
This 3-person tent by Ozark Trail is quite a pleasant surprise.
For such a low price tag, you don't really expect much, but this tent definitely offers all the key important features you look for in a budget tent.
What's even more impressive is the fact that this is a 3-person tent.
That makes it a great option for a solo camper or a couple, as the 7 x 7 feet floor plan really lets you make the best use of the inner space.
And with 42 inches of maximum height, the tent offers some headroom as well.
For a cheap tent, Ozark really pays attention to details, so this model has plenty of storage options inside.
First, there's a gear loft that features a tablet pocket, allowing you to watch movies at night. the re's also a center loop at the top for hanging a lantern.
Finally, a wall organizer with three compartments keeps your necessities close at hand.
Pros:
With a 7 x 7 feet floor plan, there's enough room for a queen size mattress with room for gear
Plenty of storage options for all your necessities
Rainfly hooks at the corners of the tent base, so there are no guylines to trip over at night
The mud mat at the entryway prevents dirt from getting inside the tent
Cons:
The awning barely covers the top of the door
Best for: solo camper or a couple with a lot of gear.
ZOMAKE Pop Up Tent
Tent Size: 4 | Seasons: 2 | Weight (lbs): 5 lbs | Max Inside Height (in) 39 | Floor: 95 x 71 in | Setup Time: 2 mins
If you value time and convenience, then you'll surely like this tent by Zomake.
It's a pop up tent, you don't have to waste time pitching it. Simply unstrap it and it will expand into full shape.
Then, the only thing you need to do is stake the corners so that it doesn't get blown away in the wind.
This tent features two doors and two windows, so there's excellent airflow inside.
Having two doors is also great because you can get in and outside of the tent without jumping over your partner.
The doors are also very large and can be stowed away when not in use.
This allows you to turn the tent into a sun shelter when you're out at the beach. With a UPF rating of 50+, you're protected from harmful sun rays.
But even if you're camping in a less than ideal weather, you'll remain safe and dry inside this model.
The tent is made of 190T polyester, which already has a decent water-repellent ability.
The fabric is further coated with a layer of polyurethane to prevent any water from seeping through.
Pros:
The tent sets up automatically in just a few seconds and it packs down the same way
A UPF rating of 50+ keeps you protected from harmful sun rays
Two large doors allow you to get in and out without jumping over your partner
A 90-day warranty ensures you get a product that's free from defects
Cons:
The popup design is quite bulky for carrying
Best for: camping at the beach.
Core Equipment Core 4 Person Dome Tent
Tent Size: 4 | Weight (lbs): 8.3 lbs | Max Inside Height (in) 54 | Floor: 9 x 7 ft | Setup Time: 2 mins
This 4-person tent is an excellent option for a small family or a couple.
It offers both a decent foot space and a central height of 54 inches, so most people will be able to sit up quite nicely.
Given the shape, this tent from Core also allows you to fit in a queen-size mattress, although it leaves little room for rest.
The tent is double-walled, and it features a waterproof rainfly with sealed seams for protection from the rain.
With that being said, the rainfly doesn't go all the way to the ground. So if in case it rains horizontally due to wind, it might get wet inside.
But during dry months, this tent provides excellent airflow and it allows you to stargaze during clear, warm summer nights.
One thing I really like about this tent is the storage options. It features wall pockets and an overhead gear loft with a lantern hook, so you can have all the necessities close at hand.
An E-port is also a nice touch, as it provides access to electricity inside the tent.
Pros:
Large door and windows, as well as the adjustable air intake vent, ensure there's enough airflow inside
Storage pockets and a gear loft allow you to have all necessities close at hand at all times
H2O Block technology ensures the interior remains dry even when it's pouring
The center height of 54 inches allows you to sit up inside the tent
The product features a 1-year warranty
Cons:
Best for: couples and families with a small child
Best Cheap Budget Tent Buying Advice (For Tents Under $50)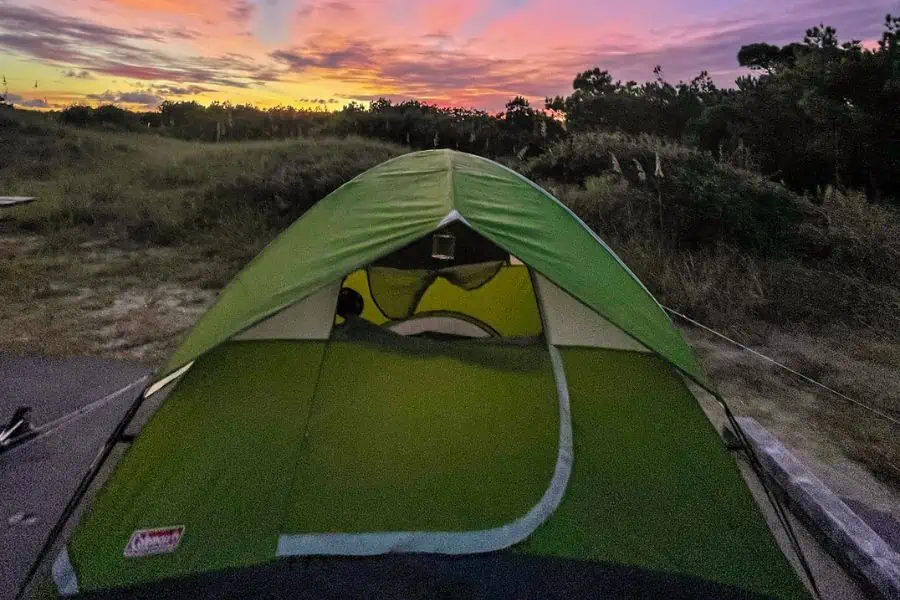 As you can see, you have some pretty good options at this price point. But how does one make a pick?
Well, there are several things you should consider when choosing the right model for you.
Before we get into details, let's see what a budget tent actually is.
How We Define a "Cheap" Budget Tents
Today, you can find a tent in any price range. Really, you can spend anything from your monthly gym membership to your whole paycheck on a tent.
When we say cheap, we typically mean a tent that costs $50 or less.
Now, aside from an affordable price, another thing we can expect from tents that are this affordable is a tradeoff.
You see, brands need to cut down on certain features to keep the price of the tent so low.
On top of that, only smaller tents between 1-4 people can dip down to our low, low, low budget of $50.
Quality and Durability of "Cheap" Budget Tents
Look, just because a tent is considered to be a cheap budget tent, it doesn't have to be cheaply made.
So, how do you distinguish those?
Well, it's the small things that really make the difference.
For instance, seams might not be the first thing that draws your attention, but it's definitely an important feature to look out for.
You see, the holes made from sewing the seam are big enough for water drops to come through.
That's why a tent needs to have taped seams to prevent leakage.
Zippers are another feature to consider. A poorly made zipper will break from too much use.
What's more, it can snag and damage the material unless it has a slider cover.
Also see: How to fix a tent zipper
Type of Cheap Tents
Generally, we can group affordable tents into three types:
Pop Up
Popup tents are exactly what they sound like. As soon as you unstrap a popup tent, it unfolds and erects in place.
The only thing you need to do is stake it to the ground afterward to prevent it from moving in the wind.
Popup tents are great for those that hate pitching.
However, you should keep in mind that they're typically much bulkier to carry, which isn't practical when walking long distances.
Dome
A dome tent is the most common type of tent. Typically, it features two flexible tent poles that are crossed in the middle and anchored at the corners of the tent body.
The shape of the tent makes it a suitable option for different weather conditions.
The sloped sides keep both winds and rain away.
Among the three, dome tents are the lightest and most compact.
However, they're usually slightly more difficult and time-consuming to set up.
Cabin
Cabin tents have straight walls and tall ceilings, so they offer the most when it comes to inner space.
These tents are great for families and large groups, as they typically have a capacity of 6-12 people.
Many cabin tents have a single-pole construction that easily expands into a solid frame making them "instant tents".
This makes it quick and easy to set up, without the help of your campmate.
However, the frame design also makes it much heavier compared to the other two tent types.
Fabric & Materials Used in Budget Tents
One thing you'll notice is that most budget tents are much heavier than their high-end counterparts.
This is because brands save money by using thicker materials and heavier components.
But when it comes to durability, thicker doesn't mean worse.
In fact, a thicker weave makes it harder for raindrops to pass through, so it has better waterproofness.
Plus, different materials have different properties. The majority of budget tents are made of either polyester or nylon.
And between the two, polyester is heavier and cheaper. But, it's also more durable and stretches less than nylon.
Size(s)
Don't expect to find a huge tent in this price range. Most tents that are within the budget of $50 have a capacity of 1 to 4 people, max.
Still, that's several different sizes to choose from. Naturally, the number of people you're sharing the tent with affects your choice.
But, there are other factors as well.
Even as a solo camper, you can consider any of the four sizes. A 1-person tent will offer just enough space for your sleeping pad and not much else.
What's more, you won't be able to sit upright inside without bending your neck.
With every size upgrade, you get more headroom. And by the time you size up to 4-person tents, you can sit upright and even crouch inside the tent.
For a detailed guide, see: Camping Tent Sizes – What Size Tent Do I Need?
Weather Protection
Even though they're "budget," most affordable tents offer decent weather protection.
Every tent provides at least a bit of water resistance. They also all have bathtub floors that are waterproof, so there's no worrying about having a puddle in the middle of the floor.
Taped seams and inverted stitches also improve water resistance, as well as PU coating.
Typically, the product will indicate the waterproof rating – the higher the number, the better it is at keeping the rain out.
The minimum rating for a tent to be considered waterproof is 1000mm.
As for the wind, the shape of the tent affects its ability to resist moving in the breeze.
Dome tents have steep sides, which make them more aerodynamic. Tall walls on cabin tents, on the other hand, easily catch on the wind like a sail.
You can further improve your tent's wind resistance by anchoring it down properly.
Ideally, you want a tent with lots of guy points, which offer flexibility in staking your tent.
Sun Protection
Finally, we can't forget sun protection…and I'm afraid I don't have good news.
You see, most tents at this price range don't have UV coating, so they don't keep you safe from sun rays.
However, that's relatively easy to mitigate. You can set up a tarp over the tent to create additional protection against the UV rays.
Ease of Use
I think we can all agree that pitching a tent isn't the most fun outdoor activity. So naturally, we want to spend as little time as possible doing that.
Luckily, tents these days are all pretty much easy to use.
Pop up and instant tents make it possible to pitch a tent in less than a minute without anyone's help. They're usually just as easy to take down.
Dome tents do require a bit more work, but that's also simplified nowadays.
Most dome tents feature clips and grommets which make attaching a tent to the pole a piece of cake.
Some also have color-coded sleeves, so there's absolutely no way you can get that wrong.
Additional Features
Finally, there are a few other features that can make a difference.
Ventilation
Most budget tents have half-mesh walls, which provide decent airflow inside. During warm, dry weather, you can remove the rainfly and enjoy the night sky through the mesh.
But when it's raining, you need that fly on to keep you dry.
To prevent condensation, a rainfly needs to be taut, so that the air can circulate through the mesh body. But, the tent should have at least another vent opening, to ensure there's enough airflow inside.
Storage: Vestibules and Interior Pockets
Less material means less money. To stay within the budget, these tents typically cut down on unnecessary materials.
And in this case, that's usually the vestibule.
Most tents in this price range either don't have a vestibule, or it's a short one that is barely protecting the door.
That means you won't be able to use it for storing gear outside.
But when it comes to interior storage, it all depends on the model.
Most budget tents have at least one wall pocket for storing necessities.
Many larger models also have a gear loft where you can hang a lamp and store things you need close at hand.
Extra Doors & Windows
Let me tell you straight away – don't expect much in this category for budget tents.
The majority of them are small enough to only feature a single door. Why? Because doors require more material, including the zipper, which all add to the cost.
With that being said, you may encounter a few models with two doors.
Now, two doors are great because they allow you and other campmates to enter and exit the tent without walking over everyone inside.
As for the windows, the number of them varies between models. While most have a single window on the opposite side of the door, some larger ones have more.
FAQs
What is the cheapest tent?
The Ozark Trail 3-Person Camping Dome Tent is the cheapest tent you can find on the market (currently under $30).
But for the price, you get more than a decent tent that can sleep one or two people.
What is the best cheap tent?
The Coleman Sundome Tent is the best cheap tent on the market. You can find it in sizes from 2 to 6 person.
It's sturdy, durable, easy to set up, and has excellent weather protection. Its quality is at par with models at a higher price.
How much is a cheap tent?
Any tent that costs $50 or less can be considered cheap.
Considering that most pieces of camping equipment, including a mess kit and a good lantern, can cost just as much, paying $50 for a tent is quite a bargain.
How can I make a homemade tent?
If you don't have a tent, you can improvise with a tarp. A tarp can be set up in many ways to provide shelter from weather elements.
However, it doesn't keep you safe from insects the way a tent does.
Is camping in a tent cheap?
Camping in a tent can be quite an affordable activity. There's a variety of cheap and inexpensive camping gear, so you can find something suitable within your budget.
How do you camp on a budget?
If you don't want to spend a lot of money on camping gear, consider borrowing some of it from friends and family.
Many outdoor outlets and stores offer rental gear, so that's also an option if you don't plan on camping very often.
To Sum Things Up
As you can see, you can find a high-quality tent even at this price point.
The Coleman Sundome Tent is the best cheap tent on the market today.
It has all the important features like good weather protection, sturdy construction, and ease of use. It's definitely worth every penny, and more!
More Budget Tents: