If you're in a hurry, the best screen house for camping available today is the REI Co-Op Screen House Shelter. 
No matter how much time I spend camping out in the great outdoors, there's one aspect that never ceases to make me shudder. Dealing with all the bugs and creepy crawlies!
My blood must be sweet because boy, let me tell you, mosquitos can't get enough of me. Also, does anyone else feel like the hardest part about preparing a meal at a campsite is keeping all the bugs away before the food makes it into your mouth?
If these issues sound all too familiar, I'll let you in on a little secret. All of this can be avoided by simply getting yourself a camping screen house. So do yourself a favor and check out this list I've put together of some of the best screen houses for camping.
Let's get started.
Best Screen House For Camping: Our Top 7 Choices
REI Co-Op Screen House Shelter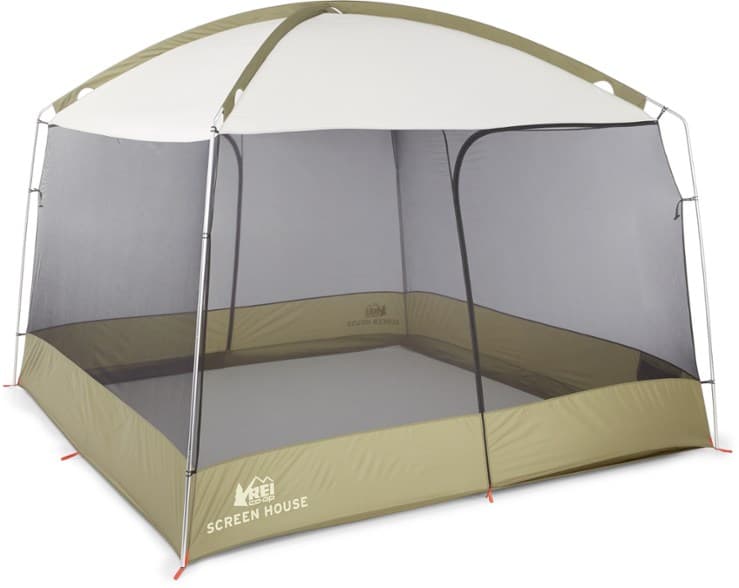 This product from REI is definitely one of our favorites. It has everything you could want in a screen house.
It's incredibly roomy, with a covered area of 100 sq ft, a peak height of 7 ft and a straight wall design that maximizes the space inside.
It isn't the lightest screen house on the market, but it's far from the heaviest. Weighing 13 lbs., you won't have any trouble carrying it to and from the campsite.
It also shines when it comes to organizational features.
It's got multiple pockets where you can store various items so that the space inside the screen tent remains clutter-free.
On top of that, the pole sleeves and side clips are all color coded, which makes assembling this screen house a breeze for anyone.
This model does cost a little bit more than most screen houses on the market. That being said, you can rest easy knowing you're getting a top quality product.
Pros:
Provides a large shaded area with 100 sq ft of floor space
Roomy, thanks to its straight wall design and a peak height of 7 ft
Fairly lightweight, weighing in at 13 lbs.
Features storage pockets to help you stay organized
Color coded pole sleeves and side clips allow for easy set-up
Cons:
A little bit pricier than most screen houses
Best for: campers who don't mind paying a little bit extra for a top-of-the-range screen house.
Caddis Rapid Screenhouse Shelter
If you've got your heart set on finding a screen house with instant set-up, this Caddis Rapid screen house is an excellent choice.
It might take a couple of tries before you figure out how to set it up, but once you get the hang of it, it'll be quick, easy and hassle-free every time.
We recommend setting it up in your backyard or living room before you head off on any camping trips. That way, once you get to your campsite, you'll already know exactly what to do.
This screen house boasts a 100 sq ft shaded area, and a peak height of 85". Now, that's what I call roomy.
It also has drapes along all the bottom edges, so you won't have to worry about any creepy crawlies getting in from underneath.
It's a bit heavier than most of the other models we reviewed. But, at 20 lbs. you'll still be able to cart it around the campsite without any issues.
Pros:
Very spacious, with a covered area of 100 sq ft and an 85" peak height
Drapes along the bottom edges ensure bugs don't get in
Instant set up means you can have this screen tent up and ready in no time
Made of durable polyester with a steel frame that stands up to the elements
Cons:
Heavier than some other models of a similar size
Might take you a minute to figure out how to set it up
Best for: campers looking for a great screen house with instant set-up.
Coleman Screened Canopy Tent with Instant Setup

If you're looking for a sturdier and more spacious option and your budget allows it, you might want to consider this Coleman screened canopy tent. With a base area of 120 sq ft , a peak height of 8.4' and a straight-wall design, it's fair to say that this screen house is roomier than the other models featured on this list.
It may take a little bit longer to set up than some other models, especially the first few times until you get the hang of it. Once it's up though, I think you'll find that it's impressively stable and resistant to windy conditions.
The material it's made of is thick and durable, so it holds up quite well against the elements. Of course, as with all screen houses, applying waterproofing spray will definitely help keep the contents inside dry if it rains while it's up.
It is worth noting that this screen house is significantly heavier than most, weighing in at a whopping 45.2 lbs. The carrying bag it comes in is equipped with wheels, which makes it easier to tug it around.
Also, it's a bit pricier than a lot of other screen houses, but in this case I can safely say that you get what you pay for in terms of quality and comfort.
Pros:
Its structurally sound design makes this screen house sturdy and stable
Durable material provides a high level of resistance to the elements
Features a base area of over 100 sq ft
Provides a large 90 sq ft shaded area
Its straight-wall design gives this screen house an exceptionally spacious feel
Cons:
Weighs significantly more than any other model on this list
Best for: high-budget campers seeking a large, comfortable screen house, who don't mind hauling the extra weight.
Wenzel Magnetic Screen House

The thing that sets the Wenzel magnetic screen house apart from the rest is the magnetic door mechanism. Magnetic strips, rather than zippers secure both doors. This system allows for easy hands-free entry and exit. It allows you to move in and out of the tent quickly and freely without having to put down what you're carrying.
Setting this screen house up is quick and hassle-free, much like setting up a classic tent. Weighing in at 17.4 lbs., it's lighter than some of the other models on this list. However, it's also still quite a bit heavier than some of the lighter options that are available.
This screen house is also fairly spacious, with a base area of 99 sq ft and a peak height of 7.5'. Like the previous model I mentioned, it also features a straight-wall design, making the space inside feel more open.
Unlike the previous 2 models, this screen tent doesn't have any extra material around the bottom edges. This means that if the terrain is uneven, you could be left with a gap between the tent and the ground, leaving room for insects to make their way in.
Pros:
Magnetic mechanisms on the doors provide convenient hands-free entry and exit
Features a base area of just under 100 sq ft with a large shaded area
Its straight-wall design contributes to the spaciousness of the interior
Straightforward set-up means you won't be wasting any time figuring out how to get it up
Cons:
No extra length around the bottom edges, resulting in a gap between the ground and the tent on uneven terrain
Best for: families and larger groups seeking a screen house for picnics and gatherings.
Check Price on Sportsman's Warehouse
Coleman Instant Screenhouse

If you don't need quite as much space, you should take a look at this Coleman instant screen house. It's a reliable, sturdy and well-designed little screen house that's still large enough to fit around a picnic table.
It has a base area of 195 sq ft and a peak height of 7', which might sound huge, but keep in mind that it's shaped like a pyramid. This means that the space inside is actually quite a bit smaller than straight-walled screen houses with smaller bases. It can still comfortably fit 6 people though, so it isn't tiny by any means.
Setting up this screen house is quick and drama-free. As long as you follow the instructions carefully, 1 person can have this tent up and running within minutes.
The Coleman Instant Screenhouse weighs in at 18.25 lbs., slightly heavier than the previous model we looked at, despite being smaller. It's really no wonder though once you realize just how stable and sturdy this screen room is. It holds up phenomenally well in all weather, so you won't have to worry about it blowing away if the wind picks up.
Pros:
Quick and easy set-up means you'll have no problems putting this screen house up by yourself in minutes
Its sturdy design holds up extremely well in windy conditions
Made of thick, durable material, helping it withstand the elements
Provides a shaded area of over 40 sq ft
Cons:
Heavier than some screen tents of a similar size
There's quite a large difference between the base area of the screen house and the actual shaded area it provides
Best for: smaller family units and solo campers who want a reliable, stable screen house that's easy to set up.
Core Instant Screen House Canopy Tent

If there are any fellow avid hikers reading this, I won't have to tell you about the importance of having the lightest possible camping equipment. Every extra pound makes a massive difference when you're carrying all of your stuff around on your back.
If what you're after is the lightest possible solution, this Core instant screen house is probably your best bet. Weighing in at 8.1 lbs., this is the lightest screen house on our list. With a 100 sq ft base area, a peak height of 7' and a pyramid shaped structure, it's smaller than the last model we looked at, but it also weighs less than half as much.
You shouldn't have any trouble getting this screen house set up. Even on your own, you should be able to assemble it quickly and without any difficulty. Do be extra careful though when you're folding it back up. If you're not paying attention, you can get your fingers or parts of the mesh screen caught in the pinch points of the collapsing poles.
Pros:
Super light-weight design lets you take this screen house anywhere
Its compact form is ideal for campers on the go
A base area of 100 sq ft means it will be able to fit around a picnic table
Simple and fast set-up allows 1 person to assemble the screen house in no time
Cons:
Pinch points can cause injury and/or damage to the screen house while disassembling if you're not careful
Best for: hikers seeking the lightest possible screen house for their camping expeditions.
How To Choose A Screen House For Camping
With so many different screen houses on the market, deciding which one is right for you and your needs can seem daunting. To make it easier to choose, consider the following characteristics when looking at the various options that are out there.
Screen House Vs Tent
Some of you might not be sure whether you'd be better off getting a screen house or a classic tent. Here are a few key differences to take into account.
For starters, the walls of a screen house are made of transparent mesh. If you like the idea of gazing at the beautiful nature surrounding you from within your tent, a screen house might be the right choice for you. If you'd prefer to have a more private space, then you'd be better off sticking to a classic tent.
The mesh walls on a screen house allow air to flow more freely than in a classic tent. That being said screen houses are, of course, also far less weather resistant.
Also, it is worth noting that while classic tents have a floor, screen houses generally do not, unless one is purchased separately. This is because it allows them to be easily placed over picnic tables and outdoor furniture.
Size
Once you've decided it's definitely a screen house you're after, the first thing you'll want to take into consideration is size. Ask yourself roughly how many people you foresee spending time together inside on average. Also, consider the size of the furniture you plan on using inside the tent.
If you're a large family or you plan on using your screen house for outdoor gatherings, you'll want to invest in a larger model.
If, however, you don't plan on accommodating more than a couple of people, you'll probably find that a smaller model is more than enough to fulfill your needs.
Do keep in mind that it's always a good idea to go a size larger. For instance, if you're a family of 4, it's always better to get a screen house that fits up to 6 people.
Weight
If you're aiming to keep your camping gear as light as possible, you'll definitely want to pay attention to the weight of the screen house you're selecting.
Some screen houses can be surprisingly heavier than others, despite appearing very similar and being of a similar size. So, be sure to check how much a screen house weighs before ordering one if you don't want to be stuck with a heavy load when camping.
Set-up
Less experienced campers can be daunted by the task of erecting any kind of tent. If this sounds like you, you'll want to go for a screen house with a straight-forward set-up procedure. There are lots of options out there, with some screen houses even having pop-up frames that don't require any setting up at all.
You'll also want to consider how many people you generally have available to help you set up. Most screen houses can be set up by 1 person, but there are some models that can be tricky to assemble without an extra pair of hands to help.
Height
Another thing to take note of is the height of a screen house. This is especially important if you are of above average height and don't appreciate feeling claustrophobic.
Most screen houses are between 7' and 8.5' tall at their highest points. For someone who is above 6' tall, an extra foot of headroom can make all the difference.
Also, screen tents with a straight-wall design feel far more spacious inside than those with a pyramid-like structure. Tall people will probably feel much more comfortable in a cabin-style screen room with straight walls.
Materials & Durability
There are many different materials used to construct screen tents. Generally speaking, those that are tougher and more durable tend to also be on the heavier side. However, there are still some lighter models out there that withstand the test of time and the elements.
It's a good idea to keep in mind that screen houses are primarily intended for occasional use on camping trips. This means that keeping one up in your backyard all summer long may cause the material to weaken and rupture.
Our Verdict
Hopefully, now that you've read this article you'll feel better equipped to decide which screen house is right for you and your needs.
Personally, I feel that most campers need look no further than the REI Co-Op Screen House Shelter. It truly is an outstandingly well-built screen house that you really can't go wrong with. I'd recommend it to families and solo-campers alike, as it's versatile enough to suit a wide range of purposes.
If you found this article helpful, be sure to share it with your friends. Happy camping and remember, adventure is out there!