A hiking first aid kit is one of the most critical pieces of gear to carry.
If there comes a time during your hike when you need a first aid kit and you don't have one, it might turn into a bad situation.
You don't need to bring a trauma kit when you go hiking, but you must ensure you bring first aid supplies you'd likely need.
There is a balance between what you should get and what you should leave at home.
During all my years of hiking, I've used my first aid kit quite a bit. I've used it on myself and others when they got hurt and were unprepared.
I've learned that it is better to be prepared for the worst, even if it is unlikely.
Over time, I've evolved my first aid kit, and I'll discuss that more in the article.
But in the meantime, here are the best first aid kits for hiking for sale today:
Best First Aid Kits for Hiking
There are several different options for hiking first aid kits to choose from.
Some are made for the outdoors a little more than others.
Some offer refill options. Some offer unique features.
Let's take a look at some of the best brands.
Hart Outdoor First Aid Kits
Weight: 3.5 oz | Dimensions: 5.5 x 4.5 x 1 | Watertight: No | Items: 31 | Materials: Polyester/PEVA
Hart Outdoor First Aid Kits are well-organized, outdoor-specific, and hiking first aid kits.
They have specific types of kits for particular kinds of hiking. There is a multi-day kit for backpackers.
There is an extended kit for those hiking with a group. There is even a standard day hiking kit.
They even offer refill options which are very convenient when you don't want to buy a whole new kit.
You can purchase these at REI.
Pros:
Come in a variety of sizes, day hike, multiday, weekend, and extended
A budget kit if there ever was one
Lightweight (3.5 oz) for the day hiking kit
Cons:
Carrier isn't waterproof or watertight
Only sold at REI
My Medic Hiker Med Pack Kit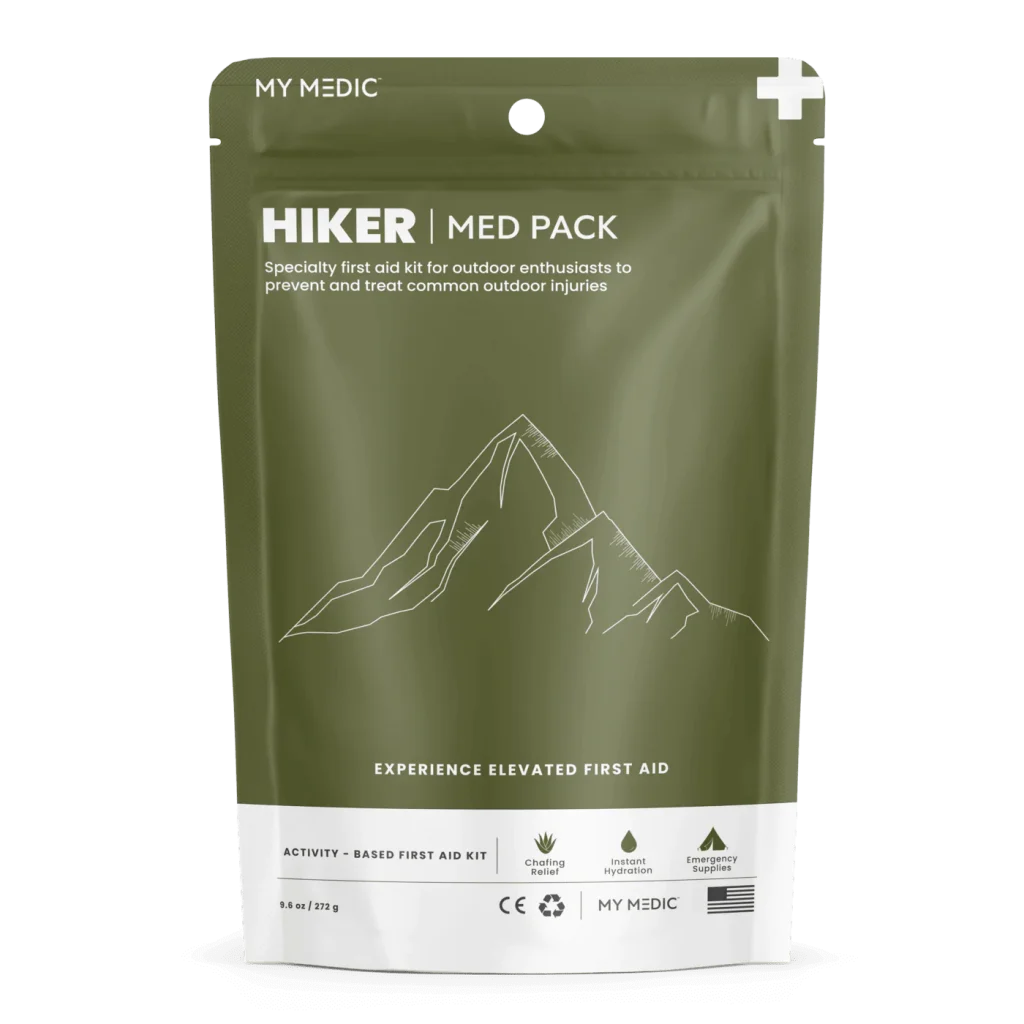 Weight: 9.6 oz | Dimensions: 8.8 x 6.75 x 2 in | Watertight: Yes | Items: 51 | Materials: Watertight Plastic
My Medic offers a wide range of different first aid kits.
They offer them for hiking, cycling, water activities, and even construction worker kits.
They offer refill options, too, and best of all they offer Med Packs, a sizeable first aid kit in a sandwich bag-like plastic container.
Prices are not too bad, and they have a large selection of different products.
Pros:
Lightweight med pack
Each individual item comes in a prepackaged container to make it easy to mix/match and replace items
Hiking kit even comes with 25′ paracord
Comes in a watertight recloseable ziplock type package
Cons:
A bit pricey
May need to mix and match several packs to get your kit just right
Adventure Medical Kits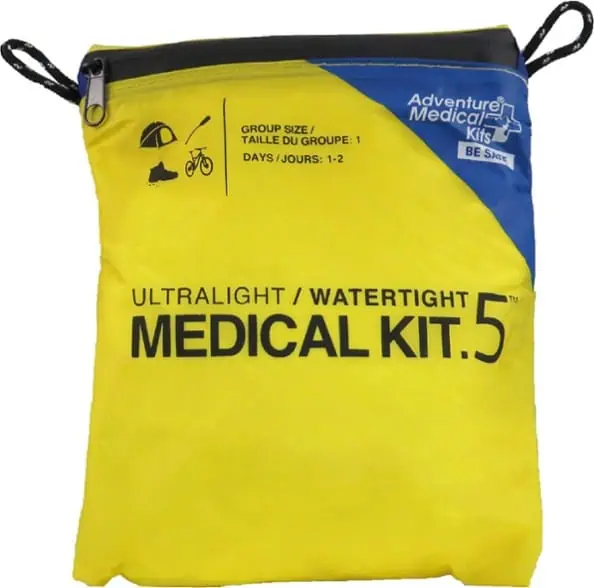 Weight: 3.68 oz | Dimensions: 6 x 5 x 1 | Watertight: Yes | Items: 46 | Materials: Synthetic
The Adventure Medical Kits brand is best for someone who is into ultra-lightweight hiking and outdoor activities.
Their kits are incredibly lightweight, weighing about 5.8 ounces.
Their kits are also watertight, which helps you if you hike with very little moisture protection.
These kits are rated for ultra-light hiking, adventure racing, canoeing, and mountain biking.
The pricing isn't that expensive, and other kit options are also available.
Pros:
Various options to choose from including ultralight options
Watertight/ultralight kits weighing as low as 3.5 oz
Reasonably priced
Cons:
Will want to replace tweezers and add scissors
Surviveware Small
Weight: 1 lb | Dimensions: 8 x 6 x 3.5 in | Watertight: Yes | Items: 100 | Materials: Portable, Waterproof, Premium Material, Durable
Surviveware provides efficient and compact first aid kits that hikers would use. My first aid kit is Surviveware.
I was sent the kit to try it out and make a review, loved it, and continued to use it afterward.
What I like about the kit is that everything fits strategically and is labeled in the package.
If I need someone to get something from the kit, they can find it with a label if they don't know.
As a first responder, I think that is important. There are many options, and these kits are very affordable.
Pros:
100 supplies come in this small kit
100% waterproof 600D TPU pouch
Priced well considering everything included
Cons:
On the heavy side at 1.25 lbs
VSSL First Aid Kit Mini
Weight: 9.9 oz | Dimensions: 6.75 x 2 in | Watertight: Yes | Items: 41 | Materials: Military grade 6061 Aluminium
Another interesting smaller first aid kit is by VSSL. They provide a unique concept for hiking first aid kits.
The First Aid Mini would be ideal for hiking, especially for ultra-lightweight hikers.
The kit comes in a small packable tube, and supplies are in their container within the tube.
It weighs right under 10 ounces. It is airtight and shatterproof.
You can also buy refill products to fill it back up when needed. It's relatively affordable, too.
Pros:
Small compact, watertight, "virtually indestructible" military grade aluminum tube container
Three separate supply tins fit inside
Weighs 9.9 oz
Cons:
A bit overpriced, and will want better tweezers and scissors
What Items Do I need in my Hiking First Aid Kit? (Hiking First Aid List)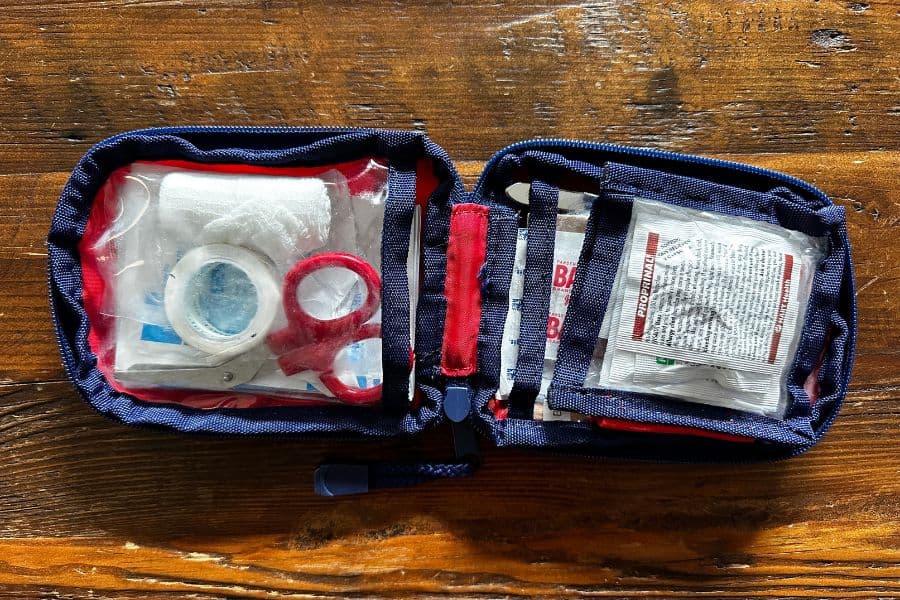 Let's go over some items that every hiking first aid kit should have included in them:
Over The Counter Medication
Pain relief – Great for typical pains, headaches, and toothaches
Antihistamine – Great for allergies and allergic reactions to stings/bites
Anti-itch/insect sting – Great for soothing bug bites
Anti-diarrheal – Having diarrhea can dehydrate you and is dangerous
Laxative – If having trouble with bowel movements, this is important
Antacid – A lot of hiking food can cause some heartburn
Allergies/nasal decongestant – Don't get stuffed up on the trail
(Optional) Epinephrine Injection – If you have allergic reactions
Wound Care
Bandages – Basic ones of a few different sizes
Roll Gauze – A basic roll will be fine
Medical/Athletic Tape – One roll should do the job
Skin closures – A basic pack
Disposable Surgical Gloves – One pair should be all you need
Antiseptic Wipes – A few small packs should be enough
Triple Antibiotic Ointment – A few small packs should be enough
Blood Clotting Powder – I carry blood clotting powder for extreme emergencies
Breaks and Strains
Triangular Bandage – used to control bleeding or immobilize a fracture
Elasticated Bandage – stretchable cloth to wrap around a sprain or strain
Splint – supports a broken bone
Sunburn
Sunscreen – prevents sunburn in the first place
After-sun treatments – soothes sunburn
Additional Tools and Safety Gear
Precision Tweezers – for splinters, removing thorns, or cactus needles if hiking in the desert
Scissors – a wide range of applications
Hand Sanitizer – self explanatory right?
Emergency Communication Device – extremely important if you are hiking into a remote area or without cell service
Medical Card – can use the Health app in an iPhone, but also a physical card listing any pertinent health issues
Emergency Blanket – critical in the event you get lost and need to camp out overnight
Waterproof Fire Starter – again, super helpful if you need to camp out for any reason
First Aid Pouch/Carrying Kit – something to fit all of your gear into
What first aid supplies do I need for a backpacking trip? (Backpacking First Aid Kit List)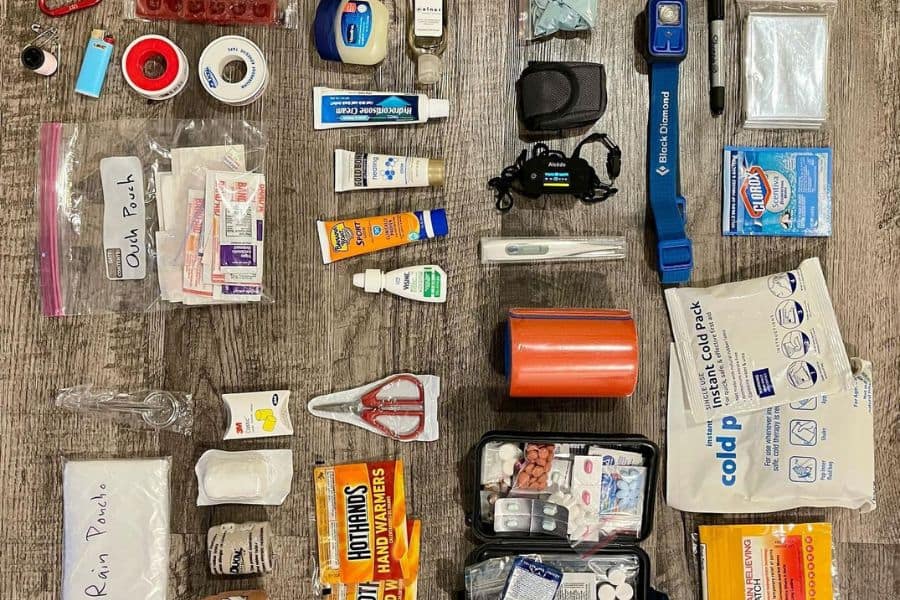 If you're backpacking, you may want to bring more supplies, especially if you are not alone.
Here are some items you might need to take with you backpacking in addition to the basic hiking first aid kit supplies listed above.
Blood-stopping gauze
Triangular bandage
SAM Splint
Instant cold pack
Medical waste bag
Nitrile medical glove
Heat-reflecting blanket (emergency blanket)
Antiseptic wipes
Burn cream
Hand Sanitizer
Pain-relief medication
Epipen
Small multi-tool
Sewing needle
Electrolyte tablets
Blister treatment
Tweezers
Whistle
Small business card with emergency contact information
Duct Tape – Great for bandages and pulling ticks off
Do You Need to Carry a First Aid Kit while Hiking?
You should carry a first aid kit while hiking because of the unique conditions and circumstances.
Nature can be rough.
It's rugged. There are no man-made engineering controls to help prevent you from becoming injured while hiking.
You can fall. You can get bit by a snake. You can trip or twist an ankle. You can dehydrate.
There are so many things that can happen. It'll only worsen if you don't have the gear to respond to these injuries and incidents.
I'll tell you some of the injuries I've had while hiking. I've gotten more blisters than I can list.
Walking on a blister is extremely painful and will make you notice it more than the beauty of nature around you.
Hiking in pain isn't fun. But covering up that blister with my first aid supplies ensured I didn't even notice it for the rest of the hike.
I'm also allergic to bee stings. I'll break out in hives all over my body and start swelling up.
I'm not internally allergic, but it is still a problem. I carry antihistamines on all my hiking, cycling, kayaking, and spelunking adventures just in case I get stung and need to counter the allergic reaction.
Otherwise, I will have a really bad time when I should be having a good time.
Not taking a first aid kit will only put you and the people with you at a greater risk of not getting needed treatment when they become injured.
For some injuries, it might be life or death.
What I Carry for My Hiking First Aid Kit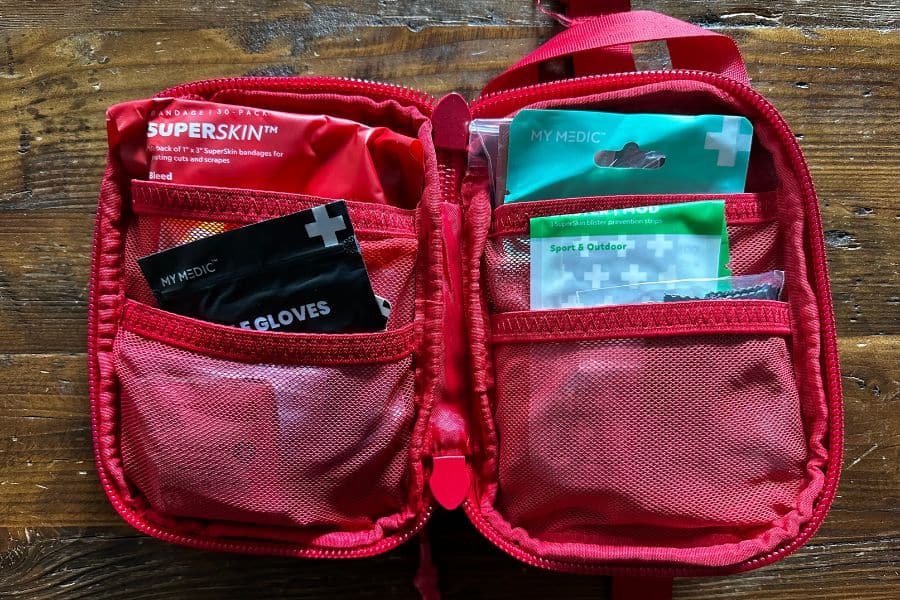 I don't carry everything other people carry in my hiking first aid kits. I usually carry one kit for all hiking and backpacking adventures.
My girlfriend also brings her own kit. I've customized my kit to suit my needs and my usual hiking conditions.
Before I get into the kit, I am certified in basic first aid, CPR, and AED administering.
This certification is easy to get and often free for anyone who wants it.
Please consider getting at least CPR certified and keep your knowledge up-to-date with CPR.
CPR alone can save many lives, and everyone should know it.
I keep a basic survival kit within my first aid kit. It includes a spork, ferro rod, a little bag of drier lint (fire starter), and a pack of mustard (for cramps).
That is something unique that I carry. I also have a bag of blood-clotting powder just in case I open a large wound where a lot of blood is coming out. It is a last resort sort of thing.
My first aid kit includes the following items that I replace each year to ensure they don't become expired or non-working:
Hypo-allergenic medical tape
Tweezers and splinter probes
EMT shears (medical-grade scissors)
CPR Face Shield (many people will vomit during CPR)
Whistle (also one on my day hiking pack)
Adhesive wound dressing
Camp soap container and hand sanitizer tube
Medical gloves
Burn cream, triple antibiotic cream, sting wipes, and alcohol wipes
Gauze swabs
Eye pads
A small assortment of different size Band-Aids
Wound closures
Emergency poncho (emergency shelter)
Emergency blanket
Antihistamines and anti-diarrhea pills
Ibuprofen
Electrolyte tablets
I also carry the same kit in my overnight backpack, too. I use about 15% of the kit items during any given year, but each item can play a role, so I keep it around.
Should I build my hiking first aid kit?
In some circumstances, consider building your first aid kit.
Building your kit will give you more control over what goes in the kit.
You can buy supplies and unique items that pre-made kits may not offer.
This might also be cheaper, and you can control how much the kit weighs.
I use a pre-made first aid kit, but I take items out and put other stuff in what I need to make it more custom to my medical needs.
Many first aid kits come with things you don't need or too many of the same items. I always tear apart my kits and make them to my specifications.
Frequently Asked Questions
Let's look at some frequently asked questions about hiking first aid kits.
Should you take a first aid kit hiking?
Yes! – Anything can happen while hiking because humans rarely control the conditions.
You can trip, break a done, get stung or bit, or even something as small as developing a blister.
Not having the essential supplies to tend to these things can cause further pain and even infections.
What first aid would I need for a three-day hike?
This depends on the conditions and how many people will be with you.
If you carry a first aid kit intended for everyone, you must have enough supplies.
If I were to do a three-day hike with my girlfriend, I'd carry about double what I carry now.
How do you make a first aid kit?
The first thing you want to do is choose a container to carry the supplies in.
Some people go with something as simple as a Ziplock bag that can be sealed airtight.
They also make waterproof bags for kayaking that would work well. Then you need to take basic first aid supplies.
Think about your previous hikes and any injuries that happened or were common. Bring supplies for those sorts of events.
What's the most common injury from hiking?
Aside from dehydration and overheating, one of the most common injuries from hiking is blisters.
The terrain we walk on along trails is easy to get blisters from if we're not used to it.
A simple moleskin or band-aid is all you need to remove a blister's discomfort.
But if you don't have supplies, the blister can get worse, more painful, and even become infected, leading to significant problems. It is worth it to carry a hiking first aid kit.
What do you do if you fall while hiking?
This depends on the circumstances of a fall.
You shouldn't try to move if you fall from a far distance onto a hard surface such as rocks.
You could have damaged your back and neck significantly, and moving can worsen it. Scream for help at that point.
If you can activate your emergency locator beacon, do it. Only move if necessary for your safety, such as if you're in rising water.
If the fall was not too far, you might be able to treat yourself enough to limp out or at least wait for help.
But if you don't have the first kit, you won't be able to treat yourself. Is the risk worth not having one? Falling while hiking is a common injury.
To Sum Things Up
Now that you know more about hiking first aid kits, it's time to check out your kit and ensure it's up to date.
If you don't have a kit, consider getting one from some of the great companies above or make your own if you want to control what's in the kit.
A first aid kit is one of the most essential gear to take with you on any hike.
If you don't have a first aid kit, and there comes a time when you need one, the results could be life-threatening.