In a hurry? Our pick for the best waterproof tent is The North Face Wawona 6 Tent.
What is a camper's worst nightmare?
Trying to sleep while your tent is leaking water… during the worst thunderstorm of your life.
Unfortunately, this scenario happens more often than we'd like.
That's why to keep warm and dry, it's critical to choose the best waterproof tent you can find before you set out on your next camping trip.
So, what are the best waterproof tents for 2023?
Best Waterproof Backpacking 1 and 2 Person Tents:
Best Waterproof 4 Person Tents:
Best Waterproof 6 Person Tents:
Best Waterproof 8+ Person Tents:
That's a lot to take in, but you can check out our full notes on each tent down below, and more on how we test and review tents here.
Best Waterproof Tent: Our Top Recommendations
The North Face Wawona 6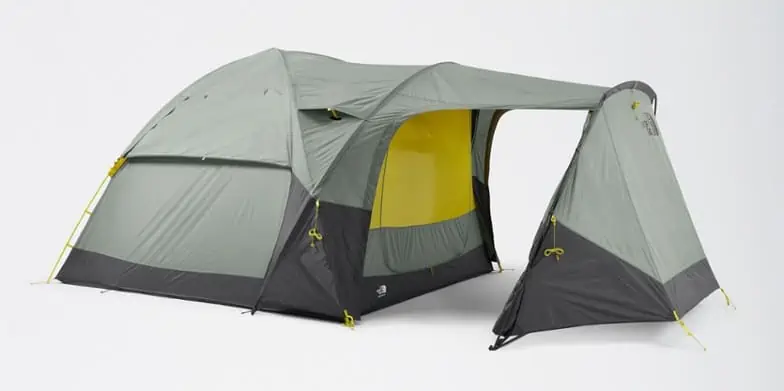 Type: Dome | Seasons: 3-season | Weight: 20 lbs 15 oz | Inside Height: 80″ | Floor: 120 x 96 inches (86 sq ft) | Setup Time: 15 mins
One of the most unique tents we have in this size group is the The North Face Wawona 6. It is a standard dome tent, but with an extra "heck yeah" feature with the covered porch vestibule giving you an extra 44.7 square feet of storage space.
So not only do you get 86 square feet inside the tent, but the extendable vestibule is great for storing bikes, coolers and other camping gear that you want to keep dry.
Weather resistance-wise, we have nothing but great things to say. This tent will keep you bone dry and stand up to wind as good as any other dome tent. With a 16 minute setup time, you are getting yourself a real winner with The North Face Wawona.
Pros:
Incredibly large 44.7 sq ft vestibule to store your gear
Quality construction and durability that can stand up to the elements
Lightweight at 20 lbs 15 oz, this is one of the lighter tents in this category
Plenty of pockets inside the tent for headlamps, lights and tablets
Cons:
A bit pricey for the size, but made up for in quality
Best for: Mountain bikers and campers who want extra storage space.
Buy Direct from The North Face
ALPS Mountaineering Lynx 1-Person Tent
Tent Size: 1 | Seasons: 3-Season | Weight: 4 lbs 1 oz | Inside Height: 36 in | Floor: 32 x 90 (20 sq ft) | Setup Time: 5 mins
The Lynx 1-person tent is a superb choice if you're a solo hiker and backpacker. It has an HH rating of 2000 mm, mesh walls that increase ventilation, and factory sealed seams.
Its free-standing, two-pole design makes setting up a breeze. Plus, the fact that it's made of polyester fabric guarantees you'll be snug and protected during bad weather conditions.
On the downside, it's pretty small, so if you're interested in having another person in your tent, you may want to look at some of the other tents on our list.
Read the full ALPS Mountaineering Lynx 1-Person Tent Review.
Pros:
Affordable
Lightweight – great for backpackers
Set up and take down can be done in under 2 minutes
Two vents at the top reduce condensation and keep the tent breathable
The vestibule is large enough to leave your dirty boots and gear outside, away from your sleeping area
Rain cover goes all the way to the ground and protects you during a downpour
Cons:
Small – only fits one person
The floor isn't completely waterproof, so we recommend that you buy a footprint
Best for: solo hikers looking for a waterproof tent to take solo backpacking.
MSR Hubba Hubba 2 Person Tent
Tent Size: 2 | Seasons: 3-season | Weight: 3 lb 14 oz | Inside Height: 39 in | Floor: 84 x 50 (29 sq ft) | Setup Time: 10 mins
This 3 season tent from MSR for 2 people is a fantastic choice that holds up really well in rough weather conditions.
It's got a ripstop nylon rain fly with a patented waterproof coating that will ensure you stay dry no matter how hard the rain is pounding down. It even has a rain gutter and a bathtub floor, so you can rest easy knowing that you're fully protected.
In fact, the entire tent is made of durable ripstop nylon, which makes it an incredibly tough tent that you'll be able to depend on for all your camping adventures for years to come.
It's also highly resistant to wind, thanks to a low peak height of 39" and a freestanding dome-shaped structure.
It's got 2 doors for easy access, and a vestibule on either side where you can store any extra gear that doesn't fit inside.
To top it all off, it's a wonderfully lightweight tent, with a trail weight of just over 3 lbs. This makes it an excellent choice for backpackers. It even comes with a compression stuff sack, so it's about as compact and portable as they come.
You can check out our full review of the MSR Hubba Hubba 2 Person Tent here:
Pros:
Rain fly, rain gutters and a bathtub floor ensure you stay dry at all times
Ultralight tent, making it perfect for backpacking duos
Comes with a compression stuff sack included for easy transportation
Made of ripstop nylon, making it durable and reliable
Low peak height and dome structure provide great wind resistance
Features 2 doors for easy access with vestibules for extra storage space
Cons:
Vents can only be adjusted from the outside
Tent poles splintering is pretty common
Best for: backpackers looking for a tent they can rely on in any situation.
Big Agnes Copper Spur HV UL Backpacking Tent
Ultralight backpackers are often faced with a dilemma. They can choose a light, but claustrophobic tent with minimal comfort, or choose a bigger tent with bells and whistles that is going to wreck their back.
Luckily, the Big Agnes Copper Sput Backpacking Tent solves this problem.
Even though this tent weighs in at just over 5 pounds, it comes with a floor area of 57 sq. ft. and head height of 50 inches. That's plenty of room for two people and their gear.
However, its price does reflect this so if you're on a budget, we suggest you take a look at the Coleman Dome Tent we covered earlier in this article.
Pros:
Lightweight – even the 4-person version weighs a little over 5 pounds
Roomy – 57 sq. ft. with 50 inches of headspace
Two doors allow you to enter and exit the tent without disturbing other people
Seams are already sealed which improves the tent's waterproof ability
Two vestibules provide extra storage space for wet and muddy shoes and gear
Cons:
Expensive – not for the price-conscious
Best for: people looking for a premium quality, lightweight backpacking tent.
Kelty Grand Mesa 4 Tent
Type: Dome | Seasons: 3-season | Weight 7 lbs 7 oz | Inside Height: 55″ | Floor: 96 x 80 ft (53.3 sq ft)
Having a slightly smaller size (53.3 sq ft) and lighter weight (just over 7 pounds), this Kelty tent is a great introductory tent purchase for first-time tent buyers.
It also has great ventilation, easy setup and a durable construction.
All that combined means it's a good choice if you want a good beginner tent that could last you for years.
Its freestanding tent design allows you to set up camp wherever you want, and its color-coded clip construction means you'll be up and running in no time.
Pros:
Easy setup – can be done in 3 minutes
It's 7 lbs. 7 oz. weight makes it perfect for backpacking
Can handle winds up to 45 mph
Durable – made with quality materials so it will last you for years
A large vestibule provides a lot of space for your gear
Cons:
Some customers found the tent poles to be of a lesser quality
More expensive than some of the other tents on this list
Best for: camping beginners who want a quality four person tent that will last them for years.
TETON Sports Mountain Ultra Tent
Tent Size: 4 | Seasons: 3-season | Weight: 10.1 lbs | Inside Height: 58 in | Floor: 95 x 80 (52.7 sq ft) | Setup Time: 10 mins
If you want to have some company in your tent – your boyfriend, or a couple of your friends – then you need a solid 3 or 4-person tent.
Teton Sports Mountain Ultra 4 tent is a great option if you want a sturdy, well-made tent that will withstand rain, snow, and even hail.
It comes with a deep bathtub floor and its own footprint, which means you'll be doubly protected against rain buildup beneath your tent.
This tent has one other great benefit – its walls are pure mesh. That means that during dry nights you can take the rain fly off and enjoy stargazing without worrying about bugs and insects.
Pros:
Great stability – can withstand winds of up to 30 mph
Excellent insulation – you'll be warm even if it's snowing outside
Has a deep tub floor to protect you from rain build up below the tent
Comes with a footprint for extra floor protection
Fits easily in the carry bag
Cons:
Best for: campers looking for a smaller tent they can share with one or two people.
ALPS Mountaineering Lynx 4-Person Tent
Type: Dome | Seasons: 3-season | Weight 8 lbs 7 oz | Inside Height: 52″ | Floor: 102 x 90 in (64 sq ft)
Coming in at 64 sq ft and weighing just over 8 lbs. the Alps Mountaineering 4-person tent is a good compromise between size and weight. It's bigger than most backpacking tents, yet lighter than many car-camping tents (thanks in part to its aluminum poles).
It comes with 2 internal stash pockets, two vestibules, and a gear loft which means you'll have plenty of room for your stuff.
The rain fly extends over both entrances and will keep you dry even in the pouring rain, making this a great 4 person waterproof tent for backpackers.
Pros:
A good ratio of size and weight makes it great for backpacking
High quality materials keep you warm even during a downpour
Two doors mean getting in and out is easy
Thanks to having just two poles the setup is a breeze
Will keep you warm even in colder temperatures
Cons:
Some people complained about the rain fly being poorly designed
Vestibules could be larger
Best for: hikers and backpackers seeking a great 4 person dome tent.
Mountain Hardwear Trango 4 Tent
Type: Dome | Seasons: 4-season | Weight 12 lbs 12.4 oz | Inside Height: 50″ | Floor: 96 x 94 in (57 sq ft)
If I had to choose two things that separate this tent from the rest, the choice would be simple:
Its price
The fact that it's a 4-season tent
Let me be perfectly clear – this tent is expensive. If you're looking for a budget 4-season tent, look elsewhere.
However, if you're looking to invest in one of the best winter tents out there no matter the cost, then keep reading.
The first thing you'll notice is that this tent is made out of high quality materials. I mean, it has to be if it's going to stand up to the worst conditions nature has to offer. Its nylon taffeta is rated 10,000 mm waterproof so even if you get caught in a thunderstorm, you'll barely feel it.
Secondly, since it's not as large as some car camping tents, the setup and takedown are easy as pie. Even one person can do it relatively quickly, so if you have two or more people helping it should be up in no time.
More about size – since winter tents are heavier and bulkier than 3-season tents, some sacrifices have to be made and in this case, it's the size. With 50 sq ft of floor space and a peak height of only 50 inches, this tent is noticeably smaller than other tents on this list.
Pros:
Quick and easy setup – even for 1 person
4-season tent you can use even in freezing temperatures
Extremely durable – rated 10,000 mm waterproof
Large storage bag allows for easy packing
Great circulation even during harsh weather conditions
Cons:
Extremely pricey – the most expensive tent on this list by far
Best for: campers willing to pay a premium price for a quality 4-season tent.
REI Co-op Base Camp 6 Tent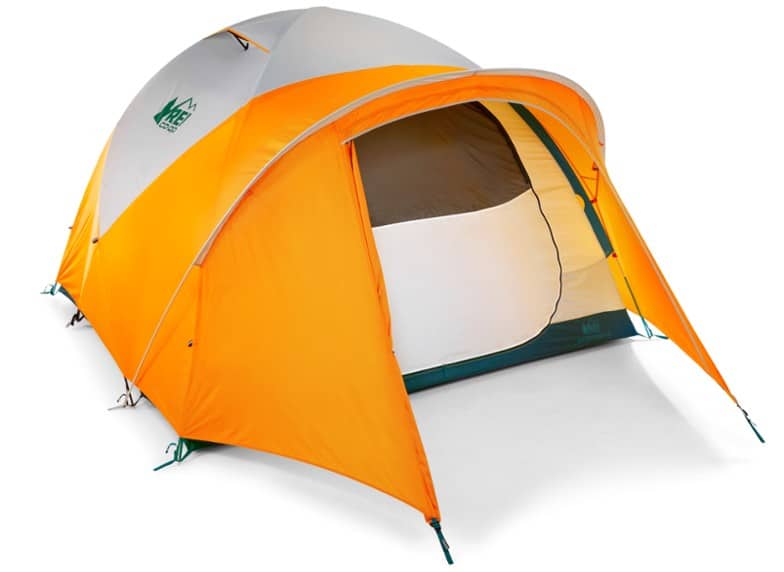 Tent Size: 6 | Seasons: 3 – 4-season | Weight: 20 lbs 10 oz | Inside Height: 74 in | Floor: 110 in x 110 in (84 sq ft) | Setup Time: 20 mins
For small camping groups, we recommend the REI Co-op Base Camp 6 tent.
It's a 6 person tent, but keep in mind that any 6 person tent will be a tight squeeze for 6 people. These tents are ideal for groups of 3-5 people.
The Base Camp 6 is made of polyester, and it comes with a polyester rain fly that covers the entire tent. This makes it both durable and highly water resistant.
It's a 3-4 season tent, meaning it'll hold up well in almost all weather conditions, except for extreme blizzards.
It's super stable, thanks to its dome structure and aluminum poles. As long as you stake it down and guy it out properly, you won't have to worry about this tent flying away in the wind.
The tent features 2 doors, so you'll be able to get in and out quickly and easily, without disturbing the slumber of your tent mates.
There are also 2 vestibules (a larger one and a smaller one), so you can leave your dirty shoes and any other extra gear you have outside, underneath the covered areas.
This tent is a little on the heavier side, weighing in at over 20 lbs. Because of this, it isn't a great solution for backpacking trips. However, this is to be expected for a tent of this size.
Pros:
Includes a polyester rain fly that does a fantastic job at keeping water out
Dome structure and aluminum poles provide great stability
Features 2 doors, so you can get in and out quickly and easily
2 vestibules give you a place to stash your gear outside, while still protecting it from the elements
Color coded poles for an easy breezy setup
Cons:
Not light enough to take backpacking
Best for: smaller groups looking for a good quality tent that'll keep them dry in all weather.
CORE 6 Person Instant Cabin Tent
Type: Cabin, Instant | Seasons: 3-Season | Weight: 23 lbs | Inside Height: 72″ | Floor: 11 x 9 ft (99 sq ft) | Setup Time: 2 mins
Like some of the other tents we've mentioned so far, this CORE tent is a cabin tent.
That means it has vertical walls which allow easier movement and greater comfort inside the tent.
However, it's also an instant tent – which means its setup is quick and easy – hence the name instant.
What sets this tent apart is its ventilation – thanks to multiple windows and floor vents, you should have good airflow throughout your camping trip.
You can check out our full review of the CORE 6 Person Instant Tent here.
Pros:
2 minute set up and take down in fair weather conditions
The expandable carrying case makes it easy to pack the tent after taking it down
Great ventilation thanks to windows on both sides and the front door
The back wall comes with a big storage area where you can hang your gear
Inexpensive cabin tent for beginner buyers
Cons:
The floor is pretty thin so you should probably buy a tarp
The door zipper can get caught in the flaps running along the door
Best for: people who want a roomy cabin tent with great ventilation at a reasonable price.
Coleman Carlsbad Tent with Screen Room
Type: Dome | Seasons: 3-season | Weight: 22 lbs | Inside Height: 72″ | Floor: 15 x 12 ft (120 sq ft) | Setup Time: 15 mins
The Coleman brand is famous for making quality tents at affordable prices, and their Carlsbad tent with a screen room is no exception.
This 6-person dome tent is pretty spacious, with a big screen room and enough space to accommodate two queen size air mattresses.
However, the main selling point of this tent is its Darkroom feature. That's Coleman's patented technology that blocks sunlight and reduces heat in the tent. This makes it a favorite of those campers who like to sleep late, instead of waking up covered in sweat at the brink of dawn.
Pros:
Darkroom technology reduces light in the tent allowing for deeper and longer sleep
Quick setup thanks to pre-attached poles
The screen room provides extra bug-free lounging space and ventilation
The screen area is also great for shoes and dogs so the inside of your tent stays clean
Made with high-quality materials that will ensure you remain dry even during thunderstorms
Cons:
The screen room is not protected by the rainfly
Weighs around 20 pounds so it's best used for festival and car camping
Best for: if you're not a morning person and you want to sleep in.
White Duck 13′ Regatta Bell Tent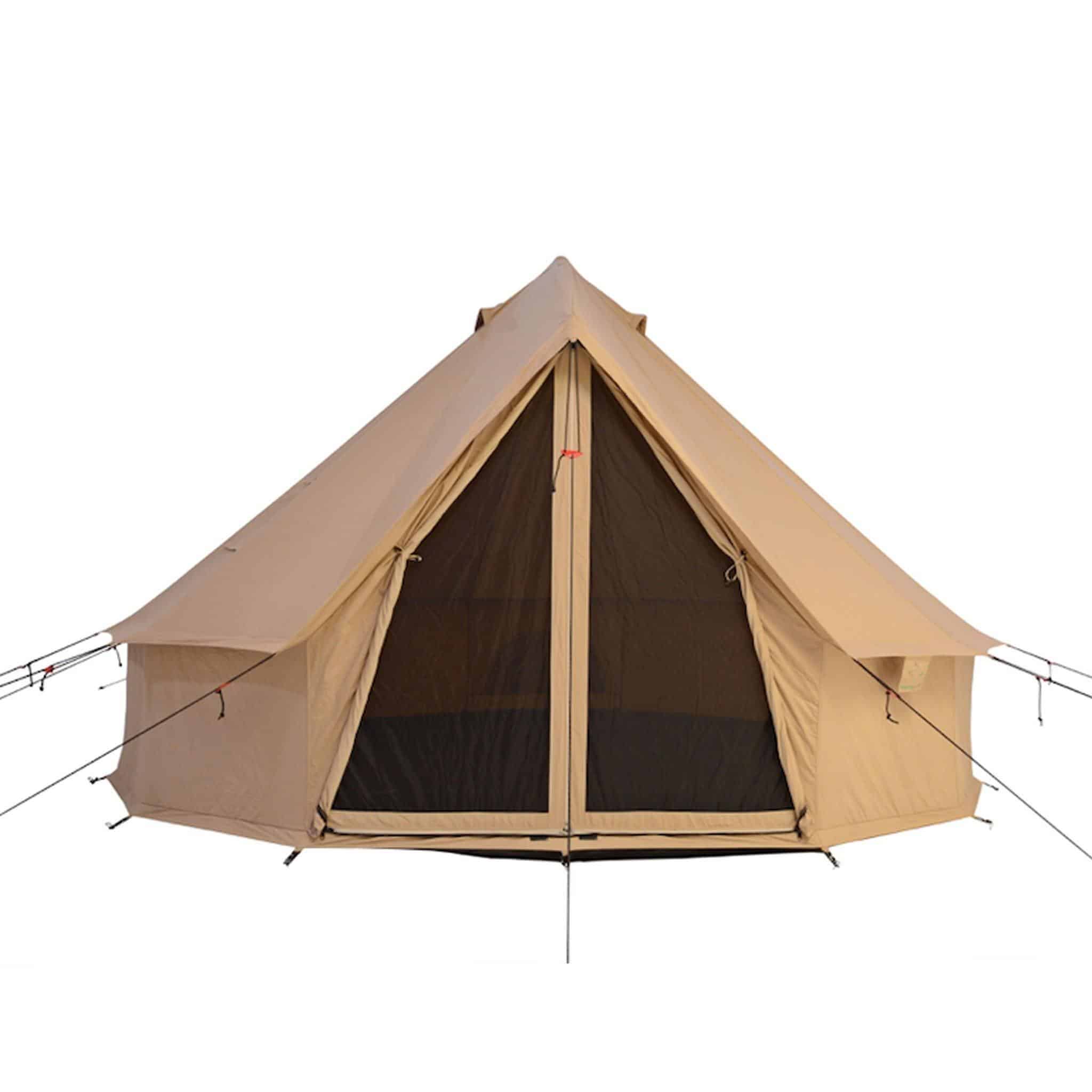 Type: Canvas, Bell | Seasons: 4-season | Weight: 71 lbs | Inside Height: 98″ | Floor: 13 ft diameter (132 sq ft) | Setup Time: 20 mins
A lot of camping tents are just fine – they get the job done, but you are always looking forward to coming back to a real house and bed.
With Regatta, however, you almost forget you're out in the wilderness – it's that comfortable. In fact, a lot of its users are using it as a second home in their backyards when they're not camping.
While it's definitely not a backpacking tent, its 70 lbs. weight makes it very manageable for most car campers. Add to that the incredibly simple setup (less than 20 minutes for one person, 10 minutes for two) and you can see why this is one of the best canvas tents around.
Pros:
Snow, rain, wind – this tent will stand up to them all without a hitch
Easy setup – even one person can do it without any problems within 20 minutes
At 70 lbs. weight, it's surprisingly lightweight for a canvas tent of this size
Three windows provide plenty of airflow for cooling and ventilation
Cons:
It's a bit tricky to pack it back in the bag
Best for: people who want an all around great 4-season tent.
Check White Duck Outdoors Price
CORE 9 Person Extended Dome
Type: Dome | Seasons: 3-Season | Weight: 18.21 lbs | Inside Height: 72 in | Floor: 16 x 9 ft (144 sq ft) | Setup Time: 20 mins
The CORE 9 Person Extended Dome tent weighs only 18.21 lbs, but with a 16′ x 9′ layout still manages to eek out 144 sq ft of space.
You can easily fit two queen air mattresses in this tent, with plenty of space to spare for gear.
A 72 inch peak height means that you'll be able to stand up in the middle portion of this dome tent.
Where the Core really shines is in its ability to fend off weather on a budget. The dome design along with the CORE H20 Block Technology keeps rain and wind out of the tent.
Lastly, the Advanced Ventilation System provides a ventilation pocket behind the tent, provides excellent ventilation compared to other tents of this style.
You can check out our video review of the CORE 9 Person Extended Dome below or our full written review here:
Pros:
Lightweight for a tent of this size at 18.21 lbs
Weatherproof design and CORE H20 Block Technology keeps rain and wind out
144 sq ft, means plenty of room for 2 queen air mattresses and gear
Mesh fabric ceiling allows for great views in fair weather
Great value for the price
Cons:
Stakes are flimsy, will want to buy heavy duty stakes instead
Only one door
Best for: Families looking for an excellent budget tent that can withstand the elements.
NTK Laredo GT 8 to 9 Person Tent
Tent Size: 9 | Seasons: 3-Season | Weight: 23.59 lbs | Inside Height: 75 in | Floor: 15 x 10 ft (150 sq ft) | Setup Time: 20 mins
The NTK Laredo GT tent is a good call if you want to feel like the king or queen of your own castle.
This tent is huge – it has 150 sq. ft. of space and 6'2'' peak height meaning even the tallest people will have an easy time moving around.
Now, this tent can fit up to 9 people. However, you have to remember that's 9 people packed in like sardines. If you want to go camping with the kids and have enough room in the tent for your gear and furniture, this tent is an excellent choice.
Finally, the Laredo GT has an HH rating of 2500 mm, a tub floor, and a rain fly that covers almost the entire tent, so you won't have to worry about ever getting wet inside this tent.
Pros:
Size – 150 sq. ft. and a peak height of 6'2″ means you'll have plenty of room
2500 mm HH rating means it will keep you bone dry even in the heaviest rainfall
The rain fly goes almost all the way to the ground, ensuring total weather protection
A large portion of the tent is mesh, providing ventilation while keeping the bugs out
The tent floor fabric is incredibly tough and will withstand rough terrain
Cons:
It weighs over 20 pounds so it's definitely better to use when car camping
Best for: bigger families and people who need a lot of room.
Waterproof Tents – Everything We Recommend
How To Choose The Best Waterproof Tent
Not all waterproof tents are created equal.
Even though almost all tents on the market today will claim they are waterproof, they are not.
And while you can use a waterproofing spray to stop the rain from leaking in, it's best to just buy a tent that's waterproof right out of the gate.
There are several things you need to pay attention to if you want to avoid the rain during your outdoor adventure.
Some of the most important things are:
Tent shape
Design, Construction, and Materials
HH rating
Ventilation
Storage Options
Tent Shape
The shape of the tent has a big impact on its ability to keep out water.
Tents mostly come in 3 different shapes: A-frame, cabin, and dome.
Cabin-style tents have vertical or near-vertical walls. They are great if you want more headspace, but that means that when it rains, water will likely remain on the roof of the tent. After a while, the tent will slowly begin to leak, as accumulated water weighs down on the structure.
On the other hand, A-frame tents are shaped like the letter A (in case that wasn't obvious enough), and dome tents are shaped like, well, a dome! (Shocking, I know.) With these shapes, water slides right off the sides.
Dome tents are also superior when it comes to wind stability. Because of their shape, the wind will go over the dome which means your tent will be less likely to get damaged.
Construction, Design, & Materials
The quality of the tent's construction is crucial to staying dry. It is the difference between a tent that will leak and break on your first night out in the wilderness and one that will last you for years to come.
The first thing you need to pay attention to is the fabric of the tent. The best waterproof tents are made of polyester or nylon. When buying your tent, check and make sure that the tent you're thinking of buying is made of those materials.
Next, you need to seal the tent's seams – those are the points where the fabric is stitched together. Some tents come with sealed seams right out of the box, but it's easy to do it yourself with a can of seam sealer at home.
Single-Wall vs Double-Wall
Another important decision is whether to go with a single-wall tent or a double-wall tent.
Single-wall tents come with a single layer of fabric that's both breathable and waterproof. They are usually lighter and more expensive than double-wall tents.
On the other hand, double-wall tents have two layers. One is an inner layer that is breathable and has great ventilation. The second layer is more durable and offers better protection during heavy showers.
Full Coverage Rainfly
When it comes to waterproof tents, the most important feature to look for is a good rainfly.
A proper rain fly is a lifesaver during thunderstorms. That's because they offer an extra level of protection against the elements.
And, after the rain is gone, it can be removed so that you can enjoy stargazing (provided your tent has a mesh roof).
Floor Material
Lastly, you will want to look into getting a tent with a bathtub floor.
In these tents, waterproof fabric is installed on the floor a few inches up the walls.
This is useful in cases where it rains so much that water outside your tent rises to the point where it can get inside and swamp your gear.
Understanding HH Rating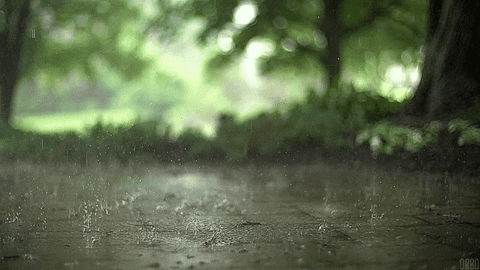 Hydrostatic head (HH) is a measurement tent manufacturers use to calculate exactly how waterproof a tent really is.
Here's how it works: A manufacturer fills a tube with water and puts the tent fabric underneath.
When the fabric starts to leak, the distance between the fabric and water is measured in millimeters. That is its HH rating.
Generally, any tent with an HH rating of over 1500 mm is considered waterproof – the higher the rating, the more water-resistant the tent is.
Ventilation
Proper ventilation is a necessary feature of every great tent.
Since rain is often followed by hot and humid weather, it's important that the tent is properly ventilated so that you don't feel suffocated inside.
Ventilation is also vital in avoiding condensation build up inside the tent. A well-ventilated tent will also allow you to have a nice, cool breeze during hot summer nights.
When choosing a tent, look for mesh fabric, multiple doors, windows, and air vents you can open without letting the rain in.
Vestibules & Storage Options
Having vestibules and a storage area is essential if you want to keep rain and mud outside of your sleeping area.
Choose a tent with a large vestibule where you can leave your wet and muddy shoes to dry off, instead of bringing them into the tent.
Many of the backpacking tents on this list have 2 doors and 2 vestibules allowing you to fill one with gear and use another to cook in in really inclement weather.
Tips For Camping In The Rain
Weather in the wilderness is unpredictable and a sunny day can turn into a cloudy one with heavy showers in the blink of an eye.
However, camping in the rain can be an enjoyable experience if you follow the Boy Scout motto – always be prepared.
Here's how to camp in the rain like a pro:
First, choose your campsite wisely. You want to set your tent up on high ground so you don't end up waking up in a pool of water.
Second, the most important skill you can learn is how to quickly set up a tent.
Rainstorms can happen suddenly, and often you only have a few minutes to pitch your tent. Be sure to practice in clear weather conditions so you'll know what to do when it starts raining.
Finally, you want to choose the right clothing and gear.
Choose breathable fabrics for your clothing and tent, and be sure to pack a rain fly or a tarp that you can hang over your tent or put under it as a groundsheet, as well as a poncho or a rain jacket in case you have to step outside.
FAQs
Are waterproof tents generally more expensive than their non-waterproof counterparts?
Yes, generally waterproof tents will be more expensive since they use additional materials and more sophisticated technology.
However, water resistance generally won't break the bank, and is just one feature among many that determine the overall cost of a tent.
Are waterproof tents also breathable, or can they become stuffy and humid inside?
Breathability will always depend on the material used in the tent's design.
Polyester and nylon, for instance, aren't very breathable. That's why tents made of these materials are usually double-walled, with plenty of vent openings to ensure there's enough airflow inside.
On the other hand, Dyneema composite fabric, which is also synthetic, is both waterproof and breathable. The same goes for classic canvas tents, which are suitable for practically any weather.
Can I enhance the waterproofing of an existing tent by applying a waterproofing spray or seam sealer?
Yes, you can. In fact, you'll likely need to reproof any tent every couple of years to keep it waterproof.
This is because even waterproof tents can lose water resistance capabilities through wear and tear. This is easily done with a spray, which you apply to a pitched, taut tent.
Will a waterproof tent also provide protection from UV radiation and harsh sunlight?
Basic water-resistant tent materials do not contain UV radiation protection, so you may need a different type of protective layer to make your tent UV-resistant.
However, many brands like Nikwax are beginning to make dual sprays, which contain both waterproof and solar proof solution you can use to treat your tent materials
Can a waterproof tent withstand strong winds, or should I consider additional measures such as guylines and stakes for stability?
As the name suggests, "waterproofness" only affects the tent's ability to resist water, so you should absolutely use guylines and stakes for added stability in strong wind conditions.
Guylines can be used to distribute stress and prevent the poles from flexing too much in the wind, while stakes will provide anchor points that keep the tent stable
Our Verdict
If you want a good waterproof tent that has the right combination of:
weather resistance,
portability and
durability
We strongly recommend The North Face Wawona 6 Tent.
It has withstood harsh weather conditions while keeping its occupants bone dry.
It comes with both a bathtub floor and a spacious vestibule, which gives you extra gear storage and protection against the rain.
We can safely recommend this tent to both beginner and experienced campers alike.