In a hurry? Our pick for the best waterproof tent is the MSR Hubba Hubba NX Tent. 
What is a camper's worst nightmare? 
Trying to sleep while your tent is leaking water… during the worst thunderstorm of your life.
Unfortunately, this scenario happens more often than we'd like.
That's why to keep warm and dry, it's critical to choose the best waterproof tent you can find before you set out on your next camping trip.
Best Waterproof Tent: Our Top Recommendations 
MSR Hubba Hubba NX Tent
This 3 season tent from MSR for 2 people is a fantastic choice that holds up really well in rough weather conditions. 
It's got a ripstop nylon rain fly with a patented waterproof coating that will ensure you stay dry no matter how hard the rain is pounding down. It even has a rain gutter and a bathtub floor, so you can rest easy knowing that you're fully protected.
In fact, the entire tent is made of durable ripstop nylon, which makes it an incredibly tough tent that you'll be able to depend on for all your camping adventures for years to come.
It's also highly resistant to wind, thanks to a low peak height of 39" and a freestanding dome-shaped structure.
It's got 2 doors for easy access, and a vestibule on either side where you can store any extra gear that doesn't fit inside.
To top it all off, it's a wonderfully lightweight tent, with a trail weight of just over 3 lbs. This makes it an excellent choice for backpackers. It even comes with a compression stuff sack, so it's about as compact and portable as they come. 
Pros:
Rain fly, rain gutters and a bathtub floor ensure you stay dry at all times
Ultralight tent, making it perfect for backpacking duos
Comes with a compression stuff sack included for easy transportation
Made of ripstop nylon, making it durable and reliable
Low peak height and dome structure provide great wind resistance
Features 2 doors for easy access with vestibules for extra storage space
Cons:
Vents can only be adjusted from the outside
Best for: backpackers looking for a tent they can rely on in any situation.
REI Co-op Base Camp 6 Tent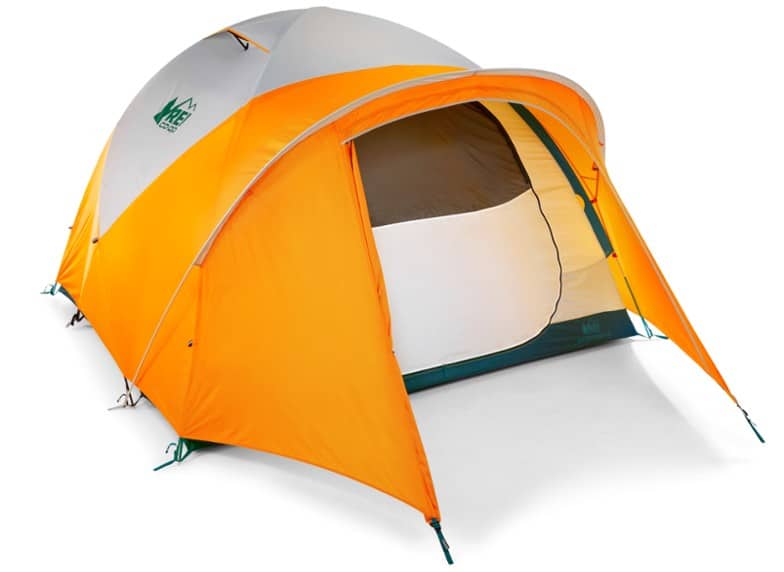 For small camping groups, we recommend the REI Co-op Base Camp 6 tent.
It's a 6 person tent, but keep in mind that any 6 person tent will be a tight squeeze for 6 people. These tents are ideal for groups of 3-5 people. 
The Base Camp 6 is made of polyester, and it comes with a polyester rain fly that covers the entire tent. This makes it both durable and highly water resistant.
It's a 3-4 season tent, meaning it'll hold up well in almost all weather conditions, except for extreme blizzards. 
It's super stable, thanks to its dome structure and aluminum poles. As long as you stake it down and guy it out properly, you won't have to worry about this tent flying away in the wind.
The tent features 2 doors, so you'll be able to get in and out quickly and easily, without disturbing the slumber of your tent mates. 
There are also 2 vestibules (a larger one and a smaller one), so you can leave your dirty shoes and any other extra gear you have outside, underneath the covered areas.
This tent is a little on the heavier side, weighing in at over 20 lbs. Because of this, it isn't a great solution for backpacking trips. However, this is to be expected for a tent of this size.
Pros:
Includes a polyester rain fly that does a fantastic job at keeping water out
Dome structure and aluminum poles provide great stability
Features 2 doors, so you can get in and out quickly and easily
2 vestibules give you a place to stash your gear outside, while still protecting it from the elements
Color coded poles for an easy breezy setup
Cons:
Not light enough to take backpacking 
Best for: smaller groups looking for a good quality tent that'll keep them dry in all weather. 
TETON Sports Mountain Ultra Tent
If you want to have some company in your tent – your boyfriend, or a couple of your friends – then you need a solid 3 or 4-person tent.
Teton Sports Mountain Ultra 4 tent is a great option if you want a sturdy, well-made tent that will withstand rain, snow, and even hail.
It comes with a deep bathtub floor and its own footprint, which means you'll be doubly protected against rain buildup beneath your tent.
This tent has one other great benefit – its walls are pure mesh. That means that during dry nights you can take the rain fly off and enjoy stargazing without worrying about bugs and insects.
Pros:
Great stability – can withstand winds of up to 30 mph
Excellent insulation – you'll be warm even if it's snowing outside
Has a deep tub floor to protect you from rain build up below the tent
Comes with a footprint for extra floor protection
Fits easily in the carry bag
Cons:
Best for: campers looking for a smaller tent they can share with one or two people.

The Lynx 1-person tent is a superb choice if you're a solo hiker and backpacker. It has an HH rating of 2000 mm, mesh walls that increase ventilation, and factory sealed seams.
Its free-standing, two-pole design makes setting up a breeze. Plus, the fact that it's made of polyester fabric guarantees you'll be snug and protected during bad weather conditions.
On the downside, it's pretty small, so if you're interested in having another person in your tent, you may want to look at some of the other tents on our list.
Pros:
Affordable
Lightweight – great for backpackers
Set up and take down can be done in under 2 minutes
Two vents at the top reduce condensation and keep the tent breathable
The vestibule is large enough to leave your dirty boots and gear outside, away from your sleeping area
Rain cover goes all the way to the ground and protects you during a downpour
Cons:
Small – only fits one person
The floor isn't completely waterproof, so we recommend that you buy a footprint
Best for: solo hikers looking for a waterproof tent to take backpacking. 
NTK Laredo GT 8 to 9 Person Tent
The NTK Laredo GT tent is a good call if you want to feel like the king or queen of your own castle.
This tent is huge – it has 150 sq. ft. of space and 6'2'' peak height meaning even the tallest people will have an easy time moving around.
Now, this tent can fit up to 9 people. However, you have to remember that's 9 people packed in like sardines. If you want to go camping with the kids and have enough room in the tent for your gear and furniture, this tent is an excellent choice.
Finally, the Laredo GT has an HH rating of 2500 mm, a tub floor, and a rain fly that covers almost the entire tent, so you won't have to worry about ever getting wet inside this tent.
Pros:
Size – 150 sq. ft. and a peak height of 6'2″ means you'll have plenty of room
2500 mm HH rating means it will keep you bone dry even in the heaviest rainfall
The rain fly goes almost all the way to the ground, ensuring total weather protection
A large portion of the tent is mesh, providing ventilation while keeping the bugs out
The tent floor fabric is incredibly tough and will withstand rough terrain
Cons:
It weighs over 20 pounds so it's definitely better to use when car camping
Best for: bigger families and people who need a lot of room.
Coleman Dome 4-Person Tent
If you're looking for an inexpensive, waterproof tent that still provides a stress-free camping experience, Coleman's 4-Person Dome Tent is for you. 
Its patented Weathertec system includes features like: 
protected seams and floor, 
zipper protection, 
and a wind-strong frame. 
What that means is you'll be safe and dry in case of rainfall.
Overall, it's a good entry-level tent that is easy to set up, strong against rain, and light on the wallet.
Pros:
The most affordable option on this list – biggest "bang for your buck" you can find
Quick and easy setup – you can pitch it in less than 10 minutes
Mesh pockets are a convenient place to store smaller items 
Its windows and ground vent allow for amazing ventilation
Bathtub floor means you'll get extra rain protection under your tent
Cons:
Some people have reported water occasionally leaking in through the seams – you might want to seal them yourself
Best for: campers on a budget looking for a basic tent that will hold up in wet weather.
Check Price at Dick's Sporting Goods
Big Agnes Copper Spur HV UL Backpacking Tent
Ultralight backpackers are often faced with a dilemma. They can choose a light, but claustrophobic tent with minimal comfort, or choose a bigger tent with bells and whistles that is going to wreck their back.
Luckily, the Big Agnes Copper Sput Backpacking Tent solves this problem.
Even though this tent weighs in at just over 5 pounds, it comes with a floor area of 57 sq. ft. and head height of 50 inches. That's plenty of room for two people and their gear.
However, its price does reflect this so if you're on a budget, we suggest you take a look at the Coleman Dome Tent we covered earlier in this article.
Pros:
Lightweight – the 4-person version weighs a little over 5 pounds
Roomy – 57 sq. ft. with 50 inches of headspace
Two doors allow you to enter and exit the tent without disturbing other people
Seams are already sealed which improves the tent's waterproof ability
Two vestibules provide extra storage space for wet and muddy shoes and gear
Cons:
Expensive – not for the price-conscious 
Best for: people looking for a premium quality, lightweight backpacking tent.
How To Choose The Best Waterproof Tent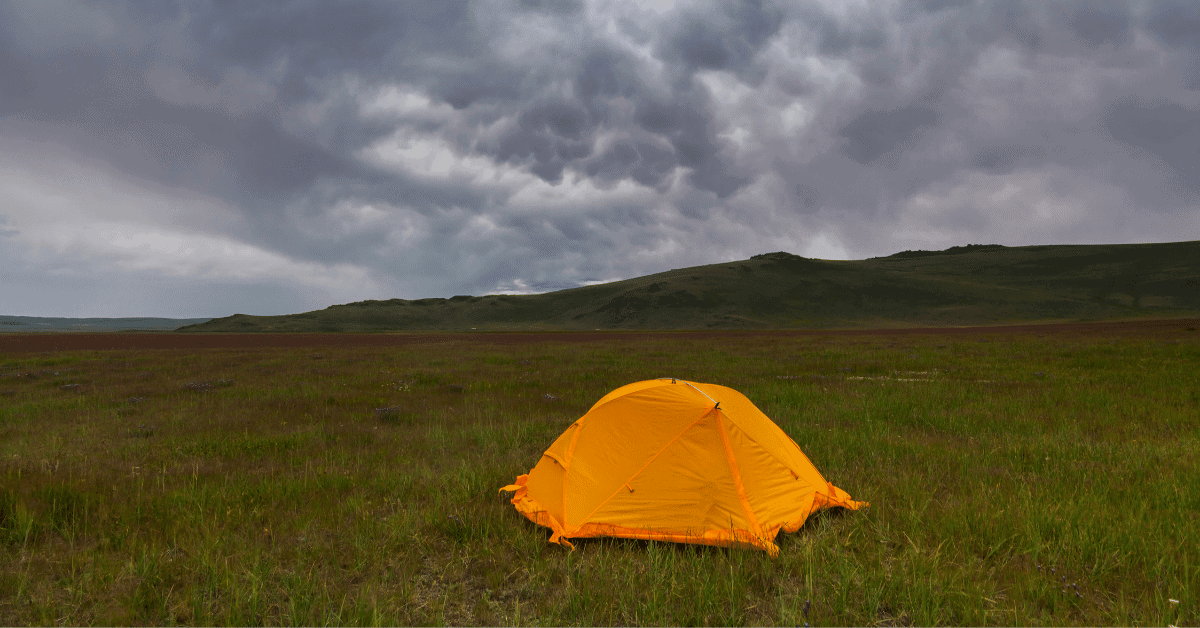 Not all waterproof tents are created equal.
Even though almost all tents on the market today will claim they are waterproof, they are not. 
And while you can use a waterproofing spray to stop the rain from leaking in, it's best to just buy a tent that's waterproof right out of the gate.
There are several things you need to pay attention to if you want to avoid the rain during your outdoor adventure.
Some of the most important things are:
Tent shape
Design and construction of the tent
HH rating
Ventilation
Tent Shape
The shape of the tent has a big impact on its ability to keep out water. 
Tents mostly come in 3 different shapes: A-frame, cabin and dome.
Cabin-style tents have vertical or near vertical walls. They are great if you want more headspace, but that means that when it rains, water will likely remain on the roof of the tent. After a while, the tent will slowly begin to leak, as accumulated water weighs down on the structure.
On the other hand, A-frame tents are shaped like the letter A (in case that wasn't obvious enough), and dome tents are shaped like, well, a dome! (Shocking, I know.) With these shapes, water slides right off the sides. 
Dome tents are also superior when it comes to wind stability. Because of their shape, the wind will go over the dome which means your tent will be less likely to get damaged. 
Tent Construction And Design
The quality of the tent's construction is crucial to staying dry. It is the difference between a tent that will leak and break on your first night out in the wilderness, and one that will last you for years to come. 
The first thing you need to pay attention to is the fabric of the tent. The best waterproof tents are made of polyester or nylon. When buying your tent, check and make sure that the tent you're thinking of buying is made of those materials. 
Next, you need to seal the tent's seams – those are the points where the fabric is stitched together. Some tents come with sealed seams right out of the box, but it's easy to do it yourself with a can of seam sealer at home.
Another important decision is whether to go with a single wall tent or a double wall tent. Single wall tents come with a single layer of fabric that's both breathable and waterproof. They are usually lighter and more expensive than double wall tents. 
On the other hand, double-wall tents have two layers. One is an inner layer that is breathable and has great ventilation. The second layer is more durable and offers better protection during heavy showers.
When it comes to waterproof tents, the most important feature to look for is a good rain fly. A proper rain fly is a lifesaver during thunderstorms. That's because they offer an extra level of protection against the elements. And, after the rain is gone, it can be removed so that you can enjoy stargazing (providing your tent has a mesh roof).
Having vestibules and a storage area is essential if you want to keep rain and mud outside of your sleeping area. Choose a tent with a large vestibule where you can leave your wet and muddy shoes to dry off, instead of bringing them into the tent.
Lastly, you may want to look into getting a tent with a bathtub floor. In these tents, waterproof fabric is installed in the floor a few inches up the walls. This is useful in cases where it rains so much that water outside your tent rises to the point where it can get inside and swamp your gear. 
HH Rating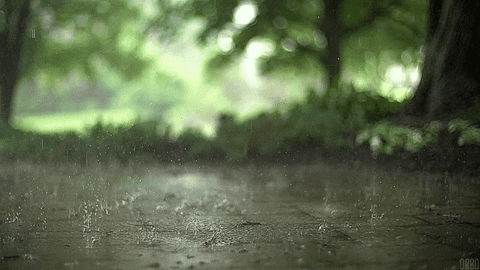 Hydrostatic head (HH) is a measurement tent manufacturers use to calculate exactly how waterproof a tent really is. 
Here's how it works: 
A manufacturer fills a tube with water and puts the tent fabric underneath. When the fabric starts to leak, the distance between the fabric and water is measured in millimeters. That is its HH rating.
Generally, any tent with an HH rating of over 1500 mm is considered waterproof – the higher the rating, the more water-resistant the tent is.
Ventilation
Proper ventilation is a necessary feature of every great tent.
Since rain is often followed by hot and humid weather, it's important that the tent is properly ventilated so that you don't feel suffocated inside.
Ventilation is also vital in avoiding condensation build up inside the tent. A well-ventilated tent will also allow you to have a nice, cool breeze during hot summer nights.
When choosing a tent, look for mesh fabric, multiple doors, windows, and air vents you can open without letting the rain in.
Best Tips For Camping In The Rain
Weather in the wilderness is unpredictable and a sunny day can turn into a cloudy one with heavy showers in the blink of an eye.
However, camping in the rain can be an enjoyable experience if you follow the Boy Scout motto – always be prepared. 
Here's how to camp in the rain like a pro:
First, choose your campsite wisely. You want to set your tent up on high ground so you don't end up waking up in a pool of water. 
Second, the most important skill you can learn is how to quickly set up a tent. Rainstorms can happen suddenly, and often you only have a few minutes to pitch your tent. Be sure to practice in clear weather conditions so you'll know what to do when it starts raining.
Finally, you want to choose the right clothing and gear. Choose breathable fabrics for your clothing and tent, and be sure to pack a rain fly or a tarp that you can hang over your tent or put under it as a groundsheet, as well as a poncho or a rain jacket in case you have to step outside.
Our Verdict 
If you want a good waterproof tent that has the right combination of:
weather resistance, 
portability and
durability
We strongly recommend the MSR Hubba Hubba NX Tent.
It has withstood harsh weather conditions while keeping its occupants' bone dry. It comes with both a bathtub floor and rain gutters, which give you extra protection against the rain. 
We can safely recommend this tent to both beginner and experienced campers alike.