Let's face it:
Cooking outdoors can be challenging.
You haven't got all the space and equipment you're used to in your kitchen – so you have to improvise.
Even basic meals can leave you with a pile of dirty dishes. And, all that washing up means less time spent relaxing and enjoying your surroundings.
That's why you need all the help you can get to make mealtimes at the campsite a hassle-free venture.
I've collected a whole bunch of clever camping food hacks that'll make feeding the whole tribe a piece of cake.
Then you can serve them a piece of cake.
Baked in a hollow orange peel.
You'll see.
4 Tasty Campfire Cooking Hacks
You can do a lot more on a campfire than just roast marshmallows. In fact, campfire cooking is a fantastic way to cook a meal or snack outdoors with minimal gear.
Additional Reading: Campfire Cooking Equipment – 18 Awesome Outdoor Kitchen Tools
In some cases – like with marshmallows – all you need is a stick!
Here are some of our favorite quick, easy and delicious campfire food hacks.
Tin Foil Packets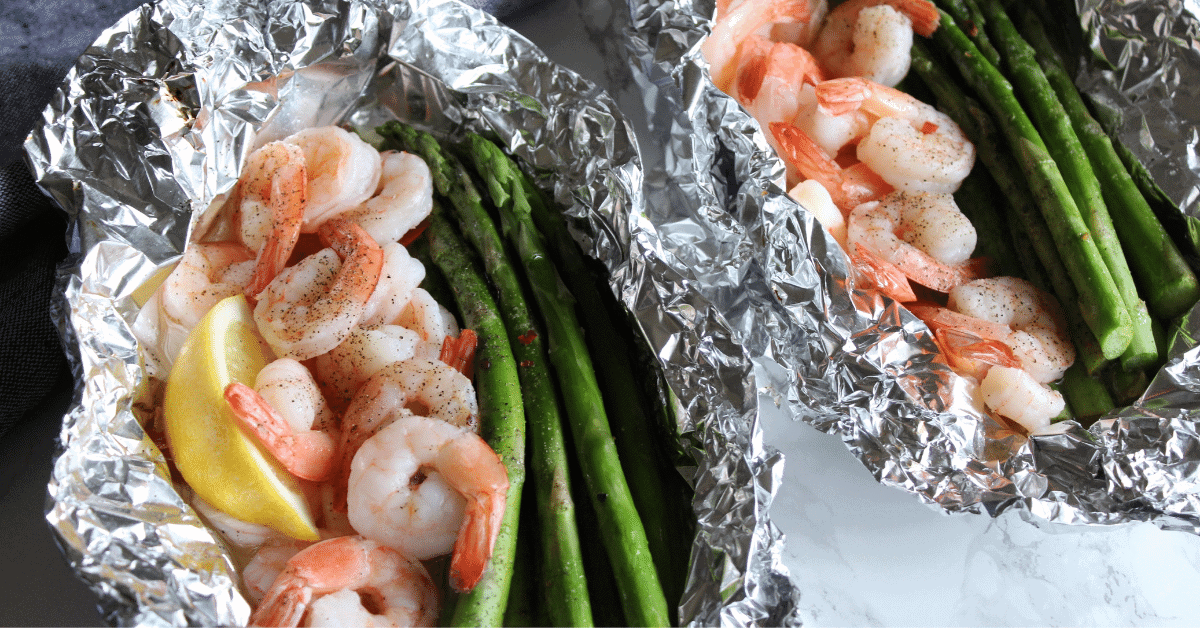 There are so many delicious meals and snacks that you can cook in a tin foil packet over a campfire.
Basically, anything that you can bake in an oven can be made at the campsite in a tin foil packet.
From roast chicken and potatoes, to nachos, to burgers and grilled cheese sandwiches – you name it.
You can even make popcorn!
Foil packet chicken nachos would have to be one of my all time favorite camping meals.
You can prepare the foil packets ahead of time and pack them in a cooler. When you get to your campsite, just throw them over the campfire until the contents are cooked through. Et voilà!
Want to know the best part?
There isn't a single dirty dish involved.
That's right. Not one.
A mouth-watering meal with no dishes, no mess, and no washing up?
Sign me up!
One-Pot Dutch Oven Dinners
If there's one piece of cooking equipment you're going to take on your camping trip, it should be the dutch oven. You can do so many things with just a dutch oven and a campfire, it's unreal!
The depth of the pot allows you to make things you can't put in foil packets, like soups, stews and pasta dishes.
But those aren't the only things you can make.
You can also do things like roast chicken, and even pizza!
And all of these things can be made using just the 1 pot. So, while it isn't completely dishless like the foil packets, 1 dish is still pretty good.
Crescent Roll Sticks
Wrap crescent roll dough around a stick and cook it over the campfire for a tasty snack.
You can do these plain, or you can shake things up and add some extras for more flavor.
For campfire pigs in a blanket, put a hot dog on a stick and wrap the crescent roll dough around it. The kids will gobble these up!
Or, if you've got a sweet tooth, try these cinnamon rolls on a stick. To make them, just wrap the crescent roll dough around a stick and roll it in cinnamon sugar before putting it over the fire.
Also See: Camping Side Dishes: 37 Mouthwatering Additions to Complete Your Outdoor Feast
Throw Fresh Herbs Onto The Coals
Here's a really neat trick you can try out next time you're cooking on the campfire:
Throw some fresh herbs onto the campfire's hot coals. This will infuse your food with a smokey, herby flavor that'll take your meal to the next level.
You can do this with any fresh herbs you've got. Some of my favorites are rosemary and thyme.
If you throw some sage or mint leaves over the fire, it'll also repel mosquitos. Double win!
3 Clever Uses For A Mason Jar
Mason jars are one of the most useful household items you can find when it comes to campsite cooking. You could actually probably take everything you're going to eat on the entire trip in mason jars.
You can fill the jars at home and they'll be ready to go whenever you get hungry.
These are some of our favorite mason jar food hacks you can try out on your next camping trip.
Mason Jar Omelettes
These are one of my absolute favorite camping breakfasts ever. They couldn't be easier and they're delicious, healthy, and they keep you full until lunchtime.
To make them, just beat some eggs, pour them into the jar, and add in any extras you want like cheese, ham, spinach, mushrooms or tomato. Store the jars in your cooler until you're ready to cook them up.
When you want to make your omelettes, just place the jars in a pot of boiling water and let them cook for around 15-20 min, or until the eggs are no longer runny.
And that's it!
It doesn't get much easier than that.
Mason Jar Parfait
While omelettes are my fave, some mornings I just want something light and fresh. On those occasions, I'm always glad I've got a couple of mason jar parfaits in my cooler.
What could be better than fresh fruit, creamy yogurt and crunchy granola on a hot summer morning?
Not much, if you ask me.
Layer some greek yogurt, granola and fresh fruit of your choice in a jar and stick it in your cooler for the perfect breakfast on the go.
To take things up a notch, you can even make your own granola. One of my favorites is this peanut butter granola with coconut and chocolate chips. Drool!
Mason Jar Ramen
Guess what else you can make in a mason jar?
That's right.
Ramen noodles!
This is another exceptional hack, that gives you an incredibly yummy meal with zero effort.
Before you set off on your trip, put some fresh veggies in a mason jar, along with some uncooked ramen noodles, miso paste and sesame oil – and some meat if you like. You could also add kimchi, soy sauce, hoisin, or anything else you like really.
When you get to the campsite, all you have to do is whip them out of the cooler and pour some boiling water into the jars.
Within a few minutes, you'll have a delicious jar of homemade ramen soup. How's that for a quick camping meal that's healthy, delicious, and just a little bit fancy?
2 Deliciously Easy Zip Bag Breakfast Hacks
When you're going camping, it's always a good idea to pack some zip bags. They come in handy for so many different things, and they're a great way to keep your things neatly organized.
But, did you know that you can also use them as a cooking tool?
Zip Bag Pancakes
To make zip bag pancakes, mix all of your dry ingredients in a zip bag before you venture off.
At the campsite, all you need to do is add eggs and milk, and give the bag a good shake.
Then, cut the tip of the zip bag off with a pair of scissors, and pipe the mixture onto a buttered skillet.
I love this method because it lets you make pancakes in all kinds of different shapes. Your inner child will think it's the best thing ever – and you'll agree when you get a taste of the fluffy, syrupy, buttery goodness.
Zip Bag Omelettes
For zip bag omelettes, follow the exact same procedure as the one I described above for mason jar omelettes.
Instead of a jar, put all of your ingredients into a zip bag and place it in a pot of boiling water. Let it boil until the eggs are nice and fluffy, and there isn't any more liquid inside the bag.
6 More Sweet Campfire Dessert Hacks
I don't know about you, but nothing gets me excited like a delicious dessert.
And while I love me some s'mores – after eating them on just about every camping trip I've ever been on, I have to admit that trying out some new campfire dessert recipes can be a fun change.
Tin Can Cakes
If you've got any empty tin cans left over from lunch or dinner, keep them. Later on, you can rinse them off and use them as ramekins to bake cakes in.
Whether it's banana bread, apple pie or chocolate cake – you can bake it in a tin can on the campfire.
If you haven't got any tin cans, this will also work in a mason jar. Just make sure that you grease whatever you're using with a generous amount of butter or cooking spray.
Orange Peel Cakes
If you haven't got any tin cans or mason jars, don't worry. You can still enjoy some delicious baked goods off the campfire. All you need is a few oranges!
Just cut the tops off, hollow them out, and fill the empty peels with the cake batter of your choice. Brownies, muffins, whatever floats your boat. You can even do cinnamon rolls.
Put the top you cut off back on and wrap the orange in tin foil. Throw it on the fire until the batter is baked through.
And enjoy!
The best part is that the orange peel gives the cake a delicious citrusy aroma. Yum!
Banana Boat S'Mores
But orange peels aren't the only fruit peel you can use to whip up a mouth-watering campfire dessert. Bananas can also be stuffed with chocolatey, marshmallowy goodness and thrown onto the fire.
Banana boat s'mores are a fun twist on the campfire favorite. Just slice a banana down the middle vertically, and start stuffing.
You can put anything you like in there, from sprinkles, to Nutella, to mini peanut butter cups.
Like with the orange peel cakes, just wrap the banana in tin foil once you're done filling it, and throw it over the fire until everything inside is melted and gooey. This won't take as long as the orange cakes to be done, though – around 10 minutes should be enough.
Loaded Cone S'Mores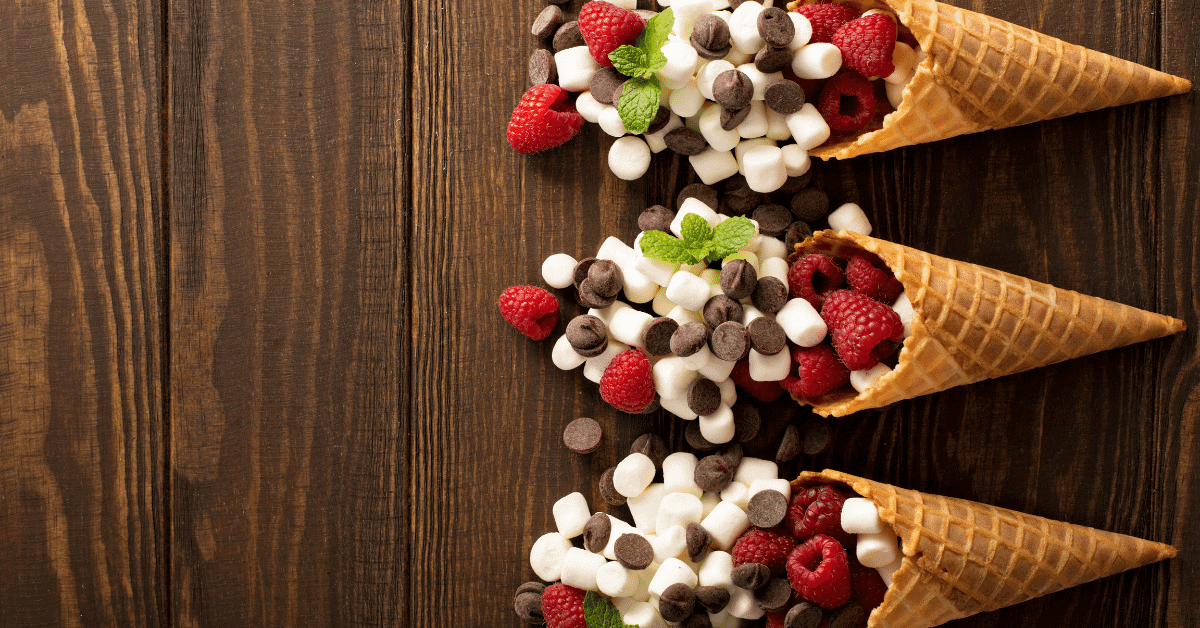 Don't get me wrong – banana boat s'mores are awesome. But, if there's one twist on classic s'mores that takes the cake for me, it would have to be this one.
The idea is that instead of graham crackers, you've got a waffle cone. Stuff the cone full of chocolate chips, marshmallows, and any other goodies you want to throw into the mix.
Again, wrap it in foil and throw it over the fire for around 5 minutes or so, or until the contents are nice and gooey.
Now, take a bite and tell me that isn't the best thing you've ever tasted.
Campfire Baked Apples
Looking for a healthy dessert option?
How about some campfire baked apples?
Hollow the center of an apple out and stuff it with some trail mix. Wrap it in tin foil and throw it onto your campfire's hot coals. Let it sit for 5 minutes, then flip it over and bake it on the other side for another 5 minutes.
I love this recipe because not only is it delicious, but it's also healthy and it's a great way to use up your trail mix if you've got any left over towards the end of your trip.
Baileys Dipped Marshmallows
Here's one for the adults. While the kids are digging into their s'mores, you can try out this little piece of heaven on a stick.
All you have to do is roast a marshmallow over the fire, and then dip it into a glass of Baileys.
Make sure you do it in that order, and not the other way around.
This tastes so good, you'll never want to eat a roasted marshmallow any other way ever again. From the moment you taste it, a bottle of Baileys will become an essential item on your camping checklist, right alongside the marshmallows.
3 Brilliant Ways To Pack Your Dried Herbs & Spices
Unless you're preparing all of your food in advance, you're going to want to take some herbs and spices along to add to your cooking.
This can be a bit inconvenient, because you only need a few pinches, so you don't want to take up space with entire packets of spices you don't really need.
Don't worry, though – there is a solution.
Actually, there are a few.
Drinking Straws
Hear me out.
Packing your herbs and spices into drinking straws might not sound like the best idea you've ever heard. But, that's just because you haven't tried it yet.
Use a lighter to melt the end of a straw and pinch it closed. Then, fill it up with whatever herb or spice you want to take, and seal the other end in the same way.
By packing your spices like this, they'll take up the least amount of space possible, and you get the perfect amount. Not too little, not too much.
Pill Organizers
Pill organizers are another good way to pack things from your spice rack. They're a good size and they close securely, so you won't have to worry about your spices spilling out onto the rest of your stuff.
Also, storing your spices in pill organizers keeps them all together in one place, which makes it a lot easier to stay organized.
Empty Tic Tac Boxes
If you know any tic tac addicts, start getting them to save the boxes. They're perfect for storing dried herbs and spices on a camping trip.
You can shake the spices right out of the box onto your food, which is also really handy when you're cooking in a hurry.
The Best Camping Coffee Hack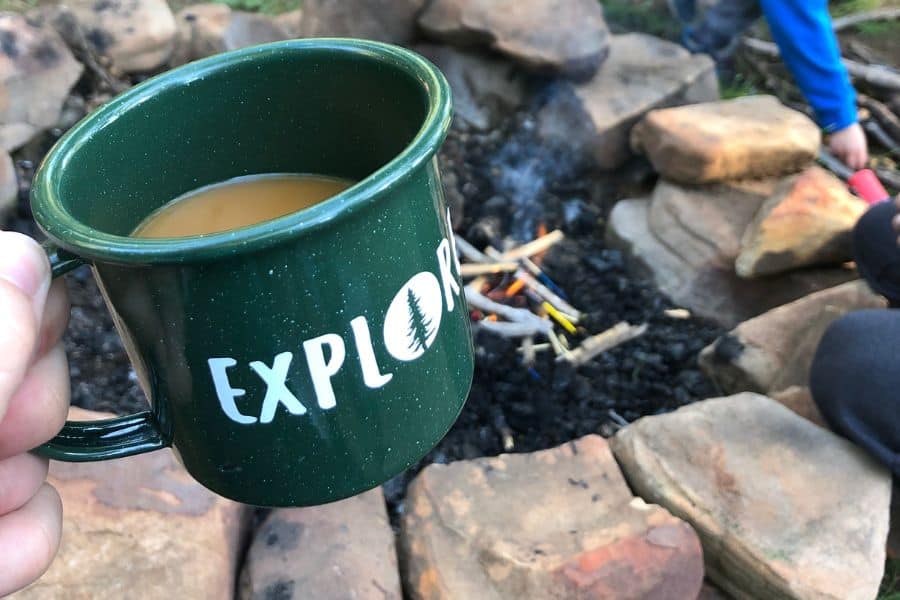 If you're anything like me, you take your morning coffee seriously. I don't care if I'm in the middle of the forest with no civilization around for miles on end – I need a cup of coffee to kick my day off.
Luckily, you can have your favorite coffee wherever you are. Take coffee filters and fill them with coffee, then tie them up with a piece of dental floss or string.
When you wake up at the campsite, just throw the coffee packet into a cup of boiling water and let it sit for a few minutes. Basically like making a cup of tea.
Coffee socks are another good solution, but I personally prefer filter bags because once you're done with them, you can just throw them away. They're completely biodegradable too, if you're using paper filters.
Or, you can just go with instant coffee, if that's your thing.
What's Next?
As you can see, there are loads of different ways you can simplify campsite cooking.
With just a little bit of innovation and planning ahead, you'll save a ton of time. Not only will you be able to prepare your meals quicker and easier, but you'll also spend less time washing dirty dishes afterwards.
We've given you some great examples of camping food hacks in this article, but it doesn't have to end there.
You can get creative and come up with your own camping food hacks. Try and find ways to use what you have to maximize efficiency and eliminate unnecessary dishes.
The bottom line is: these hacks give you delicious food, no drama, and more free time.
You can't say no to that.
For tips and advice on how to keep your food fresh and cold, check out this article I wrote.
Also Read: What Foods to Bring Camping? (30+ Tasty Recommendations)