If you're pressed for time, my favorite SUV tent is the Napier Sportz SUV Dome Tent.
There's nothing quite like the great outdoors. That is – until your back is sore from sleeping on the ground, or the weather is starting to make things unenjoyable.
While many argue all of this is an essential part of camping, there are ways you can camp without being uncomfortable. Like SUV camping!
Camping with an SUV tent is just like normal camping, except maybe more convenient as everything is already right there in your car.
Without further adieu here are the best SUV tents on the market today:
Best SUV Tents:
Best Rooftop Tents:
See how all of the SUV Tents stacked up here.
Best SUV Tent: Our Top Recommendations
Napier Outdoors – Sportz SUV Dome-To-Go Tent
Tent Size: 4 person | Seasons: 3-season | Weight: 31 lbs | Inside Height: 78 in | Floor: 8.5 x 8.5 (72.25 sq ft) | Setup Time: 10 mins
You'll notice that Napier Outdoors Sportz Tents make this list more than once. There is for a reason for it – Napier Outdoors makes a great SUV tent.
They have a variety of options, but we like the Dome-to-Go version the best. The key differentiator, between this tent and the Backroadz dome is the 6′ x 6′ awning.
No other SUV tent has all the features and luxuries to help you camp out of your car like the Sportz SUV Dome-to-Go. It's an extremely spacious 4-person tent, but still gives you plenty of headroom with its 78 inch inside height.
As with vehicle-mounted tent, there is a potential for leaks between the vehicle and the tent. Make sure to properly mount and secure the tent to the vehicle to avoid any weather issues.
Pros:
A huge four-person tent that can also act as a standalone tent when necessary
Made with durable, waterproof material, that will hold up during wind and rain
Dome tents are the most performant tents in bad weather, giving this tent an advantage over other tent types
Large sections of mesh windows, allow for great airflow and lots of sunlight.
6 x 6 awning gives you 36 sq ft of additional outdoor shaded living space
Cons:
This tent can leak at the vehicle connection points
Check to make sure that this tent fits your size SUV or vehicle
Best for: all-around weatherproof SUV tent, attached to the car or pitched on the ground.
Napier Outdoors – Sportz SUV Tent
Tent Size: 6 person | Seasons: 3-season | Weight: 41 lbs | Inside Height: 90 in | Floor: 10 x 10 (100 sq ft) | Setup Time: 15 mins
Similar to the Dome-to-Go, the Napier Outdoors Sportz is a large, roomy ground tent that makes camping out of your car a luxury. In fact, this tent is large enough to be a stand-alone tent without being attached to a car at all!
This Napier SUV tent has several other features that make it a great choice for taking your SUV camping. The most prominent is the bonus of turning your car into an extra room.
Pros:
This tent is plenty large and roomy measuring 10 by 10 feet and 7 feet tall – it also includes an attached screen room and awning for even more room
With so much room, this tent also functions very well as a stand-alone tent – it does not need to be attached to a car to work
Large sections of mesh windows, especially in the screen room, allow for great airflow and lots of sunlight
This tent is made out of durable, waterproof material, so it will definitely hold up during rain and wind
Cons:
It's so large, this tent takes two people to put up in a timely matter
The screen room is on the wrong side of the tent, considering that most extra space in a campsite is on the passenger side, not the driver's side
Best for: camping with the whole family, attached to the car or pitched on the ground.
Rightline Gear – SUV Tent
Tent Size: 6 person | Seasons: 3-season | Weight: 20 lbs | Inside Height: 86 in | Floor: 10 x 10 ft (100 sq ft) | Setup Time: 30 mins
The Rightline Gear 110907 SUV tent is a great tent if you are planning on going camping out of your SUV. It fits a variety of SUVs and can easily turn the hatch of your car into an additional room.
This car camping tent comfortably sleeps two adults along with children and pets. Four adults could technically fit in here, but it would be a tight squeeze.
With an easy and quick setup, you can see Steve unbox and setup the Rightline Gear SUV Tent within minutes:
Pros:
It is easy for one person to set up on their own and takes less than 30 minutes
The tent adds extra room so you can sleep in the back of your SUV and use the tent portion for storage or another sleeping area
If you need to use your car while you are camping, you can easily detach the tent and let it stand on its own
The waterproof exterior and bathtub style floor make this tent able to withstand powerful winds as well as torrential rain
It has a large window that is perfect for checking out the views of your surroundings
Cons:
Some users have reported that the stakes that come with the tent are weak
The door unzips from the top to the bottom leaving the door rolled out on the floor where you could end up treading on it
Best for: people who want a portable tent that can be detached from your car (for whatever reason).
Check Price on Sportsman's Wearhouse
Napier Outdoors Sportz Cove SUV Tailgate Tent
Tent Size: 2 person | Seasons: 3-season | Weight: 7 lbs | Inside Height: n/a | Floor: 2 feet awning (n/a) | Setup Time: 5 mins
Easily convert the hatch of your SUV into a tent with the Napier Outdoors Sportz Cove SUV Tailgate Tent. This SUV tent is a simple sleeve that fits over your hatch and attaches with a few bungee cords.
This tent is great for anyone going car camping who doesn't want to feel claustrophobic by closing the hatch to avoid bugs, weather, and more. It is also very quick and easy to set up.
Pros:
If you need to leave the campsite, you simply close the hatch and lock up – everything else will stay in place so all you have to do is open the hatch when you return
Set up does not take long and is super easy for one person to do alone
The Cove Tailgate Tent allows you to sleep in your car without having to close the hatch or be swarmed by bugs
This tent is lightweight, comes with minimal components, and easily folds back up into the provided bag
Cons:
Fits most SUVs… but not a perfect fit for all SUVs – double check the size and make sure it works with your vehicle
It does not give you a lot of extra room, since you are confined to your car
Best for: solo campers who want a simple, affordable tent that slaps right on the hatch
Buy Direct from Napier Outdoors
Napier Outdoors – Backroadz SUV Tent
Tent Size: 5 person | Seasons: 3-season | Weight: 28 lbs | Inside Height: 89 in | Floor: 10 x 10 ft (100 sq ft) | Setup Time: 10 mins
The Backroadz SUV Tent is a spacious tent that allows you to turn your SUV into additional space while camping. Whether you use it for added storage or an extra place to sleep, this tent is versatile enough to do it all.
With all this room, fitting two adults and two children into this tent is a breeze with plenty of room to spare.
Pros:
Measuring 10 by 10 feet and 7 feet tall, this large tent provides tons of space in addition to the space you have in your car
Large doors and windows that are almost the size of the tent walls provide great ventilation
The universal vehicle sleeve means that this tent will fit a variety of different SUVs – the straps are adjustable to help you create the perfect fit for your car.
Set up is easy enough to do alone
Using your car while camping is easy to do by disconnecting and reconnecting – the tent will remain standing until you come back
Cons:
The rainfly blocks the windows and doesn't allow for much ventilation
Some users have reported that the tent poles that come with this tent are weak and flimsy
Best for: campers with pets or kids who want space and the ability to leave the tent while running errands.
Best Rooftop Tents
Smittybilt – Overlander Tent

Tent Size: 3 person | Seasons: 4-season | Weight: 116.5 lb | Inside Height: 51 in | Floor: 95 x 56 in (36.9 sq ft) | Setup Time: 5 mins
The Smittybilt Overlander tent unfolds right on top of your SUV, making set up and take down a breeze. Turning your SUV into an asset when you are camping is a great way to utilize more of your resources.
There's plenty of room to fit two adults, even if they are over 6 feet tall, as well as pets or children. Three adults in this SUV camping tent would make it tight for space.
Pros:
The multiple windows and big sunroof give this tent lots of light and ventilation, as well as making it great for sightseeing
Unfolding the tent and attaching the rainfly only takes a few minutes – refolding the tent only takes a few minutes, as well
The ladder to get in and out is safe and sturdy, even in the dark
The tent is roomy, even for adults that are over 6 feet tall
Made with rugged, durable material, this tent is waterproof and sturdy, even under stormy conditions
Cons:
Placing the tent on the roof of your car might take two people since it weighs over 120 pounds
Best for: campers who don't want to take up a lot of campground space, or want to be high off the ground.
Yakima SkyRise HD Tent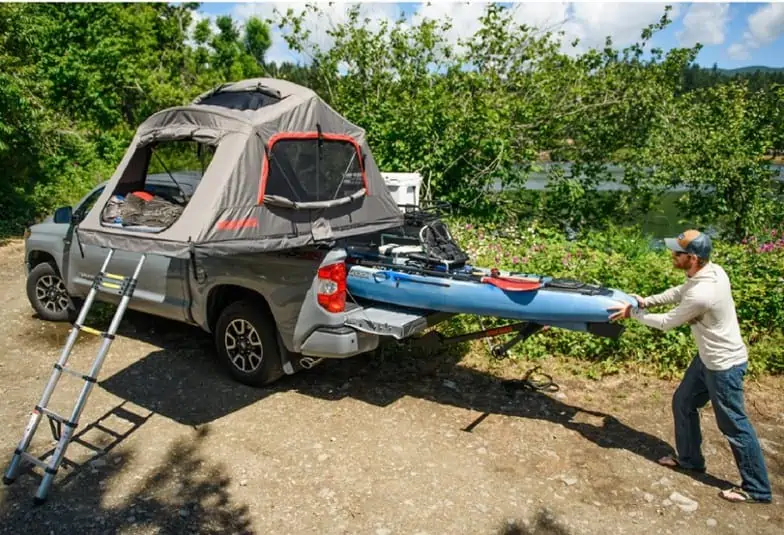 Tent Size: 2 person | Seasons: 4-season | Weight: 101 lbs | Inside Height: 42 in | Floor: 84 x 48 in (28 sq ft) | Setup Time: 5 mins
If you are looking for a great 4-season SUV tent, look no further than the SkyRise.
The Yakima SkyRise HD Tent (full SkyRise review here) comes in two different sizes small (2-person) and medium (3-person), depending on your personal needs, and compared to some other high-end rooftop tents, the Yakima tents are priced right.
The rainfly in the HD models is coated with a polyurethane coating so that it's completely waterproof. They have a 3000 mm waterproof rating, which indicates the pressure at which water is able to press through the material. In this case, the tent can sustain 3,000 mm of water on top of the fabric before it leaks.
As for the height, the S model is 42″ while the M models are 48 inches tall. That's roughly the standard height, so we can say that SkyRise tents are average in terms of headroom. What's more, even the rainfly has a clear window. This means that you'll have a view of the night sky even when it's raining.
The tent will also go up in just a few minutes.
Pros:
A waterproof and windproof tent with 210D Ripstop Polyester, 3000 mm PU waterproof coating that can stand up to the toughest elements
Leightweight compared to other rooftop tents, coming in at only 101 lbs
Easy setup that will take only a few minutes
Users love these, rating them the highest out of any other rooftop tent
Cons:
These tents don't pack small. You'll need to find a proper moisture-free space for storing it when not in use.
Pricey compared to some of the other Rooftop tents on this list
Best for: rooftop campers who want to camp in winter weather and have the most durable tent available.
Raptor Series Offgrid Voyager Rooftop Tent
Tent Size: 2 person | Seasons: 4-season | Weight: 140 lbs | Inside Height: 48.5 in | Floor: 52 x 83.5 in (30 sq ft) | Setup Time: 5 mins
The Raptor Series Offgrid Voyager Rooftop Tent gives you all of the great benefits of the other top notch rooftop tents, BUT with a unique design that gives you even more of a view than the competition.
Another 4-season tent that will give one or two people a great overall camping experience.
It's engineering to withstand heavy winds and rain, but allow for proper ventilation and a great panoramic view.
The square footage is similar to the Yakima, but the design gives you even more headroom.
Pros:
Unique design that gives panoramic views from within the tent
At 48.5 inches in height this tent is going to give you more headroom than the comparable Yakima 2-person
Made tough, with aluminum poles and

PU coated 300 GSM Ripstop Polyester Fabric

to withstand the elements
The most budget friendly rooftop tent on our list!
Cons:
Even though the materials are great, strong windblown rain can cause some problems
Best for: rooftop campers who want a unique and budget-friendly rooftop tent.
SUV Tents – Everything We Recommend
5 Benefits of SUV Camping
While many people think of traditional tents when they think of camping, there are actually many more options available. Like SUV camping!
There are many benefits to SUV camping. There are also several differences between traditional tent camping and SUV camping, starting with the tents you use. However, some of the differences are actually also benefits.
You don't have to sleep on the ground!
This might be the number one benefit for most people who choose to go SUV camping.
Not only can sleeping on the ground be cold and uncomfortable, but it can also put you closer to creepy crawlies and other critters. Sleeping in your SUV gets you off the ground and in a location, you feel comfortable and safe in.
You are extra-protected from the elements.
Yes, tents keep you out of the rain and wind, but when you throw your car into the mix, you have added protection!
Cars are made to withstand the elements extremely well. They are also sturdier than tents so if a really bad storm comes your way, you have nothing to worry about.
You could camp anywhere.
There's nothing like finding the perfect camping spot off the beaten trail. Even if it's not a traditional camping spot and you didn't plan where you would be camping, your SUV comes to the rescue.
With SUV camping (or its cousin, truck bed camping), you can be ready to camp anywhere and anytime. And, set up will be quick, to boot.
There is very little work involved.
While you do have to set up your SUV tent once you reach the campsite, you don't have to do much more!
Instead of having to lug everything back and forth from your car, it's all right there! You could even leave everything where it is in your car if you decided to sleep in the tent portion.
It's great for beginners.
If you are new to camping, SUV camping is a great way to start. You don't have to commit to the things that turn people away from camping, like sleeping on the ground.
Not to mention, comfort is a top priority for camping. It's likely you're already comfortable lounging in your car. If you need to take baby steps into camping, SUV camping is perfect for that!
How to Make SUV Camping Even More Comfortable
SUV camping is already pretty comfortable, but wouldn't it be great if you could be just as comfortable as being at home? Well, good news! You can!
There are several things you can do to make your SUV camping experience even more relaxing. With these tips and tricks, you could find yourself camping in even more comfort!
First and foremost, make sure that the campsite you are camping at allows car camping and SUV tents. This information should be pretty easy to find. It may be on their website or just make a phone call to find out.
Next, pack lightly. Make sure to leave anything unnecessary behind and only bring the things you need. This is the case whenever you go camping, but especially when you are SUV camping. Since you will be using your car for storage or sleeping, packing lightly will help give you more space.
Also, pack your food and toiletries lightly, as well. Buy mini travel-sized toiletries and bring small portions of food instead of the entire pack.
If you're concerned about privacy, consider investing in window screens to keep prying eyes out. This is especially true if your car does not have tinted windows.
Alternatively, you can rig up makeshift screens by hanging blankets, sheets, or towels outside your window. This is a win for privacy and frugality.
Also, consider investing in an air mattress or some other kind of padding like a sleeping pad to make sure you get as comfortable a night's sleep as possible. Nothing's worse than not getting enough sleep and not being able to enjoy your time in the great outdoors.
How To Choose An SUV Tent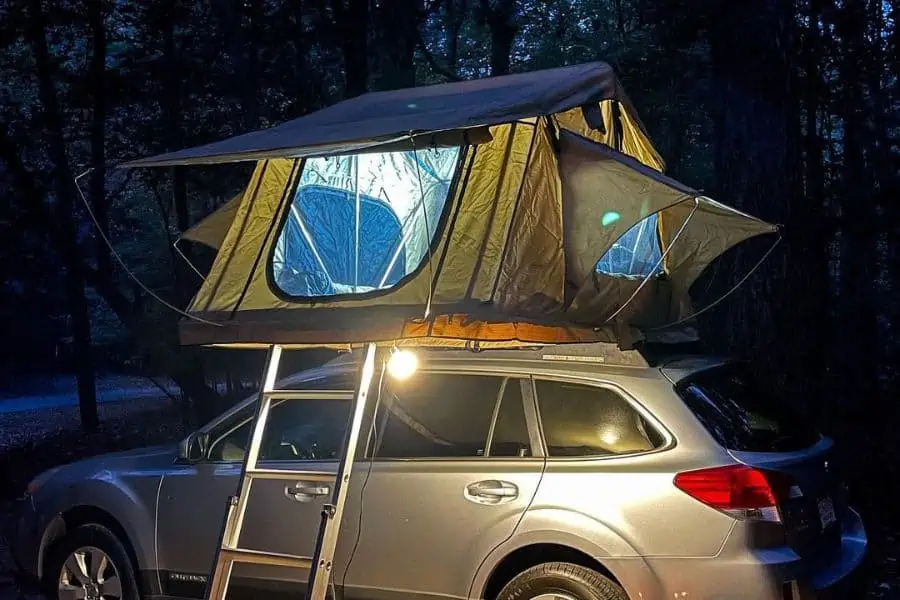 There are a lot of different SUV tents available today, so you might not be sure which direction to look in.
Don't worry – we're here to show you the way.
There are a few criteria you should consider when picking out an SUV tent, such as:
Which type of SUV tent it is
What size it is
The season rating it has
Which material(s) it's made of
How much it costs
Let's jump straight in and talk a little bit more about each of these factors.
Type
There are several different types of SUV tents out there. While they all attach to your SUV, they're actually each quite different.
First off, you've got hatchback tents. In case it's not obvious, these tents attach to the back of your SUV's like the Napier Outdoors Sportz Dome-to-Go or the Napier Outdoors Sportz Cove SUV Tailgate Tent.
With your trunk and the tent joint together, you end up with a large, spacious interior with more than enough room for sleeping and gear storage.
Next, there are rooftop tents. Rather than attaching to the back of your SUV, a rooftop tent sits on the roof of your car. These are great because they don't take up any more space at the campsite than just your car. We love the Smittybilt – Overlander Tent or the Yakima SkyRise HD Tent. 
Also, sleeping high up off the ground drastically reduces the chances of creepy crawlies ending up inside your tent. And that, if you ask me, is priceless.
And, finally – the truck bed tent. These tents are designed to be used with pick-up trucks, and you pitch them on top of your truck's bed.
Size
Like all tents, SUV tents come in larger and smaller sizes.
To make sure you select the right size, take into account how many people are going to be sleeping in the tent, as well as how much gear you plan on taking on average.
Compare that to the dimensions of a tent, and you should get a good idea of whether or not you're going to have enough room.
That's not all you need to worry about, though.
With SUV tents, the most important thing is that you get a tent that's compatible with your car.
Make sure that the size of the tent opening isn't too big or too small for the opening of the hatch on your SUV.
Season Rating
Of course, you definitely want to make sure that the tent you choose has an appropriate season rating.
Most tents are either 3 season or 4 season tents, with 1, 2, and 5 season tents (expedition tents) being far less common.
Basically, if you plan on camping in fine weather during late spring, summer, and early fall months, then a 3 season tent is the right choice for you.
However, if you plan on going camping during late fall, winter, and early spring, you're going to need a tent that can withstand cold temperatures and strong winds. In that case, you'll want to look at 4 season tents or on this list, you'll want to look primarily at the rooftop tents.
Material
While there are some exceptions, most tents are made out of either nylon, polyester or canvas. Different campers prefer different materials, as each of them have their own pros and cons.
In short, nylon is light, stretchy, breathable and quick to dry. However, it falls short of other materials when it comes to durability and UV resistance.
Polyester, on the other hand, is great when it comes to durability and UV resistance, and it's also more water resistant. That being said, it isn't as breathable as nylon, and the fact that it isn't as stretchy makes it more prone to tearing.
Canvas is a highly breathable material, and it provides fantastic UV and water resistance (when seasoned or waterproofed). On the downside, it's a lot heavier than other materials, and it's slow to dry, which makes it susceptible to mildew.
Unlike nylon and polyester, canvas is a natural material, which means it's much better for the environment. That alone is a fantastic reason to consider a canvas tent.
Water Resistance
Whether you're going camping during the winter, or in the middle of summer, you just never know when it's going to rain.
When it starts to pour down, you're not going to have much fun if your tent isn't waterproof.
4 season tents are almost always waterproof. With 3 season tents, however, this isn't always the case. Look at the tent's waterproof rating to be sure.
I've said it once and I'll say it again – if you buy a tent that's waterproof out of the box, waterproof it anyway.
Treating your tent with a waterproofing spray is a quick and easy DIY job, and it won't cost you much either. Nobody wants a leaky tent, so it's definitely worth it.
Price
Finally, as much as it might suck, you do unfortunately have to take your budget into account.
Fortunately, there are quite a few reasonably priced SUV tents out there that perform very well. The Napier Outdoors Sportz Cove SUV Tailgate Tent is a great budget option for someone looking to spend less and who is willing to sleep in their car.
Of course, you've also got premium rooftop tents (with a price tag to match) that offer extra comfort and additional features.
Don't be fooled, though – there are also plenty of tents that are loaded with features and have jacked up prices, despite being made poorly, out of subpar materials. That's why we've gone ahead and done all the work for you to test and rank all of these SUV tents, so that you don't have to worry.
User Ratings
Last, but not least are user reviews!
We can get a lot of great feedback from user reviews, but they aren't perfect. The average tent owner won't ever leave a review, so reviews are typically left by users who either have a really favorable or unfavorable experience.
Of course even that is still really great information, because if 90% of tent owners leave a positive 5-star review, then that is really saying something. So we blend reviews together from various sources and come up with an average user rating score.
We go through and read all of the reviews. We read the good, we read the bad, and then we factor in the quantity of reviews and calculate all of into our final User Rating score.
As you can see, SUV tents overall are rated very well, especially rooftop tents. But the Napier Outdoors tents aren't too shabby either, especially our top pick, which still hold up a 8.8 overall user rating. Let's face it, users can't get enough of their SUV tents!
FAQ
What is an SUV tent?
An SUV tent attaches to the back or the top of any SUV and turns your trunk or roof into a shelter.
Most of the SUV tents on this list attach to the back of your SUV extending the sleeping and living space of the vehicle.
With rooftop SUV tents, you don't need to sleep on the ground. And, because it's connected to the structure of your car, this tent will give you better protection from both rain and wind.
Can you put a tent on an SUV?
Yes,"SUV" tents are specifically designed to be compatible with an SUV. It's important that your tent model fits the measurements of your specific SUV trunk or roof.
Are SUV tents comfortable?
Given that many "rooftop" SUV tents keep you off the cold and uneven terrain, they can be more comfortable than those on the ground.
Rooftop SUV tents also provide better protection against the elements, which makes them especially preferable in bad weather conditions.
How do you attach a tent to an SUV?
"Hatchback" tents will attach to the back of your SUV while "rooftop" tents will attach to the mounting brackets on the top of your car.
Pro-tip! You can't attach a rooftop tent to a car that has a panoramic roof, so make sure to double-check your car's manual before you make your purchase.
Why do people use rooftop tents?
Rooftop tents are great, as they provide you with a flat, sturdy surface to sleep on.
Being off the ground also means you're sleeping away from insects and critters that could potentially bother you at night.
Our Verdict
SUV camping can be a great way to avoid some of the struggles that come with camping. Especially if you use the Napier Outdoors Sportz SUV tent.
The Napier Outdoors Sportz Dome-to-Go SUV tent has everything you need to camp out of your car. It's easy to attach to your SUV, durable as ever, and spacious enough to pack the whole gang.
Whether you are by yourself or you are taking the entire family with you, the added room of this SUV tent will make your camping trip much more comfortable. Not to mention, the sunroom and awning make it much easier to enjoy the outdoors.
Camping doesn't have to be about "roughing it." Camping should be an enjoyable experience for everyone involved and that's exactly what you get when you choose an SUV tent for camping.
But still not convinced, check out other alternatives to tent camping.