In a rush? We found that Coleman Carlsbad Tent is the best tent with screen room on the market today.
Want a tent with extra space, but don't want to have to lug around a massive 14-person tent?
In that case, you might want to get a tent with a screen room.
These days, many tents are being made with the main room and an added porch or screen room. This additional space gives you a nice place to store your gear, sit and enjoy nature (in the shade), or even sleep.
Here are our favorite tents with screen rooms and porches on the market today:
Best Tents with Screen Rooms:
Best Tents with a Porch:
Best Tent With a Screen Room: Our Top Recommendations
Coleman Carlsbad Tent
Tent Size: 6 | Seasons: 3-season | Weight: 22 lbs | Floor: 15 x 12 ft (120 sq ft) | Screen Room: 60 sq ft | Inside Height: 72 in | Setup Time: 15 mins
As you'll see in this article, we found that Coleman absolutely dominates the tent with screen room market. I don't know why that is, but it seems they went out of their way to go above and beyond in this category.
The Carlsbad model is no exception – this is by far our favorite tent with a porch available.
And best of all, you can get all these features for a very reasonable price.
What sets Carlsbad apart is its Dark Room Technology. Coleman went the extra mile and put extra dark material on the main room of this tent. According to the company, this fabric blocks 90% of sunlight and keeps your tent 11% cooler during the day.
Also, note that this model is available in 4-person and 6-person configurations. Both come with the same high-quality Coleman construction you'll learn to love for years.
Pros:
Dark Room technology provides unparalleled cooling and blackout inside the tent
Coleman's WeatherTec system gives you inverted seams and a welded floor, for superior water protection
The 60-square-foot screened porch gives you the benefits of a porch without the bugs. It's also 4 feet deep, giving you plenty of room
Unique color scheme and Illumiline™ reflective guy lines allow you to find this tent no matter what time of day it is
Polyguard fabric gives superior durability, making this tent one that'll last for years
Cons:
Windows are high off the ground, so not perfect for sight-seeing
Best for: families that want to stay cool, mosquito-free, and well-rested.
CORE 6 Person Straight Wall Cabin Tent with Screen Room
Tent Size: 6 | Seasons: 3-Season | Weight: 24 lbs | Floor: 10 x 9 ft (90 sq ft sq ft) | Screen Room: 50 sq ft | Inside Height: 76 in | Setup Time: 15 mins
Are you planning on camping in an area that can get quite buggy? Then you'll want to consider this 6 person straight wall cabin tent, with 50 sq ft of screen room.
What's better than the ability to sit outside, but keep the bugs away.
While not an instant tent, this tent is still quite easy to setup in only 15 minutes or less if you have help and get some practice.
The downside is that the screen room doesn't have great coverage and will get wet. It also doesn't have a floor.
Pros:
Additional square footage with a 50 sq ft screen room
Great wall tent with 3 windows and views for days
Easy to put up in just 15 minutes or less
Great ventilation thanks to windows on both sides and the front door
Cons:
Screen Room doesn't have rainfly or floor
Best for: Those camping in buggy areas.
Coleman 8-Person Evanston Tent

Tent Size: 8 | Seasons: 3-season | Weight: 26.4 | Floor: 15 x 12 ft (180) | Screen Room: 50 sq ft | Inside Height: 72 in | Setup Time: 15 mins
Next up is the Coleman Evanston Tent.
This tent is very similar to the Coleman Carlsbad. Their design is the same (dome style), their porch is similar (screen room style), and the 6-person models are exactly the same size. It's also got the same WeatherTec water protection system that you know and love.
The difference between the Evanston and the Carlsbad is that the Evanston does NOT use Coleman's Dark Room technology. Because of this, it is more affordable than Carlsbad, but other than that, there are not many differences.
We recommend the Coleman Evanston for someone who wants all the great Coleman features but wants to save a few dollars over the Carlsbad.
The Evanston is also available in 6-person and 8-person sizes. The Carlsbad is not available in 8-person, so this could be another reason to spring for the Evanston.
Pros:
WeatherTec system (inverted seams and welded floor) provide best in class water protection
High-quality tent for the price tag, as you'd expect from Coleman
8-person dome tent provides large interior space and a porch without being too bulky
Screened-in porch provides bug protection, good for lounging or storing gear
Sets up in 15 minutes, while still being wind resistant to 35 mph
Cons:
Does not come with Coleman's Dark Room technology, so might get hot inside
Best for: families or groups who want an excellent Coleman tent, but want to save money as well.
Ozark Trail 9-Person Instant Cabin Tent
Tent Size: 9 | Seasons: 3-season | Weight: 40.9 lbs | Floor: 14 x 13.5 ft (189 sq ft) | Screen Room: 70 sq ft | Inside Height: 84 in | Setup Time: 5 mins
If you're planning a camping trip with a larger group of people, you might want to consider this 9 person instant cabin tent from Ozark Trail.
This tent is huge, and you can comfortably fit at least 7 people inside, with plenty of room to spare for your camping gear and supplies.
It also features a screen room (clearly why we like it for this list), which gives you a nice little space to sit back outside, while still being protected from insects.
With a center height of 84", there's plenty of headroom too. Even the tallest campers will be able to walk around freely in this spacious Ozark Trail tent.
It's durable and stable thanks to steel poles and tough polyester fabric. It also comes with a polyester rain fly, which does a great job at keeping you and your stuff dry, even in a heavy downpour.
Due to its size, it is definitely on the heavier side. At just over 40 lbs., it's quite a heavy load. This isn't too much of an issue for car campers, but you definitely wouldn't want to have to carry it further than a short distance.
Pros:
Features a screen room for insect-free outdoor chillin'
Includes a polyester rain fly that provides great water resistance
Well ventilated thanks to multiple mesh windows
Polyester fabric and steel poles provide durability and stability
Incredibly roomy thanks to its large size and cabin style structure
Cons:
A lot heavier than the other tents on this list
No screen room floor
Best for: larger groups and families looking for a roomy tent with a screen room.
CORE 11-Person Family Cabin Tent with Screen Room
Tent Size: 11 | Seasons: 3-Season | Weight: 36.24 lbs | Floor: 17 x 12 ft (204 sq ft) | Screen Room: 56 sq ft | Inside Height: 86 in | Setup Time: 20 mins
Want to feel like the king (or queen) of the castle?
If you want a large tent with a porch, but don't want a cabin style tent, then this tent is for you. The 8-person Coleman Evanston (reviewed above) is an excellent choice for large groups but is a dome style tent rather than a cabin. The CORE 11-Person will fit you and your entire family AND provide ample room for you to stand up and walk around.
This tent sleeps 11 by putting 7 people in the main room and 4 in the screen room. Now does this tent actually sleep 11 people? Not really, especially if you don't want everyone sleeping within inches of each other.
Like many tents on this list, it has a screen room as a porch. In general, we like screen rooms much better, since they keep mosquitos and (some) rain out.
This tent comes with many features, including an electrical port, one-year warranty, and removable rainfly. What sets this tent apart is its ventilation system. Similar to all of its other tents, CORE made sure to install adjustable vents on the bottom of the tent. This allows you to open the vents when you need air, and close them when you want to keep warmth inside the tent.
Our full review of the CORE 11-Person Family Cabin Tent with Screen Room here!
Pros:
Room divider gives you privacy between groups, quiet time with your significant other, or simply time away from the kids.
Massively tall tent – center height is more than 7 feet high, allowing even Shaq to walk around
Tons of space – fits two queen beds in the main room, and one in the screen room
Superior ventilation system. Combined with the mesh ceilings and windows, this tent breathes.
Bright orange tent and guy lines mean you won't trip over the tent at night
Cons:
Sleeping 11 people in this tent is quite the squeeze
Like many large dome-style tents, it's heavy: 42.5 lbs
Best for: car campers who want a porch, tons of space, and the headroom of a cabin-style tent.
Wenzel 8-Person Klondike Tent

Tent Size: 8 | Seasons: 2-Season | Weight: 26 lbs | Floor: 16 x 11 ft (98) | Screen Room: 60 sq ft | Inside Height: 78 in | Setup Time: 15 mins
Want a large cabin-style tent, but don't want to splurge on a CORE? This tent provides all the perks of the CORE 11-person but in a slightly smaller size, with a slightly smaller price tag.
Like the CORE tent above, when Wenzel says "8-person," they mean "8 people in the main room and screen room." Nothing wrong with that, but definitely something to consider if you plan on taking 8 people camping.
For its size, this tent is super easy to set up and teardown. The instructions are sewn onto the storage bag and are crystal clear (no confusion).
Pros:
Quality materials – seams are waterproofed and the sewn-in floor goes up a few inches off the floor, keeping rainwater out
A large tent that can still be set up by one person (in about 15-20 minutes)
Fits two queen beds – one in the screen room, one in the main room. One more in the main room if you really pack it in.
A 10-year warranty guarantees your tent for an entire decade
As a cabin style tent, tons of headroom – 6'6" at the center
Cons:
No hole for you to pull an electrical cable through
Not as durable as the Coleman, but strong nonetheless
Best for: smaller families that want a cabin-style tent with a porch but don't want the large CORE.
Coleman WeatherMaster 6-Person Tent
Tent Size: 6 | Seasons: 3-season | Weight: 32 lbs | Floor: 11 x 9 ft (99 sq ft) | Screen Room: | Inside Height: 80 in | Setup Time: 20 mins
Last but not least is the Coleman WeatherMaster Tent, available in 6-person and 10-person configurations.
As we said, Coleman dominates the porch-ed tent competition. I don't know why, but they went the extra effort to make these tents top of their class.
Unlike the two Coleman tents described before, this tent is a cabin-style tent. If you want the reliability of the Coleman brand but the headspace of a cabin style tent, look no further.
Although this tent is called the "WeatherMaster," we've found it to have similar (or worse) weather protection compared to the Carlsbad model. Especially when you consider this is a cabin-style tent (with lots of surface area), the wind can really pound down on you.
Another thing I like about this tent is the hinged door. Unlike other tents, whose doors are nothing more than a piece of polyester held up by a zipper, this front door comes with a support beam and hinge. This patented design allows you to easily swing the door open and closed when you need it.
Pros:
Massive tent. You'll be able to fit two queen size beds in the main room and still have plenty of room to spare.
Unique hinged door provides easy access – no more fumbling around the zippers trying to unravel your door every time you want to enter or exit
Coleman patented welded floors and inverted seams (WeatherTec system) keep you as dry as you can imagine
Lighter than tents of the same size. The 10-person model is only 31 lbs, about 10 lbs lighter than the CORE 11-person.
High-quality carrying bag with strong handles and zipper
Cons:
Setup can be difficult the first time since it's so large but speeds up as you learn the ropes
The brown color is boring and could also blend into the woods
Best for: people who want a reliable, large Coleman tent with hinged doors for easy access.
Best Tent With a Porch or Awning: Our Top Picks
TETON Sports Mesa Canvas Tent with Porch
Tent Size: 6 | Seasons: 4-season | Weight: 71 lbs | Floor: 10 x 10 ft (100 sq ft) | Inside Height: 78 in | Setup Time: 15 mins
The TETON Sports Mesa 10′ is the epitome of durability. With it's 100 square feet of floor size makes it a formidable competitor in your hunt for a tent with a porch.
With the peak height of 78 inches (or 6.5 feet) means almost anyone can move around the tent with ease.
Add to that the fact it can be easily pitched within 5-10 minutes and that it's 100% waterproof, and you have one of the best canvas tents out there.
Now, no product is without its flaws. Like all canvas tents, this tent is not for people on a budget. You're are going to have to pay a pretty penny to get TETON Mesa.
On the plus side, you can safely expect to hand this tent over to your grandchildren, so in the long run, it will probably end up cheaper than most nylon tents.
Pros:
Cons:
No way around it – this is not a cheap product. You pay a premium price, but get premium quality
Tent stakes are of lower quality – you might want to pay a few bucks to get better ones
Best for: campers who are willing to invest a bit more for the durability of a great canvas tent with an easy setup.
Check Price on Sportsman's Warehouse
White Duck 10' x 14′ Prota Deluxe Canvas Tent with Porch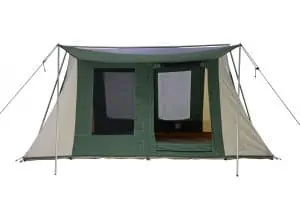 Tent Sizes: 4 & 8 person | Seasons: 4-Season | Weight: 94 lbs | Inside Height: 78 in | Floor: 10 x 14 (140 sq ft) | Setup Time: 20 mins
We love the porch on this White Duck Prota Deluxe Canvas Tent.
Made with 10.10 oz. Army Duck Cotton Canvas, the Prota 10′ x 14′ Cabin Tent weighs 94 lbs, but makes up for it in durability with YKK Zippers and a high-density groundsheet tub to make sure this tent lasts.
Because canvas tents have a lifespan of decades longer than polyester tents, it makes a worthwhile investment.
And the 8-person Prota Deluxe gives you 140 square feet of interior space, with a huge exterior awning (porch), and a peak inside height of 78 inches.
This White Duck Canvas Tent also has windows on every side giving you much better ventilation and viewing capacity than the other tents. Most tents you can't really enjoy the views from inside, but with this one, you most certainly can!
Pros:
Similar design to the standard canvas-style tents, with small differentiators
A quality canvas tent at a reasonable price that doesn't skimp on quality
Windows on all four sides mean gives you improved ventilation and panorama views
The heavy-weight ceiling is coated with silver to protect you from UV rays and keep you cool
YKK zippers, 100% duck canvas, and a high-density groundsheet tub make sure this tent lasts
Cons:
Much pricier than a standard 8-person tent
Best for: Families looking for a durable tent that will last for decades.
Check Price at White Duck Outdoors
Napier Outdoors – Sportz SUV Tent with Porch
Tent Size: 6 person | Seasons: 3-season | Weight: 41 lbs | Inside Height: 90 in | Floor: 10 x 10 (100 sq ft) | Setup Time: 15 mins
The Napier Outdoors Sportz is a large, roomy ground tent that seamlessly attaches to your car or SUV.
But best of all, it has a nice tent porch that comes along with it, something that you don't see much from standard tents.
This Napier SUV tent has several other features that make it a great choice for taking your SUV camping.
The most prominent is the bonus of turning your car into an extra room.
Pros:
This tent is plenty large and roomy measuring 10 by 10 feet and 7 feet tall – it also includes an attached screen room and awning for even more room
With so much room, this tent also functions very well as a stand-alone tent – it does not need to be attached to a car to work
Large sections of mesh windows, especially in the screen room, allow for great airflow and lots of sunlight
This tent is made out of durable, waterproof material, so it will definitely hold up during rain and wind
Cons:
It's so large, this tent takes two people to put up in a timely matter
The screen room is on the wrong side of the tent, considering that most extra space in a campsite is on the passenger side, not the driver's side
Best for: camping with the whole family, attached to the car or pitched on the ground.
How To Choose The Best Tent With A Screen Room (Screened Porch)
Now that you've seen our five favorite tents with screen rooms and porches, you might be wondering which one you should choose?
Here is what we recommend you look for in a tent with a screen room or a porch:
True Porch vs. Screen Room
The first thing to decide is if you want a true porch or a screen room.
A true porch is where all you have is one piece of fabric propped up overhead to protect you from the shade. Typically tent manufacturers call this an awning.
There's nothing on the ground, and no walls either. This kind of porch is light and inexpensive but doesn't provide much outside of shade.
A screen room on the other hand is a full additional room, separated by a door, that's screened in from the outside. This provides extra sun protection as well as full immunity from bugs.
As you can probably guess, I prefer screen rooms all day. Tent porches are great too, but the screen room is going to give you superior benefits overall.
In our experience, we found that the added pounds of the screen room's walls (which isn't very much) is well worth the added shielding from the elements.
Size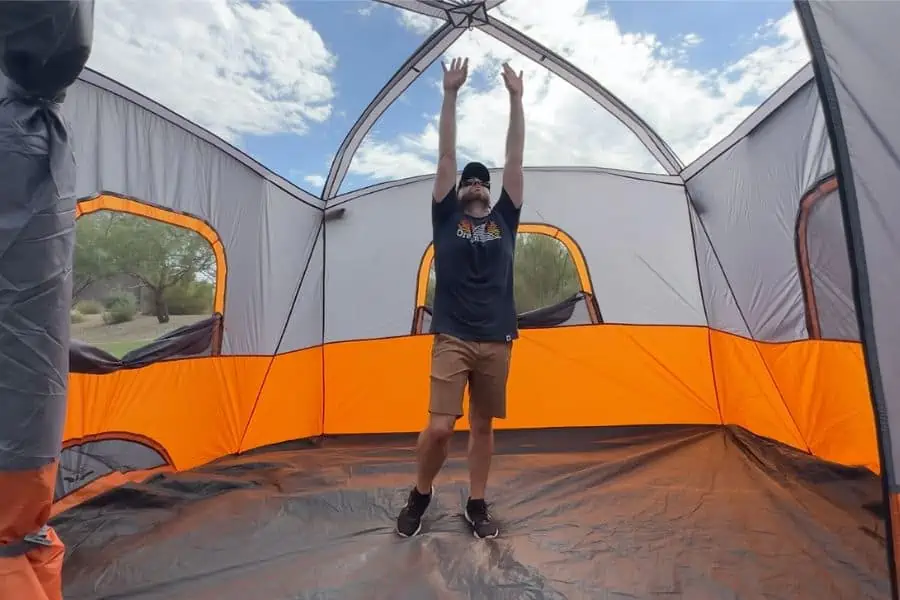 Next, you should determine what size tent you want. This will easily help you narrow down your choices.
As a reminder, we recommend you size up one or two people. If you want to go camping with 4 people, you should get a 6 person tent.
That's because tent manufacturers list their sizing as if the people were jam-packed against each other, lying elbow to elbow. No one wants that. No one does that!
Everybody wants room to breathe, some space for their gear, or at least a gap between people in case your friend starts kicking in the middle of the night.
So, start by choosing how many people you plan to go camping with. Then double it, and look at tents in that size.
Floor or Floorless Screen Room
The next thing you'll want to consider is if you'll want your screen room to have a floor or not.
In most cases, you'll probably prefer to have a floor to keep bugs and insects out to enjoy a more comfortable camping trip.
Floored screen rooms also are usually covered and can be used as a second sleeping area if desired.
But if you expect to encounter rain or weather of any kind, it might make more sense to go floorless.
This way, any water that makes its way through your screened porch, can drain back into the ground.
Weather Protection
When selecting a tent, you definitely want to take weather protection into account.
Every tent is made out of different materials, with different grade construction.
Our personal opinion? Weather protection is one of the most important factors to think about.
Especially if you're in a wet area like the Pacific Northwest, rain protection is paramount.
However, we understand that once you start to go down the "high-end camping gear rabbit hole," it's hard to get out.
There are hundreds of tents available today, ranging in cost from hundreds of dollars…to thousands!
That's why to cut out the confusion, we only recommend tents that are a happy medium of weather protection and price.
All of these tents have great water resistance and are strong against winds, but won't break the bank in the process.
We also rate the tents on their weather resistance, so you can get a clear picture of what to expect going into it.
Setup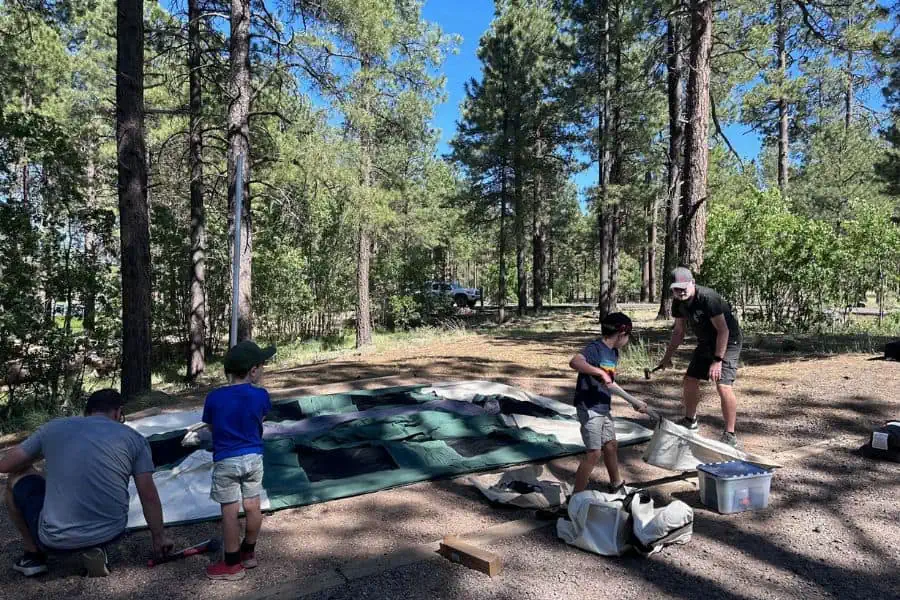 Let's be real. No one likes spending an unnecessarily long time setting up a tent.
But not all tents are the same when it comes to pitching.
Pop-up and instant tents make setup a piece of cake, allowing you to pitch it within a few minutes without anyone's help.
Standard dome tents are also typically easy to set up, featuring usually two intersecting poles to which you simply attach the tent fabric.
Large, canvas tents like the White Duck Prota Deluxe pictured above are on the more difficult side when it comes to pitching, given the heavy materials and the amount of stakes required.
But no matter what style of tent you get, a screen room or porch will contain extra poles and take extra time to set up. Period.
I recently pitched the CORE 11-Person Screen Room Tent, and the extra poles, fabric, and tie-downs all add to the time it takes to pitch.
UV Protection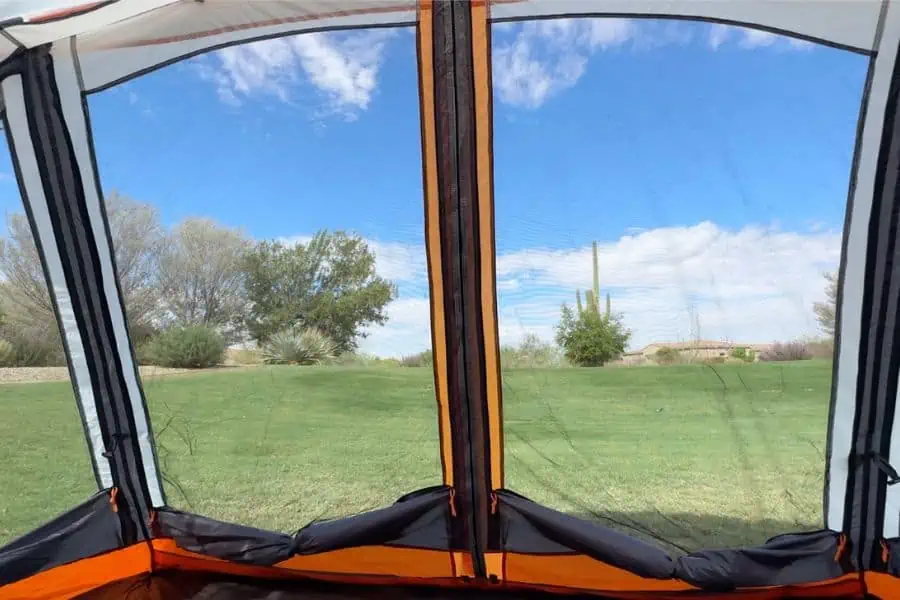 Since you'll probably spend some time sitting in your tent's screen room, you'll want to stay protected from the sun.
But not just the porch, your tent as a whole should have decent UV protection, as sun rays can pass through the material very easily.
Now, you should know that some tents don't come with a UV coat, but you can buy and apply one yourself.
No huge deal, just something to be aware of.
Budget
The final thing to consider is of course – the price.
No one wants to throw all of their money away on a tent. But, you also don't want to buy a tent that's nothing more than a garbage bag and some poles.
At Wilderness Times, we're committed to finding and testing tents that are not only affordable but also durable.
There's a sweet spot of price vs. quality, where you're getting the most bang for your buck, and that's what we try to assess in all of our reviews and ratings.
That way you don't have to spend a boatload on gear, but also have a tent that lasts you years to come.
However, we do include high-quality canvas-style tents due to their superior longevity. You'll own one canvas tent for every other 3-4 tents that you may need to purchase, making it worth the money.
FAQs
What is a tent screen room?
The screen room is basically a tent construction with mesh walls and a solid roof.
They're designed to protect you from sun and rain, as well as pesky insects.
Screen rooms are perfect for families with toddlers, dogs, an additional sleeping area, or those who simply want to enjoy a bug-free campsite.
Should I get a tent with a screen room?
While you can buy both a tent and a screen room separately, there are many models that provide a 2-in-1 experience.
These combo tents are more affordable, compact, and lighter than having a tent and screen room as separate products.
What is the purpose of a tent porch?
Unlike a screen room, a tent porch or awning has no walls or bottom.
It only features the roof, which is designed to protect you and your gear from the sun and rain.
Is it safe to cook in a tent screen room?
Technically, it's possible to cook inside a screen room, but it's not recommended.
Most screen rooms are made of synthetic materials, which can catch on fire easily.
Is it safe to cook in a tent screen room?
You should avoid cooking in a tent screen room. As you know, smoke goes upwards, but in this case, the roof will prevent it from escaping.
Not only it can heat up the fabric, but also cause a concentration of carbon monoxide.
Our Verdict
A tent with a screen room is a great option for family campers who want added space without extra weight.
This setup will give you all the sun protection of a porch, with added rain and mosquito defense (without costing you an arm and a leg).
Among all the tents with screen rooms and porches out there, our favorite tent with a porch is the Coleman Carlsbad Tent. This tent is available in 4-person and 6-person configurations.
As a dome-style tent, it packs a ton of size for its low weight. Its WeatherTec system keeps you dry, and the Dark Room technology helps maintain a low temperature inside the tent (while also letting you sleep in!).
Overall, it's a five-star tent with a sensible price tag that I'm sure you'll enjoy camping in for years.