In a hurry? After careful analysis, we found that the Decathlon Quechua Waterproof Pop Up Camping Tent is the best pop-up tent today.
Setting up a tent is probably my least favorite camping activity.
Thankfully, it's the 21st century and you no longer have to spend 20 to 30 minutes breaking your back just to pitch a conventional tent.
Instead, you can just choose an easy-to-set-up pop-up tent and be done in less than 10 seconds!
Without further adieu, here are the best pop up tents on the market today:
Best 2 Person Pop Up Tents:
Best 3-4 Person Pop Up Tents:
Best 6+ Pop Up Tent:
Still confused? Learn about how we test and review our Pop Up Tents.
Best Pop Up Tent: Our Top Recommendations
Decathlon Quechua Waterproof Pop Up Camping Tent
Tent Size: 3 person | Seasons: 3-season | Weight: 9.3 lbs | Inside Height: 43.3 in | Floor: 80.7 x 57.1 in (32 sq ft) | Setup Time: 2 min
Most pop-up tents come poorly made with limited features. However, there are exceptions, and this tent is one of them.
This awesome 3 person tent has a quick and easy set-up (2 seconds) and easy takedown (less than 1 minute), camping with this Quechua tent is a joy.
On top of that, it's a waterproof tent, and it performs well in windy weather, so you'll be safe and dry no matter what kind of weather you encounter.
It's made with heat and light-reducing materials, and it provides great ventilation.
On the downside, it's not the cheapest option out there and could be a little cramped even with just 2 people.
Pros:
Takes 2 seconds to pitch the tent
Lightweight – weighs only around 7 pounds, making it suitable for use as a backpacking tent
Can withstand even tropical rains
Durable and sturdy – you'll be safe even during high winds (up to 30mph)
Rain fly and side panels can be lifted to provide air circulation
Cons:
Could get a little cramped with 2 people inside – best for one person and their gear
Best for: solo campers or backpackers who want a pop-up tent that's all-around awesome.
HUI LINGYANG 6 Person Easy Pop Up Tent
Tent Size: 6 person | Seasons: 3-season | Weight: 11.68 lbs | Inside Height: 53.5 in | Floor: 12.5 x 8.5 ft (106.25 sq ft) | Setup Time: 2 min
If there's a pop-up tent that's worth every penny, it's this one. It's a bit on the pricier side, but it has some unique features.
This tent features a large vestibule on one side. It gives you plenty of space to keep your camping gear or muddy shoes safe from rainfall.
Plus, you can let your dog chill out there, enjoying nature while staying dry if it's raining.
It has a waterproof index of 3000-4000mm. That's better than most pop-up tents, and it means you'll stay dry even in a heavy rainstorm. This is thanks to its double-layered fabric and taped seams.
There are two large doors and four side windows. When you add two rear hooded and ground vents, you get a tent with really good ventilation.
Pros:
A large vestibule is great for storing camping equipment and dirty boots
Large mesh windows along with roof and ground vents allow hot air to escape while keeping the bugs out
Thanks to a double layer design and taped seams, rain can't get inside the tent
An E-port lets you run a power cord inside your tent
Two pockets and a lantern hook let you keep small items close by
Cons:
Pricier than most tents on this list
Best for: campers who don't mind paying a little bit extra for a tent with plenty of storage space.
Gazelle T4 Hub Tent
Tent Size: 4 person | Seasons: 3-season | Weight: 30 lbs | Inside Height: 78 in | Floor: 94 x 94 in (61 sq ft) | Setup Time: 2 min
The Gazelle T4 Hub is an interesting find, because it is a rare for pop up tents to also be cabin tents. Usually instant tents lend themselves more to cabin tents, versus pop ups.
Anyways, the Gazelle really shines in giving you the 78″ of standing room. Thank goodness for a tent that you don't have to crouch in, especially for taller folks.
The Gazelle also comes with a removable floor allowing you to utilize this tent for both camping and beach or park days. It really is a winner if you are willing to shell out the bucks for it!
Pros:
A cabin tent with 78″" of height allowing you to stand up fully
Stands up well to rain and wind
Super quick 2 second setup without tie downs
Made with quality 300-denier oxford polyester flooring and 210-denier polyester rainfly fabric
Durable YKK Zippers
Cons:
Openings in the corners allow bugs to get in
The most expensive tent on this list by far
Best for: Taller people, or where standing up is a priority.
Coleman 2-Person Pop-Up Tent
Tent Size: 2 person | Seasons: 3-season | Weight: 6.4 lbs | Inside Height: 35 in | Floor: 7.5 x 4.4 ft (33 sq ft) | Setup Time: 2 min
This Coleman tent comes in a 2 and 4 person version.
Usually, these sizes are off and two campers would need a 3 person tent to not feel cramped.
But in this case, the Coleman 2 person size will provide you and your significant other with plenty of space.
This tent weighs only 6.4 pounds, but thanks to poles and guy-out triangles, it will stay in place even during heavy winds.
Rain is also not an issue for this tent. Inverted seams hide needle holes so the water has no way of getting inside. There's also a zipper cuff that prevents raindrops from dripping in.
Unlike most pop-up models, this tent has a mesh roof and a removable rain fly. This allows you to partially or fully open up the top of the tent to let the air in and ventilate the tent.
Plus, everyone wants to stargaze from the comfort of their tent, right?
Pros:
Redesigned poles and guy-out triangles that help with keeping the tent in place
With only 6.4 pounds of weight, this tent is featherweight
A zipper cuff and inverted seams prevent the rain from leaking in
There are two storage pockets to help you organize your gear
A removable rain fly helps provide better ventilation
Cons:
The material is a bit thin
Best for: couples who camp together.
Decathlon Quechua 2 Person Pop Up Tent
Tent Size: 2 person | Seasons: | Weight (lbs): 38.6 | Floor: 47.2 x 82.7 (27.10722222 sq ft) | Max Inside Height (in): 7 in | Setup Time: 2 mins
The Decathlon Quechua is rather ample for a 2-person tent. While it's wide enough to fit two sleeping pads, it offers quite a bit of foot and head space.
It's worth noting that even though this is a popup tent, it's double-walled.
That's not something you typically see in popup tents, especially at this price range.
The rainfly is waterproof, but since the tent is double-walled, don't have to worry about condensation.
As long as you keep the guylines taut, the breathable polyester bedroom will ensure there's enough airflow inside the tent during a pour.
The shape of the tent makes it rather stable in wind. When properly staked, it should withstand wind blowing up to 30 mph.
Pros:
Double-walled, this tent is waterproof but keeps condensation at a minimum
With stakes and taut guylines, this tent can withstand wind of up to 30 mph
This tent is covered by a warranty of 3 years from purchase
Provides decent foot and headspace
Cons:
The flysheet has a UPF of 30, which is a bit underwhelming
Best for: solo camper or a couple who hates pitching tents.
OT QOMOTOP 4 Person Pop up Tent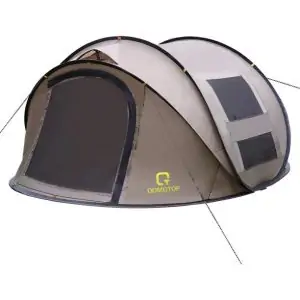 Tent Size: 4 person | Seasons: 3-season | Weight: 9.7 lbs | Inside Height: 50 in | Floor: 9.5 x 7 ft (66.5 sq ft) | Setup Time: 2 min
If you're looking for a pop-up tent with premium features, then this Qomotop tent is a great choice.
It's a 4 person tent that comes in two colors – blue and brown.
There's plenty of space inside this tent. You can easily fit a queen air bed and still have lots of space left for your equipment.
With a center height of 50 inches, you can easily sit up without hitting the roof with your head.
This tent has an excellent ventilation system. Four side windows and two roof vents make the tent very breathable.
The tent gives decent protection from weather elements. Taped seams hide needle holes where the water usually leaks through. And when you fix it in place with guy ropes and pegs, it can withstand winds of up to 35mph.
Pros:
It's spacious enough to fit a queen air bed with room for gear
The electrical cord access port allows you to drag in a power cord
Four side windows, two doors and two roof vents provide great ventilation
There are two gear pockets where you can store personal items
The tent can resist 35mph winds when fixed with guy ropes and pegs
Cons:
A bit on the pricier side
Best for: campers willing to invest more in a high-quality tent.
Wakeman Pop-Up Tent 2 Person
Tent Size: 2 person | Seasons: 3-season | Weight: 5.85 lbs | Inside Height: 39 in | Floor: 8 x 4.9 ft (39.2 sq ft) | Setup Time: 2 min
This 3-season pop-up tent from Wakeman is quite a bargain. For a very affordable price, you get a high-quality 2 person tent.
This tent is made of 190T polyester with a polyurethane coating. This means it's water-repellent and windproof. Plus, it does a great job at providing thermal isolation.
The tent door and windows feature ventilation mesh that helps with keeping the bugs out while letting fresh air in. When not needed, the door can be rolled to the side to stay out of your way.
There's an interior pocket where you can keep your phone or a flashlight. This way, you can have all of your important belongings close at hand.
Another nice feature on this tent is the power access port. This will come in handy when you need to charge your devices at the campground, or use a tent AC or a tent heater.
Pros:
This is one of more affordable tents on this list
There's enough space to fit a twin air mattress and still have room for equipment
190T polyester and polyurethane coating keep the rain out
An electric access port allows you to connect to a power source
Large door and windows provide lots of airflow
Cons:
Not ideal for cold weather
Best for: campers searching for a very affordable tent.
ZOMAKE 3-4 Person Pop Up Tent
Tent Size: 4 person | Seasons: 2-season | Weight: 5 lbs | Inside Height: 39 in | Floor: 95 x 71 in (46.8 sq ft) | Setup Time: 2 min
If you plan on camping only during nice, summer days, then consider getting a beach tent like this one from Zomake.
It weighs only 5 pounds but once you pop it up, it's spacious enough for three to four people.
This tent features a mesh double door and a large mesh window on either side, so ventilation is not an issue. Plus, there's also a mesh roof, so you can stargaze at night. The mesh net is very dense, so don't worry about bugs finding their way inside.
This is a classic pop-up tent, so setting it up takes less than a minute. Just open the bag, unstrap the tent, and throw it in the air. Watch it fully unfold as it falls down. And that's it.
Now you can open a bottle of beer and watch your friends pitch their regular tents for the next half an hour.
Since this is a beach tent, don't expect it to be waterproof.
These kinds of tents are designed for warm weather, but they do have some water-repelling abilities. So don't worry about a light summer drizzle – it won't get you soaked.
Pros:
This tent is very affordable
It weighs only 5 pounds, so even a kid can carry it
This tent is great for summer camping, as it has good thermal isolation
Two windows, two large D doors and a roof with a mesh layer provide good ventilation
The fabric has an anti-UV 50+ coating, which protects you from the sun's radiation
Cons:
This tent is only intended for warm, dry weather
Best for: camping enthusiasts that usually camp on a beach.
Abco Pop Up Beach Tent
Tent Size: 2 person | Seasons: 2-season | Weight: | Inside Height: 37.4 in | Floor: 88.6 x 47.2 in (29 sq ft) | Setup Time: 2 min
A lot of campers are looking for tents with a lot of bells and whistles.
But, if you're looking for a simple, basic tent that won't break the bank, consider the Abco pop-up beach tent.
As the name says, this tent is ideal for camping on the beach or in other fair weather conditions.
With two doors and two windows, ventilation is not a problem.
Now, this tent says it can fit two people. In reality, it's ideal for solo campers or kids who want to have their own "fort".
I also wouldn't use it during high winds or heavy rains – it's not really made for those conditions.
Pros:
An inexpensive option for people on the budget
Double doors mean getting in and out of the tent is a breeze
Two mesh windows on the front and the back provide excellent breathability
Great for providing shelter on the beach or in your backyard
Cons:
Not suitable for rainy conditions
Best for: Kids, people on the budget, and people looking for a simple, fair-weather tent.
How To Choose The Best Pop Up Tent For You
Pop-up tents are ideal for people who are tired of fumbling around the campsite with poles and loops, trying to pitch a traditional tent.
Compared to that, the ease and swift setup of pop-up tents seem almost magical.
However, not all pop-up tents are created equal. Choosing the best one depends on your unique situation and needs.
Here we'll talk about some of the things you need to pay attention to when buying a pop-up tent.
Size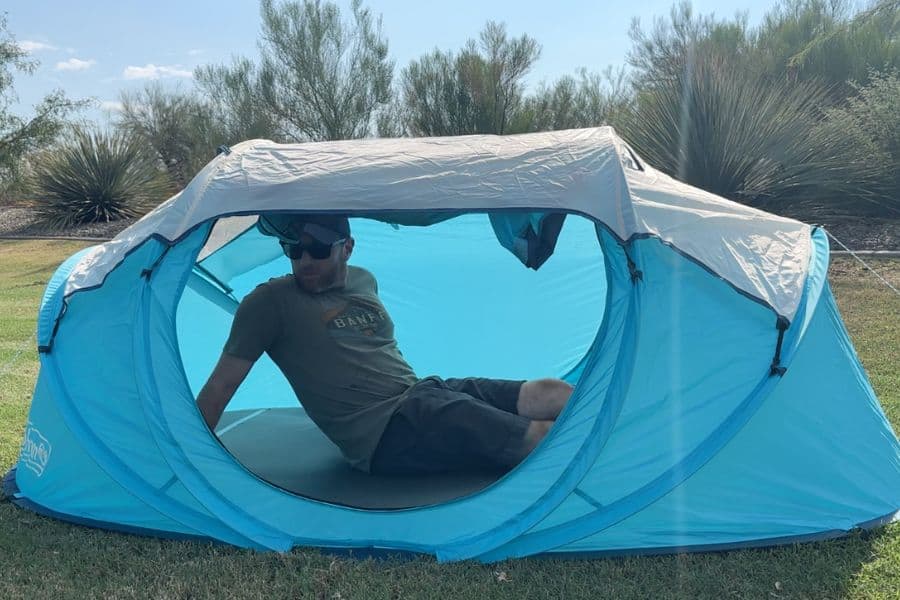 Even though pop-up tents come in all sizes, the most common ones can house between one and four people.
And do keep in mind – the manufacturer's idea of a 4 person tent and your idea are probably not going to be the same. Always buy a tent that has room for at least one more person than needed, but potentially double.
That will allow you to have some room to stretch and store your gear.
For example, if you plan to camp with 2 people, select a 4 person tent!
Pop Up tents, like any kind of unique kind of tent vary in size, space and comfort. For that reason, we grade each tent according to its size, not the type of tent it is.
So for a 6 person tent, it is rated in comparison with other 6 person tents, 4 person tents with other 4 tents, etc.
Pop Up tents generally come in sizes between 2 and 6 people.
If you want to go on a family camping trip and can't find a pop-up tent that can accommodate your larger group, it may be better to buy several smaller tents.
True, it's not ideal if you want to have everyone under the same roof in one big family tent. However, at least that way everyone will have enough room instead of being crammed into one small tent together.
Because of the way they are built, it may be harder to find a larger pop-up tent. After all, it's hard to make a frame that pops that's large enough for 8 or more people. If you're looking for bigger tents that have quick setups, you might want to see about getting an instant tent.
Waterproof Or Not?
The next important question to ask is whether the tent is waterproof or not.
Because of their light weight and portability, many pop-up tents are not that great at providing protection against harsh weather.
If you discover that your preferred pop-up tent is not waterproof, all is not lost.
You can buy a tent footprint or a tarp to put under the tent and a rain fly to cover the roof of the tent. True, this does mean your setup is going to take a little longer, but it will keep you dry and warm during rainstorms.
Or, you could waterproof the tent by treating it with a waterproofing spray for tents.
On the other hand, if you're going to mostly use your tent on the beach or in other fair weather conditions, this will not be as important.
Tents like the Decathlon Quechua and the Qomotop are both tested in a wind tunnel of up to 30 and 35 mph respectively.
Their dome-like designs as well as tie-down points make these tents the most weatherproof of the Pop Up tents that we rated.
Ventilation
Proper ventilation is important for all tents, and that's no exception here.
Since most pop-up tents are used during summer, you want to make sure yours has plenty of fresh air circulating through it. There's nothing worse than a hot and stuffy tent, and inadequate airflow can lead to problems with condensation.
When buying your tent, look for tents that have large windows and feature ventilation flaps.
Just make sure that the windows are covered by a mesh screen, so you can air your tent out without letting bugs in.
Materials
It's important to know that you'll always have to make trade-offs when choosing your pop-up tent's material.
Most pop-up tents are made from nylon and polyester, which keep the weight and cost down.
On the other hand, they are not as durable and long-lasting as standard tents or tents that are made with extremely durable cotton canvas.
Bonus tip: check to see if the tent you're looking at has a UV coating. This will protect your tent from the sun's rays without adding any weight.
Portability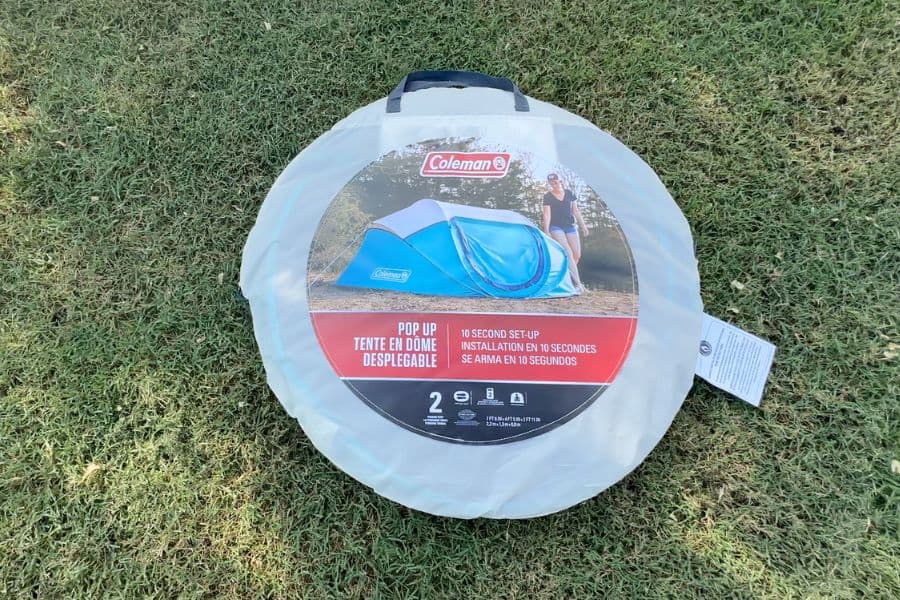 This factor's importance depends on your preferred style of camping.
If you're going car camping, this factor won't be as important.
However, if you like venturing out into the wilderness, hiking, and backpacking, then you need a lightweight tent that's easy to carry around.
Luckily, most pop-up tents tend to be fairly lightweight – usually under 10 pounds.
But the main problem here lies in the shape and size of the storage bag.
A lot of pop-up tents don't pack down very small, so even though they're light, many of them won't be the best for backpackers who need to carry their gear for miles on end.
Value
All tents are not created equally, and not all tents are priced equally either. Coleman for instance produces a great budget tent, while Decathlon produces a still affordable yet twice-the-price pop-up tent that can withstand the elements:
The Pop Up Tents that we tested all generally fall into the $50-$150 range.
Those on the lower end like the Wakeman Pop Up and the ZOMAKE are going to be more of your day use and beach use tents.
Meanwhile, the more expensive Decathlon Quechua and HUI LINGYANG are going to be pricier, but still provide amazing value in the features and weather performance they bring to the table.
Ultimately, the Coleman Pop Up came in with the top rating in value per dollar spent.
How To Set Up And Take Down a Pop Up Tent
Pop-up tents are, by design, incredibly easy to set up.
They literally set themselves up. All you have to do is take it out of the bag and unfold it, and there you have it. A tent! Stake it down, guy it out and off you go.
Taking them down is easy as well, once you get the hang of it.
It might seem difficult the first time you try to fold yours up, but once you figure it out you'll be able to do it in under a minute.
Here's a video showing how one person can easily pitch a pop-up tent and then take it down:
As you can see, it's super simple and doesn't require a lot of effort.
And takedown is just as easy, as we demonstrated.
Quick set-up and takedown are important in situations where speed and convenience are of the essence. For example, when it's about to start raining or when you quickly have to pitch a tent before it gets too dark.
Pop Up Tent FAQs
Are Pop Up Tents Worth It?
Pop up tents are worth the investment. They are great for beginner campers or campers looking for a tent they can put up quickly.
In addition to being easy to set up and take down, they usually weigh much less than equivalently sized tents.
What is the difference between a pop up tent and an instant tent?
A pop up tent is a specific type of instant tent that "pops" out of the bag as you set it up. They are usually always dome style tents. Pop up tents are very easy to put up, but sometimes hard to get back into their carry bag.
Instant tents on the other hand, are typically much heavier. They come with pre-telescoping poles built-in and open in a square or rectangular shape (a cabin tent).
Both are relatively easy to put up and each have their advantages and disadvantages.
How do you set up a pop up tent?
To set up a pop up tent, simply unzip the carrying bag, pull out the tent, and unstrap it.
From there it will begin to "pop" into place.
You may need to assist the tent to get it fully opened up, and finally you'll want to add any additional support poles and stake it down.
How do you fold a pop up tent?
Folding a pop up tent is a bit trickier. It may take several tries to get the combination of twists and turns correct.
But once you do, it shouldn't take more than a minute to get it folded back up. Make sure to get the straps back on and it should fit easily into its carrying bag.
Are pop up tents good for the beach?
Yes! Pop up tents are great for the beach. They are lightweight making them easy to carry onto the beach.
Then once you get situated, they are easy to put up and take down in just a few minutes.
Read: 33 Beach Camping Tips For More Fun in The Sun (and Sand)
Are pop up tents waterproof?
Even though they aren't waterproof, they're water resistant.
A quality pop up tent will hold up well to wind and rain, but if a storm is particularly bad, you may want to put a tarp above your tent for extra protection.
What are pop-up tents made of?
Pop-up tents are made of either polyester or polyethylene, and there is typically a waterproof coating on the inside.
The rainfly, if it has one, is usually made of polyester.
Our Verdict
Just because you want a pop-up tent doesn't mean you have to give up the comfort and cool features of more advanced tents.
That's why the Decathlon Quechua Waterproof Pop Up Camping Tent is our pick for the best pop-up tent today.
Not only is it ridiculously easy to set up and take down, but it's also:
Waterproof
Windproof
Reduces heat and light
Extremely breathable
If you want to buy a tent that will last you for years to come, we strongly suggest you invest in this tent. It'll serve you well on all your tent camping adventures.
More Tents by Type: