In a hurry? Our top pick for the best one person tent is the ALPS Mountaineering Lynx 1-Person Tent.
Planning on exploring the great outdoors all by yourself?
That will surely be an amazing experience, as long as you're packed properly. Contrary to popular opinion, going with a 1 person tent doesn't require you to sacrifice convenience and quality for less weight in your pack.
Today, I'll share with you some of the best 1-person tents on the market that strike the perfect balance between size, weight, comfort and weather protection.
So let's dive in!
Best 1 Person Tent – Our Top Picks
ALPS Mountaineering Lynx 1-Person Tent
I'm a massive fan of the design of the Lynx. It's got a dome-style layout, accomplished by crossing two aluminum poles through the center.
The poles are constructed with 7000 series aluminum. This is a high-grade aluminum alloy that's one of the strongest on the market. The Lynx's cross-pole design requires strong poles, and these do not disappoint.
ALPS made sure to add little perks to make your sleep experience relaxing. Even though this tent is on the smaller side, they put a sweet gear loft and side pocket so that you can store your things within arm's reach.
Vestibules are often found on larger tents, so it's rare to find one on a 1-person tent. Sure, the vestibule isn't large enough to fit a whole person, but it's still handy to have.
This tent weighs 4 lbs. 1 oz. but can be cut down to 3 lbs. 5 oz. without the rainfly.
Pros:
Quality craftsmanship of this level is rare at such a price point.
The Lynx's vestibule area comes from the rainfly and adds 32" of space to the entrance of your tent.
The zippers are large #8 sized, meaning you won't have trouble fumbling with these in the cold.
Dome style layout gives you more room and a less claustrophobic feel
Cons:
This is only a 3-season tent, and isn't going to stand up to high winds well
Best for: The best overall 1 man tent for the price. See full Lynx review here.
Big Agnes Copper Spur HV UL1 Tent
This is a great 3-season tent with lots of features to love. It offers the perfect combination of size and weight, making it an ideal choice for solo campers.
The first thing that caught my eye was the awning style vestibule. It gives you plenty of space where you can keep your gear and shoes safe from rainfall. By keeping all stuff outside, you'll have more space inside for sleeping in a variety of odd positions.
Still, there's plenty of room for all your necessities. Media pockets with earbud cord-routing, a ceiling pocket and off-the-floor storage help you keep your stuff organized and close at hand.
This is a double-walled tent – it consists of a mesh body and a nylon rainfly. And when you add a dual low-vent vestibule door and a high-fly vent to the equation, this tent allows good airflow and prevents condensation.
One of the star features is definitely the TipLok buckle system. It combines three functions into a single mechanism – a pole tip anchor, a rainfly attachment and a stake-out loop. This system drastically improves stability, and it really comes in handy when pitching the tent by yourself.
Pros:
The tent is made of double ripstop nylon which is lightweight yet very durable and puncture-resistant
A large vestibule door can be opened to create the awning and protect gear from rain
Interior loops and different types of pockets allow you to keep all of your essentials close at hand
Comes in two colors – olive green and orange
Cons:
Somewhat expensive for a 1 person tent
Best for: campers willing to invest in a high-quality tent.
REI Co-op Flash Air 1 Tent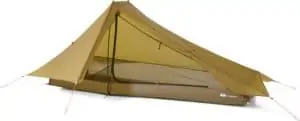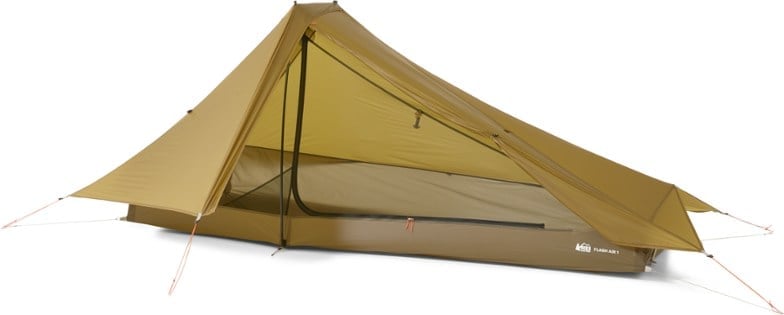 This model by REI Co-op is perfect for backpacking. Why? Well, it's the lightest thing on Earth. It weighs slightly over 1 pound, which is a dream for any backpacker.
The key to its weight lies in the fact that this tent is designed to be pitched with trekking poles. That way, you can leave tent poles at home and hit the trail with your backpack as light as possible.
To save up on weight and storage space, this tent features a single-wall design. This means the interior is more susceptible to condensation, and you'll have to vent it properly. It's a bit of a hassle, but the compensation is well worth it.
The fly can be pitched out to create a large awning where you can put your gear. During rainy weather, you can close it to keep the rain away from tent doors and walls, while letting the air in.
I love that you also have storage options inside. Internal mesh pockets and gear loops allow you to keep your phone, torch and other necessities where you can easily find them.
Pros:
Can be pitched with trekking poles, which saves you storage space and weight
With a packed size of 16 x 6 inches, you can fit the tent into practically any backpack
Features multiple guyout loops that help with tethering in harsh weather
Pockets and gear loops allow you to keep your things organized
Cons:
Has to be vented often to prevent condensation
Best for: trekkers and backcountry expeditioners.
Clostnature One-Person Tent
If you're not willing to pay a lot for solo shelter, this is a great tent to consider. It's lightweight, waterproof and super easy to set up. For the price it's sold at, this tent is quite a steal.
Starting with the design, this tent has somewhat of a dome shape. On one side, it features a D-shaped door and a large vestibule. You can store your gear outside and have more space for sleeping. But given the fact that the tent is 7 feet and 3 inches in length, you really don't lack room inside either.
The 210T Poly rainfly with PU5000 coating can withstand even the heaviest rain. This 3-season tent might not keep you warm during cold weather, but it will surely keep you dry. Plus, a high bathtub floor prevents water from getting inside the tent.
Except for the bathtub floor, the entire tent is made of mesh. And when you combine that with two ventilation windows on the rainfly, you can rest assured condensation won't be something you'll worry about. Or insects, for that matter.
Pros:
This is one of the most affordable 1 person tents on the market
Large D-door with two-way zippers allow you to easily get in and out of the tent
Waterproof rainfly, bathtub floor and factory-sealed seams assure no water gets inside, even during heavy rain
The tent comes with a pole emergency repair kit, so that you can temporarily fix the pole in case it breaks during your trip
Cons:
Slightly heavier than most models on the list
Best for: first-time solo campers and those who don't want to overspend on a single-person tent.
Winterial Single Person Personal Bivy Tent
If you're a fan of bivy sacks, you're going to love this tent. It offers a bit more space and that makes it slightly heavier than a classic bivy, but it's a well-worth trade-off.
While there are lighter options on this list, this 3-pound tent is still featherweight. It also packs small, so you can easily store it in your backpack.
This double-walled tent is suitable for use from spring to fall. It comes with a rainfly that fully covers the tent body and prevents rain from getting in. During warm nights, you can take it off and enjoy the night sky instead.
The rainfly is made of 190T polyester, which is the same fabric used as a shell for outdoor jackets. This means it's waterproof, windproof and has good thermal insulating properties. At the same time, it's breathable so you don't have to worry about condensation.
I love how simple this tent is to pitch. Just stake the corners and install the poles, which shouldn't take more than 3 minutes. I also love that you get 14 stakes, which is way more than you'll need to keep this bivy tent in place.
Pros:
The rainfly is sturdy and keeps you safe in rainy weather conditions
This is one of the most affordable 1 person tents on this list
Low profile keeps the tent in place even during high winds
Large doors allow you to easily get in and out
Cons:
Best for: camping in bad weather.
Snugpak Ionosphere One Person Bivy Tent
Right out the gate, you'll notice that it is super long. The inner tent length is 7'10". That's enough to fit Shaquille O'Neal, so I think you and your gear should have ample room.
Its trail weight is 2.64 lbs, and its pack weight is 3.34. That's less than a large water bottle.
The Ionosphere really is the best bivy-style tent available.
At the end of the day, the Snugpak Ionosphere will serve you well no matter where your adventures lead you.
Pros:
The poles are made from DAC Featherlite NSL aluminum, making them light and resistant to snapping
This is one of the best tents there is for fighting off the elements.
High quality materials make this tent one of the most durable 1-person tents that money can buy
The tent comes with a quality repair kit, so you can patch up any hole in seconds
Cons:
This does require a bit of setup compared to some of the other 1-person quick tents
Best for: Backpackers looking for a premium bivy-style tent. Read the full Snugpack Ionosphere review here.
TETON Sports Vista 1 Quick Tent
If you're solo camping, the last thing you need is a tent that's complicated to set up or requires an extra set of hands. Well, this model by Teton is exactly the opposite of that.
This is an instant tent, meaning the steel frame is attached to the tent body. You just need to roll it out, lock the poles, pull the drawstring and that's all. It only takes a minute or two to pitch it, so you can focus on other things you need to do around the campground.
The mesh top allows you to stargaze during hot summer nights. But once it gets colder, you'll have to use the rainfly as well. It's waterproof, so you'll stay dry even if it starts pouring during your camping trip.
If you wish to sleep elevated from the terrain, you're in luck. The size and shape of this model are the perfect fit for most oversized cots. This comes in quite handy if you hate having your back too close to the cold ground.
But the best thing about this tent is the price. High-quality 1 person tents are usually heavy on the wallet, but one is a clear exception. Sure, it might not have tons of bells and whistles as other models, but all the necessary features are there.
Pros:
Pitching is fast and easy, you can do it within minutes without anyone's help
Built-in gear loft allows you to store your phone flashlight or other lightweight gear you need close at hand
The pole system has a locking hub that keeps your tent standing firmly
Two-way zippers make getting in and out of the tent a piece of cake
Cons:
The rainfly doesn't cover the tent all the way to the ground, so your cot or footprint can get wet
Best for: camping aficionados that struggle pitching a tent by themselves.
ALPS Mountaineering Zephyr One-Person Tent
Storage is always the main issue with 1 person tents. And when you're camping for more than a few days, you want to have all the gear you might need. Well, ALPS Mountaineering had that in mind when designing this model.
The tent consists of a mesh body and a rainfly that forms a vestibule at the entrance. This gives you plenty of space to store your backpack and dirty shoes at night. At the same time, that means you can sleep more comfortably inside without equipment taking up space.
For a 1-person tent, it's pretty comfortable. It reaches 36 inches at its highest point, so you can sit up and move around at ease.
This freestanding tent is pretty simple to pitch by yourself. Slide the poles through the crossing and snap them in place – that's pretty much it. Then, stake it in place for extra stability during the wind.
With tent walls and doors made entirely of mesh, there's no need to worry about condensation collecting from the inside. The rainfly is made of 75D polyester, which is a recyclable fabric that's abrasion and water resistant.
Pros:
A large vestibule allows you to store all your gear outside
Low profile allows the tent to stand well against high winds
The center height of 36 inches allows you to sit and comfortably move when inside the tent
A lifetime warranty assures that the materials and workmanship will be free of any defects
Cons:
The triangular shape might cause rain to collect on rainfly doors
Best for: car campers.
Is A Single Person Tent Worth It? Let's Find out!
As you probably know, the capacity rating of a tent shows how many people can fit into it, packed like sardines. So a 1 person tent really means you've got enough room for your body – and that's pretty much it.
Naturally, you're wondering if such a tiny tent is worth it. I believe it is, and in this section, I'll give you a few reasons why.
Ease Of Setup
Nowadays, most tents are made with ease of setup in mind. I mean, who wants to spend an hour setting up a shelter?
This is where 1 person tents excel at. They're designed to be pitched by a single person. And because of their size and shape, you can easily set up the poles and attach the clips all by yourself.
Space
Not going to lie – a single person tent doesn't offer very much space. You've got enough room to crash at night, and maybe fit a backpack as well.
But forget about sleeping in starfish or other odd positions. Unless you want your feet resting on tent walls, sleeping on your back or side would be best.
I know this isn't an ideal setup for a comfy good night's sleep, but let's be real – when you're exhausted, you'll fall asleep as soon as your head touches the pillow and wake up in the same position.
If you think you'll need more room, look for a small 2 person tent, and if traveling with a dog consider these dog friendly tents.
Backpacking
Do you know what will get you exhausted enough to instantly fall asleep at night? Backpacking.
Single person tents are made for this. A tent is the bulkiest piece of backpacking gear, but a 1 person tent fits easily into a backpack. It also doesn't add much to your backpacking base weight – #winning!
And if you go with a non-freestanding option, you can save up space by leaving tent poles at home, and using trekking poles instead.
You're killing two birds with one stone!
Ultralight/Lightweight
When you're backpacking, you want to go as light as possible. Well, most one person tents weigh no more than 2.5 pounds.
Single person tents save up on weight in several ways. They're made of thin fabrics and zippers, have fewer doors and smaller vestibules, as well as a steeply sloped ceiling.
Sure, there's a downside to that. An ultralight tent requires extra care and might not hold that well in really harsh weather. But in the right environment, you won't notice these compromises.
Emergencies/Bad Weather Encounters
Being so lightweight and easy to set up, a 1 person tent can also be your emergency shelter.
Let's say you're going on a hike, but a set of circumstances prevents you from going back to your camp for the night. Having a 1 person tent in your backpack can save your life – literally.
Now when it comes to bad weather, a single person tent has its ups and downs. This depends a lot on the design.
Generally, 1 person tents are barely high enough for you to sit inside. Because of that, they're rather stable during windy weather. However, if the ceiling has a steep slope, it can catch the wind and practically turn into a sail.
What's more, non-freestanding tents might not perform as well in high winds as their freestanding brothers do. This is mainly because there are too many things that can go wrong, from a guyline breaking to poles collapsing due to lost tension.
Finally, some 1-person tents save up on bulk and weight by having a single-wall design. With such tents, you need to vent regularly to prevent condensation. But if it's raining the whole day, you might not get the chance to open the door and let the air in.
Still, most people camp during moderate weather conditions, so this shouldn't be too big of an issue.
In Conclusion
As you can see, choosing a one person tent doesn't mean you have to sacrifice quality and comfort for weight and storage space.
After long and thorough research, I can safely say that the ALPS Mountaineering Lynx 1 Tent has everything you might need in a 1 person tent.
It's durable, waterproof and has tons of options for storing all of your essentials.