What do you eat when you go camping?
This question has troubled outdoorsmen for decades. For a quick day-hike, you can stick to the basics – trail mix, beef jerky, granola bars, and cashews.
But, if you're camping for days at a time, those essentials will get old quickly. That's when campfire cooking comes into play. Cooking your meals and snacks on a campfire is a great, budget-friendly solution to cooking outdoors.
Today, I'll teach you a handful of ways to spice up your campground kitchen. I'll also share some tips on how to adequately feed your family when out in the woods.
Let's get right into it.
Foil Cooking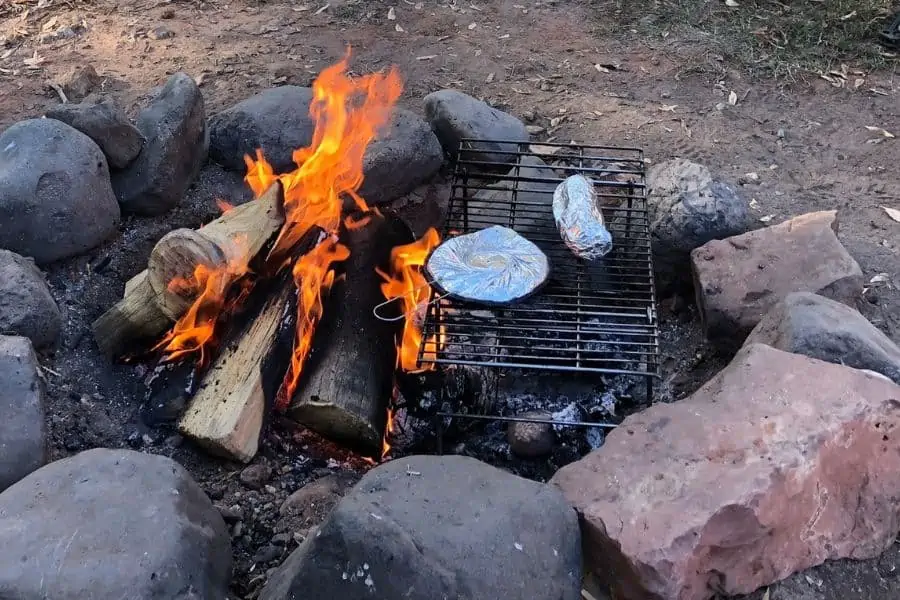 Let's kick things off with foil cooking. One of the biggest problems of cooking in the woods is that you don't have all your pots, pans, and gadgets with you. That's where foil comes in.
Aluminum foil provides a safe, secure, and fun way for you to cook tons of different recipes.
Everybody knows about cooking baked potatoes on the campfire, but did you know you can cook almost anything when you wrap it in aluminum foil?
How To Cook With Foil
Foil cooking is easy. All you do is:
Throw the ingredients together in a bowl
Wrap them up in foil
Throw it on the fire
I didn't include cooking times because that honestly depends on how hot your fire is.
My recommendation is 20-30 minutes for each (besides the ribs). Like anything, open up the foil to see if it's fully cooked before eating. Then, remember to let it cool a little bit. Since your food is over an open fire, you never know how hot it could be on the inside.
Now, let's get to the recipes.
Ham & Yam Hash
Bet you can't say that 10 times fast.
A family recipe, this one is fun because it seems to please every palate, no matter how picky. To prepare, dice up the following ingredients and toss them in foil. Heat it up until the yams are sweet and soft.
2 packs of sliced deli ham
1 can of yams
2 canned pineapple rings
2 tablespoons of brown sugar
½ tablespoon of butter
Baby Back Ribs
This one is pretty straightforward, and definitely one of my favorites. It's a keto friendly recipe, too, which is a bonus. All you do is take some ribs and throw them in foil with your favorite sauce or seasoning. Throw them on the fire for a few hours, and you'll have Texas-quality ribs in no time.
Ribs
BBQ sauce or seasoning
Cajun-Style Shrimp Jambalaya
For a little taste of Louisiana, this recipe will bring some spice to your campground. Because this is liquid-y, make sure you double wrap the packet and seal it tight, so it doesn't spill. Cook for 20-30 minutes.
1 lb peeled, uncooked shrimp
4 cups rice (cooked at home for ease)
½ lb andouille sausage, diced
1 can diced tomatoes
2 cloves of garlic
4 teaspoons of Cajun seasoning (I like Tony's)
1 teaspoon Tabasco sauce
DIY
As you can tell, foil cooking is pretty straightforward. If there are any home recipes you want to take to the woods, feel free to try it out. All you do is put the same ingredients in foil and heat it on the fire. Odds are it'll turn out tasty.
For inspiration, here's 30 foil cooking ideas to get your noggin running.
Painless Provisions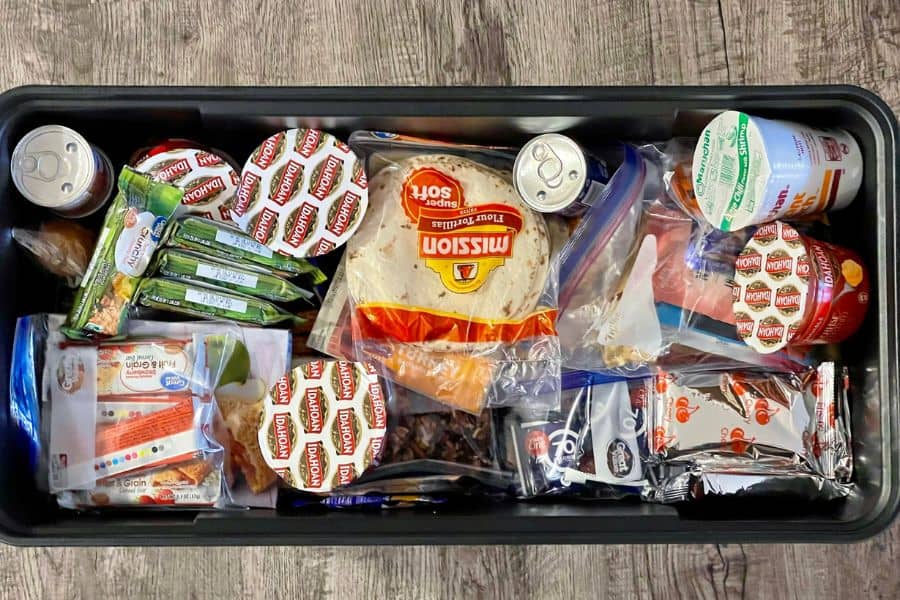 If foil cooking isn't your thing, here's a list of some of my favorite campfire recipes that anyone can cook.
Grilled Sandwiches
First up is a standard – the sandwich.
Sandwiches are easy to make and satisfy everyone. But, you can make your sandwich ten times as tasty by throwing it on the fire.
You can do this with a cheese sandwich to make a gooey grilled cheese. Or, if you're feeling adventurous, try making a grilled peanut butter & jelly sandwich. Grilled PB&J is surprisingly tasty, doubly so if you use crunchy peanut butter.
Mini-Pizzas
My boys love this recipe. It's fun and delicious and rewarding to make. Believe it or not, English muffins make delicious pizzas. You can also use bagels to the same effect.
Ingredients:
English muffins
Cheese slices
Canned tomato sauce
Pepperonis
All you do is assemble the above ingredients and toss them on the fire. If you're feeling extra adventurous, add some Italian seasoning.
Meatloaf
This one takes a little more prep but is sure to be a hit. You'll want to bring a dutch oven to make meatloaf, so really only use this if you're car camping.
My recipe is:
2 lbs ground beef (at least 85% lean)
¼ cup bread crumbs
2 tablespoons shredded cheese
1 teaspoon salt
½ teaspoon garlic powder
½ teaspoon oregano
½ teaspoon black pepper
½ teaspoon onion powder
To make, mash everything together. Put it in a Ziploc bag or aluminum foil to keep fresh. When you want to cook, throw on a little oil or butter and let it cook!
Coffee Can Pork Chops
Don't ask why this is so delicious, it just is.
Ingredients:
Coffee can (tin)
Boneless pork chops (thin sliced)
Red potatoes
Baby carrots
Onions
Butter
The ratios are up to how big your can is and how much you want to cook. The beauty of this recipe is that it can be scaled up or down based on how many people are eating.
To cook, rinse the vegetables and cut them into cubes. Toss a few slices of butter in the can and place it over the fire until it's hot. Insert the pork chops until brown, then add the vegetables. Add some more butter and cover the can with foil. Cook for 20-30 minutes, stirring every 5-7. That's it!
S'Mores
A campfire classic. No one knows how the s'more was invented, but I know one thing for sure…they're seriously delicious.
To make a s'more, all you need is:
Two graham crackers
One marshmallow
Two rectangles of Hershey's chocolate
To make one, stick your marshmallow on the end of a stick. Put it over your campfire and let it roast.
How long should you cook it for? That's up to personal preference. I like mine medium rare – crunchy on the outside and juicy on the inside. At the minimum, keep it cooking until it's golden brown.
Then, place your chocolate on the graham cracker. Put your crackers in your hand and pinch your marshmallow between the grahams. Pull out the stick – and enjoy!
If you want a new take on this old classic, here's a list of dozens of s'mores style desserts for you to enjoy.
Banana Boat S'Mores
Here's a campfire s'more hack I love to enjoy. It's easy to make and only requires a few ingredients. It's called banana a boat s'more.
The video above explains the recipe pretty well. For ingredients, all you need is a banana, some aluminum foil, chocolate, and toppings. I like using marshmallows or Reese's cups, but you can use almost anything sweet.
Here are the quick steps for those in a rush:
Open it up by slicing
Add toppings
Wrap it in aluminum foil
Toss it on the grill or place it over coals
Cook for 3-5 minutes
Open the foil
Enjoy!
The best part of this recipe is that you can eat it right out of the peel. This gooey treat will surely be a hit on your next camping trip.
Some Great Campfire Cooking Recipes
You can make so many delicious meals on a campfire.
In this section, I'll share with you some of the best recipes I tried out that I think you'll like as well.
Seven Ingredient Pasta
Pasta is a great option for camping, since it's quick and easy to make. For this specific recipe, you'll need:
½ pound spaghetti
¼ cup olive oil
10 garlic cloves
⅛ cup pasta water
⅔ cup chopped parsley
¼ tsp red pepper flakes
Salt and pepper
¼ cup Parmesan cheese (optional)
Lemon juice (optional)
This is a recipe for two. If you're making food for more people, simply increase the amount of each ingredient accordingly.
Here's how to make it:
Cook pasta until it's "al dente." Before tossing the starchy water away, grab a small cup as you'll need it later.
Mince parsley and slice garlic as finely as you can.
Add a bit of olive oil to a pan and place it over medium heat. When it starts shimmering, lower the heat and add garlic. Stir it until it becomes golden brown.
Add pepper flakes, salt, pepper, pasta and starchy water to the pan.
Stir well, then remove from heat. If you want, you can add parmesan and lemon juice at this point.
Loco Moco with Potatoes
If you haven't heard of Loco Moco before, it's a traditional Hawaiian dish made with white rice, a hamburger patty, a fried egg and gravy.
And yes, it's as delicious as it sounds.
Of course, there are many variations of Loco Moco, which use a different protein source.
For this specific recipe, we'll be using spam and potato instead of a burger and rice, as they're more convenient for camping.
For this recipe, you'll need:
1 large russet potato
1 can of spam
Brown gravy (package)
2 eggs
¼ cup olive oil
Salt
Here's what you need to do:
Dice the potato into small pieces.
Add a bit of cooking oil to the pan and let it heat up. Then, add potatoes, salt and saute them over medium heat. Make sure to stir every few minutes until they develop a nice golden crust.
Cut spam into ½-inch slices, then add them to the pan. Cook the spam on both sides for a few minutes, until it's nicely seared.
Grab a small pot and make gravy following the package instructions.
Now, it's time to make eggs. Add a bit of oil to a different pan, then add eggs. Cook them over medium for a few minutes, until yolks are runny.
To serve, cover the potatoes and spam with gravy and top the whole thing with eggs.
Fire Baked Potato
Potatoes do take a bit more time to make. But they're so cheap and easy to cook, so they're amazing for camping dishes.
My personal favorite is fire-baked potato.
You only need a few ingredients for this recipe:
1 large russet potato
Olive oil
Salt
Toppings of your choice (cheese, butter, sour cream, chili, etc)
You'll also need aluminum foil, as we'll bury the potato under the coals. Here's what you need to do:
Using a knife or a fork, stab the potato to make tiny holes all over it.
Coat the potato with olive oil and salt.
Grab aluminum foil and double-wrap the potato. Bury it into hot coals and leave it for anywhere between 30 and 60 minutes. Exactly how long it will take it to cook depends on how hot the fire is.
When done, add toppings of your choice.
Fish in Foil
Foil wrapping has got to be my favorite way of preparing fish. It's simple, relatively quick and, most importantly, delicious.
You'll need:
1 fish fillet
1 lemon
1 tablespoon of olive oil
1 tablespoon of soft herbs (basil, parsley or any other herb of your choice)
Salt and pepper
Here's what you need to do:
Season the fish on both sides with salt and pepper.
Slice the lemon, then put it on top of the fish. Then, add herbs of your choice and top it with a bit of oil.
Wrap the fish with aluminum foil and put it over hot coals. Cook both sides for 15 to 30 minutes, until the fish is opaque.
Dutch Oven Pizza
Who doesn't like pizza?
The beauty of this dish lies in its versatility. You can use any type of topping you like – even the notorious pineapple. Hey, I'm not judging!
Pizza is quick and easy to make, even on an open flame. For this recipe, you'll be using a Dutch oven. As for the ingredients, you need:
8-10 ounces of pizza dough
½ cup of flour and cornmeal
Toppings of your choice
And here's what you need to do:
First, you need to prepare the cooking surface. For this recipe, we're using a Dutch oven, which needs to be heated up to about 450 degrees.
To do that, you should place it right on top of the coals and cover it with hot coals as well.
Roll out the pizza dough to be as large as the bottom of your Dutch oven. Place the dough on parchment paper and stab it a few times to prevent it from bubbling while cooking.
Place the toppings of your choice on the pizza.
Use thermal gloves to remove the lid and put the pizza inside the Dutch oven. Put the lid back and cover it with more coals. Let it cook for 15 to 20 minutes.
Campfire Bacon or Sausage
Now, this recipe is as easy as it gets, but it's super delicious.
For the ingredients, you need:
Of course, you can use both or just one of the two, depending on your preference.
As for the tools, you'll need skewers. Alternatively, you can wrap them in foil and place them on the coals. It's really up to you.
Here's what you need to do:
Ribbon the sausage or bacon onto the sticks.
Cook them above open fire without rolling them too much to allow the to cook evenly. It shouldn't take more than 15 minutes to cook them completely.
Don't forget to collect the grease for additional dipping!
Cajun-Style Shrimp Jambalaya
Now, I know this meal takes about an hour to make and requires tons of ingredients. But trust me, it's well worth it.
Here's what you need:
1 pound andouille sausage
1.5 pounds raw shrimp
2 cups brown rice
1 large green pepper
3 cups chicken stock
3 garlic cloves
2 tablespoon olive oil
1 can diced tomatoes
2 tablespoon tomato paste
1 onion
2 teaspoon Cajun seasoning
1 teaspoon oregano
1 teaspoon thyme
½ teaspoon cayenne pepper
½ teaspoon paprika
½ teaspoon salt
½ teaspoon pepper
2 bay leaves
2 tablespoon fresh parsley
1 tablespoon green onion
To make this meal, you'll need a Dutch oven. Here's what you need to do:
Add olive oil to a Dutch oven and place it on medium-high heat.
Add vegetables and about half the Cajun seasoning. Let it saute for about 5 to 7 minutes.
Add sausage and saute it until browned.
Lastly, add shrimp and saute it until it turns pink.
Remove meat and vegetables from the Dutch oven and set them aside.
Now, add chicken stock. Once it boils, add rice, tomatoes and tomato paste. Cover with a lid and let it cook for about 30 minutes.
When the rice is almost done, add the remaining Cajun seasoning and cover until it's cooked.
Add the meat and vegetables you prepared earlier and stir. Cover and let it simmer for a bit.
Top with parsley and green onion.
Baked Potatoes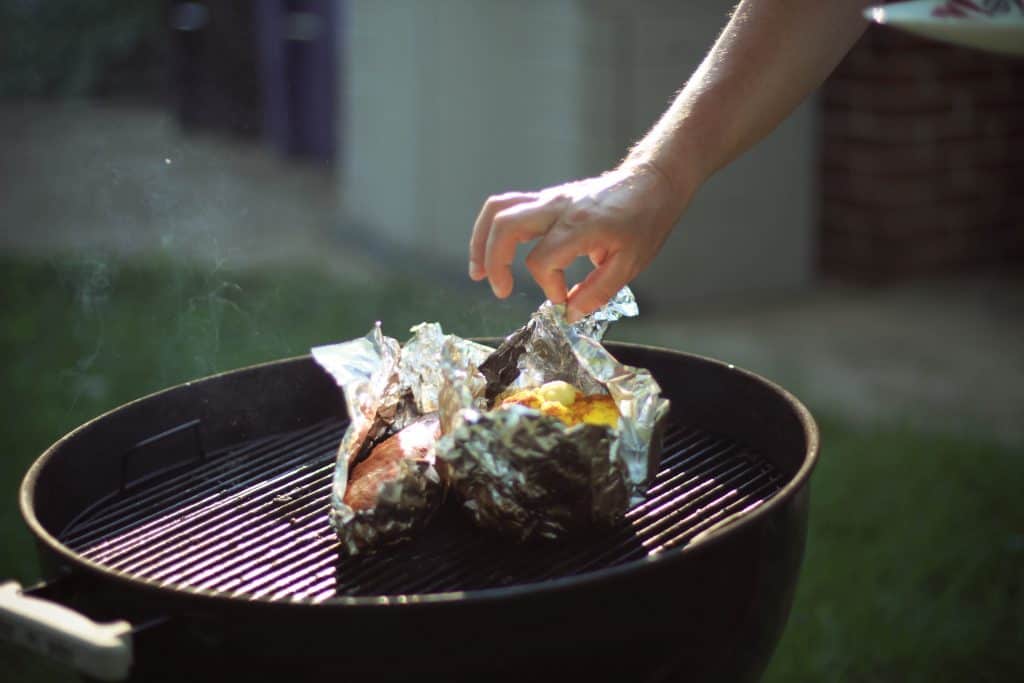 Baked potatoes are one of my go-to camping recipes because they're so dang easy to cook. Plus, they're incredibly versatile, which helps when you have picky kids as I do.
How-To
Start by washing your potatoes and poking some holes in them. This'll let it breathe and cook the inside better.
Next, cut your potato in half and spread some butter on the inside. Throw some seasoning on (like salt, pepper, garlic, etc.) and wrap it in aluminum foil. Alternatively, stuff your potato into a tin can to make the skin nice and crispy.
Now that your potato is good to go, place it on the heat. You want it on the coals (if you're using charcoal) or the edge of your campfire. This isn't roasting marshmallows, so you don't want your potatoes getting charred by the flames. Instead, place your potatoes in a hot (but not flaming) area and let them cook.
Cook your potatoes for 30-45 minutes, depending on how much heat you have. You'll know your potatoes are ready when you prick a fork inside one, and the innards are tender and juicy.
Toppings & Recipes
Now that your potatoes are toasty and steamy, here's what to add to them to make them even tastier.
The beauty of potatoes is that they pretty much go well with anything. Slice open your spud, throw in some toppings, and the delicious possibilities are endless.
Vegetables – onions, garlic, or bell peppers are simple yet savory
Sour cream – a potato standard, this topping adds a creamy pizzazz to your potato
Bacon – my favorite. Bacon needs no explanation, it goes well on everything
Sausage – alternatively, chop up some sausage and toss it in. These can also be cooked on the campfire
Cheese – melt some cheese to make "potatoes au gratin." I prefer shredded sharp cheddar.
Campfire Safety
Now that you know what to cook, let's discuss how to cook…without putting yourself in dangerous situations.
Food Temperature
Just because you're camping doesn't mean the laws of cooking don't apply to you.
As any professional chef knows, food temperature is critical.
If you're cooking meat, try to bring a meat thermometer so you can confirm your meat is cooked to the proper temperature.
Here's what temperature to cook your meat to, as per the FDA:
On the other hand, you don't want your perishables getting room temperature. If you bring cheese or sour cream for your potatoes, you want to keep them cold. This guarantees that their taste stays fresh and that germs stay away.
Keep fresh ice in your cooler and make sure you store it out of the sun, so the ice doesn't melt as fast.
Another tip is that you should store food in your cooler in the order that you plan to eat them. So, put the foods/drinks you want first on top and the snacks you crave later underneath. That'll save you time rummaging through your cooler while also keeping your food cold.
Germs
To protect against bacteria, make sure you wash your hands. I know you want to get down and dirty and cook with your hands covered in earth, but the last thing you want to do is get sick while camping. Be careful and wash your hands, especially before & after cooking.
If there's a bathroom at your campsite, use it. If you're in the woods with toilets, bring hand sanitizer and wet wipes to keep your hands clean.
Water
When you're out in the wilderness, it's tempting to call back to your caveman roots and drink water straight from the source (rivers, ponds, etc.).
Don't be fooled – that crystal clear water you see in the lake might not be clean! You never know what kind of viruses or pathogens are lurking within.
Instead, bring your own water. Gallon jugs can be purchased at the grocery store for about a dollar, and are lightweight and portable.
Or, if you're out in the woods for a while, there are many water filters or purification systems available to you. Don't drink water straight from the earth before cleaning it out.
Bears
Believe it or not, bears can smell food from miles away. Okay, maybe not miles, but their sense of smell is much better than ours.
That means that if you have any food (even crumbs) left out, they could smell it and roam over to your campsite.
Even if you're in an area without bears, there are dozens of critters that could come to visit. Raccoons, cougars, birds, or squirrels get hungry too!
Before you go to bed, give your campsite a good once-over to make sure you didn't leave any food out. Double-check your table, grill, and cooler to see if there are any scraps left out for bears to snack on.
Lastly, make sure you prepare yourself for a bear encounter. Even though their occurrence is rare, it's definitely useful to prepare yourself with the knowledge and skills to protect your loved ones from bears. Make sure you keep a bear spray nearby – you never know when you might need one!
Fire
As with anything that involves fire, safety is paramount.
If you're car camping, consider bringing a small fire extinguisher with you. This could save your butt if your fire gets out of hand. Alternatively, keep a bucket of water nearby in case of an emergency.
No matter what, always take precautions and plan ahead for building a campfire.
Rapid Fire Tips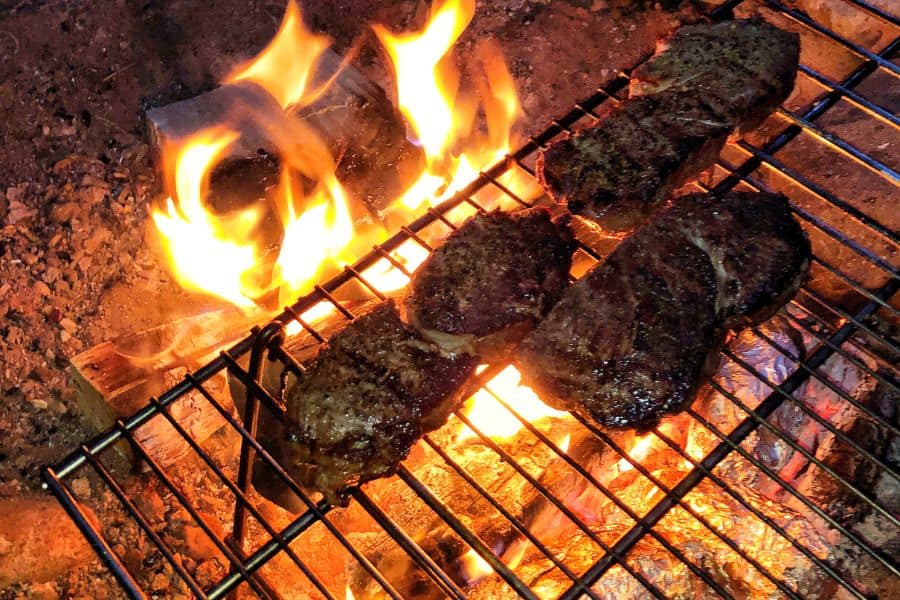 You've got the recipes, but how do you become a campfire cooking connoisseur? Here are some quick tips on how to keep your outdoor kitchen safe, clean, and fun.
Keep It Simple
When camping, there's no need to roll out the red carpet. Don't worry about preparing a five-star meal, this isn't the Food Network. Unless you bring a whole set of pots and pans, you won't be able to cook many intricate plates.
Instead, focus on making food that's easy to store, transport, and prepare.
On top of that, simple food is easy to transport. It's pretty clear how – fewer ingredients mean less weight in your backpack.
So although some of my recipes might seem strenuous, remember that it's okay to stick with the basics. Camping is about soaking up nature and spending time with your loved ones, not eating gourmet meals.
Pack Enough Food
One common headache is choosing what food to bring. I know I've spent many hours going back and forth with the wife deciding if we brought enough.
I can offer two pieces of advice to help you.
First, calculate how many calories you think you'll need and bring enough food to meet that requirement.
Start by finding how many calories to pack for you and your group. The FDA recommends 2,000 calories for the average person. Add more for big guys (like me) and subtract some for little kids.
Then, add up the calories of all the food you've packed. Make sure the numbers match and voila! You've got enough food.
Second, bring more than you expect. Especially if you're car camping, it never hurts to bring more, since you aren't carrying anything.
This is also helpful when you plan on hiking. Hiking burns a ton of calories, and you want to make sure you refuel during and after your excursion.
Water
This should be a no-brainer, but it bears repeating – bring water!
Most of us don't realize how much water we drink in a day. Because of the convenience of the water tap, it's so easy to get more water when we need it. I wish the same was true for when camping.
As discussed, it's not a good idea to drink pond water. Therefore, it's a great idea to bring a ton of water with you.
This becomes even more important when you're cooking. If your recipe calls for water, or if you want water to clean your dishes, you'll need even more water than usual.
So, don't be a miser. Pack as much water as you can comfortably carry.
Clean Up
Last but not least, make sure you clean up after yourself.
Our national parks are truly stunning, and they're only kept that way if we do our job and pick up our trash. Don't leave any wrappers or packaging that could ugly up the campsite.
Plastic products don't break down quickly. So, if you leave some in the wild, it could stay there for decades.
And as mentioned before, scraps can attract bears. Even if your garbage decomposes, it could still cause trouble for you or future campers.
An easy way to save on clutter is by using backpacking cookware and camping utensils.
These reusable plates and utensils make it so you don't have plates and bowls to throw out when your meal concludes. Just make sure you wipe off and clean your cookware before going to sleep, to keep your campsite clean and rid of bears.
If your clothes end up smelling like smoke, here are some tips on how to get rid of the smell.
Cooking with Campfire Restrictions
If there is a campfire ban, then you'll want to check out these cooking ideas for campfire restrictions.
You can still make all the same goodies you would on a campfire, but everything will require a few adjustments and an alternative heating source.
Also See: 16 Camping Food Ideas (No Cooking, No Refrigeration)
Conclusion
There you have it, folks, enough recipes to feed you and your family for the next decade.
As you can see, campfire cooking is extremely easy. You don't want to be lugging a hundred different seasonings and forty different kitchen gadgets with you to the campsite. These recipes are so simple, a caveman could cook them.
Remember – just because a recipe is simple, doesn't mean that it has to be boring. By seasoning your ingredients at home, and preparing your menu in advance, you can have some seriously scrumptious snacks at the campfire. All you have to do is put in a little elbow grease before hitting the trail.
Have fun, be safe, and if you liked this article, make sure you share it with your friends.
More Camping Food Ideas: