What's the time, Mr Wolf?
You guessed it…Dinner time!
So what's for dinner tonight at the campsite?
You need something that's quick and easy, but delicious and satisfying, too. Luckily, this article is packed with awesome camping dinner ideas that your entire tribe will love.
There are also some great ideas for sides and salads, along with some gorgeous desserts to sweeten things up.
So, let's get started!
3 Mouthwatering Foil Packet Dinner Ideas
You can actually cook up a storm at the campsite – even if you don't have any cookware!
All you need is a campfire and a roll of aluminum foil, and you're good to go.
You'd be amazed by all the yummy meals you can make in foil packets over the campfire. Here are a few of my favorites to give you a little bit of inspiration.
Jacket Potatoes
Stuffed jacket potatoes are a classic, but they never get old. They're one of the easiest things you can cook up over a campfire, and they're tasty, filling, and a real crowd pleaser.
Everyone can choose their own toppings, which is great when you're camping in large groups with picky eaters.
To make a jacket potato, all you have to do is:
Wash (but don't peel) a whole potato and poke some holes all over it with a knife
Drizzle with olive oil and a pinch of salt, then wrap it in aluminum foil
Throw it over a campfire either over a grate or directly onto the hot coals
Leave it on the fire for half an hour, then turn it over for another half hour
Once it's soft enough that you can poke a fork into it easily, take it off the fire and let it cool a little bit so that you don't burn your fingers
Then, cut it open down the middle and pull the edges apart to open the potato up
Sprinkle some salt and pepper onto the potato, and put a pad of butter on it before you start adding the rest of your toppings
Now, the fun part…
Time to get stuffing!
You can put all kinds of different toppings on your jacket potatoes. Cheese, ham, tuna salad, baked beans, bacon bits, you name it. Or, you can keep things simple and just stick to butter and a dollop of sour cream with fresh herbs, like in this simple but delicious recipe.
Sweet potato is a great alternative to regular potato as well, if you want to switch things up a bit. It's a healthier choice, too – so that's another good reason to give it a try.
Pull Apart Sandwich Loaves
Ever since I discovered this awesome camping food hack a couple of years ago, it's been one of my go to easy campfire dinners.
It's super quick and easy to put together, and I love how versatile it is. You can make so many different combinations for the filling, so it never gets boring.
Here's how you do it:
Take a loaf of bread and cut an odd number of slices into it about ¾ of the way through
Stuff every 2nd slice with your fillings of choice
Brush the top and sides of the loaf with melted butter and wrap the entire thing in aluminum foil so that none of the bread is left uncovered
Throw it over the campfire for around 10-15 minutes, turning it over every few minutes until it's been toasted on all sides
For your fillings you can stick to classic ham and cheese, or you can get creative and come up with some more exciting flavor combinations. These French dip pull apart sandwiches, for instance, are enough to make you drool.
You can even make them ahead of time, and store them in your cooler. That way, all you have to do when you get to the campsite is throw them on the fire, and you've got a mouthwatering, easy camping meal ready in around 10 minutes.
How convenient is that?
Just make sure you wrap it well, so that the bread doesn't get soggy in the cooler.
Loaded Nachos
Campfire nachos take the cake when it comes to simplicity. There's no dinner that's easier to whip up than a big batch of campfire nachos. It also happens to be one of the tastiest dinners you can imagine – just sayin'.
To make them, you just:
Put some tortilla chips on an improvised aluminum foil baking sheet
Cover them with shredded cheese, refried beans and/or black beans, and some meat like ground beef, chicken, or chorizo, if you like
Wrap the entire thing up in aluminum foil and put it over the fire for around 10 minutes or until the cheese has melted
Once you've taken it off the fire, add the rest of your toppings, and enjoy!
The toppings you choose might include things like salsa, pico de gallo, avocado, sour cream, pickled jalapeños, and fresh cilantro. But, again, you can really go nuts and put whatever your heart desires on there.
There are no rules, the sky's the limit.
These mouthwatering Korean style nachos with pork belly and kimchi are all the proof you need.
4 Scrumptious Dutch Oven Dinner Dishes
If I had to choose just one piece of kitchenware to take on a camping trip, it would definitely have to be a dutch oven.
You can make just about anything you like in a dutch oven. I'm not kidding – anything. From soups and stews, to roast dinners, to pizza, lasagna, enchiladas, and even cornbread. There's pretty much nothing you can't cook up in a dutch oven over a campfire.
These are some of my favorite dutch oven dinners to make at the campsite.
Mac & Cheese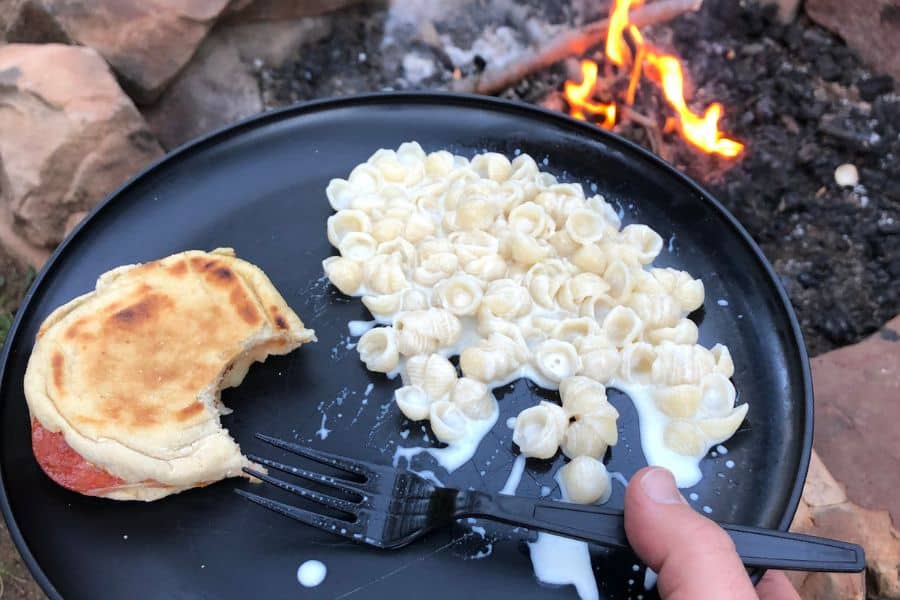 When you think of comfort food, one of the first things you think of is mac & cheese. It's rich, creamy, and downright delicious.
The good news is, making it at the campsite in a dutch oven is a piece of cake.
You can also add in extra ingredients to make it even more interesting. I like to add chopped jalapeños and bacon bits to mine.
This insane mac & cheese recipe features 4 different types of cheese and bacon! I don't know about you, but that sounds like the stuff dreams are made of to me.
Lasagna
Another awesome camping dinner you can make in a dutch oven is lasagna.
On a scale of one to Garfield, how much do you love lasagna?
I'm definitely a Garfield.
I mean, who doesn't love lasagna, right?
This super easy one pot lasagna recipe is perfect for camping, because it can all be done in one dutch oven which means minimal dishes and drama. And I've tested it a few times now so believe me when I say there's nothing minimal about the flavor.
Enchiladas
Another one of my all time favorite campsite meals – enchiladas. Yum!
These are also really versatile, which is one of the reasons they're such a great choice for camping. You can do them with all kinds of different fillings like different types of meat, veggies, beans, etc.
Plus, you can really use any kind of cheese you have, and the sauce can also be made a bunch of different ways using different ingredients you have on hand.
This cheesy pork enchilada recipe with salsa verde and sour cream is one of the best enchilada recipes out there, if you ask me. And it can be done in a dutch oven over a campfire, too.
It does take quite a while to make these, though, because the pork needs to cook for a long time and then the enchiladas need to cook as well once you assemble them.
So, keep in mind that this one isn't a quick and easy camping recipe. It's more of a recipe for when you've got some spare time on your hands and you're just chilling at the campsite, taking it easy and slowly making some amazing food.
Cornbread
Any cornbread fans out there?
I happen to be a huge fan myself.
So nothing makes me happy on a camping trip like baking up a fresh batch of cornbread over the campfire. This can also be done in a dutch oven, in case you hadn't already guessed.
Cornbread is great on its own, or as an accompaniment to just about any meal you can think of.
That's the great thing about cornbread – if there's any left over, you can have it for breakfast the next day. Pair it with some bacon and eggs, and you're looking at a pretty good start to the day.
Here's my favorite dutch oven cornbread recipe. It uses honey to give the cornbread a nice sweetness, which really kicks the flavor up a notch.
4 More Easy Camping Dinner Ideas
Other than aluminum foil and dutch ovens, there's a range of other types of camp cooking equipment you can use to cook up a storm outdoors.
You can grill your food, fry it in a skillet, or bake it in a pie iron – to name a few methods.
To give you an idea of some of the things you could make, here are some more great recipes.
Chicken Souvlaki Wraps With Tzatziki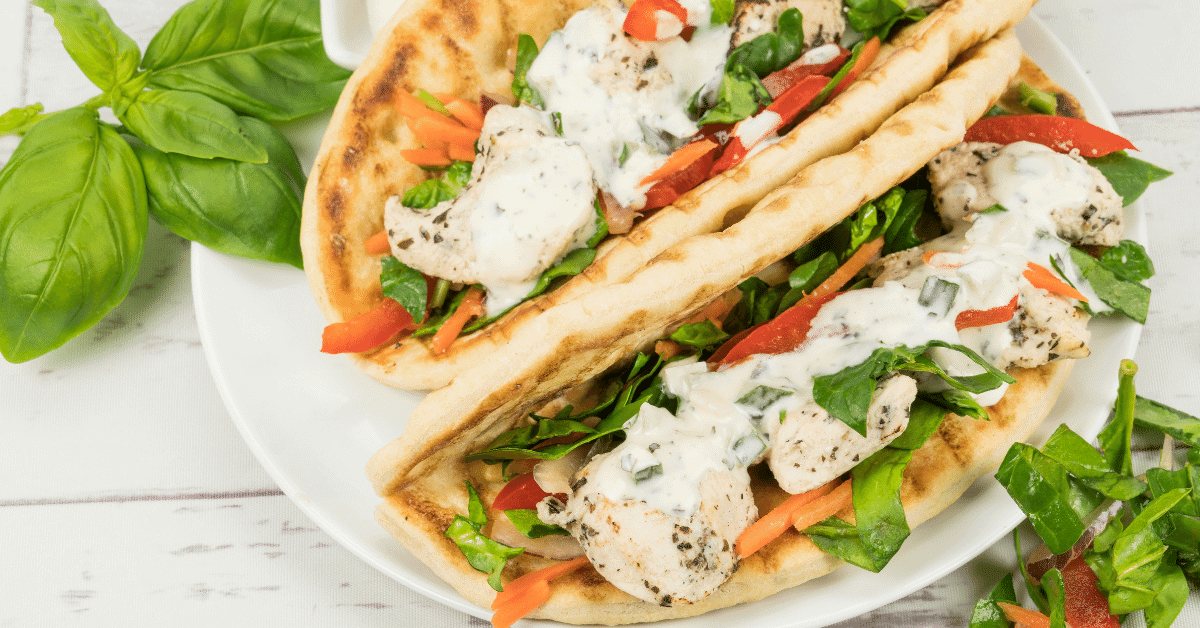 If you're a fan of grilling, this might just be the perfect camping recipe for you.
It's one of my absolute favorite campsite meals, because it's fresh, tasty, and filling – and it's great for lunch or dinner.
To make chicken souvlaki wraps with tzatziki, follow this method:
Cut up some chicken breasts into ice cube sized squares, along with some veggies if you like such as red onion, bell pepper, zucchini, or eggplant
Put your meat and veggie cubes on some skewers, season them, and grill them on a campfire grate, barbecue, or skillet
Make your tzatziki sauce by grating up some cucumber, salting it, and draining all the excess moisture well before mixing it with greek yogurt, a splash of olive oil, some fresh dill, minced garlic, and a good squeeze of lemon juice
Assemble your souvlaki wrap by spreading some tzatziki on pita bread, topping it with the meat from one of the skewers and adding any salad you like on top
Easy, right?
This meal comes together quickly and without a lot of dishes, making it a phenomenal choice for any camping trip, wherever you are.
Pie Iron Pizza Pockets
Now, let me just start by saying that a pie iron is a wonderful thing to have on a camping trip.
There are loads of tasty snacks and meals you can make in one of these babies. From toasted ham and cheese sandwiches to gooey sweet treats filled with melted chocolate, vanilla pudding, and marshmallow fluff.
But one of the best things you can make in a pie iron over a campfire would have to be the pie iron pizza pocket. These are another definite crowd pleaser, because everyone can customize their own pizza pockets and put whatever they like inside.
To make them, follow these steps:
Grease a pie iron and line it with pizza dough
Spread some pizza sauce onto the dough
Add cheese and any other fillings you like
Close the pie iron and hold it over the campfire for a minute or two on each side
The exact length it'll take to bake depends on the intensity of your campfire. If you're not sure, check to see how it's going after about two minutes.
Some fillings you might want to try might include pepperoni, ham, mushrooms, olives, sun dried tomatoes, pesto, artichokes, or parmesan cheese. Again, it's up to you to be creative and come up with your own flavor combos using your favorite ingredients.
Quesadillas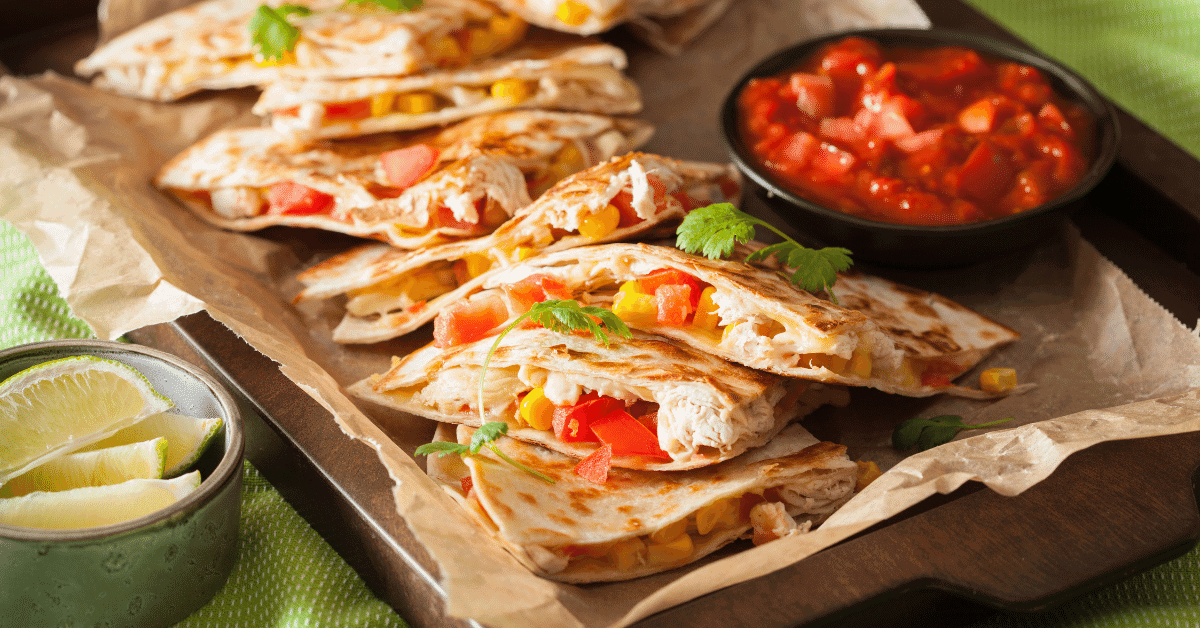 I'll be honest – I'm not sure I would've survived college had it not been for quesadillas.
Quesadillas were my go to meal in college, because they're quick, easy, and delicious. And the requirements for a camping meal are no different, really.
A stunning quesadilla comes together in a matter of minutes, and it's super tasty and satisfying.
Here's how you make one:
Take a tortilla and sprinkle some shredded cheese onto it, along with whatever other fillings you want in your quesadilla
Fold it in half and place it on a hot, greased skillet or frying pan
Fry it on both sides until both sides are golden brown
Cut into triangles, and serve with a dollop of sour cream and some fresh cilantro
That's all there is to it!
You can keep it simple and fill it with just cheese and maybe a few jalapenos. Or, you can throw in the leftover meat from last night's dinner and kill two birds with one stone.
Chili Cheese Fries
Sure, a fresh batch of chili over the campfire is great.
But do you know what's even better?
Pouring it over a big pile of fries, topping it with a bunch of cheese, and melting it over the campfire.
Now, how amazing does that sound?
For the chili, you'll need a dutch oven or a cooking pot of some description. Once you assemble the chili cheese fries though, you can finish them off on a skillet, in a dutch oven, or even in a foil packet.
Making them couldn't be easier. You just:
Whip up a fresh batch of chili using your favorite recipe
Fry up some fries in a frying pan or skillet
Put the fries on a clean skillet, or dutch oven, or aluminum foil, and top with chili and shredded cheese
Pop it over the campfire for 5-10 minutes, or until you're satisfied with the meltiness of the cheese
Top with shredded lettuce, diced tomato, and a dollop of sour cream
Instead of fries, you could keep it even simpler and use tortilla chips, which would make these chili cheese nachos, rather than chili cheese fries.
Or, you could use tater tots, which is a fun alternative the kids are sure to appreciate.
5 Tasty Sides & Salads
But what about camping side dishes and salads?
Don't worry, we definitely won't forget about those.
Side dishes to accompany your mains are a must for me, and the leftovers make great snacks when you get a little hungry in between meals.
These are some of my personal favorite sides and salads that make a regular appearance on the camping menu on most of my trips.
Dips Like Guacamole, Hummus & Baba Ghanoush
Having a nice, big bowl of your favorite dip in the cooler is always a good idea on any camping trip.
Some of my favorites are guacamole, hummus, baba ghanoush, and French onion dip.
I make them before I head off on a trip and store them in the cooler, so they're ready to go when I get to the campsite.
They make fantastic sides to almost any meal. Or, you can just dip some tortilla chips or grilled bread into them for a quick snack while you're kicking back at the campsite enjoying a cold one.
Grilled Mexican Street Corn
Otherwise known as elote, grilled mexican street corn on the cob has always been a family favorite on just about every family camping trip I've been on since I was born.
Now, I know this is a bold statement – but, it might just be the best way to eat corn that there is.
Slather your grilled corn with mayonnaise, and roll it in crumbled cotija cheese. To finish it off, add a squeeze of lime, some tajin, and hot sauce.
Enjoy it as an accompaniment to any grilled meat dish, or on its own as a delicious snack.
You can also use boiled corn instead of grilled. And it's nice, too, but I've always preferred the grilled corn version just a little bit more.
Loaded Potato Salad
If there's one thing you should make space for in your cooler, let it be a big batch of homemade loaded potato salad.
The difference between loaded potato salad and regular potato salad is that the loaded version features extra ingredients like crispy bacon, cheddar cheese, sour cream, and scallions. You can even add in some pickled jalapenos, if you like a spicy kick.
This is perfect to bring along on family camping trips, because whenever someone is hungry they can have a few mouthfuls of potato salad and stay happy until the next meal.
It also goes well with just about any main dish, for lunch or dinner, so it's always a welcome addition to the table at meal times.
Homemade Naan Bread
If you're going wild camping and you don't have any stores nearby, you won't be able to have fresh bread for longer than the first couple of days.
That is, unless you bake your own.
One really easy and incredibly delicious way to do this is by making your own naan bread. If you use a recipe like this one, you can make naan at the campsite in under half an hour. And you don't even have to have yeast to do it!
The great thing about naan (other than how delightfully tasty it is) is that it can accompany any meal, or you can use it as a base to make little campfire pizzas for dinner.
Greek Salad
One of the best salads during the summer is a classic Greek salad.
This is my go to salad for camping trips, because it's tasty and fresh and everything you need on a hot day at the campsite.
Just throw together some chopped tomatoes, cucumber, red onions, black olives and crumbled feta cheese with a drizzle of olive oil, balsamic vinegar, lemon juice, and a little salt and pepper.
Avocados aren't typically found in Greek salad but they go really well, so feel free to throw some in if you have any on hand.
3 Yummy Camping Dessert Ideas
I'll admit it – I have a major sweet tooth.
Luckily, there's usually an ample supply of graham crackers, marshmallows, and chocolate around to satisfy my cravings.
But while classic s'mores are great, there are also a bunch of other new, fun ways you can enjoy the same great flavors.
And why not mix it up a little?
Here are some heavenly s'mores alternatives to get excited about trying out on your next camping trip.
S'mores Pizookie
If you haven't heard of a pizookie, it's a pizza shaped cookie in a skillet and if you ask me, it's how cookies should be eaten all the time. Period.
A plain chocolate chip pizookie is great, but a s'mores stuffed chocolate chip pizookie like this one is a whole lot better. The combination of two of the best classics out there – s'mores and chocolate chip cookies – makes for one of the best camping desserts you'll ever have, I promise.
This can be baked on a rack over the campfire, so it's easy to make at the campsite. You just line a skillet with cookie dough, top with chocolate, graham cracker pieces, and marshmallows, and add another layer of cookie dough on top.
Leave it over the campfire until the edges are baked. You want the middle to stay gooey, soft, and delicious.
S'mores Cones
Another awesome alternative to classic s'mores are s'mores cones. What's great about these is that you can throw lots of fun extras in like all of your favorite candies.
Just take a waffle cone and stuff it full of chocolate chips, mini marshmallows, and anything else you like. I like to add mini peanut butter cups and M&M's to mine, but go wild.
Wrap it all up in aluminum foil and throw it onto the hot coals of the campfire for a few minutes until everythings all melted and gooey inside.
Time to dig in!
It's even better than classic s'mores, in my opinion. Probably because of the mini peanut butter cups. I'm a sucker for those, so they make any dessert twice as good in my books.
Baileys Dipped Marshmallows
This one is for adults only, because of the Baileys Irish cream.
But let me tell you – ever since I discovered it, I've never left for another camping trip without a bottle of Baileys in tow.
Dip your toasted marshmallows in a glass of baileys for a taste sensation that's out of this world.
I'm warning you. You'll probably never want to eat toasted marshmallows any other way again.
For an even more decadent treat, use your bailey's dipped marshmallows to make a s'more. Now, that's what I call the ultimate camping dessert.
What's Next?
These are just a few camping food ideas to get you thinking about the kinds of things you can make at the campsite.
You can make a whole bunch of things, so you really shouldn't limit yourself to ramen noodles and granola bars.
Just remember – the name of the game is quick, easy, and delicious.
Now, let me just ask you one more thing:
Are you worried about how you're going to keep all that food cold and fresh during your trip?
If the answer is yes, head on over to this article I wrote on keeping food fresh while camping, for a list of tips that'll ensure you get the most out of your cooler.