In a rush? Our pick for the best instant tent is the CORE 6 Person Instant Cabin Tent.
Love camping, but dislike how long it takes to set up a tent?
We all can agree, that pitching your tent is the WORST part of camping.
As enjoyable and relaxing as camping is, tent set-up can quickly turn into a nightmare.
Using clever design tricks like pre-attached poles and pop-up frames, these tents were made with user experience in mind and can be set up in 2 to 5 minutes.
Without further adieu, here are the best overall instant tents:
Best Overall Instant Tents:
More on how we test and review tents here.
Best Instant Tent: Our Top Picks
Instant tents come in a variety of shapes and sizes.
So to help you pick the best tent for you, we've gone ahead and sorted the best instant tents that we recommend by size:
Best 1 to 2 Person Instant Tent:
Best 3 to 5 Person Instant Tent:
Best 6 & 8 Person Instant Tent:
Best 9 & 10 Person Instant Tent:
Best 12+ Person Instant Tent:
CORE 6 Person Instant Cabin Tent
Tent Size: 6 person | Seasons: 3-season | Weight: 23 lbs | Inside Height: 72 in | Floor: 11 x 9 ft (99 sq ft) | Setup Time: 2 mins
Core makes an outstanding budget tent, and this tent rises to the top for a reason.
It is both an excellent cabin tent with vertical walls which allow easier movement and greater comfort inside the tent. However, it's also an instant tent – which means its setup is quick and easy – hence the name instant.
The difference between the other CORE tents on this list is that this tent is made for smaller groups.
This 6-person tent can fit 2 queen-sized airbeds, plus a little room for great.
What sets this tent apart is its ventilation – thanks to multiple windows and two adjustable floor vents, the tent has really good airflow.
But what I really love about this tent is the massive amount of gear storage. There is a huge gear pocket that runs across the entire back of the tent giving each person room to store odds and ends.
Here is a quick video review of why we love this tent:
Pros:
2 minute set up and take down in fair weather conditions
The expandable carrying case makes it easy to pack the tent after taking it down
Great ventilation thanks to windows on both sides, and adjustable vents
The back wall comes with a big storage area where you can hang your gear
Inexpensive cabin tent for beginner buyers
Cons:
The door zipper can get caught in the flaps running along the door
Best for: people who want a roomy cabin tent with great ventilation at a reasonable price.
CORE 9 Person Instant Cabin Tent
Tent Size: 9 | Weight: 27.62 lbs | Inside Height: 78 in | Floor: 14 x 9 ft (126 sq ft) | Setup Time: 2 mins
Later on you'll see options for 1, 2, 3, 4, and 6 person tents. But here's the big one – the CORE 9 Person Instant Cabin Tent.
Measuring a whopping 14 by 9 feet, this tent can comfortably sleep 9 people, packs in two separate rooms, and has a wonderful 78 inches of overhead height.
This site is for those with a lot of people or a lot of gear. If you're a family of 4 but you want a lot of personal space, this is the tent for you.
For those with kids, this tent comes with an electrical cord access port, so your little ones can charge their devices right inside the tent.
Even though this is a massive tent, that doesn't mean the setup has to be a pain. Similar to the CORE 6-person, this is a tent that is super easy to put up thanks to the pre-installed poles (it really is that instant).
The frame opens up and snaps into place super fast and with minimal effort. The hardest part is getting the rainfly over the tent and clipping it in. Seriously, it's not hard at all!
Pros:
Extremely spacious – fits families of all sizes
Lightweight for its size, weighing in at 28 lbs.
All four walls open up to provide cool ventilation, while still protecting you from bugs thanks to the mesh windows
Detachable room divider gives you privacy when needed
Large T-style front doors mean you don't have to crouch down to enter and exit the tent
Cons:
Not designed for harsh weather
Best for: large families that want the privacy of multiple rooms in a tent that assembles rapidly.
Ozark Trail 9-Person Instant Cabin Tent
Tent Size: 9 | Weight: 40.9 lbs | Inside Height: 84 in | Floor: 14 x 13.5 ft (189 sq ft) | Setup Time: 5 mins
If you're planning a camping trip with a larger group of people, you might want to consider this 9 person instant cabin tent from Ozark Trail.
This tent is huge, and you can comfortably fit at least 7 people inside, with plenty of room to spare for your camping gear and supplies. It also features a screen room, which gives you a nice little space to sit back outside, while still being protected from insects.
With a center height of 84", there's plenty of headroom too. Even the tallest campers will be able to walk around freely in this spacious Ozark Trail tent.
It's durable and stable thanks to steel poles and tough polyester fabric. It also comes with a polyester rain fly, which does a great job at keeping you and your stuff dry, even in a heavy downpour.
Due to its size, it is definitely on the heavier side. At just over 40 lbs., it's quite a heavy load. This isn't too much of an issue for car campers, but you definitely wouldn't want to have to carry it further than a short distance.
Pros:
Features a screen room for insect-free outdoor chillin'
Includes a polyester rain fly that provides great water resistance
Well ventilated thanks to multiple mesh windows
Polyester fabric and steel poles provide durability and stability
Incredibly roomy thanks to its large size and cabin style structure
Cons:
A lot heavier than the other tents on this list
Best for: larger groups and families looking for a roomy tent with a screen room.
CORE 10-Person Instant Cabin Tent w/ Screen Room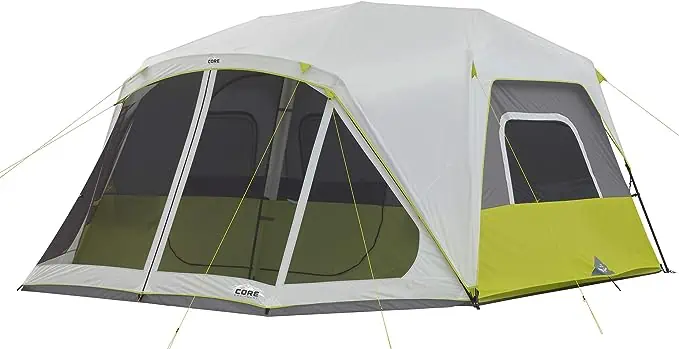 Type: Cabin, 2-room, Screen Room | Seasons: 3-season | Weight: 46 lbs | Inside Height: 84 in | Floor: 14 x 10 ft (140 sq ft) | Setup Time: 10 mins
This tent has it all, and it's why we've ranked it as our best 10-person tent on the market today.
It retains the same huge 140 square feet of space as the standard CORE 10-person cabin tent, but comes with even more room to store gear with the screen room.
Now, the screen room doesn't have a floor, but that's ok, it still is a great place to sit out and enjoy nature without bugs, or you can simply tie the screen area back and use it as an entryway and partial gear storage (that is exactly what we did).
But my favorite part about this tent is the quick and easy setup. Since it is an instant tent, we were able to put this tent up in only 10 minutes with two people!
Pros:
With 140 sq ft it's huge inside, plus as an additional storage area in the screen room
A tall 84-inch ceiling height makes it so even the tallest folks won't have to bend over
Comes with a room divider for extra privacy
Adjustable ground vents and mesh ceiling provide great ventilation
Strong wind resistance – up to 30 mph
This is an instant cabin tent, which means you can set it up in less than 2 minutes
Cons:
The floor is not that durable, so it's wise to put a tarp beneath your tent
Best for: people who want a huge instant tent that can be up in less than 2 minutes.
Coleman Instant Setup Cabin Tent
Type: Instant, Cabin | Seasons: 3-season | Weight: 42 lbs | Inside Height: 79 in | Floor: 14 x 10 ft (140 sq ft) | Setup Time: 2 mins
Dark Room technology is what makes this tent great for summer camping. According to the manufacturer, this tent blocks up to 90% of light that enters the tent. This means that, unless you set an alarm, you might wake up way later than usual.
Since it blocks daylight, Dark Room technology also keeps the tent cool inside. That way, you won't wake up drenched in sweat after sunrise.
This tent is spacious and can fit four queen air mattresses or ten sleeping bags. With a 6'7'' center height, most people can comfortably stand up inside.
The tent comes with a room divider, which can give you some privacy when changing clothes, for example.
The great thing about this tent is that pitching takes no more than a minute. All the poles are pre-attached, so the only thing left for you to do is to pop it open.
Pros:
Thanks to the Dark Room technology, you can sleep way past sunrise without natural light waking you up
Pre-attached poles allow for a quick setup in under 1 minute
It comes with a room divider that gives you some privacy inside the tent
Removing the rain fly allows you to enjoy the night sky during dry weather
Coleman offers a 1-year limited warranty
Cons:
The tent might leak during a heavy rainstorm
Best for: campers who like to sleep in late on family camping trips.
CORE 12-Person Instant Cabin Tent

Tent Size: 12 person | Seasons: 3-season | Weight: 47.8 lbs | Inside Height: 80 in | Floor: 18 x 10 ft (180 sq ft) | Setup Time: 2 mins
CORE makes superb tents, and their 12-person Instant Cabin is no exception!
This tent sets up in under five minutes, making it an excellent choice for a quick camping trip – or a beginner one.
It measures 18' x 10' on the inside and comes with all of the poles pre-attached so there's no need to fumble with mechanics to get it set up. Oh, and it's also prime for taller people, which is great if you've ever had to spend a camping trip in a tent where you keep hitting your head.
If you're looking for a quick-camping tent that fits as many as twelve people (or gives smaller groups a ton of space) but isn't a nightmare to set up, then go for CORE.
Pros:
Comes with room dividers so you can split it up into at least three separate rooms for privacy
It stands up well in winter conditions, thanks to superior design and anchoring
This tent promises a quick and instant setup and definitely delivers
High center height (80 inches) and fits three queen-size airbeds
Electrical ports and ground ventilation make this a tent that suits everyone
Cons:
Be careful with the poles. Pre-installed poles mean that you don't want to drop it on your toes.
Best for: families that want a quick-pitch tent at an affordable price that fit a ton of people.
Ozark Trail 12-Person, 3-Room Instant Cabin

Type: Cabin, Instant, 3-room | Seasons: 3-season | Weight: 55.2 lbs | Inside Height: in | Floor: 8 x 8 ft + 8 x 8 ft + 8 x 8 ft (192 sq ft) | Setup Time: 5 mins
This tent is great if you aren't a veteran camper and only want to have the occasional camping trip. With pre-attached poles in place, all you have to do is assemble – and it can be done a lot quicker than most tents out there. Plus, you can add an air conditioner to the tent, too!
The Ozark Trail 3-Room Instant Cabin Tent measures 16' x 16' and weighs in at just under 40 lbs when it's not set up. This one promises an instant setup, and it can be put up a lot quicker than a lot of other tents out there on the market.
Just be careful when setting up, because the poles have to "click" into place. If they aren't installed properly, you'll notice when the tent collapses in on itself – which is, I'll admit, more of a user error than a design problem.
Overall, this was great and contains room dividers if you'd like to split it into three rooms or less.
Pros:
Measures 16' x 16' on the inside and comes with a porch – massive footprint!
Seven windows, three rooms, and two doors make this less of a tent and more of a castle
The oversized ground vent allows you to hook up an air-conditioner directly to your tent
Pre-attached poles make setup and teardown easy (necessary for a large tent)
Ozark Trail tents are generally very affordable, and this is no exception
Large windows and multiple rooms allow ample ventilation and personal space, which means you'll keep cool all night
Cons:
Design is not strong against the wind (lots of surface area), so make sure you anchor it to the ground correctly
Best for: families or groups that want to use three rooms for better privacy or alone time.
TETON Sports Vista Quick Tent
Tent Size: 1 | Weight: 4.6 lbs | Inside Height: 34″ in | Floor: 80 x 37 in (20.55 sq ft) | Setup Time: 1 min
For anyone seeking a smaller, lighter instant tent, TETON Sports Vista is an excellent choice.
It comes in a 1 man and 2 man version. The one man tent weighs in at 5 lbs., while the 2 man option only weighs 6.6 lbs. This makes them suitable for use as a backpacking tent, which is rare when you're looking at tents with instant setup.
Now, you can definitely find tents of this size that are lighter than these ones. However, you'll be hard pressed to find an instant tent that weighs less.
What's really neat about these is that they're the perfect size to put over a camping cot. The 1 person tent fits perfectly over a single cot, while the 2 person tent can be mounted over a double cot.
Keep in mind that camping cots are heavy, though, so if you're going backpacking a sleeping pad will have to do.
The TETON Sports Vista also features a full mesh roof, giving you a jaw-dropping view of the night sky. Don't worry though, it also comes equipped with a rain fly in case the weather turns on you.
Pros:
Light enough for backpacking, at 5 lbs. and just over 6.5 lbs.
Fits perfectly onto a camping cot, for an incredibly comfortable night outdoors
Features a full mesh top, perfect for stargazing
Includes a rain fly to keep you dry in a shower
Has a gear loft that you can keep your personal items in
Cons:
Might not be long enough for taller people
Best for: solo campers and couples looking for a small tent that's light enough to take backpacking.
Check Price on Sportman's Warehouse
ayamaya Pop Up Tent
Tent Size: 6 | Weight: 10.25 lbs | Inside Height: 53.5 in | Floor: 12.5 x 8.5 ft (106.25 sq ft) | Setup Time: 1 mins
Are you looking for a small pop up tent that can accommodate couples and small families?
The ayamaya Pop Up Tent has a quick setup, and seem small, but with a 53.5″ center height is surprisingly spacious.
With windows on either side, plus a waterproof design, you have a pop up tent made for 4-seasons.
Not only that, but the unique Vestibule offers a separate room for gear, shoes, or a dog.
Pros:
A 4-season waterproof tent that is built to handle wind and rain
The gap between the inner and outer layer become ground vents which can offer additional ventilation during warmer evenings
Unique Vestibule offers an extra room within the tent
53.5″ ceiling height offers plenty of headroom and the 12.5 foot interior is great for taller folks
Cons:
No net or loop in the center of the tent to hang a light or fan from
Best for: Small families looking for a great pop up tent
Guide Gear 10′ x 10′ Teepee Tent
Tent Size: 2 | Weight: 13 lbs | Inside Height: 78 in | Floor: 10 x 10 ft (78.54 sq ft) | Setup Time: 5 mins
For a more unconventional camping experience, you might be enticed to try this teepee tent from Guide Gear.
This is actually a 4 season tent, meaning that you can use it all year round, even when it gets really cold out.
It has a strong steel center pole and the canopy is made of polyester with a polyurethane coating, which makes it waterproof.
Fair warning: some users have complained about water leakages in heavy rain. To make absolutely sure this doesn't happen, it's a good idea to waterproof your tent before you head off on your trip.
This tent has got a center height of 6'6", which is pretty tall. However, keep in mind that because of its conical shape, the height drops steeply as you move away from the center of the tent.
There are 3 mesh windows and vents at the top of the tent. These, together with the teepee structure, create a fantastic amount of airflow through the tent at all times.
Pros:
Very affordable for a 4-season tent
Durable polyester canopy with a polyurethane coating for water resistance
Boasts a peak height of 6'6", so most people will be able to stand up straight in the middle
The windows, top vents and teepee shape work together to provide outstanding ventilation
Steel center pole is strong and stable, so your tent won't blow over in the wind
Cons:
Might leak in heavy rain without additional waterproofing
Not lightweight enough for backpacking
Best for: camping couples looking for something a little bit different.
Check Price at Sportman's Guide
Caddis Rapid 6 Tent
Tent Size: 6 | Weight: 25 lbs 8 oz | Inside Height: 80 in | Floor: 120 in x 120 in (100 sq ft) | Setup Time: 5 mins
The Caddis Rapid 6 is a roomy camping tent with a floor area of 100 sq ft. and a center height of 80".
Because it's a cabin tent with nearly vertical walls, you get a lot of space inside to move around. You won't even have to hunch over in the slightest (unless you're a professional basketball player).
Both the canopy and the rain fly of the Caddis Rapid 6 are made of durable polyester taffeta. Aside from being tough, this material also provides excellent water resistance.
It's also really well-ventilated, as the large mesh windows allow air to flow through the tent freely.
It weighs slightly over 25 lbs. so you probably wouldn't want to take it backpacking. But, for car camping groups of 4-5 people, this tent is a stellar choice.
Pros:
Highly durable and water-resistant, thanks to polyester taffeta and steel poles
Comes with a rain fly, so you'll stay dry no matter what the weather is like outside
Mesh windows provide great ventilation
Cabin style structure gives you a roomy interior that you can walk around in
Features a gear loft and side storage compartment for easier organization
Cons:
A bit on the pricey side
Too heavy for backpackers
Best for: car camping groups of 4-5 looking for a solid and spacious 3 season tent.
Coleman 4-Person Instant Cabin Tent
Tent Size: 4 | Weight: 24 lbs | Inside Height: 59 in | Floor: 8 x 7 ft (56 sq ft) | Setup Time: 5 mins
The Coleman Instant Cabin Tent is a great combination of size, easy instant setup, weather protection, and affordability. Coleman has been making outdoor gear since 1900, and their expertise shines in this tent model.
Available in both a 4 and 6 person version, Coleman offers a size for both camping tandems and outdoors-loving families. The 4-person model fits one queen-size bed, and the 6 person fits two queen-size beds. Both are constructed with the same high-quality Coleman tent materials and expert design.
When it comes to weather protection, this tent cuts no corners. It features Coleman's patented WeatherTec system, which means it comes with inverted seams and welded floors to keep water out. The tent's fabric is Coleman's proprietary Polyguard 2X double-thick fabric, which means you'll be camping in this bad boy for years to come.
Pros:
Amazing price for such a strong tent
Available in 2 sizes: 4 person and 6 person capacity
Coleman's unique, patented WeatherTec system keeps you dry
Large enough for 1 or 2 queen-sized beds (depending on the size you get), with six feet of head space
150D polyester seams and Polyguard fabric mean this tent will last for generations
Cons:
Might be too heavy for backpackers, but great for car campers
Best for: small families that want a quality cabin-style tent that fits one or two beds.
Check Price at Dick's Sporting Goods
Moon Lence Instant 4-5 Person Tent
Tent Size: 5 | Weight: 10.25 lbs | Inside Height: 52.4 in | Floor: 114 x 121 in (95.6 sq ft) | Setup Time: 5 mins
This Moon Lence instant tent is dome-shaped with fiberglass poles, making it sturdy even when the wind picks up. Fiberglass poles might not be as stable as steel poles, but a dome structure is definitely superior when it comes to stability.
It's made of polyester with 4 large mesh windows that'll keep a nice amount of fresh air flowing through your tent.
It weighs in at a little over 10 lbs., which is still too heavy for backpacking if you ask me. However, if you really wanted to take it out into the backcountry, you probably could.
What this tent lacks is water resistance. It does come with a rain fly, but unfortunately it isn't large enough to keep water out in a downpour.
If you want to stay dry when it rains (which, let's face it, is a pretty damn important thing to worry about) you'll need to string a tarp up over your tent. If you don't, you might end up soaking wet, which isn't much fun.
Pros:
100% polyester fabric makes it highly durable
Holds up well in strong winds, thanks to fiberglass poles and dome structure
Great ventilation, thanks to 4 large mesh windows
An affordable tent that won't break the bank
At just over 10 lbs, it isn't too heavy
Cons:
The rain fly is ineffective, as it doesn't cover enough of the tent
Best for: campers on a budget that are looking for a great 4 person tent for camping in fine weather.
Toogh 3-4 Person Hexagon Tent
Tent Size: 4 | Weight: 13 lbs | Inside Height: 65 in | Floor: 7.5 x 6.9 ft (52 sq ft) | Setup Time: 5 mins
When it comes to 3-4 person instant tents, this Hexagon Tent from Toogh is an excellent choice.
This tent's price tag might be small, but its water protection is on another level. The outside layer is made of a patented 210D fabric that has a HH rating of 3000 mm.
It also has two doors, so you can have great ventilation on hot summer days. Don't worry about bug bites either – this tent is equipped with a dense mosquito net to keep the blood suckers away.
Although it's lightweight, this tent comes with two poles to make a small porch. This gives you a covered area in front of your tent where you can take your gear off, out of the sun or rain.
Pros:
Lightweight – only 12 lbs. and comes with a great carrying case for compact storage
Two entrances mean you can enter from either side or open the doors for a cool breeze
Dome style design provides superior stability and aerodynamics against the wind
Silver-coated UV layers protect you from the sun without the added weight
Available in multiple color schemes to fit your mood and style
Cons:
Becomes rather crammed if there are more than 2 people inside
Best for: couples who want a lightweight, instant camping tent they can carry around.
How To Choose An Instant Tent for Quick and Easy Set-Up
Now that you know you want to buy an instant tent, here's what to look for when you're shopping around.
There are hundreds of tents out there, and it's easy to get "analysis paralysis" looking at all your choices. So, here are the traits you should look for in a good instant tent.
An Instant Tent That's Actually Instant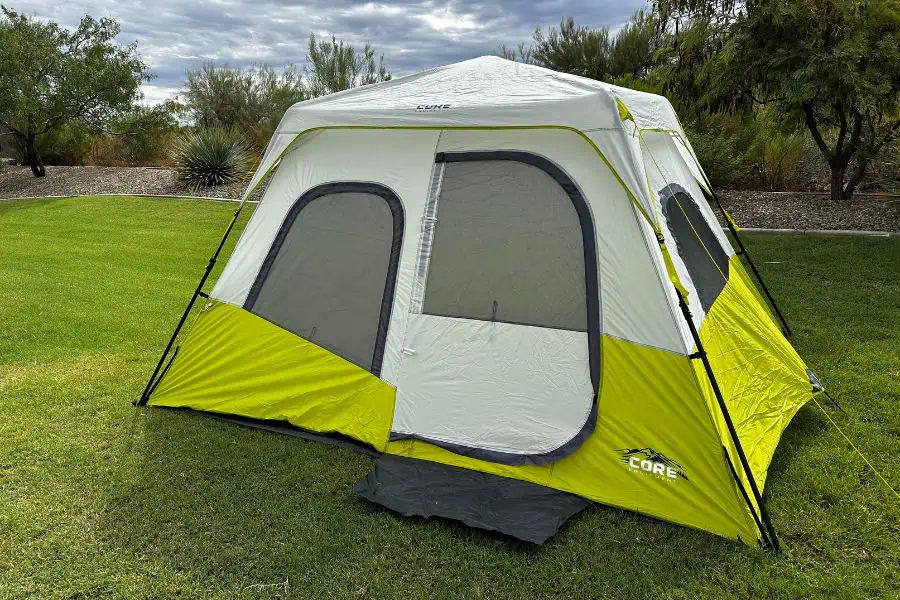 Although countless tents call themselves "instant," setup might not be as easy (or instant!) as you'd expect.
Before you buy a tent, check out the reviews and make sure that it's easy for everyone to set up. It might take the manufacturer 30 seconds to set up, but that doesn't mean it'll happen so quickly when you're doing it.
Also, make sure the instructions are simple. Try to see the tent's instruction manual before purchasing. You don't want to buy a tent that requires a Ph.D. to pitch.
Find Your Size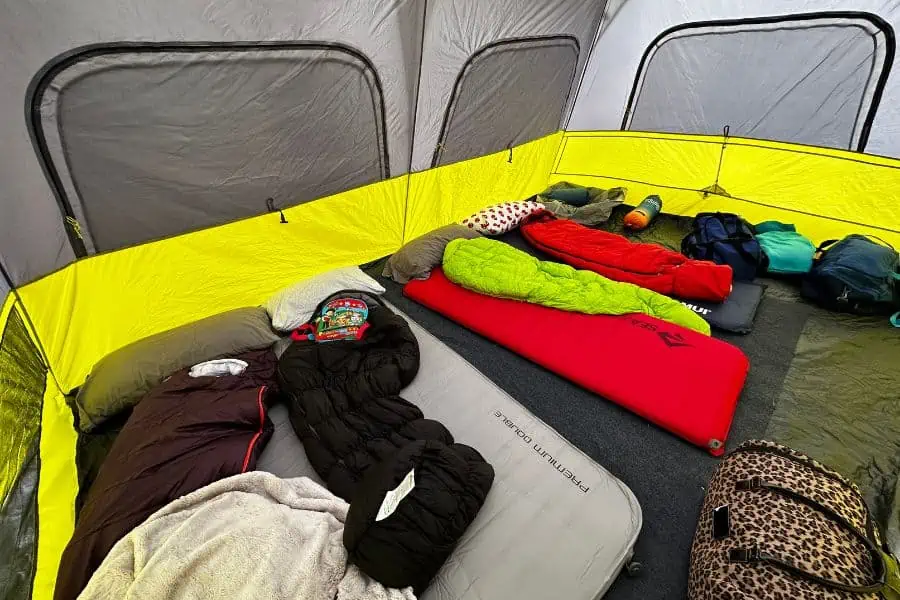 Tent shopping can be difficult. To narrow the options down, the first thing you should do is determine how much space you need in your tent.
You don't want to buy a tent that's so big you could host a circus in it, but you also don't want one that starts bursting at the seams when you and your loved ones are all lying down.
As always, we recommend considering the number of people you want to go camping with and going up a size to a tent that accommodates more than that.
If you're a single guy who might be camping alone, or with one companion (human or canine), you should probably go with a 2-3 person tent.
If you're a family of 4, with lots of gear, it might be worthwhile to go with a 6-person tent or bigger. We usually go with an 8-person tent.
It's up to you to determine what best suits your needs.
Doesn't Require A Forklift
Next, you want to make sure that your instant tent is portable.
You don't want a tent that's so heavy, you have to get three of your buddies to help you carry it from your car to the campsite.
When companies make instant tents, they've got one thing in mind: making it instant!
That means sometimes they don't take weight into account, and end up giving you a heavy tent.
Be sure to double-check the tent's size and weight, and confirm it lines up with your needs.
Of the tents that we reviewed, the CORE 9 Person and the CORE 6 Person Instant Tents both rated very well against both wind and rain, despite their cabin-style form. Steel poles help to add sturdiness to these instant tents and that is why they rise above the rest when it comes to weather performance.
Fits Your Climate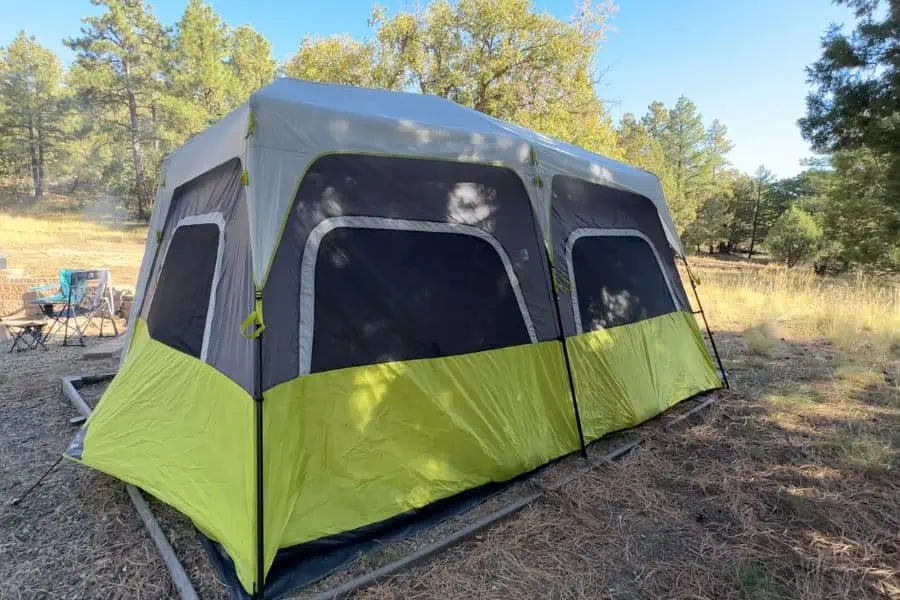 Every camper knows that different climates require different gear.
That's why it's important for you to consider your camping climate, and make sure you pick a tent that matches your weather.
If you live in the Sahara Desert, there's no reason for you to worry about water resistance. You'd be far more concerned with UV resistance.
On the other hand, if you live in the rainy Pacific Northwest, and plan on camping all seasons, water resistance should be your number one priority!
Always take the weather into consideration when you're looking at tents.
Optimal Price Point
Last but not least, make sure you pick the highest quality tent for your budget.
Most people don't want to spend a boatload on their tent, but if you plan on going camping regularly, it is wise to invest in a tent that will last you a long time.
Either way, you don't want to be overcharged. That's why we chose tents that are priced reasonably, and provide excellent bang for your buck.
The CORE 6 Person Instant Tent is priced under $200, yet shines in its overall performance.
And the Moon Lence Instant Tent might be one of the best budget options, but the quality and style differ greatly from the CORE, Coleman, and Ozark models.
Also See: Best Tent Under $100 (Budget Camping Made EASY)
Types Of Instant Tents
Like standard tents, there are several different types of instant tents. The difference between them is their structure. You've got:
Dome tents
Cabin tents
Pop-up tents
A-frame tents
Teepee tents
Here's a little bit of information about each of them.
Dome
When I say the word tent, it's more than likely that the image that pops into your head is that of a dome tent. That's because dome tents are the most common type of tent you'll see.
It might shock you to discover that dome tents got their name because they have a shape that – wait for it – resembles a dome.
The poles are curved and cross over at the top of the tent in the center, forming a dome-like structure.
The base can either be a square or a hexagon, depending on whether there are 2 or 3 poles.
Because of their shape, these tents reach their peak height in the middle, with less and less height as you move further away from the middle.
Cabin
Cabin style tents are characterized by a rectangular or square base and walls that are either vertical or at a slight angle.
This makes the space inside feel much roomier, as you can move around the tent more freely, without having to hunch over. For this reason, cabin tents are a great option for families and larger groups. (And taller people!)
These tents usually come with a room divider, that you can use to divide the space inside as you see fit. They also have taller doors than a dome style tent, making getting in and out easier.
On the downside, a cabin tent isn't as stable as a dome tent. Cabin tents are excellent in fine weather, but in high winds, they won't perform as well.
Pop-Up
Another type of instant tent is the pop up tent. These have bendy poles that you can fold and unfold to put the tent up, and take it down.
They're quicker to set up than any other kind of instant tent. They pop into shape in a matter of a second or two, all by themselves. You literally don't have to do a thing.
It isn't all sunshine and rainbows, though. Many pop up tents can be a real pain in the neck to fold back up and pack away.
They're also less reliable than other types of tents when it comes to wind and water resistance.
A-Frame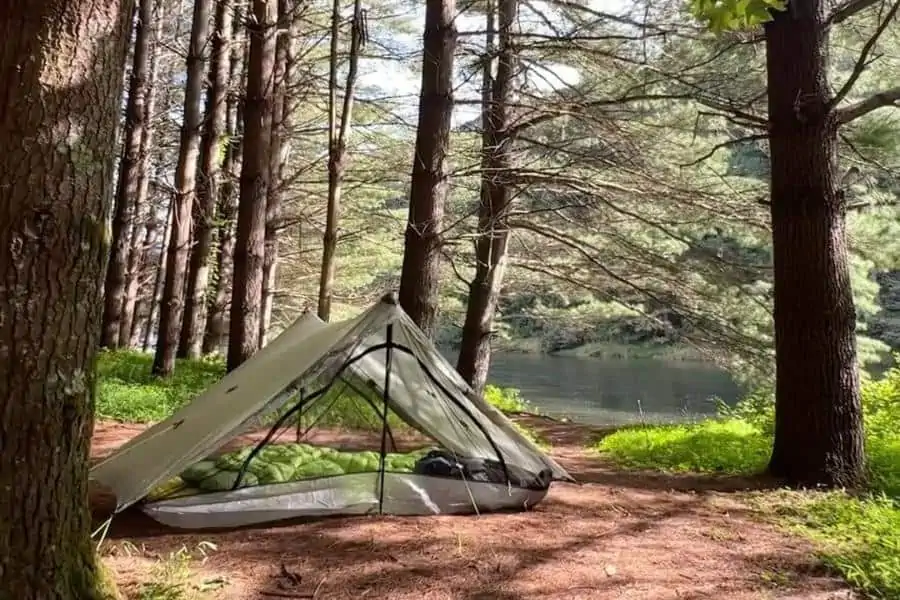 If a dome tent wasn't the first image of a tent that popped into your head, then chances are it was an A-frame tent.
These tents are characterized by a structure that resembles the letter "A", or, if you will, a triangle.
A-frame tents used to be far more popular than they are today. The reason for this was the introduction of the fiberglass and aluminum poles used in dome and cabin tents.
You see, the poles used in A-frame tents are heavier, which is why they've become less popular.
Still, A-frame tents are still preferred by some, and they have certain advantages over other tent styles. For example, they're incredibly stable while still being relatively lightweight.
Plus, the issue with heavy poles can be overcome by using your hiking poles to hold the tent up instead. Neat, huh?
Teepee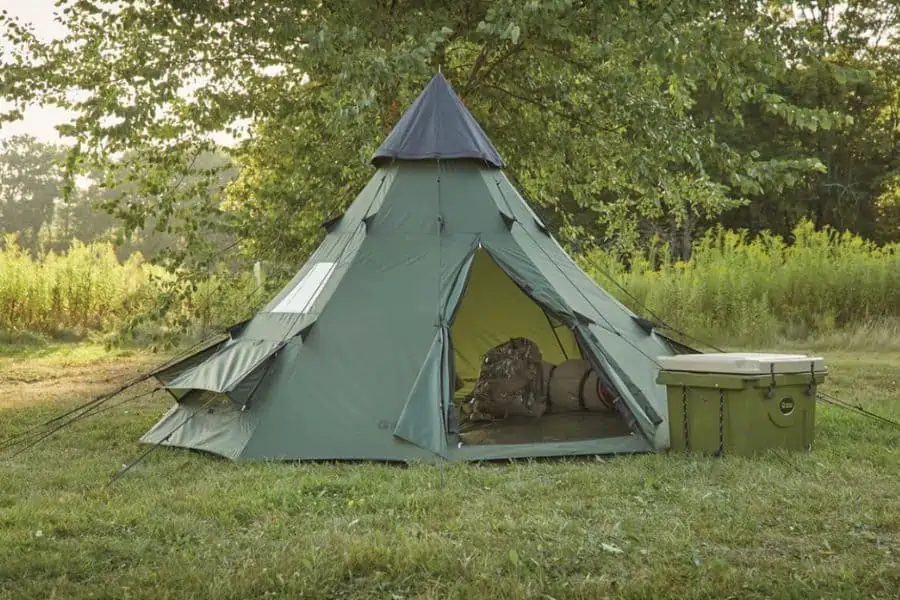 Instant teepee-style tents are rare, but they do exist.
They have a large round or octagonal base, several poles that start at the base of the tent and meet in the center, and a center pole to hold the structure up.
Teepee tents are great because they provide an exceptionally spacious feel. They also have great ventilation, thanks to their conical shape.
What's The Difference Between Instant Tents & Traditional Tents?
With all this talk of instant tents, you might be wondering what the difference is between instant (or inflatable) tents and traditional tents.
Put simply, instant tents are tents designed to be pitched quickly, usually within five minutes or less.
The mechanism varies across instant tents, but they all share one thing in common: they're made for quick set-up.
Traditional tents are built without user experience in mind. They sacrifice ease of setup to provide a (slightly) more sturdy frame. That's it!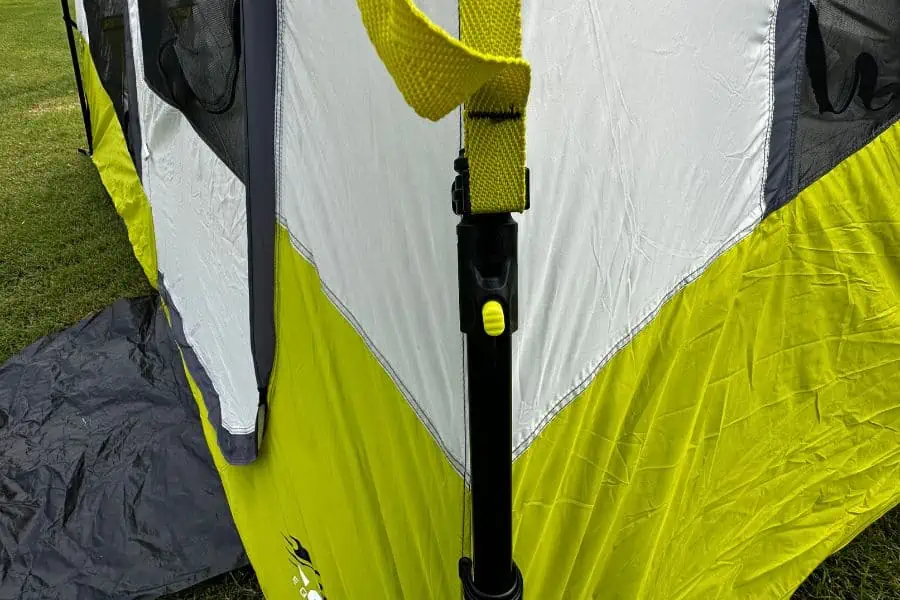 You'll notice above that frames have interlocking poles, or hydraulic systems to help the tent stand up.
You typically pull the tent up and into place, until the locking mechanism "clicks" into place.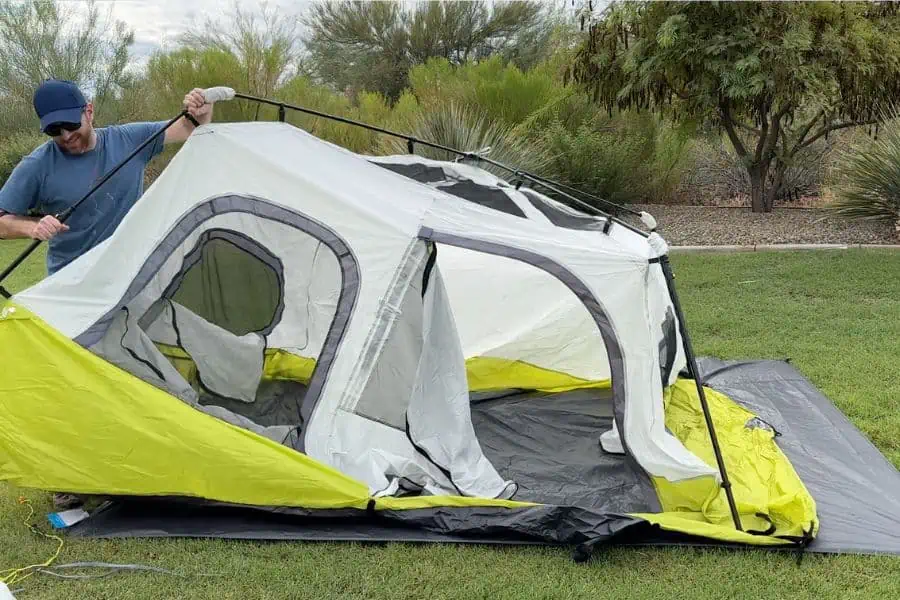 Features like that are what separate instant tents from traditional tents.
Instant Tents vs. Pop Up Tents – Are They The Same?
At this point, you might be confused. You've heard of pop up tents, and instant tents… aren't they the same thing? Not really.
As mentioned above, an instant tent is a broad, umbrella term used for any tent that's built with quick-pitching in mind.
Pop up tents, on the other hand, are a specific type of instant tent that use a specific design.
Pop up tents all feature some kind of frame that instantly expands when you take it out of the bag. They "pop" out of the bag, which is where they get their name from.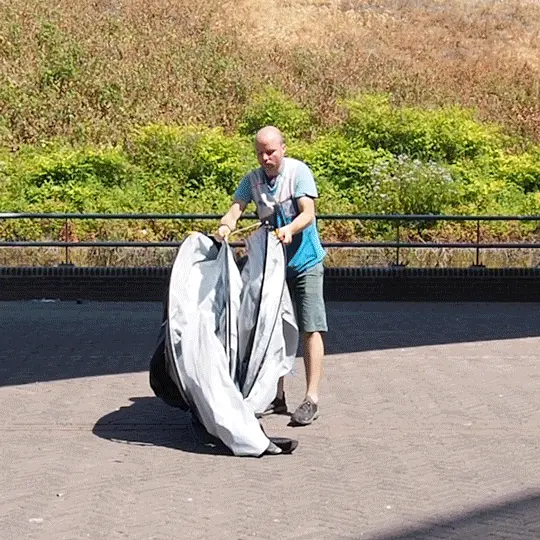 Instant tents and pop up tents are like squares and rectangles. All squares are rectangles, but not all rectangles are squares.
All pop up tents are instant tents, but not all instant tents are pop up tents.
FAQ
Instant tents are less common than regular tents, so it's totally understandable if you've got a bunch of questions about what they are exactly and how to use them.
Here are some questions that frequently popped up, answered:
The procedure isn't always exactly the same, and will vary slightly from tent to tent. Still, it's basically always the same principle.
Instead of having tent poles that you put together and thread through the canopy, like with a regular tent, an instant tent already has the poles attached to the tent.
As you unfold the poles, the tent rises along with them. Once you pull the poles apart, they lock into place. It's quite similar to opening an umbrella, just on a larger scale.
If your instant tent is a pop up tent, then it's even simpler.
With some pop up tents, you throw the tent out into an open space and it unfolds before it hits the ground.
With other tents, you literally just take them out of the bag, et voilà!
It's up and ready to go, literally instantly. These tents truly live up to their name.
What material do instant tents usually come in?
Most instant tents are made of polyester.
Polyester is a synthetic material that's known for the following properties:
Durability
Water resistance
UV resistance
Quick drying
The poles on an instant tent will usually be made of either steel or fiberglass.
While steel poles are heavier, they're stronger and more sturdy than fiberglass poles.
On the other hand, steel poles will corrode over time, which is something you don't have to worry about with fiberglass.
How do you fold a quick pitch tent?
To take your instant tent down, it's just a matter of unlocking the poles and folding them back up.
You'll find buttons where the poles interlock, and by pushing them you release the lock. You can then push the poles back down into each other, and fold them in the same way they were folded before you put the tent up.
Again, how they fold back up exactly is going to vary depending on the model.
And pop up tents are even easier! Here's a video we made that demonstrates just how quick and easy it is to get it back in the bag.
Our Verdict
To wrap things up, our #1 instant tent recommendation is the CORE 6 Person Instant Cabin Tent.
It provides great weather protection without a complicated setup.
It can be pitched within two minutes (or less) and unlike other instant tents, it doesn't require a Ph.D. to pack it back up.
On top of that, it's extremely affordable and will last for years. This tent is for camping masters and outdoors newbies alike.
As a cabin-style tent, the CORE 6 Person provides excellent bang for your buck, and if you need a bigger tent, the CORE 9 and CORE 12 Person Instant Cabin Tents rank great as well.
If you're looking for an instant tent, this is hands down the best choice for campers all over the world.