From your dirty shoes to your backpack, you can use a tent vestibule to get rid of anything you don't want in your sleeping area. That's why we're going over some of the best tents with vestibules on the market.
We'll rate them in different categories so that you can find the one best for you.
Let's dive in! Here are the best tents with vestibules on the market today:
Best Tents With Vestibules
The North Face Wawona 6
Size: 6-person | Season: 3-season | Tent Type: Dome | Weight: 20 lbs 15 oz | Max Inside Height: 80″ | Floor: 120 x 96 in (86 sq ft) | Vestibule: 44.7 sq ft | Set-up Time: 15 min
All things considered, the Wawona 6 is currently the best tent with a vestibule on the market. It checks all the boxes – it's ample, durable, and stable in bad weather conditions.
This is actually an updated version of the old Wawona, which features double-wall instead of single-wall construction.
This change has unfortunately increased the overall weight, but it made a huge difference when it comes to ventilation.
The tent is quite ample for a 6-person model.
It has a peak height of 80″ and almost vertical walls, so you get maximum use of the interior space.
The vestibule has the same dimensions as the inner tent, so there's plenty of room to create a seating area.
Even though it's tall, this tent performs exceptionally well in windy weather.
It features DAC MX poles, which are known for their improved sturdiness without sacrificing weight.
External guylines further ensure the tent doesn't move a bit when it's blowing.
Pros
Can create a hanging out area or an additional sleeping room
Has nearly vertical walls and a tall center height
Features ceiling and side pockets for storage
Stable in windy weather due to aluminum poles and additional guylines
Cons
Best for: camping with friends or family
REI Co-op Wonderland X Tent
Size: 4-person | Season: 3-season | Tent Type: Tunnel | Weight: 35 lbs 1oz | Max Inside Height: 75″ | Floor: 100 x 100 in (70.5 sq ft) | Vestibule: | Set-up Time: 15 min
If you're willing to invest more in a tent with a vestibule, then this model by REI Co-op is definitely worth considering.
It's a 4-person tent, but its huge vestibule gives you enough space for storing gear, as well as creating a hangout area.
What's really impressive about this tent is the fact that you can modify it however you want.
The inner tent and your sleeping area can be clipped in the back, front, or even removed completely for making a huge community shelter when needed.
The tent has six doors, two on the ends, and four on the sides, and each of them has a vent above it for optimal airflow.
The end doors can also be rolled out of the way or extended into awnings for additional sun or rain protection.
When it comes to setup, 12 poles do seem like a lot of work.
But the color coding on the poles, tent body, fly, and footprint make everything simple and relatively quick.
Pros
Can create a large living space with clip-in tent
End doors can turn into awnings for additional weather protection
Large end doors allow most 4WD wagons and smaller SUVs to back under and dock with the tent
Strategic color coding on the tent, fly, footprint, and poles makes it easier to set up the tent
Cons
Quite expensive for a tent
Best for: glamping
REI Co-Op Base Camp 6 Tent
Size: 6-person | Season: 3–4-season | Tent Type: Dome | Weight: 20 lbs 10 oz | Max Inside Height: 74″ | Floor: 110 x 110 in (84 sq ft) | Vestibule: 27 + 17 sq ft | Set-up Time: 20 min
If you're camping in less-than-ideal weather, this model by REI provides reliable shelter in all weather conditions.
It features a pole design similar to those of mountaineering tents, which makes it stable in high winds.
This is a double-walled tent, with a rain fly extending all the way to the bottom.
So, whether it's raining or snowing, you can rest assured you'll remain dry inside the tent.
What's also great is that the rain fly is resistant to UV rays, meaning you're protected from sun damage, as well.
But even though it's fully covered, this tent has excellent airflow.
It features two roof tents with a low side vent, which creates the "chimney effect" and helps with condensation.
Of course, you can easily adjust the vents from the inside through the zippered access.
The tent has two doors, each covered with a vestibule.
Both vestibules are decently sized, offering plenty of room for storing gear and dirty shoes.
Pros
Suitable for any weather with geodesic-dome shape and full-length rain fly
Wide-mouth door orientation allows you to easily get in and out
Features two vestibules
Has a UV-resistant rain fly
Cons
No hanging out area for rainy days
Best for: winter camping
Kelty Grand Mesa 4 Tent
Size: 4-person | Season: 3-season | Tent Type: Dome | Weight: 7 lbs 7 oz | Max Inside Height: 55″ | Floor: 96 x 80 in (53.3 sq ft) | Vestibule: 18.8 sq ft | Set-up Time: 3 min
This tent might not have tons of bells and whistles, but it has everything you might need: spacious interior, low weight, and strong weather resistance.
Setting up a tent has never been this easy. Each corner has a long sleeve that keeps the pole in place during pitching.
It's so easy, you can do it in a minute solo.
The tent features DAS Pressfit poles, which are made of the highest quality aluminum.
They're lighter but sturdier than typical aluminum poles, so they provide better wind resistance while keeping low weight.
The upper half of the tent walls are covered in mesh, ensuring proper airflow.
The rain fly goes all the way to the ground, so there's absolutely no way rain can seep through.
And thanks to the factory-taped floor seams, water can't get inside through the ground either.
Pros
No water can get inside
Quick and easy set-up
Weighs around 8 lbs, which is pretty light for a tent of this size
Stable in high winds
Cons
Only one door makes getting in and out more difficult
Best for: campers looking for a value product
Marmot Halo 4-Person Tent
Size: 4-person | Season: 3-season | Tent Type: dome | Weight: 13 lbs 6.5 oz | Max Inside Height: 59″ | Floor: 96 x 96 in (64 sq ft) | Vestibule: 24 sq ft | Set-up Time: 10 min
You can't let bad weather ruin your camping trip. And with this tent by Marmot, you really don't have to.
It has exceptional weather resistance, so you can rest assured you'll be dry and warm throughout a storm.
The unique pole structure is a combination of dome and geodesic tent shape, which improves wind resistance.
Additionally, DAC Pressfit poles feature a pressed-in ferrule to further ensure stability in high winds.
The rain fly goes all the way to the ground, ensuring rain can't get inside the tent.
Thanks to ceiling and ground-level vent points, air can circulate so condensation doesn't form.
What's great is that the rain fly is UV-resistant, meaning it keeps you safe from harmful sun rays as well.
During hot summer nights, you can remove the rain fly to enjoy the night sky through the ceiling, while having some privacy thanks to opaque walls.
Pros
Semi-geodesic shape makes the tent stable in high winds
Rain fly is waterproof and UV-resistant
Plenty of vent openings ensure optimal airflow inside the tent
Pole sleeve and clip system make for an easy set-up
Cons
Relatively low peak height
Best for: camping in windy weather
Big Agnes Bunk House 4
Size: 4-person | Season: 3-season | Tent Type: cabin | Weight: 15 lbs 8 oz | Max Inside Height: 72″ | Floor: 99 x 92 in (58 sq ft) | Vestibule: 33 sq ft + 14 sq ft | Set-up Time: 10 min
If you're going on a longer camping trip, you'll need a comfortable shelter that can keep you safe in different weather conditions. This tent by Big Agnes does just that.
This dome-shaped tent features DAC aluminum poles, which make it stable in the wind.
Self-equalizing guylines further stabilize the tent, allowing you to pitch it with fewer stakes.
The guylines feature reflective webbing, making them visible at night, which is a nice touch.
This tent has a center height of 72″, which is pretty impressive for a 4-person tent.
Thanks to the large vestibules where you can store all your gear, you can make the best use of the interior space.
Furthermore, the 16 interior pockets ensure all your essentials are organized.
With just two poles involved, set-up is rather easy.
But thanks to color-coded webbing and buckles, you can really do it by yourself in just a few minutes.
Packing down the tent is just as quick and easy, too.
Pros
Rather stable in winds
Ample vestibule space to store all your gear outside
Plenty of interior pockets keep things organized
Reflective guylines and reflective webbing provide better visibility at night
Cons
Somewhat heavy for a 4-person tent
Best for: longer camping trips
NEMO Dragonfly 2 Tent
Size: 2-person | Season: 3-season | Tent Type: dome, backpacking | Weight: 3 lbs 1 oz | Max Inside Height: 40″ | Floor: 80 x 50 in (29 sq ft)| Vestibule: 10 + 10 sq ft | Setup Time: 5 min
If you're looking for a backpacking tent, the Dragonfly 2 is among the best options on the market.
It weighs just 3 lbs, yet it provides a decently-sized shelter with enough storage space for your gear.
Of course, you're not storing it inside the tent. The tent has two doors, and each features a trapezoidal vestibule covering 10′2.
That means you can use one for storing gear and the other for your dirty boots.
The unique sloping design increases headspace, with the peak reaching 40″.
While that's not enough to hang out inside the tent, it allows you to easily move around and sit upright.
This tent uses nylon to save up on weight.
Since it's coated with a durable silicone repellent, it can withstand heavy rain without letting any water get inside.
Even though there's not much room inside, you can still keep your personal items organized.
The tent features gear pockets for all the essentials, like a flashlamp or your phone.
It also has an overhead light pocket, which has special light-diffusing fabric, allowing you to use your headlamp to cast an even glow inside the tent.
Pros
Features two trapezoidal vestibules
A high headroom allows you to sit upright inside the tent
Features an overhead light pocket
Great for backpacking
Cons
Expensive for a 2-person tent
Best for: backpacking
MSR Hubba Hubba 2 Person Tent
Size: 2-person | Season: 3-season | Tent Type: dome | Weight: 3 lbs 14 oz | Max Inside Height: 39″ | Floor: 84 x 50 (29 sq ft) | Vestibule: 8.75 + 8.75 sq ft | Set-up Time: 5 mins
Whether you're backpacking or simply solo camping, this tent by MSR is a decent option.
It's light but it provides ample interior space.
The vestibules aren't huge, but they provide a decent amount of space for storing muddy gear.
That way, you can keep your interior clean.
The set-up is quite simple, thanks to the unified hub-and-pole system.
To pitch it, you simply extend the frame and clip the tent body from below.
Then, place the rain fly and stake it to the ground. Or, leave it off for a night under the starry sky.
Keeping the interior tidy is not a problem, thanks to plenty of storage options.
The tech-friendly pockets feature cable ports at the corners for charging cords or headphones.
Overhead gear loft pockets offer storage space for your essentials.
If you're still not convinced, you can read our MSR Hubba Hubba review and check out our video here:
Pros
Quick and easy set-up
Features two, large side-entry vestibules for storing dirty gear
Features tech-friendly pockets with cable ports for cords
Weighs just over 3 lbs and great for backpacking
Cons
Best for: solo campers
ALPS Mountaineering Tasmanian Tent
Size: 3-person | Season: 4-season | Tent Type: tunnel, dome | Weight: 9.8 lbs | Max Inside Height: 54″ | Floor: 70 x 92 in (43.5 sq ft) | Vestibule: 21 sq ft | Set-up Time: 12–15 min
This is one of the best mountaineering tents on the market.
It checks all the boxes: has a decent price tag, excellent weather resistance, and decent storage space.
The tent is extremely straightforward to pitch.
It features a hub design connecting 7000 series aluminum poles, which snap into place.
Then, you just need to snap the tent clips over the poles, and it's ready.
The rain fly is made of 75D polyester taffeta, which is further coated to provide both UV and water resistance.
Factory-sealed seams on both the rain fly and tent floor ensure that no water can get inside.
This tent has exceptional ventilation, ensuring no condensation forms inside during wet days.
It features two doors and two zippered mesh windows, which provide proper airflow inside the tent.
Pros
Waterproof coating and taped seams means no water gets inside
Quick and easy set-up for a solo camper
Suitable for taller people (92″ peak height)
Plenty of vent openings
Cons
Best for: mountaineering
Check Price at ALPS Mountaineering
Factors To Consider Before Buying A Tent With A Vestibule
There are many tents with vestibules on the market nowadays, all with their own features.
These features make them different from one another, and more or less suitable for you.
Here are the factors you should keep in mind when choosing:
Vestibule Size & Design
Weather Resistance
Ease of Use
Ventilation & Breathability
Weight & Portability
Space & Comfort
Quality & Durability
Intangibles/Additional Features
Vestibule Size & Design
A vestibule is a covered area around your tent door, and it can differ between models in size and design.
Some tents have large, poled vestibules that create an outdoor hanging area.
Others simply have staked out rain fly which creates a smaller, protected area for storage.
Which one do you need more?
True, the pole vestibules can also be used for storing gear.
But keep in mind that the additional poles and material will add more weight to your tent.
Weather Resistance
Of course, every tent offers at least some kind of weather resistance.
But depending on what type of weather you plan on camping in, you'll need to find a suitable tent for such conditions.
First, let's talk about water resistance. To consider a tent water-resistant, it should have a PU rating of up to 1000mm.
Tents with ratings above that number are considered waterproof, although that's not entirely true.
These ratings indicate how much water can a material resist before starting to leak.
Now, tents with PU ratings between 1000mm and 1500mm can withstand moderate rain, so they're suitable for most climates.
However, if you plan on camping in the snow, you should go with a PU rating of 2000mm or above.
When it comes to wind, the shape of your tent plays a huge role in stability.
Dome and geodesic tents are shaped in such a way to allow the wind to pass above, instead of blowing directly into them.
That's why they're more stable than cabin tents, whose walls easily catch winds.
Ease Of Set-Up
Hard-to-pitch tents are such party breakers. Nowadays, there's absolutely no excuse for making a tent too difficult to set up.
Many tents on our list are quite easy to set up.
Some even feature poles connected to a hub, which allows you to set up a tent within a few minutes.
This is especially useful if you're camping by yourself.
Ventilation & Breathability
To achieve water resistance, tents are made or coated with synthetic materials, which aren't very breathable.
To make up for the loss of airflow coming through the fabric, these tents need to have vent openings situated on opposite sides to allow ventilation.
These vents should be positioned in such a way as to allow airflow while keeping the rain out.
Weight & Portability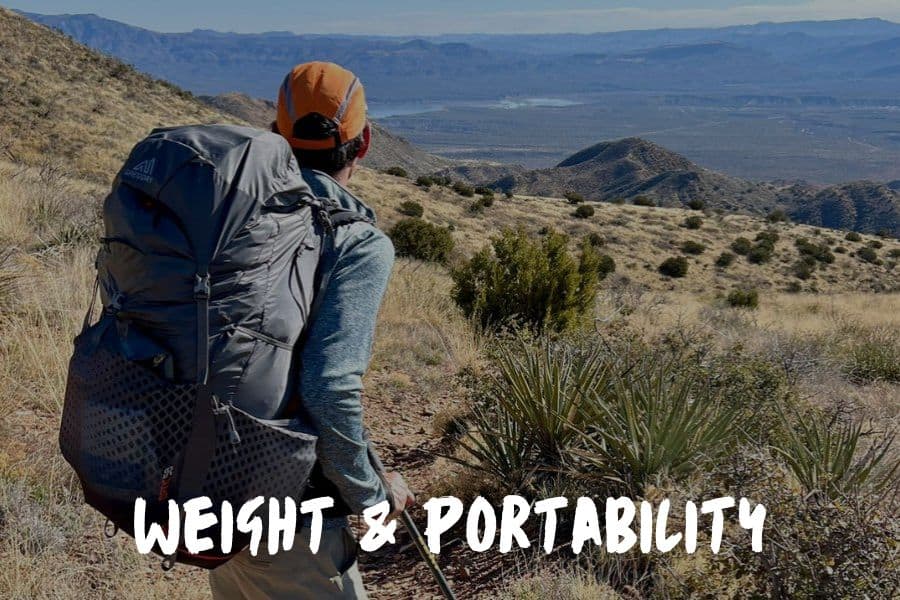 If you're car camping, weight might not be a big issue.
But if you're carrying your gear on your back, at least one portion of the road, weight is an important factor.
Weight depends on the materials used. Typically, the larger the tent, the more it will weigh.
However nowadays, there are many materials that are lighter but don't sacrifice quality.
They do come at a higher price, but if weight is an issue, then that's a worthy investment.
Space & Comfort
This list features tents of different capacities, so we can't simply use their dimensions to compare one to another.
But what you do want to do, is compare their dimensions with the standard dimensions for a tent of the same capacity.
Lucky for you, this is exactly how we rate tents, so this hopefully makes your decision easier when comparing tents of different sizes.
Of course, you also want to take into consideration the overall height.
The high ceiling can make a smaller tent seem more spacious than a low-profile tent with wide dimensions.
Also See: What Size Tent Do I Need?
Quality & Durability
The main factor in determining the quality and durability of the product is the materials used.
Most tents use either nylon or polyester as their tent fabric, both of which are great options.
The difference in quality lies in the details, and not the actual choice of material.
When figuring out quality, we pay attention to the seams, zippers, and overall construction of the tent.
Another important factor is warranty.
When you're buying a product covered with a warranty, you can rest assured you're getting a defect-free product, or you're getting your money back.
We believe products with a warranty get bonus points for quality assurance.
Intangibles
And finally, we can't forget about the unique features of different models.
Certain models, like the Big Agnes Bunk House 4, have plenty of storage pockets inside.
That's great for having all your essentials neatly organized and close to hand.
Many larger tents have more than one door, which makes it easier to get in and out of the tent when sharing it with other campers.
What features do you want in a tent? Double check before you buy!
FAQs
What Is A Vestibule?
A vestibule is a covered area around the tent door.
Typically, it's an extended part of a rain fly, but it can be poled to create an entire hanging-out room.
Why Is A Vestibule Important In A Tent?
A vestibule provides an additional area for either storing gear or hanging out, depending on the size and shape.
In any case, it leaves you with more room inside the tent for sleeping.
How Do I Determine The Right Size Of A Tent With Vestibules?
The size of the tent depends on the number of people camping with you, as well as the length of your trip.
If weight is not an issue, you can always go a size up for additional comfort.
Are Vestibules Always Included With Tents, Or Do I Need To Buy Them Separately?
Many tents come with vestibules, while some models only offer them individually.
Can I Use A Vestibule As An Additional Sleeping Area?
That depends on the design.
If a vestibule is large enough and poled for additional stability, then there's no reason why you couldn't use it for sleeping.
Can Vestibules Withstand Heavy Rain & Wind?
It depends on the model. In most cases, they're designed to withstand rain.
When it comes to wind, vestibules with vertical side walls can catch wind like a sail, so it's best to take them down during windy weather.
Can Vestibules Be Used For Cooking?
Most vestibules aren't suitable for cooking.
Even if they're coated with fire retardant, they don't provide enough airflow to allow safe use of fire inside the vestibule.
To Sum Things Up
There are many great tents with vestibules on the market.
Our personal favorite is the North Face Wawona 6. It's spacious, durable, and weather-resistant.
It also has plenty of storage options, so you can keep your stuff well organized.
However, there are plenty of options out there to choose from.
We hope our advice will help you in your next purchase of the best tent with a vestibule for you!
More Tents by Type