In case you're running out the door, my top pick is the Napier SportZ Truck Tent.
I don't have to tell pickup truck owners about how useful a truck can be – and they're just as useful when it comes to camping.
Sleeping in your truck bed is more comfy than sleeping on the ground, you won't take up any extra space at the campground and you can sleep wherever you can park.
Sounds pretty sweet, right?
Of course, sleeping in an open truck bed just won't do, so you'll need a truck bed tent.
In this article, I'll review the top 5 best truck tents for camping on the go. Then, I'll show you what to look for in a truck tent, and why you should get one.
Let's dive in!
Best Truck Bed Tent: Our Top Recommendations
Napier SportZ Truck Tent

This is the gold standard of truck tents. Napier offers multiple models, and this is by far their best one. And yes, it does come in a ton of sizes to fit every pickup truck.
As I mentioned, the SportZ is Napier's premium model. It'll be more expensive than their BackroadZ model (discussed later), but the added features make it well worth it.
The biggest feature is the awning. This awning allows you to unzip your tent when it's raining without water falling into your it.
You'll stay dry and comfortable inside no matter how much it's pouring down. It also gives you a nice shaded place to kick your legs out of the tailgate, crack open a cold one, and relax.
I also love the window options. First, there's a window on the backside of the tent. This allows you to reach into your truck's cab via the rear window.
Next, the windows open and close with zippers. For whatever reason, many truck tents don't allow you to open and close the windows. The only way to close the windows is to throw on the rain fly.
Not with the SportZ tent. The windows are fully zippable, so you can have privacy without attaching the rain fly.
If just a basic tent isn't enough for you, Napier offers some cool add-ons. You can supplement your truck tent with a 4-person room using the SportZ Link attachment. Or, you can purchase this tent in camo, which is a great option for hunting enthusiasts who want to blend in.
Pros:
Comes with a big awning which allows you to keep water out when entering or exiting
5'8" headroom gives most people plenty of room to walk around
The sewn-in floor makes it so you stay clean from any dirt in the truck bed
Color-coded poles and cushioned strap protectors make setup easy and safe
The rear window allows you to enter your truck cab and grab any gear you need
Awning keeps you dry and provides shade for you to relax in
Cons:
The door does not zip to the bottom, which can make entrance annoying
This tent's price tag might be too high for more budget-conscious campers
Best for: serious outdoorsmen who want a premium tent that'll last for years.
Guide Gear Full Size Truck Tent

I love the Napier SportZ tent, but I understand that it might be too pricey for some. So, here's the most affordable truck tent I recommend: Guide Gear's Truck Tent.
Despite being the most affordable tent on our list, it's got a great track record helping campers sleep sound at night.
This is a basic, all-around high-quality tent. It doesn't have all the bells and whistles of the SportZ, but this tent will help your truck bed feel like your home bed.
Pros:
Most affordable truck tent we reviewed (great bang for your buck)
Its straightforward design makes it extremely durable, hard to break
1500mm HH water-resistant coating and an added rain fly keep you bone dry
The spacious interior and added floor give you a relaxing camping experience
Very lightweight tent (only 10 lbs.), so it can be stored in your truck indefinitely
Cons:
Only available in two sizes
Best for: campers who want to "test the waters" to see if they like truck tents before splurging on a premium product.
Check Price on Sportsman's Guide
Napier BackroadZ Truck Tent

As mentioned, this is Napier's standard truck tent. It's got the same quality of the SportZ (reviewed above), but it lacks some of the premium features that make the SportZ my top pick.
This very popular tent comes with a full floor and is available in tons of sizes. It doesn't have the SportZ model's awesome awning, but it does come with a removable rain fly and color-coded poles (for easy setup).
This tent did not make my top pick because it doesn't have the awning or windows that the SportZ has. Despite the price difference, I think the SportZ model is worth the upgrade. However, BackroadZ is still a great tent.
Pros:
Setup is very easy thanks to the straightforward pole design – shouldn't take more than a few minutes to have it pitched
Super high center height (5'6") so you don't have to crouch
Features a gear net on the roof of the tent to store your iPhone, keys, or wallet
Great customer service – any issues will be resolved pretty dang quick
More affordable than the SportZ, but still an excellent option for truck camping
Cons:
Windows don't close without the rain fly, so ventilation options are limited
The floor design means you can't have a toolbox in your truck bed
Best for: people who want the long-lasting construction of a Napier tent, but don't need the extras that come with the SportZ
Kodiak Canvas Truck Bed Tent

Now I'll mix it up and throw in the Kodiak Canvas Truck Bed Tent.
All of the other tents in this review are constructed with nylon. Nylon is a great fabric, but it's not perfect. It whips in the wind, is prone to rips, and can let water seep in sometimes.
To counter this, Kodiak crafted a truck bed tent made with heavy-duty canvas. This canvas material is thick enough to keep you warm in the winter, but is also breathable enough to cool you off in the summer.
The truck tent is available in multiple sizes and has ventilation windows on every panel (including cab side).
This tent also uses a unique rail design to hold the poles up. Although it can be confusing the first time you install the tent, setup is a breeze once you learn the ropes. You'll be glad you did the work when you see how much width and headroom you get with this tent.
Pros:
Heavy-duty canvas tents provide a comfortable camping experience in any season
The windows are made with a super fine screen – this blocks bugs from entering the tent but still allows you to open them for ventilation
Like the SportZ, this tent comes with a truck cab window, so you can grab gear out of your truck without going outside
Large, heavy-duty YKK zippers allow you to open and close the tent without worrying about ripping the fabric
Unique steel pole design maximizes truck width and provides superior wind protection
Cons:
Canvas is pricey (but durable), making this tent less affordable than other tents on this list
First time setup can be difficult since you have to figure out where to place the pole rails
No floor means your butt might get dirty from sitting in the truck bed
Best for: winter campers who want a super-warm tent and aren't worried about the price tag.
Rightline Gear Truck Tent

Last but not least is the Rightline Gear's Truck Tent. I saved this one for last because honestly, there isn't anything magical about it. That being said, it's a well-rounded tent that provides a great camping experience.
It comes in a ton of different sizes, so every pickup truck owner can buy one.
It's lightweight so you can store it under your seats for on-the-go camping.
The only feature that sticks out is that it doesn't have a floor. The only tents on this list that don't have a floor are this and the Kodiak canvas. If you want a polyester tent with no floor (so you can have a toolbox), this is the choice for you.
Pros:
Removable rain fly so you can open up the tent and see the stars
No floor, so you can still use this tent if you have a toolbox – it's also nice to have no floor if you want to use your own footprint (or tarp)
Sizes available for compact, mid-size, and full-size trucks
Price is middle-tier – less than the Napier tents, but more than the Gear Guide tent
Lightweight (11 lbs.) so you can keep it in your toolbox without taking up much space
Cons:
No floor might be a drawback for some people since the floor might be dirty or wet – I suggest bringing a tarp or footprint just in case
Zippers are not the best quality and may get stuck
Best for: campers who want a versatile polyester truck tent, but don't want a floor attached.
Truck Bed Tent Buying Guide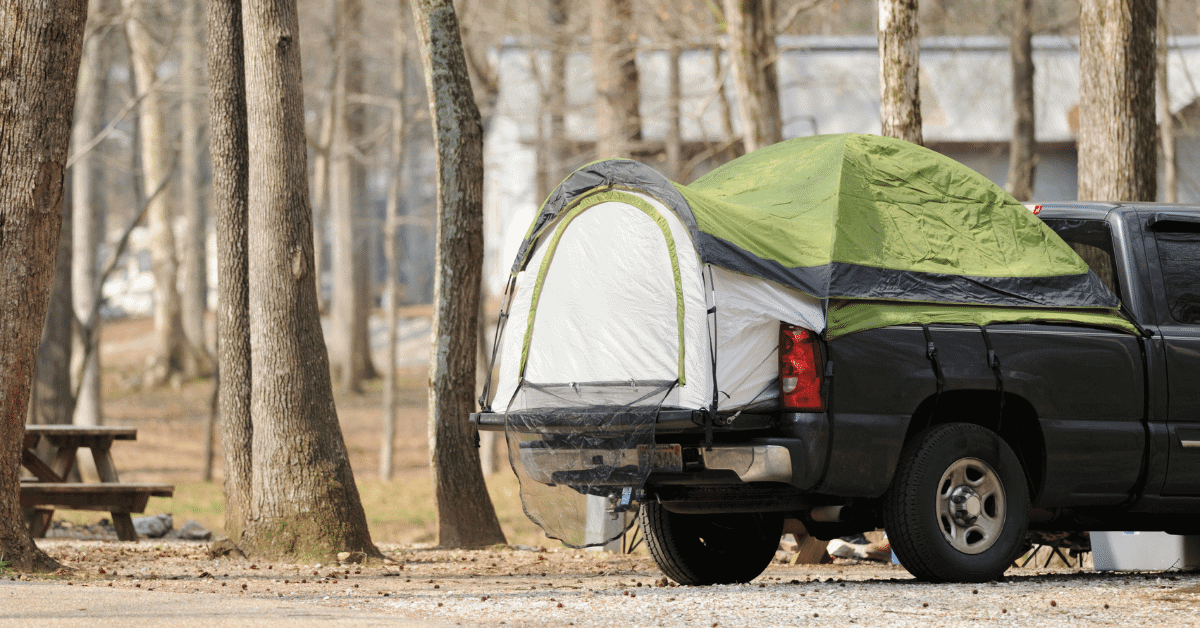 You've decided you want a truck tent. Great!
Now, here are some of the factors you'll need to take into account to make sure you pick the right one.
Compatibility
The number one issue when it comes to truck tents is compatibility.
There are tons of trucks on the market and they all have different size beds. You must double-check to make sure your truck tent fits your truck.
Most truck tents specify what size beds they fit. Make sure you go out and measure your truck bed and confirm it matches the tent manufacturer's specs.
Size
When you get your truck tent, you're gonna be excited to open it up and get started. However, don't rush out to the mountains just yet.
First, consider the size of your tent.
Heed this warning – most truck tents are made to only sleep two people. If you're looking to camp with more than two, you might want to opt for a family-sized ground tent. Or, get the Napier SportZ and add the Link tent.
Material
Most truck tents are made of either nylon, polyester, or canvas.
Each of these fabrics has their own set of pros and cons, so which material you end up going for is going to come down to personal preference, and what your priorities are.
Nylon and polyester are synthetic materials that are lighter than canvas and quick to dry, making them less prone to mildew. That being said, they're not as durable or breathable as nylon.
Canvas, on the other hand, is a natural material that's tough, breathable, weatherproof and environmentally sustainable. It is, however, a lot heavier than nylon or polyester, and it dries slowly, so mildew can often be an issue.
Season Rating
Unless you're going truck camping in extremely hot or extremely cold weather conditions, chances are you'll end up getting either a 3 season or a 4 season truck tent.
Well, a 3 season tent is perfect if you plan on camping during the summer, and possibly late spring and early fall.
However, if you plan on using your tent during the winter months, as well as late fall and early spring, then a 4 season tent is the way to go.
Note: although it's called a 4 season tent, these tents are not ideal for use during the summer when it's hot outside.
Water-Resistance
With any tent, water resistance has got to be a top priority. After all, the last thing you want on your camping trip is to be caught in a rainstorm in a leaky tent.
To make sure you get a tent that will keep you dry in all kinds of weather, check its waterproof rating. The minimum rating for a tent to be considered waterproof is 1000 mm, but the higher the figure the better protected you'll be.
Also, make sure it comes with a good rain fly that covers the entire tent.
A bathtub floor is another good feature to look out for, as it prevents your tent from flooding during heavy rains.
If you want to make double sure, treat your tent using waterproofings spray before you head off on your trip.
If you've got a canvas tent, you can season it instead, or use waterproofing products just like you would with a synthetic tent.
Ventilation
Other than the breathability of the materials themselves, the windows and vents on a truck tent are super important for maintaining good ventilation, with enough airflow through the tent.
If there isn't enough air flowing through your tent, condensation will form on the inner walls and drip down onto you and everything else that's inside. This is true regardless of whether it's hot or cold outside.
Not to mention, you'll be feeling so stuffy and sweaty that getting a good night's sleep will be out of the question.
Make sure that you select a tent with nice, large windows with mesh screens to keep the bugs out.
Also, look for vents on the sides or roof that allow air to escape through the top of the tent.
Set-Up
You want to make sure you get a truck tent that's fairly easy to set up.
Most importantly, know how to set up your tent before you hit the road. Read the instructions and set up your tent at your house so you know what you're doing.
You'll quickly find that setting up a truck tent is quite different to a ground tent. While ground tents use guy-lines and stakes to keep the tent tight, truck tents use straps that attach to the outside of your truck.
I've got two tips to maximize your use of these straps.
Tip #1: make sure you don't over-torque the straps.
It's very common for people to over-pull the straps to keep their tent rigid. However, you'll find that it's easy to pull too much and damage your tent.
Be cautious, and keep this in mind when strapping down your tent.
Tip #2: watch your paint job.
Depending on the setup, your straps (or ratchet) might chip away at the paint on the outside of your truck.
You can prevent this by not over-torquing the straps, but you can also add some protection to your truck. A tarp, pad, or even just a towel can be placed under your straps to keep your paint job clean.
Additional Features
Finally, look out for additional features like a built-in floor, door flaps, cab access, wire ports, storage pockets and a gear loft.
These might seem like minor points, but they can often make a world of difference when it comes to staying comfortable and organized on your trip.
Keep in mind that if you get a truck bed tent with a floor, you won't be able to have anything else in the back of the trunk while your tent is up.
Why Would You Want A Truck Tent?
At this point, you might be thinking "hmm, I like the sound of these truck tents, but there are some alternatives that look just as good."
Here are some reasons why a truck tent is better than a ground tent or a truck cap.
Truck Tent vs. Ground Tent
Truck tents aren't nearly as popular as normal tents (that set up on the ground).
I'm not sure why, but if I had to guess, I'd say it's because trucks aren't as popular as cars or SUVs (which can be used for SUV camping). My research shows pickup trucks make up only 15-20% of American cars.
My take is… their loss! Trucks are awesome and are made even better with truck tents.
The major benefit of using a truck tent over a ground tent is that you don't have to sleep on the ground. Depending on your terrain, this can be a major perk. A truck tent allows you to park on any rocky, swampy, or bumpy ground without having to sleep on the ground.
Truck tents allow you to camp anywhere you can drive. That's a great reason to pick a truck tent, in my opinion.
Truck Tent vs. Truck Cap
You've decided you want to camp in your truck, but maybe you're tempted to get a truck cap (also known as a truck topper) instead. These caps are installed on the bed of your truck to provide permanent coverage.
The benefit to a truck cap is that it's long-lasting and guarantees rain protection. The negative is the cost.
Depending on the size of your truck and the material you choose, a truck cap could cost anywhere between $750 and $2,200. Compare that to a truck tent, and the tent is looking pretty nice!
Our Verdict
In conclusion, using a truck tent is an awesome way to get outside. Camping in your truck bed allows you to sleep on any terrain, providing excellent comfort and protection. You might not be able to find truck tents at your local outdoor store, but that doesn't mean they aren't a great choice for camping.
There are tons of truck tents on the market. Out of all of those, I think the best truck tent is the Napier SportZ Truck Tent. It might have a premium price tag, but it's jam-packed with so many features that I think it's well worth it.
Either way, all of the tents in this article will provide you with an epic camping experience.