In a rush? I found that the Browning Camping Big Horn Tent is the best family tent for bad weather.
Do you enjoy spending your vacation camping in the woods with your friends? Or are you more into the family field trips? Whatever the case may be, a tent is the most important piece of gear to choose.
Even more so if you're expecting bad weather. This could ruin all the fun of your entire trip if you're not prepared. That's why I'm here to point out all the important stuff you need to pay attention to when choosing this crucial equipment.
After reviewing several dozen tents for 15 hours, I have compiled a list of the best family tents for bad weather.
So let's check it out lickety-split.
Best Family Tents For Bad Weather: Our Top 7 Choices
Coleman Elite Montana 8-Person Tent
 In my opinion, Coleman always stands out when I am reviewing tents. Especially big capacity tents. The Elite Montana 8-person tent really is ELITE when it comes to size.
It also has plenty of other important traits a big capacity tent needs, plus some additional accessories that do justice to the product's name.
However, you might need an extra pair of hands while assembling it. Especially if it is your first time. True, this tent is really big, and taking that into consideration it doesn't need TOO much time to assemble. That being said, you will need to pay special attention when setting it up. There are many stake points for security, so make sure you set them all up properly.
Pros:
Size – with 112 square feet of flooring, there will be plenty of space for everyone and all of your gear as well.
Water-resistant – this tent is a quality piece of gear that can withstand all kinds of weather conditions.
Accessories – the Coleman Elite Montana 8 person tent comes with integrated LED lighting operated by a switch.
Cons:
Ventilation system – what the Elite Montana 8 lacks is a few more windows.
Ease of set-up – nothing is color-coded and there are a few things that can make the process difficult for you, so I'd say that this is a downside.
Best for: bigger families who enjoy some elegant accessories to go with their camping gear.
Check Price at Dick's Sporting Goods
Kodiak Flex-Bow Canvas Tent Deluxe

Wondering what the "deluxe" in Kodiak Flex-Bow Canvas Tent Deluxe stands for?
I'll tell you what.
Firstly, with 100 square feet of flooring and a 6'6'' ceiling, it can sleep up to 6 people and provides enough space for everyone. In addition to this, it has a 6×4 ft porch awning and not one but TWO doors.
Secondly, it is made of Hydra-Shield, a 100% cotton duck canvas. This is a great material for tents because it is water-resistant, breathable and very durable.
Hydra-Shield is a dry-finish, silicone spray. This means that, unlike other canvas tents, you will only need to prepare it for rainy weather before the first use. After this, you will never have to worry about prepping it for your bad weather camping experiences ever again.
Keep in mind that because of the chemicals in the Hydra-Shield, you won't be allowed to start a fire inside your tent. The last thing you want is your deluxe canvas tent catching fire.
Pros:
Durable – made of great material, as well as high-quality zippers.
Practical – with multiple inside organizer pockets and two doors, this tent is highly practical.
Water-resistant – it can withstand even torrential rains. Albeit, like any other canvas tent, it has to be treated with water spray once before use.
Ventilation – breathable Hydra-Shield, four windows and two doors work together to provide maximum ventilation.
Cons:
Pricey – There is no such thing as a free lunch. All the features this tent has come with a price tag that puts it far away from the "affordable tents" category.
Hydra-Shield canvas – the tent must be treated before use. Treatment is only required once but the highly flammable chemicals mean you can't start a fire inside.
Best for: campers with a deeper pocket who enjoy high-quality gear.
Browning Camping Big Horn Tent
 Now, this is the basket I'd put all of my eggs in.
This HUGE tent with straight walls and a divider for added privacy is my number one choice.
One of the most affordable on this list, with 150 square feet of floor space, two rooms and six inside organizers, the Browning Big Horn is highly spacious and practical.
With a mesh roof and four windows, you will never have to worry about ventilation. Also, it has two doors, which helps the air circulate better.
The doors will also handle the problem of overcrowding or moving people around when you have to go out.
Unfortunately, because of all the cool features it has, it is kind of heavy. If you're not going to be camping too far away from your car though, it won't be a problem.
Pros:
Affordable – a quality tent with a bunch of cool features for a fair price.
Spacious and practical – with a 150 square foot base, two rooms and six inside organizers.
Water-resistant – of course, it is great for calm weather, but rest assured it can handle both high winds and severe rain.
Ventilation – it has four windows, two doors, and a mesh roof – working together to provide the best airflow possible.
Cons:
Weight – weighing almost 35 pounds it is on the heavy side.
Best for: car campers looking for a quality, big capacity waterproof tent without having to spend a fortune.
Check Price at Sportsman's Warehouse
Coleman WeatherMaster 10-Person Outdoor Tent

As I already mentioned, Coleman always stands out when it comes to tent selection. The WeatherMaster is no exception.
Good for all weather conditions, it is made of coated polyester fabric. This, along with its bathtub floor, gives you the best possible tent for rainy camping days.
A great ventilation system is achieved with angled windows that can stay open even when it rains.
There are two doors designed to make it easy to get in and out.
This tent can be set up in less than 30 minutes, especially if you have help.You can make it a fun joint activity for you and your family and you'll have it set up in no time.
Pros:
Weather-resistant – bathtub floor, angled windows and coated polyester fabric are a winning combo for bad weather.
Practical – two doors, one of which is hinged, will help you avoid traffic jams in your tent.
Easy setup and takedown – takes no more than 30 minutes (which is great for a 10-person tent).
Cons:
Low-quality stakes – this tent does have some lower quality stakes than expected. However, they can always be replaced with better quality stakes, which isn't too much trouble..
Best for: families looking for a tent from a brand they can trust that has all the necessary features and doesn't cost a fortune.
Wenzel 8 Person Klondike Tent

The Wenzel 8 Person Klondike Tent is a spacious tent with one feature that stands out.
It has a screen room, so if you're into those kinds of cozy perks, this might be the tent to invest in.
For the most affordable option, it is a huge tent. It has two rooms for added privacy that are 98 square feet and 60 square feet large.
In addition to this, it has meshed windows to ensure good ventilation.
It is practical with plenty of accessory pockets sewn into the walls, so everyone can have their personal belongings on hand at all times.
On the downside, it does take some time to put up and take down.
The Wenzel Klondike can be somewhat heavy to carry around but again, if you're a car camper this won't be a problem for you.
Pros:
Budget friendly – this is the most affordable option of all the tents I reviewed.
Easy to set-up and dismantle – straightforward procedure and easy-to-follow instructions make putting this tent up and taking it down a breeze.
Spacious – with over 150 square feet of floor space and two separate rooms, there's plenty of space and privacy for everyone.
Good Ventilation – meshed windows allow a good amount of air to flow through the tent keeping the space inside fresh.
Practical – it can be difficult to stay organized while camping, but the extra pockets sewn into the walls of this tent make it easy to keep all of your things in order.
Cons:
Takes more than one person to set up – although the set-up procedure is easy to comprehend, it requires at least two people to execute.
Heavy – if you're not going to be camping close to your car, this tent might be too heavy for your needs. Campers who usually camp with their car close by shouldn't have any issues though.
Best for: families with kids and car campers who value some privacy on their camping trips.
Rightline Gear SUV Tent

The Rightline Gear SUV Tent is one of a kind.
It features an extra room that can be attached to your SUV. Its design is unique in that it allows you to sleep in the back of your car. This adds on more space for your gear or to accommodate more people.
Of course, like all the models in this review, this tent is highly weather-resistant. Moreover, the big window allows air to flow nicely, keeping the tent fresh at all times. No more humidity smell in your tent and on your stuff.
The downside is that the stakes that come with it are not very high-quality. You can always swap them for new, better quality stakes, so this isn't really a party foul.
Pros:
Ease of set-up – can be set up by one person in less than 30 minutes.
Practical – can be attached to your SUV, adding on extra space.
Waterproof and windproof – bathtub style floor and weatherproof materials make this tent a good choice for rainy and windy weather.
Large window – provides good ventilation and an opportunity to enjoy the view from inside.
Cons:
Lower quality stakes – the quality of the stakes that come with this tent isn't great, but you can always buy some better quality stakes before your trip.
Best for: families camping with an SUV who enjoy a nice view from the cozy set-up of their tent.
REI Co-op Kingdom 8 Tent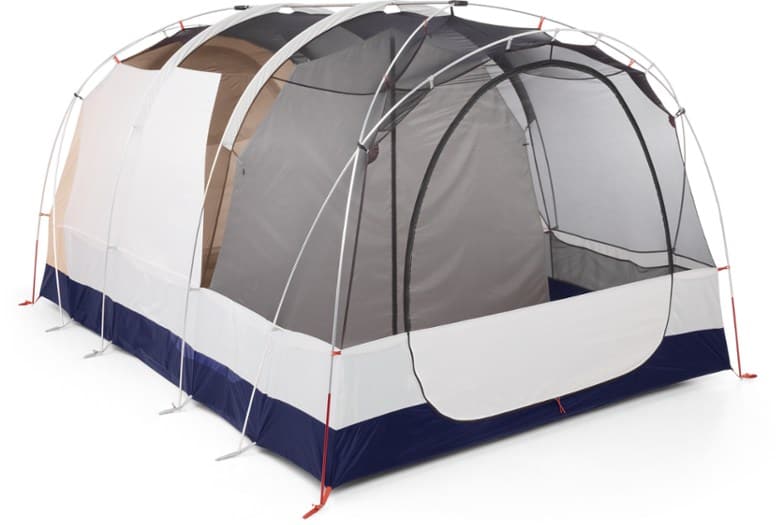 Here's another very spacious recommendation for you. With floor dimensions of almost 105 square feet, it is quite roomy.
Having a center divider and two doors, this tent will provide you with plenty of privacy, as well as easy access.
Made of polyester, it is fairly waterproof. However, there are some design flaws that prevent it from withstanding torrential rains and winds. For the price attached to it, I wouldn't expect this to happen.
One thing you certainly won't have to worry about when it comes to this tent is the set-up and take-down. It can be assembled and taken down by just one person in around 20 minutes. Everything is color-coded and pretty much self-explanatory.
Want more info? Check out our in-detail REI Kingdom 8 review here.
Pros:
Spacious – with floor dimensions of nearly 105 square feet, Rei Co-op Kingdom 8 has got you covered when it comes to space.
Water-resistant – as it is made of polyester, this tent holds up relatively well in wet conditions.
Easy to set up and dismantle – can be set up by one person in 20 minutes.
Cons:
Not as durable as it should be – some users have reported leaking so if you want a tent for ALL weather, maybe look elsewhere.
Price – too pricey considering the design flaws.
Best for: families who avoid camping in severe weather conditions.
When looking for a family waterproof tent, there are a few things to consider. We've put together a list of features you need to pay special attention to.
Keep the following things in mind while choosing and you will have the ultimate camping experience no matter the weather.
Size
If you're going camping with a bunch of your family members or friends, you NEED a big capacity tent.
The possibilities are endless.However, keep in mind that extra room for your gear is almost never taken into account by manufacturers when they calculate how many people can fit inside the tent.
What I'm trying to say is that a tent for four people can usually comfortably sleep two people and their gear.
A six person tent has enough space for maybe four or five people, and an eight person tent sleeps six to seven people tops.
Material and Flooring (Weather-resistant)
When choosing a bad weather tent, special attention has to be paid to the materials used.
Here are the most popular options:
Both have certain advantages and disadvantages, but for family camping in bad weather, I must recommend the polyester variations.
They are light and affordable whereas cotton tents are heavier and tend to be kind of bulky. Also, cotton tents generally cost more, being made of natural materials.
Polyester tents do not absorb fluid. This does mean that during hot weather you might get some condensation. Nonetheless, if you are looking for a rainy day tent, this is your go-to option.The material does not absorb water so it dries out quickly. That means you won't have to wait long before you pack it up at the end of your trip.
The biggest downsides of polyester in comparison to cotton are poor insulation and durability. Poor insulation means that the breathability of the tent is low. So, during hot days you will probably be too hot and during cold days, too cold.
That said, the fact that you're looking for a bad weather tent means you're probably already preparing for some colder weather.
In this case, the bad insulation downside is not significant enough to overshadow the impeccable water resistance.
Weight
If you are a car traveler, this trait might not be that important to you.Still, it is always something to consider, especially if you'll be hiking to your camping location.
You need your tent to be lightweight so you can save your energy to carry all the other stuff you need.
Synthetic materials will always be lighter than cotton. Since you need a highly water-resistant tent for bad weather, polyester or nylon will have you covered (no pun intended).
Quick Set-up Time
In my opinion, this feature is among the most important when choosing a tent for any kind of camping.
No one wants to have to pay too much attention and waste time when setting a tent up. When your camping experience starts, you are eager to lean into it, just sit around the fire, or go for a walk. Not spend hours putting up a tent.
The situation is even more serious at the end of the camping trip. You are relaxed but exhausted, dirty, and maybe a bit anxious about getting back to reality. This is no time to stress about dismantling a tent. For me, this is usually the moment when my fellow campmates and I start arguing.
To avoid this kind of situation and make sure your camping experience stays stress-free, make sure your tent has a quick set-up feature.Bigger tents usually need more time to assemble, but most of the newer models have pretty clear instructions and a straightforward procedure.
Ventilation
Another important feature to look for in a bad weather family tent is ventilation. It doesn't matter how many people can fit in your tent if y'all are going to suffocate because of a lack of air and excess damp.
That is why multiple meshed windows, possibly angled so they can be open even while it's raining, are a must-have when choosing this type of tent. Meshed doors can also help, so keep that in mind as well.
Apart from doors and windows helping you vent your tent during rain, a meshed roof can also provide some extra air circulation. At the same time, when it's dry and you don't need the fly, the meshed roof will let you do some nice and cozy stargazing.
Our Verdict
After thorough research, I can safely say that the Browning Camping Big Horn Tent is the best choice for family camping in bad weather.
With its 150 square foot base, a room divider and two doors, you and all of your campmates will have plenty of space to rest and move around your tent comfortably.
It goes without saying that you will stay dry at all times, not only safe from rain but also from humidity.
Sure, it is a bit heavy, but if you're a car camper then this isn't a dealbreaker.
One of the most affordable tents in this category, Big Horn stands out because of its spaciousness, durability and weather resistance.
It will provide the best camping experience for you and your family even during the worst weather conditions, so make sure you check it out.