In a rush? We found that the Kelty Wireless 6 Tent is the best family tent for bad weather.
Do you enjoy spending your vacation camping in the woods with your friends? Or are you more into family field trips? Whatever the case may be, a tent is the most important piece of gear to choose.
Even more so if you're expecting bad weather. This could ruin all the fun of your entire trip if you're not prepared. That's why I'm here to point out all the important stuff you need to pay attention to when choosing this crucial equipment.
After testing and reviewing several dozen tents for hours, I have compiled a list of the best family tents for bad weather.
Here are the best bad-weather tent options by size:
Best Family Tents For Bad Weather: Our Top Choices
Best 6 Person Family Tents for Bad Weather:
Best 8 Person Family Tents for Bad Weather:
Best 9-10 Person Family Tents for Bad Weather:
Still confused? Check out our Best Family Tents for Bad Weather Comparison Table.
Kelty Wireless 6 Tent
Tent Size: 6 person | Type: Dome | Seasons: 3-season | Weight: 17 lbs 3 oz | Inside Height: 79″ | Floor: 118 x 106 in (86.9 sq ft) | Setup Time: 5 mins
When it comes to wind resistance, this tent is a stellar option. I've used many Kelty tents over the years and, if one of my sons had been born a girl, I'd likely have a kid named Kelty by now.
With the consistent quality that they provide, it's no surprise that they've been in business for over 65 years. Kelty's Wireless 6 is either a higher-priced budget tent or a low-priced mid-tier tent.
In any case, it provides great value for its cost and is a strong choice for any smaller group of campers.
It's got a great amount of space that any group will love. The durable rain fly wraps around the entire tent, making it waterproof and shielding you from any kind of wind.
It easily packs into the neat "carry cube bag" and it also has 2 doors and two 14 sq ft vestibules!
Pros:
The dome-shaped design guarantees high weather resistance, even at high wind speeds
86.9 sq. ft. interior, providing a lot of room for campers and their gear
Completely rain-proof, even during heavy pours
Four average-sized adults could fit inside with room to spare, but six or more is where it starts to get cramped – it's very spacious for me and my two sons
Comes with 2 doors and 2 large vestibules
Cons:
Warranty only provides discount coupons, rather than replacing the unit
Best for: groups of 4 who want a large, strong tent that's so reliable, it'll become part of the family.
Marmot Halo 6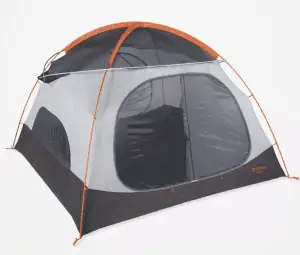 Tent Size: 6 person | Type: Dome | Seasons: 3-season | Weight: 20 lbs 9 oz | Inside Height: 76″ | Floor: 118 x 118 inches (96.9 sq ft) | Setup Time: 10 mins
The Marmot Halo 6 has made it onto many of the "best of" tent lists for good reasons.
First off, it's 96.9 sq ft of space is going to give you more space than any other six person dome tent on this list.
But because it is a dome tent, and not to mention with two huge vestibules, you are going to get great weather resistance and additional storage space.
Not only does it have great protection from wind and rain, but it ALSO is fairly easy to setup for a dome tent. With only 5 poles, setup will take only 5-10 minutes even in the dark.
The only real ding to this tent is the value. It is one of the pricier tents on this list.
Pros:
With 96.9 sq ft of tent space and an additional 64.44 sq ft of vestibule space, the Marmot Halo 6 is a superb fortress
It's dome shape and quality materials and construction give you some of the best protection you can get
76″ of peak inside height means even taller folks can still stand up
Lifetime warranty included in your purchase – making it worth the money
Cons:
One of the more expensive tents on this list
No footprint included
Best for: A high quality premium tent that offers great wind and rain protection.
The North Face Wawona 6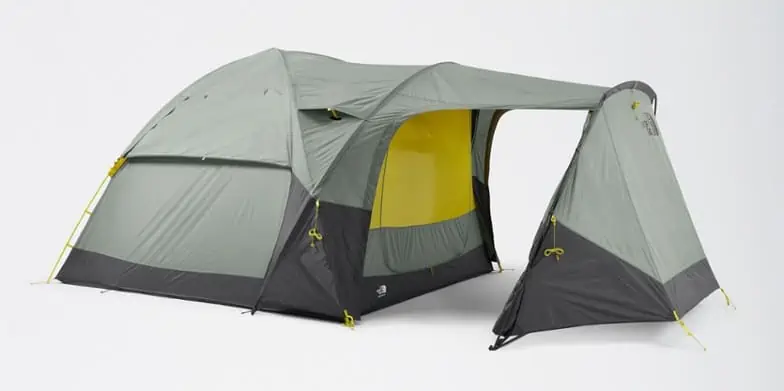 Tent Size: 6 person | Type: Dome | Seasons: 3-season | Weight: 20 lbs 15 oz | Inside Height: 80″ | Floor: 120 x 96 inches (86 sq ft) | Setup Time: 15 mins
One of the most unique tents we have in this size group is the The North Face Wawona 6. It is a standard dome tent, but with an extra "heck yeah" feature with the covered porch vestibule giving you an extra 44.7 square feet of storage space.
So not only do you get 86 square feet inside the tent, but the extendable vestibule is great for storing bikes, coolers and other camping gear that you want to keep dry.
Weather resistance-wise, we have nothing but great things to say. This tent will keep you bone dry and stand up to the wind as good as any other dome tent. With a 15-minute setup time, you are getting yourself a real winner with The North Face Wawona.
Pros:
Incredibly large 44.7 sq ft vestibule to store your gear
Quality construction and durability that can stand up to the elements
Lightweight at 20 lbs 15 oz, this is one of the lighter tents in this category
Plenty of pockets inside the tent for headlamps, lights and tablets
Cons:
A bit pricey for the size, but made up for in quality
Best for: Mountain bikers and campers who want extra storage space.
Buy Direct from The North Face
REI Base Camp 6

Tent Size: 6 person | Type: Dome | Seasons: 3 – 4-season | Weight: 20 lbs 10 oz | Inside Height: 74″ | Floor: 110 in x 110 in (84 sq ft) | Setup Time: 20 mins
If you prefer dome tents, but still want that signature REI quality, this tent might be right up your alley.
The one thing that really stands out with this tent is its versatility.
80-degree weather? Mesh walls and plenty of vents will keep you cool without a hitch.
Camping in strong (40+ mph) winds? Its dome shape and sturdy poles will be able to handle it without bending or breaking.
It even performs well in lower temperatures, although I wouldn't use it for winter camping – there are better tents for that out there.
Pros:
Color-coded poles make setup super quick and easy
Lots of mesh pockets and loops means there's enough space for all your stuff
The rain fly is really great – not only will it keep you completely dry, but it won't get in the way of the vents keeping things cool
It will remain solid as a rock even in 40 mph winds
Plenty of vents means the airflow is never going to be an issue
Cons:
Even though setup is simple, it's still best done by two people
Getting the tent back into its bag might be a bit tricky
Best for: car campers looking for a great tent for windy areas.
Kodiak 8-Person Canvas Tent
Tent Size: 8 person | Type: Canvas | Seasons: 4-season | Weight: 84.6 lbs | Inside Height: 78 in | Floor: 10 x 13 ft (140 sq ft) | Setup Time: 15 mins
Now that I've shown you my favorite large Coleman tents, it's time to mix things up and throw in a large canvas tent.
If you've never heard of canvas tents, that's because they're a bit more "pro-level" than polyester tents.
Canvas tents are made out of thick cotton canvas instead of lightweight plastic polyester. The benefits are simple. Canvas tents are more breathable, durable, and weather-proof than their plastic counterparts.
Humans have been wearing cotton T-shirts for decades because of these features, so why not sleep in some cotton too?
Kodiak is well-known in the canvas tent world for making superior products that can last for decades. I generally prefer SpringBar's canvas tents over Kodiak's, but their 8-person model is way too overpriced. This Kodiak 8-person is a much better bang for the buck.
This tent is also available in a smaller, 6-person model. If you want to save a little money and can sacrifice space, go for it!
Pros:
High-quality duck canvas with Hydra-Shield is incredibly durable and breathable.
Mesh-windowed doors on both sides allow a 360 view and easy entrance & exit.
Built to last – including #10 YKK zippers – the best zippers in the world!
An optional awning allows you to keep your gear dry or keep yourself out of the sun.
The superior canvas will last so long you can pass it down to your kids.
Cons:
Heavy, definitely not for car camping
Must be dried before packing up, or else water will turn to mildew
Best for: large groups that want to invest in a tent that'll provide a top-notch camping experience for generations.
NEMO Wagontop 8 Tent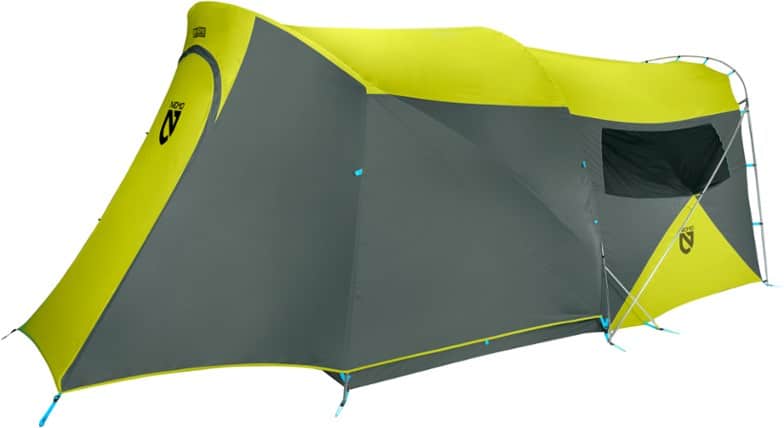 Tent Size: 8 person | Type: Tunnel | Seasons: 3-season | Weight: 30 lbs. 3 oz. | Inside Height: 80 in | Floor: 180 x 100 inches (124.9 sq ft) | Setup Time: 20 mins
The Wagontop 8 Tent from NEMO is a real beauty.
It's got plenty of room for a small family, with just under 125 sqft. of floor space and a 27 sqft. vestibule.
It boasts a peak height of 80″, and the frame is shaped uniquely in a way that lets you walk around upright inside the tent.
It features panoramic mesh windows that allow air to circulate while allowing you to take in the stunning views of nature around you.
Most importantly, it's made of high quality materials. The canopy is made of 75-denier polyether urethane-coated polyester, while the tent poles are aluminum. This means your tent will be able to withstand downpours and high winds with no problems at all.
Now, this tent is everything but cheap. You'll have to dig deep into your pockets for this one. Rest assured, though. NEMO promises you'll love this tent and use it for many years to come. In fact, they guarantee it with a lifetime warranty.
Pros:
Lots of space, with a floor area of 125 sqft. and a 27 sqft. vestibule
Extremely durable thanks to 75-denier polyether urethane-coated polyester and aluminum poles
Plenty of mesh windows provide good ventilation
Unique structure allows you to walk around upright
Covered by a NEMO lifetime warranty
Cons:
Very expensive
Only has 1 door
Best for: families that don't mind paying top dollar for a top quality tent.
CORE 9 Person Extended Dome
Tent Size: 9 person | Type: Dome | Seasons: 3-Season | Weight: 18.21 lbs | Inside Height: 72 in | Floor: 16 x 9 ft (144 sq ft) | Setup Time: 20 mins
The CORE 9 Person Extended Dome tent weighs only 18.21 lbs, but with a 16′ x 9′ layout still manages to eek out 144 sq ft of space.
You can easily fit two queen air mattresses in this tent, with plenty of space to spare for gear.
A 72 inch peak height means that you'll be able to stand up in the middle portion of this dome tent.
Where the Core really shines is in its ability to fend off weather on a budget. The dome design along with the CORE H20 Block Technology keeps rain and wind out of the tent.
Lastly, the Advanced Ventilation System provides a ventilation pocket behind the tent, provides excellent ventilation compared to other tents of this style.
Pros:
Lightweight for a tent of this size at 18.21 lbs
Weatherproof design and CORE H20 Block Technology keeps rain and wind out
144 sq ft, means plenty of room for 2 queen air mattresses and gear
Mesh fabric ceiling allows for great views in fair weather
Great value for the price
Cons:
Stakes are flimsy, will want to buy heavy duty stakes instead
Only one door
Best for: Families looking for an excellent budget tent that can withstand the elements.
NTK Laredo GT 8 to 9 Person Tent
Tent Size: 9 person | Type: Dome | Seasons: 3-Season | Weight: 23.59 lbs | Inside Height: 75 in | Floor: 15 x 10 ft (150 sq ft) | Setup Time: 20 mins
The NTK Laredo GT tent is a good call if you want to feel like the king or queen of your own castle.
This tent is huge – it has 150 sq. ft. of space and 6'2'' peak height meaning even the tallest people will have an easy time moving around.
Now, this tent can fit up to 9 people. However, you have to remember that's 9 people packed in like sardines. If you want to go camping with the kids and have enough room in the tent for your gear and furniture, this tent is an excellent choice.
Finally, the Laredo GT has an HH rating of 2500 mm, a tub floor, and a rain fly that covers almost the entire tent, so you won't have to worry about ever getting wet inside this tent.
Pros:
Size – 150 sq. ft. and a peak height of 6'2″ means you'll have plenty of room
2500 mm HH rating means it will keep you bone dry even in the heaviest rainfall
The rain fly goes almost all the way to the ground, ensuring total weather protection
A large portion of the tent is mesh, providing ventilation while keeping the bugs out
The tent floor fabric is incredibly tough and will withstand rough terrain
Cons:
It weighs over 20 pounds so it's definitely better to use when car camping
Best for: bigger families and people who need a lot of room.
The White Duck Avalon Bell Tent
Tent Size: 10 person | Type: Canvas, Bell | Seasons: 4-season | Weight: 166 lbs | Inside Height: 134 in | Floor: 20 ft diameter (314 sq ft) | Setup Time: 30 mins
This tent is made of Dynaduck fabric, which is a double-fill army duck canvas, treated with a water repellent, mold, mildew and UV resistant finish.
The canvas is heavy, but since this isn't a backpacking tent, that's okay.
Even though the canvas is thick, it is very breathable. It keeps you cool during the day, but still lets a decent amount of sunlight in. And, it traps heat in at night, keeping you warm.
And since it comes with a silicone-coated stove jack, you can stay extra warm inside even when it's chilly outside.
This bell-shaped tent has roof vents that allow the air to circulate even when the door and windows are closed.
To top it all off, there's a rain flap above the door that can double as a canopy when the weather is nice.
Pros:
It features galvanized steel poles that keep the tent steady during harsh wind
Heat-resistant silicone-coated stove jack allows you to cook inside
Roof vents along with mesh door and windows allow lots of airflow
The canvas is thick but it provides lots of natural light during the day
Rain flap above the door can also serve as a canopy
Cons:
The central pole that holds the tent might be annoying to avoid
Since it's made of canvas, this tent is very heavy
Best for: family camping and use on campgrounds.
Check Price on White Duck Outdoors
Mountain Hardwear Stronghold Tent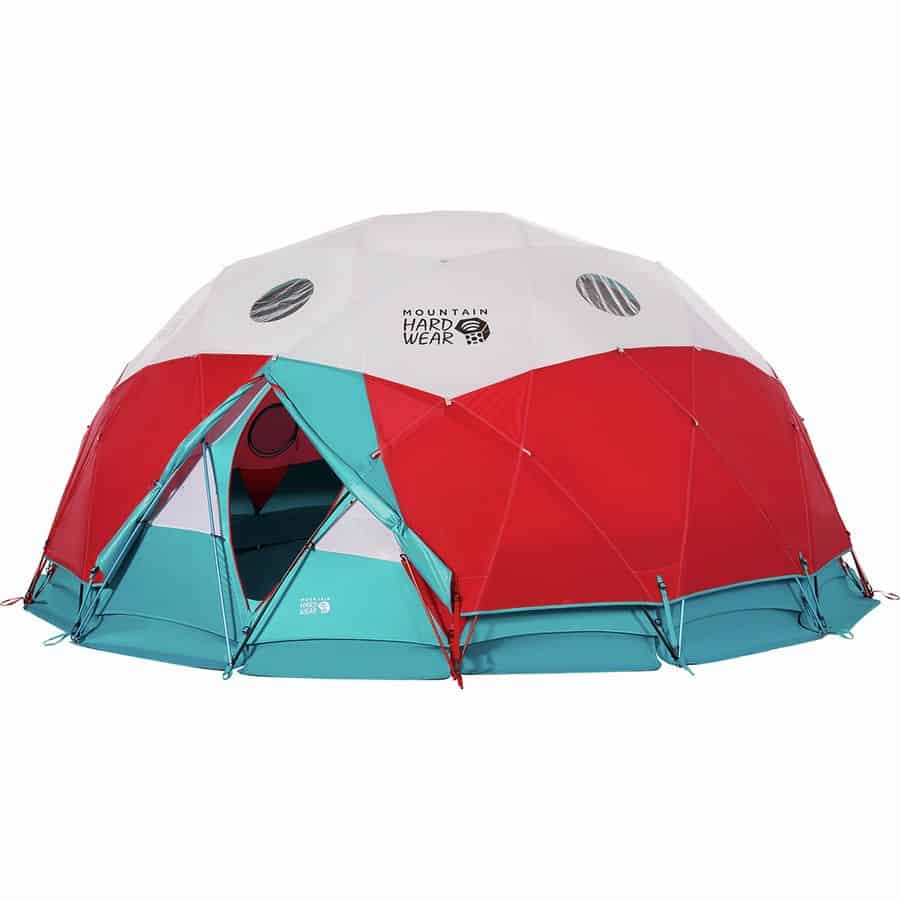 Tent Size: 10 person | Type: Geo | Seasons: 4-Season | Weight: 46lb 8oz | Inside Height: 77 in | Floor: 177 in diameter (171 sq ft) | Setup Time: 30 mins
This tent looks like it came straight out of the Star Wars trilogy. It's designed for harsh winter conditions and looks like a suitable option for camping on the planet Hoth from the V episode.
The tent has 171 square inches of floor space. While ten people can fit, considering the dome shape of the tent, they'll be cramped. On the other hand, six to seven people will have more than enough room to hang out during a storm.
What this tent excels at is the weather protection. If you're looking for a tent that will keep you safe and warm on a winter camping trip, this tent will do the job well. It's double-walled and has strong DAC Pressfit aluminum poles that can withstand the strongest of winds and heavy snow.
Pros:
Ideal for winter, this tent can withstand even Arctic weather
Snowflaps and skirt help with anchoring and can double as seats
It has five windows, so there's plenty of daylight inside
Four perimeter and one roof vent allow lots of airflow in case you're cooking inside
The manufacturer offers a lifetime warranty on this tent
Cons:
Footprint is sold separately
Tremendously expensive
Best for: big groups who will be camping in heavy snow.
How We Tested, Reviewed, And Rated Family Tents
We love to test and review gear. You'll find us testing gear that we already own and love, are purchasing for retail prices (just like you), or items that are sent to us by the manufacturer.
No matter how we procure a product, our goal is to thoroughly test and review each item and rate it against its peers.
Our goal is to remain as unbiased as possible.
We take tedious notes, and compare even the tiniest of details. Everything goes into a spreadsheet for analysis from the dimensions of the product to cost comparisons, user ratings, etc
After hours of testing, reviewing and analyzing over seventy-five family tents, we grade each tent on a the following metrics:
Space and Comfort
Quality and Durability
Value
Weather Resistance
Ease of Use
Intangibles (unique features and key selling points)
User Reviews
Here is how the final ratings came out:
When looking for a family waterproof tent, there are a few things to consider. We've put together a list of features you need to pay special attention to.
Keep the following things in mind while choosing and you will have the ultimate camping experience no matter the weather.
Size & Shape
If you're going camping with a bunch of your family members or friends, you NEED a big capacity tent.
The possibilities are endless. However, keep in mind that extra room for your gear is almost never taken into account by manufacturers when they calculate how many people can fit inside the tent.
What I'm trying to say is that a tent for four people can usually comfortably sleep two people and their gear.
A six person tent has enough space for maybe four or five people, and an eight person tent sleeps five or six people tops.
At the end of the day, even a ten person tent is likely to comfortably fit only six, maybe seven people. But any larger of a tent and you will run into problems sustaining high winds and weather protection.
But you'll also want to consider the shape. Dome style tents are superior to cabin-style in every way when it comes with wind and weather protection.
The last thing you want to worry about is having your tent being blown around, when a simple choice of a dome tent will suffice.
Material and Flooring (Weather-resistant)
When choosing a bad weather tent, special attention has to be paid to the materials used.
Here are the most popular options:
Polyester
Cotton (or a mix)
Both have certain advantages and disadvantages, but for family camping in bad weather, I must recommend the polyester variations.
They are light and affordable whereas cotton tents are heavier and tend to be kind of bulky. Also, cotton tents generally cost more, being made of natural materials.
Polyester tents do not absorb fluid. This does mean that during hot weather you might get some condensation. Nonetheless, if you are looking for a rainy day tent, this is your go-to option.The material does not absorb water so it dries out quickly. That means you won't have to wait long before you pack it up at the end of your trip.
The biggest downsides of polyester in comparison to cotton are poor insulation and durability. Poor insulation means that the breathability of the tent is low. So, during hot days you will probably be too hot and during cold days, too cold.
That said, the fact that you're looking for a bad weather tent means you're probably already preparing for some colder weather.
In this case, the bad insulation downside is not significant enough to overshadow the impeccable water resistance.
Weight
If you are a car traveler, this trait might not be that important to you. Still, it is always something to consider, especially if you'll be hiking to your camping location.
You need your tent to be lightweight so you can save your energy to carry all the other stuff you need.
Synthetic materials will always be lighter than cotton. Since you need a highly water-resistant tent for bad weather, polyester or nylon will have you covered (no pun intended).
Quick Set-up Time
In my opinion, this feature is among the most important when choosing a tent for any kind of camping.
No one wants to have to pay too much attention and waste time when setting a tent up. When your camping experience starts, you are eager to lean into it, just sit around the fire, or go for a walk. Not spend hours putting up a tent.
The situation is even more serious at the end of the camping trip. You are relaxed but exhausted, dirty, and maybe a bit anxious about getting back to reality. This is no time to stress about dismantling a tent. For me, this is usually the moment when my fellow campmates and I start arguing.
To avoid this kind of situation and make sure your camping experience stays stress-free, make sure your tent has a quick set-up feature.Bigger tents usually need more time to assemble, but most of the newer models have pretty clear instructions and a straightforward procedure.
Ventilation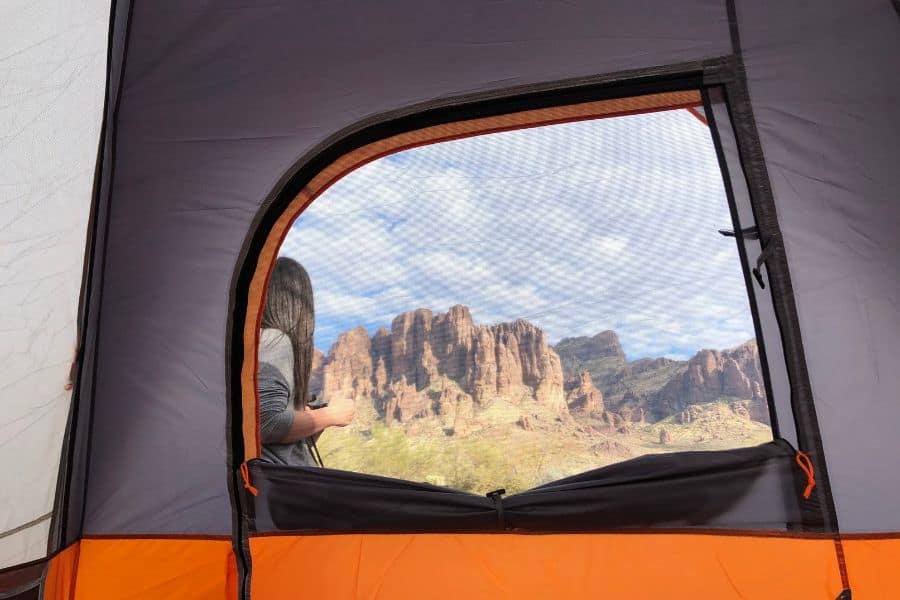 Another important feature to look for in a bad weather family tent is ventilation. It doesn't matter how many people can fit in your tent if y'all are going to suffocate because of a lack of air and excess damp.
That is why multiple meshed windows, possibly angled so they can be open even while it's raining, are a must-have when choosing this type of tent. Meshed doors can also help, so keep that in mind as well.
Apart from doors and windows helping you vent your tent during rain, a meshed roof can also provide some extra air circulation. At the same time, when it's dry and you don't need the fly, the meshed roof will let you do some nice and cozy stargazing.
Best Family Tents for Bad Weather – Compared
Now that we've gone over pretty much EVERYTHING you need to know to get a hardcore tent that can handle the elements, go ahead and take a look at all the finer details of each tent that we recommend.
Our Verdict
After thorough research, I can safely say that the Kelty Wireless 6 Tent is the best choice for family camping in bad weather.
With its 86 square foot base, and a huge 44 square foot fully covered vestibule, you and all of your campmates will have plenty of space to rest and move around your tent and outside comfortably.
It goes without saying that you will stay dry at all times, not only safe from rain but high winds as well.
Though it is not one of the most affordable tents in this category, Wawona 6 stands out because of its spaciousness, durability, and weather resistance.
It will provide the best camping experience for you and your family even during the worst weather conditions, so make sure you check it out.