Planning a camping trip? Do you know where you're headed?
Choosing the right location is key to an enjoyable trip.
But with so many campground and campsite options available, picking the right one can be difficult.
I've been in your shoes, so I know what I'm talking about.
And that's why I've made this in-depth overview of all the types available so that you can choose the best one for your next camping trip.
Types of Campgrounds
First things first, where to go camping? There are actually quite a lot of campground options available.
State Park Campgrounds
As the name suggests, a state park campground is a piece of land owned by the state.
There are over 6,000 state parks, so you've got quite a bit of options to choose from.
There are usually different types of campsites at state parks, ranging from primitive to full-hookup, depending on the location.
Some might also allow remote camping on DNR lands with an obtained permit.
Each state park has its own regulations as well as a reservation system. In most cases, you want to secure the spot in advance (sometimes up to 6 months in advance or more).
But some parks, like Nevada's Valley of Fire are a first-come, first-serve basis.
When choosing a park, it's always best to visit the official website of a specific state for all the information.
National Park Campgrounds
These campgrounds are located in national parks, which are some of the most beautiful surroundings in the country.
Grand Canyon, Zion, Denali, Yosemite and Yellowstone are just a few national parks known worldwide for their unbelievably beautiful scenery.
National parks are dedicated to preserving the natural beauty and cultural importance of a certain area, while at the same time providing enjoyment and education to its visitors.
For that reason, camping in these areas is often subjected to different restrictions.
Generally, national park campgrounds will offer fewer amenities, so don't expect full hookups.
What's more, dispersed camping is very limited and often off the charts altogether.
More often than not, reservations are required to camp in national parks.
And if you like to bring your pet camping, you should know that they're generally only allowed beyond the campground's parking lot.
National Forest Campgrounds
Similar to national parks, national forests are federally protected and managed lands with the purpose of conservation.
But they're much less restrictive than national parks, making them suitable for many campers.
There are currently 154 national forests spread over 41 different states, so you can easily find one close to you.
The U.S. Forest Service website makes it easy to find a suitable one, with the interactive map and locator.
Many of them allow RVs, while some aren't suitable because they don't offer a paved road to drive in.
Furthermore, full hookups aren't that common in national forest campgrounds.
Within a single campground, you're allowed to camp for as long as 14 days consecutive. Now, that doesn't mean you must go home after that.
As long as you switch to a place that's more than a mile further away from your initial campground, you're good to go.
Depending on the size of the campground, reservations may or may not be required.
Always check the forest service website or the ranger station for more information about the desired campground.
Private Campgrounds
Private campgrounds are operated by independent hosts, be they local residents or private companies, so the rules and amenities can differ a lot from one campground to another.
While private campgrounds might not offer the out-of-the-world scenery of national parks, they can come pretty close.
But the beauty of private campgrounds mostly lies in the vast number of amenities they offer.
And we're talking just about electric and water hookups and RV parking. Private campgrounds can offer other cool things as well, like sports courts and pools.
Of course, the more niceties it offers, the higher the cost of a public campground.
That's something to keep in mind when choosing the right type of campground for your trip.
Regional Campgrounds
Regional parks are areas under the local government's jurisdiction.
Again, the rules and regulations aren't as strict as in national and state parks.
For that reason, most regional campgrounds are suitable for regular camping as well as RV camping.
Depending on the size, certain regional parks may or may not require a reservation.
Always check with the specific regional park for rules before heading out.
KOA Campgrounds
KOA is the largest system of private campgrounds, with more than 500 campgrounds spread across North America.
KOA offers something for everyone, be it a fancy glamping lodging or a family-friendly location.
Furthermore, you can take an RV or no camping gear at all, and with tons of options available, you can find suitable accommodation.
KOA makes it easy to find your ideal option through their website, as well as to make a reservation.
Types of Campsites
Okay, we've covered different types of campgrounds out there and the differences between them.
But what about campsites? Specific campgrounds can offer several campsite options, so let's see what those are.
Basic Campsite
A basic campsite, as the name suggests, offers elemental amenities, such as a parking spot and a designated place for setting up a campfire.
Often, you'll also have picnic tables available to you. But other than that, don't expect much.
As for the size, a basic campsite accommodates a family or a group of campers with up to 6 people.
There are no designated tent-pitching spots – wherever you find a decent amount of space on the terrain to pitch your tent, that's your spot.
A lot of basic campsites also offer the option to come with your RV, but that's something to check before coming there.
But given the fact that you don't have a hookup available, this type of campsite is not ideal if you're not into dry camping.
However, you should keep in mind that while a certain campsite doesn't offer tons of amenities, that's not always true for the campground as well.
Standard Campsite or Standard Non-Electric Campsite
As you can tell, not all campsites use the same label, so choosing the right one sometimes can be difficult.
This is a good example of that. A standard campsite is pretty similar to a basic campsite.
A standard campsite typically allows a small group of people (up to 6) and offers a space for a tent, driveway, grill setup and picnic table.
Depending on the campground, a standard campsite may or may not allow RVs. That usually depends on the available path and whether such big vehicles can arrive at the destination.
Recreation.gov will specifically call this type of site a "Standard Non-Electric Campsite" and allow either an RV, a tent, or both.
Standard campsites typically have no electric hookups.
That is with the exception of RV-only standard campsites. But in both cases, there's no water or sewer available.
Individual Campsite
Individual campsites are designed with solo campers in mind, but it's not exclusive to them.
More often than not, individual campsites will be filled with smaller groups of campers or families.
In terms of number, this type of campsite accommodates up to 6 campers.
As a category, individual campsites aren't exactly standardized. Some campgrounds use the term interchangeably with a basic campsite, others with family campsites, etc.
But what's true for all individual campsites is the number of campers.
Group Campsite
For groups of campers with more than 6 individuals, there are designated "group" campsites.
The maximum number of members depends on the size of the campsite, but most of them are designated for anywhere between 7 and 50 people.
So what's the actual difference between group and individual campsites, aside from the allowed number of people?
Well, not much. But, all of your friends get to be situated really close to one another, which often you can't find on smaller campsites.
Furthermore, group campsites usually offer much more room for parking.
After all, you need more vehicles for all of the group members to arrive, no?
Finally, group campsites will have enough picnic tables gathered around the same grilling spot, so that you all can sit and eat together.
Family Campsite
Different campgrounds will define family campsites differently.
In some cases, the term is used interchangeably with "individual" campsites, and then in others, it's pretty similar to a "group" campsite.
But more often than not, family campsites are designated to fit up to 2 tents or vehicles.
RVs are generally not suitable, as many family campsites don't offer a full hookup.
And as far as numbers go, family campsites should sit between individual and group campsites, with 8 to 10 people allowed.
Standard Double Campsite
In terms of what amenities it offers, a standard double campsite is the same thing as a standard counterpart.
The only thing that's different is the number of people allowed.
As the name suggests, it's designated for groups of up to 12 campers.
The camping spots are also bigger, to accommodate your group.
Types of Campsites by Access
Getting to the campsite is a nothing less important factor when choosing an ideal location. Here are all the options available.
Drive-In Campsite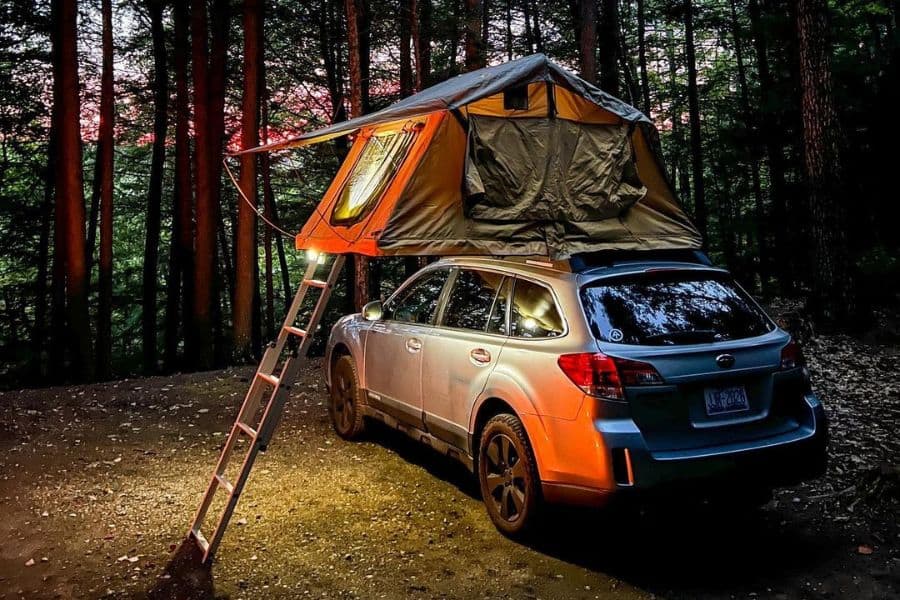 As the name indicates, a drive-in campsite allows access by vehicles. And by that, I don't mean just getting inside, by actually parking next to the base of your camp.
This is especially handy for people who prefer keeping some of their stuff in the car.
It's also great when you have tons of stuff to unpack from the trunk.
Walk-In Campsite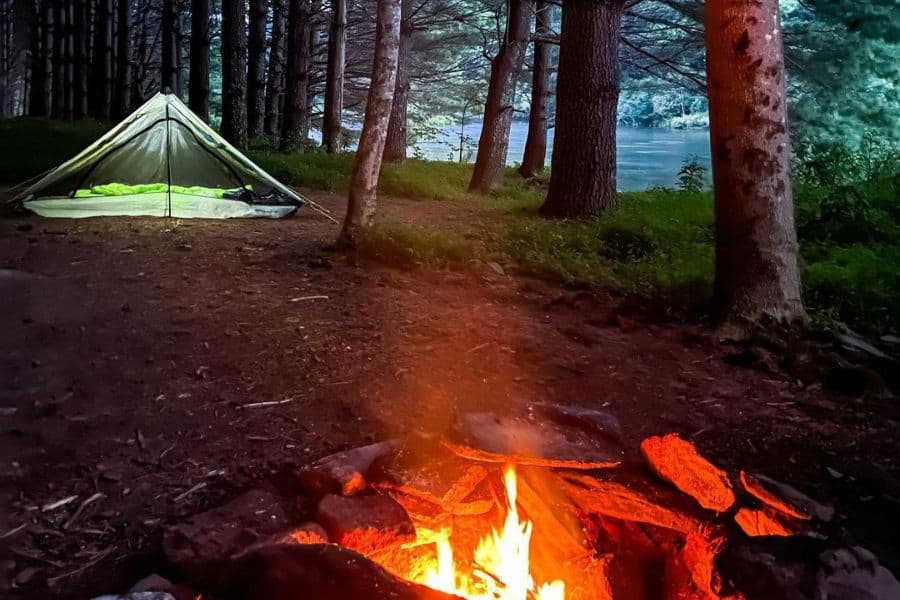 Walk-in campsites don't have vehicle access per se. This means you can't just park right next to your tent.
But in most cases, they'll offer a parking lot in the approximate vicinity, where all the campers staying at the campsite can leave their vehicles.
Given that you can't get inside with a vehicle, it's clear that this type of campsite is for tents only.
Walk-in campsites are usually located in secluded areas, where you can't get with wheels anyway.
They're usually smaller in size, for people looking for a more intimate camping experience.
And since they don't usually offer tons of amenities, walk-in campsites are usually more affordable.
Back-In Campsite
Back-in campsites have a single entry/exit. Usually, this type of campsite is designated for RVs.
And by backing up to your spot, you're placing your RV in a position so that hookups are on the right side of the vehicle.
With that being said, you don't actually have to back your way into the position.
But if you don't, you'll have to run the cables underneath the RV, which can be quite a hassle.
Pull-Through Campsite
At a pull-through campsite, you don't have to go through all that backing in trouble to position your RV.
This type of campsite offers entrance and exit from both sides, so park any way you prefer.
As far as amenities go, there isn't much difference between the back-in and pull-through campsite.
But the latter is often slightly larger than the two. And for that reason, it can be slightly more expensive.
Primitive Campsite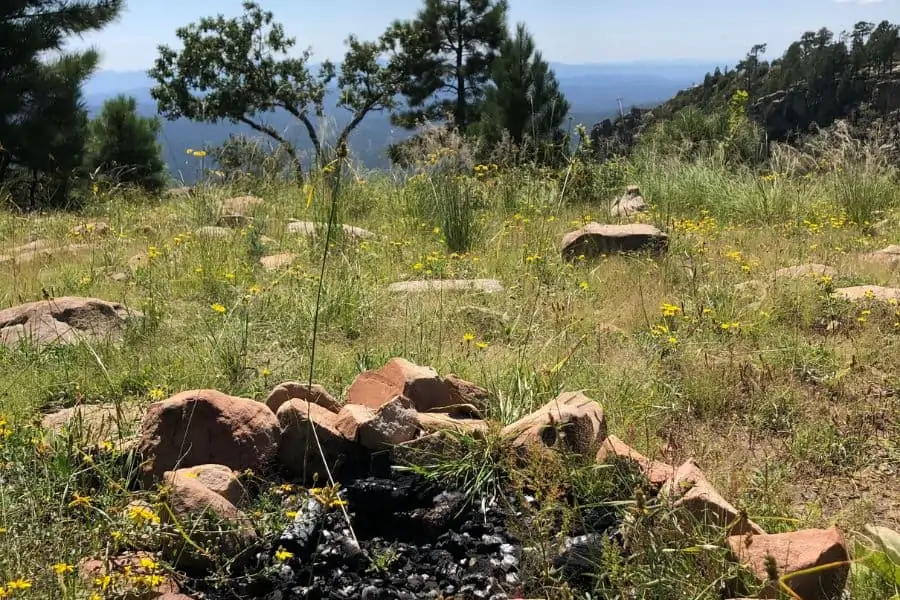 Want to fully immerse in nature? Consider camping on a primitive campsite. More often than not, this type of campsite isn't a part of a designated campground.
For that reason, it may or may not offer any amenities. No picnic tables, grills or restrooms are available.
Here, your survival skills really come to shine. But depending on the location, you may also be surrounded by many other camping groups.
So for that matter, you're not exactly in a secluded area, just self-sufficient.
Primitive campsites are often found in close proximity to many popular hiking trails.
They're the perfect spot for hikers to spend the night before continuing with their trip.
In most places in the USA, primitive campsites are the same as backcountry campsites.
These sites are generally not found within designated campgrounds and they don't have any of the amenities that you might find in an established camping area.
Anyone looking to camp at a primitive campsite will need to be fully self-sufficient and needs to have the skills necessary to survive outdoors where help is likely far away.
However, primitive sites offer campers a unique, nature-filled experience in some of the world's most beautiful places.
Although primitive campsites are not, by definition maintained, sites in popular areas may be fairly well impacted by previous users.
That's also something to keep in mind when considering camping at a primitive campsite. In the case of a really popular area for campers and hikers, the space might be limited.
For that reason, reservations might be required. In less visited areas, the first-come, first-served basis applies.
Dispersed Campsite
Dispersed campsites are very similar to primitive campsites. No trash, bathrooms, picnic tables or amenities of any kind.
These are basically any location outside of an established campground, typically down forest roads or other backcountry unmarked roads.
Most National Forests and public lands allow dispersed camping for free for up to 14 to 16 days before requiring you to move to another location.
You are required to camp at least 100 feet from any streams or water sources, pack-in and pack-out your trash, and are required to follow all leave no trace principles and guidelines.
It is highly recommended that you download any/all offline navigation and hiking maps before attempting to camp in a dispersed or primitive campground.
You'll likely not have cell reception and be out on your own.
Walk-Up Campsite
When we use the term "walk-up" campsite, we're not talking about whether you can or cannot drive your way to the campsite.
This term specifically indicates that this type of campsite doesn't offer reservations.
What that means is that you simply walk up and see if there's enough room for your camping group.
That's right – first-come, first-served basis.
Many campgrounds offer a few walk-up campsites, so that campers without prior planning can have the opportunity to camp in that location.
In some cases, all campsites within a campground work the same way, although that's rather rare.
Accessible Campsite
Unfortunately, not all campsites are accessible to people with disabilities and limited mobility.
That's quite a shame, given that there are roughly 61 million American adults with disabilities.
Accessible campsites are ADA-compliant, meaning they're designated to serve people with physical challenges better.
One of the most important characteristics of such a campsite is that it's easier to get to.
They also have paved paths, allowing people with wheelchairs and other mobility devices to move around easier.
Toilets and showering facilities are also situated close to the parking area, so that everything is in the near vicinity for convenience.
Types of Campsites by Size
As you may have already noticed, not all campsites are the same in terms of size. There are three categories we can group them into.
Individual Campsite
The name suggests this type of campsite is designated for a solo camper.
And while you can definitely enjoy all the amenities it offers on your own. This type of campsite is actually suitable for up to 6 people.
Whether it's just you or 5 other people with you, it doesn't matter.
What you have at your disposal is a single tent spot as well as a space for one vehicle.
Group Campsite
https://www.instagram.com/p/CJwur41FTMf/
The actual number of people allowed can vary between different group campsites, but it's usually anywhere between 12 and 50 campers in a group.
Obviously, this type of campsite has amenities spaces in such a manner that they're available for the whole group.
This means a tent and parking spots grouped together, several picnic tables gathered around the grill area, etc.
Usually, these campsites are situated close to the bathroom.
Family Campsite
A family campsite falls somewhere in between the two previously mentioned types.
As far as the number of people goes, that's between 8 and 12 campers.
Usually, you get two tent and two parking spots, so you're close while camping.
In most cases, this type of campsite is situated close to bathrooms, picnic tables and grill stations.
Often, you might even see family campsites in a separate area, which is great when camping with kids.
Campsite Classifications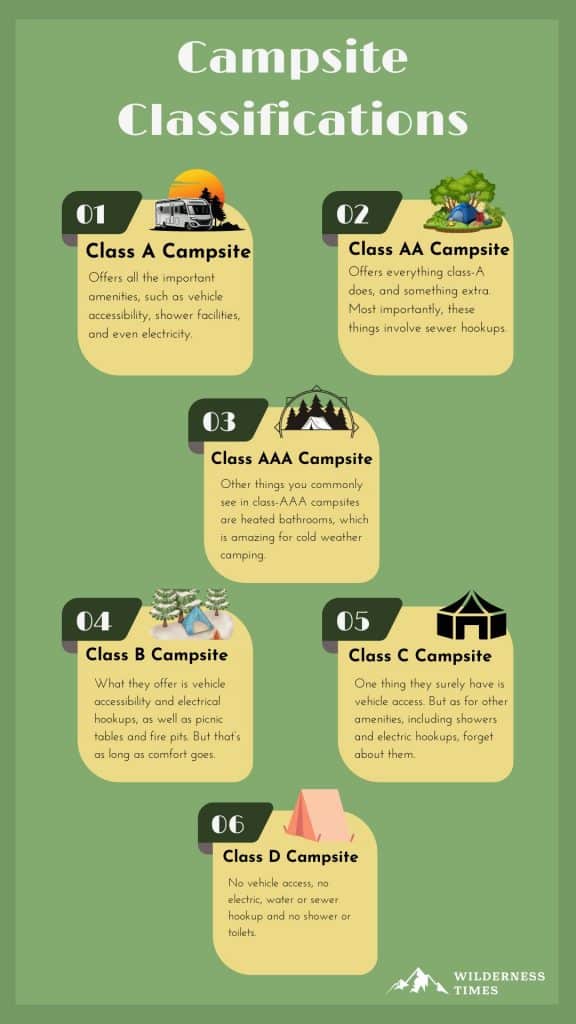 Unfortunately, there's no single way to classify campsites, so many of these terms we previously mentioned are used interchangeably with similar ones.
When it comes to state parks, however, there's a way to classify campsites, as the majority of state parks stick to this method.
Class A Campsite
This is considered to be the standard camping class.
What this means is that it offers all the important amenities, such as vehicle accessibility, shower facilities and even electricity.
In most cases, toilets are available, although not all A campsites offer flushing toilets.
Most A campsites also offer picnic tables, grill stations, fire pits and other little things that make the difference.
Class-A is the perfect balance between comfort and affordability.
You have everything you may need for your camping trip, but nothing luxurious.
Since they're vehicle-accessible, class-A campsites are suitable for RVs.
Plus, you have the electric hookup available. Sewer hookup, however, is not included.
Class AA Campsite
A class-AA campsite offers everything clas-A does, and something extra. Most importantly, these things involve sewer hookups.
Often, class-AA campsites will have flushing toilets, but that's not always the case.
The main reason for not having flushing toilets lies in cold weather that freezes pipes. The same thing goes for sinks with running water.
With the sewer hookup available, this type of campsite is a slightly better option for RV camping than the previous class.
Of course, this also means it's slightly more expensive.
Class AAA Campsite
Triple-A in the world of campsites means creme de la creme.
By this, I mean these campsites offer everything you might need for an enjoyable camping trip.
Everything previously mentioned is included, and then some. Water hookup is a must.
Other things you commonly see in class-AAA campsites are heated bathrooms, which is amazing for cold weather camping.
The power is also much stronger on these campsites.
That means you can use way more appliances than you would on other types.
Of course, all this explains the high price of camping on class-AAA campsites.
Class B Campsite
This category is a slight downgrade to class-A campsites.
What they offer is vehicle accessibility and electrical hookups, as well as picnic tables and fire pits. But that's as long as comfort goes.
There are no showers, sewer or water hookups. So while class-B campsites are able to accommodate RVs, they're not the best option available for longer camping trips.
In fact, this type of campsite is more designated for those looking for a place to sleep for a day or two.
In that case, you might not need more than a place to park and a hookup to charge whatever you need before you head out.
Class C Campsite
Class-C campsites aren't that common, so the actual classification can slightly vary between places.
One thing they surely have is vehicle access. But as for other amenities, including showers and electric hookups, forget about them.
This type of campsite may offer toilets, but they're generally not flushable.
Interestingly enough, one thing class-C campsites offer is clean water.
And by clean, we actually mean water you can drink, as well as use for bathing.
Class D Campsite
This is the lowest class available, and the closest you get to a true camping experience.
Remember what we said about primitive campsites? Well, this is it.
No vehicle access, no electric, water or sewer hookup and no shower or toilets.
You have to leave your car at a designated parking spot and walk your way to the campsite.
While as far as amenities go, this might not be the most appealing type of campsite, there are some things it offers that you can't get at higher classes.
These are affordability, availability and solitude.
These campsites are rather cheap and available year-round, so you probably won't need to make a reservation prior to your trip.
Plus, the distance from busy roads and plain wilderness around you really brings you close to nature.
Camping Membership That Can Save You Money on Your Next Trip
If you're a frequent camper, you can save quite a bit of money on your trips.
There are actually a lot of memberships available that can do that for you.
Good Sam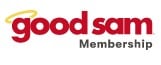 Good Sam offers some basic, but nonetheless cool discounts for members.
Mainly focused on RV campers, Good Sam membership gives regular 10% discounts on more than 2,000 campgrounds in the country.
It also allows you to save a bit of money on fuel and when shopping at certain retail shops.
The membership starts at $29 a year, but that price lowers when you choose a 3-year option.
Passport America
The Passport America program covers more than 1,500 locations in North America, and it offers as much as a 50% discount on camping reservations. Now that's value!
In terms of price, a year-long membership costs $44, which is similar to most camping programs.
But the discount it offers is too good to pass.
The only thing you should keep in mind is that discounts aren't always applicable at certain locations.
For instance, holidays and weekends during the season are quite busy, so certain campgrounds might not accept discounts during those periods.
KOA
As the largest system of private campgrounds in North America, KOA offers more than 500 campgrounds across the continent.
And with a membership of $33 a year, KOA offers a 10% discount on camping reservations.
Of course, you can also collect more points with longer stays, which can be used on the next trip.
It's also worth mentioning that KOA offers one week a year that's free for members.
This includes only KOA locations that are participating in the event, but there are always enough options available.
Escapees RV Club
This club is, as the name suggests, designated for RV campers.
It costs $50 a year and offers discounts at 800 parks, ranging between 15 and 50% of the price.
Interestingly, if you're a member of the Escapees RV club, you also get a 50% discount for joining the Passport America club.
With Escapees RV membership, you also get discounts with their partners, which range from car dealerships to travel services.
Escapees RV club pays extra attention to their community, so they also occasionally organize meetups.
Family Motor Coach Association (FMCA)
The FMCA focuses on educating, equipping and empowering RV campers.
You get everything from monthly magazine editions to evacuation assistance! This is especially important for new RV campers, but it's also something even the experts could use being a member of.
And for $85 a year, that's actually quite a good deal given what it offers.
As far as campground discounts go, this club doesn't offer tons of options like the previously mentioned ones.
But the FMCA offers a 2-night stay at their member-only campground in Ohio.
Thousand Trails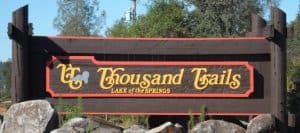 This type of club is slightly different from the ones we just mentioned.
The difference lies in the fact that Thousand Trails owns about 200 campgrounds all across the United States.
And the membership allows you to stay at those campgrounds for free, depending on your club level.
What this means is you get what you pay for. The membership starts at $630, and it includes about 18 to 23 campgrounds in a specific zone.
Then, you can buy additional zones for $70 each.
While it might sound like much, the membership pays off for frequent campers.
Just make sure to check out locations before choosing the membership plan, so that you don't pay more than required.
Resources to Find the Best Campsites
Every good camping trip starts with research. Luckily, there are tons of resources available that can help you find the perfect campsite with the help of your computer.
Here are the websites you can make use of:
Individual Government Agency Websites – It's always best to start with official agencies rather than third parties, and for state and national parks. Simply search the park you are looking to reserve.
Campendium – This website offers everything, be it a national park, national forest, RV parks, parking lots or disperse camping locations
Recreation.gov – Allows you to specify requirements, including electric, water, sewage hookups or a flush bathroom
ReserveAmerica – Offers tons of campgrounds, including state parks, RV parks, and even some private options
HipCamp – Private campgrounds available, mainly class B and C, but suitable for large groups
Campsite and Campground FAQs
What does walk in only mean?
A walk-in campsite is a campsite that doesn't have vehicle access. This means you have to leave your car at a designated parking spot and walk your way up to the campsite.
What is the difference between a campsite and a campground?
A campsite is simply a designated part of a campground. Within a single campground, you may have more than one type of campsite available.
Which campsite is best for a beginner solo camper?
Individual campsites are designated for solo campers and smaller groups.
As far as classification goes, individual campsites can range from class A to D. For a beginner, class A is a great option to start.
What is the difference between a primitive and dispersed campsite?
They are one and the same. Both types of campsites are located away from official campgrounds, and without any amenities.
However, the term  "dispersed camping" is used by the National Forest and Bureau of Land Management, and both have their own rules associated with utilizing a dispersed campsite.
What Is Considered A Full Hookup Campsite?
A full hookup campsite is designated for RV camping. What that means is it offers water, sewer and electrical hookups, hence the name.
As far as other amenities go, the term "full hookup" doesn't have to involve anything else.
This means it may or may not offer grill stations and picnic tables.
But in most cases, you can expect to see these amenities on this type of campsite.
What Is A Back-In Campsite?
By back-in campsite, we mean the type of campsite with only one entrance/exit point.
In other words, you must back in to park the vehicle or back out when leaving the campsite.
Generally, most smaller and more affordable campgrounds feature this type of campsite.
Can I pitch a tent on a standard non-electric campsite?
Yes, a standard non-electric campsite can accommodate either a tent or an RV in most situations.
Of course, you'll want to check with your campground, but non-electric simply means that it has room for an RV, but will not have any electric hookups.
To Sum Things Up
There you have it – a long list of all campsite and campground types available.
As you can see, there's something for everyone.
Individuals or large groups, primitive camping, or glamping, traveling by foot or by RV… Whatever your case is, there's a suitable campsite for you.
Just make sure that no matter where you camp, you adhere to camping etiquette at all times!