Today, it seems like most people enjoy camping. Heck, I know I sure do!
And who's to blame them – camping is an amazing outdoor activity.
Stats are confirming that. Don't believe me?
We did a ton of research and found some impressive and quite interesting facts about camping.
And today, I'll share them all with you. Let's dive straight in.
Interesting Facts About Camping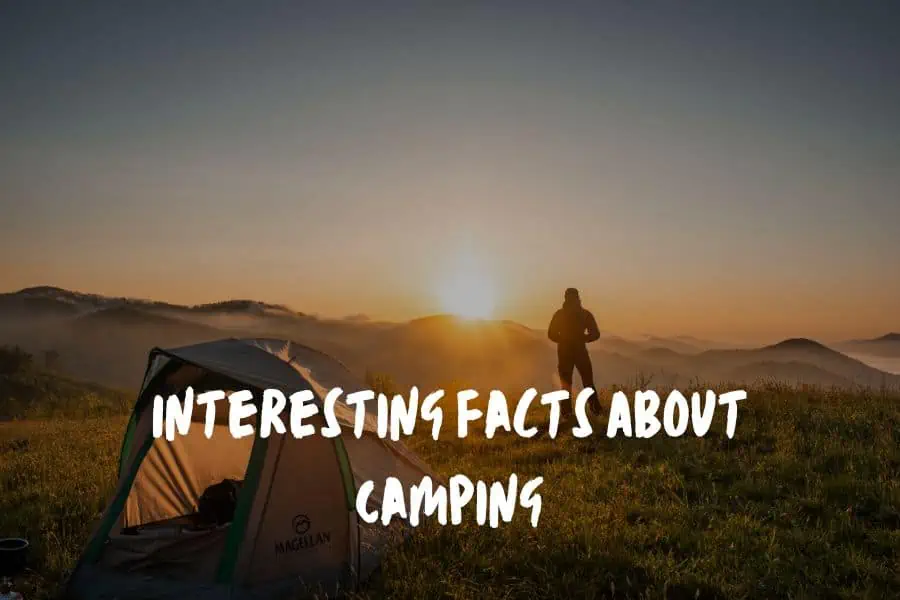 Alright, let's start with some impressive facts related to camping as an activity.
The total number of campers each year was constantly growing, but the boom was quite noticeable after the pandemic. In 2021, there were 93.8 million active camping households in the United States alone, from which 9.1 million households were camping for the first time in their life.
The majority of campers live in urban areas, so going camping for them is also escaping the busy city life. In a survey held in 2021, more than half of all campers (56%) were coming from urban living areas.
Camping is for everyone, regardless of their income. In fact, about 41% of first-time campers in 2020 came from higher-income households.
The average number of nights campers spend on a campground is between 7 and 9 nights.
You don't need to travel long distances to enjoy nature. In 2021, 56% of campers traveled less than 100 miles for their trip. In fact, one third of them stay within just 50 miles of their homes.
The Bureau of Land Management manages 247.3 million acres of public lands in the United States, which is roughly ⅛ of the country's landmass.
The International Federation of Camping Clubs, which is the first organization to promote camping worldwide with respect to the environment and cultural heritage, was founded in 1932.
But it wasn't until the 1950s that camping became the most popular family pastime activity in Europe and North America.
Millennials are still the demographic that goes camping the most, as about 40% of campers belong to this group.
This generational group is also more likely to camp in larger social groups, such as friends or family.
Given that family camping is so popular, it's no surprise that 60% of campers take at least one trip with members from a different generational group.
Around 68% of adult campers prefer camping with their partner, meaning camping is more viewed as a family activity.
Most campers start out early. The average age for a first camping trip is 10.
And the majority of them stick to it even as they grow older. About 90% of teenage campers say they'll continue camping as adults.
Glamping is becoming more and more popular. Around 50% of Millennials and Gen X-ers find it to be their preferred type of camping.
The pandemic had an impact on how we work, and especially on where we work from. There's been a steady rise in people who work while camping, and today, that number sits at 46%.
And while the majority of campers have their smartphones packed with them while out in the wild, about ⅓ of them are turned off for the duration of the drip.
Still, 97% of campers will bring some kind of technology with them on a trip. As for wi-fi, only 29% of campers find it important to have some kind of wireless connection available.
There will always be people who plan their trip last minute. But on average, trips are planned about 25 days in advance.
Unsurprisingly, hiking and backpacking are the most camping activities, followed by fishing.
The most popular country for camping is Canada, which has lots of beautiful national parks, low pollution and a low risk of natural disasters.
One of the most exciting parts of camping is seeing animals in their natural habitat. You'll see the most diverse wildlife in Brazil, which is home to about 3,315 species. This destination is followed by two other South American countries, Colombia (3,088) and Peru (2,907).
Looking for the best place in the world to stargaze? Countries with the least light pollution are Mongolia, Tanzania and Kenya.
Australia is the country with the most national parks. With whopping 685 national parks, it's way ahead of the runner-up Vietnam, which has only 147. The US is 7th on the list, with 62 national parks.
Today, s'mores are an essential camping dessert. But did you know that the original recipe came out back in 1927, published in the Girl Scout guidebook, Tramping and Trailing with the Girl Scouts?
When camping, you should always be aware of potential dangers. If you find a tick attached to your skin, you should be aware that it needs about 36 hours to pass on Lyme disease. So the sooner you discover one, the better.
Scared of snakes? Then the Narcisse Wildlife Management Area in Manitoba is a palace you should avoid. This area has the largest concentration of snakes in the world – about 70,000 snakes come here to hibernate.
Facts About Campgrounds
I bet you didn't know some of these interesting facts concerning campgrounds.
The first campground in the US was Gunnery Camp, which was founded in Washington, Connecticut in 1861.
Currently, there are 15,462 campgrounds and RV park businesses in the US alone.
States with the most campgrounds and RV parks in 2023 are: Texas (1,282 businesses), California (1,271 businesses) and New York (901 businesses).
National and state park campgrounds have always been the most popular place for camping. About 40% of campers stayed in such campgrounds in 2020, while about 23% decided on private campgrounds instead.
According to stats from 2017, there are 28,400 registered campsites in the European Union.
The Clayoquot Wilderness Resort on Vancouver Island in Canada is currently one of the most luxurious places you can camp at. The resort is only reachable via boat or plane, and the price for a single-night stay is $3,900.
About 28% of the land in the US is federally owned, which means it's free to camp on.
You're allowed to camp in a dispersed area for up to 16 days at a time. After that time is up, you need to move to another area that's at least 5 road miles away from the previous spot.
When choosing a campground, 40% of households find campsite quality most influential in their decision, specifically older campers.
Unsurprisingly, 50% of campers believe that clean bathrooms are the number one factor that determines campsite quality.
Of course, those campers aren't spending the entire trip at the campground. About 90% of campers leave campsites to hike, sightsee or partake in any other outdoor activity.
Camping with pets is an amazing experience for both of you. About 30% of pets get to enjoy camping with their families.
Facts About Hiking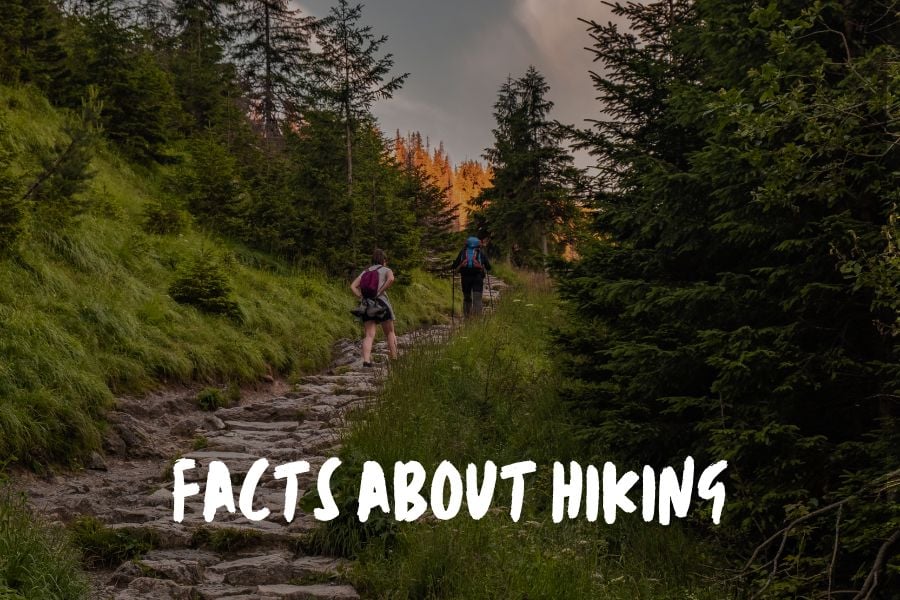 Have you ever been hiking? You'll like these cool facts about hiking too.
Around 57.8 million people in the US went on a hike in 2021.
About 45% of them are female, while 55% are male hikers.
Don't know where to hike? There are over 21,000 combined miles of trails around the US, so you have countless options.
One of the most popular paths is the Appalachian Trail, which is 2,198.4 miles long and passes through 14 states.
Over 3,000 people attempt to hike the entire length of the Appalachian Trail in a single year. But only about one in four makes it all the way.
While the Appalachian Trail is long, it's nowhere near the longest trail in the US. The American Discovery Trail holds the first spot, with a 6,800-mile route that goes across 15 states.
Looking for a short long-distance trail? Your best bet is the Art Loeb Trail in North Carolina. With just 30.2 miles, this is the shortest trail in the States.
Hiking is an excellent physical activity. You can burn between 300 and 600 calories each hour you're hiking.
While fun, hiking can also be dangerous. Nearly 3,000 people died at a U.S. National Parks site in a time span between 2007 and 2019.
The numbers can be scary, but if you do the math, you'll see that equals 8 deaths per 10 million visits to park sites. In most cases, death was caused by drowning, followed by a vehicle crash. Only a few people died from animal attacks.
The Great Smoky Mountains National Park is the most visited national park in the US, with 14.16 million visitors in 2021.
Dogs enjoy hiking too. Around 50% of pet parents bring their dogs on this adventure.
Switzerland is a great place for hikers. Walking the country's 38,836 miles of trail would be the same as walking around the glove 1.5 times.
Facts About RVs
RVs are getting more and more popular each year. Did you know that…
In 2021, about 15 million households went camping in an RV.
While most RVers previously rented their vehicle, about 77% of them actually owned their own RV in 2021.
Unsurprisingly, about 29% of RV owners are couples with children.
Only about 1.5% of owners live in their RVs full-time. Most of them are regular or casual campers.
On average, RV owners use their RVs for camping purposes about 20 days a year.
Just in the US, there were about 600, 240 RV shipments in 2021 alone.
The RV industry is constantly growing. Just in July 2020, total shipments rose by 53.5% from the previous year.
While the most affordable are pop-up campers, class-A motorhomes cost as much as a house.
Currently, the record for the largest parade of RVs counts 868 vehicles and was achieved by the Australian Motorhoming Lions Club in Barcaldine, Australia, on 26 May 2019.
However, the increase in gas prices has affected as many as 20% of campers when planning their next trip.
Facts About Camping Gear
Here are some interesting stats about camping equipment in general.
Fun Facts About Tents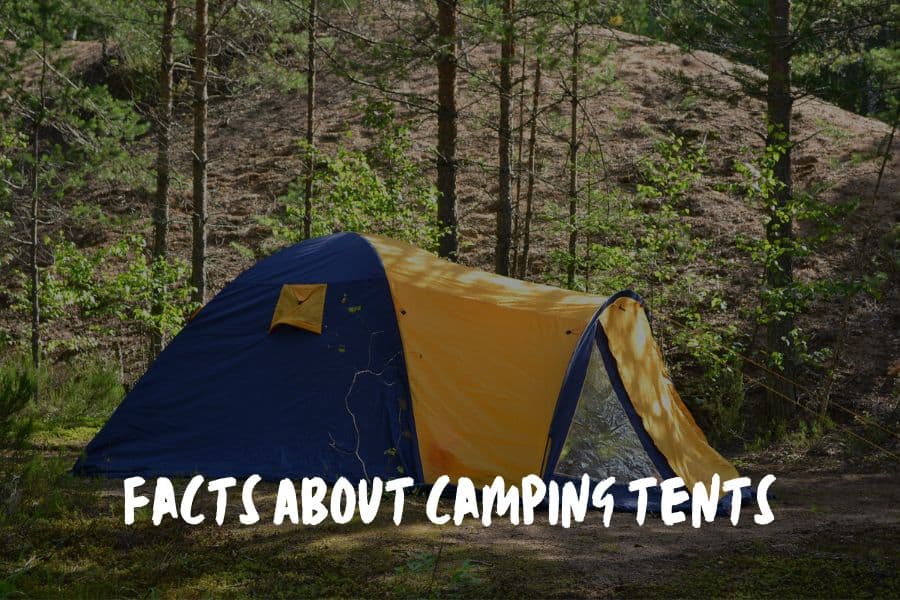 Tents have always been an important part of camping. Here are some fun facts about this piece of camping equipment.
Tents have always been the most popular accommodation for campers, especially those who're camping for the first time. About 67% of first-time campers in 2020 stated they'll stick to sleeping in tents in future as well.
Tents have been around much longer than camping. In fact, the first evidence of tent shelters can be traced all the way back to 40.000 BC. Of course, tents back then were made with mammoth hide.
The first tents were used as long-term shelters, so the construction was rigid and complex. The first to design a portable tent were people of the Northern Great Plains of North America. The type of tent that most suited their nomadic life was the teepee.
But the first recreational tent is still considered to be a recent invention. Eureka! Tent Company started making camping tents in the first half of the 20th century.
Nylon was discovered in the 1930s, and it soon became a common option for covering tents, as it was lightweight, durable and compact.
Dome-style models are the most popular choice among campers, due to their versatility.
Unsurprisingly, a tent is considered to be the most important outdoor equipment (61%), followed by a sleeping bag (38%), bug spray (24%), a cooler (23%) and firewood (22%).
Did you know there's such a thing as a Guinness record for the fastest campsite setup? A duo from Shanghai, China set the record, with just 74.48 seconds.
The longest line of tents consists of 721 tents, the record that was set by Wugong Mountain (China) in Pingxiang, Jiangxi, China, back in 2018.
To Sum Things Up
So there you have it – some of the most impressive, wild, and interesting facts about camping.
I'm pretty sure you found some of them quite unbelievable. We thought so too!
All in all, I hope this article made you love camping even more.
More Camping Fun