The most important meal of the day: breakfast.
This is especially true when you're camping. You've got a big day ahead of you exploring the outdoors – so you're going to need your strength.
If you're stuck for ideas, I've got a whole bunch of delicious, nutritious camping breakfast recipes coming your way.
Whether you want a no-fuss no-cook breakfast on the go, or a hot cooked meal to warm your soul, I'm sure you'll find something on this list that'll get your taste buds tingling.
I've even covered beverages, with handy tips on brewing a great cup of joe at the campsite.
So, are you ready to get inspired to make the best camping breakfast ever?
Let's get started!
4 No-Cook Easy Camping Breakfast Ideas
If you've got a full day of hiking planned, you'll want to set off early. Cooking up a hot breakfast and washing up is going to take more time than you're willing to spare.
What you need is a quick and easy no-cook breakfast that is still going to give you all the nutrients and energy you need, without taking up too much of your time.
Here are a few ideas for a delicious campsite breakfast on the go.
Lox & Cream Cheese Bagels
Kicking off the day at the campsite with a lox and cream cheese bagel is always a good idea.
You can put one together in no more than a minute or two, and they'll keep you going for hours to come. Plus, they taste amazeballs. Like, seriously good.
Just lox and cream cheese on a fresh bagel by itself is heavenly, but you can take it even further by garnishing with thinly sliced cucumber and red onion, fresh dill and a few capers.
How good does that sound?
Mason Jar Parfaits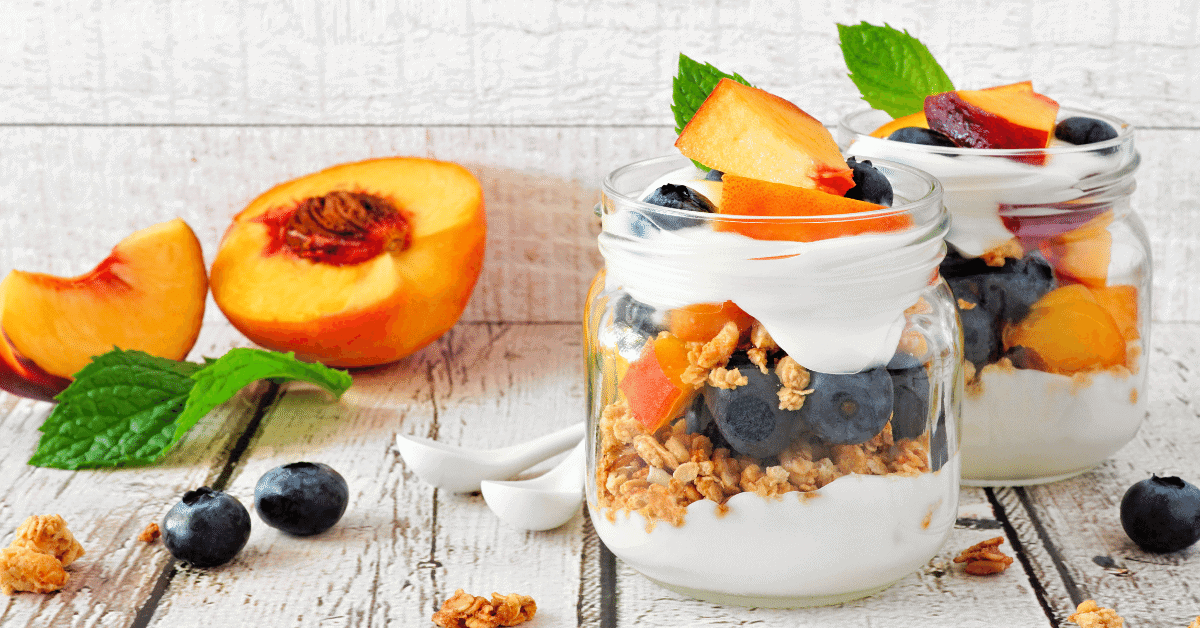 To cool down on a hot summer morning at the campsite, there's no better breakfast than a nice, fresh, creamy and crunchy parfait for breakfast.
And, a mason jar is the perfect way to store them when you're camping. I like to make them ahead of time, so they're ready to enjoy when I wake up at the campsite and climb out of my tent looking for something delicious.
To make them, just layer greek yogurt, granola and fresh fruit in a mason jar until it's as full as you want it to be. Close the jar tight and stick it in your cooler.
And there you have it. A beautiful, healthy, tasty breakfast, ready to go when you are.
To kick things up a notch, you can make your own granola. It's super easy, and way healthier than the store bought stuff. And it tastes way better, too – since you can choose what you want to put into it according to your own tastes.
My absolute favorite recipe for homemade granola is this peanut butter granola with chocolate chips and toasted coconut from Gimme Some Oven. I'm telling you, it's perfection!
Overnight Oats
Here's another great breakfast you can make ahead of time.
Overnight oats!
Oats are a natural superfood, and they're packed full of vitamins, minerals and fibre. Mix some up in a mason jar with almond milk (or any other kind of milk) and extras of your choosing.
You can throw in peanut butter, dried fruit, chia seeds, flax seeds, cinnamon, coconut flakes, protein powder. Whatever floats your boat.
Give it a good mix, and top with fresh or frozen fruit, and other toppings like nuts, seeds, honey, maple syrup or more nut butter. Close the jar and let it sit in the fridge (or your cooler) overnight.
And there you have it!
Another quick and easy breakfast that tastes divine and fills your body with all the good stuff it needs for an action-packed day.
Fruit Salad
Finally, you can always go for a good ol' bowl of fruit salad.
I love fruit salads because you can come up with fun flavor combinations using all your favorite fruits. Apple, banana, strawberry, orange, kiwi, pineapple, guava, mango, papaya, passionfruit…
The possibilities are endless. Go wild!
You can make your fruit salad ahead of time, too. If you're worried about the fruit pieces going brown, don't be. This can be easily prevented. Just squeeze some lemon juice over the fruit salad and toss it so that the pieces get completely coated.
4 Hot Breakfasts On The Campfire Or Stove
No-cook camping breakfasts on the go are great. But, let's be honest – nothing beats a nice, hot camping breakfast made fresh over the campfire or a camping stove.
Not sure what you feel like making?
How about whipping up one of these delicious, hearty meals for your friends and family? Any one of them is guaranteed to kick off the morning at your campsite the right way.
Breakfast Burritos
The breakfast burrito might just be the perfect camping breakfast. You can have all your favorite breakfast foods stuffed neatly into a tortilla, so you don't have to mess around with knives and forks. Now, if that isn't perfect I don't know what is.
You can put anything you like in your burrito, really. Eggs, cheese, tomato, avocado, bell pepper, onion, bacon, sausage, you name it.
My personal favorite combo is scrambled eggs with cheddar cheese, a hash brown, bacon, pickled jalapeños, pico de gallo and avocado. I like to top it off with a dollop of sour cream and some fresh cilantro. Anybody else drooling?
To make this scrumptious breakfast dish, just fry up your fillings on a cast iron skillet, then roll them into a tortilla. Fold both the left and right sides of the tortilla inwards, then roll tightly from the bottom side towards the top.
Toast the rolled up burrito on all sides on the skillet, and there you have it.
All that's left to do is dig in!
Paper Bag Bacon & Eggs
Did you know that you can cook bacon and eggs over a campfire in a paper bag?
If you didn't, now you do. You're welcome.
Just throw some bacon into a paper bag, and add in your eggs – whole or beaten, up to you. You can throw in some veggies or shredded cheese if you like as well.
Roll the top of the paper bag closed and pierce it with a stick. Hang the bag over your campfire until the contents are cooked through.
The trick here is that as the bacon grease starts to melt, it creates the perfect base for your eggs to cook on, and it doesn't let them stick to the bag.
But paper bags aren't the only unlikely item you can use to make yourself some eggs in the morning. You can also cook an omelette in a mason jar, or a zip bag, by submerging them in boiling water until they're cooked through.
But wait, I'm not done yet.
You can also store beaten eggs in a bottle in your camping cooler. Give them a good shake in the morning and pour the egg mixture out onto a skillet for a quick and easy serving of scrambled eggs, with minimal dishes.
OK, now I'm done.
Blueberry Pancakes
I've saved the best for last. This has got to be the most irresistible camping breakfast idea in this entire article. Who could say no to a big, tall stack of fluffy, buttery, syrupy blueberry pancakes?
Not me, that's for sure.
I know what you're thinking – sure, a blueberry pancake breakfast sounds lovely, but who's going to be bothered with all those dishes you're left with?
Again, not me.
Or you, either, once you get a load of this hack.
What if I told you that you can make pancakes in a zip bag?
That's right, a zip bag.
Get this:
All you have to do is put your dry ingredients together in a zip bag before you head off on your camping trip. Then, once you get to the campsite, you just add in the eggs and milk, and give it all a good shake, mixing the ingredients inside the bag together until they turn into batter.
If there are any big lumps, you might need to massage them out with your fingers.
When it's all mixed together well, snip one of the corners off the zip bag with a sharp pair of scissors, and squeeze the pancake batter out through the hole onto a hot, buttered skillet.
Once you're done, just throw the zip bag into the trash.
OK, so you'll still have to wash the skillet. But surely it's worth it for a breakfast like this.
Mason Jar Banana Bread
Again with the mason jars, I know. But seriously, they're just so darn useful.
From parfait and eggs, to ramen noodles, to salads, desserts and drinks – you can make just about anything in a mason jar.
Plus, they close tightly shut and stack nicely in your cooler. What more could you wish for?
Anyway, enough of me singing the mason jar's praises. Let's get back to the topic at hand – banana bread.
I love banana bread because it's basically the only socially acceptable way to eat cake for breakfast. What's not to love about that?
Grease a mason jar and fill it halfway with banana bread batter. Cook them over the campfire without the lids until a toothpick comes out clean when you stick it in the middle. This could take anywhere between half an hour and an hour, depending on how hot your campfire is.
And that's it! Your breakfast cake is ready. Pair it with a nice, hot mug of coffee and you'll be on cloud nine.
But how do you make a truly great cup of coffee at the campsite?
You're about to find out.
The Best Outdoor Breakfast Beverages
As much as it's about the food, breakfast is just as much about the beverages.
A morning feast just isn't complete without a nice warm mug of coffee or tea, and a tall, refreshing glass of something cold and fruity.
That's Good Joe!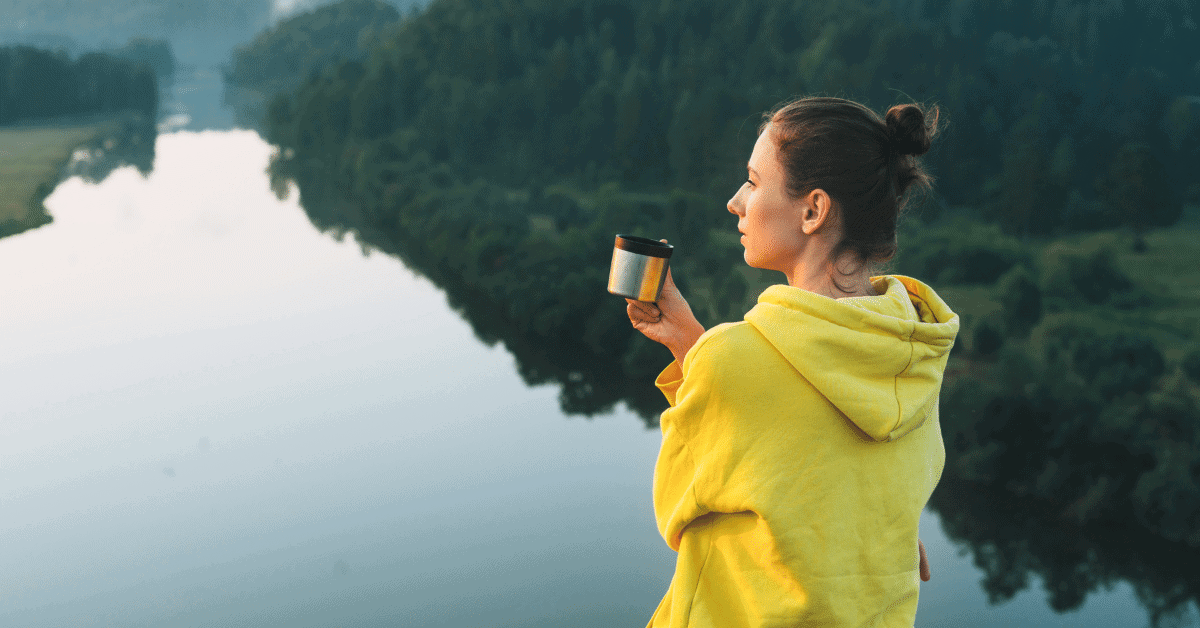 When I wake up in the morning, the first thing on my mind is a nice, warm cup of coffee. Before I can even think about food, I need to kick start my engine with a dose of caffeine.
Now, call me a snob but I'm not a huge fan of instant coffee. It might seem like the easiest solution for camping, but you can actually brew a real cup of coffee at the campsite with hardly any extra effort at all.
All you need to do is pack some ground coffee into coffee filters, and tie them up at the top with dental floss. You can basically use these like tea bags to make coffee. Throw one into a mug of boiling water and let it sit for a few minutes. Et voilà!
You could also use a coffee sock. These work just as well, and they're reusable.
The only reason I prefer the coffee filter method is because you can throw them out once you're done. When you're camping, the less things you have to clean the better, am I right?
Freshly Squeezed Juices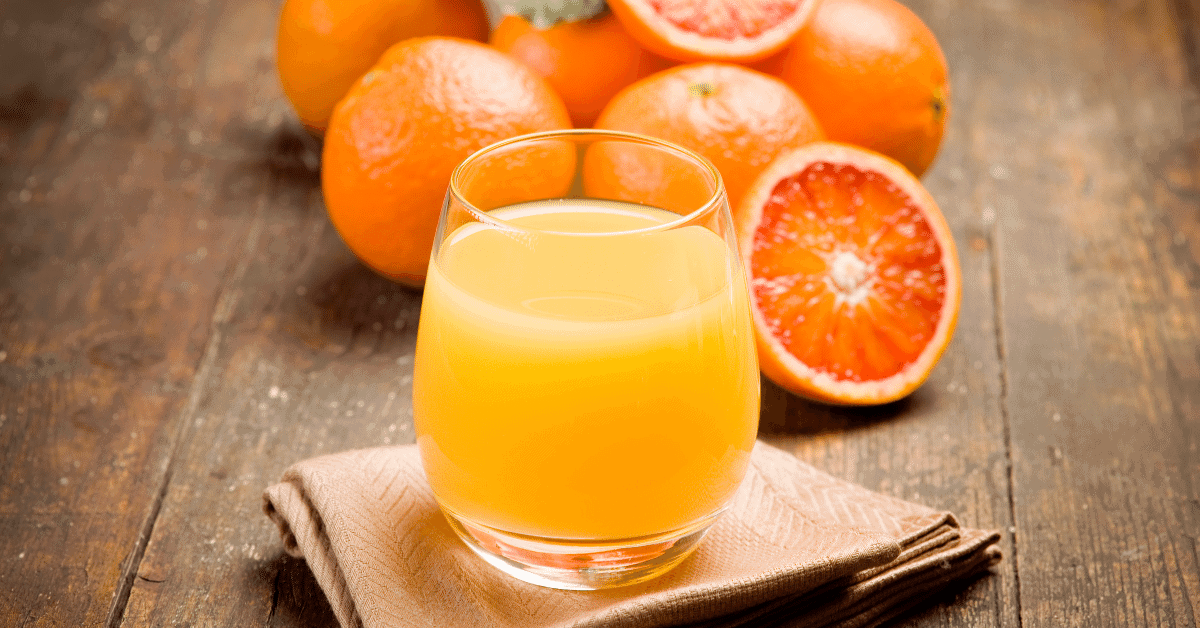 Freshly squeezed juice in the morning is a classic. And for good reason. It's one of the most delicious, refreshing ways to load your body up with vitamins in the morning.
When camping, I always make sure I've got a citrus squeezer. In the morning, I make a big jug full of juice for the entire squad.
Orange is my favorite, and it doesn't need anything else as far as I'm concerned. But, if you've got some grapefruits, limes or any other citrus fruits, feel free to squeeze those in too.
Infused Water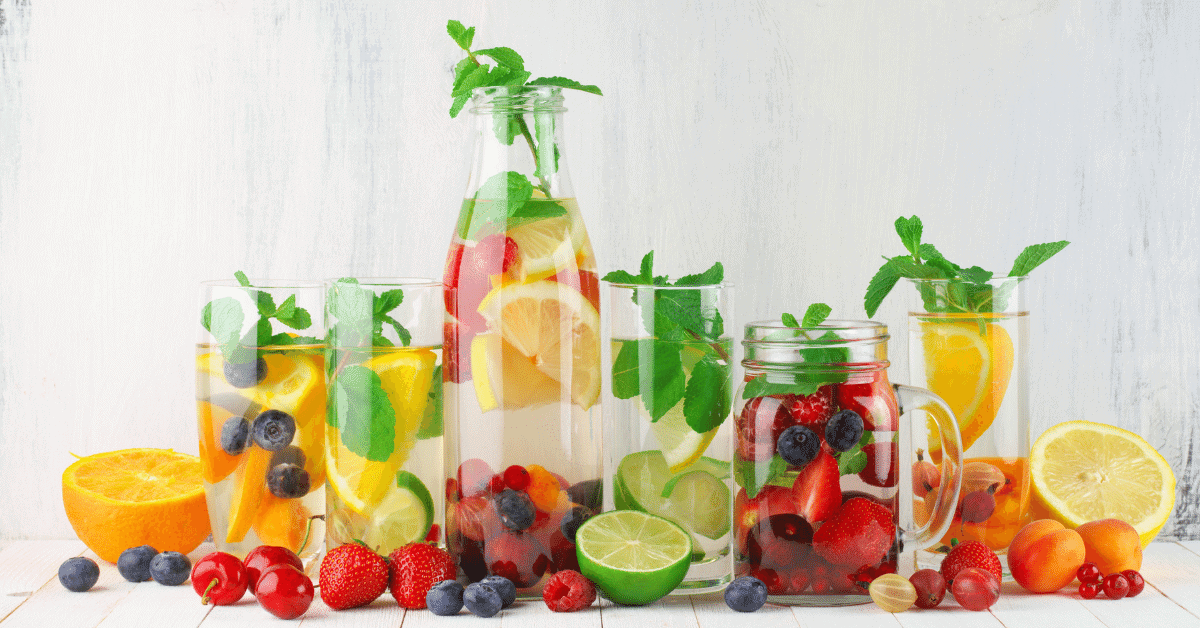 This is literally the most refreshing thing you can drink on a hot summer day at the campsite.
Add some cucumber sticks, lemon slices and fresh mint leaves to a bottle of water. This is my favorite combo, but you can leave out or add whatever you like, including berries, peaches, apricots, and other citrus fruits like mandarins, grapefruit and lime.
Let it sit in the fridge or your cooler overnight. In the morning, your infused water will be ready to go.
This is something I keep in my fridge all summer long, whether I'm camping or at home. I'm obsessed with it, and I'm pretty sure you will be too once you try it, if you haven't already.
Lemonade & Iced Tea
Homemade lemonade and iced teas are also great to have on hand. I like to make a big batch before the trip and keep it in bottles in the cooler.
If you make both, you can mix them up to make half and half. That way you've got 3 options: lemonade, iced tea or half and half. If you've got a tough crowd to please, this is a sure-fire way to keep everyone happy.
Bon Appétit!
Anyone else feeling hungry?
I don't know about you, but all of these mouthwatering food ideas make me want to eat breakfast for breakfast, lunch and dinner.
Hopefully I've been able to inspire you to cook up a storm for breakfast next time you're out camping. Remember, what you eat in the morning is going to have a huge impact on your energy levels for the rest of the day.
So, make your breakfast count!