Hiking is a popular activity. I know that when I started hiking about twelve years ago, it was popular then.
But then, after the pandemic, hiking popularity boomed. And it should have because getting outdoors and doing a healthy activity prevents health issues.
Hiking has become so popular that I wanted to write about hiking facts.
These hiking facts are fun and fascinating, and they should only get you into hiking even more.
Interesting Facts About Hiking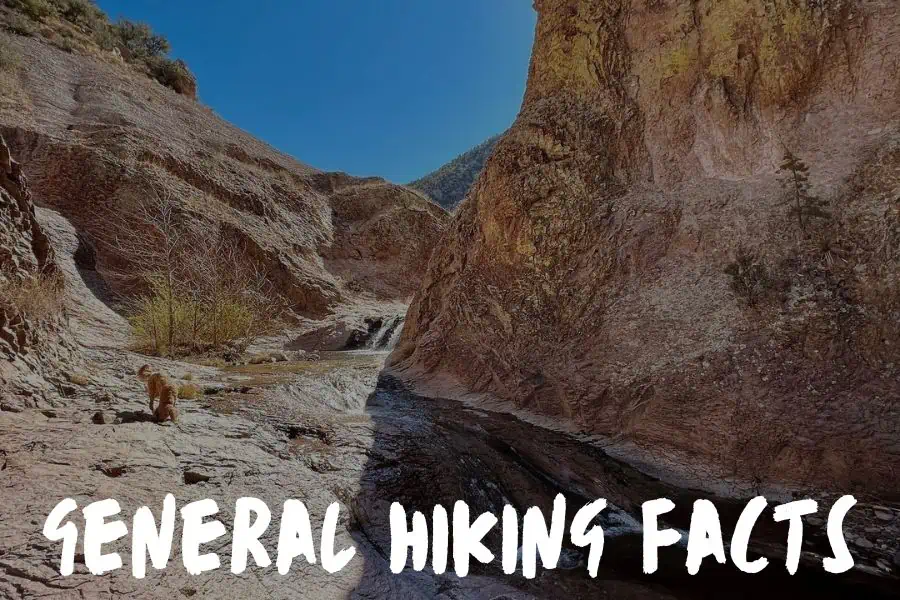 We'll start with general hiking facts about the activity and worldwide hiking.
1. Because the National Trails System was established in 1965, the total mileage of hiking trails on federal land increased from 88,000 to 193,500 miles.
2. The same National Trails System increased the number of trails on state land from 15,000 to 42,500 miles.
3. In 2015, around 37.2 million people hiked during the entire year. It is estimated that in 2023, 53.2 million hikers will have hiked during the year since the pandemic restrictions have lifted.
4. Since 1977, volunteers have contributed over 650,000 hours of volunteer service to help maintain trails on public lands.
5. In 2022, more than 12,300 volunteers helped to maintain and clean up trails on public lands for National Trails Day.
6. Three out of four Americans hike. 74% of Americans have hiked on a trail. 24% hike multiple times each year. 19% hike regularly.
7. Hiking is the third most done outdoor recreation activity in the US, with biking and camping behind it and running and fishing ahead of it.
8. Hiking isn't always called "hiking." In other countries, it's known as "bushwhacking" or "sauntering," and in some, it's just "walking."
9. The average hiking speed is 1.5-2 miles per hour.
10. Hiking is a great way to burn calories which helps with fitness routines. The more someone weighs, the more calories get burned. A 160-pound person will burn up to 440 calories per hour of hiking. A 200-pound person can burn up to 550 calories per hour.
11. Hiking is good for you. Hiking can increase physical strength, positively affect mental health, and help prevent disease and disorders.
12. The most common type of hiking injury each year is blisters.
13. The most common type of hiking fatality each year is from slips and falls.
Facts About Famous Hikers
Let's look at a few of the most famous hikers in the world and what made them famous.
14. It is said that a Roman Emperor made the first recorded hiking event in history, Hadrian, during the second century. He ascended Mount Etna on the Island of Sicily to see the sunrise from its summit.
15. The first female to hike the Appalachian Trail was 67-year-old Grandma Gatewood. She hiked the length of the trail 2 times before tuning 75.
16. The first person to thru-hike the AT was an Army Veteran named Earl Shaffer. Earl hiked the entire 2000-mile trail in 1948, documenting the entire hike and taking photos.
17. M. J. Eberhart was the oldest person to hike the AT. He was 83 when he completed the trail.
18. The youngest person to hike the AT was Harvey Sutton, a 5-year-old boy from Georgia. Harvey was 4 when he started hiking the trail and turned 5 before completing it.
19. Joe "Stringbean" McConaughy is the current self-supported record holder for the Fastest Known Time of hiking the AT. In 2017, he completed the trail in 45 days, 12 hours, and 15 minutes.
Facts About Hiking Trails
With more than 190,000 miles of hiking trails, some amazing hiking facts are associated with those trails.
20. The Crawford Path is America's oldest continually used and maintained hiking trail. Originally built in the 1800s in New Hampshire, this hiking trail is 8.5 miles long.
21. The longest thru-hiking trail in the United States is the American Discovery Trail or the ADT. It goes from coast to coast and through 15 states. The trail is 6,800 miles in length.
22. Alaska has the most hiking trails of all the US states. There are over 16,000 hiking trails in the state.
23. The Appalachian Trail ranks as one of the most popular hiking trails in the world.
24. The longest trail in the world is the Great Trail which is 14,912 miles.
25. During WWII, signposts for hiking trails in Switzerland were removed to prevent potential invaders from gaining valuable route information.
26. Around 10% of all hiking trails are by the waterside.
27. The Via Francigena is the oldest hiking trail in Europe. It takes about 50 days to hike it.
28. The Maze, located in Canyonlands, Utah, is said to be the hardest hiking trail in the US. The trail has a maze-like terrain with many dead ends. This is not a trail for beginners.
29. In 1965, President Lyndon B. Johnson established National Take a Hike Day. The program helped double the number of trails in America.
30. The scariest hiking trail in the world is known as HauShan, China. To reach the summit of 7,070 feet, hikers must scale uneven steps and ladders before edging wooden planks bolted to the side of the mountain. This trail isn't for the faint of heart.
Facts About Thru-Hiking
Many hiking facts about thru-hikers and trekking are fascinating to learn about.
31. The Appalachian Trail gets about 3 million hikers on the trail each year. More than 3,000 people will attempt to thru-hike the trail each year.
32. The AT travels through 14 states, including Georgia, North Carolina, Tennessee, Virginia, West Virginia, Maryland, New Jersey, New York, Connecticut, Massachusetts, Vermont, New Hampshire, and Maine.
33. The first person to backpack the entire 6,800 miles of the American Discover Trail is Mike "Lion King" Daniel. Mike hiked it from June 2007 to November 2008. Matt Parker was the first to cover the trail using an equestrian option. It took him two years to ride the trail.
34. The Pacific Coast Trail (PCT) stretches from Mexico to Canada. This trail is 2,650 miles in length and is another popular thru-hiking trail.
35. After a thru-hiker completes the AT, it is said that the hiker would have climbed the equivalent of Mount Everest 16 times.
36. On average, it takes about 165 days to complete a full thru-hike of the Appalachian Trail. Some people have taken upwards of a year to complete their thru-hike.
37. The highest AT elevation is 6,643 at Clingmans Dome in the Great Smokey Mountains National Park. The lowest elevation is 124 at Bear Mountain State Park in New York.
38. Since its creation in 1937, about 99% of the Appalachian Trail has been rebuilt or relocated.
39. There are 165,000 white blaze marks along the Appalachian Trail.
40. There are almost 150 thru-hiking trails located in the United States.
National Park Facts
Let's look at some hiking facts based on the National Park system in America.
41. There are 424 National Park Service units in the United States. 63 of those units are National Parks. Other units include National Battlefields, National Monuments, and Wild and Scenic Rivers.
42. There are more than 21,000 miles of hiking trails on National Park Service land.
43. Yellowstone National Park was the first National Park created in America. On March 1, 1872, President Ulysses S. Grant signed the Yellowstone National Park Protection Act into law.
44. New River Gorge is America's newest National Park.
45. Not all National Parks hold their designation. There have been, over 20 National Parks have been abolished from the National Park System over the years.
46. Mackinac National Park was the second established National Park after Yellowstone. However, it eventually lost its National Park status and became a state park in Michigan.
47. 134 degrees Fahrenheit was the hottest temperature ever recorded on earth. This was recorded in Death Valley National Park in 1913.
48. Wrangell-St. Elias National Park & Preserve is the largest National Park in the US. It is 13.2 million acres. It's larger than Yellowstone, Yosemite, and Switzerland combined.
49. The smallest National Park in the US is Hot Springs National Park in Arkansas. This park is 5,550 acres.
50. The National Park of American Samoa is the least visited National Park. In 2022, less than 2,000 people visited this National Park. Most visitors need a passport to visit this park.
51. The Great Smokey Mountains National Park is the most-visited park in the US. Last year, the park had more than 14 million visitors.
52. California has the most National Parks, with 9 parks. Alaska has 8 parks. There are states with no National Parks, such as Illinois.
53. It takes an act of Congress to establish a National Park in the United States.
National Forest Facts
Numerous National Forest facts are interesting to learn about.
54. Yellowstone in 1891 was also designated as a National Forest. In fact, it was America's first National Forest designation. It was eventually fully designated as a National Park.
55. There are 154 National Forests in America. There are 20 National Grasslands. These lands total about 193 million acres of National Forest and Grassland land.
56. The Tongrass National Forest is the largest National Forest in America. The forest is about the size of West Virginia.
57. The Tuskegee National Forest in Alabama is the smallest National Forest in the United States. The forest is a little over 11,000 acres.
58. Pisgah National Forest in North Carolina is the most popular National Forest in the United States.
59. More than 7 in 10 of all Americans live within 100 miles of a National Forest.
60. National Forests contribute to more than 13 billion dollars spent by visitors on an annual basis.
Facts About Hiking Gear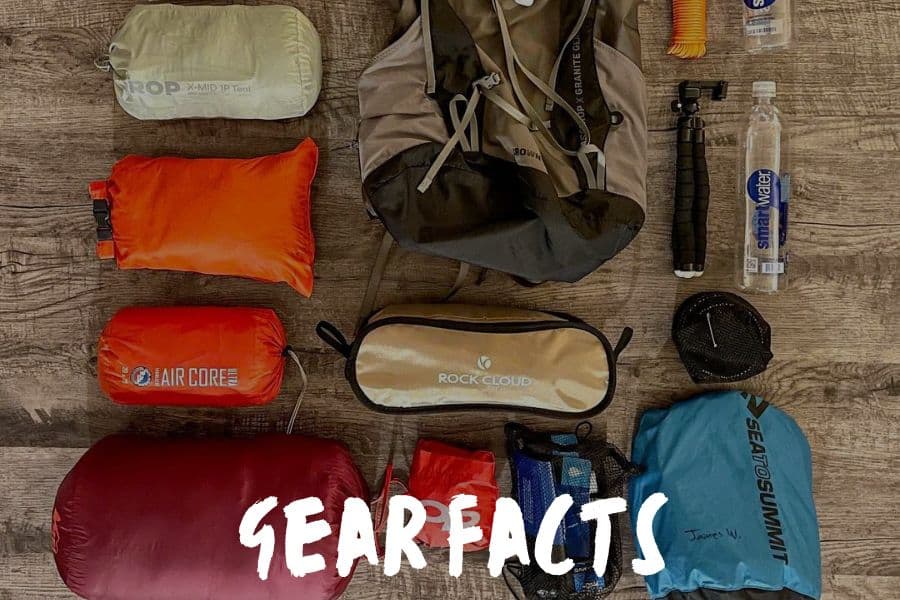 Let's see some of the outdoor industry's hiking and outdoor gear facts.
61. Between 2018 and 2023, the outdoor recreation industry has grown 6.7% yearly. A significant increase between 2020 and 2021 is likely due to the pandemic. The US sporting goods industry has increased faster than the overall economy.
62. In 2021, the overall spending on hiking and outdoor recreation gear in the US was around 22 billion US dollars. It's estimated to reach 32 billion by 2030.
63. Hiking boots are a steadily growing industry in the US. In 2021 alone, there were $4,921 million in sales for hiking boots. Each year, sales are predicted to grow as hiking becomes more popular throughout the US.
Conclusion
Hiking is pretty interesting, after all. Did you learn anything new about the facts above?
There were many of them in my research that I never even knew about.
What other hiking facts would you add to this list?
Also, be sure to see our interesting list of facts about camping and hiking songs too!
Next Up: History Of Hiking