We love to test and review gear.
You'll find us testing gear that we already own and love, are purchasing for retail prices (just like you), or items that are sent to us by the manufacturer.
Unbiased Tent Reviews
Our goal is to remain as unbiased as possible.
No matter how we procure a product, our goal is to thoroughly test and review each item and rate it against its peers.
We take tedious notes, pictures, and videos, and compare even the tiniest of details.
Everything goes into a spreadsheet for analysis from the dimensions of the product to cost comparisons, user ratings, etc.
Our Review & Rating Process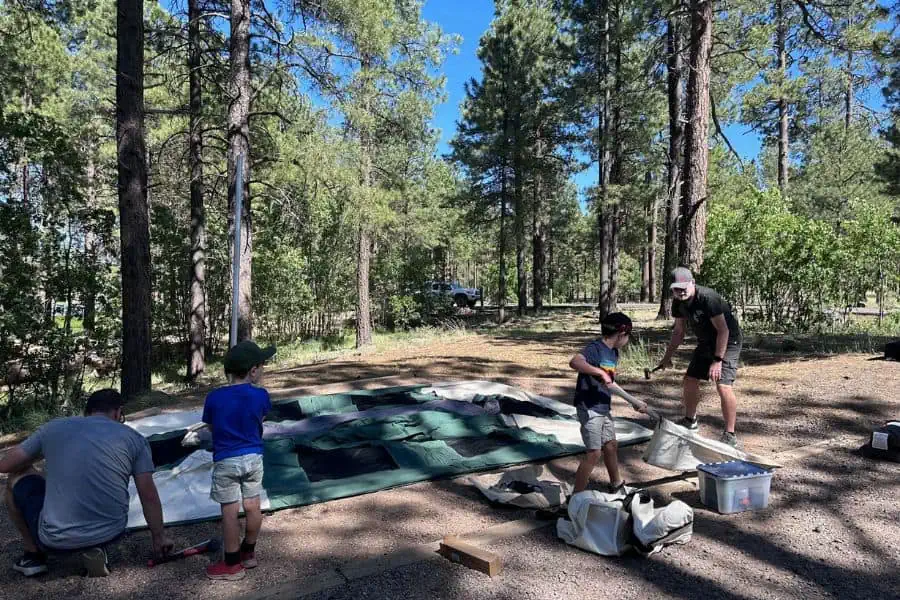 After hours of testing, reviewing, and analyzing each tent, we grade each tent on the following metrics a 1 to 10 scale:
Space & Comfort
Quality & Durability
Value
Weather Resistance
Ease of Use
Intangibles (unique features and key selling points)
User Reviews
Depending upon what each buyer is looking for in a tent, they'll want to pay more or less attention to each specific criterion.
Overall Score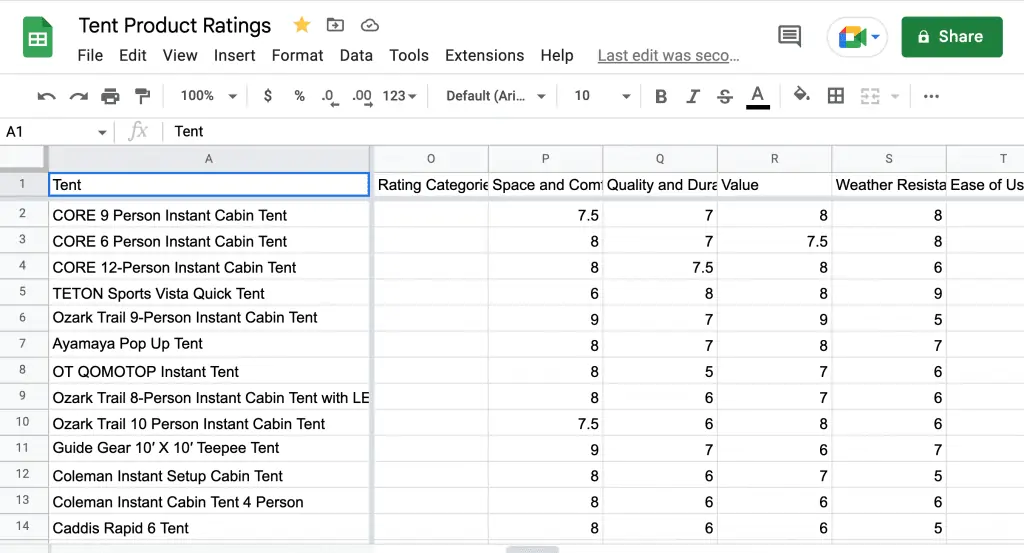 All of the above metrics are factored into our scoring algorithm to create an Overall Score.
The Overall Score is going to be the best for tents that are top-notch in every category accordingly.
Therefore only a tent that provides great all-around value, weather resistance, high-quality materials, along with intangibles AND great user reviews will score better than a tent that is perhaps specifically made for 4-seasons but is also extremely expensive.
Top-scoring tents come in with 8.0 or higher ratings
Good tents typically score in the 7.5-7.9 range
Solid tents score in the 7.0-7.4 range
Bad tents score below 7.0
Or perhaps a buyer is looking for a great tent at a great value? In this case, their tent may not be rated the highest, because it may not be using the best of the best materials, but it will surely have the highest value-to-price ratio.
So while the Overall Score is important, it is not everything.
Space & Comfort
From family camping to romantic couples camping, this is a huge determining factor as to whether the tent is going to live up to your expectations.
You don't want to get this one wrong…but if you are a backpacker, you will not care as much for space and comfort, as you would for quality/durability and most of all weight.
We rate space and comfort for each tent within their tent category and size.
So for a 4-person tent, it is rated in comparison with other 4-person tents.
But this does not mean that a 4-person tent will comfortably fit 4 people. It simply won't. You'll want a 6-person or 8-person tent to comfortably fit 4 people.
Of course, we also take into consideration the overall height.
The high ceiling can make a smaller tent seem more spacious than a low-profile tent with wide dimensions.
Quality & Durability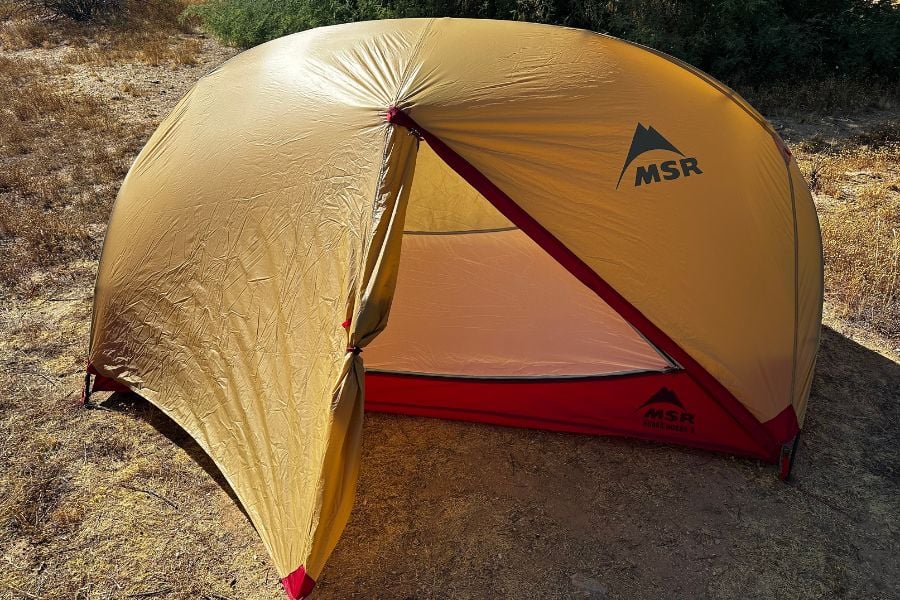 The main factor in determining the quality and durability of the product is the materials used.
Most tents use either nylon or polyester as their tent fabric, both of which are great options.
The difference in quality lies in the details, and not the actual choice of material.
When figuring out quality, we pay attention to the seams, zippers, and overall construction of the tent.
Another important factor is warranty. When you're buying a product covered with a warranty, you can rest assured you're getting a defect-free product, or you're getting your money back.
We believe products with a warranty get bonus points for quality assurance.
Value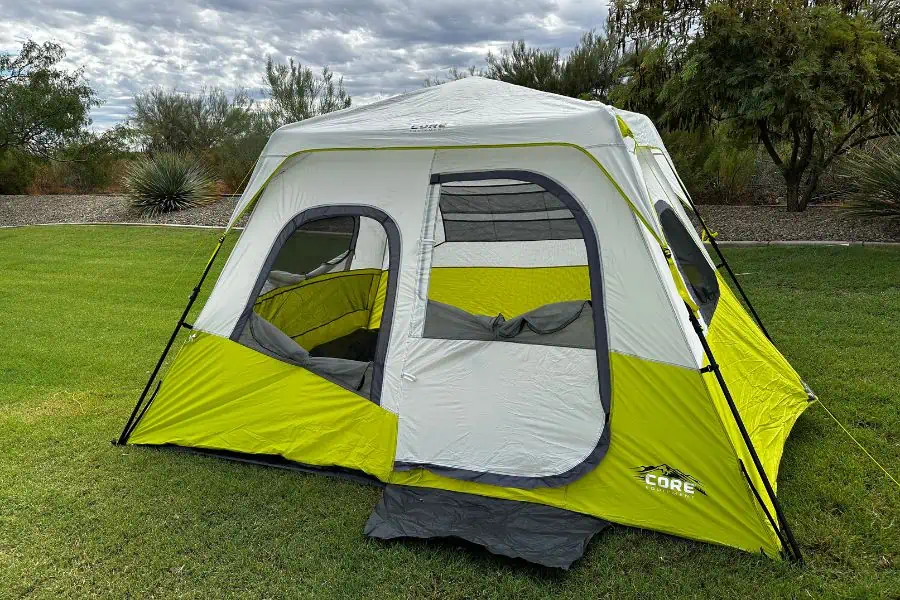 All tents are not created equally, and not all tents are priced equally either. Coleman for instance produces a great budget tent, while Mountain Hardwear produces a tent that can withstand the elements. These tents will not be priced anywhere close to each other.
So we take both the price of the tent along with the materials, warranty, manufacturer, and other key factors into assessing the value of each tent.
You can still have a tent with high value even if it is double the price of another. But again, many factors play into this. Different tents come with different price tags. But not every model gives you the same value for the money you pay.
Whether you're buying a budget tent or looking for a premium option, you can see which one gives you the best bang for your buck.
Weather Resistance
Does the tent let in water, or does it not? Does the tent withstand high winds, or collapse onto itself? Does the tent have good ventilation during the summer months or does it get too hot and stuffy?
Ultimately, this is a pretty simple metric to use for comparison. We take into consideration a couple of characteristics:
Tent material
Floor material
PU rating
Quality of seams
Rain fly length
You should also keep in mind that the bigger the tent, the more potential problems.
Ease Of Use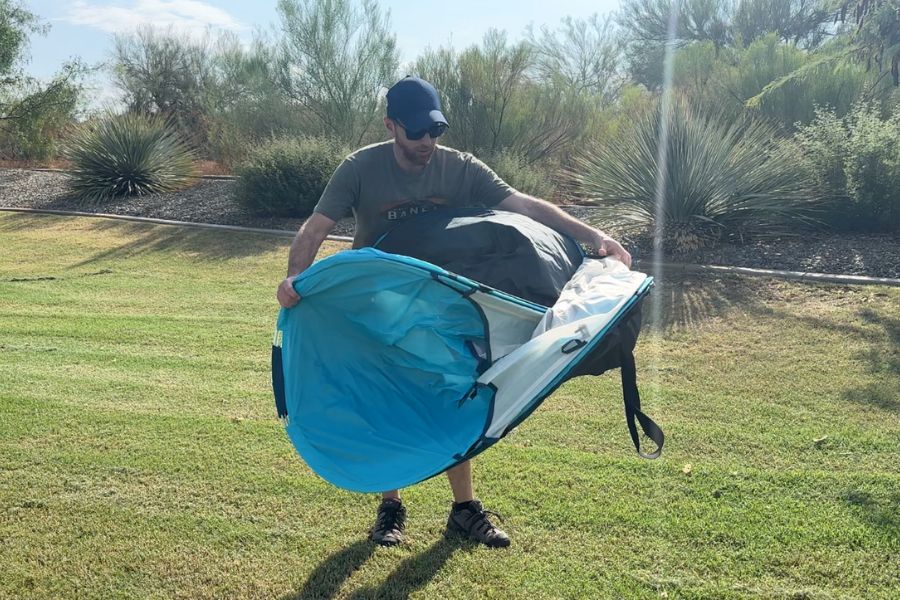 By ease of use, we mainly mean ease of set-up and take-down. No one likes spending an unnecessarily long time pitching a tent.
To rank the tents in this category, we took into consideration how many pieces they have, as well as how long it usually takes a single camper to set the whole thing up.
You might notice that smaller tents typically rank higher in this category, which is no coincidence.
No matter how few steps it takes to pitch a specific tent, its overall size plays a huge role in how easy it is for a single person to do that.
Intangibles
We can't forget about the unique features of different models.
Certain models have plenty of storage pockets inside. That's great for having all your essentials neatly organized and close to hand.
Many larger tents have more than one door, which makes it easier to get in and out of the tent when sharing it with other campers.
What features do you want in a tent? Does the tent have two doors? Perhaps the tent has a large vestibule for storing equipment? Is the tent is a two-room tent with a special space for the kiddos or a dog? Maybe the footprint is included in the price?
This ALL gets factored into the intangibles score.
User Ratings
Finally, we can't forget about other people's experiences with these tents.
While certain models might have worked in our case, there's a good chance someone out there did not have the same impression of the tent that we did.
We read every review – the good, the bad, and the ugly. Then, we compare them to figure out the general opinion on a specific model.
What we analyze depends on the product, but we rate and review each and every product that we look at.
Editorial Process
We then cut through all the noise and narrow down our choices to just a few that would be an excellent fit for our audience.
This is where we deliver the most value since doing this on your own would take a lot of free time and coffee.
After that, we start writing.
Using mountains of information we've collected, we go through multiple rounds of editing and revisions. This is to make sure we only mention the most relevant information.
To summarize: we do what you'd do if you were buying camping or hiking gear. We just spend A LOT more time on each review than the average customer.
In a way, you can see us as your research service – we research and test outdoor gear for you and deliver only the most relevant results in an easy-to-read format.