If you're in a rush and just want to know what the best four-person tent is, we recommend the Kelty Grand Mesa 4 Tent as our #1 pick.
Four-person tents are where we start to verge away from smaller backpacking tents and get into real sizeable tents that you can fit multiple people into.
But let's face it, even 4-person tents don't comfortably fit four people. A better option to comfortably fit four people into a tent will be an 8 person tent.
In this article, we'll cover our top picks in-depth, and you'll also learn what you should look for when buying a 4 person tents.
But in the meantime here are our picks for the best 4 person tents:
Best 4 Person Car Camping Tents:
Best Premium 4 Person Tents:
Best 4 Person Backpacking Tents:
Read more about how we test, review and rate 4-person tents!
Best 4 Person Tent: Our Top Picks
Kelty Grand Mesa 4 Tent
Type: Dome | Seasons: 3-season | Weight 7 lbs 7 oz | Inside Height: 55″ | Floor: 96 x 80 ft (53.3 sq ft)
Having a slightly smaller size (53.3 sq ft) and lighter weight (just over 7 pounds), this Kelty tent is a great introductory tent purchase for first-time tent buyers.
It also has great ventilation, easy setup and durable construction.
All that combined means it's a good choice if you want a good beginner tent that could last you for years.
Its freestanding tent design allows you to set up camp wherever you want, and its color-coded clip construction means you'll be up and running in no time.
Pros:
Easy setup – can be done in 3 minutes
It's 7 lbs. 7 oz. weight makes it perfect for backpacking
Can handle winds up to 45 mph
Durable – made with quality materials so it will last you for years
A large vestibule provides a lot of space for your gear
Cons:
Some customers found the tent poles to be of a lesser quality
More expensive than some of the other tents on this list
Best for: backpacking beginners who want a quality four-person tent that will last them for years.
Marmot Limestone 4P Tent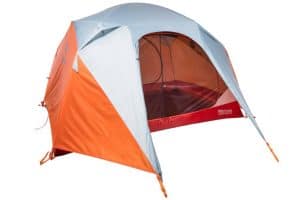 Type: Dome | Seasons: 3-season | Weight 11 lbs 11 oz | Inside Height: 61″ | Floor: 100 in x 86 in (60 sq ft)
Marmot is known for making well-made tents that can beat the elements into submission.
And the Marmot Limestone 4p is no different! With Aluminum DAC DA17 tent poles, and a tough 150-denier polyester Oxford floor fabric, and 68-denier ripstop polyester for the rainfly, this tent is made to withstand it all.

Not only that, but it's pretty spacious too. At 60 square feet and a height of 61 inches, you are getting a pretty good size for a four person tent.
Overall, factoring in the mid-range price, the Marmot Limestone is an amazing all-around tent.
Pros:
Offering a Lifetime Warranty, Marmot's high quality sets the bar
With 60 square feet and a 61 inch height, there is plenty of room for an air mattress and gear
Aluminum DAC DA17 Poles are strong and tough

A 21 square foot vestibule helps with additional gear storage
Cons:
May need to be re-waterproofed after time
Best for: those looking for an all-around weatherproof tent.
Coleman Sundome Tent
Type: Dome | Seasons: 2-season | Weight 8 lbs 8 oz | Inside Height: 59″ | Floor: 9 x 7 ft (63 sq ft)
This is one of the most popular four-person tents on the market, and when you consider its price tag it's no surprise why.
With 63 square feet of space, this tent is very spacious, and its 4'11'' height makes entering and exiting the tent extremely easy.
Thanks to Coleman's patented Weathertec technology, it has features such as:
protected seams,
a wind-strong frame,
a waterproof tent floor.
That means you'll be safe and warm even during the worst showers.
All in all, this Coleman tent is probably the best cheap 4 person tent available today.
Pros:
Affordable – best value for money
Can be set up in as little as 10 minutes
Waterproof – you'll stay dry even in heavy rain
Large windows and a ground vent make it very breathable
Weighs less than 10 pounds making it great for backpackers
Cons:
The tent doesn't come with a footprint
Not suitable for colder weather
Best for: campers on a budget who still want a great 4 man tent.
Check Price at Dick's Sporting Goods
REI Co-op Wonderland 4 Tent (formerly Kingdom 4)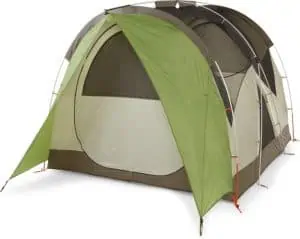 Type: Tunnel | Seasons: 3-season | Weight 21 lbs 11 oz | Inside Height: 75″ | Floor: 100″ x 100″ (69.4 sq ft)
The REI Wonderland 4 is a brand new tent in 2022, replacing REI's Kingdom 4 tent.
With a floor area of almost 70 sq ft and a peak height of 75 inches, the REI Wonderland 4 tent is a veritable camping fortress.
Not only do you have more than enough room for both people and gear, but unless you're really tall you can easily stand up and walk around inside the tent.
The Wonderland 4 is an updated and newer version of the Kingdom 4 Tent. Some of the major differences include new sleeping bag level windows that assist with both ventilation as well as giving you a nice view right from your sleeping bag.
Though the vestibule is now removed from this version of the tent, you can purchase a separate Wonderland Mud Room that will give you an extra 56 square feet of space. With the new color coded poles, you'll have this tent setup in 20 minutes or less.
Of course, with the additional size comes the extra weight. Since it weighs over 21 lbs. I can't really recommend it for backpacking; however, it is an ideal piece of gear for car campers.
Read a full review on the REI Wonderland Tent here.
Pros:
Incredibly roomy – with 70 sq ft of floor area, you'll have more than enough space for several people
A peak height of 75 inches allows for easy movement inside the tent
Two large doors allow for easy movement in and out of the tent
Sleeping bag level windows are a great new feature, and improve ventilation
Plenty of storage pockets and a large vestibule ensure you'll have plenty of room for your stuff
Cons:
Vestibule no longer included, must purchase Wonderland Mud Room separately
Pricey – this is not a low-budget option for most campers
Best for: car campers looking for a reasonably large 4 person tent.
REI Co-op Base Camp 4 Tent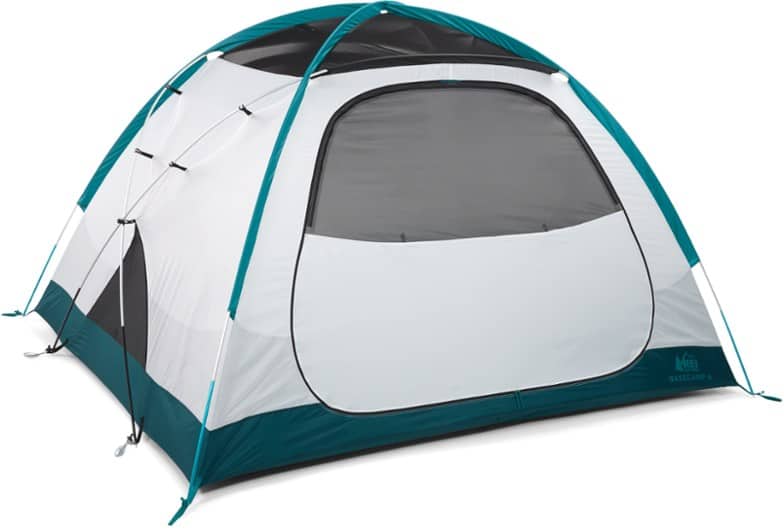 Type: Dome | Seasons: 3 & 4-season | Weight 16 lbs 14 oz | Inside Height: 60″ | Floor: 100 in x 86 in (60 sq ft)
This tent boasts a floor area of 60 sq ft, and a peak height of 5 ft, so it's fairly roomy.
It's dome structure and aluminum poles ensure maximum stability, even in strong winds.
Speaking of which – each pole is color coded, which makes setting up the tent and packing it away a walk in the park.
Weighing 16 lbs. 14 oz., it's heavier than you'd want if you were going backpacking. Still, it isn't too heavy, and if you don't plan on carrying it long distances you won't have any issues with the weight at all.
The 2 roof vents and low side vent work together to create a "chimney effect". This means your tent will always be well ventilated, and you won't have to worry about condensation forming on the inner tent walls.
To top it all off, there are plenty of pockets and loops for storing your gear, so staying organized is easy.
Pros:
2 doors for easy access
Great ventilation
Easy setup with color coded parts
Excellent stability – thanks to dome structure and aluminum poles
Features a large vestibule
Roomy with 60 sq ft of floor space and a peak height of 5 ft
Cons:
A bit on the heavier side – not ideal for backpackers
The footprint is sold separately
Best for: campers looking for a solid tent that can withstand windy weather conditions.
Coleman Cabin Tent with Instant Setup
Type: Cabin | Seasons: 3-season | Weight 18 lbs | Inside Height: 59″ | Floor: 8 x 7 ft (56 sq ft)
The Coleman Instant Cabin tent comes with pre-attached poles that make setting it up simple and straightforward. Most customers said that pitching the tent could take as little as 2 minutes. The takedown is just as easy and you can have it back in the bag in just a few minutes.
Thanks to its sturdy build, it will hold up even during strong winds (as long as it is staked down properly).
One major drawback is that due to its size and weight, it's not suited for backpacking and hiking. You'll get the most use out of it if you love vehicle camping.
Compared to the Coleman Sundome tent, the Instant Cabin tent is larger and bulkier, with a higher price tag.
Pros:
Can be set up in less than 2 minutes
Great for car camping with kids
Darkroom technology blocks 90% of the sunlight outside
Reduces the heat inside the tent up to 10%
Spacious with enough room to walk around in
Multiple windows and air vents provide great ventilation
Cons:
Bigger size means it's not the best for backpacking
Some users reported water leaking into the tent during heavy rains
Best for: campers who want a great 4 person cabin tent.
Check Price at Dick's Sporting Goods
The North Wawona 4 Tent
Type: Dome | Seasons: 3-season | Weight 11 lbs 11 oz | Inside Height: 68″ | Floor: 96 x 90 in (58.13 sq ft)
The North Face is one of the all-time great outdoor brands: we've reviewed their jackets and backpacks before.
But are their tents as good as those? If I had to answer in one word – yes. And the Wawona 4 is no exception.
First of all, this tent is extremely durable. It can easily withstand 45 mph winds, endure up to a week of constant rain, and it has waterproof flooring. Unless you're camping in Alaska during the winter, you should be protected from the elements at all times.
It's also one of the best tents out there when it comes to storage, and the ability to add on a front porch.
Weighing in at just under 12 pounds, it has a floor area of 58 sq ft and a peak height of 68 inches.
This makes it both lightweight and highly functional – ideal for people who don't want to carry around a lot of heavy camping gear but still like a bit of comfort.
On the downside, is really the cost, and additional setup time due to the 3rd pole.
Pros:
Comes with a huge 27.6 sq ft vestibule
Wind, rain, heat, or cold – this tent will protect you from it all
Huge vestibule – you can comfortably sit in a chair under it
Easy setup – it can be up and ready in less than 15 minutes
Plenty of storage pockets for your gear
Two doors for entry on either side of the tent
Cons:
Not a cheap tent, and the porch costs additional money
Best for: people searching for the best tent for storage when you're car camping tent.
ALPS Mountaineering Lynx 4-Person Tent
Type: Dome | Seasons: 3-season | Weight 8 lbs 7 oz | Inside Height: 52″ | Floor: 102 x 90 in (64 sq ft)
Coming in at 64 sq ft and weighing just over 8 lbs. the Alps Mountaineering 4-person tent is a good compromise between size and weight. It's bigger than most backpacking tents, yet lighter than many car-camping tents (thanks in part to its aluminum poles).
It comes with 2 internal stash pockets, two vestibules, and a gear loft which means you'll have plenty of room for your stuff.
The rain fly extends over both entrances and will keep you dry even in the pouring rain, making this a great 4 person waterproof tent for backpackers.
Pros:
A good ratio of size and weight makes it great for backpacking
High quality materials keep you warm even during a downpour
Two doors mean getting in and out is easy
Thanks to having just two poles the setup is a breeze
Will keep you warm even in colder temperatures
Cons:
Some people complained about the rain fly being poorly designed
Vestibules could be larger
Best for: hikers and backpackers seeking a great 4 person dome tent.
REI Co-op Skyward 4 Tent (formerly Grand Hut 4)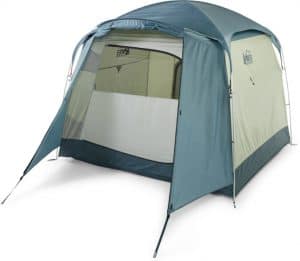 Type: Cabin | Seasons: 3-season | Weight 13 lbs 11 oz| Inside Height: 78″ | Floor: 100 x 87 in (60 sq ft)
Considering REI is known to be one of the best tent brands out there, it's no surprise that there are multiple tents from them on this list.
The brand new for 2022, Skyward 4, doesn't disappoint. It's fairly roomy – with 60 square feet of floor space and vertical walls 78 inches high (even taller than the Grand Hut was at 75″), this tent is perfect for taller people.
This tent is ideal for people seeking a more luxurious cabin tent shelter. However, despite its size, it's still easy to set up and take down.
But it's not just a big tent – it's also very well designed. It has several vents that provide excellent airflow, mesh panels that provide a great view of the sky, and two doors – each with its own big vestibule.
A flaw with the Grand Hut, was that it only came with 8 tent stakes and not the standard 10 you would need to completely secure the tent. That issue is now completely resolved with the Skyward 4, though we still recommend that you invest in additional quality tent stakes. This is always a good idea anyway, since the ones that come with tents usually aren't as good.
Pros:
78″ Vertical walls allow for easy movement inside the tent, especially for taller people
Mesh panels protect you from bugs and provide a great view
Easy setup – it can be up and ready in less than 8 minutes
Nice windows on each side of the tent to allow for cross ventilation and nature viewing
Great airflow (even with the rain fly on)
Cons:
Not suited for cold weather camping
On the pricier side, compared to some quality 4-person tents
Best for: taller campers looking for a spacious and breathable 3-season tent.
Mountain Hardwear Trango 4 Tent
Type: Dome | Seasons: 4-season | Weight 12 lbs 12.4 oz | Inside Height: 50″ | Floor: 96 x 94 in (57 sq ft)
If I had to choose two things that separate this tent from the rest, the choice would be simple:
Its price
The fact that it's a 4-season tent
Let me be perfectly clear – this tent is expensive. If you're looking for a budget 4-season tent, look elsewhere.
However, if you're looking to invest in one of the best winter tents out there no matter the cost, then keep reading.
The first thing you'll notice is that this tent is made out of high quality materials. I mean, it has to be if it's going to stand up to the worst conditions nature has to offer. Its nylon taffeta is rated 10,000 mm waterproof so even if you get caught in a thunderstorm, you'll barely feel it.
Secondly, since it's not as large as some car camping tents, the setup and takedown are easy as pie. Even one person can do it relatively quickly, so if you have two or more people helping it should be up in no time.
More about size – since winter tents are heavier and bulkier than 3-season tents, some sacrifices have to be made and in this case, it's the size. With 50 sq ft of floor space and a peak height of only 50 inches, this tent is noticeably smaller than other tents on this list.
Pros:
Quick and easy setup – even for 1 person
4-season tent you can use even in freezing temperatures
Extremely durable – rated 10,000 mm waterproof
Large storage bag allows for easy packing
Great circulation even during harsh weather conditions
Cons:
Extremely pricey – the most expensive tent on this list by far
Best for: campers willing to pay a premium price for a quality 4-season tent.
ALPS Mountaineering Taurus Outfitter 4-Person Tent
Type: Dome | Seasons: 3-season | Weight 10 lbs 2 oz | Inside Height: 52″ | Floor: 102 x 90 in (64 sq ft)
The Alps Mountaineering Taurus Outfitter 4-person tent is an excellent 3-season tent for campers and backpackers. It can even withstand light snow and colder weather conditions.
With two doors and two vestibules, this tent provides both easy movement and extra space to store your equipment (25 sq ft extra). Not only does each door have a mesh window, but the rain fly has additional vents so you won't have to worry about losing fresh air.
Newly upgraded in the Outfitter model are the poles which come in aircraft alloy 7000 series aluminum that is both strong and lightweight.
Pros:
Entry and exit are easy thanks to two doors
Rain fly completely covers the tent and will keep you dry during heavy rains
Gear loft storage makes storing small necessities a breeze
Mesh windows provide great ventilation
Free-standing, two-pole design means this tent can be set up in a rush
The top rain fly covers the entire tent, giving great wind protection
Cons:
Poor seal-work on the door zipper which could lead to rain getting inside the tent (this is not an issue if the rain fly is used).
Best for: campers and backpackers interested in an excellent 3-season 4 person tent.
Big Agnes Bunk House 4
Type: Cabin | Seasons: 3-season | Weight 15 lbs 8 oz | Inside Height: 70″ | Floor: 99 x 92 in (58 sq ft)
Another great tent maker with Big Agnes! This comes in both a 4 person and a 6-person version.
Due to it's tunnel-like structure, you get the benefit of both a high ceiling at 70″ or near 6 feet, combined with 58 square feet of total square footage.
But perhaps one of the best parts about this tent is the extra large vestibules on either side. You get 33 square feet and 14 square feet of extra storage space.
Pros:
The ultimate tent for storage capacity with two extra large vestibules for storage
Made with high quality aluminum stakes and waterproof coating
Nearly 6 feet of ceiling space throughout
A quick 10 minute setup
Cons:
On the more expensive side
Best for: serious campers who need a lot of storage space.
Gazelle T4 Hub Tent
Type: Pop Up | Seasons: 3-season | Weight: 30 lbs | Inside Height: 78 in | Floor: 94 x 94 in (61 sq ft) | Setup Time: 2 min
The Gazelle T4 Hub is a unique discovery, as pop-up tents are not commonly designed as cabin tents.
What sets the Gazelle apart is the impressive 78″ of standing room, which is a relief for taller folks who don't want to end up crouched in their tent the entire trip.
The removable floor makes this tent versatile for camping and other outdoor activities like a day at the beach or park.
Despite its cost, the Gazelle is a great investment and a winner for those who value comfort and convenience.
Pros:
A cabin tent with 78″ of height allowing you to stand up fully
Stands up well to rain and wind
Super quick 2 second setup without tie downs
Made with quality 300-denier oxford polyester flooring and 210-denier polyester rainfly fabric
Durable YKK Zippers
Cons:
Openings in the corners allow bugs to get in
The most expensive tent on this list by far
Best for: Taller people, or where standing up is a priority.
White Duck 7'x9′ Prota Canvas Cabin Tent, Deluxe

Type: Canvas, Cabin | Seasons: 4-season | Weight: 66 lbs | Inside Height: 75 in | Floor: 7 x 9 (63 sq ft) | Setup Time: 20 mins
Last, but not least is the White Duck Prota Deluxe. With a classic tent design, you may be thinking this tent is stuck in the past – however, it is anything BUT stuck in the past.
Made with aluminum poles, and galvanized steel tent stakes, this is one of the nicest and best-made 4-person tents on the market today.
It comes with YKK zippers and a 100% duck canvas material that is both breathable and water-resistant, making this tent great for everything from hot summers to snowy winters.
Though pricey, canvas tents will last for decades when properly maintained making them a worthwhile investment.
Unlike the other cabin-style tents in this article, the White Duck Canvas Tent has windows on every side.
That'll give you a little more ventilation and viewing capacity than the other tents, which is a huge bonus.
Be sure to check out our full review of the Prota Deluxe here!
Pros:
Similar design to the standard canvas-style tents, with small differentiators
A quality canvas tent at a reasonable price that doesn't skimp on quality
Windows on all four sides mean gives you improved ventilation and panorama views
The heavy-weight ceiling is coated with silver to protect you from UV rays and keep you cool
YKK zippers, 100% duck canvas, and a high-density groundsheet tub make sure this tent lasts
Cons:
Instructions aren't clear, and set up is more involved than standard 4-person tents
Best for: Campers who want a canvas tent but want to save money, or those who want added sun protection built into their roof
Check White Duck Outdoors Price
What To Look For In A Four-Person Tent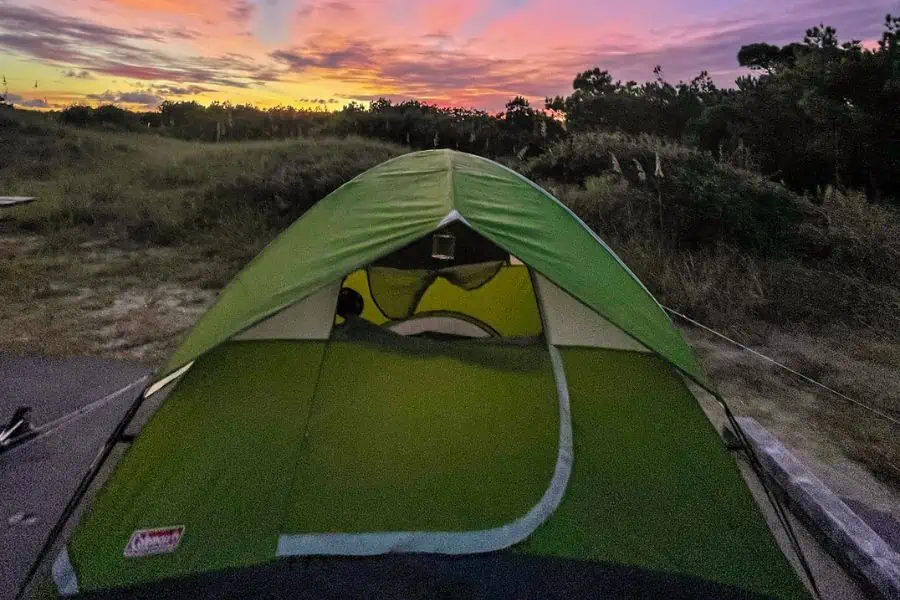 While there are many factors you need to consider when purchasing a tent, some of them are more important than others.
We found that the most important factors are:
Size
Ease of setup
Weight
Weather resistance
Additional features
Size
Obviously, a 4 person tent has room for four people… right?
Well, yes and no.
It's important to understand what manufacturers mean when they talk about 4 person tent dimensions.
They can theoretically fit four average adults, but that would be like packing sardines in a can – there wouldn't be any room for anyone.
Four-person tents are ideal as a small family tent for parents with two small kids, or couples who want to have more room for their gear.
If you are looking to fit four people into a tent, we recommend a 6 person tent.
Height is also an important consideration. If you're tall (over 6 ft), you might want to choose a tent that is big enough that you can easily get in and out.
While most people go with dome tents, taller people should consider cabin tents (for added height).
Dome tents are smaller and lighter and great for backpacking and hiking. Cabin tents are larger and roomier, with vertical walls that allow you to stand up and walk inside the tent. The problem with cabin tents is that they are much heavier and more expensive than dome tents.
Ease of setup
Another thing you should keep in mind is the ease of setup.
Nobody likes to spend a lot of time setting up a tent, so choosing one that is easy to set up and take down is important.
Here's a video that shows you a quick tent set up:
Since the weather can be unpredictable, you want to buy a tent that is easy to set up even if you're suddenly caught in a rainstorm.
That's why most of the tents we included on our list can be set up in less than 10 minutes.
Weight
The importance of weight depends on the type of camping you do. If you're a car camper, you can use heavier tents and not worry about the weight as much.
However, if you're a backpacker, then weight becomes a major factor.
Some factors that determine the weight are:
Generally, most of the tents on this list are under 10 lbs. We found them to be a good mix of portability and durability, as they're both lightweight and tough enough to endure harsh weather conditions. However, we did include a few heavier tents for car campers who want a bit more space.
If 10 lbs. is still too much weight for you, you might want to pick up a smaller 2 person tent, or a bivvy-style tent – these 1-person tents were designed for military personnel on the move, so you know they're a lightweight tent.
Weather Resistance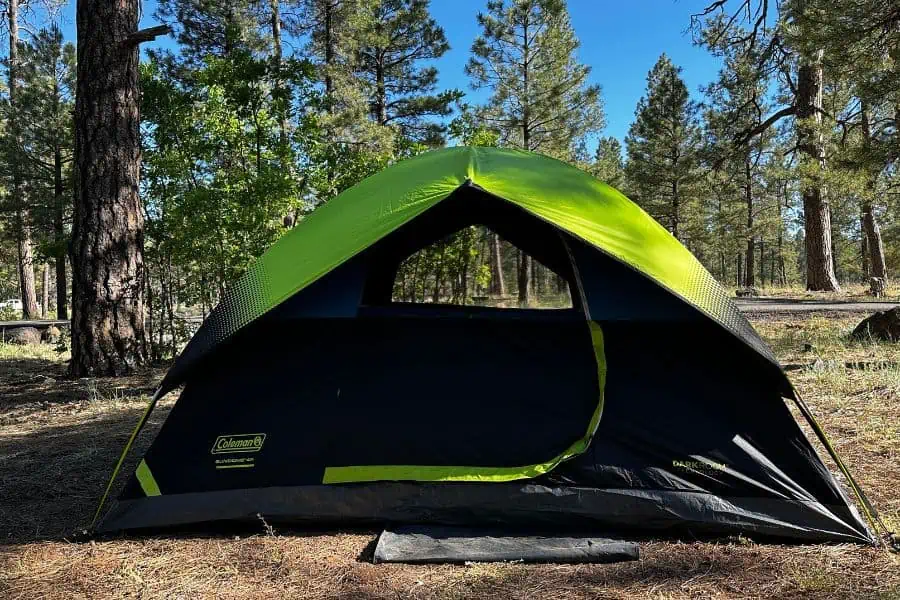 It doesn't matter how big or beautiful a tent is – if it starts leaking water during a rainstorm, you're not going to have a nice time.
That's why most tent manufacturers try to make their tents as waterproof as possible.
Are they successful?
Not always.
Weather resistance depends on a lot of factors, such as:
The shape of the tent (dome vs cabin)
The quality of the poles (aluminum vs. fiberglass)
The severity of the rainstorm
The quality of the seams
And a lot more.
During my research, I tried to pick and choose only the tents with the highest weather resistance possible. Despite that, I always recommend people invest in a good tent seam sealer – they don't cost much but will make sure moisture stays out of your tent.
Additional Features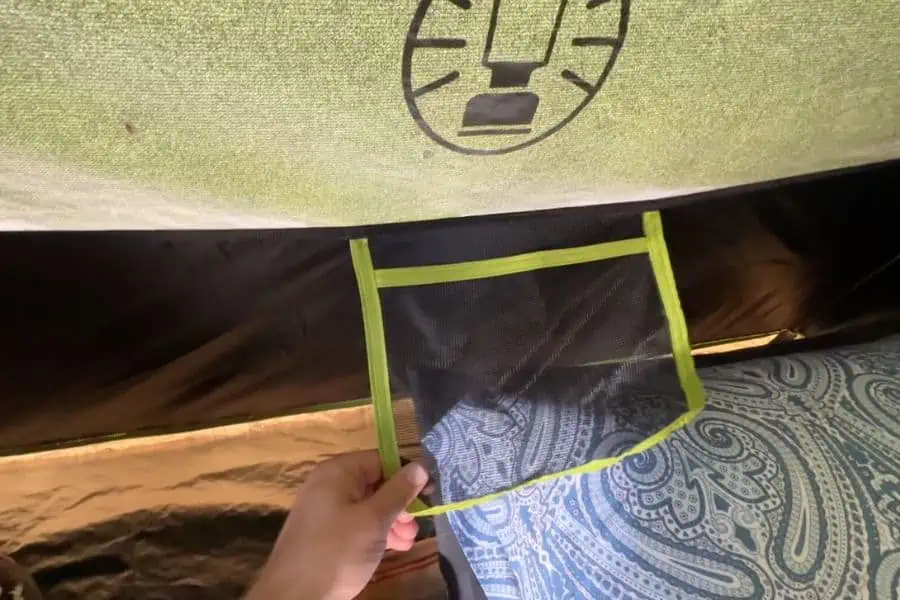 And last, but definitely not least, we have additional features – a.k.a. everything else.
This is all the extra stuff manufacturers add to the tent to make it stand out from the rest.
Some of these might include things like:
Mesh pocket(s)
Multiple doors
A large carry bag
Multiple vents
And a whole lot of other stuff.
All of these (except for the vents) fall into the "nice to have" rather than "must-have" category for me, but since people have different criteria I've included the relevant features in each product review.
How We Tested, Reviewed, and Rated 4-Person Tents
We love to test and review gear. You'll find us testing gear that we already own and love, are purchasing for retail prices (just like you), or items that are sent to us by the manufacturer.
No matter how we procure a product, our goal is to thoroughly test and review each item and rate it against its peers.
Our goal is to remain as unbiased as possible.
We take tedious notes, and compare even the tiniest of details. Everything goes into a spreadsheet for analysis from the dimensions of the product to cost comparisons, user ratings, etc
After hours of testing, reviewing and analyzing over twenty-five 4 person tents we grade each tent on the following metrics:
Space and Comfort
Quality and Durability
Value
Weather Resistance
Ease of Use
Intangibles (unique features and key selling points)
User Reviews
Depending upon what you are looking for in a tent, you'll want to pay more or less attention to each specific criteria.
Overall Score
All of the above metrics are factored into our scoring algorithm to create an Overall Score. The Overall Score is going to be the best for tents that are top notch in every category accordingly.
Therefore only a tent that provides great all-around value, weather resistance, high-quality materials, along with intangibles AND great user reviews will score better than a tent that is perhaps specifically made for 4-seasons, but is also extremely expensive.
Or perhaps you are looking for a great tent at a great value? In this case, your tent may not be rated the highest, because it may not be using the best of the best materials, but it will surely have the highest value-to-price ratio.
So while the Overall Score is important, it is not everything.
Space and Comfort
From family camping to romantic couples camping, this is a huge determining factor as to whether the tent is going to live up to your expectations.
You don't want to get this one wrong…but if you are a backpacker, you will not care as much for space and comfort, as you would for quality/durability and most of all weight.
We rate space and comfort for each tent within their tent category and size. So for a 4-person tent, it is rated in comparison with other 4-person tents. But this does not mean that a 4-person tent will comfortably fit 4 people. It simply won't. You'll want a 6-person or 8-person tent to comfortably fit 4 people.
Now, let's take a look at some of the top 4 person tents by height:
As you can see, the tallest 4-person tents are the REI Co-op Wonderland 4, REI Co-op Skyward 4, and the NEMO Wagontop 4. So if you are a tall person, these tents are definitely ones that you'll want to give a serious look at.
On the other hand, if you are primarily concerned with the square footage inside of your tent, then you'll want to check out this next chart:
And again, the REI Co-op Wonderland 4 is the clear winner here, though both of the ALPS Mountaineering tents also give you great square footage as well.
So as you can see, all of these metrics factor into the overall Space and Comfort score.
Quality and Durability
This metric is pretty straightforward. We rate the tents based on their actual materials and the quality of the construction.
We also get feedback from tent owners who put it their tents to the test over a long period of time.
Many tents utilize a combination of the same polyester or nylon materials, but their construction can be just as important. This all gets factored into the quality and durability score.
Factored in the Quality and Durability score is the warranty. While most tents have some sort of Limited warranty, many have Lifetime Limited Warranty, but REI for instance, only has a 90-day return policy and warrants only that the product is free from defects at the time of sale.
Value
All tents are not created equally, and not all tents are priced equally either. Coleman for instance produces a great budget tent, while Mountain Hardwear produces a tent that can withstand the elements. These tents will not be priced anywhere close to each other:
However, we take both the price of the tent along with the materials, warranty, manufacturer, and other key factors into assessing the value of each tent.
You can still have a tent with high value even if it is double the price of another. But again, many factors play into this. Here is how our 4 person tents shook out:
Based on our ratings, you can see that the Coleman Sundome wins out on value. Currently priced at $83.84, you get unbelievable value for the price, even if the materials won't stand the test of time.
However, for this price, you can easily afford to replace the tent several times compared to the price of an REI tent even if it does come with a risk as your weather resistance and overall quality clearly suffer.
Weather Resistance
Weather resistance is a simple metric.
Does the tent let in water, or does it not? Does the tent withstand high winds, or collapse onto itself? Does the tent have good ventilation during the summer months or does it get too hot and stuffy? This is what matters to us when we rate a tent for weather resistance:
If you are looking for the most Weather Resistant 4 person tent, then you'll want to focus in on the NEMO Wagontop or the Mountain Hardwear Trango Tent.
Those tents will come at a cost though, so if you are trying to find the most affordable Weather Resistant 4-person tent possible, then you'll want to take a closer look at the Kelty Grand Mesa 4, REI Co-op Base Camp 4 or the ALPS Mountaineering Lynx 4-Person Tent which will give you better value as they still are high quality weather-proof tents.
Ease of Use
How fast can an average user pitch this tent? How easy it is to take down and/or utilize additional features. Ease of use is one of the most important things to most campers and we agree.
Clearly, the big winner in ease of use is the Coleman 4-Person Cabin Tent with Instant Setup. Instant Tents are perfect for car campers who don't anticipate the elements, and an instant tent can be setup in under 5 minutes.
Most of the 4 person tents that we rated are pretty easy to set up in 10 minutes or less, so they came in with solid scores of 8 or 9. The great part about a smaller tent is that it is going to generally be easier to set up.
Backpackers may care less about this and focus on the packed weight of their tent, but car campers will likely want a tent that is easy to put up and even faster to take down and pack back into the car.
Also, anyone looking for a 4-season tent like the Mountain Hardwear Trango 4 Tent, should expect that setup will not be as easy. You are purchasing your 4-season tent because you want to camp in winter conditions, NOT due to its ease of use.
Intangibles
Last but not least, is the intangibles.
These are the unique features or selling points of each individual tent that give it a leg up on the competition.
Does the tent have two doors? Perhaps the tent has a large vestibule for storing equipment? Is the tent is a two-room tent with a special space for the kiddos or a dog? Maybe the footprint is included in the price?
Lastly, and especially critical for 4 person tents, is this tent light enough to be considered a backpacking tent?
No one wants to haul a 20-pound tent backpacking, but a tent coming in around 7 lbs like the Kelty Grand Mesa 4, certainly should be in the running.
This ALL gets factored into the intangibles score.
FAQs
Can a 4 person tent fit 4 people?
Yes, a 4-person tent can technically fit 4 people….BUT we don't recommend it.
You will be pretty jammed together. And depending on the tent, there may be almost no room for gear.
For this reason, we recommend a 6 or 8-person tent for 4 people, depending upon how much comfort you desire.
Should I get a 4 or 6 person tent?
Deciding between a 4 or 6 person tent depends entirely upon the number of people you want to fit in, the additional space you would like for gear, and your personal bubble.
A 4-person tent works great for a couple or a small family of three, but you'll want to upgrade to a 6-person tent for additional space.
For our family of four, we bring along an 8-person tent to maximize space and comfort.
What is the best 4 person tent?
The best overall tent according to our testing is the Kelty Grand Mesa 4 Tent.
But if you are on a budget, the Coleman Sundome Tent is a fan favorite, and if you are willing to spend the big bucks, we love the White Duck Prota Deluxe Canvas Cabin Tent.
What is the easiest 4 person tent to set up?
The easiest 4-person tents to set up are the Coleman Skylodge 4-Person Instant Tent and the Gazelle T4 Hub Pop Up Tent.
The Coleman Instant Tent comes with pre-attached poles and sets up within 5 minutes. Meanwhile, the Gazelle T4 is a Pop-up tent that opens up in just 2-seconds. You can't get any easier than that!
How much does a 4 person tent cost?
4 person tents can cost anywhere from a budget-friendly $75-80, all the way up to $1200 for the most premium tents.
However, you can get a great all-around tent for around $150. This is why we love the Kelty Grand Mesa 4 Tent – because it is not only made with quality materials, but at an affordable price too.
Our Verdict
Even though all of the tents mentioned here are great, our top pick is the Kelty Grand Mesa 4 Tent.
It's lightweight, weatherproof, and an extremely easy 3-5 minute setup. Factoring everything all together, the Kelty Grand Mesa 4 comes in with the top Overall Score with an 8.4.
You simply can't beat the price-to-value ratio!
Explore More Tents