If you're like me, you love beach camping.
Falling asleep to the sweet song of the waves and roasting marshmallows on the sandy shores of a beach campground sounds like heaven.
But, there's a catch. It can be hard to find a tent that works well on loose sand when camping on a beach – even if you're just hanging out at the beach for the day.
After testing hundreds of tents, we've narrowed down the best tents for beach camping available today:
Best Tents For Beach Camping: Our Top Picks
Best Sun Shelter Beach Tents:
Best Beach Screen House Tents:
Best Pop Up Beach Tents:
Best Umbrella Canopy Tent:
Kelty Cabana Shelter
Type: Beach | Size: 5 person | Seasons: 3 | Weight (lbs): 7 lbs. 5 oz | Floor: 116 x 76 x 53 inches (45.5 sq ft) | Max Inside Height (in): 53 in | Setup Time: 3 mins
Keeping your kids safe from the sun during peak hours can be tough. Well, that's not something to worry about with this shelter.
Kelty's Cabana Shelter provides a nice shade during the hottest part of the day. But thanks to three bottom windows, there's excellent airflow to keep your children cool.
If needed, the front wall and windows can be covered for additional privacy.
What's especially great about this shelter is the ease of setup. Just attach the tent fabric to the three wrapped fiberglass poles and you're good to go.
Pros:
Wrapped fiberglass poles provide a stable structure in the wind
The front wall and windows can be covered for privacy
Seam-taped construction prevents leaking in case of rain
Three windows provide excellent airflow inside the shelter
Cons:
Best for: overall best beach shelter!
Big Agnes Sugarloaf Camp Screen House Shelter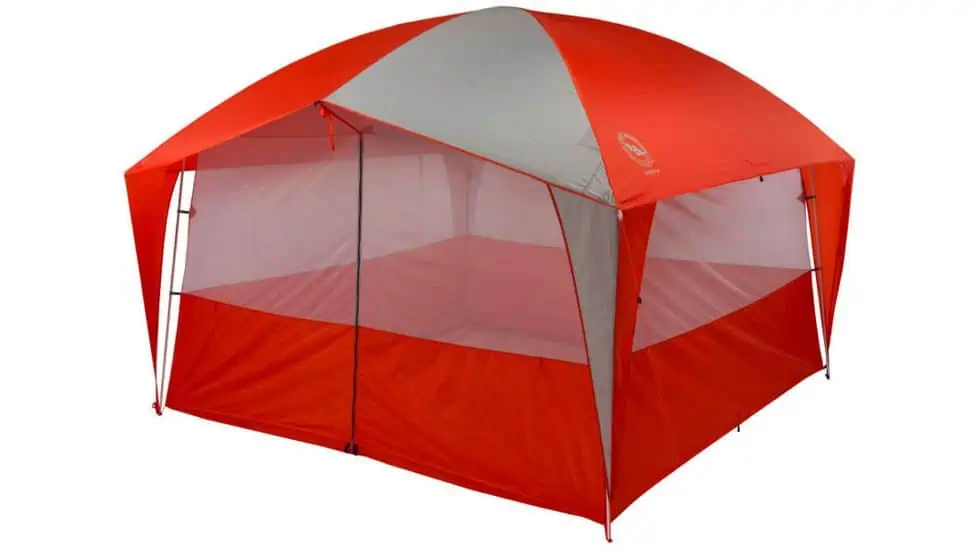 Type: Screen House, Beach | Size: 8 person | Seasons: 3.0 | Weight (lbs): 14.5 | Floor: 120 x 120 inches (100.0 sq ft) | Max Inside Height (in): 84 in | Setup Time: 5 mins
This screen house by Big Agnes is a great option for setting up a kitchen, dining, and/or living area.
With a floor area of 100 square feet, there's plenty of room for a group of people to fit inside comfortably. All-mesh walls ensure you're safe from insects as well as sand being blown in your face.
The fly is waterproof, so it keeps you dry in case of rain. However, you can also remove it during warm days when you only need protection from insects, not weather.
Even though it's large, this shelter is easy to set up. It comes with precut guylines and hook-and-loop tabs, which make pitching a piece of cake.
Pros:
With a 100 square feet area, there's enough place for a large family
The fly is waterproof and removable
Features gear loops for hanging lanterns
Hook-and-loop tabs and precut guylines make setup easy
Cons:
Somewhat expensive
Rather heavy for a screen shelter
Best for: kitchen or dining area.
Marmot Limestone Lanai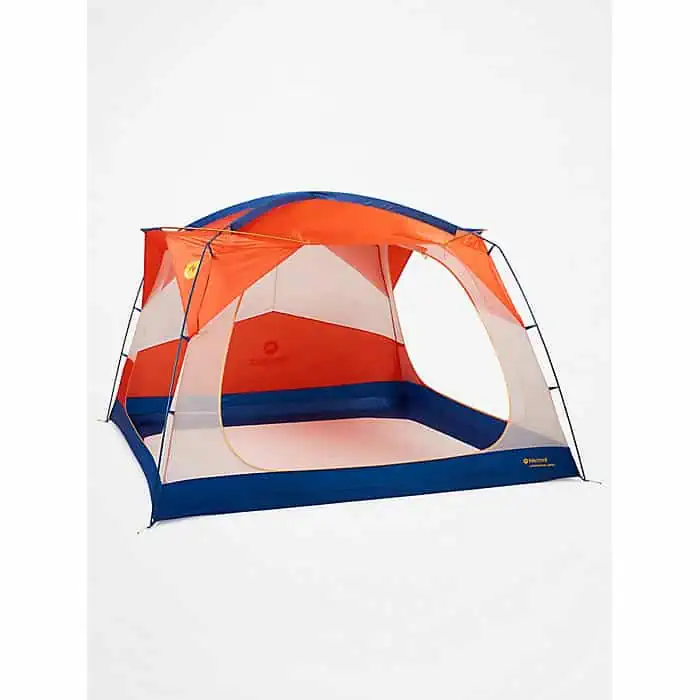 Type: Screen House, Beach | Size: 4 person | Seasons: 3 | Weight (lbs): 12.3 | Floor: 126 x 126/126 x 85 inches (109.8 sq ft) | Max Inside Height (in): 85 in | Setup Time: 5 mins
If you're searching for a shelter for a dining area, look no further. This screen tent by Marmor is the perfect size to fit a picnic table and chairs.
It has three huge zippered doors, so you don't have to walk around the table to reach your sitting spot. When closed, they keep your food protected from insects.
Set up is pretty easy. The pole sleeve-clip combo makes it quick and simple to pitch, even for a single person.
Pros:
Vertical walls create plenty of headroom inside the shelter
Features a laundry line for your swimsuits and towels
Zippered doors keep the insects away while you eat
Guyout attachment points make the shelter stable even in windy conditions
Cons:
Best for: setting up a dining area.
Outdoor Master Pop Up Beach Tent

Type: Beach | Size: 4 person | Seasons: 1.0 | Weight (lbs): 8.2 | Floor: 95 x 51 inches (33.7 sq ft) | Max Inside Height (in): 53 in | Setup Time: 1 min
This pop up tent comes in a similar design to some beach tents we've already looked at. The tent uses an easy-to-operate pull-cord setup. It's simple enough for most folks to set up, and strong enough to withstand strong winds.
The tent comes with an oversized carry bag that can be slung over your shoulder in a hurry, allowing for easy transportation.
The weight of the tent, however, comes in at around 8 pounds, which is on the higher end of the beach tent scale.
The product prides itself on its flexibility of use. The company says it can be used "on any surface," but I've only used it on sand or grass.
Like most beach tents, the Outdoor Master provides UV SPF 50+ protection. It's got 3 roll-up windows and a full-coverage privacy door at the front.
Pros:
You can use this tent on the beach or anywhere else – it's effective on sand dunes, as well as grass and dirt terrain
Full coverage and a seamless privacy door with a two-way zipper give you added shade
The roll-up windows easily close on all 3 sides
The transport carry bag makes life easier – it's a joy to throw this over your shoulder and hit the beach
53" center height means it provides lots of headroom for taller people
Pull-cord design is so easy, a caveman could do it
Cons:
The tent can get very hot, so make sure you open the windows to get some fresh air
Best for: campers looking for a tent that's easy to set up and provides a good amount of privacy.
Lightspeed Outdoors Shelter

Type: Beach | Size: 3-4 person | Seasons: 1 | Weight (lbs): 7.26 | Floor: 93.3 x 47.6 inches (30.84 sq ft) | Max Inside Height (in): 57.4 in | Setup Time: 1 min
This sun shelter prides itself on being one of the easiest on the market when it comes to setup. Like some of the others, this tent has a string-pull system for popping it up, which is highly user-friendly.
The most noticeable feature of this tent is the large overhang at the front. This provides extra sun protection.
Lightspeed coated this tent in an umbrella rated 600mm PU coating. This makes it great for a wet day at the beach or a solid pick for those beach fishermen out there, who need a tent that can handle some splashes.
The shelter comes with a clippable privacy shield that can be closed up from the inside or the outside. Be warned, it's not a seamless seal and can be slightly translucent. The tent also comes with roll-up windows if required.
Of course, as all tents should, this one comes with large stakes, guylines, and sand pockets for added stability in windy conditions.
Pros:
The large overhang provides extra shade and protection from the sun's UV rays
Oversized carry bag makes for an easy to transport tent and helps when packing it away
Extra-large windows on all sides, allowing for great ventilation and also visibility from all sides
It can be used in wet conditions, thanks to its umbrella rated 600mm PU coating
The awesome privacy feature allows for private nap time on the beach
Currently available in an epic tropical print (limited edition)
Cons:
The clippable privacy shield does not cover the entire front of the tent, leaving some parts exposed – the material is also slightly translucent, so maybe think twice before changing clothes inside
Best for: great for outdoorsmen, fishermen and those who will be at the beach during the rainy season.
Pacific Breeze Easy Beach Deluxe Tent

Type: Beach | Size: 4 person | Seasons: 1 | Weight (lbs): 6.5 | Floor: 94 x 51 inches (33.29 sq ft) | Max Inside Height (in): 52 in | Setup Time: 3 min
This shade tent is a great choice for a family of four going to the beach. Its pop-up design gives you a fast and easy setup. That means you can spend more time relaxing, and less time figuring out which pole goes where.
The materials used in the construction of the tent provide breathability, water-resistance, and 50+ UPF sun protection.
The tent is built with three large windows for improved ventilation on a hot day. Its frame is made from high-quality lightweight fiberglass poles. This gives the tent added strength and makes it convenient to transport. And, speaking of transportation, its well-designed case makes it even easier.
The interior comes with 5 sand pockets, and on the outside, you'll get 4 tent stakes to hold down the fort on a windy day.
This tent is available with or without the extendable floor. We recommend ponying up the cash for the extended floor – it's well worth it.
My favorite feature of this tent is that it's lightweight and easily foldable. Sun protection is also a great plus.
Pros:
The lightweight, compact design is made for convenience
High-quality materials give high sun protection, major durability, and incredible ventilation
The tent's easy setup system allows for a poleless pitch that can be put up in as little as 5 minutes
The tent comes with a 1-year warranty with extensive call and email support
Extendable floor model keeps sand out of your tent
Cons:
Tarped flooring can be difficult to clean
Blue is the only color option
Best for: families of four to six looking for a tent to use during a day out at the beach.
Easthills Outdoors Instant Shader

Type: Beach | Size: 4-6 person | Seasons: 1 | Weight (lbs): 8 | Floor: 99 x 53 inches (36.44 sq ft) | Max Inside Height (in): 57 in | Setup Time: 1 min
Easthills Outdoors is a fashionable brand that does not disappoint with this tent. The Instant Shader comes with a spacious interior that fits up to 4 adults and could squeeze in some kids as well. In addition, this makes it a great tent for camping with dogs.
This instant tent can be set up in four easy steps. The instructions say it can be done in a minute or less. Simply spread the poles, lift the center of the tent and pull the drawstrings. Like magic, the tent is standing!
On this particular sun shelter, you can zip the front of the tent up for added privacy. It's perfect for changing in and out of your swimwear or simply keeping your things closed away while you're out of the tent. The zippers can be closed from the inside or outside.
The tent is made of a lightweight and water-resistant coated polyester material. It gives UV protection of UPF 50+ and blocks up to 97.5% of harmful UV rays.
Due to this being a larger tent, it weighs about 8 pounds. This is a little heavier than most other tents in this range.
Pros:
It comes with a zippable front for added privacy and security, which when not zipped can be used as extra floor space
An extremely sturdy frame that customers say work great on a windy or stormy day
It has three large windows that can be tied up or closed with ease
Comes with a large number of accessories to add stability (10 plastic stakes, 4 guylines, and attached sand weights)
Quick and easy setup that can be done in under a minute
Cons:
It can be challenging to stow away after a day of use
Heavier than most other tents at 8 pounds
Best for: from overnight campers to families, this tent is for anyone! As long as your group isn't too big, you'll love this tent.
G4Free Beach Tent

Type: Pop up, Beach | Size: 3-4 person | Seasons: 1 | Weight (lbs): 2.2 | Floor: 78.7 X 47.2 inches (25.8 sq ft) | Max Inside Height (in): 51.2 in | Setup Time: 1 min
The G4Free beach tent made this list thanks to its ultralight pop-up design that allows the beach shelter to be opened in just 1 second. Wow!
The frame is built from steel wire, which allows for extreme flexibility. According to G4Free, steel is safer than fiberglass as well.
The weight of the tent sits at 2.4 pounds, making it one of the lightest large beach tents out there. This tent can fit 2 adults and 2 children in comfort. But, the tent lacks headspace making it sub-optimal for taller folks.
If you're into aesthetics, you'll love this tent's color options. You can get orange, yellow, blue, green, and white. The build also includes a ventilation system of 3 large windows on each side of the tent, allowing for a comfortable setting on a hot day.
Although opening this tent is easy, sometimes packing it up can be annoying. This is to be expected with pop-up tents, which are made to stay in their popped shape.
Pros:
At 2.4 pounds, this tent is extremely light compared to others on the market
Great wind resistance for those on a windy beach – the steel wire frame holds up nicely
A range of colors to choose from for those who want their tent to match their swimsuit
Super easy setup, just toss into the air in an open space and the tent is ready to go in seconds
50+ UPF UV protection means you won't fry on the beach
Cons:
The height of the tent can be restricting for taller people
While the tent may be easy to set up, it can be tough to fold up and put away due to the strong frame
Best for: small families and couples who visit the beach frequently and don't want to waste time setting up.
Sport-Brella Premiere Canopy
Type: Umbrella, Beach | Size: 2 person | Seasons: 1 | Weight (lbs): 8 | Floor: 53.75 x 4.25 x 3.75 inches ( sq ft) | Max Inside Height (in): 108 in | Setup Time: 5 mins
The umbrella design is extremely practical. It's easy to set up and carry around, which makes it ideal for a day at the beach.
This 8-foot umbrella provides plenty of room for a couple to sit underneath comfortably. The canopy features UPF 50+ protection, so you don't have to worry about the sun during the hottest time of the day.
And thanks to the side panels and waterproof material, you don't need to worry about rain either.
The windows on the side allow air through, which makes the umbrella rather stable, even in windy conditions. The auger bit with an integrated twist handle further ensures the umbrella stays secured in place.
Pros:
Zippered windows create airflow and prevent the umbrella from blowing away
Features internal pockets for storing necessities
The oversized auger bit with an integrated twist handle keeps the umbrella anchored in sand
Very easy to set up and pack down
Cons:
Somewhat heavy
Not ideal in case of rain
Best for: picnic trips.
OCOOPA Pop Up Beach Tent
Type: Beach | Size: 3-4 person | Seasons: 1 | Weight (lbs): 5.89 | Floor: 96 L x 57 D x 51 H ( sq ft) | Max Inside Height (in): 40 in | Setup Time: 1 min
The convenience popup beach tents offer is simply too good to pass. You just need to take it out of the carry bag, and it's set in just a few seconds.
This particular model is designed to fit up to four people, so it's great for family time at the beach. It offers plenty of headroom, so it's really comfortable to sit inside when the sun is high in the sky.
The fabric is silver coated, which reflects light and keeps the interior cooler. The layer of coating also blocks up to 95% of UV rays, which is ideal for all-day trips in the sun. And thanks to the large doors and mesh windows, the tent provides 360-degree ventilation.
Pros:
Four-sided ventilation keeps the interior cool
The silver coating reflects light and filters up to 98% of UV rays
Both doors and windows are closable, in case of rain
Features sandbags for more stability
Cons:
Slightly difficult to put back into the carry bag
Best for: staying cool during a hot day in the sun.
ZOMAKE Portable Beach Pop Up Tent
Type: Dome, Pop Up, Beach | Size: 4 person | Seasons: 2-season | Weight (lbs): 5 lbs | Floor: 95 x 71 in (46.8 sq ft sq ft) | Max Inside Height (in): 39 in | Setup Time: 2 min
If you dislike pitching tents, then this beach pop up tent is for you. It takes no more than a few seconds to have it ready for use.
This popup tent is large enough for two people to fit in comfortably. Large mesh doors on each side allow you to get in and out of the tent without interfering with your partner.
What's also great is that it's rather light. This means it won't weigh you down much when you're carrying it down to the coastline.
Made of water-resistant fabric, this tent is suitable for use in both sun and light rain. Its dome-like shape also makes it rather stable in the wind.
Pros:
Large mesh doors and windows allow great airflow inside the tent
The tent pitches automatically within a few seconds of being unstrapped
The fabric is UV and water-resistant
Comes with a 90-day return warranty in case of defects
Cons:
Best for: mid-day naps on the beach.
Coleman DayTripper Beach Shade
Type: Beach | Size: 2 person | Seasons: 1 | Weight (lbs): 6.08 | Floor: 90 x 53 ( sq ft) | Max Inside Height (in): 57 in | Setup Time: 5 mins
Here's a beach shelter that doesn't break the bank. It's simple, sure, but rather efficient, you see.
This shelter features an extended front floor, so there's plenty of room for a couple to sit and sunbathe. But when you need to change, you can zip the floor up and use the shelter as a changing room.
The dry line is also a nice touch. You can hang your bath suit to dry before you get back to your tent.
The shelter is three-sided so that you can stay in the shade at all times. And thanks to the back window, there's enough airflow to remain cool.
Pros:
Rather affordable for a beach shelter
Comes with pre-attached guylines and stakes that make it stable in wind
Features mesh pockets for storing stuff
The floor zips up to create a changing room
Cons:
The stakes that come with the shelter aren't great for sand
Best for: a chill time at the coast.
Picking The Perfect Beach Tent
Now that you've seen my top picks for beach tents, let's talk about what to look for when you're scoping out beach tents.
What Are You Using It For?
Certain tents are better at certain things.
If you're looking for a tent to give you some beach shade during the day, it's best to look for a tent with good ventilation and a large open area at the front. You might even decide to skip the tent and choose a pop up canopy instead.
On the other hand, your requirements are different if you're looking to spend a night on the beach. You'll want a sturdy, weather-resistant tent with a zippable or clippable front for privacy and safety.
Types of Beach Tents
When buying a beach tent, you have a couple of options, with the main differences being their ease of setup and level of weather protection.
Beach Shade Tent
Beach shade tents are tents with one side completely open.
Some might have a collapsible wall that you can zip up for some privacy when changing or napping, for instance.
But even so, these tents aren't designed for sleeping – they're shelters from the sun. They can also provide decent protection from rain and wind, given it's not blowing in the direction of the open side.
We've put many of these on the list, but the best of the best is the Kelty Cabana Shelter!
Pop-up Beach Tent
Pop up tents are the best friend of everyone that hates pitching their tent. You don't need to do much. These tents feature a continual pole, so as soon as you unleash them, they instantly twist into their pitched shape.
When you need to pack them up, you simply twist them the same way they were opened. This might sound difficult, but trust me – you'll get it after the first try.
Pop up tents are simply tents with a different pole mechanism. This means they have doors and windows that can be closed with a zipper. And they provide decent shelter against weather elements.
Also See: Pop Up Tent VS Regular Tent: Which is Better?
Umbrella Tent
As the name suggests, umbrella tents are large beach umbrellas with flaps.
But instead of burying the pole in the sand at 90 degrees, you do it at 45 instead. One edge of the umbrella should be resting on the ground.
Umbrella tents are super easy to set up.
They also provide really good protection against the sun. But as far as wind goes, they can easily catch on it like a sail.
For that reason, the only one we've ranked on this list is the Sport-Brella Premiere Canopy.
Canopy Beach Tent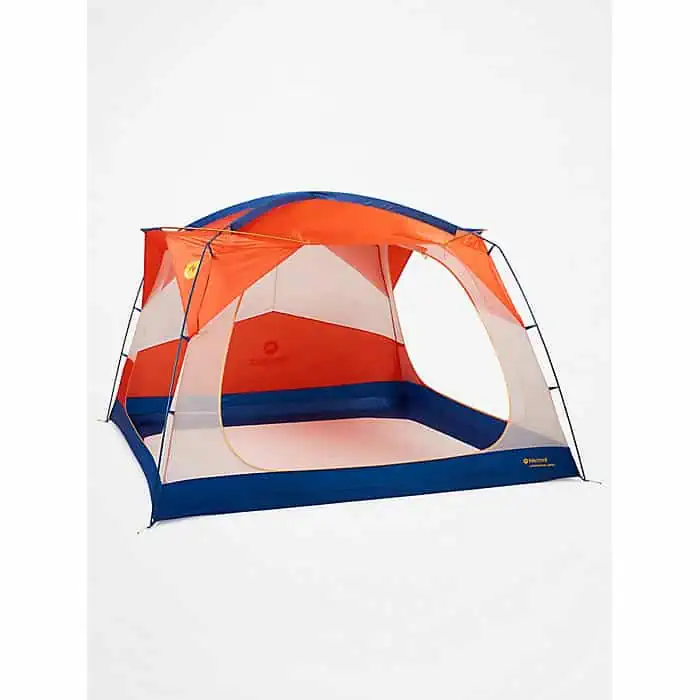 Canopy beach tents are freestanding and easy to pitch.
Canopy tents provide sun and rain protection from above. But their sides are usually open, exposing you to weather elements.
This is an ideal shelter during that time of the day when the sun is at its highest point. You can sit in the shade and enjoy the breeze coming from all directions.
Some of the canopy tents like the ones we've featured like the Marmot Limestone Lanai or the Big Agnes Sugarloaf have either screen that you can put down or full doors.
Size Of The Tent
If you're one person, it's safe to say that any size beach tent would work.
However, if you're like me, you'll need to have room for a few extra people.
Larger tents like some of the ones featured here are going to be safer choices for groups.
Remember to check the dimensions of a tent before purchasing to make sure it's the right size for you.
Ease Of Use
Humans love "easy". If we can make something easy, we'll do it.
The same applies to tents. Pop-up tents are the best when it comes to ease of use, with the string-pull mechanism following closely behind. Both take less than 5 minutes to set up.
If you're not too worried about the setup time of the tent, it's best to look at the other key features such as materials, durability, and sturdiness.
Sand Pockets
Sand pockets are a pretty neat feature.
They serve the same purpose stakes and guylines do – to ensure stability. So what you do is bury them in the sand, allowing them to work as an anchor.
If you plan on camping near the ocean or anywhere where high winds are not uncommon, this is the feature you want in your beach tent.
Weather Protection
Given they're designed to protect you from the sun, beach tents have at least some kind of UV protection.
Generally, you want a beach tent with a UPF factor of at least 50+ or higher.
Since you're camping at the beach, you're probably expecting nice weather. However, sometimes the weather can be quite unpredictable, so you want your beach tent to have good weather protection.
Beach tents can offer decent protection against rain and wind. Look for those with a waterproof coating on seams and materials.
As for dealing with wind, you want a dome-like shape with lots of guyline attachment points.
FAQs
What's The Best Kind Of Beach Tent?
The best kind of beach tent for you comes down to personal preference, but we love the Kelty Cabana Shelter. It can act as both a beach shade tent, and a zip-up to protect fully from the elements.
How do you set up a beach tent?
That depends on the type of beach tent you're using. If it's a tent with a floor, start by spreading it out on the sand and staking corners first. If it's an umbrella tent, then screw it into the ground before making flaps taut.
How do I keep my tent from blowing away at the beach?
Use guylines and pegs as you would with a regular tent.
But if you are facing strong and gusty winds, you might need to use stones as additional anchors.
Is a beach tent or umbrella better?
That depends on the weather elements you might encounter on your trip. An umbrella tent isn't a great option for windy weather, so you will want to choose a beach tent if you're camping near the ocean.
Where should you not put a tent on the beach?
If the beach allows pitching tents, then the only thing you need to make sure of is that you're not too close to the shoreline and other beachgoers.
However, if you plan on camping for the night as well, you can only place a tent on the beach that's also a campground. Make sure to check the beach's rules and research your campground ahead of time.
How do you pitch a tent on a windy beach?
You should orient the tent body so the lowest part is facing the wind. However, if the door is located at the lowest side, you shouldn't do this, but turn the tent the other way around. When staking the tent, start with the windward side.
Our Verdict
After reviewing many great beach tents, we've rated the Kelty Cabana Shelter as our top pick.
This tent allows for a large amount of space with the added option of complete privacy.
Ventilation is crucial in the summer, and Kelty gives you plenty of air. The UV protection and water-resistant coated material make this a great option year-round.
So, whether you're going at it lone ranger style or taking the kids on a beach camping trip, the Kelty Cabana Shelter has everything you need in a spectacular beach tent for a great day at the beach.
Additional Tents to Consider for Beach Camping: