When it comes to gift giving, nothing is more challenging than figuring out what to get for the outdoor enthusiast who already has it all!
Well, we are here to help you brainstorm more camping gifts than you can possibly ever think of.
From hibachi grills to power chargers, we'll make sure that you come away with a unique gift for your camper that will be used for years to come.
Best Camping Gifts for 2023
Rumpl Original Puffy Recycled Blanket – Sunset Fade
Packable, portable and cozy. Rumpl blankets are made from 100% recycled materials.
But best of all this blanket keeps you warm and cozy, no matter what the temperature is.
This blanket also features corner loops to help you stake it down on windy days.
Blackstone Tabletop Portable Grill 22″
Level up your camping meals with the Blackstone Tabletop Portable Grill. Not only is it easy to light, but it can cook everything from pancakes to hamburgers, pizza to scrambled eggs, and breakfast burritos to steak.
After struggling with traditional camping stoves for years, we switched to the Blackstone Griddle and haven't looked back.
Cleaning is a breeze too, you simply pour a little water on the grill and scrub off any debris.
IceMule Pro Cooler – 23 Liters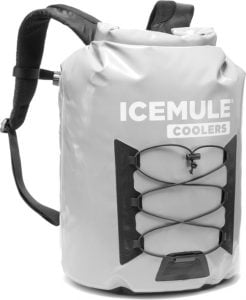 An extremely durable backpack-style cooler, this IceMule Pro Cooler keeps everything cool for backcountry adventures.
It holds 18 cans, plus ice, and its waterproof construction has welded seams and absolutely no zippers.
Not only that, but the IM Air Valve allows for easy compression and rolling the cooler up to store. Check out our full IceMule Pro Cooler review, here!
Check Price Direct from ICEMULE
GCI Outdoor Kickback Rocker™
When I first saw these camping chairs, I wondered what the additional pieces of metal were for on the back of this heavy duty chair? Then I saw campers rocking back in forth with them and I had my "ah-hah" moment.
Not only does the GCI Outdoor Kickback Rocker hold up to 250 lbs, but it rocks with their Spring-Action Rocking Technology™. A camping rocking chair –> amazing! GCI Outdoor's also has plenty of other models to choose from too like the Roadtrip Rocker.
Anker PowerCore 26800 Portable Charger
As much as we all want to get away from it all when camping, we need our phones more than ever. The best way to keep your devices charged and ready is with a portable charger.
With 3 USB ports for high speed charging, and 2,68000 mAh of power can charge most phones over 6 times, and tablets at least 2 times without running out of juice.
The 2 Micro USB input ports for fast charging, this portable charger can help get you fully re-charged in just 6 hours.
This is a must have, not only for camping, but for daily life!
MSR PocketRocket Deluxe Stove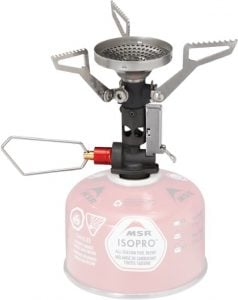 Small, but mighty, the MSR PocketRocket Deluxe Stove is all you really need for any camping trip.
It's light at only 2.9 oz and compact (fits inside a cup), runs on Isobutane for ultimate fuel efficiency, and can boil a pot of water in just over 3 minutes.
Wise Owl Outfitters Camping Hammock
There is nothing better, and I mean nothing better, than relaxing in your hammock after setting up camp.
The great part is that this hammock is quick to set up and takedown, but as enjoyable as can be.
Portable and light on your load, this is a must have for camping in our opinion!
YETI Roadie 24 Cooler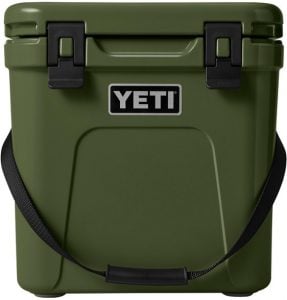 We love the YETI Roadie 24 cooler and use it exclusively for drinks. This version is 10% lighter than the original, but has 20% more capacity.
It's sized just right to fit most wine bottles upright, or stack your beer and soda evenly.
But the best part is that it's the right height to use as a stool as well. YETI's are expensive, but are the best coolers for camping. You won't regret paying a premium for this cooler.
Solo Stove Titan

Winner of the "Gear of the Year" award, this magnificent little wood burning stove is recommended by all kinds of experienced outdoorsmen, from Backpacker magazine to Matt Graham from the Discovery channel.
Made with Stainless Steel, it can boil water in 4-6 minutes!
Garmin inReach Mini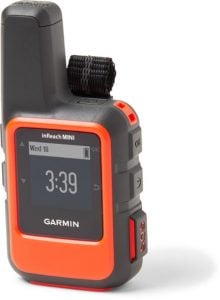 The Garmin inReach is a small, palm-sized satellite communicator to provide your camper and backpacker with off-the-grid contact in all situations.
At only 3.5oz, this is the perfect emergency communication device equipped for 2-way messaging, tracking, and SOS capabilities.
A must have for any backpacker and serious outdoorsman/women.
Ultimate Ears Wonderboom Portable Waterproof Bluetooth Speaker
Sometimes you want to get away to nature to relax and get away from the regular rhythm and sounds of life.
Other times, you want to have some fun with your camping group. The Wonderboom was built for this fun. Waterproof and portable, the Wonderboom is the best bluetooth speaker you can get outside of a Bose or Sonos.
You'll be wowed, and impressed with the 10-hour battery life. You can also pair two together for even greater surround sounds.
Celestron – NexStar 4SE Telescope
What better gift for camping than a portable travel telescope. The Nextstar 4SE is small, but the details of the planets, galaxies, star clusters, and nebula will astound.
We love the Celestron NextStar for it's ease of use and fully automated SkyAlign technology. Simply align and let the telescope track and point direction to millions of astronomical objects.
Check Price at High Point Scientific
GSI Outdoors nForm Crossover Kitchen Kit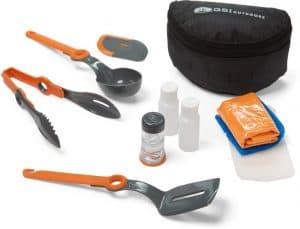 Weighting only 9.6 ounces, this GSI Outdoors Kitchen Kit is perfect for camping and grilling outdoors.
No need to schlep all of your houses kitchen accessories with you anymore.
Small Folding Camping Stool Lightweight Chairs Portable Seat for Adults
Don't leave home without one of these bad boys. After a fun day of hiking, boating, hunting, or whatever you are partaking in, you want to sit down and let your feet get some rest. This is exactly where a camping stool comes in.
It also doubles as a solid campsite chair for kids and adults alike.
My Medic – MYFAK First Aid Kit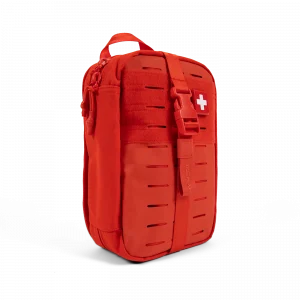 The My Medic MYFAK First Aid Kit comes with everything you'll need for a camping trip.
This makes the perfect gift, because we all know that sometimes first aid kits can be neglected, but are critical to have everything you'll need in an emergency.
GCI Outdoor Compact Camp Table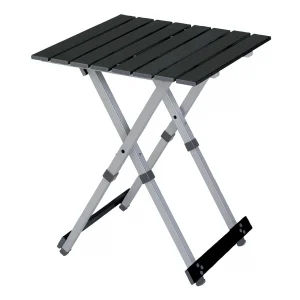 GCI Outdoor's unique one piece, lightweight design makes this the perfect side table or table for two. Though it is small and compact, this camp table can holds up to 60 lbs.
Osprey Daylite Pack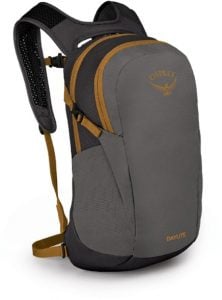 All campers and hikers need a lightweight daypack. The Osprey Daylite Pack is perfect for packing an extra layer, and plenty of water.
It can store either a 13" laptop, tablet, or a hydration reservoir, along with two dual water bottle pockets on either side.
When thinking of a daypack, I want something that isn't too bulky, but can hold all my hiking essentials. This is it!
Jetboil Flash Camping and Backpacking Stove Cooking System
The perfect gift for any camper or backpacker, the Jetboil functions as a stove, coffee pot, and cup all in-one.
Boiling water in under 100 seconds is Jetboil's specialty (for 2 cups of water), allowing you to save on fuel. Powered by Isobutane-propane, the smaller fuel containers fit into the Jetboil for easy carrying and storage.
A must-have for any camper!
Check Price at Dick's Sporting Goods
BougeRV 30 Quart Portable Freezer And Refrigerator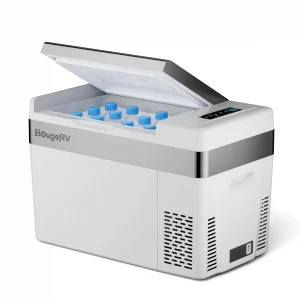 A cooler that never needs ice? Yes, please! We love the BougeRV 30 Quart Portable Refrigerator.
As long as you have a power source, from your car, to a portable power station or an electrical outlet, you'll be good to go for days.
Stanley Even Heat Camp Pro Cookset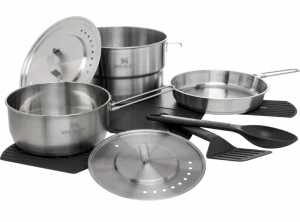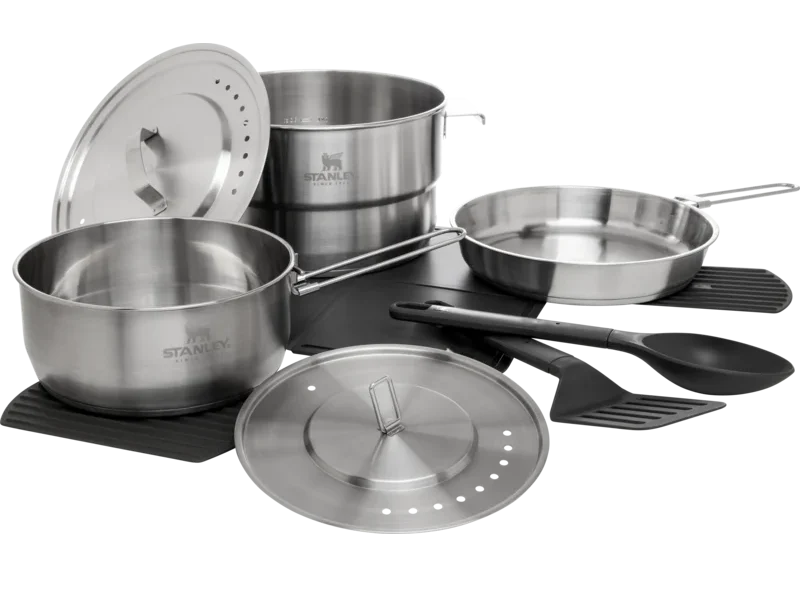 If you want the best campfire cooking kit, look no further!
Included a full 11 piece cooking kit, you'll get a full-size pot, pan and sauce pan.
It also collapses up very nicely, with everything going into the stock pot and getting locked in with a locking bungee.
Also See: Our full review of the Stanley Even Heat Camp Pro Cookset.
Goal Zero Venture 35 Solar Kit With Nomad 10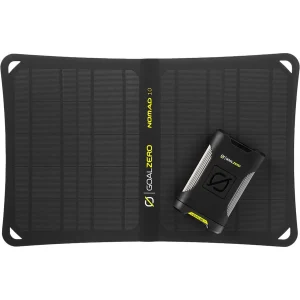 Looking to wow your significant other? Then get the G0al Zero Venture 35 Solar Kit.
This weatherproof design is rugged and perfect for backpacking and camping trips alike. With 7800 mAh you'll be recharging everything from your phone, tablets, and speakers.
Chainable design boosts capacity with other Goal Zero panels
Sea to Summit Aeros Down Pillow
This pillow by Sea to Summit might just be the best camping pillow ever, and we've ranked it as such!
It's extremely lightweight at 2.5 oz, and packs down compactly into a bag that's no bigger than your palm.
NEMO Moonlite Reclining Chair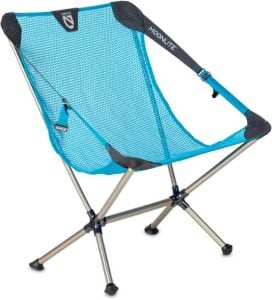 We love the NEMO Moonlight Reclining Chair for it's multiple reclining positions. This allows you to lean forward or kick back.
Made to hold 300 lbs, this chair is made with premium forged aluminum framing.
REI Co-op Camp Roll Table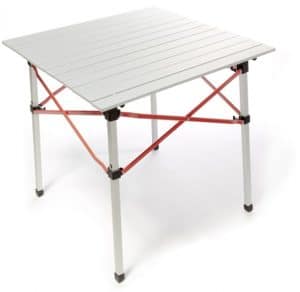 No matter where and when you go camping, you need a table.
We love the REI Co-op Camp Roll Table, because it packs up small and light with its aluminum construction, but can hold over 100 lbs.
Black Diamond Distance Z Trekking Poles – Pair
These upgraded trekking poles are 30% stiffer than their predecessors and fold up nicely to store in a pack.
So wether you are up for a real challenge, or just want some additional balance support, we love these poles!
Gosky 10×42 Roof Prism HD Binoculars
Never leave for any camping trip without a pair of good binoculars. The Gosky 10×42 are the perfect mix of size and visual zoom.
Crystal clear views for stargazing, bird watching, and hunting alike.
Teva ReEmber Slip-Ons
These Teva slip-ons are perfect for wearing around the campsite. They are made from a water-resistant (100% recycled) ripstop material features plenty of insolation.
It's like putting a puffy jacket on your feet. You can wear these as slippers or flip up the heel support for more security.
Kelty Mistral Sleeping Bag: 20F Synthetic
Looking for THE top rated budget sleeping bag? Look no further.
This Kelty Mistral sleeping bag is packed with sweet perks at an even sweeter price.
EcoFlow DELTA 2 Power Station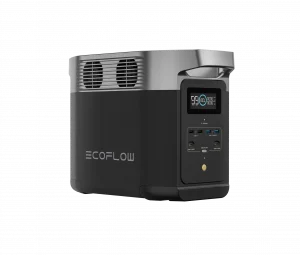 Last, but not least for our bigger camping gifts, is the EcoFlow DELTA 2 Power Station. This power station comes with an amazing 5-year warranty and charges up in an amazing 50 minutes to 80% capacity.
The new LFP battery chemistry is a big difference maker here, and we were able to eek out two straight days of power using our EcoFlow.
It's not cheap, but it is worth it. Highly recommend for any camping trip, especially if you want to power gear like a portable fridge!
Also See: Our Full Review of the EcoFlow DELTA 2 Power Station
Want more camping gift ideas?
Camping Stocking Stuffers (Camping Gifts Under $50)
YETI Rambler Colster Beer/Soda Can Insulator Coozie
YETI ramblers are yet another huge win. Coming in either 16 oz or 12 oz, these gifts will keep your beverages cold for hours.
They are dishwasher safe and made of 18/8 stainless steel, so durability won't be a problem either.
Big Agnes mtnGLO Tent Camp Lights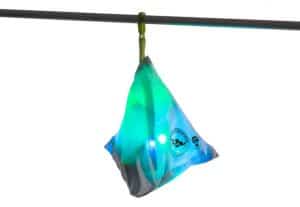 Big Agnes mtnGLO Tent Camp Lights use a patent-pending technology to illuminate your tent interior with plenty of ambient light.
3 AAA batteries power this unit, that can also be powered by any USB source. We love mtnGLO, as its easy on the eyes and perfect for any tent lighting.
National Parks Playing Cards
No one should go camping without a nice set of playing cards and other rainy day activities in mind.
These The Landmark Project National Park Playing Cards are perfect for integrating the outdoors and the indoors. Plus card games are fun!
Check Price at The Landmark Project
TOURIT Ice Packs for Coolers Reusable Long Lasting Freezer
Perfect for day trips and packing your cooler, TOURIT Ice Packs come in a set of 8, that can be squeezed into the small corners of your cooler that previously went unused.
They are 8 ¾" tall, and 1 ½ " wide, making them a great stocking stuffer, and useful gift all in one.
Sawyer Products MINI Water Filtration System
Better safe than sorry, the Sawyer Water Filtration system stands head above the rest.
Pack this anytime you go camping or hiking as a good safety measure to ensure that even in an emergency situation, you'll have a high-performance 0.1 Micron inline filter to remove 99.99999% of all bacteria – that fits in the palm of your hand and weighs just 2 ounces.
Goal Zero Crush Light Chroma Lantern
We love this Goal Zero crush lantern. With 8 color modes and a multicolor fade, you can re-charge this either with solid (built-in) or via USB.
No need to look any further for the perfect stocking stuffer!
The New Camp Cookbook
Camping cooking is much more complicated and challenging than you'd think.
That is why a great cookbook can go a long way. We also have great campfire recipes for you to consider for your trip as well.
National Parks Bucket List Scratch Off Print
Help your loved one keep track of the National Parks they've visited with this amazing print from @KristinDouglasART on Etsy.
We've personally purchased from her before, so we know the quality is great. So do the other 93K people that have purchased from her!
REI Co-op Nalgene Water Bottles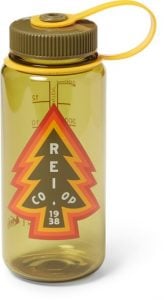 All REI Co-op Nalgene bottles use next-generation recycled resin that transforms plastic destined for landfills into high-performance, BPA-, BPS- and phthalate-free bottles.
With numerous color options, graphics, and wide or narrow mouth options, you can find the perfect water bottle for your camper's needs.
Folding Shovel High Carbon Steel
A must-have for any camping trip, this military-style shovel is a surprisingly useful tool. You can obviously use it to dig, but it also doubles as a hammer, and a saw to cut wood.
We've even used our foldable shovel to dig our tires out of the snow and save us from a variety of unexpected things.
So make sure that you and your loved ones have a great camping shovel, and better yet, keep one in your car year-round. You won't regret it.
The Landmark Project Ponderosa Hat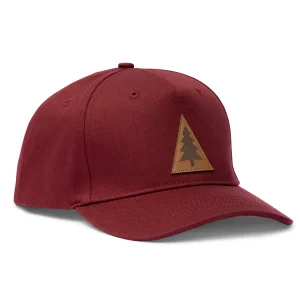 I'm always on the lookout for a great hat, and I love this one from The Landmark Project.
Featuring a Ponderosa Pine on a leather patch, this is the perfect gift to pull out of your hat (see what I did there).
Check Price at The Landmark Project
The North Face Etip Recycled Gloves
If your loved one loves hiking in cold weather, then you'll want to get them a nice pair of hiking gloves.
The North Face Etip Recycled Gloves comes in mens and womens sizes, and thanks to the Etip™ technology, you can use all five fingers on your touch screen to text or take nature shots.
PackTowl Personal Towel
PackTowl has a special antimicrobial treatment that will help reduce unpleasant odors – and let's face it, when you are out camping it is pretty easy to pick up some unpleasant odors.
A polyester/nylon microfiber blend makes this towel our choice for the softness on the face, hands and body.
EVEREADY 360 LED Camping Lantern
Water resistant, with up to 100 hours of runtime, the EVERREADY 360 LED Camping Lantern is small but packs a punch.
Lasting 15x longer than old-school lanterns, and is a can't beat at its current price.
Stanley Camp Pour Over Coffee Set
Let's face it. Camping without coffee is like camping without beer. Not going to happen.
But oftentimes we struggle to produce the best camping coffee.
Well, not anymore. The Stanley Camp Pour over coffee set makes getting your
Encounters with the Archdruid
The best outdoor book we've ever read!
"The importance of this lively book in the unmanageably proliferating literature on ecology is in its confrontation between remarkable men who hold great differences of opinion with integrity on all sides. Mr. McPhee, not pushing, just presenting, portrays them all in the round, showing them clashing in concrete situations where factors are complex and decisions hard. Readers must choose sides." ―The Wall Street Journal
REVEL GEAR Trail Hound 30 ft. Camping Light
Great mood lighting to add to any campsite. These fairy lights are the perfect stocking stuffer for any camper.
Using less than 1-5W, it is extremely energy efficient and wont use much battery at all!
MalloMe Camping Cookware Mess Kit Gear
A 10-piece bundle mess kit that includes everything from a nonstick pot and pan to 2 bowls, a spork, spoon, and wooden spatula.
Everything you need for cooking on the go!
Petzl Tikka Headlamp
Flashlights are a must, but you can never seem to find them when you need them.
That is where Head Lamps really shine – see what I did there?
The Bucket List: Wild: 1,000 Adventures Big and Small: Animals, Birds, Fish, Nature
Inspire your campers next big adventure!
This book is the most complete list of the world's best places to see wildlife on and off the beaten path.
Pair with The Bucket List: Places to Find Peace and Quiet
REI Co-op Lightweight Logo Beanie
Every camper loves REI, and what better than to get this cozy beanie that comes in six different colors!
Letterfolk Campground Passport Journal
We love Letterfolk's Campground and other passport journals to track our hikes, camping experiences, and more.
Letterfolk has everything from Fishing Trip Journals to National Parks and Hiking. Pick up a few!
YETI Rambler 14 oz Coffee Mug
I love my YETI ramblers and use them every day.
Camping should be no different!
Sea to Summit Alpha Light Spork – Long
For anyone who loves ultralight backpacking, these hard anodized aluminum alloy sporks are perfect for hiking, backpacking or just regular old car camping.
They are lightweight at only 0.4 ounces and with a spook and fork in one, you'll be eating in style and harness memories of your elementary school days!
ThreadBound Outdoor Trucker Hat Snapback – Tent Camping Design
You can't go camping without a great hat, and we love this one.
Bondic UV Liquid Plastic Welder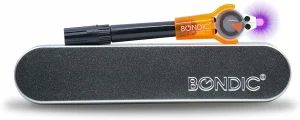 The Bondic UV Liquid Plastic Welder is the perfect stocking stuffer for a camper.
You can use Bondic to easily repair broken tent poles, tent fabric, rainflys, or guy lines.
For more stocking stuffers, check out:
Personalized Camping Gifts
Personalized Camp Mug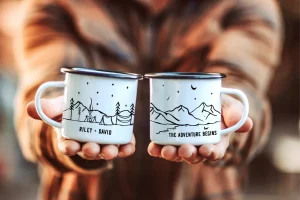 Personalize your very own camping mugs on Etsy to make a great gift.
With several options from this seller, and over 17K sales, you can trust that you'll have a beautiful mug for your loved ones' next trip.
Making Memories Camping Sign
If you want to get a gift for someone who loves camping in an RV or camper, well look no further.
This personalizable camper sign is perfect for RV or travel trailer doors and will add a great touch to any camper!
YETI Customizable Water Bottles

Get a customized water bottle with a wide range of water bottles, mugs, fonts and designs to choose from.
Personalized S'mores Roasting Set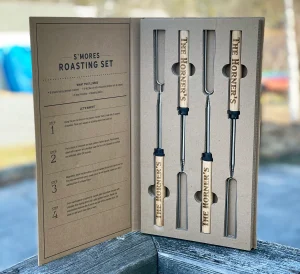 Now this one, I admit, is really cool. Personalizing your S'mores roasting set? I would have never guess this existed.
But it does, and it makes a great gift for all types of campers!
National Park NPS Welcome Replica Sign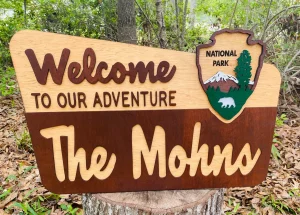 Another amazing sign is this NPS Replica Sign, that can be personalized for your loved one.
Honestly, this is probably my favorite of all of the personalizeables on this list!
For more personalized camping gifts, check out:
Camping Gifts for Women
Happy Camper Graphic T-Shirt
Nothing says I love camping more than this happy camper t-shirt. A great graphic and comes in many colors and sizes!
Mountain Heartbeat Graphic T-Shirts Women
With so many variations and selections, we love the Mountain Heartbeat Graphic Womens T-shirt.
Click the link below to browse styles and graphics!
Explore More – Mountain Adventure T-Shirt
We love this "Explore More" Womens Adventure T-Shirt. It comes in 3 colors and also as a tank top!
Patagonia Classic Synchilla® Fleece Vest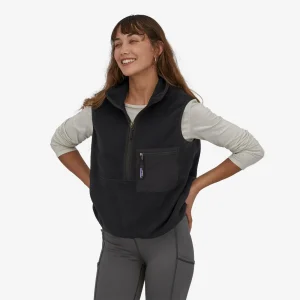 We love the Patagonia Classic Synchilla Fleece Vest.
Made from 100% recycled polyester fleece, this is the perfect gift to keep warm and cozy on hikes, fishing trips, and those chilly camping mornings.
Cotopaxi Fuego Hooded Down Jacket – Women's
Coming in 12 colors and 7 sizes, this Cotopaxi Fuego Hooded Down Jacket is perfect for staying warm on any camping trip!
Patagonia Hiking Joggers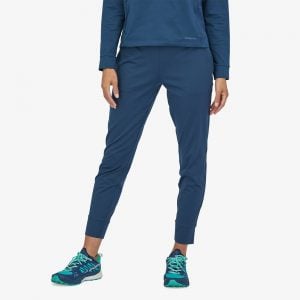 The perfect pair of joggers for a casual hike, daily run, and relaxing around the campsite.
These will be the new go-to joggers for anyone that you gift them to.
Forsake Patch – Women's Waterproof Premium Leather Hiking Boot
The Forsake Patch Women's Waterproof Premium Leather Hiking Boots will not only perform for those difficult hikes, but they will look great too. My wife personally loves these and there isn't another pair we'd recommend.
Smartwool Performance Hike Light Cushion Crew Socks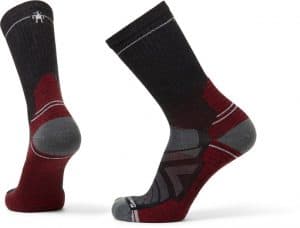 You can't go camping or hiking without a great pair of socks. For this we recommend Smartwool Performance hiking socks, for both men and women.
A sock that is built right will give your hiker the supper they need to provide additional arch support and enhanced comfort.
Camping Gifts for Men
Still Plays Outside
We all love the outdoors and fun camping and hiking theme t-shirts abound these days. We love the Still Plays Outside shirt, because we are all kids at heart.
The Landmark Project National Parks Map T-Shirt
Featuring a detailed map with all 62 national parks in the US, The Landmark Project National Parks Map T-shirt is perfect for any nature lover.
Using a 60/40 cotton to polyester blend this is the type of shirt that is soft and will be worn for decades!
The Landmark Project Smokey Logo T-Shirt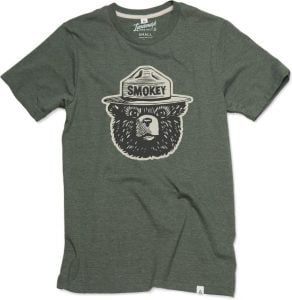 Another classic, this Smokey Bear shirt from The Landmark Project is sure to be worn in and around the campground for years to come!
Buy Direct from The Landmark Project
Just One More Bend – Funny Hiking Lover Outdoor Pullover Hoodie
We recommend the dark heather, 50% cotton and 50% polyester blend for the perfect camping pullover hoddie!
Cotopaxi Fleece Hoodie
Coming in many different colors, this Cotopaxi Fleece Hoodie is perfect for any camping trip.
Not only does it keep you warm, but it looks badass too!
More Colors/Options at Cotopaxi
Patagonia Classic Synchilla® Fleece Vest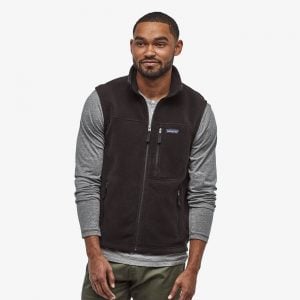 We love the Patagonia Classic Synchilla Fleece Vest.
Made from 100% recycled polyester fleece, this is the perfect gift to keep warm and cozy on hikes, fishing trips, and those chilly camping mornings.
Patagonia Hiking Joggers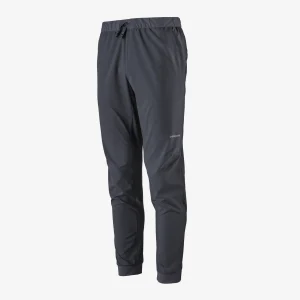 The perfect pair of joggers for a casual hike, daily run, and relaxing around the campsite.
These will be the new go-to joggers for anyone that you gift them to.
Columbia Men's Newton Ridge Plus Ii Suede Waterproof Hiking Shoe
Looking to upgrade hiking boots for your camper? Columbia's Newton Ridge Waterproof Hiking Show is the perfect mix of style, comfort, and durability.
Check Price On Amazon
Check Price at Dick's Sporting Goods
Smartwool Performance Hike Light Cushion Crew Socks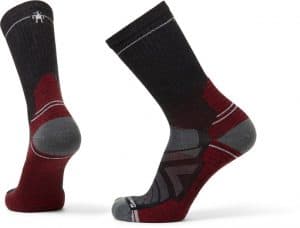 You can't go camping or hiking without a great pair of socks. For this we recommend Smartwool Performance hiking socks, for both men and women.
A sock that is built right will give your hiker the supper they need to provide additional arch support and enhanced comfort.
Interested in more camping apparel for men? Check out:
Camping Gifts for Kids
Kids love camping too. But boy, do they need entertainment! Here are some fun camping gifts for kids to keep them entertained for hours at a time:
Trailblaze Ninja Warrior Obstacle Course for Kids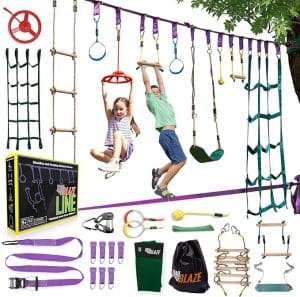 My kids saw this set at another campsite recently and I knew that we had to get one for them the next time we go camping.
Simply tie between two trees like you would a hammock and you now have an entire playset!
Check Price On Amazon
Shakespeare Kids Fishing Pole
Our kids love these. Each fishing pole comes with a minnow for hours of enjoyment.
I bring these camping, hiking, to the beach – pretty much anywhere we go with water.
Check Price On Amazon
REI Co-op Kids Camp Chair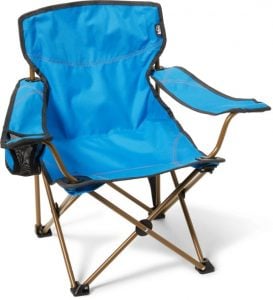 Trust me – your kids will fight over these, so make sure to get one for each of them.
REI's Kids Camp Chairs are kid-friendly and comfortable so that the little ones can get enjoyment from the campfire, and sit still in the process.
Outside Inside Backyard Explorer's Essentials Kit
Kids want their own equipment too, and instead of having them kick, drop, and possibly ruin your adult survival gear, we recommend this instead.
The kit includes binoculars, compass, flashlight and whistle, and of course a protective carrying pouch.
REI Co-op Kindercone 25 Kids Sleeping Bag

Nothing is more important than keeping our little ones safe and warm at night.
This is why we want our kids to have the warmest sleeping bag available to them.
The warmer they are, they better they will sleep. The better your kids sleep camping, the better you sleep. Trust me.
Fisher-Price S'more Fun Campfire
Kids love playing pretend camping. And what better way to let their imaginations run wild, than to give them the gift of s'mores.
Also useful to help teach campfire etiquette before heading out into the woods.
High Stream Gear Kids Trekking Poles
Always needing entertainment on the trails, trekking poles will give your kid not only a fun thing to play with, but something useful to help them move along at a quicker pace.
We can't promise they wont give up on them half way though, but otherwise these are the perfect poles for kids.
Paddle the Parks Youth Short Sleeve Tee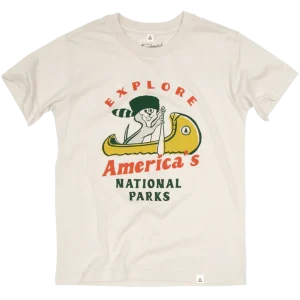 Kids love exploring our National Parks, and this shirt is perfect for any kid. Comes in Small, Medium, Large and X-Large.
Check Price at The Landmark Project
Pete the Cat Goes Camping – I Can Read Level 1 Book
My kids love Pete the Cat and his many adventures, but most of all he's just groovy! Beginning readers will love this book, as will toddlers.
Just Me and My Dad – Book
Just Me and My Dad is a classic. I loved this book growing up, and now my kids love it too!
Merrell Moab Speed Mid Waterproof Kids Hiking Boots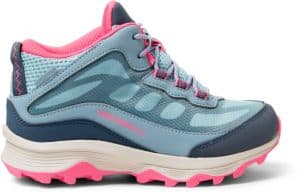 Kids will love these hiking boots that are both lightweight and waterproof.
Nothing is worse than heading out on a 2 mile kids hike, to find that your little one is slipping and sliding all over the rocks.
We won't have it, so get them a pair of these!
Interested in more camping gifts for kids? Check out:
Gifts for Camping with Dogs
We love camping with our dog, but before anyone camps with their dog, they need to make sure to have all the proper dog camping equipment!
That is where you, the gift giver come in!
Ruffwear Highlands Dog Sleeping Bag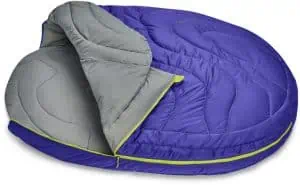 When it comes to outdoor pet gear, seeing a product by Ruffwear at the top of the dog list is no surprise. After all, the brand is focused on designing high-quality gear for our four-legged outdoor adventurers.
The Highlands sleeping bag does a great job of keeping your dog warm and comfortable.
This sleeping bag comes in two sizes: medium and large. The former is designed for small to medium dogs, while the latter is suitable for even the largest of pups.
Cheerhunting Outdoor Dog Bed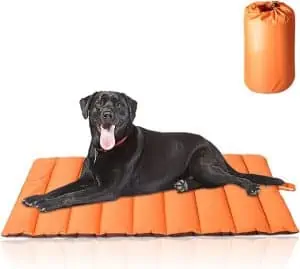 What better gift for your dog than a nice camping dog bed!
The Cheerhunting Outdoor Dog bed is made with large breeds in mind.
This dog bed is filled with recycled polyfill, which is a soft and breathable material that will keep your dog warm at night, and the cover is made of Oxford cloth, which is water, scratch and tear-resistant.
K9 – Sport Sack Plus 2
The K9 Sport Sack is a veterinarian-approved way to carry your dog on long hikes.
While most backpack carriers cater to small dogs, K9 does a great job of including larger dogs, too. This bag is available in all kinds of sizes.
Ruffwear Hitch Hiker Leash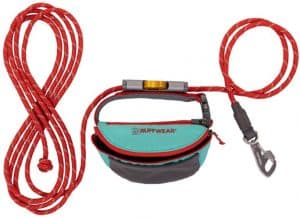 This hands-free waist belt-style leash is a great pairing with a backpack for a day on the trail with your pup.
This leash has up to 12 feet of rope to allow your dog plenty of roaming ability while on leash. A great feature is that you can easily clip the waist clips around a tree during your snack break. For hikes where dogs are mandated to stay on a leash, this is great!!
Nite Ize SpotLit Rechargeable Collar Light – Disc-O Tech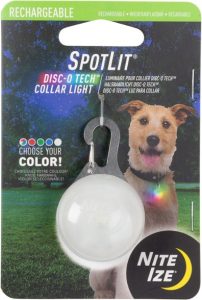 With 4 colors and a disco mode this is a great addition to your dog's collar for a dusk hike.
West Paw Glow in the Dark Frisbee
We love this glow in the dark dog frisbee from West Paw.
It's perfect for any camping trip with your pooch and helps keep your dog entertained into the wee hours of the night.
Ruffwear Trail Runner System
For a quick strategic after-work hike with your dog, this is all you need.
A hip pack with a water bottle and 2 storage compartments, it's just enough for some essential items.
Ruffwear Front Range Dog Harness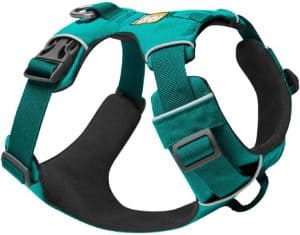 Help your dog have the most fun it can on the trail.
This padded dog harness is easy to put on with two leash attachment points
Bonza Large Collapsible Dog Bowl
This collapsible bowl is great for hiking; it is lightweight, clips to your pack, and is dishwasher safe for easy cleaning.
Other Camping Gift Ideas
57 Hours Guided Adventure Trips
From Costa Rica to Iceland, 57 Hours offers guided adventure tours and backpacking trips.
In my opinion, it's the perfect gift for a camping enthusiast.
Escape Campervans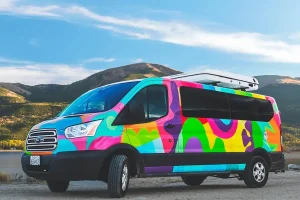 Escape campervans are a great way to enjoy the outdoors without needing to set up a tent every night.
Available for pickup and dropoff in 11 major cities, you can tour around the US and Canada without having to invest in buying your own campervan.
They offer 5 fully equipped models – all each unique and perfect in their own way for exploring everything our great country has to offer.
Check Price on Escape Campervans
National Park Pass (or related state parks pass)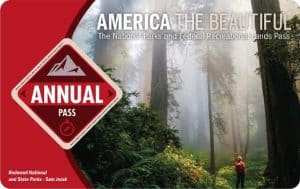 What better gift, than the gift of a National Park Pass for the season, or a related state park or national forest pass?
REI has many and you can find them all here.
Gift Cards
If you don't know exactly what to get for your camping enthusiasts, then perhaps a gift card is the best bet?
This will allow your camper to choose the gift best for them, or the added push they may need to upgrade a specific item.
Some gift card ideas would be for REI, Backcountry, Amazon, Patagonia.
Book Campsites in Advance
These days, campsites book up sometimes a year in advance.
Depending upon the location, you may want to book a campsite in advance.
This makes for a great gift, and a lifetime of memories.
For campsite ideas, check out Recreation.gov, Campendium, Hipcamp, GoRVing, or directly through your local state park.
Camping or Hiking App Subscriptions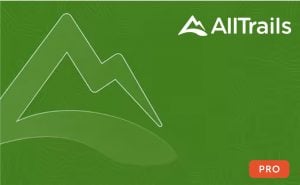 Another good option would be an annual subscription to Campendium Roadpass Pro, Roadtrippers Plus, The Dyrt PRO, or AllTrails Pro.
All premium subscriptions allow for additional functionality beyond the free version of each app.
Also See our recommendations for best hiking apps
Outside Magazine Subscription
Subscribe your camper for a full-year of Outside Magazine.
And if not Outside, any other outdoor/travel & leisure magazines would work too!
RV Decor
Does your camper have an RV or a travel trailer? Help decorate it with cute items like these.
More Wilderness Times Camping Gift Recommendations Reviews
What to think about when picking out camping gifts?
With any gift giving, there are plenty of considerations that need to be made when picking out camping gifts.
Budget
Are you looking for a high-end premium item, perhaps to upgrade something like a tent, sleeping bag, or stove?
Or perhaps you are simply looking for some inexpensive stocking stuffer type gifts.
Once you nail down your budget, you can really hone in on the type of camping gift to get.
First-timer vs. Experienced
Are you shopping for a first-time camper and helping them to get equipped with the essentials or a seasoned camper or backpacker?
If shopping for a seasoned camper, then more research is likely needed to figure out what that camper might be missing or in need of upgrading.
If it is a first-timer that is a bit easier, because you can basically pick any item that you think they might enjoy.
RV or Tent Camper?
The types of gifts may also differ from someone who RVs versus a tent camper. Tent campers will need smaller and lighter weight items, because packing becomes a large issue.
Whereas RV campers, while still needing to maintain a specific tow-weight, have more flexibility. RV decor could be something that you can think about versus tent camping in which you may want to think about smaller, more useful items.
How to pick out the perfect camping gift
Ultimately, picking out the perfect camping gift is knowing who you are purchasing for and doing your best to put yourselves in their shoes.
But with a little research and hopefully some help from this article, you'll find the perfect camping gifts for your camping enthusiast.
Also be sure to check out our extensive list of 100+ hiking gifts, as we cover even more in-depth gift ideas for hikers.
Happy Camping!