If you're crunched for time, my top pick is the Coleman Red Canyon 8-Person Tent.
Looking for a large tent? When camping, you don't want to feel like you're sitting on the 5 PM subway. You know, packed shoulder to shoulder, inches from the other passengers.
You want some elbow room!
That's why today I'll review my top 9 best large tents. The tents I'll review today are all 6-person, 8-person, or above.
Read on if you're hitting the trail with your family, or retreating to the mountains with your friends. These tents are sure to make your camping trip one for the books.
Best Large Tents: Top 9 Available Today
REI Kingdom 6
REI is widely known as a great outdoor brand – and looking at this tent, it's easy to see why.
What surprised me the most is that even though the tent is pretty big, the setup is relatively simple and easy. Multiple people have said that it took them less than 15 minutes to fully set it up, despite it being a fairly spacious tent:
Speaking of size – the Kingdom 6 features a peak height of 75 inches and vertical walls. That means that movement inside the tent is easy as pie (and it gives you a lot more space than a dome tent to boot).
Now, I do have to mention that if you're camping in windy areas, this tent is not ideal. You want to choose a dome tent that is specially designed to withstand high winds.
Pros:
Comes with a divider that can create two rooms for extra privacy
2 doors allow for easy movement in and out of the tent
6'2'' peak height and vertical walls mean you get a lot of extra space
For such a big tent it's relatively easy to set up, even for one person
Aluminum poles are both durable and flexible enough to stay erect even during windy conditions
Cons:
Pricey – it's not for budget-conscious campers
Best for: people looking for the overall best 6 person camping tent on the market today.
CORE 10-Person Cabin Tent
If being able to move around freely in your tent is important to you, you'll want to know about the CORE 10 person instant cabin tent.
This tent gives you an incredible 7'2'' of ceiling height. This means that even professional basketball players can walk around comfortably inside this tent. That's not all, though. This tent also boasts a whopping 140 square feet of floor space.
For those who value privacy, Core provides a room divider. Combine that with the two doors on both sides, and getting around in the tent is a piece of cake.
Sealed seams and water-resistant fabrics will ensure that not a single drop of water ends up in your tent, even during heavy rains.
Pros:
At 140 sq ft. it is incredibly spacious
7'2'' center height and straight sidewalls make it easy to walk around in the tent
Comes with a room divider for extra privacy
Adjustable ground vents and mesh ceiling provide great ventilation
Strong wind resistance – up to 30 mph
This is an instant cabin tent, which means you can set it up in less than 2 minutes
Cons:
The floor is not that durable, so it's wise to put a tarp beneath your tent
Best for: people who want a huge instant tent that can be up in less than 2 minutes.
REI Kingdom 8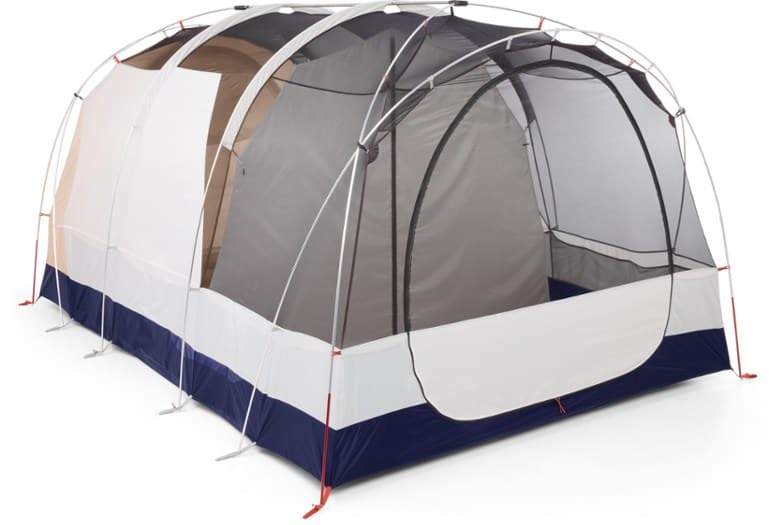 The REI Kingdom 8 will take your family camping trips to the next level.
This freestanding tent is made of 75-denier nylon taffeta, with a polyester floor and rain fly.
That means 2 things: it's incredibly tough, and it'll protect you from the rain, no matter how hard it's coming down.
With a peak height 75 inches, 104 sqft. of floor space, and a vestibule that measures just over 33 sqft., this tent is quite roomy. It isn't the largest 8 person tent out there. As you're about to see, some of the others on this list are larger. However, it definitely comes out on top when it comes to quality.
This kind of quality doesn't come cheap, though. This camping tent is definitely more expensive than most. However, you get what you pay for, and in this case it's definitely worth it.
Pros:
Mesh roof and paneling provide excellent ventilation
Roomy interior with 104 sqft. of floor space in the main section, plus a massive 33 sqft. vestibule
Color coded parts make setting up a breeze
2 doors allow for easy movement in and out of the tent
Vertical walls give you a more spacious feel inside
Freestanding, so you don't have to worry about tent stakes and guylines unless the wind really picks up
Cons:
Hefty price tag
Not as large as some other 8 person tents
Best for: campers who want a good quality family tent that will last them for years.
Coleman Red Canyon 8-Person Tent
My first choice is the Coleman Red Canyon. This tent is an all-around gem that packs a ton of features into an easy-to-use and affordable package.
What I like about this tent is the design. It's a dome-style tent, which means it kicks off rain, snow, and wind like no other.
Dome-style tents are difficult to do in large sizes since it's hard for a large dome to support itself. But, this tent accomplishes that by having split rooms. It comes with a main domed room and two side rooms, which you can split up using the optional room dividers.
Also, it comes with many of the Coleman features I've come to love. You'll get WeatherTec sealed seams and a patented pin-and-ring system for securing your poles to the tent. For the outer, Coleman used Polyguard fabric that'll last many full moons.
You'll also get adjustable air vents that help you stay cool on hot summer nights. One of the "vents" can be used as a "doggy door." It's positioned low on the ground and large enough for a dog to crawl through, so Fido can use the toilet at night!
With this tent, Coleman took their attention to details seriously. For example, the welcome mat that rolls out in front of the door is removable. That means you can shake it off before packing off, so you don't track dirt home.
This tent is a prime example of why I love Coleman tents.
Pros:
Despite being a large tent, this dome-style tent rapidly repels any rain or snow that it faces.
Clear instructions mean you spend more time with your loved ones, and less time fiddling with poles.
Extremely durable – some have reported using this tent for over 10 years!
Not instant-pitch, but still sets up in less than 15 minutes.
Lots of little features I love, like the doggy door.
Removable rainfly is strong enough to resist rain, but can also be detached.
Cons:
Might be a little small for 3 queen-sized air mattresses.
Some people don't like that the dome-style sacrifices headspace.
Best for: Large groups who want to sleep in a high-quality tent that'll last for years.
Coleman 8-Person Instant Family Tent

Next, I wanted to tell you about my second favorite Coleman tent. Here's the runner-up to the Red Canyon: Coleman's 8-Person Instant Family Tent.
This tent wields all the quality and features you'd find in the Red Canyon, with a few differences.
First, it's an instant tent. That means it comes with pre-attached poles and can be pitched in mere minutes. It's that easy.
However, it is a bit smaller than the Red Canyon. The Instant Family has a footprint of 140 sq. ft., while the Red Canyon has 170 sq. ft.
Additionally, the Instant Family tent is a bit more expensive. That's thanks to its instant-pitch frame.
Despite that, this is a great tent any group will love. Pick this over the Red Canyon if you want a cabin-style tent or one that'll pitch instantly.
Pros:
Extremely easy set-up thanks to pre-attached poles and instant pitch frame.
Large T-style door on the front allows you to move furniture in and out without having to finesse it sideways through the door.
Lightweight tent for its size – only 16 lbs.
Fits two queen-sized beds and has 77" of center height.
WeatherTec inverted seams and welded floors provide superior water protection.
Cons:
Pricier for this size, but worth it because of the instant setup style
Due to being a large cabin-style tent, it can whip in the wind easily. Make sure you use all guy lines properly.
Best for: smaller large groups that want weather protection in a lightweight, easy-to-assemble package.
Kodiak 8-Person Canvas Tent

Now that I've shown you my favorite large Coleman tents, it's time to mix things up and throw in a large canvas tent.
If you've never heard of canvas tents, that's because they're a bit more "pro-level" than polyester tents.
Canvas tents are made out of thick cotton canvas instead of lightweight plastic polyester. The benefits are simple. Canvas tents are more breathable, durable, and weather-proof than their plastic counterparts.
Humans have been wearing cotton T-shirts for decades because of these features, so why not sleep in some cotton too?
Kodiak is well-known in the canvas tent world for making superior products that can last for decades. I generally prefer SpringBar's canvas tents over Kodiak's, but their 8-person model is way too overpriced. This Kodiak 8-person is a much better bang for the buck.
This tent is also available in a smaller, 6-person model. If you want to save a little money and can sacrifice space, go for it!
Pros:
High-quality duck canvas with Hydra-Shield is incredibly durable and breathable.
Mesh-windowed doors on both sides allow a 360 view and easy entrance & exit.
Built to last – including #10 YKK zippers – the best zippers in the world!
An optional awning allows you to keep your gear dry or keep yourself out of the sun.
The superior canvas will last so long you can pass it down to your kids.
Cons:
Heavy, definitely not for car camping
Must be dried before packing up, or else water will turn to mildew
Best for: large groups that want to invest in a tent that'll provide a top-notch camping experience for generations.
ALPS Mountaineering Meramac 6-Person Tent

Since 1993, ALPS has been making high-quality tents that fit the budget of every camper. They generally specialize in smaller backpacking tests, but I figured I'd mention this tent since it's their largest.
Although smaller than the other tents in this post, it is listed as a six-person tent. 100 sq. ft. of floor space and 6" of center height make this great for two couples or small families.
What I like about this tent is the design. It's a dome-style tent constructed out of two fiberglass poles that wrap around the top of the tent. This makes it lightweight and easy to set up.
When it comes to weather resistance, ALPS didn't cut any corners. This tent comes with factory sealed seams and a 1500mm HH coating that'll keep you dry.
Pros:
Considering its top-notch weather protection, excellent bang-for-the-buck.
Premium taffeta nylon fabric is breathable, lightweight, yet strong.
The free-standing design means it doesn't require guy lines to keep its shape.
Although a smaller large tent, it's got two doors each with an awning-covered doorway.
Lightweight (16 lbs).
Cons:
Not as large as other tents on this list.
High-level weather protection makes this tent a bit pricier.
Best for: backpackers or people who want to save on weight, while also having a large tent that fits the whole gang.
Browning Big Horn Camping Tent

Last but not least is the Browning Big Horn. If you liked the ALPS Mountaineering tent but wanted more space, this tent is for you.
Why? Well, ALPS manufacturers Browning's tents. You can expect to get the same ALPS quality out of this tent, but with more size!
This tent is a monster. It's got 7 feet of center height. Since it's a cabin style tent, that height is distributed through the whole tent.
Pros:
Free-standing tent means you don't have to mess with guy lines.
Tons of space (150 sq. ft.), high center height.
Sturdy in the wind thanks to its simple design and excellent ventilation.
Room divider gives you peace from the kids, or maybe just a changing room.
4 windows allow anyone to enter and exit without waking everyone up.
Cons:
Not much storage space. There are only pockets on each side of the room divider.
Setup can be frustrating if you've never done it before or are alone. I recommend setting it up at home first for this reason.
Best for: Large groups that want a tent designed for walking around in.
CORE 12-Person Instant Cabin Tent
CORE makes superb tents, and their 12-person Instant Cabin is no exception!
This tent sets up in under five minutes, making it an excellent choice for a quick camping trip – or a beginner one.
It measures 18' x 10' on the inside and comes with all of the poles pre-attached so there's no need to fumble with mechanics to get it set up. Oh, and it's also prime for taller people, which is great if you've ever had to spend a camping trip in a tent where you keep hitting your head.
If you're looking for a quick-camping tent that fits as many as twelve people (or gives smaller groups a ton of space) but isn't a nightmare to set up, then go for CORE.
Pros:
Comes with room dividers so you can split it up into at least three separate rooms for privacy
It stands up well in winter conditions, thanks to superior design and anchoring
This tent promises a quick and instant setup and definitely delivers
High center height (80 inches) and fits three queen-size airbeds
Electrical ports and ground ventilation make this a tent that suits everyone
Cons:
Be careful with the poles. Pre-installed poles mean that you don't want to drop it on your toes.
Best for: families that want a quick-pitch tent at an affordable price that fit a ton of people.
How To Look For A Large Tent
Now that you've seen what we consider the best large tents, let's talk about what to look for when you're shopping for large tents.
You must buy a tent that's right for you. If you pick the wrong tent, you'll be stuck with this purchase for years!
Here are some pointers to lessen the stress in the decision process.
Size
The first and foremost feature to consider when looking at large tents is of course…how large is it?
Since you're reading this article, you likely want a tent that can fit a large group of people. That's why the most important aspect of a tent is its size.
Now, if you haven't bought a tent before, let me share an industry secret with you. Tent manufacturers purposely size their tents up.
What do I mean by that?
When a tent company says it fits 8 people, that means it fits 8 people…who are built like string beans, packed in the tent shoulder to shoulder.
Is that what you want from your camping trip? Probably not!
That's why we suggest sizing up two people. So, for a 4-person trip, pick up a 6-person tent, and so on.
You can also check the size of the tent by reviewing its dimensions. Look at the floor dimensions and see for yourself if you can sleep 4 people in a 4-person tent.
For starters, check out the size of the Coleman Red Canyon 8-Person that we have selected as our winner. If you need bigger, get one of the larger tents we have highlighted above:
Design
When looking for a large tent, you've got to consider some different design elements than when looking for a small tent.
The most notable design element is what type of frame it has. A cabin style, a dome, or a triangle?
Cabin domes are most popular in these larger sizes. Their walls are perpendicular to the earth and provide maximum vertical space. But, that comes at a cost, in weight and wind.
Dome style tents look like, well, a dome. The benefit to this style is that rain and snow slide off them better, but they don't give you as much headroom as a cabin style would.
Triangle tents (like the Kodiak canvas tent) are somewhere in the middle. They give better aerodynamics than a cabin and also better height than a dome tent.
Which style you like is up to you, so I tried to provide options for each in this article.
Construction
Lastly, take a look at how the tent is constructed.
Larger tents have much more surface area than smaller tents, which means they're much more susceptible to wind, sun, and rain damage. They also whip in the wind more thanks to their larger walls.
To fight against the elements, tents are constructed in different ways. Check out the number of guy lines, the outer material, and the orientation of the walls to see how a tent will fare against the weather.
Free Standing or Not?
Another construction factor that should be considered is if it's a free-standing tent or not.
Free-standing tents use included poles to add structure to the tent. You can pick them up and walk around and they won't lose their form.
Non-free standing tents, on the other hand, use guy lines, ropes, cords, and pegs to keep the tent's shape.
When you're looking at large tents, this is an important point to consider. You may or may not want to have a tent that can stand up on its own. You might not want to have to deal with guy lines. Either way, make sure you consider free-standing or not before buying.
Our Verdict
To pack things up, large tents are awesome. When camping with larger groups, it's tempting to get two or three small tents. Instead, put everyone under one roof and enjoy each other's company!
To do that most effectively, I recommend the Coleman Red Canyon 8-Person Tent. Not only is it durable, weather-resistant, and super spacious, it's also affordable. Its dome-style construction means it won't get stopped by rain or snow, but it's three-room design allows you peace and privacy if you want it.
If that's not your style, any of the tents above will get the job done. I tried to include a variety of large tents so everyone could find satisfaction.
Either way, these tents are sure to bring you joy and relaxation.