In a rush? After a lot of research, I found that the REI Kingdom 8 is the best 8 person tent on the market today.
Maybe you want to introduce your kids to the joys of camping by taking them on a family camping trip. Or maybe you want to invite a couple of your buddies to join you on an adventure trip.
No matter the reason, sleeping in a smaller tent is just not going to cut it. 
You need to find a bigger camping tent that can accommodate the entire group – and that's where 8 person tents shine. 
Read on to discover the best 8 person tent available today.
Best 8 Person Tent: Our Top 7 Recommendations
REI Kingdom 8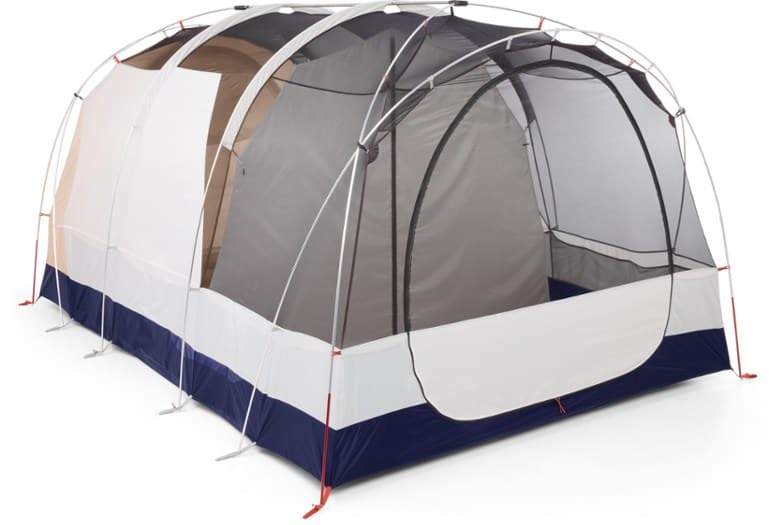 The REI Kingdom 8 will take your family camping trips to the next level.
This freestanding tent is made of 75-denier nylon taffeta, with a polyester floor and rain fly.
That means 2 things: it's incredibly tough, and it'll protect you from the rain, no matter how hard it's coming down.
With a peak height 75 inches, 104 sqft. of floor space, and a vestibule that measures just over 33 sqft., this tent is quite roomy. It isn't the largest 8 person tent out there. As you're about to see, some of the others on this list are larger. However, it definitely comes out on top when it comes to quality.
This kind of quality doesn't come cheap, though. This camping tent is definitely more expensive than most. However, you get what you pay for, and in this case it's definitely worth it. 
Pros:
Mesh roof and paneling provide excellent ventilation
Roomy interior with 104 sqft. of floor space in the main section, plus a massive 33 sqft. vestibule
Color coded parts make setting up a breeze
2 doors allow for easy movement in and out of the tent
Vertical walls give you a more spacious feel inside
Freestanding, so you don't have to worry about tent stakes and guylines unless the wind really picks up
Cons:
Hefty price tag
Not as large as some other 8 person tents
Best for: campers who want a good quality family tent that will last them for years.
Browning Camping Big Horn Tent
Almost a palace, the Browning Big Horn Tent is enormous – it measures 150 square feet in floor space and has a ceiling of over 7 feet. Combine that with straight sidewalls and a room divider, and you get a camping tent that provides a lot of interior space for both people and gear.
Not only that, but it also comes with two doors, meaning you won't have to wake everybody up if you need to go pee-pee during the night.
However, all this comes at a price. This tent is somewhat more expensive than some other 8 person tents. 
It's also a bit heavier – almost 35 pounds. However, it's likely you'll use this tent for car camping, so that shouldn't be that big of a deal.
Pros:
HUGE – 150 square feet of space and a peak height of over 7 feet make it a bonafide castle
Two doors mean you can enter and exit the tent without tripping over your tent buddies
With a mesh roof, 4 windows, and two doors, this tent gets plenty of air circulation
Superior materials like the polyester fly and polyester oxford floor mean you will stay dry even during heavy rain
Six storage pockets inside make it convenient to store small items
You'll get more privacy thanks to a room divider
Cons:
A bit pricier than some other tents on this list 
Best for: families who want as much space as possible in their tent.
Eureka Copper Canyon LX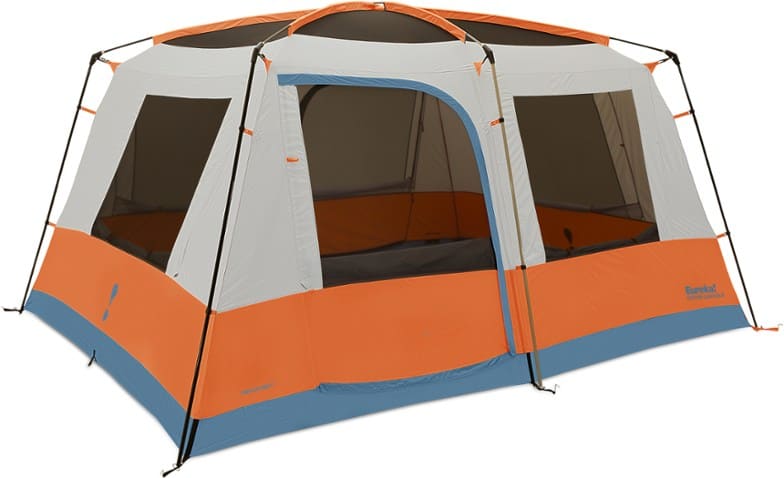 This freestanding cabin tent from Eureka boasts a huge 130 sqft. space, with a peak height of 84 inches. Not quite as roomy as the Browning Big Horn, but pretty damn close.
If you'd rather have 2 smaller rooms, you can. This tent comes with a divider curtain that you can put up to divide the space however you like.
The walls are nearly vertical, which means the space inside is open, so you won't be feeling claustrophobic.
Aside from being spacious, this tent is also super tough. The entire tent is made of 75-denier 190T polyester taffeta, so you'll have nothing to worry about if a storm hits.
Large mesh windows provide great ventilation. Things can get stuffy with a lot of people sharing a tent. Not in the Copper Canyon LX, though. 
Pros:
Very roomy, with 130 sqft. of floor space and an 84″ high ceiling
Divider curtain lets you create 2 smaller rooms
Near vertical walls mean you can walk around inside without hunching over 
Great ventilation thanks to large mesh windows
Made of durable polyester taffeta, providing excellent water resistance
Cons:
Doesn't feature a vestibule
Best for: campers looking for a spacious family tent that will hold up well in the rain.
NEMO Wagontop 8 Tent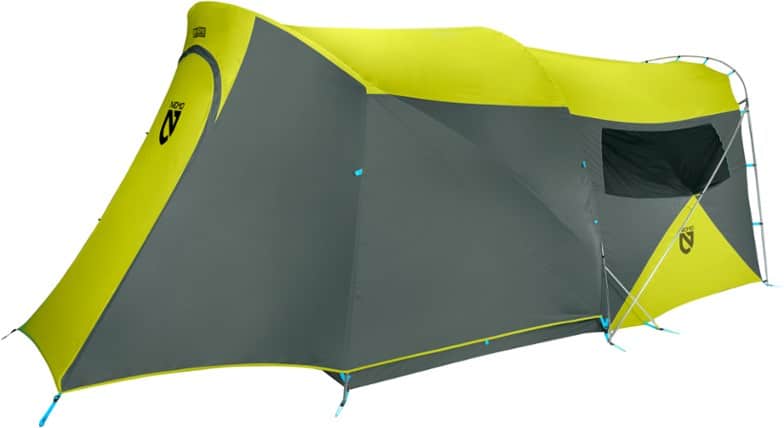 The Wagontop 8 Tent from NEMO is a real beauty.
It's got plenty of room for a small family, with just under 125 sqft. of floor space and a 27 sqft. vestibule.
It boasts a peak height of 80″, and the frame is shaped uniquely in a way that lets you walk around upright inside the tent. 
It features panoramic mesh windows that allow air to circulate while allowing you to take in the stunning views of nature around you.
Most importantly, it's made of high quality materials. The canopy is made of 75-denier polyether urethane-coated polyester, while the tent poles are aluminum. This means your tent will be able to withstand downpours and high winds with no problems at all. 
Now, this tent is everything but cheap. You'll have to dig deep into your pockets for this one. Rest assured, though. NEMO promises you'll love this tent and use it for many years to come. In fact, they guarantee it with a lifetime warranty. 
Pros:
Lots of space, with a floor area of 125 sqft. and a 27 sqft. vestibule
Extremely durable thanks to 75-denier polyether urethane-coated polyester and aluminum poles
Plenty of mesh windows provide good ventilation
Unique structure allows you to walk around upright
Covered by a NEMO lifetime warranty
Cons:
Very expensive
Only has 1 door
Best for: families that don't mind paying top dollar for a top quality tent.  
Coleman Montana 8 Person Tent
Coleman's Montana 8 Person Tent is a good entry-level tent for casual camper families who want to upgrade to a large tent but are not willing to pay a small fortune.
With 112 square feet of floor space and a ceiling of 6'2'', this family camping tent is roomy enough to accommodate families with several kids. 
Setup and takedown are quick and easy and can be done in 10-20 minutes if you have several people helping you.
Pros:
Angled windows allow air circulation even when it's raining
Spacious – 122 square feet of space and a 6'2'' ceiling make it easy to move around in the tent
Affordable – great price for an entry-level tent 
With the rain fly on, the tent is quite sturdy and will stand up to strong winds
Covered porch area allows you to open the door during rain for extra ventilation
Cons:
Some people have reported that the tent is not fully waterproof and can leak
Only one door, which can make getting in and out of the tent a bit harder
Best for: casual camping families looking for an affordable tent.
Wenzel 8 Person Klondike Tent
If you love tents with a screen room, you might want to invest in this tent.
The Wenzel Klondike Tent is roomy – the inner room is 98 sqft. and the screen room has more than 60 sqft of extra space.  The inner room also has a 6'5'' high ceiling, so you can easily stand upright in the tent.
The screen room can be zipped up to act as a second room. If the weather is good, it can serve as a porch, and its mesh walls will allow you to enjoy the view without getting any bugs in your tent.
Pros:
Quick setup time of under 15 minutes with two people 
Sealed seams and a bathtub floor will prevent rain from getting inside your tent
Roomy – rooms are 98 sqft. and 60 sqft. with 6'5'' of headroom
Mesh windows keep the bugs out and provide good ventilation
Pretty affordable given its size and features
Cons:
The screen room has a ceiling that is 6 to 8 inches lower than the interior room, which means you won't be as comfortable moving around 
Best for: campers who want a tent with a screen room to relax in.
Coleman 8 Person Red Canyon Tent
I'll be honest: I wondered whether I should include this tent or not.
On one hand, this Coleman tent is inexpensive, roomy, and easy to set up.
On the other hand, many people complained that the tent didn't last more than a few trips before they noticed rips and tears.
Just know what you're getting yourself in for.
If you only camp a few times a year, the low price and big size of this tent are still reason enough to buy it. Just be sure you are camping in fair weather.
Pros:
Affordable – like most Coleman tents, this one has a great price to size ratio
Dividers can create 3 rooms for even more privacy
Setup is less than 15 mines with two people
Bathtub floor gives extra protection against rain building up under your tent 
Cons:
It's not made out of the highest quality materials, so rips and tears are possible 
Best for: people looking for an affordable 3-room tent to use in fair weather.
What To Look For When Buying An 8 Person Tent
Buying an 8 man tent is a more complicated process than buying smaller tents. Since they are bigger, pricier, and have more features, nobody will blame you if you feel overwhelmed when you're trying to choose the best one for you.
To fix this, I whittled down the criteria you should be mindful of to just a few. Now we'll discuss them below.
Space
Obviously, an 8 person tent can fit 8 people…right? 
Well, yes and no.
Eight people can fit in if you enjoy being crammed in like packed sardines, feeling everybody's body heat around you.
Realistically, these types of tents can fit around 6 people comfortably. That will give you some room to maneuver and store your camping gear inside the tent.
Also, pay attention to the height. Most 8 person tents have a high ceiling (around 6 ft.) so standing upright shouldn't be a problem – but it's still something to keep in mind. 
Lastly, be mindful of the weight. Backpacking is out of the question unless you enjoy carrying around 20-30 pounds of tent on your back. Their larger size and extra features make them ideal for car camping, though.
Ease of Setup
Besides the size, assembly time is one of the main differences between a large camping tent and smaller tents. While two and four-person tents can be assembled within minutes, expect the setup of an 8-person tent to take you about 20 to 30 minutes. 
Of course, the main advantage here is that you'll have someone to help you pitch the tent, so the process can go quicker. 
With that said, most of the tents on this list should be easy enough to assemble (even just by yourself).
One good piece of advice is to practice setting up and taking down your tent in your backyard first. That way you won't waste too much time reading instructions when you're camping and can focus on having a good time and enjoying the outdoors.
Features
A good thing about larger tents is that they come equipped with a lot of cool extra features smaller tents lack.
Some of these features include:
Multiple doors
Room dividers for extra privacy
Extra storage space and large vestibules
Several windows for better ventilation
When you have several people sleeping in a tent, getting in and out can be a problem. If you have to go in the middle of the night, you have to step over everyone just to get to the door. Having two doors solves that problem, since it makes the exit closer to everyone.
Another great feature of larger tents are extra rooms that can be created using a room divider. This is a lifesaver if you have a mixed group of men and women camping together, or if you just want to give your kids more privacy.
With bigger size comes more storage space and vestibules. This allows you to pack more gear and luxuries without having to worry about where you'll put all that stuff. That way you can enjoy your camping trip in the kind of comfort that people with smaller tents just don't have.
Having several windows is terrific since it not only provides better ventilation, but it also means you get a better view of the outside. You can enjoy looking at nature, and you can check to see if there's danger outside of the tent from all sides.
Ventilation
Proper ventilation is always important, but it's doubly so when you have 6 or 8 people camping together in a tent.
Since ventilation is primarily provided by windows, you want to make sure your tent has several of them. Additionally, check for air vents that will allow air to circulate through the tent.
Dome Or Cabin Style
Choosing a dome tent or cabin style tent comes down to personal preference. 
If you go with a dome tent, you'll get better wind resistance, however, you won't be able to stand up and walk around in the tent.
While a cabin tent provides more space and comfort, they are not the best when it comes to enduring harsh weather conditions. 
Durability 
As any seasoned camper knows, it's wise to invest a bit more to buy a durable tent that will last you for years. Since your tent is your home away from home, you want to be sure that it is as strong and sturdy as it can be.
Now, a tent's durability mostly depends on the materials it's made of.
The most common materials used are:
Canvas
Ripstop nylon
Polyester
A canvas tent is highly durable and has great breathability, however, it is not waterproof right out of the box and it is very heavy. This makes it less practical for most people.
Tents made out of ripstop nylon are a popular choice nowadays. That's because they're lightweight, and they're made out of fabric that will stop cuts and tears from spreading and destroying the entire tent.
Polyester tents are very similar to nylon tents, except they're better at resisting UV damage. If you and your tent are going to be spending a lot of time in the sun, these should be your first choice.
Weather protection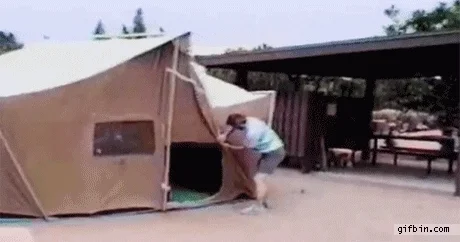 The last thing you want when you're camping in a large group is a tent that leaks water all over you. 
While most tents these days claim to be waterproof, in reality, this is not the case. 
Look for features such as a high HH rating (over 1500 mm); inverted seams, and bathtub floors. These features are present in the best tents and will make sure you stay bone dry during heavy rain. If you want to cover all your bases, investing in a good waterproof spray is a good way to make sure you've got a waterproof tent. 
A good rain fly is also essential. Check to make sure that the rain fly extends all the way down and covers the entire tent. If it doesn't, the rain can still get in and you could wake up in a puddle of water in the morning. 
Our Verdict
After careful deliberation, it's clear that the REI Kingdom 8 tent is the best 8 person tent on the market today. 
Not only is it incredibly roomy, but with two doors, a mesh roof and mesh paneling, it also provides great ventilation.
It also comes with sealed seams, an enforced floor, and a rainproof rain fly which will keep you bone dry even if you get caught in a thunderstorm.
True, it is a bit pricier than most other large tents. However, if you want a well made, quality tent that you can use for years, you should definitely consider the REI Kingdom 8.