In case you're wondering, the best tent for high winds is the Big Agnes Copper Spur HV UL2 Tent.
If you want to find the best tent for high winds then there are a few things you should consider. In this guide, I'll teach the key factors to look at when choosing a tent. I'll also show you five of my favorite high-wind options.
Let's get into it.
Best Tent For High Winds: Our Top 7 Choices
Big Agnes Copper Spur HV UL2 Tent
This double wall tent from Big Agnes is a 3 season tent, so it isn't suitable for use in extremely cold weather, but it sure does hold its own in high winds.
It sleeps 2 people and has a peak height of 40". Its low peak height and freestanding dome-shaped structure make it super stable when the wind picks up.
Another thing that significantly boosts the structural strength of this tent is the four-way hub pole system with DAC Featherlite NFL and NSL poles. These poles have varying diameters in the same line of pole, which gives you more space inside the tent, without having to sacrifice weight or stability.
What's really cool about this camping tent is that it only weighs a little over 3 lbs., so you can take it backpacking with no problems whatsoever.
Pros:
Low peak height and dome structure make it incredibly stable
Four-way pole hub system ensures sturdiness in high winds
Ultralight tent, making it suitable for backpackers
Features 2 vestibule awnings, so you get a small covered outdoor area on both sides of the tent
Made of durable ripstop nylon and polyester mesh, with a ripstop nylon rain fly to keep you dry when it's raining outside
Cons:
Footprint not included
Not suitable for extremely cold weather conditions
Best for: solo campers or couples looking for a great 3 season tent that can withstand heavy wind.
The North Face VE 25 Tent
If you're looking for a high-end tent that will withstand just about anything, look no further.
This North Face tent comes with high-strength guylines with equalizers, so you can rest easy knowing that your tent isn't going to budge in a storm.
It's also got a 4 season rating, making it suitable for use in all kinds of rough weather.
Structurally, this tent has all the characteristics needed for good wind resistance. These include a dome-shaped structure, and a relatively low peak height of only 48".
The VE 25 features aluminum poles and a bucket floor, for added structural strength.
It weighs just over 10 lbs. Now, there are tents on this list that weigh a lot less than that, but a little extra weight goes a long way in keeping you stable when the wind picks up.
Plus, if you divide the parts up between 2 people, it's still light enough to take on a backpacking trip.
The only real downside is that purchasing this tent may require you to take out a second mortgage. OK, maybe that's being a bit dramatic, but it definitely ain't cheap.
Pros:
High-strength guylines with equalizers will have you nailed down to the ground
Has 2 doors for easier access
Freestanding dome-shaped structure and low peak height ensure good stability
DAC aluminum poles are both strong and sturdy
Comes with a footprint included
Features a bucket floor, which provides added structural strength
Cons:
More expensive than other tents on this list
Best for: campers who don't mind paying a little bit more for a premium tent that they'll be able to rely on in any and all situations.
Check Price on The North Face Shop
Kelty Trail Ridge 6 Tent

When it comes to wind resistance, this tent is a stellar option. I've used many Kelty tents over the years and, if one of my sons had been born a girl, I'd likely have a kid named Kelty by now. With the consistent quality that they provide, it's no surprise that they've been in business for over 65 years.
Kelty's Trail Ridge 6 is either a higher-priced budget tent or low-priced mid-tier tent. In any case, it provides great value for its cost and is a strong choice for any smaller group of campers.
It's got a great amount of space that any group will love. The durable rain fly wraps around the entire tent, making it waterproof and shielding you from any kind of wind. It easily packs into the neat "carry cube bag" and it's even made right here in the United States!
Pros:
The dome-shaped design guarantees high weather resistance, even at high wind speeds
Aluminum poles that won't shatter and tear up the tent
80 sq. ft. interior, providing a lot of room for campers and their gear
Completely rain-proof, even during heavy pours
Four average-sized adults could fit inside with room to spare, but six or more is where it starts to get cramped – it's very spacious for me and my two sons
Cons:
Extreme weather can bend the aluminum poles
Warranty only provides discount coupons, rather than replacing the unit
Best for: groups of 4 who want a large, strong tent that's so reliable, it'll become part of the family.
MSR Hubba Hubba NX 2-Person Tent
This budget tent is a great option for those who want to go camping in a high-wind area without breaking the bank. Its geometric shape and sporty color scheme also bring a nice aesthetic element to the table.
There are quite a few advantages that this tent holds over the others, but it does have its fair share of cons as well.
It's lightweight, compact, well ventilated and easy to set up. It's also got durable poles, as well as a low peak height and structure that helps keep it stable in windy weather.
On the downside, the stakes that come with this tent could be better. Staking your tent down well is important when the wind is strong, so I'd strongly recommend spending a few extra bucks on a good quality set of stakes.
Pros:
The tent is very lightweight, making it easy to carry for miles without breaking a sweat
It's very compact and even comes with a compression bag for easy transport
Good ventilation takes care of condensation, keeping you dry no matter what
Spacious for one to two people, but may get cramped with anything beyond that
Easy and intuitive setup
Durable poles
Affordability isn't an issue with this tent as it can accommodate even the most modest of budgets
Cons:
Stakes aren't perfect – consider upgrading to MSR's Groundhog stakes which are perfect for high-wind camping
It could get crowded for large individuals or couples
Best for: big backpackers who want awesome wind protection, or couples who like to cuddle.
Eureka Alpenlite 2XT Tent

Like the Kelty, the Alpenlite 2XT is treading the line between budget and mid-tier. That being said, it's still affordable for most campers with a decent budget. I've always thought highly of Eureka tents, and this one didn't disappoint.
It's a bit heavy for my taste, but its durability and weather resistance make up for that — at least in my opinion. My sons also liked the yellow accent on it. They said it's "cool."
While I agree that the tent is stylish, its color also serves a practical purpose. The yellow ensures that you can see the tent, so you don't lose sight of it at night or in the woods.
While this doesn't win "best tent for high winds," it's still a strong option for the fiscally responsible.
Pros:
Six poles keep the tent secured in high winds
Produced by a trusted manufacturer that was founded in 1895
Four-season rating, making it great for winter camping
The multiple-vent system prevents any condensation issues with this tent
Durable construction
Cons:
The A-frame design is more vulnerable to wind than a dome tent in the same price range
Heavier than most of the tents on this list, weighing in at about seven pounds when fully packed
Best for: seasoned campers who want ultimate protection against all the elements.
ALPS Mountaineering Taurus Tent
If you're working with a tight budget but still want to get the most bang for your buck, then the Taurus is likely the tent for you.
While it does have its shortcomings in various areas, you can't argue with the price point. It's not the best, but it's by far the most affordable tent that manages to perform at a high level.
Yes, there may be better tents on the market. But, in this price range, the Taurus is the most durable option available today.
Pros:
Much like the Trail Ridge 6, the Taurus is dome-shaped, so it can stand up to high-wind conditions with no issues
Incredibly cheap — likely lower in cost than routine teeth cleanings at your dentist
Loft storage for small gear and other personal items
Free-standing, two-pole design means this tent can be set up in a rush
The top rain fly covers the entire tent, giving great wind protection
Cons:
Poor seal-work on the door zipper which could lead to rain getting inside the tent (this is not an issue if the rain fly is used).
The ALPS Mountaineering Lynx is lighter, more durable, and comes with aluminum poles –  this might be an option if you want serious wind protection and can shell out for a premium tent.
Best for: small groups who want a lightweight, durable tent that's easy to set up and great against rain and wind.
NTK Arizona GT 9 to 10 Person Tent

While not nearly as low-cost as the Taurus, the Arizona GT is still one of the more affordable tents on our list. If you're trying to fit a larger camping group into a single tent without spending too much then the GT is a great choice.
Also, its persistence even in the harshest of weather conditions is nothing to scoff at. This tent is so good, many people use it for extended periods without any issues arising.
Pros:
You can fit as many as nine to ten people in this tent without things getting too cramped – needless to say, it's practically a mansion for me and my boys
The streamlined design allows it to endure strong rain and wind without an issue
Good sealing will keep you dry even during heavy downpours
Suitable for long-term use as it's both spacious and affordable
Pin-and-ring system allows for a quick setup – unlike other tents, it doesn't require a Ph.D. to set up
Cons:
Windows only close from the outside meaning you'll get wet if you have to shut them due to rain
Price is higher, as can be expected for such a large tent
It does have a large surface area, so make sure you angle it into the wind to reduce wind impact
Best for: large groups/families who want a tent that'll beat the wind for years to come.
Finding The Best Tent For High Winds: A Buying Guide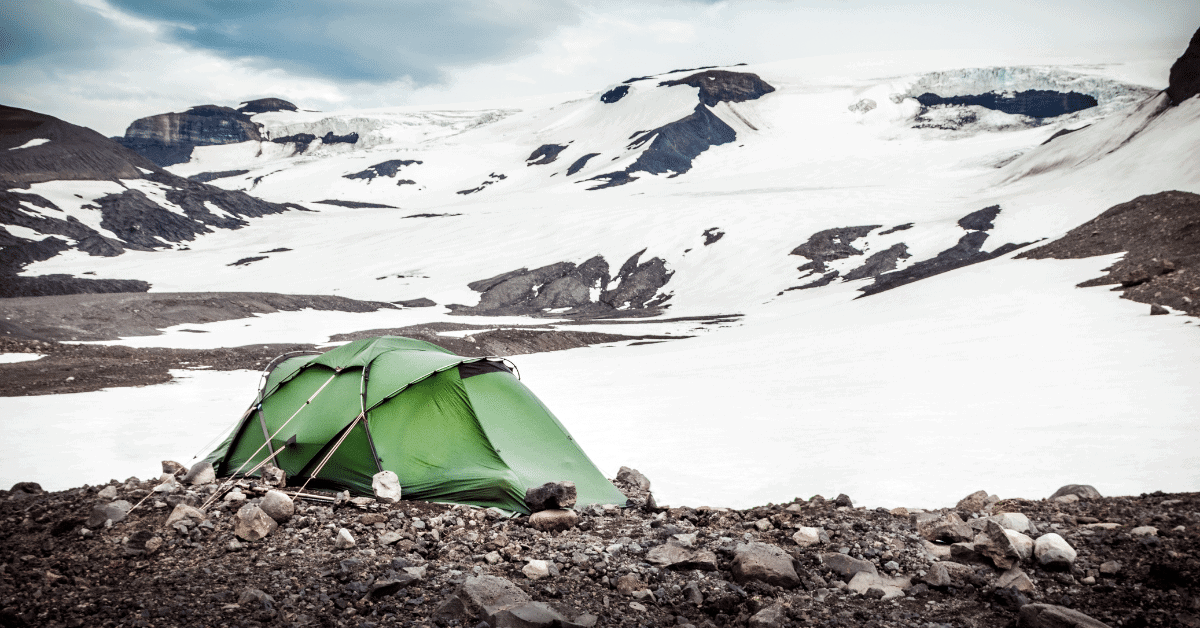 You've seen what I like, but how do you determine what you like?
Next, I'll explain what I look at when inspecting tents.
Weight
The first thing that you should consider when choosing a tent is its weight. Usually, larger tents will be more resistant to high winds, so keep that in mind. They'll also provide more interior space. This is important depending on how many people you have with you.
Despite that, heavier tents are more difficult to transport over long distances.
If you aren't going to stray very far from your car then the weight shouldn't be too much of an issue. However, if you're going to be backpacking, then you should avoid biting off more than you can chew.
Height
Headroom is a privilege, but there are some occasions where you'll need to sacrifice it for the greater good. The lower your tent is, the more resistant it'll be against strong gusts of wind. If you have enough room to fix a lantern to your ceiling then that's good enough.
You can try to go for taller if you don't feel comfortable in a shorter tent. Remember – the higher you go, the more vulnerable you'll be to wind. To summarize, it's a trade-off between headroom and wind-resistance.
Shape
The shape of your tent is a key element to look at when trying to survive high-wind conditions. Dome-shaped tents are far more aerodynamic than cabin tents or A-frame tents.
Their shape will catch less wind and thus provide more structural integrity. If the shape of your tent is elongated then having its narrow end face the wind can reduce the impact of the wind.
Doors
It's always nice to have more doors. But, if you're trying to endure high wind speeds, then it's wise to stick with a tent that only has one entrance.
Sure, it'll be harder for you to get into the tent, but it'll also be harder for the wind to get into the tent. That's a worthwhile trade-off in my eyes.
Check to see if the tent you're using has sealed door seams as this will make it more resistant to the wind as well as rain. Any windows should also have the ability to close otherwise wind will make its way into your tent that way.
Poles
Another factor that you should pay close attention to is the poles. Tents with more poles will be more stable even in strong winds. That being said, other elements of the poles matter beyond the headcount.
For instance, the material of your poles can play a big role in keeping your tent secured. Aluminum poles are the best choice for high-wind situations. They're both lightweight and durable.
Fiberglass poles are cheaper but also heavier. This shouldn't be an issue if you're setting your tent up right next to your car. Yet, if you're hiking to a camping spot that's prone to high winds then it could be a bad choice.
Not only are they heavier to carry, but fiberglass poles are also more prone to shattering. When broken, poles could send sharp fragments ripping through your tent. In contrast, when aluminum poles break they just split in half, which is a far safer situation.
V-shaped stakes are the best choice when it comes to high-wind areas as they'll be able to keep their footing even during strong gusts. They're harder to get into the ground, but that extra effort will be well worth it when the wind picks up.
Price
As nice as it'd be to get a gold-plated tent that's resistant to EF5 tornadoes, not everyone has that kind of money to burn on camping. That being the case, you should always factor in the price when choosing a tent for yourself.
Depending on your camping style, it might be worthwhile to buy a premium tent. However, compromise with a lower cost option if buying a premium tent will put you in a bad situation.
Pick a tent that fits your budget, and don't compromise the health of your bank account over a fancier option.
FAQ
Camping in high winds is definitely a situation you don't want to go into unprepared. The more you know, the better equipped you'll be to protect yourself when the wind picks up.
Here are the answers to some of the most common questions about tent camping in high winds.
They'll give you some useful ideas and tips that might just be the difference between a safe, comfortable experience and a complete disaster.
How do you secure a tent in high winds?
There are 2 main ways to secure a tent when the wind picks up: staking it down and guying it out.
The stakes and guylines that come with a tent are typically of lower quality. If you want to make sure your tent doesn't blow away in the wind, it's definitely worth investing in a set of high quality stakes and guylines.
As we mentioned earlier, when it comes to stakes V-shaped stakes are your best bet. They do a far better job at staying in the ground in windy weather conditions.
Whether you should push your stakes down vertically (at a perpendicular angle to the ground) or at a 45 degree angle is a hot topic of debate among campers.
While many people insist that a 45 degree angle is the way to go, I would definitely strongly suggest pushing your stakes down vertically. In my experience, they'll hold up much better in high winds this way.
Is it safe to camp in high winds?
In a nutshell – yes. It might seem a bit scary, but as long as you've got the right gear and manage to stay warm enough, it's perfectly safe (unless you're caught in a hurricane or tornado, of course).
Still, that doesn't mean nothing can go wrong.
If winds get too strong your tent could end up getting damaged. That's why it's always a good idea to take an emergency repair kit on ANY camping trip, so that you can fix your tent if a pole snaps or the fabric tears.
What wind speed can a tent withstand?
The answer to this question obviously depends heavily on the tent in question.
For most tents, 30 mph winds are strong enough to cause damage.
However, tents like the ones in this article that have been specifically designed to withstand high winds will hold up well in winds up to 50 mph (some even up to 60 mph).
Anything stronger than that and you should probably think about taking shelter somewhere with walls that are more solid than those of a tent.
How do you stop a tent from flapping around in the wind?
Even if you've got a rock solid tent that can withstand incredibly strong winds, you might still have a problem with the fabric flapping around and causing a ruckus.
Personally, I can sleep through any noise. However, if you're not like me and you don't sleep like a log, the noise of your tent flapping around could easily be enough to keep you up all night.
Fortunately, there are a couple of things you can do to improve the situation.
First of all, it helps if your tent is on level ground. This is generally a good idea when pitching a tent, because it's much more comfortable to sleep on flat ground. In high winds, though, it's even more important, as it'll keep the noise level to a minimum.
Another thing you can do is try to tighten and loosen the guylines until you find that sweet spot where they're not too loose and not too tight.
If that's still not enough, try to bunch the material along the bottom edge of one side of the side together and tie it up with a rope. Next, stake the rope down about half a meter or so away from the bottom of the tent.
If you haven't got any rope on hand, you can also try placing a heavy rock or two along the bottom edge of the tent to keep the material down.
Our Verdict
After factoring in all the criteria, I found the Big Agnes Copper Spur HV UL2 Tent to be the best tent for high winds. It wasn't as affordable as the Taurus, nor as spacious as the Arizona GT, but its design was just too perfect for windy conditions.
First of all, the Big Agnes tent is dome-shaped. This reduces the amount of wind that can impact it. Secondly, it has a four-way pole hub system that provides great stability. The poles are also lightweight, so taking this tent backpacking is too easy.
Plus, the heaviest of downpours won't be enough to get you wet, and you won't see so much as a drop of rain inside while using it.
Overall, this is an excellent tent packed with features to make camping fun — and that's a win in my book.