So you've arrived at the designated spot and set up your campsite. Now what? Being bored while camping is unacceptable, as there are tons of ways you can stay active and entertained.
If you just can't think of things to do, don't worry. I've made a long list of the things you can do while in the wild. Whether you're out on a hike or sitting in your tent, I've got you covered. Let's start!
Family Camping Activities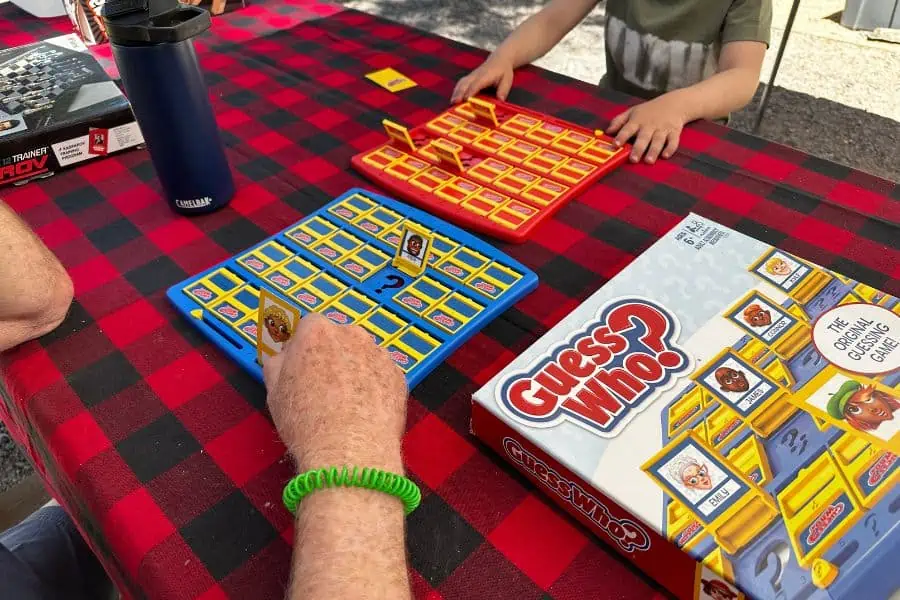 First time camping with the family? Here's a tip – do things together. There's no better way to bond with your closest people than having fun together. Here are some of the best ways to keep the whole family entertained and engaged.
Build A Campfire
Building a campfire consists of a couple of steps, so that's a great way to engage the whole family. Kids can collect tinder and kindling, while you can have the honor of igniting it.
Hiking
There are numerous reasons to hike with your family, like teaching them about wildlife and unplugging together. Just remember, you may need to make it extra adventurous for them to keep them engaged. You also won't want to plan on going too far if your kids don't have too much hiking experience.
Plant Identification
Not only fun, but learning about different plants can also be useful. Some plants around you might be edible. Others, however, can be dangerous to eat or even touch.
Horseshoes
Some campgrounds might have a horseshoe pit. But even if they don't you can get rubber portable horseshoes and bring them on your trip.
Soccer/Football
The only thing you need is a ball. There are numberless things that you can use as goals or end zones, whether it's trees, rocks or even tents (not advisable).
Frisbee
Bring throwing Frisbee to another level by playing in the woods. The one that doesn't hit any tree is a winner.
Hide And Seek
There's no better place for playing hide and seek than in the wilderness. There are numberless places you can hide, and so many cool things to find while playing.
Geocaching
Turbocharge your hide and seek by using a geocaching app. Heres a quick overview of how it works. Perfect for engaging the whole family and having fun together.
Wildlife Spotting
Depending on the location of your campsite, you can see some amazing wildlife around. From bugs and birds to some big creatures like deers and bears. Just remember, don't disturb them just to get a closer look.
Learning Camping Knots
Yet another two-in-one activity. Knots are fun, but can also be helpful in so many situations. In fact, they can save your life!
Play games
There's no better time to play games, than when sitting around the campsite or stuck in a tent during a rainstorm. Here are some great kids games we recommend while camping.
Additional Games & Activities for the Whole Family:
Bike rides
Football
Kickball
Corn Hole
Ringtoss
Disc Golf
Capture the Flag
Lawn Bowling
Horseshoes
Around the Campfire Activities
Your camping buddies might all be doing different things during the day, but as the night sets, everyone will gather around the campfire. And that's when the real fun begins. These activities are a great way to reconnect with both your friends and nature at the same time.
Chilling In A Hammock
They say your body is in an ideal position when laying in a hammock. And there's something so relaxing about swaying gently from side to side.
Listen To The Sound Of Nature
You don't need anything for this activity. In fact, you should also close your eyes and just focus on the sounds around you.
Stargaze At Night
If you pay attention, you'll see some amazing images forming in a starry sky.
You can turn it into a game, by challenging your friends to find star-shaped objects.
However, we do recommend stepping away from the campfire to see the full night sky on display! You can even stargaze from your tent!
Play Truth Or Dare
The beauty of this game is the fact that you can play it anywhere. But doing that at your campsite makes it even more fun. As long as you're not dared to sleep on the cold ground for the night…
Mafia
If your camping group has at least 7 people, then you can play a classic game of mafia. Just make sure you all know the rules.
Charades
Charades are a fun game for all ages. But don't get nonchalant – kids as opponents are very hard to beat.
Ghost Stories
There's no better place to tell ghost stories than around the campfire at night. Just beware, you might be too spooked to sleep alone in your tent for the night.
Play Guitar And Sing Along
This fun activity can keep you entertained the whole night. If some of your camping buddies seem shy while singing, don't worry. After a few campfire songs, you'll be fighting over who sings which part.
Make S'mores
This is my absolute favorite thing to do. I love mine with raspberry jam, so I always make sure to pack a tiny jar. Or take it to the next level by making Banana Boat S'mores!
Stuck in the Tent Activities
Let's say it's raining cats and dogs. Or it's late at night but you're not ready to sleep. Maybe you're hiding from annoying mosquitoes that just won't leave you alone. Whatever the case, there are ways you can have fun even while inside the tent.
Playing Cards
Cards are a great way to make the time pass by. There are tons of different card games you can play with even just one deck.
Board Games
These never get boring, even when you're an adult. Board games are a great way to keep the whole family engaged, and they usually don't take up much storage space. Bring a few of your favorites (just in case).
Journaling
With so many fun activities you're doing while camping, there's tons of things to write about. Plus, that's a great way to keep memories.
Telling Jokes
Let's face it. You are cramped in a small area with your friends and family. You are going to probably want to try to lift everyone's spirits by telling some hilarious camping jokes.
Read A Book
Oldie but a goodie. Or if you prefer, you can listen to an audiobook (as long as you're not disrupting other campers).
Play A Game or Watch a Movie On An Electronic Device
Two in the morning and you can't sleep? You don't even need to turn the light on to have fun, as long as you have your phone or tablet. Just check out our list of best wilderness movies to figure out what to watch.
Coloring Books
Coloring books are a great way to destress after a long day of hiking or kayaking.
DIY Crafts
Drawing, beading, knitting… whatever your poison, you can hit two birds with a single stone by doing these crafts while being stuck in the tent.
Kids Camping Activities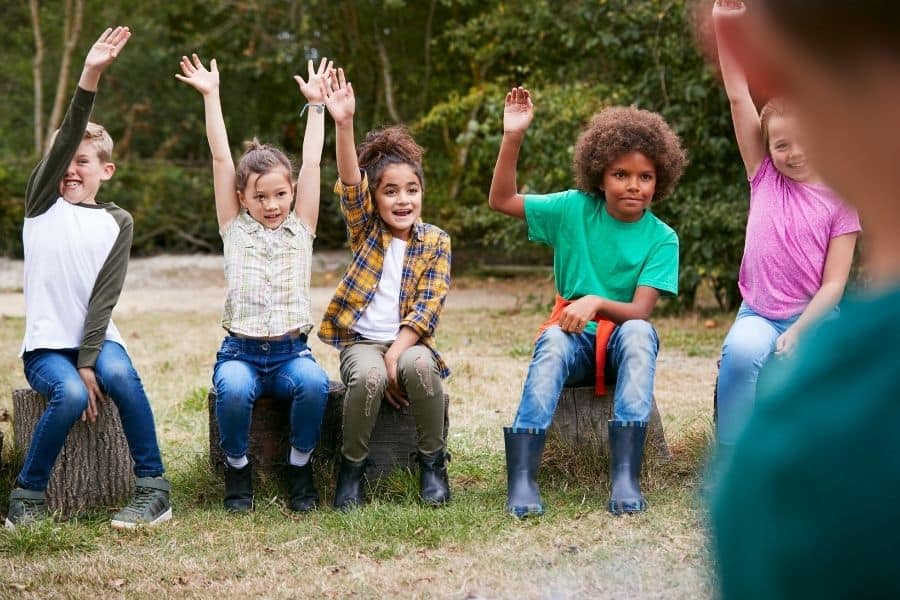 Going camping with the entire family is a great way to bond and make the best of family time. But keeping kids entertained is no easy task, especially if they have left their favorite toys at home.
Here are some things they can do that will not only be fun, but also educational.
Firewood Collecting
While it might be boring to you, your kids will surely have fun collecting firewood. It's the first step towards learning how to make a campfire.
Learn About Constellations Together
There are tons of apps that can help you learn more about celestial objects above you. Start with some more prominent constellations like Ursa Major or Orion.
Scavenger Hunt
This is a great way to keep kids engaged and an even better method for learning about nature. Make them compete who'll finish the scavenging list first.
Print out a free scavenger hunt list from various online sources and give your kids something to really get excited about — and keep em busy.
Climbing Trees
What kid doesn't like to climb? The sight from up there is just too good to be passed.
Tag
The best thing about tag games is that there are numberless variations. Freeze, tunnel, elbow and turtle are just some of the coolest ones I know.
Become a Junior Ranger
If you're staying at a state park or national park, chances are that they'll have a junior ranger program.
Our kids love to participate, receive badges, and don't forget your stamps!
Nature Gathering
Stones, leaves, flowers, feathers or just about anything else can be collected as souvenirs from your trip into the wilderness.
Birdwatching
A great way to engage your kids is to get them to hunt for birds. Perhaps also a great way to encourage them to be quiet and enjoy nature. Plus they'll be so excited when they spot an amazing bird to look at. All you'll need are some compact binoculars.
Bug Collecting
Do your kids love bugs? Well this will be great way to engage and also help them learn about creepy crawlers.
Also See: 15 Tips for Camping with Kids
Adult Camping Activities
While tag can keep kids entertained for hours, most adults will want something more "mature." Here are some things you can do, with your friends or alone, to have fun on your camping trip.
Nature Photography
Whether to update your social media feed or just practice your artistic skills, nature photography is always fun to do. From landscapes to wildlife, anything you want can be in focus.
Meditating
After a long work week, the best way to destress is to go outdoors. But why not fully commit to your well-being and do a quick meditation session? There's something so calming about hearing nature around you.
Outdoor Yoga
Just like meditating, yoga requires you to stay focused. Without loud city noises around you, that shouldn't be hard.
Rock Climbing
Rock climbing is a great way to train a bit while out in the wild. But do this only if you have adequate preparation and equipment.
Play Paintball
In case you're wondering – paintball is not bad for the environment. This means you can enjoy some action roleplaying soldiers in the woods.
Drinking Games
While you probably don't have a full beer pong equipment packed, there are tons of other outdoor drinking games that require nothing else than – liquid.
Camping Activities in Winter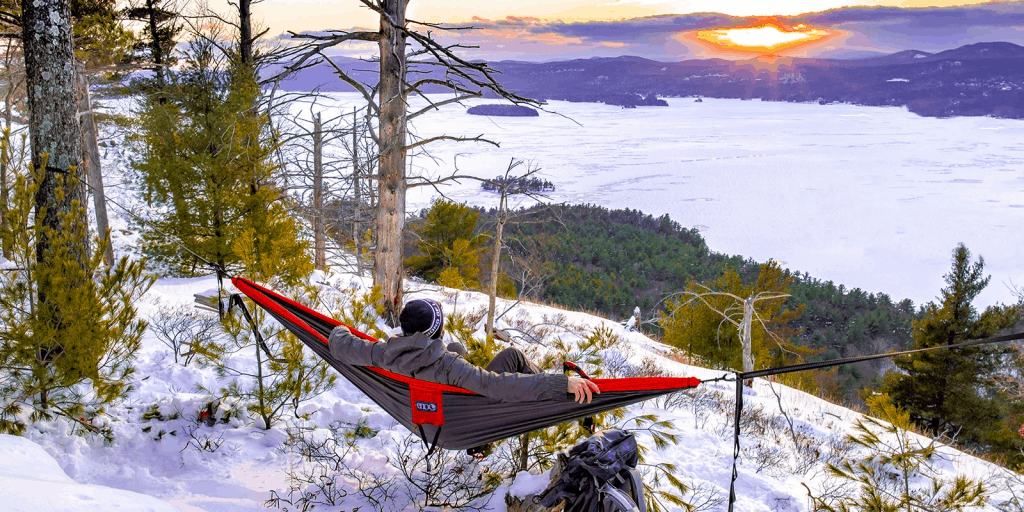 You don't have to be a kid to get excited when it snows. But keep in mind that while fun, camping in winter is not easy. You need to be well prepared – and by this, I mean the right knowledge and adequate gear.
If you're properly equipped, then you can let loose and enjoy some fun winter activities.
Make A Snowman
It never gets old. Spice it up by using objects around you to give snowman facial features.
Winter Hiking
Although very fun, keep in mind that winter hiking requires some preparation. This includes how you dress, what to pack and where (not) to go.
Snowball Fight
While it usually starts spontaneously, a snowball fight quickly turns into a proper match with its own game rules.
Sledding
Look how many perfect sledding spots are around you. Group up into teams and compete for the fastest time.
Searching For Animal Footprints
Animal footprints are easily visible in the snow. You can learn about the animals living in the area just by looking at their snow tracks.
Camping Near Water Activities
Whether you're camping by the ocean, river, or lake, there are tons of fun things you can do that are related to water. If the water is warm enough for you, jump in and enjoy some splashing activities.
Fishing
If you're not too keen on getting wet, fishing is a great alternative. But before you do, check out the rules and regulations for that location first.
Swimming And Diving
Whether to cool down on a hot summer day or stretch your body after a long nap, both swimming and diving are a good choice of activities. It's fun even when done alone.
Snorkeling
If you're close to the ocean, make sure to pack a mask and snorkel for your camping trip. What a great way to explore the underwater and cool down at the same time.
Kayaking
Once you try kayaking, you'll get hooked. Put your hands to work and explore the waters. You can even pack your stuff and set up a camp on a nearby island for the night.
Water Volleyball
What makes it so enjoyable is the fact that you're playing sports while staying cool from being in the water. You don't even need a net. Just throw the ball around, and make tons of splashes while doing that.
Water Balloon Fight
This fun activity is sure to give you nostalgic vibes. It's a great way to chill on a hot summer day.
Playing In Sand
If your campground is close to the sandy beach, making sand sculptures is a great way to spend an afternoon. And contrary to popular belief, this activity is not just for kids.
From making sandcastles to burying your camping buddies in the sand, there are numerous ways you can have fun on the beach.
Other Ideas
If you're creative, you can turn anything camping-related into a fun activity.
Create your own competitions
For instance, you can make your own stakes from a branch. To make it even more interesting, challenge your friends to do the same thing. Compete for the title "the best stake maker."
Or take a page out of survivor, and see who can create a fire from scratch the fastest.
Finally, I love challenging camping buddies to a tent pitching contest. It adds a bit of adventure to such a tedious and mechanical activity.
Have fun, and get creative!
Pick Wildflowers
Pick edible wild plants and spice up your meal.
There are apps that can help you identify the flora around you. Wild plants are perfectly legal to pick, as long as they're not protected (as they are in National Parks).
Have a cook off
See who is the best campfire chef. Take it to the next level by having a cooking competition and a blind taste test.
Final Thoughts
Hopefully, this list has got you covered for at least the next few camping trips.
Whether you're going solo, with friends or family, there's something for everyone.
Now go out and make the best of your trip! And if we missed anything, let us know!
More Camping Fun