If you are in a rush, the Sea to Summit Aeros Down Pillow is the best pillow for backpacking.
The key to a fun and successful backpacking trip is a good night's rest.
How will you be able to walk miles a day without recharging your batteries properly at night?
Both sleeping pads and bags are a must, but backpacking pillows are not on everyone's checklist.
And I don't understand why.
Does your neck hurts after falling asleep on the sofa? Well why would sleeping on your jacket be any different?
But there's no reason to rough it up when you go backpacking. Especially when there are pillows specially designed for this type of trip.
Sounds good?
Today, I'll share with you everything you need to know to find the best backpacking pillow on the market.
Let's jump straight in!
Best Backpacking Pillow: Our Top 10 Picks
Best Inflatable Backpacking Pillow
Best Stuff Sack Backpacking Pillow
Best Car Camping Pillow
Sea to Summit Aeros Down Pillow
Type: Inflatable | Fill: Down | Weight (oz): 2.5 oz | Packed Size: 3 x 2.5 in
This pillow by Sea to Summit might just be the best camping pillow ever, if you ask me.
First, it's very lightweight and packs down compactly into a bag that's no bigger than your palm. This means you can practically store it in any pocket on your backpack.
And with 2.5 ounces of weight, you won't even notice it there.
Thanks to the multifunction mini-valve located at the back, the pillow inflates in just three breaths. Fully inflated, it provides firm support that doesn't budge through the night.
But if you prefer something softer, you can easily adjust it by releasing some air from the valve.
With the dimensions of 13.4 x 9.4 x 4.7 inches, this isn't the largest camping pillow out there.
But its size makes it great for fitting inside a mummy bag hoodie, so it won't move around while sleeping.
Differentially cut baffles really made a difference, as they keep the loft in place for a comfortable good night's sleep.
To be honest, if I didn't know this was an inflatable pillow, I could have never guessed it from just laying on it. Yes, it's that cozy.
You can check out our video review of the Sea to Summit Aeros Ultralight Deluxe here:
Pros
It's lightweight and compact, which makes it suitable for backpacking
The Pilowlock system allows you to attach the pillow to a Sea by Summit sleeping mat to prevent sliding
Horizontally-positioned baffles keep the fill in place, preventing cold spots
Fits inside most mummy sleeping bags' hoodies
Cons
Not the most coziest face fabric on the list
Best for: Fast inflation
Trekology ALUFT 2.0 Ultralight Camping Pillow

Type: Inflatable | Fill: Air | Weight (oz): 3.9 oz | Packed Size: 5 x 2 in
A good camping pillow doesn't have to cost an arm and a leg. And this model by Trekology is good proof of that.
Now, the first thing that you notice about this model is the ergonomic design.
Slightly curved upwards, this pillow is suitable for any sleeping position, be it on your back, stomach or side.
So even if you're not a calm sleeper, you'll find this pillow very comfortable.
This pillow doesn't move around while you're sleeping thanks to anti-slipping rubber dots on the bottom.
But to prevent it from budging, it also features a latch strap so that you can attach it to the sleeping mat.
This pillow is made of thermoplastic polyurethane, which is a sturdy and waterproof fabric. This makes it suitable not just for sleeping in a tent, but also on a boat or beach.
What makes this pillow suitable for backpacking is its small size and weight. It packs down to the size of a can, so it can easily fit anywhere.
It inflates in no more than 8 breaths, and deflates within seconds.
Pros
Anti-slip rubber dots and latch strap keep the pillow from moving
Made of waterproof and sturdy material
The ergonomic design makes it suitable for different sleeping positions
Very affordable compared to most models on the list
Cons
TPU fabric is not the most gentle on your face
Best for: First-time campers and occasional backpackers.
Sea to Summit Aeros Premium

Type: Inflatable | Fill: Down | Weight (oz): 2.8 oz | Packed Size: 2.8 x 3.3 in
If adding a few more ounces to your gear is not an issue, then the Aeros Premium is definitely a model worth considering.
With a slightly added weight, you can enjoy the luxurious comfort similar to the one you have at home.
When packed, this pillow takes less space than a can of soda. Once inflated, it's still on the smaller side.
But its comfiness makes up for that. Synthetic fill makes it soft on your head, while at the same time wicks any moisture away.
The brushed polyester exterior assure a soft feel on your face.
The bottom edge of the pillow is slightly curved at the center, making it suitable for both sleeping at the back and on the sides.
What's more, you can also use it while sitting upright in a chair.
What's great about this model is that it comes in three sizes: regular, large and deluxe.
The larger you go, the heavier and costlier a pillow gets. But if that's not the issue, you can find the size most similar to the one you use at home.
You can check out our video review of the Sea to Summit Aeros Ultralight Regular here:
Pros
Synthetic fill and brushed polyester make the pillow soft and cozy on your head
A slightly curved bottom edge makes the pillow suitable for sleeping in different positions
A Multifunction mini-valve allows you to adjust how supportive your pillow is
There are three sizes to choose from
Cons
Can be a bit heavy compared to other models
Best for: Side sleepers.
Hyperlite Mountain Gear Stuff Sack Pillow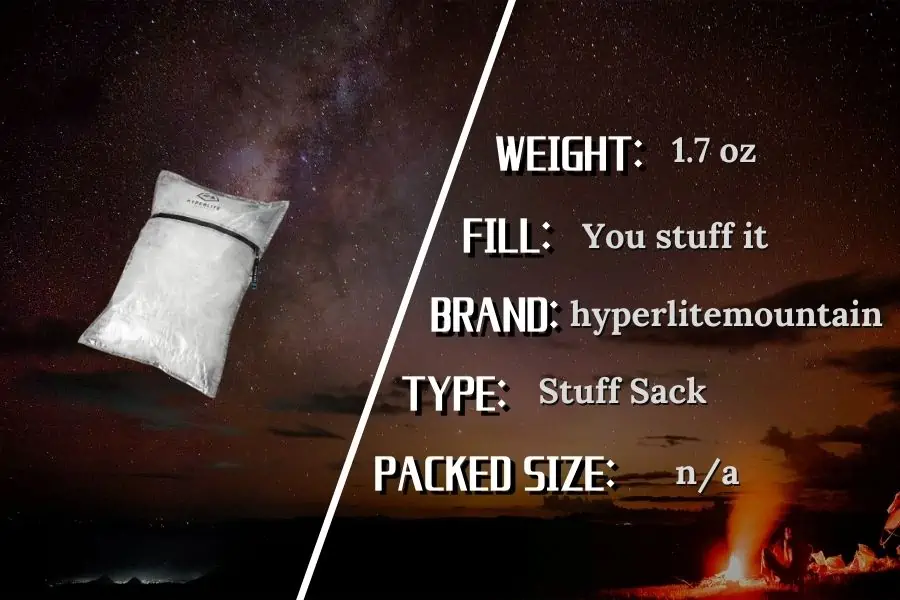 Type: Stuff Sack | Fill: You stuff it | Weight (oz): 1.7 oz | Packed Size: n/a
If you're going extra light on a camping trip, then you can't go wrong with this model by Hyperlite Mountain Gear.
With just 1.7 ounces of weight, it's unlikely you can find anything remotely as light as this.
Made of Dyneema composite fabric, this pillow will wick away any water it comes in contact with.
This is further secured by the taped seams all around.
During the day, you can use the sack as a storage sack for the gear you want to prevent from getting wet from the rain.
At night, the stuff sack turns into a pillow that gives you head support while sleeping.
This model is one of the larger ones on the list, and it gives you ample space to rest your head on.
But don't worry, you don't actually set your face against the composite fabric.
This pillow has a reversible side which is covered with soft Polartec fleece, that's extremely cozy and warm.
Pros
With 1.7 ounces of weight, this is one of the lightest pillows you can find on the market
Dyneema composite fabric and taped seams ensure 100% waterproofness
Can also be used as a stash sack
Features a reversible side with a comfortable face fabric
Cons
Relatively expensive for a stash sack pillow
Best for: Ultra lightpackers.
Big Agnes Q Core Deluxe Inflatable Travel Pillow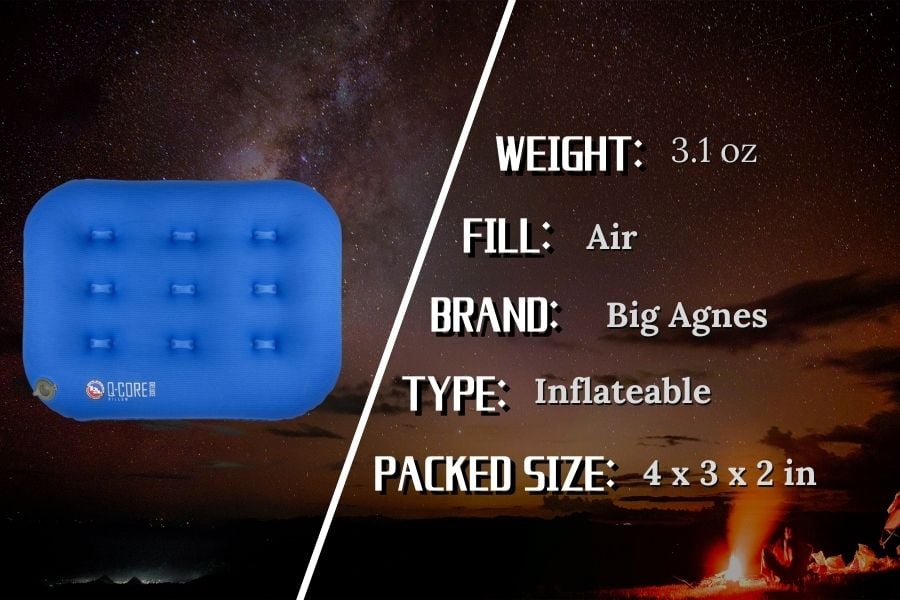 Type: Inflatable | Fill: Air | Weight (oz): 3.1 oz | Packed Size: 4 x 3 x 2 in
Seeing a Big Agnes product on this list is nothing surprising, as the brand specializes in lightweight yet comfortable and high-quality camping gear. And this pillow is no different.
Now, it's true that inflatable pillows aren't known for being insanely warm when it's cold, but that's not really the case here.
This nylon pillow features an advanced heat reflective technology that reflects your own body warmth back to you.
With the dimensions of 20 x 14 x 4.75 inches, this pillow is slightly larger than most models on the list.
But the dimensions are carefully thought out so that the pillow fits into any Big Agnes sleeping bag.
The pillow is coated with an aviation-grade TPU, making it extremely rugged and durable.
The material is also easy to clean. Just keep in mind that it should only be hand-washed, as the machine can damage it.
We can also appreciate the tiny details Big Agnes implements to make their product stand out.
In this case, that's the antimicrobial treatment inside the pillow that prevents microorganism growth.
Pros
Reflective technology uses your own body heat to keep you warm while sleeping
Aviation-grade TPU coating makes the pillow very durable
Antimicrobial treatment prevents microorganisms from growing inside the pillow
The micro release button allows you to adjust how soft the pillow is
Cons
Can be large for sleeping bags from other manufacturers
Best for: Campers looking for the most durable option.
Therm-a-Rest Air Head™ Down Pillow
Type: Inflatable | Fill: 650 Fill Duck Nikwax Hydrophobic Down RDS | Weight (oz): 4.9 oz | Packed Size: 5 x 4 in
If you put comfort above all else, then you'll surely be satisfied with what the Air Head model by Therma-a-Rest has to offer.
Filled with down of 650 fill power, this pillow will keep you warm even at extreme winter temperatures.
Not just because the down fill is cozy, but because it's hydrophobic as well.
Since it remains dry, it retains its insulating abilities even when it's freezing cold outside.
While it might not be obvious at first glance, this is actually a hybrid pillow, meaning the middle part is inflated with air.
But the air bladder of this pillow isn't as firm as it is on other models. For that reason, it's more similar to your pillow at home.
This pillow has a round shape, so that it fits perfectly inside your sleeping bag's hood.
That way, it assures it doesn't budge throughout the night.
The bottom edge is slightly curved inwards, so that if sits well around your neck, regardless of the position you're sleeping in.
Pros
Hydrophobic fill assures the pillow stays dry and warm in all weather conditions
The pillow is hard enough to provide support yet soft enough for a comfortable sleep
The twist valve makes it easy for you to make adjustments while laying on the pillow
Quilted polyester makes the face fabric soft and cozy
Cons
Slightly heavier than some other picks
Best for: Mountaineering and winter camping.
Therm-a-Rest Trekker™ Pillow Case

Type: Stuff Sack | Fill: You stuff it | Weight (oz): 2.3 oz | Packed Size: n/a
Need a pillow that's extremely light and affordable? This model by Therma-a-Rest is both.
It weighs slightly over 2 ounces and costs less than your tent stakes. If you ask me, that's a steal.
This pillow is a stuff sack, so it's as soft as what you put inside.
But thanks to the brushed polyester face fabric, it's also very comfortable to rest your head upon.
Furthermore, the material is abrasion-resistant, and it doesn't slide around at night.
With the dimensions of 17 x 14 inches, this is a pretty large pillow.
It's great for those who move a lot while sleeping and could use additional head resting space.
If you want to make it smaller, you can always squeeze it inside your sleeping bag's hood.
But even though it's so big, the pillow folds down pretty compactly.
In fact, it can be packed so that it fits inside a shirt pocket, if you will.
Pros
It's lightweight and compact, making it suitable for trekking and backpacking
Soft polyester fabric wicks away moisture and makes a comfortable surface
Sold at a very affordable price
Can be washed in a washing machine at a gentle cycle
Cons
Not as supportive as some other models
Best for: Campers in need of a quick but temporary solution.
REI Co-op Trailbreak Foam Pillow

Type: Foam | Fill: Foam | Weight (oz): 10 oz | Packed Size: 18 x 4 in
Some of us simply prefer a traditional pillow, and that's okay.
If weight and storage space aren't an issue, this Trailbreak pillow by REI turns out to be an irreplaceable companion on a camping trip.
There's no inflation involved here. As soon as you unpack the pillow, it expands to its full size practically instantly.
This pillow has just the right foam filling – not too soft, not too firm. It's soft, warm, and nothing less important, it's really quiet.
This pillow features two sides, cooler and warmer. That way, you can flip your pillow whenever temperatures go up or down.
And don't worry, whichever side is down, the pillow will stay in place during sleep.
I was quite shocked at how affordable this pillow is. Its comfort is at par with some of the more high-end models on the market.
Part of the reason for the pillow's low price tag lies in the fact that it's made with foam recycled from old REI sleeping pads.
Pros
Once unpacked, the pillow expands instantly
You can switch between cooler and warmer fabric depending on the temperature
One of the most affordable options on the list
It's safe for machine washing on a gentle cycle
Cons
Bulkier and heavier than most other models
Best for: RV and car camping.
Nemo Fillo

Type: Inflatable | Fill: Air/Synthetic (Air with Luxury Foam) | Weight (oz): 9 oz | Packed Size: 6 x 4 in
Many years of being one of the bestselling pillows on the market speak volumes about the quality of this product.
This hybrid pillow goes way and beyond to provide ultimate comfort inside a tent.
Baffled air cell creates the natural shape of a pillow, so you don't feel like you're resting your head on a ball.
Thick memory foam, on the other hand, provides support while still remaining soft and flexible.
The cover is made of microsuede, which leaves cooling feel on your face.
And while soft and plush, the material provides enough friction so that the pillow doesn't slide off while you're sleeping.
Once it gets dirty, simply take it off and throw it in the washing machine at a gentle cycle.
Personally, I love the fact that the storage bag is integrated into the design.
That way, you never have to worry about losing it somewhere around the campsite.
With that being said, the bag does feel a bit small, as it's pretty hard to put the pillow back in.
Pros
A combination of air and memory foam makes the pillow soft but supportive
Soft microsuede cover for a clean and cooling feel
Takes no more than three breaths to inflate
The cover is machine washable
Cons
It's tough to pack it back into a storage bag it comes with
Best for: Campers who put comfort above all else.
HEST Pillow

Type: Foam | Fill: Enhanced memory foam/polyester | Weight (oz): 2 lbs. 3.2 oz. | Packed Size: 14 x 9 x 7 in
Not everyone has the same sleeping preferences.
While some people seem to be able to sleep resting on whatever they find nearby, others can't sleep without a perfect balance of comfort and softness.
If you belong to the second group, you'll love this pillow by Hest.
Now I know, this pillow has the highest price tag of all the picks on this list.
But let me assure you, every penny is well justified.
What makes this pillow stand out from the crowd is the fact that it's filled with memory foam.
It doesn't flatten or lose shape regardless of how many hours you've slept in the same position.
Of course, you can always further adjust the fill through the zippered access.
The pillow features a PU-coated nylon cover which keeps it protected from dirt and moisture.
Now, once the cover gets dirty, you can just take it off and wash it in the machine.
There's also an integrated sack that you can store it in when not in use, which compresses the pillow and protects it from dirt.
When packed, you can attach it to your backpack for hands-free movement.
Pros
The memory foam fill offers support without sacrificing comfort
Its curved shape sits around your neck, allowing you to sleep even in more upright positions
The cover is removable and machine washable
Eacy carry loop allows you to attach it to your backpack, leaving more room inside for other equipment
Cons
Quite expensive
The heaviest model on this list
Best for: Campers who need a soft pillow with good head support.
Compare Backpacking Pillows
Factors to Consider
Not sure which one to choose? Let's talk about different factors that can affect your decision.
Weight & Packed Size
These two factors are especially important if you plan on carrying all of your gear on your back.
With so many pieces of equipment packed, such as a tent and sleeping bag, the last thing you want to drag you down more is a pillow, right?
The more material is involved, the heavier the pillow will be. This is especially true for filling.
For that reason, don't be surprised that a compressible or hybrid pillow weighs more than an inflatable one that's filled only with air.
If you're looking for the lightest weight pillow, then you'll want to go with the stuff sack options like the Hyperlite Mountain Gear Stuff Sack Pillow or the Therma-a-Rest Trekker™ Pillow Case.
But If you aren't a fan of using your down jacket as a pillow and want to opt for more comfort, then the Sea to Summit Aeros Down Pillow is a good compromise at only 2.5 oz. 
Beyond the weight, you also want to check out the packed size, as you can see in the picture above some are MUCH bigger than others.
Slipperiness
A pillow that slides around your sleeping pad doesn't contribute much to a good night's sleep.
Unfortunately, that's not an uncommon case with backpacking pillows, mainly because they're made with such materials.
Some models fix the issue by having attached velcro tapes or cords with allowing you to attach the pillow to the pad.
Frequency of Use & Durability
Since you'll be using a pillow inside a tent and/or a sleeping bag, there's very little chance you can damage it with something sharp.
And even if that happens, it won't be too much of an issue with a pillow stuffed with foam, for instance.
But with inflatable pillows, even the tiniest prick can pierce them, thus rendering them useless.
Of course, that doesn't mean you should stay away from inflatable pillows in general.
But pay attention to the material they're made of. Ideally, look for polyurethane or similar sturdy materials that aren't easily damaged.
Comfort & Support
What's the point of a backpacking pillow if it's no more comfortable than sleeping on your puffy jacket?
Aside from the type of backpacking pillow (which we'll get into in the next section), there are other factors that influence its comfortability and support.
Namely, the shape and material that's covering the top part also affect how well you'll sleep at night.
We found that the most comfortable options were the Sea to Summit Aeros Down Pillow, Sea to Summit Aeros Premium, the Therma-a-Rest Air Head™ Down Pillow and the HEST Pillow.
Inflatable vs. Stuff Sack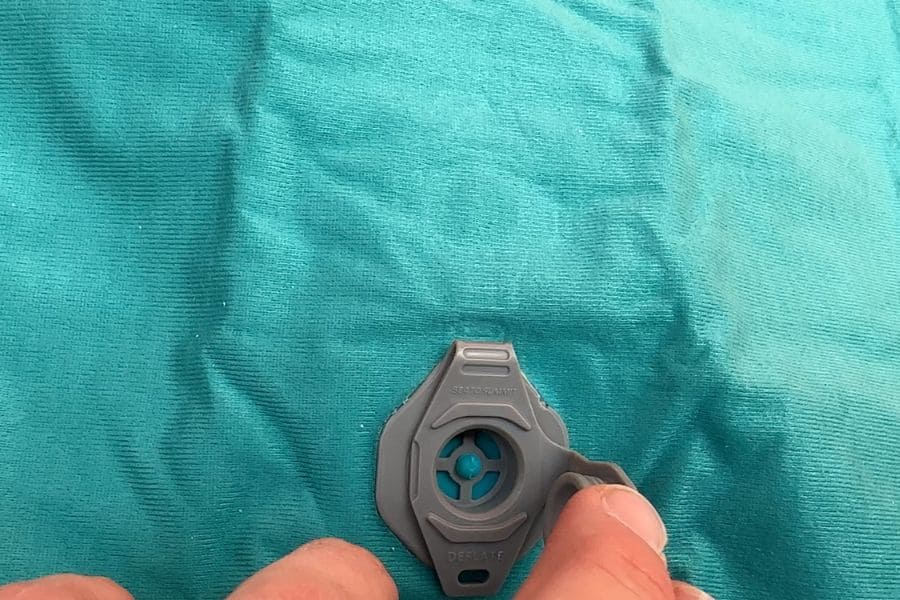 By inflatable, here I mean all types of pillows that expand when used and compress down for packing.
Choosing between an inflatable or stuffed pillow mainly comes down to storage space and weight.
Pillow-case backpacking pillows are the lightest option but are as comfortable as the stuff you put inside.
Inflatable, on the other hand, use air, down, foam, or other synthetic fillings.
Read: Down vs. Synthetic Sleeping Bag (Which is Better?)
While that means they're slightly heavier and bulkier, they're also more comfortable.
Type Of Backpacking Pillows
There are several different pillow options out there, and they all work a bit differently. Here's a quick recap of each type so that you get an idea.
Inflatable Pillows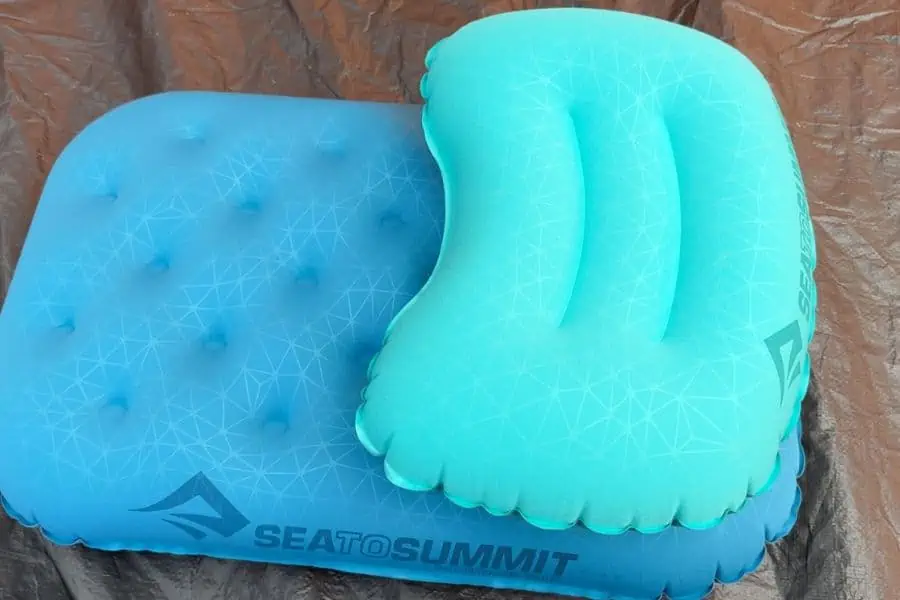 Like your pool float, this type of pillow is also filled with air. This means it's lightweight and packs down small when not inflated.
You can easily adjust how stiff or soft it is by adding or releasing some air through the valve.
But even so, the air is not the most comfortable option out there. What's more, it can be noisy when you're moving around.
The best of the purely inflatable pillows were the Big Agnes Q Core Deluxe Inflatable Travel Pillow and the Trekology Ultralight Inflatable Camping Travel Pillow
Compressible Pillows
This type of pillow is usually filled with down, foam or similar synthetic material.
And as far as comfort goes, no other type of backpacking pillow can come close.
A compressible pillow is really similar to what your pillow at home feels like.
But of course, comfort doesn't come without cost. The main downside to a compressible pillow is the fact that it's generally bulkier and heavier than other types.
This makes it slightly more suitable for other types of camping than backpacking.
The best compressible pillows are the REI Co-op Trailbreak Foam Pillow and the HEST Pillow.
Hybrid Pillows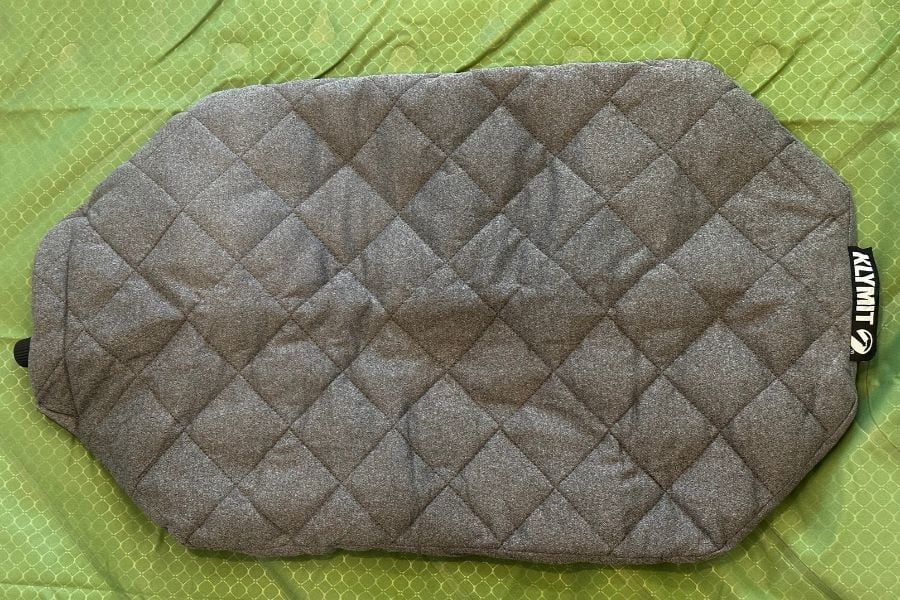 A hybrid pillow is a mix of both compressible and inflatable types.
Basically, the bottom part is filled with air while the top part is compressible and filled with down or foam.
Hybrid pillows are good middle ground. They're not heavy, but not as lightweight as some other types.
They're also pretty comfortable, but still not as comfy as compressible pillows.
We've chosen the Sea to Summit Aeros Down Pillow as our best overall backpacking pillow, and it's easy to see why going with the hybrid option is a great choice.
Stuff Sack Pillows
With this type of pillow, you fill it with your own stuff, be it a jacket or sweater.
So naturally, it's up to you how comfortable they turn out. Although comparing them to other types of pillows in terms of comfort is futile.
But once you remove whatever you filled it with, a stuff sack pillow becomes extremely light and easy to pack.
For that reason, it's a good choice for longer trips.
The best stuff sack pillows are the Hyperlite Mountain Gear Stuff Sack Pillow and the Therma-a-Rest Trekker™ Pillow Case.
Face Fabrics
Nothing less important is the fabric that you'll rest your face upon. Generally, two types of materials are used for this.
Polyester
Polyester usually has a slight fuzzy feel, which makes it soft and warm on the face.
And while it does a lot in terms of comfort, the brushed polyester is much harder to clean.
Nylon
Resting your face on a pillow with nylon face fabrics is like resting it on a pool float bed.
Not exactly the coziest feeling, but you can always put a cover over it for more comfortable sleep.
Nylon, compared to polyester, is much easier to clean.
FAQs
What Makes A Good Backpacking Pillow?
When you're backpacking, every ounce matters.
That's why a pillow, like any other piece of gear, needs to be both lightweight and compact. But at the same time, it also needs to provide comfort and head support while sleeping.
How to deflate a backpacking pillow?
To deflate it, open the valve and push it downwards. You'll hear and feel the air coming out of the valve.
Start folding the pillow in half and deflating as much air as you can, then repeating the process.
What is the lightest backpacking pillow?
Hyperlite Mountain Gear Stuff Sack Pillow is the lightest option, weighing just 1.7 ounces.
From inflatable pillows, Sea to Summit Aeros Down Pillow weighs comparably less than other models.
Are inflatable pillows any good?
Inflatable pillows have their advantages, namely their featherweight and compactness.
While generally not considered to be the most comfortable type of pillow, certain models prove that there's an exception to everything.
Can you get by without a pillow when backpacking?
Technically, you can get by without one, and many backpackers do that.
But there really are no reasons for that, as certain pillows weigh no more than an ounce.
Carrying that tiny amount of added weight to improve your comfort level for a whole level is definitely worth it.
To Sum Things Up
As you can see, there are tons of backpacking pillows available on the market.
But on a long list of exceptional models, one that stands out is the Aeros Down Pillow by Sea to Summit.
This model has a bit of everything – it's lightweight, compact, warm and comfortable.
Plus, it comes with a pretty decent price tag.
What more could you want in a backpacking pillow?