In a hurry? Our top pick for the best tent for camping with a dog is Wenzel 8 Person Klondike Tent.
Camping with your dog can be "ruff." (See what I did there?) But it doesn't have to be!
With the proper gear and equipment, you and your pooch can have a relaxing camping trip you desire. Start with your tent to prepare for a successful journey. That's why I've done some research and found the 5 best tents for camping with dogs.
Best Tent For Camping With Your Dog: Our Top Choices
Wenzel 8 Person Klondike Tent

The Wenzel 8 Person Klondike Tent measures 16" wide, 6'6" tall, and 11" deep. It includes an attached screen room to give your camping trip the comforts of home.
This tent is an affordable option for anyone who has a large breed hiking dog and needs plenty of room to move around while still keeping them close.
Pros:
With 2 rooms and standing 6'6" tall, this tent is spacious enough to sleep 8 people so even the largest of dogs will have more than enough room.
You don't have to worry about your dogs getting loose when you step out to use the bathroom. The zippers are strong enough to hold even the smartest four-legged escape artists.
This tent includes a detachable rainfly, so you are protected from any rain and wind. Detach the rainfly, and you've got a beautiful view of the sky for stargazing or enjoying the scenery.
For hot days, there is built-in hi-low ventilation to keep the tent cool.
Convenient accessory pockets are located all around the tent, sewn into the tent wall, to create a space that is easy to keep clean and clutter-free.
Cons:
Takes more than one person to set up.
Can be on the heavy side for anyone looking to backpack with this tent.
Best for: people with large breed dogs.
Coleman 6-Person DarkRoom Sundome Tent

Coleman's unique DarkRoom technology and screened-in porch make this tent one of a kind. This tent will keep you and your dogs comfortable in any environment.
This affordable tent is great for anyone who wants to take their dog camping and still have room for everyone.
Pros:
The darkroom effect allows for deeper, more comfortable sleep. It also provides a cooler environment keeping you and your dogs sweat-free.
This tent easily fits a blow-up queen mattress or two tent cots (something like this).
You can comfortably fit two adults and two dogs.
Takes no time at all to pitch this tent with pre-attached poles.
This screened-in porch is a great place for storage. You can also use it as a nice dog house.
There is plenty of ventilation with several windows and mesh screening to keep air moving in all types of weather. The detachable rain fly also keeps things nice and dry in rainy weather.
Cons:
Due to the pitch of the tent and no rain fly overhang, the screened "porch" area is inclined to get wet and become unusable in rainy weather.
This tent is not tall. People upwards of 5' 6" inches tall will have to hunch over to stand in the tent.
Best for: people with smaller dogs that want a tent that'll keep them cool during hot summer days.
Coleman 8-Person Red Canyon Tent

The Coleman 8-Person Tent is a spacious option for multiple campers, humans and dogs alike. With three separate rooms and room for two queen air mattresses, this tent can fit plenty.
This is an affordable option for anyone who needs plenty of room with camping, especially large families with dogs.
Pros:
This tent includes separate bags for tent, poles, and stakes, to make putting it up and taking it down much easier and quicker.
Color-coded poles make pitching this tent a piece of cake. Can easily be pitched by one person.
This massive tent measures 17 feet by 10 feet and includes two room dividers to create three separate rooms.
There is plenty of room in this tent to fit 2 queen air mattresses or a queen air mattress and 2 twin cots. Adding dogs into the mix will be a non-issue.
The tent's dome-style roof keeps snow and rain off with ease.
Cons:
Being such a large tent, you need plenty of space to set it up. You will have to double-check the space you are provided at your designated campground as this tent is larger than some "standard" spaces.
Best for: Large families with dogs that want a dividable tent, maybe for a "doggy room."
NTK Indy GT XL Tent

The NTK Indy GT XL tent can comfortably sleep 5-6 people and includes an outside vestibule for added space.
You can use this area for storing supplies or letting your dogs sleep in. Either way, you'll have plenty of room to walk around.
Pros:
Includes pockets sewn into the tent to store items and two areas to hang lanterns in the top of the tent.
Putting up this tent only takes 15 minutes with two people, but is still easy enough for one person.
The "porch" part of the tent adds a whole other room and is great at extending the space of this tent. It allows you room to cook and more while being shaded from rain and sun without being in the sleeping area.
Can easily fit a queen size air mattress and a couple of large dog beds.
The floor of the "porch" area is removable for easy cleaning.
Cons:
Ventilation is a concern as there are no windows when the rain fly is attached and it can become very warm inside the tent on hot days.
Some users have reported the "porch" area getting wet in the rain as well as the items they stored in this part of the tent.
Best for: campers who want a nice outside vestibule area for their dogs to enjoy.
Coleman WeatherMaster 6-Person Tent with Screen Room

I love Coleman tents, and the WeatherMaster is no exception! Separate rooms, a screened porch, and a hinged door make this tent one of my favorites. It's an affordable option for anyone looking to take their dogs camping.
There is plenty of space in this tent for 6 people, as well as pets. With many features made to withstand weather and rugged conditions, this tent can easily withstand camping with a pet.
Plus, a hinged door means you can get in and out easily, and you don't have to deal with any snagged zippers.
Pros:
A sturdy, "bathtub" style bottom is resistant to tearing from dogs' paws.
This tent is rather large, with plenty of room two queen size air mattresses and other belongings such as bags and dog beds.
The hinged door on this tent makes for easy access to the tent, especially for dogs, and prevents the fabric from getting caught in the zipper.
Small conveniences like room dividers, pockets, hooks to hang lanterns, and places to run power into the tent make for comfy camping.
Plenty of windows all around make this tent well ventilated.
The screen room is great for storing gear and dog accessories and adding extra space to move around and do activities, even if the weather is nasty.
Cons:
You may need two people to set this tent up efficiently since it is so large.
This tent is not great for backpack camping.
Some users report having a hard time getting it back into the bag it came in.
Best for: people with more than one dog who want a weather-resistant tent with plenty of space.
What to Look for in a Tent for You and Your Dog
When looking for a tent for you and your dog to go camping, it is important to keep a few things in mind.
First, consider the size of the tent you bring. When camping with your dog, you'll want a little more room than you usually would.
Not only will you pack extra equipment for your dog, but you'll also want to make sure there's plenty of room for your dog to stretch their legs and walk around.
You should also consider the materials your tent is made out of. With your pooch in mind, rugged materials will be your best bet. This will ensure that your tent will withstand rough paws, ragged nails, slobber, and anything else an active pooch may bring in from the outdoors.
Another tent feature that is great for camping with dogs is an attached screened-in "porch" or vestibule. Having this extra space is great because it gives you somewhere safe to keep your dog. That way you can put your attention elsewhere (i.e. going to the bathroom or cooking) without worrying about Fido.
Since these areas are usually screened in, your dog will be able to be near you and see you while being out of the way and staying dry when it rains. This also allows them to still enjoy the outdoors!
Tips to Make Your Tent More Dog-Friendly
Besides the essentials, there's other gear you can pack to make your camping trip "dog-friendly." Pack the food and water bowls, doo-doo bags, and leash, but consider bringing the following.
For starters, make sure to pack your dog's favorite toys. These reminders of your home will comfort your dog and put them at ease if they are anxious about the trip. Not to mention, the toys will help keep your dog busy when you need to put your attention somewhere else.
Your dog's dog bed can also make your tent more dog-friendly. Not only does it give them a cozy place to sleep, but it also keeps them from sleeping on the ground so they stay warm and dry (in case of leaks). If you're camping in cold conditions, consider investing in a doggy sleeping bag to keep your pooch warm.
And, while most tents are suitable for camping with dogs, you also may want to invest in a couple of accessories to make the tent more secure. Use carabiner clips on door zippers to secure your pooch inside. You'd be surprised at what dogs will do to sneak out of a tent!
What to Expect From Your Dog While Camping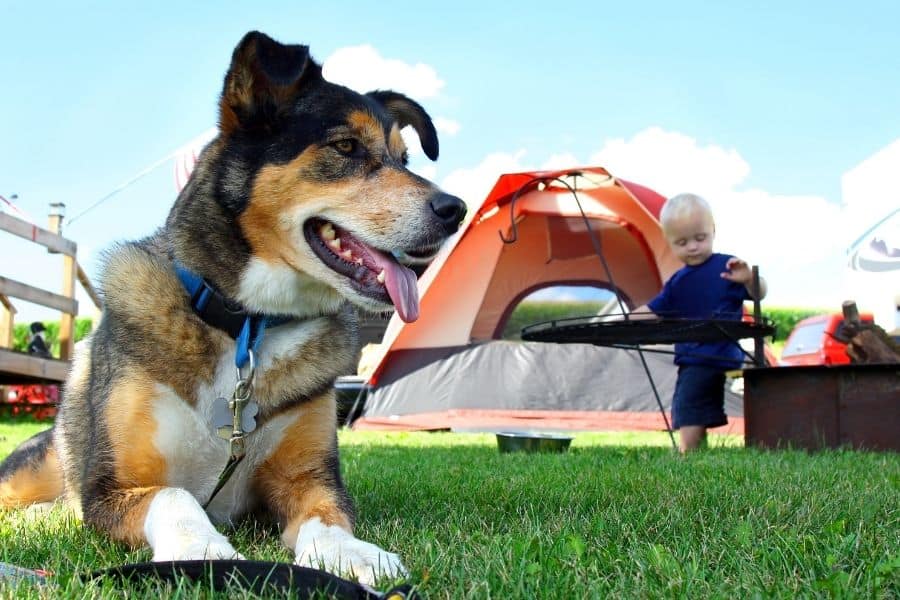 There is no way to know exactly how your dog will act while you are camping until you take them camping. If you have already been camping with your dog, you probably have a good idea of how they will behave. If you haven't, you could make some assumptions based on their personality at home.
Also, if you want to get an idea of how your dog will act while camping, try doing a practice run in your backyard. Set up your tent and let your dog check it out. Even try to spend some time with your dog in there.
This will let you gauge how well your dog behaves in a tent. It'll also give him or her a chance to start getting acclimated before you even leave.
Also, remember that dogs are creatures with unique minds and personalities. You may have a very well-trained dog but when introduced to the wilderness, their instincts may start to take over. One thing you could do to ensure they stay well-mannered is to brush up on their training and commands. Examples include a recall command, "leave it," or even "go to bed" for when you're in the tent.
Lastly, make sure you are prepared for anything by packing a dog first aid kit. Even if you brush up on your commands to keep your dog safe, you can never predict how the wildlife around you will act and how your dog will react.
A dog first aid kit could contain:
First-aid instructions
Band-aids or gauze
Wound treatment (like Neosporin)
Emergency Blanket
Or anything else that could aid in nursing your dog.
Our Verdict
After researching and reviewing these tents, I found that the best tent for camping with dogs is the Wenzel 8-Person Klondike Tent. This tent has everything you need to camp with dogs. It's got a screen room, enough space for large breed dogs, and doors with zippers strong enough to keep dogs in.
The Wenzel 8 Person Klondike Tent stays dry and breezy in all types of weather, beating out the competition. The Coleman DarkRoom doesn't provide the best rain protection, and the NTK Indy GT XL isn't the best for ventilation.
The next time you go camping with your dogs, make sure you bring the Wenzel 8 Person Klondike Tent. It's an affordable option to help you and your pooch be comfortable and relaxed for your entire camping trip.